Grove TMS800-2 Boosts Productivity With Easier Roading, 'Big Crane' Features
02/09/22-FR-English-NL-footer
Grove TMS800-2 augmente la productivité avec une conduite sur route plus facile et des fonctionnalités « grosse grue »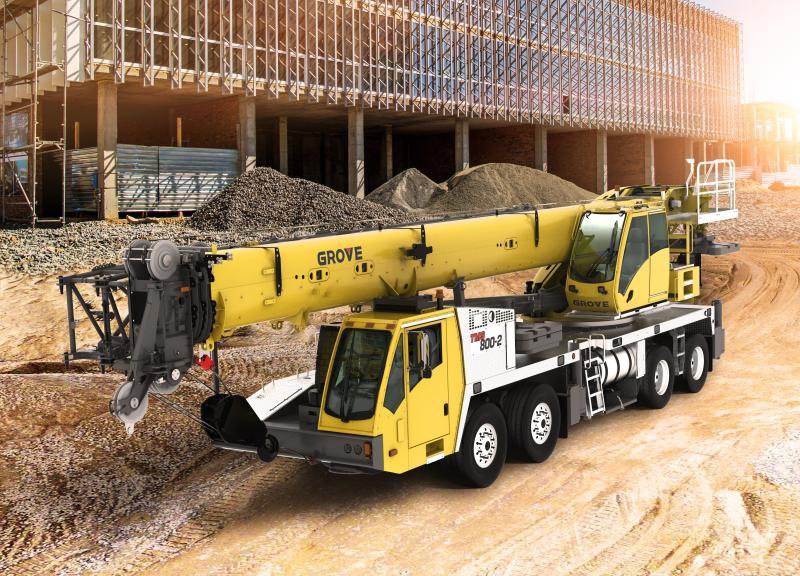 The Grove TMS800-2 can carry its full 28,000 lbs. of counterweight and remain within axle and tire limits without a fall-off load.
En tant que successeur de la grue sur camion Grove TMS800E, la TMS800-2 adopte la technologie et les fonctionnalités développées pour les grues montées sur camion et tout-terrain de plus grande taille et les regroupe dans une unité de 80 tonnes facilement transportable.
Bénéficiant d'une large gamme d'améliorations couvrant les tableaux de charge, le groupe motopropulseur et la configuration, la grue à quatre essieux mise à jour est idéale pour une gamme d'applications de taxi couvrant les énergies renouvelables, l'installation de tours cellulaires et les travaux sur les routes et les ponts, selon le fabricant.
Le transporteur léger et repensé transforme le TMS800-2 en une véritable grue de taxi avec une maniabilité efficace. La grue peut transporter ses 28 000 livres. de contrepoids et rester dans les limites des essieux et des pneus sans perte de charge. Dans les régions où les lois routières sont plus strictes, le TMS800-2 peut transporter 18 000 lb. et rester sous 100 000 livres. GVW (poids brut du véhicule) et 25 000 lb. par essieu tout en étant en configuration taxi.
L'absence de poids latéraux contribue à la faible largeur de déplacement de la grue de 8,3 pieds. Ces changements entraînent des économies de transport substantielles tout au long de la durée de vie de la grue.
"Considérez le TMS800-2 comme une version plus légère du TMS9000-2 [camion-grue Grove de classe 115 tonnes], partageant la même cabine ergonomique et ayant des contrepoids interchangeables, mais avec une flèche plus courte, une capacité maximale de 80 tonnes, et d'excellentes capacités de conduite sur route », a expliqué JJ Grace, chef de produit Grove pour les grues montées sur camion.
"Et en tant que première grue TMS à proposer MAXbase en option, sa capacité à accélérer la configuration - même dans des endroits peu pratiques - renforcera son attrait pour les propriétaires occupés qui tentent de répondre à la demande pour leurs services."
Fondation ferme
Une nouvelle conception de stabilisateur rend la configuration du chantier plus simple et plus rapide. Le boîtier de stabilisateur arrière est surélevé d'un peu moins de 5 pouces pour améliorer l'angle de départ à 18 degrés, tandis que les vérins de stabilisateur avant sont surélevés de 3,5 pouces pour améliorer la garde au sol. Cela facilite également le glissement des tapis de stabilisation en dessous.
De plus, la MAXbase de Grove permet aux stabilisateurs d'être positionnés de manière asymétrique, ce qui permet d'installer la grue aussi près que possible de l'élévateur, même sur des sites restreints où des obstacles peuvent les empêcher de s'étendre complètement d'un côté. Des capteurs intelligents accélèrent et améliorent le processus de stabilisation, fournissant une détection de longueur et une fonction de mise à niveau automatique.
En collaboration avec le Manitowoc Crane Control System (CCS) et sa fonction de configuration de flèche, MAXbase augmente également les capacités de levage à tous les niveaux. En conséquence, la grue mise à jour est en mesure d'offrir un tableau de charge globale 30 % plus solide que le TMS800E, avec une charge de 2 100 à 3 750 lb. avantage à des rayons au-delà de 60 pieds.
Et lorsqu'il est dans sa configuration de poids de déplacement maximal autorisé, avec un GVW de 105 656 lb, le TMS800-2 fournit également des tableaux de charge jusqu'à 26 % plus solides que son principal concurrent, y compris un poids de 2 500 à 4 000 lb. avantage au-delà de 60 pieds, selon le fabricant.
Comme avantage supplémentaire, la flèche MEGAFORM à quatre sections de 40 à 128 pieds avec goupillage Twin-Lock offre une large plage de travail. L'extension de treillis télescopique en option de 34,5 à 57,6 pieds (disponible dans les versions qui offrent un décalage manuel ou hydraulique jusqu'à 45 degrés) produit une hauteur de pointe maximale de 194,3 pieds.
Plus de puissance, des avantages
Plusieurs améliorations ont également été apportées au groupe motopropulseur de la grue, avec le passage à un moteur diesel turbocompressé Cummins X12 à six cylindres augmentant la puissance de 25 à 475 ch et le couple maximal de 1 550 lb-pi à 1 700 lb-pi.
La transmission manuelle Eaton Roadranger reste de série, offrant 11 vitesses avant et trois vitesses arrière. Une version automatique en option, l'Eaton Fuller UltraShift PLUS, est disponible.
Sa cabine de transport en aluminium élégante et moderne, qui a été introduite pour la première fois sur le TMS9000-2, offre un niveau de confort et d'ergonomie amélioré pour l'opérateur, ainsi qu'une colonne de direction télescopique inclinable avec un volant multifonction et un groupe d'instruments amélioré et panneau de commande. Les lignes de visibilité du siège à suspension pneumatique réglable sont améliorées grâce à un système de caméra qui transmet des images en temps réel de l'arrière ou de l'angle mort de droite à l'écran de la cabine.
L'accès de l'opérateur à la superstructure de la cabine est simplifié par cinq points d'accès/sortie autour du châssis. Utilisant la plate-forme Crane Control System (CCS), les joysticks ergonomiques à deux axes permettent un contrôle précis de la charge depuis le confort du siège réglable à suspension hydraulique. CCS intègre un écran graphique couleur qui est monté verticalement pour une meilleure visibilité et héberge un relais de caméra qui donne à l'opérateur une vue à vol d'oiseau du déploiement de jusqu'à 653 pieds de câble à partir du palan principal, à des vitesses allant jusqu'à 370 pi/min.
Le treuil auxiliaire, qui est également visible sur l'écran, offre une longueur de câble de 420 pieds. Le support mis à jour comprend plus de zones de stockage, y compris le rangement des patins de stabilisation.
"La flexibilité du TMS800E en a fait un favori des opérateurs qui effectuent plusieurs petits travaux par jour, travaillant dans la construction légère et la manutention de fermes, le montage d'acier, les travaux de CVC, etc.", a conclu Grace. "Maintenant, grâce à ces mises à niveau éprouvées en termes de productivité, le TMS800-2 leur donne la possibilité d'insérer des pics supplémentaires chaque jour pour maximiser l'utilisation - et de le faire dans un confort encore plus grand."
Le TMS800-2 est désormais disponible en Amérique.
NJC.© Info www.manitowoc.com.
---------------------------------------------------------------------------------------------------------------------
02/09/22-English
Grove TMS800-2 Boosts Productivity With Easier Roading, 'Big Crane' Features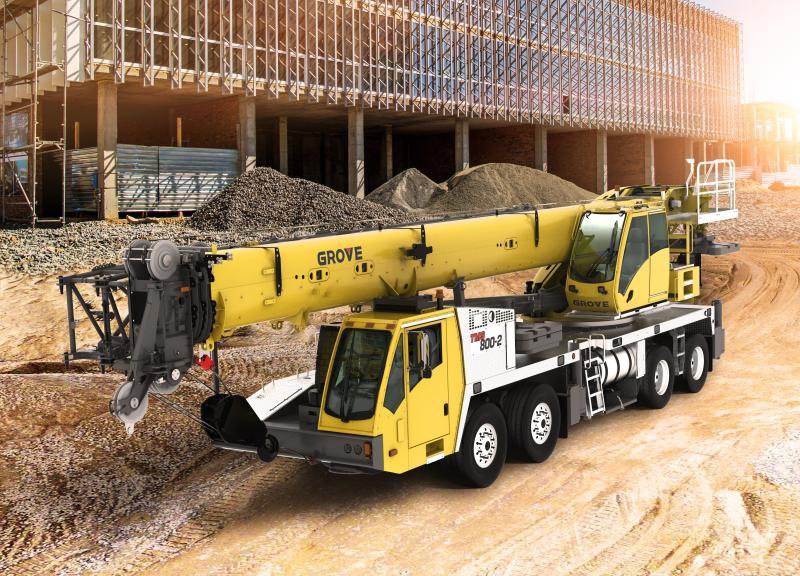 The Grove TMS800-2 can carry its full 28,000 lbs. of counterweight and remain within axle and tire limits without a fall-off load.
As the successor to the Grove TMS800E truck crane, the TMS800-2 adopts technology and features developed for larger truck-mounted and all-terrain cranes and packages them into an easily roadable 80-ton unit.
Boasting a wide range of enhancements covering load charts, powertrain and setup, the updated four-axle crane is ideal for a range of taxi applications covering renewable energy, cell tower installation, and road and bridge work, according to the manufacturer.
The redesigned, lightweight carrier transforms the TMS800-2 into a true taxi crane with efficient roadability. The crane can carry its full 28,000 lbs. of counterweight and remain within axle and tire limits without a fall-off load. In areas with stricter roading laws, the TMS800-2 can carry 18,000 lbs. and remain under 100,000 lbs. GVW (gross vehicle weight), and 25,000 lbs. per axle while being in a taxi configuration.
The absence of wing weights contributes to the crane's slim 8.3 ft. travel width. These changes yield substantial transport savings over the lifetime of the crane.
"Think of the TMS800-2 as a lighter version of the TMS9000-2 [115-ton class Grove truck crane], sharing the same ergonomic cab and having interchangeable counterweights, but with a shorter boom, a maximum capacity of 80 tons, and excellent roading capabilities," explained JJ Grace, Grove's product manager for truck-mounted cranes.
"And as the first TMS crane to offer MAXbase as an option, its ability to accelerate setup — even in inconvenient locations — will cement its appeal to busy owners trying to keep up with the demand for their services."
Firm Foundation
A new outrigger design makes the jobsite setup simpler and faster. The rear outrigger box is raised by just under 5 in. to improve the departure angle to 18 degrees, while the front outrigger jacks are raised 3.5 in. to improve ground clearance. This also makes it easier to slide outrigger mats underneath.
Additionally, Grove's MAXbase allows outriggers to be positioned asymmetrically, enabling the crane to be set up as close to the lift as possible — even on constricted sites where obstacles may prevent them from fully extending on one side. Smart sensors accelerate and enhance the stabilization process, providing length sensing and an auto-leveling feature.
Working in conjunction with the Manitowoc Crane Control System (CCS) and its boom configurator feature, MAXbase also increases lift capacities across the board. As a result, the updated crane is able to offer a 30 percent stronger overall load chart than the TMS800E, with a 2,100 to 3,750 lbs. advantage at radii beyond 60 ft.
And when in its maximum allowable travel weight configuration, with a GVW of 105,656 lbs., the TMS800-2 likewise provides up to 26 percent stronger load charts overall than its main competitor, including a 2,500 to 4,000 lbs. advantage beyond 60 ft., according to the manufacturer.
As an added benefit, the four-section, 40-128 ft MEGAFORM boom with Twin-Lock pinning offers a broad working range. The optional 34.5 to 57.6 ft. telescoping swingaway lattice extension (available in versions that offer either manual or hydraulic offsetting up to 45 degrees) produces a maximum tip height of 194.3 ft.
More Power, Perks
Several improvements also have been made on the crane's powertrain, with the switch to a six-cylinder Cummins X12 turbocharged diesel engine boosting power output by 25 to 475 hp, and maximum torque from 1550 lb-ft to 1,700 lb-ft.
The Eaton Roadranger manual transmission remains standard, providing 11 forward speeds and three reverse speeds. An optional automatic version, the Eaton Fuller UltraShift PLUS, is available.
Its sleek, modern aluminum carrier cab, which was first introduced on the TMS9000-2, provides an improved level of comfort and ergonomics for the operator, as well as a tiltable, telescopic steering column with a multifunction steering wheel and an improved gauge cluster and control panel. Sightlines from the adjustable air-suspended seat are enhanced via a camera system that transmits real-time pictures from the rear or the right-hand side blind spot to the in-cab display.
The operator's access to the superstructure cab is simplified by five access/egress points around the chassis. Using the Crane Control System (CCS) platform, the dual-axis ergonomic joysticks allow fine control of the load from the comfort of the adjustable seat with hydraulic suspension. CCS incorporates a full-color graphic display that is vertically mounted for better visibility and hosts a camera relay that gives the operator a bird's-eye view of the deployment of up to 653 ft. of rope from the main hoist, at speeds of up to 370 fpm.
The auxiliary hoist, which also is viewable on the display, offers a cable length of 420 ft. The updated carrier includes more storage areas, including outrigger pad stowage.
"The flexibility of the TMS800E made it a firm favorite with operators who do multiple smaller jobs a day, working in light construction and handling trusses, steel erection, HVAC work, etc.," Grace concluded. "Now, with the aid of these proven upgrades in terms of productivity, the TMS800-2 gives them the opportunity to squeeze in extra picks each day to maximize utilization — and to do so in even greater comfort."
The TMS800-2 is now available in the Americas.
NJC.© Info www.manitowoc.com.
--------------------------------------------------------------------------------------------------------------------
02/09/22-NL
Grove TMS800-2 verhoogt productiviteit met gemakkelijker wegrijden, 'grote kraan'-functies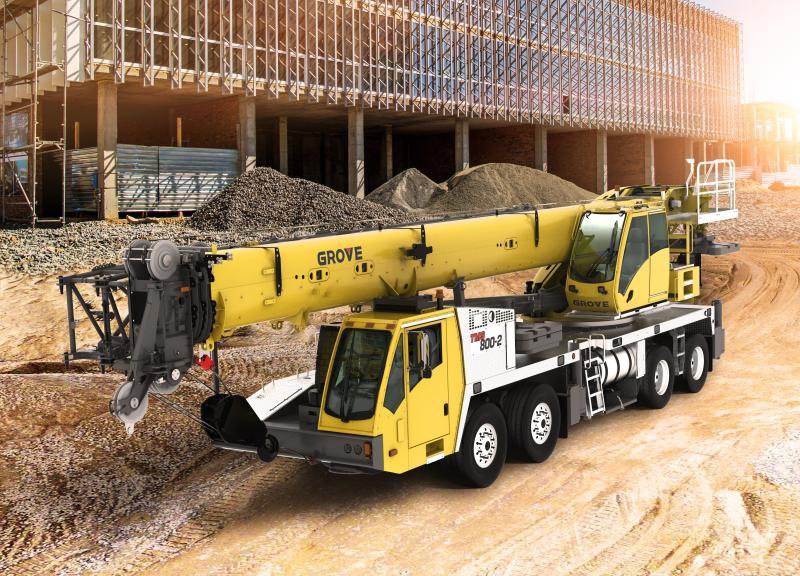 The Grove TMS800-2 can carry its full 28,000 lbs. of counterweight and remain within axle and tire limits without a fall-off load.
Als opvolger van de Grove TMS800E-vrachtwagenkraan, gebruikt de TMS800-2 technologie en functies die zijn ontwikkeld voor grotere op vrachtwagens gemonteerde en terreinkranen en verpakt deze in een gemakkelijk berijdbare eenheid van 80 ton.
Met een breed scala aan verbeteringen op het gebied van lasttabellen, aandrijflijn en setup, is de bijgewerkte vierassige kraan ideaal voor een reeks taxitoepassingen zoals hernieuwbare energie, de installatie van zendmasten en weg- en brugwerkzaamheden, aldus de fabrikant.
De opnieuw ontworpen, lichtgewicht drager transformeert de TMS800-2 in een echte taxikraan met een efficiënte wegligging. De kraan kan zijn volledige 28.000 pond dragen. van contragewicht en binnen de as- en bandlimieten blijven zonder een valbelasting. In gebieden met strengere verkeerswetten kan de TMS800-2 18.000 pond vervoeren. en onder de 100.000 pond blijven. GVW (bruto voertuiggewicht) en 25.000 lbs. per as in een taxiconfiguratie.
De afwezigheid van vleugelgewichten draagt ​​bij aan de smalle rijbreedte van 8,3 ft. Deze veranderingen leveren aanzienlijke transportbesparingen op gedurende de levensduur van de kraan.
"Zie de TMS800-2 als een lichtere versie van de TMS9000-2 [Grove vrachtwagenkraan van de 115-tons klasse], die dezelfde ergonomische cabine deelt en verwisselbare contragewichten heeft, maar met een kortere giek, een maximale capaciteit van 80 ton, en uitstekende wegcapaciteiten", legt JJ Grace, Grove's productmanager voor autolaadkranen, uit.
"En als de eerste TMS-kraan die MAXbase als optie aanbiedt, zal het vermogen om de installatie te versnellen - zelfs op onhandige locaties - de aantrekkingskracht vergroten voor drukke eigenaren die proberen de vraag naar hun diensten bij te houden."
Stevige basis
Een nieuw stempelontwerp maakt het opzetten van de jobsite eenvoudiger en sneller. De achterste stempelkast is iets minder dan 5 inch verhoogd om de vertrekhoek te verbeteren tot 18 graden, terwijl de voorste stempelkrikken 3,5 inch zijn verhoogd om de bodemvrijheid te verbeteren. Dit maakt het ook gemakkelijker om stempelmatten eronder te schuiven.
Bovendien maakt Grove's MAXbase het mogelijk om stempels asymmetrisch te plaatsen, waardoor de kraan zo dicht mogelijk bij de lift kan worden opgesteld - zelfs op krappe locaties waar obstakels kunnen voorkomen dat ze aan één kant volledig uitschuiven. Slimme sensoren versnellen en verbeteren het stabilisatieproces, met lengtewaarneming en een automatische nivellering.
In combinatie met het Manitowoc Crane Control System (CCS) en de giekconfiguratorfunctie, verhoogt MAXbase ook het hefvermogen over de hele linie. Als gevolg hiervan kan de bijgewerkte kraan een 30 procent sterker algemeen lastdiagram bieden dan de TMS800E, met een gewicht van 2.100 tot 3.750 lbs. voordeel bij radii van meer dan 60 ft.
En in zijn maximaal toelaatbare reisgewichtconfiguratie, met een GVW van 105.656 lbs., biedt de TMS800-2 eveneens tot 26 procent sterkere lasttabellen in het algemeen dan zijn belangrijkste concurrent, inclusief een 2.500 tot 4.000 lbs. voordeel verder dan 60 ft., volgens de fabrikant.
Als bijkomend voordeel biedt de vierdelige MEGAFORM-giek van 40-128 ft met Twin-Lock-pinning een breed werkbereik. De optionele telescopische zwenkbare roosterverlenging van 34,5 tot 57,6 ft (beschikbaar in versies met handmatige of hydraulische compensatie tot 45 graden) produceert een maximale tiphoogte van 194,3 ft.
Meer kracht, voordelen
Er zijn ook verschillende verbeteringen aangebracht aan de aandrijflijn van de kraan, met de overstap naar een zescilinder Cummins X12 turbodieselmotor die het vermogen met 25 tot 475 pk verhoogt en het maximumkoppel van 1550 lb-ft tot 1700 lb-ft.
De handgeschakelde Eaton Roadranger-transmissie blijft standaard en biedt 11 versnellingen vooruit en drie versnellingen achteruit. Een optionele automatische versie, de Eaton Fuller UltraShift PLUS, is beschikbaar.
De slanke, moderne aluminium cabine, die voor het eerst werd geïntroduceerd op de TMS9000-2, biedt een verbeterd niveau van comfort en ergonomie voor de machinist, evenals een kantelbare, telescopische stuurkolom met een multifunctioneel stuurwiel en een verbeterd metercluster en Controlepaneel. De zichtlijnen vanaf de verstelbare luchtgeveerde stoel worden verbeterd via een camerasysteem dat realtime beelden van de achterste of de rechter dode hoek naar het display in de cabine verzendt.
De toegang van de machinist tot de bovenbouwcabine wordt vereenvoudigd door vijf toegangs-/uitgangspunten rond het chassis. Met behulp van het Crane Control System (CCS)-platform maken de ergonomische joysticks met twee assen een fijne controle van de lading mogelijk vanuit het comfort van de verstelbare stoel met hydraulische vering. CCS heeft een grafisch kleurendisplay dat verticaal is gemonteerd voor een betere zichtbaarheid en een camerarelais bevat dat de machinist een panoramisch zicht geeft op de inzet van maximaal 200 meter touw vanaf de hoofdtakel, met snelheden tot 370 fpm.
De extra takel, die ook op het display te zien is, heeft een kabellengte van 420 ft. De bijgewerkte drager heeft meer opslagruimtes, waaronder het opbergen van stempelplaten.
"De flexibiliteit van de TMS800E maakte hem tot een vaste favoriet van operators die meerdere kleinere klussen per dag doen, in lichte constructies en het hanteren van spanten, staalmontage, HVAC-werkzaamheden, enz.", concludeerde Grace. "Nu, met behulp van deze bewezen upgrades op het gebied van productiviteit, geeft de TMS800-2 hen de mogelijkheid om elke dag extra te oogsten om het gebruik te maximaliseren - en dit met nog meer comfort."
De TMS800-2 is nu beschikbaar in Amerika.
NJC.© Info www.manitowoc.com.
----------------------------------------------------------------------------------------------------------------