GSSI PaveScan highlights GPR Asphalt Density Assessment
04/05/22-FR-English-NL-footer
GSSI PaveScan met en évidence l'évaluation de la densité d'asphalte GPR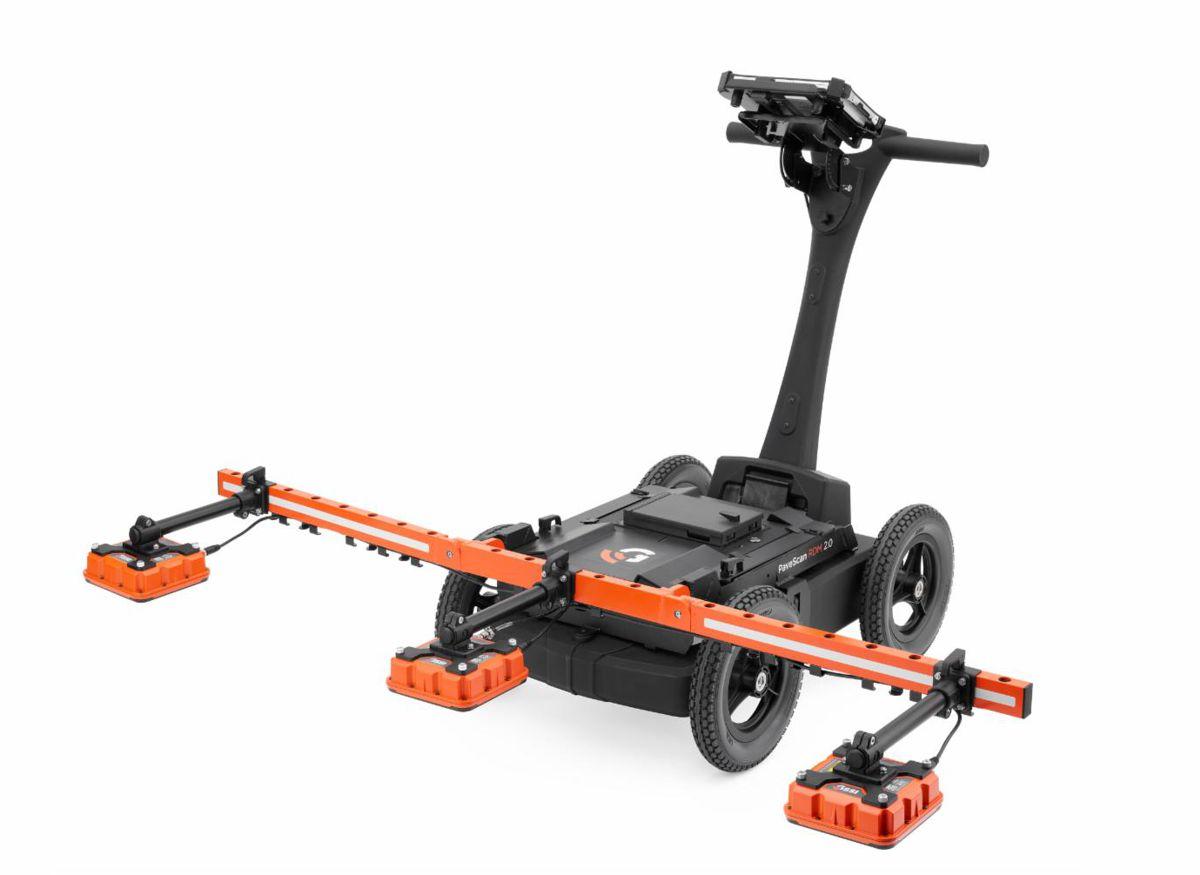 GSSI, le premier fabricant mondial d'équipements de géoradar (GPR), met en avant le PaveScan® RDM 2.0 et le PaveScan® Mix Design Module (MDM) pour l'évaluation de la densité de l'asphalte.
L'utilisation de PaveScan MDM et RDM donne aux entrepreneurs en pavage une vue complète et précise de la qualité de la chaussée sans les dépenses, les risques et les erreurs du carottage ponctuel. Plus important encore, la réduction du besoin de noyau expose moins de travailleurs aux dangers des zones de travail.
PaveScan RDM est idéal pour découvrir les problèmes qui surviennent pendant le processus de pavage, y compris une mauvaise uniformité et des variations importantes de densité. En évitant ces problèmes, PaveScan RDM permet d'éviter des défaillances prématurées telles que l'effritement de la route, la fissuration et la détérioration le long des joints.
Ce système mesure automatiquement la valeur diélectrique pour identifier les anomalies en temps réel. De plus, les valeurs diélectriques peuvent être utilisées comme moyen de corréler le pourcentage de vides et la densité dans une nouvelle chaussée. La technologie innovante permet aux utilisateurs d'obtenir des données de densité critiques pour l'AQ/CQ des nouvelles chaussées. Contrairement à d'autres options, comme les jauges de densité nucléaire ou les alternatives radioactives, PaveScan n'entraîne aucun danger sur le site et ne nécessite pas la fermeture de zones de travail.
S'intégrant parfaitement aux systèmes GPS, PaveScan présente une conception flexible et modulaire qui facilite l'utilisation et la collecte de données simples et efficaces. Il est proposé sous la forme d'un capteur unique ou d'une configuration basée sur un chariot à trois capteurs.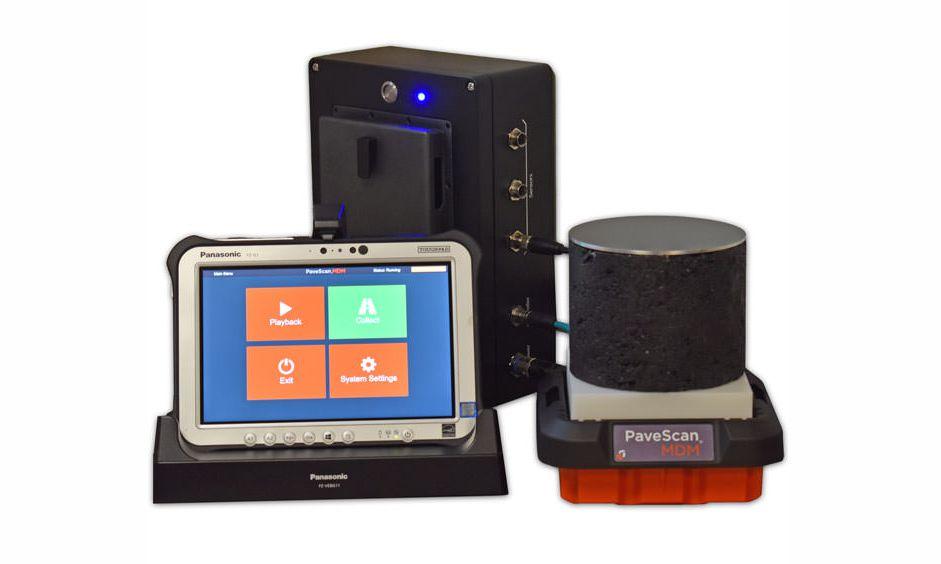 PaveScan MDM transforme le RDM en un nouvel outil puissant de contrôle de la qualité pour l'évaluation de la densité de l'asphalte. Il est sensible aux changements subtils dans les granulats, le mélange et l'humidité, et peut être utilisé pour alerter immédiatement les entrepreneurs en pavage des changements involontaires dans le mélange de granulats. Les utilisateurs peuvent comparer des échantillons quotidiens avec des conceptions de mélange approuvées pour détecter tout écart et résoudre les problèmes avant que le mélange ne soit déployé sur le terrain. Un test de laboratoire de cinq minutes permet aux utilisateurs de révéler avec précision les problèmes avant tout besoin de vidange de silo ou d'autres mesures correctives coûteuses. Les utilisateurs de PaveScan MDM peuvent également créer une bibliothèque numérique de conceptions de mélanges.
PaveScan MDM fournit une courbe d'étalonnage qui peut être utilisée pour montrer avec précision la variabilité de la densité dans le tapis d'asphalte. Un tel degré précis de contrôle de processus garantit que tous les tabliers de pont et les joints longitudinaux peuvent être roulés correctement.
En aidant à éviter les défaillances prématurées de la route telles que l'effilochement, la fissuration et la détérioration le long des joints mal compactés, la technologie PaveScan construit des routes de meilleure qualité et plus durables.
NJC.© Infos GSSI Geophysical Survey Systems, Inc.
-------------------------------------------------------------------------------------------------------------------
04/05/22-English
GSSI PaveScan highlights GPR Asphalt Density Assessment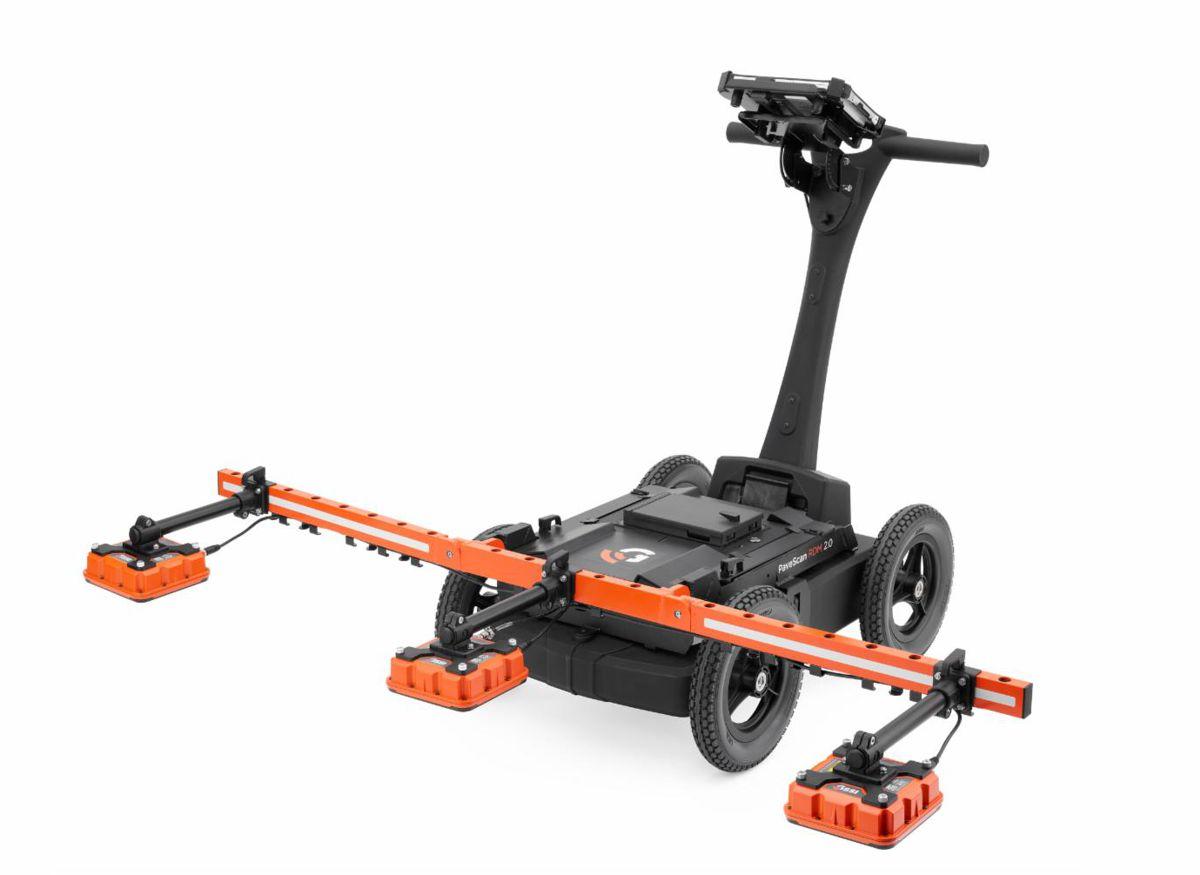 GSSI, the world's leading manufacturer of ground penetrating radar (GPR) equipment, highlights the PaveScan® RDM 2.0 and PaveScan® Mix Design Module (MDM) for asphalt density assessment.
Using PaveScan MDM and RDM gives paving contractors a comprehensive and accurate view into pavement quality without the expense, risk, and errors from spot coring. More importantly, reducing the need to core exposes fewer workers to the dangers of work zones.
PaveScan RDM is ideal for uncovering problems that occur during the paving process, including poor uniformity and significant variations in density. By avoiding these problems, PaveScan RDM helps avoid such premature failures as road ravelling, cracking, and deteriorating along joints.
This system automatically measures the dielectric value to identify anomalies in real-time. In addition, the dielectric values ​​can be used as a means to correlate percent voids and density in new pavement. The innovative technology enables users to obtain critical density data for QA/QC of new pavements. Unlike other options, like nuclear density gauges or radioactive alternatives, PaveScan does not result in any site hazards or require closing off work areas.
Seamlessly integrating with GPS systems, PaveScan features a flexible, modular design that facilitates easy and efficient operation and data collection. It is offered as a single sensor or a three-sensor cart based configuration.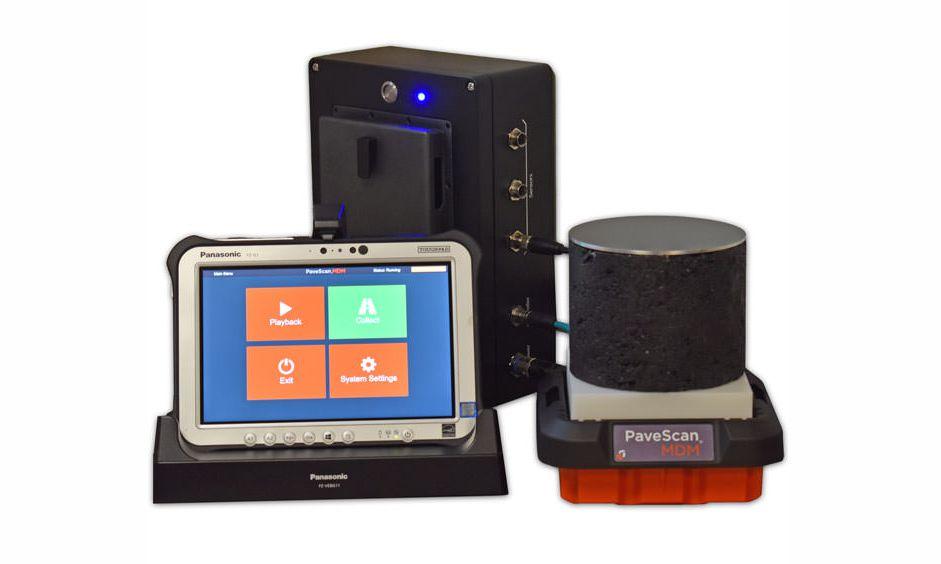 PaveScan MDM transforms the RDM into a powerful new quality control tool for asphalt density assessment. It is sensitive to subtle changes in aggregate, mix, and moisture, and can be used to immediately alert paving contractors to inadvertent changes in the aggregate mix. Users can compare daily samples against approved mix designs to detect any deviations and fix problems before the mix is ​​deployed in the field. One five-minute lab test enables users to accurately reveal problems before any need for silo dumps or other costly remediation. PaveScan MDM users can also create a digital library of mix designs.
PaveScan MDM provides a calibration curve that can be used to accurately show density variability within the asphalt mat. Such a precise degree of process control ensures that all bridge decks and longitudinal joints can be rolled properly.
By helping to avoid premature road failures such as ravelling, cracking and deterioration along poorly compacted joints, PaveScan technology builds better quality longer lasting roads.
NJC.© Info GSSI Geophysical Survey Systems, Inc.
------------------------------------------------------------------------------------------------------------------
04/05/22-NL
GSSI PaveScan benadrukt GPR Asfaltdichtheidsbeoordeling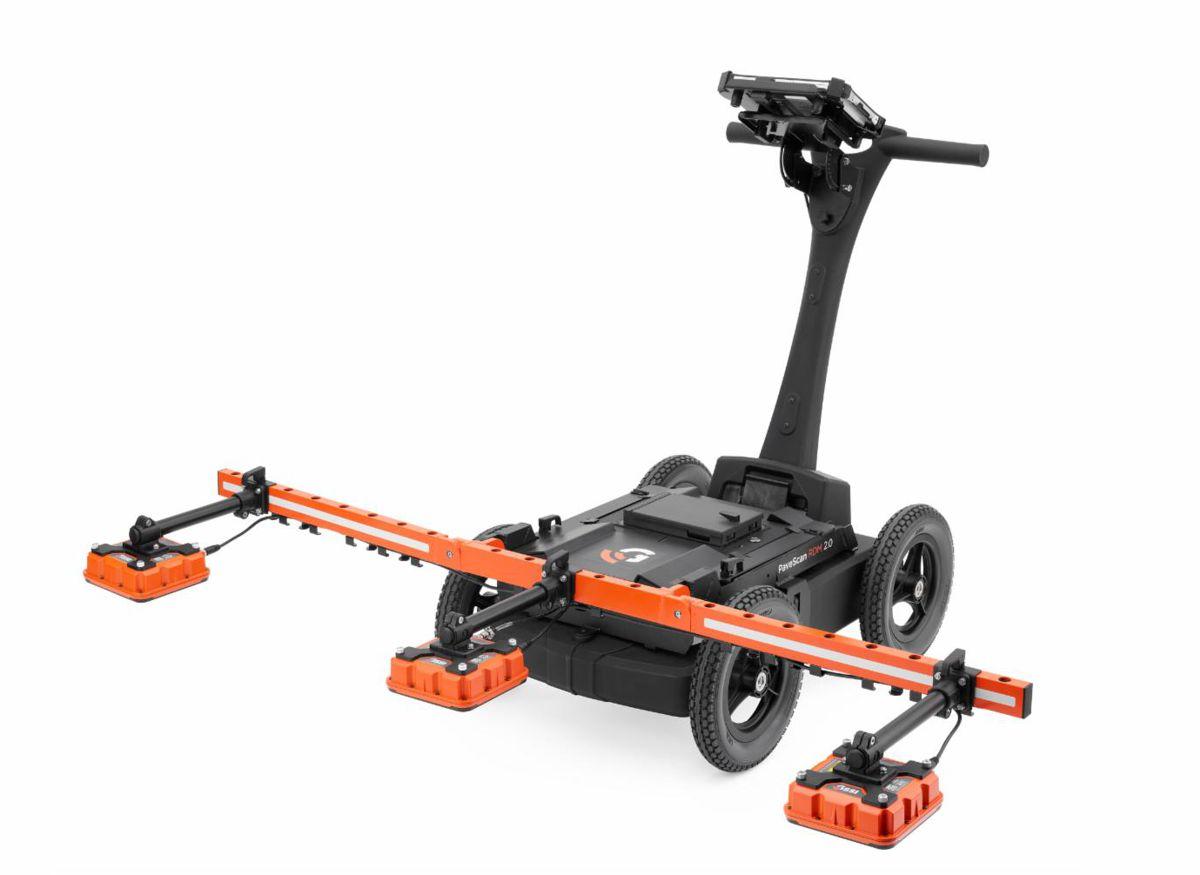 GSSI, 's werelds toonaangevende fabrikant van grondpenetrerende radarapparatuur (GPR), benadrukt de PaveScan® RDM 2.0 en PaveScan® Mix Design Module (MDM) voor beoordeling van de asfaltdichtheid.
Door PaveScan MDM en RDM te gebruiken, krijgen aannemers een uitgebreid en nauwkeurig beeld van de kwaliteit van de bestrating, zonder de kosten, risico's en fouten van het uitboren. Wat nog belangrijker is, is dat het verminderen van de noodzaak om te kernen minder werknemers blootstelt aan de gevaren van werkzones.
PaveScan RDM is ideaal voor het blootleggen van problemen die zich voordoen tijdens het verhardingsproces, waaronder een slechte uniformiteit en aanzienlijke variaties in densiteit. Door deze problemen te voorkomen, helpt PaveScan RDM vroegtijdige storingen als rafelen, scheuren en slijtage van voegen te voorkomen.
Dit systeem meet automatisch de diëlektrische waarde om afwijkingen in realtime te identificeren. Bovendien kunnen de diëlektrische waarden worden gebruikt als een middel om het percentage lege ruimte en de dichtheid in nieuwe bestrating te correleren. De innovatieve technologie stelt gebruikers in staat om kritische dichtheidsgegevens te verkrijgen voor QA/QC van nieuwe verhardingen. In tegenstelling tot andere opties, zoals nucleaire dichtheidsmeters of radioactieve alternatieven, leidt PaveScan niet tot gevaar op de locatie en vereist het niet dat werkgebieden worden afgesloten.
PaveScan integreert naadloos met GPS-systemen en heeft een flexibel, modulair ontwerp dat eenvoudige en efficiënte bediening en gegevensverzameling mogelijk maakt. Het wordt aangeboden als een enkele sensor of een configuratie met drie sensoren op een kar.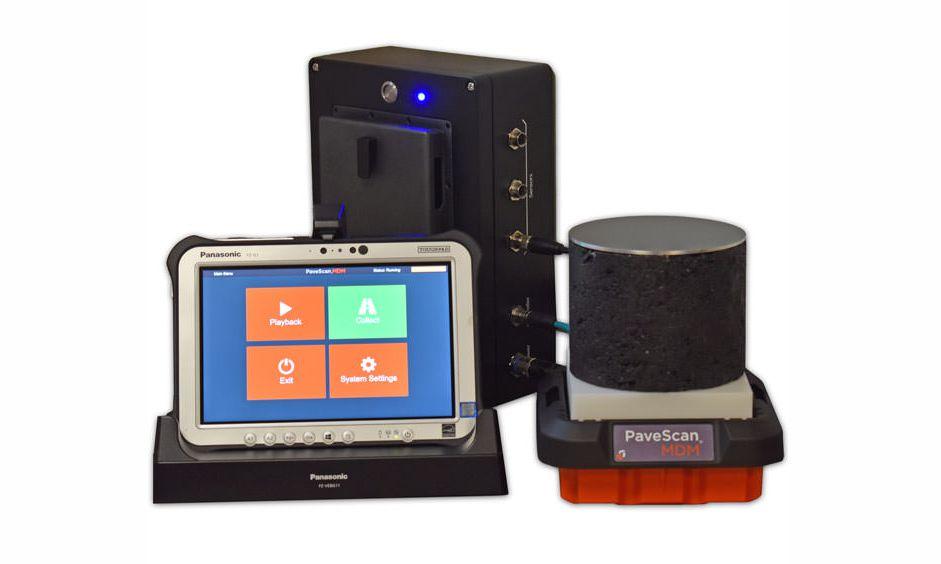 PaveScan MDM transformeert de RDM in een krachtige nieuwe kwaliteitscontroletool voor de beoordeling van asfaltdichtheid. Het is gevoelig voor subtiele veranderingen in aggregaat, mengsel en vocht en kan worden gebruikt om aannemers onmiddellijk te waarschuwen voor onbedoelde veranderingen in het aggregaatmengsel. Gebruikers kunnen dagelijkse monsters vergelijken met goedgekeurde mixontwerpen om eventuele afwijkingen te detecteren en problemen op te lossen voordat de mix in het veld wordt ingezet. Een laboratoriumtest van vijf minuten stelt gebruikers in staat om problemen nauwkeurig aan het licht te brengen voordat silo's of andere kostbare saneringen nodig zijn. PaveScan MDM-gebruikers kunnen ook een digitale bibliotheek met mixontwerpen creëren.
PaveScan MDM biedt een kalibratiecurve die kan worden gebruikt om de dichtheidsvariabiliteit binnen de asfaltmat nauwkeurig weer te geven. Een dergelijke nauwkeurige mate van procesbeheersing zorgt ervoor dat alle brugdekken en langsvoegen goed kunnen worden gewalst.
Door vroegtijdige wegdefecten zoals rafelen, scheuren en slijtage langs slecht verdichte verbindingen te helpen voorkomen, bouwt PaveScan-technologie wegen van betere kwaliteit die langer meegaan.
NJC.© Info GSSI Geophysical Survey Systems, Inc.
------------------------------------------------------------------------------------------------------------------