Hamm Innovations for Earthworks, Asphalt Construction at ConExpo

20/02/23-FR-English-NL-footer
Innovations Hamm pour les travaux de terrassement et la construction d'asphalte à ConExpo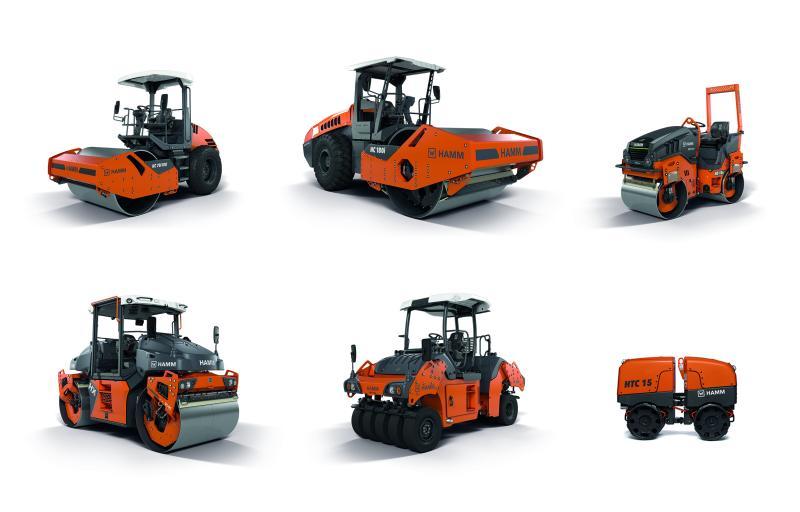 Image- Hamm is presenting numerous new series and models at ConExpo-Con/AGG 2023: The HC CompactLine series, the HC series, electrically driven compact rollers from the HD CompactLine series, the HX series, the HP 100i articulated pneumatic-tire roller, and the HTC 15 trench roller (from top left to bottom right).
Hamm présente un programme chargé à ConExpo-Con/AGG 2023, comprenant plusieurs premières mondiales ainsi que d'autres développements innovants.
La gamme d'innovations s'étend des compacteurs tandem électrifiés, des compacteurs, des compacteurs pneumatiques et des compacteurs tandem à direction pivotante, jusqu'à l'application de compactage Smart Doc pour l'autosurveillance et la documentation.
Rouleaux tandem à entraînement électrique
Une attention particulière est accordée aux rouleaux tandem électriques de la série HD CompactLine, qui sont utilisés dans le monde entier. Ils sont compacts avec zéro émission locale et sont également extrêmement silencieux, selon le fabricant.
Le fonctionnement et les paramètres de compactage sont identiques aux machines à moteur diesel. Les rouleaux entièrement alimentés par batterie peuvent fonctionner toute une journée de travail typique avec la batterie Li-ion (capacité 23 kWh) sans avoir besoin d'être rechargés. Les rouleaux devraient être disponibles aux États-Unis à partir de fin 2023.
Compacteurs de la série HC
Avec la série HC, Hamm rassemble tous les compacteurs d'un poids opérationnel de 24 251 à 55 116 lb. sur une seule plateforme. Les niveaux de puissance du moteur sont compris entre 85 et 160 kW ; leurs émissions sont conformes aux exigences régionales respectives.
Grâce à un mode ECO intégré, les rouleaux travaillent la plupart du temps dans la plage de charge partielle économique. Avec plus de 20 % de bande de roulement en plus, environ 30 % d'espace en plus et plus de compartiments de rangement, les cabines Easy Drive sont plus confortables que jamais.
De nombreuses options sont disponibles pour tous les modèles, de l'arrêt automatique du moteur à la lame de remblayage. Grâce à de nombreuses interfaces, les compacteurs de la série HC sont "digital-ready", c'est-à-dire qu'ils sont prêts à être utilisés dans une très large gamme d'outils, y compris l'application Smart Doc.
À l'avenir, il y aura également des machines CR avec un équipement spécialement renforcé pour une utilisation sur sol rocheux et sur terrain difficile.
Série HC CompactLine
Dans le segment des petits compacteurs (11 023 à 15 432 lb), Hamm présente la série HC CompactLine. Contrairement aux modèles précédents, Hamm a encore amélioré le confort de conduite et a augmenté la traction et la capacité de franchissement.
Le modèle HC 70i reste le rouleau le plus compact de la catégorie 7 t sur le marché. Différents outils numériques sont disponibles pour tous les modèles HC CompactLine, en particulier l'application Smart Doc. Il prend en charge l'autosurveillance et la documentation basées sur le GNSS.
Smart Doc : Assistant numérique pour le compactage
L'application Smart Doc de Hamm facilite la création de rapports de compactage pour l'auto-surveillance et la documentation.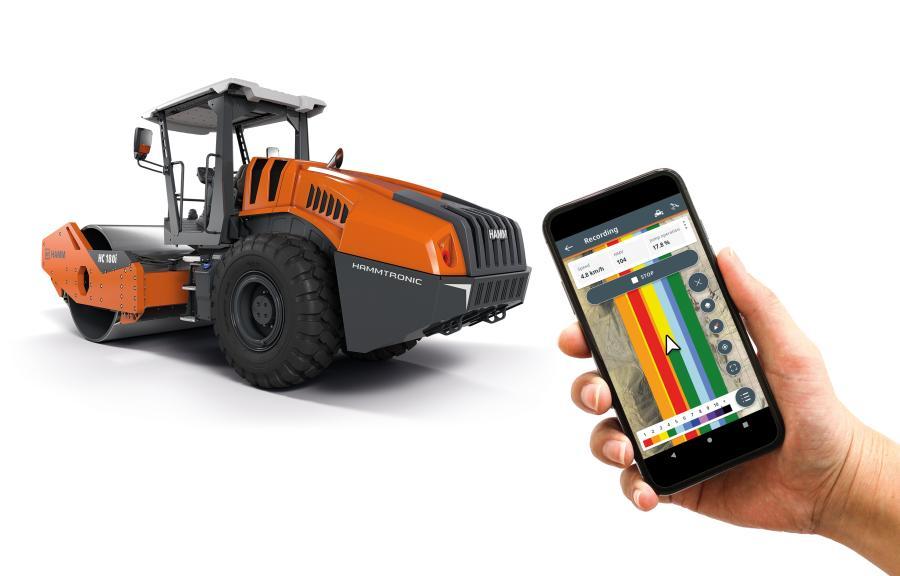 Image- The Smart Doc app from Hamm makes it easy to create compaction reports for self-monitoring and documentation.
L'application gratuite Smart Doc montre en temps réel l'évolution du compactage et relie les données de la machine aux données de position GNSS. L'application crée des résultats de compactage clairs au format PDF. Ils conviennent aussi bien à l'autocontrôle qu'à la documentation vis-à-vis des clients.
Aucun moniteur séparé n'est requis pour faire fonctionner l'application. Il fonctionne simplement via les smartphones ou tablettes Android standard. Au cours de la saison d'asphalte 2023, la communication M2M (machine à machine) et la communication M2C (machine à cloud) joueront également un rôle.
Rouleau pneumatique articulé HP 100i
Avec le compacteur à pneus articulé HP 100i, Hamm présente une première mondiale à la ConExpo-Con/AGG. Le poids de base du rouleau est de 13 228 lb. et peut être augmenté jusqu'à 22 046 lb. en utilisant différents kits de ballast.
Avec cinq roues sur l'essieu avant et quatre roues sur l'essieu arrière, le nouveau rouleau pneumatique a une largeur de travail de 68 po.
Le chevauchement généreux des traces de pneus permet un compactage homogène. Dans le même temps, l'articulation à 3 points assure une grande maniabilité. Le rouleau est idéal pour des applications telles que le compactage de copeaux et d'asphalte sur des chantiers de construction plus petits.
Un système d'aspersion d'eau et divers racleurs peuvent être intégrés sur demande. La vitesse peut être réglée en toute sécurité et confortablement directement sur le levier de conduite. Un contrôle intelligent de la vitesse en fonction de l'angle de braquage signifie que le rouleau peut toujours être manœuvré en toute sécurité dans les virages malgré la vitesse finale extrêmement élevée.
Rouleaux tandem à direction pivotante de la série HX
La série HX est le nouveau produit phare de Hamm pour la construction d'asphalte. Les rouleaux tandem à direction pivotante de 15 432 ou 19 842 lb suivent les traces de la série DV+ et sont conçus pour un compactage de haute qualité. Il existe des modèles avec des tambours de vibration et d'oscillation divisés et non divisés, ainsi que des rouleaux combinés.
Un élément clé de la technologie de compactage bien conçue est l'inversion automatique intégrée : elle freine et accélère les rouleaux rapidement, mais en douceur. L'unité de commande du siège à réglage électrique, qui tourne automatiquement dans le sens de la marche en marche arrière, est unique sur le marché. L'excellente visibilité contribue également à la qualité, y compris une fenêtre dans le plancher de la cabine pour une vue sur les tambours.
Rouleaux de tranchée HTC
Le compacteur de tranchées articulé HTC 15 pour le compactage dans les tranchées est nouveau dans la gamme Hamm. Il est équipé de deux tambours à pieds dameurs de 32 po de large, ce qui le rend parfait pour compacter les sols cohésifs. Il est commandé via une télécommande infrarouge. Cela présente plusieurs avantages : D'une part, le rouleau s'arrête dès que l'opérateur n'a plus de ligne de mire. D'autre part, la transmission du signal par infrarouge n'interfère pas avec les autres liaisons radio sur le chantier.
Le centre de gravité bas du 3307 lbs. rouleau garantit une très faible tendance au basculement.
Rouleau Tandem HD+120i VIO-2 HF
Le rouleau tandem articulé HD+ 120i VIO-2 HF est également nouveau. Hamm ouvre donc de nouvelles possibilités, puisqu'il est équipé de deux tambours VIO totalement sans entretien. Les deux tambours peuvent fonctionner avec vibration ou avec oscillation ; cela peut être commuté depuis le siège du conducteur. De plus, Hamm a développé un système de vibration automatique spécial pour cette machine.
Le tambour avant dans le sens de la marche fonctionne toujours en mode vibration, tandis que le tambour arrière fonctionne en mode oscillation ; lors de la marche arrière, les tambours sont commutés automatiquement. Il en résulte une puissance de compactage élevée, mais le fonctionnement reste toujours simple. Ces 26 455 livres. machines compactes à haute fréquence (> 4000 VPM). En conséquence, ils produisent des couches de revêtement d'asphalte homogènes même à des vitesses de conduite élevées et atteignent des rendements de surface élevés.
Le lancement sur le marché de la machine de 12 tonnes est prévu pour la fin de 2023.
NJC.© Info HAMM
----------------------------------------------------------------------------------------------------------

20/02/23-English
Hamm Innovations for Earthworks, Asphalt Construction at ConExpo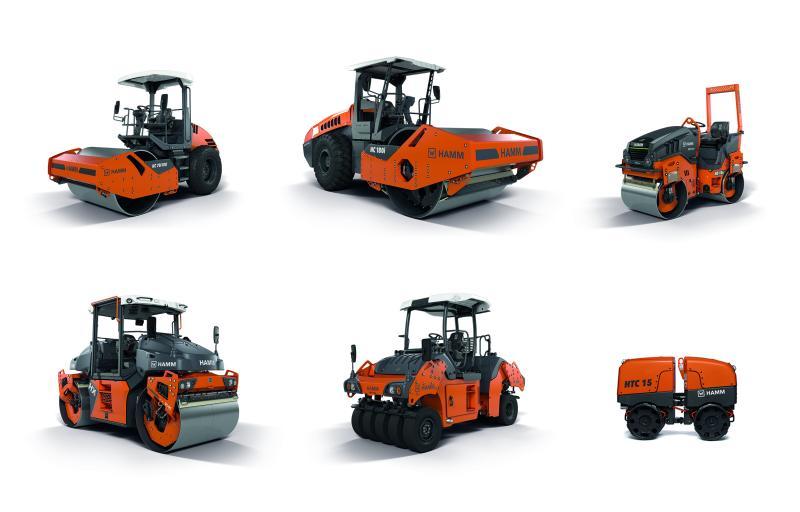 Image- Hamm is presenting numerous new series and models at ConExpo-Con/AGG 2023: The HC CompactLine series, the HC series, electrically driven compact rollers from the HD CompactLine series, the HX series, the HP 100i articulated pneumatic-tire roller, and the HTC 15 trench roller (from top left to bottom right).
Hamm is presenting a packed program at ConExpo-Con/AGG 2023, including several world premieres as well as innovative further developments.
The spectrum of innovations ranges from electrified tandem rollers, compactors, pneumatic-tire rollers and pivot-steered tandem rollers, right through to the Smart Doc compaction app for self-monitoring and documentation.
Tandem Rollers With Electric Drive
Particular focus is placed on the electric tandem rollers in the HD CompactLine series, which is used across the world. They compact with zero local emissions and also are extremely quiet, according to the manufacturer.
The operation and the compaction parameters are identical to the diesel-driven machines. The completely battery-powered rollers can work for an entire typical work day with the Li-ion battery (capacity 23 kWh) without needing to be charged. The rollers are expected to be available in the United States from the end of 2023.
Compactors in HC Series
With the HC series, Hamm is bringing together all compactors with an operating weight of 24,251 to 55,116 lbs. on a single platform. The engine power levels are between 85 and 160 kW; their emissions comply with the respective regional requirements.
Due to an integrated ECO-Mode, the rollers work in the economical partial-load range for most of the time. With over 20 percent increased tread, around 30 percent increased space, and more storage compartments, the Easy Drive cabs are more comfortable than ever.
Many options are available for all models — from the automatic engine stop through to the dozer blade. Due to numerous interfaces, the compactors in the HC series are "digital-ready", in other words, they are ready to be used in an extremely wide range of tools, including the Smart Doc app.
In the future, there also will be CR machines with specially reinforced equipment for use on rocky ground and on difficult terrain.
HC CompactLine Series
In the segment for small compactors (11,023 to 15,432 lbs.), Hamm is showcasing the HC CompactLine series. In contrast to the predecessor models, Hamm has further improved the driving comfort, and has increased the traction and gradeability.
The HC 70i model is still the most compact roller in the 7 t class on the market. Various digital tools are available for all HC CompactLine models, in particular the Smart Doc app. It supports GNSS-based self-monitoring and documentation.
Smart Doc: Digital Assistant for Compaction
The Smart Doc app from Hamm makes it easy to create compaction reports for self-monitoring and documentation.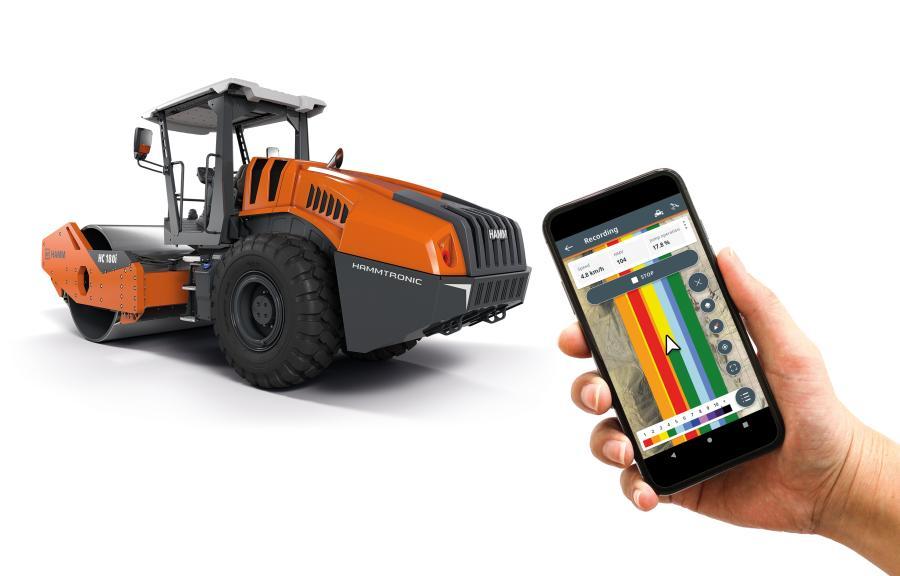 Image- The Smart Doc app from Hamm makes it easy to create compaction reports for self-monitoring and documentation.
The free Smart Doc app shows in real-time how the compaction develops, and links the machine data to GNSS position data. The app creates clear compaction results in PDF format. They are suitable for self-monitoring as well as for documentation with respect to clients.
No separate monitor is required to operate the app. It works simply via standard Android smartphones or tablets. In the 2023 asphalt season, M2M (machine to machine) communication and M2C (machine to cloud) communication also will play a role.
HP 100i Articulated Pneumatic-Tire Roller
With the HP 100i articulated pneumatic-tire roller, Hamm is presenting a world premiere at the ConExpo-Con/AGG. The base weight of the roller is 13,228 lbs. and can be increased to up to 22,046 lbs. using different ballast kits.
With five wheels on the front axle and four wheels on the rear axle, the new pneumatic-tire roller has a working width of 68 in.
The generous overlap of the tire tracks results in homogeneous compaction. At the same time, the 3-point articulated joint ensures high maneuverability. The roller is ideal for applications such as chipseal and asphalt compaction on smaller construction sites.
A water-sprinkling system and various scrapers can be integrated on request. The speed can be adjusted safely and conveniently directly at the driving lever. Clever speed control depending on the steering angle means that the roller can always be maneuvered safely through curves despite the extremely high final speed.
Pivot-Steered Tandem Rollers in HX Series
The HX series is the new flagship from Hamm for asphalt construction. The pivot-steered tandem rollers 15,432 or 19,842 lb. are following in the footsteps of the DV+ series and are designed for high-quality compaction. There are models with split and non-split vibration and oscillation drums, as well as combination rollers.
A key component of the well-conceived compaction technology is the integrated automatic reversing: It brakes and accelerates the rollers quickly, but smoothly. The electrically adjustable seat operating unit, which automatically turns to the direction of travel when reversing, is unique on the market. The excellent visibility also contributes to the quality — including a window in the cab floor for a view of the drums.
HTC Trench Rollers
The HTC 15 articulated trench roller for compaction in trenches is new to the Hamm range. It is equipped with two 32 in. wide padfoot drums, making it perfect for compacting cohesive soils. It is operated via infrared remote control. This brings several advantages: On the one hand, the roller stops as soon as the operator no longer has a line of sight. On the other hand, the signal transmission via infrared does not interfere with other radio links on the construction site.
The low center of gravity of the 3307 lbs. roller ensures an extremely low tendency to tip.
HD+120i VIO-2 HF Tandem Roller
The HD+ 120i VIO-2 HF articulated tandem roller also is new. Hamm is therefore opening up new possibilities, since it is equipped with two completely maintenance-free VIO drums. Both drums can work with vibration or with oscillation; this can be switched from the driver's seat. Furthermore, Hamm has developed a special automatic vibration system for this machine.
The front drum in the direction of travel always operates in vibration mode, while the rear drum operates in oscillation mode; when reversing, the drums are switched automatically. This results in high compaction power — but operation always remains simple. These 26,455 lbs. machines compact at a high frequency (> 4000 VPM). As a result, they produce homogeneous asphalt surface courses even at high driving speeds and achieve high surface outputs.
The market launch of the 12-ton machine is scheduled for the end of 2023.
NJC.© Info HAMM
--------------------------------------------------------------------------------------------------------------------

20/02/23-NL
Hamm-innovaties voor grondwerken, asfaltbouw op ConExpo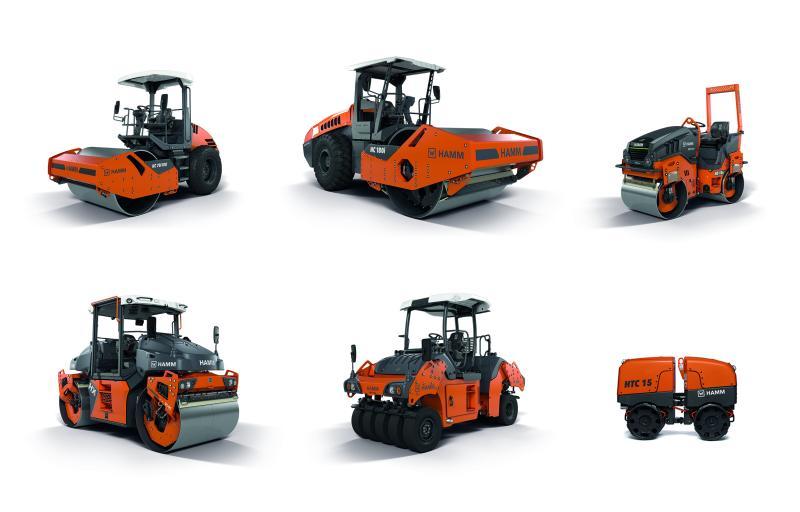 Image- Hamm is presenting numerous new series and models at ConExpo-Con/AGG 2023: The HC CompactLine series, the HC series, electrically driven compact rollers from the HD CompactLine series, the HX series, the HP 100i articulated pneumatic-tire roller, and the HTC 15 trench roller (from top left to bottom right).
Hamm presenteert een bomvol programma op ConExpo-Con/AGG 2023, inclusief meerdere wereldpremières en innovatieve doorontwikkelingen.
Het spectrum aan innovaties reikt van geëlektrificeerde tandemwalsen, verdichters, luchtbandwalsen en zwenkgestuurde tandemwalsen tot en met de Smart Doc-verdichtingsapp voor zelfcontrole en documentatie.
Tandemwalsen met elektrische aandrijving
Bijzondere aandacht wordt besteed aan de elektrische tandemwalsen in de HD CompactLine-serie, die over de hele wereld wordt gebruikt. Ze verdichten zonder lokale uitstoot en zijn ook extreem stil, aldus de fabrikant.
De werking en de verdichtingsparameters zijn identiek aan de dieselaangedreven machines. De volledig batterijgevoede walsen kunnen een volledige werkdag werken met de Li-ion batterij (capaciteit 23 kWh) zonder dat ze opgeladen hoeven te worden. De walsen zullen naar verwachting vanaf eind 2023 in de Verenigde Staten verkrijgbaar zijn.
Verdichters in de HC-serie
Met de HC-serie brengt Hamm alle verdichters samen met een bedrijfsgewicht van 24.251 tot 55.116 lbs. op één platform. Het motorvermogen ligt tussen de 85 en 160 kW; hun emissies voldoen aan de respectieve regionale vereisten.
Dankzij een geïntegreerde ECO-Mode werken de walsen het grootste deel van de tijd in het economische deellastbereik. Met meer dan 20 procent meer profiel, ongeveer 30 procent meer ruimte en meer opbergvakken zijn de Easy Drive-cabines comfortabeler dan ooit.
Voor alle modellen zijn vele opties beschikbaar — van de automatische motorstop tot het dozerblad. Dankzij talrijke interfaces zijn de verdichters in de HC-serie "digital-ready", met andere woorden, ze zijn klaar om te worden gebruikt in een zeer breed scala aan tools, waaronder de Smart Doc-app.
In de toekomst zullen er ook CR-machines zijn met speciaal versterkte uitrusting voor gebruik op rotsachtige grond en op moeilijk terrein.
HC CompactLine-serie
In het segment voor kleine verdichters (11.023 tot 15.432 lbs.) stelt Hamm de HC CompactLine-serie voor. In tegenstelling tot de voorgaande modellen heeft Hamm het rijcomfort verder verbeterd en de tractie en het klimvermogen vergroot.
Het model HC 70i is nog steeds de meest compacte wals in de 7-tons klasse op de markt. Voor alle HC CompactLine modellen zijn diverse digitale tools beschikbaar, met name de Smart Doc app. Het ondersteunt op GNSS gebaseerde zelfcontrole en documentatie.
Smart Doc: digitale assistent voor verdichting
De Smart Doc-app van Hamm maakt het eenvoudig om verdichtingsrapporten te maken voor zelfcontrole en documentatie.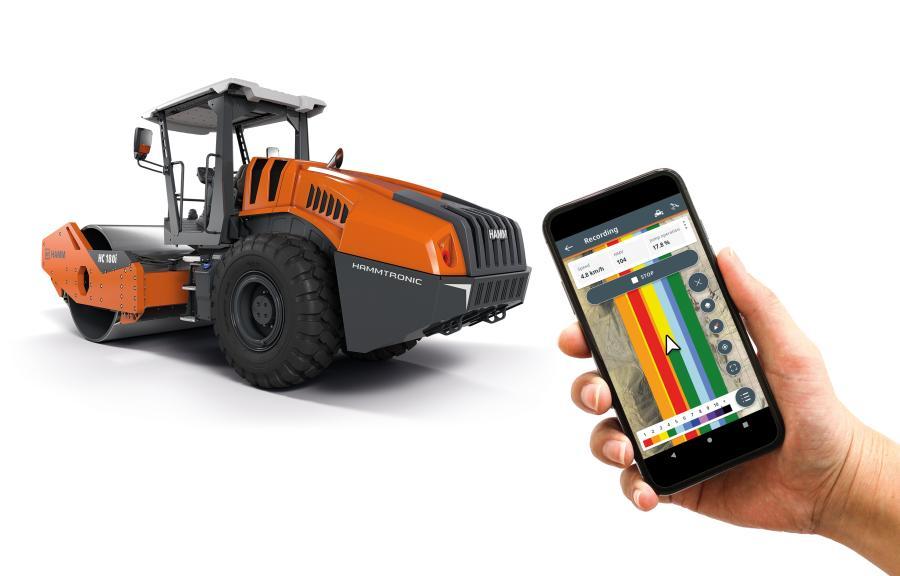 Image- The Smart Doc app from Hamm makes it easy to create compaction reports for self-monitoring and documentation.
De gratis Smart Doc app laat in real-time zien hoe de verdichting zich ontwikkelt en koppelt de machinegegevens aan GNSS positiegegevens. De app creëert duidelijke verdichtingsresultaten in PDF-formaat. Ze zijn zowel geschikt voor zelfcontrole als voor documentatie met betrekking tot klanten.
Er is geen aparte monitor nodig om de app te bedienen. Het werkt eenvoudig via standaard Android-smartphones of -tablets. In het asfaltseizoen 2023 gaan ook M2M (machine to machine) communicatie en M2C (machine to cloud) communicatie een rol spelen.
HP 100i gelede pneumatische bandenroller
Met de knikgestuurde luchtbandenwals HP 100i presenteert Hamm een wereldpremière op de ConExpo-Con/AGG. Het basisgewicht van de rol is 13.228 lbs. en kan worden verhoogd tot maximaal 22.046 lbs. verschillende ballastkits gebruiken.
Met vijf wielen op de vooras en vier wielen op de achteras heeft de nieuwe luchtbandenwals een werkbreedte van 68 inch.
De royale overlapping van de bandensporen resulteert in een homogene verdichting. Tegelijkertijd zorgt het 3-punts knikscharnier voor een hoge wendbaarheid. De wals is ideaal voor toepassingen zoals het verdichten van chips en asfalt op kleinere bouwplaatsen.
Op verzoek kunnen een watersproeisysteem en diverse schrapers worden geïntegreerd. De snelheid kan veilig en gemakkelijk direct aan de rijhendel worden aangepast. Dankzij een slimme snelheidsregeling afhankelijk van de stuurhoek kan de wals ondanks de extreem hoge eindsnelheid altijd veilig door bochten worden gemanoeuvreerd.
Zwenkgestuurde tandemrollen in de HX-serie
De HX-serie is het nieuwe vlaggenschip van Hamm voor de asfaltbouw. De zwenkgestuurde tandemwalsen van 15.432 of 19.842 lb treden in de voetsporen van de DV+-serie en zijn ontworpen voor hoogwaardige verdichting. Er zijn modellen met gedeelde en niet-gedeelde tril- en oscillatietrommels, evenals combinatierollen.
Een belangrijk onderdeel van de doordachte verdichtingstechnologie is de geïntegreerde omkeerautomaat: deze remt en accelereert de walsen snel, maar soepel. Uniek op de markt is de elektrisch verstelbare stoelbediening, die bij het achteruitrijden automatisch meedraait in de rijrichting. Het uitstekende zicht draagt ook bij aan de kwaliteit - inclusief een raam in de cabinevloer voor zicht op de vaten.
HTC sleufwalsen
De HTC 15 gelede sleuvenwals voor verdichting in sleuven is nieuw in het Hamm-assortiment. Hij is uitgerust met twee 32 inch brede trommelvoeten, waardoor hij perfect is voor het verdichten van samenhangende bodems. Het wordt bediend via een infrarood afstandsbediening. Dit heeft meerdere voordelen: Enerzijds stopt de wals zodra de bediener geen zicht meer heeft. Aan de andere kant stoort de signaaloverdracht via infrarood andere radioverbindingen op de bouwplaats niet.
Het lage zwaartepunt van de 3307 lbs. rol zorgt voor een extreem lage neiging tot kantelen.
HD+120i VIO-2 HF-tandemwals
Nieuw is ook de HD+ 120i VIO-2 HF kniktandemwals. Hamm opent daarmee nieuwe mogelijkheden, aangezien hij is uitgerust met twee volledig onderhoudsvrije VIO-trommels. Beide trommels kunnen werken met trillingen of met oscillatie; dit kan worden geschakeld vanaf de bestuurdersstoel. Verder heeft Hamm voor deze machine een speciaal automatisch trilsysteem ontwikkeld.
De voorste trommel in de rijrichting werkt altijd in trillingsmodus, terwijl de achterste trommel in oscillatiemodus werkt; bij het achteruitrijden worden de trommels automatisch geschakeld. Dit resulteert in een hoog verdichtingsvermogen — maar de bediening blijft altijd eenvoudig. Deze 26.455 pond. machines verdichten met een hoge frequentie (> 4000 VPM). Hierdoor produceren ze zelfs bij hoge rijsnelheden homogene asfaltlagen en bereiken ze een hoog dekvermogen.
De marktintroductie van de 12-tons machine staat gepland voor eind 2023.
NJC.© Info HAMM
--------------------------------------------------------------------------------------------------------------