HIAB - EFFER launches three new generation crane models
01/07/22-FR-English-NL-footer
HIAB - EFFER lance trois modèles de grue de nouvelle génération
EFFER iQ. 1200 HP IMAGE SOURCE: Hiab
Hiab, filiale de Cargotec, lance trois nouvelles grues pour charges lourdes EFFER à faible consommation de carburant et le nouveau système d'exploitation avancé SPACEevo pour améliorer la productivité et un fonctionnement plus sûr.
Les trois nouveaux modèles, EFFER iQ.1200 HP, 110 tonnes mètre (tm), EFFER iX.550 HP, 51 tm et EFFER iX.355 HP, 32,1 tm, sont disponibles à la commande auprès des concessionnaires EFFER du monde entier.
« Nous sommes fiers de présenter trois nouvelles grues auxiliaires EFFER qui élargissent le choix des capacités de levage à la disposition de nos clients. Le nouveau système d'exploitation SPACEevo garantit que les grues disposent des meilleures performances et fonctionnalités de sécurité », déclare Marcel Boxem, directeur, gestion globale des produits, Loader Cranes Heavy & Super Heavy, Hiab.
Il ajoute : « Les nouvelles grues aident également nos clients à réduire leurs émissions grâce à la réduction du poids et à la réduction de la consommation d'énergie. Le poids global inférieur du véhicule entraîne une charge utile nette plus importante pour le client. »
Le modèle EFFER iQ.1200 HP est une grue de gamme 110 tm avec une conception compacte similaire aux modèles 90tm. Cela permet une bonne charge utile sur une grue aussi longue et solide et offre un équilibre optimisé entre la portée, la polyvalence et la capacité de transport.
Les grues sont contrôlées par le nouveau système de contrôle SPACEevo qui leur permet d'être actionnées avec précision même à des vitesses élevées. Il offre également des fonctionnalités avancées de sécurité et de productivité telles que VSL+ qui peuvent maximiser la capacité de levage en calculant la stabilité en fonction de la position des pieds stabilisateurs et du poids total du chariot.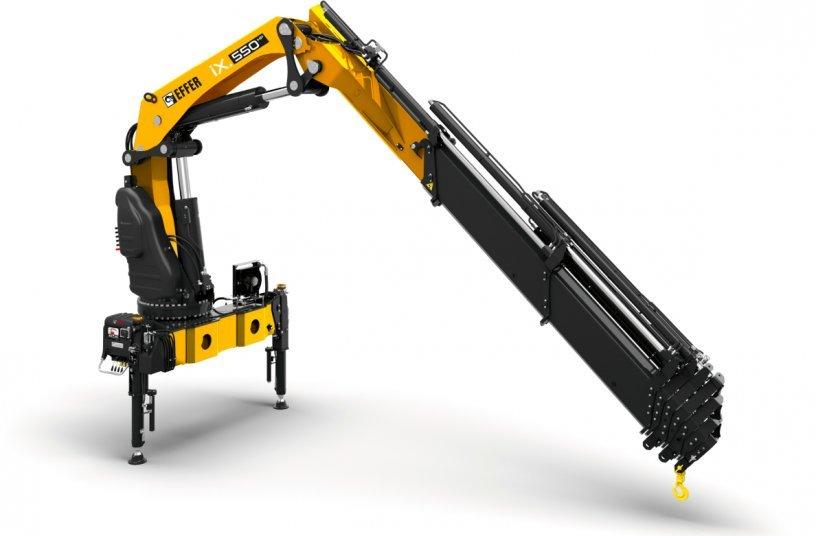 EFFER iX. 550 HP
IMAGE SOURCE: Hiab
SPACEevo est une plate-forme ouverte et modulaire qui permet aux clients d'ajouter ou d'améliorer leurs grues avec plus de fonctions au fil du temps, à mesure qu'elles deviennent disponibles, en gardant leur équipement à jour et en évoluant en fonction des besoins de l'entreprise.
La télécommande XS Drive standard peut être remplacée par la nouvelle télécommande CombiDrive 4 en option, qui améliore le fonctionnement de la grue avec de nouvelles fonctionnalités de sécurité telles que Confirm View pour trouver le meilleur champ de vision, trois écrans haute définition et couleurs vives et un long- batterie longue durée avec paramètres de personnalisation de l'opérateur mono-utilisateur.
Les nouveaux modèles seront également proposés en versions non CE, équipés du système de contrôle Space X4 et de la télécommande optionnelle CombiDrive 3.
NJC.© Info HIAB
-------------------------------------------------------------------------------------------------------------------
01/07/22-English
HIAB - EFFER launches three new generation crane models
EFFER iQ. 1200 HP IMAGE SOURCE: Hiab
Hiab, part of Cargotec, launches three new EFFER heavy loader cranes with lower fuel consumption and the new advanced operating system SPACEevo to improve productivity and safer operation.
The three new models, EFFER iQ.1200 HP, 110 tonne metre (tm), EFFER iX.550 HP, 51 tm, and EFFER iX.355 HP, 32.1 tm, are available to order from EFFER dealers globally.
"We are proud to introduce three new EFFER loader cranes that widen the choice of lifting capacities available to our customers. The new operating system SPACEevo ensures that the cranes have "best in class" performance and safety features," says Marcel Boxem, Director, Global Product Management, Loader Cranes Heavy & Super Heavy, Hiab.
He adds: "The new cranes also help our customers to lower their emissions by weight reduction and reducing the energy consumption. Overall lower vehicle weight leads to more net payload for the customer."
The EFFER iQ.1200 HP model is a 110 tm range crane with a compact design similar to 90tm models. This allows for a good payload on such a long and strong crane and provides an optimised balance between outreach, versatility and transport capability.
The cranes are controlled by the new control system SPACEevo that enables them to be operated precisely even at high speeds. It also offers advanced safety and productivity features like VSL+ that can maximise the lifting capacity by calculating the stability according to the position of the stabiliser legs and the total weight of the truck.
SPACEevo is an open and modular platform that allows customers to add or enhance their cranes with more functions over time as they become available, keeping their equipment up to date and evolving according to business needs.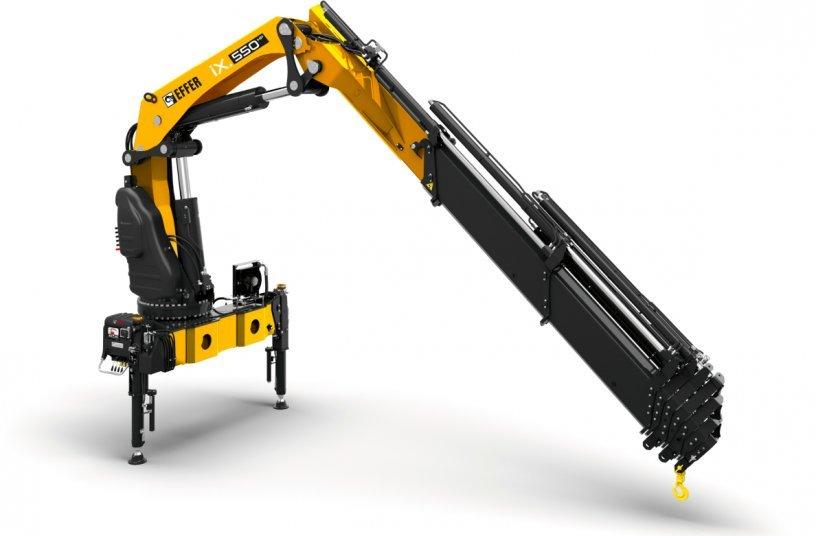 EFFER iX. 550 HP
IMAGE SOURCE: Hiab
The standard XS Drive remote control can be substituted with the new optional CombiDrive 4 remote control, which enhances the crane operation with new safety features such as Confirm View to find the best field of view, three high definition and bright colour displays and a long-lasting battery with single-user operator personalisation settings.
The new models will also be offered in non-CE versions, equipped with the control system Space X4 and the optional CombiDrive 3 remote control.
NJC.© Info HIAB
-------------------------------------------------------------------------------------------------------------------
01/07/22-NL
HIAB - EFFER lanceert drie nieuwe generatie kraanmodellen
EFFER iQ. 1200 HP IMAGE SOURCE: Hiab
Hiab, onderdeel van Cargotec, lanceert drie nieuwe EFFER zware laadkranen met een lager brandstofverbruik en het nieuwe geavanceerde besturingssysteem SPACEevo om de productiviteit te verbeteren en veiliger te werken.
De drie nieuwe modellen, EFFER iQ.1200 HP, 110 tonmeter (tm), EFFER iX.550 HP, 51 tm en EFFER iX.355 HP, 32,1 tm, zijn wereldwijd te bestellen bij EFFER-dealers.
"Met trots introduceren we drie nieuwe EFFER autolaadkranen die de keuze aan hefvermogens voor onze klanten vergroten. Het nieuwe besturingssysteem SPACEevo zorgt ervoor dat de kranen "best in class" prestatie- en veiligheidskenmerken hebben", zegt Marcel Boxem, Director, Global Product Management, Loader Cranes Heavy & Super Heavy, Hiab.
Hij voegt eraan toe: "De nieuwe kranen helpen onze klanten ook om hun uitstoot te verlagen door gewichtsvermindering en het verminderen van het energieverbruik. Al met al leidt een lager voertuiggewicht tot meer netto laadvermogen voor de klant."
Het EFFER iQ.1200 HP-model is een kraan met een bereik van 110 tm met een compact ontwerp dat vergelijkbaar is met 90 tm-modellen. Dit zorgt voor een goed laadvermogen op zo'n lange en sterke kraan en zorgt voor een optimale balans tussen reikwijdte, veelzijdigheid en transportmogelijkheden.
De kranen worden aangestuurd door het nieuwe besturingssysteem SPACEevo, waardoor ze ook bij hoge snelheden nauwkeurig kunnen worden bediend. Het biedt ook geavanceerde veiligheids- en productiviteitsfuncties zoals VSL+ die het hefvermogen kan maximaliseren door de stabiliteit te berekenen op basis van de positie van de stabilisatorpoten en het totale gewicht van de truck.
SPACEevo is een open en modulair platform waarmee klanten hun kranen in de loop van de tijd kunnen toevoegen of verbeteren met meer functies wanneer deze beschikbaar komen, waardoor hun apparatuur up-to-date blijft en zich ontwikkelt in overeenstemming met de zakelijke behoeften.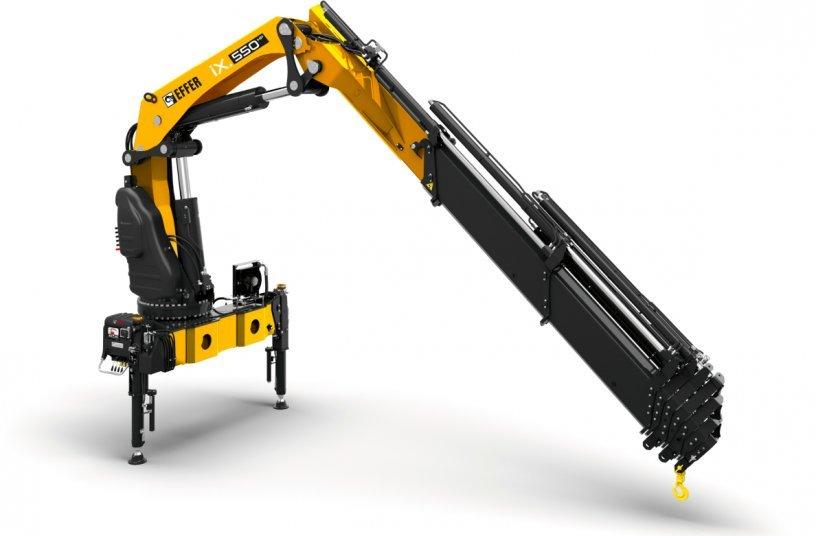 EFFER iX. 550 HP
IMAGE SOURCE: Hiab
De standaard XS Drive-afstandsbediening kan worden vervangen door de nieuwe optionele CombiDrive 4-afstandsbediening, die de kraanbediening verbetert met nieuwe veiligheidsfuncties zoals Confirm View om het beste gezichtsveld te vinden, drie high-definition en heldere kleurendisplays en een lange- duurzame batterij met personalisatie-instellingen voor één gebruiker.
De nieuwe modellen zullen ook worden aangeboden in niet-CE-versies, uitgerust met het besturingssysteem Space X4 en de optionele CombiDrive 3-afstandsbediening.
NJC.© Info HIAB
--------------------------------------------------------------------------------------------------------------------