Hiab receives a significant order for MOFFETT truck mounted forklifts in the US
29/04/22-FR-English-NL-footer
Hiab reçoit une importante commande de chariots élévateurs embarqués MOFFETT aux États-Unis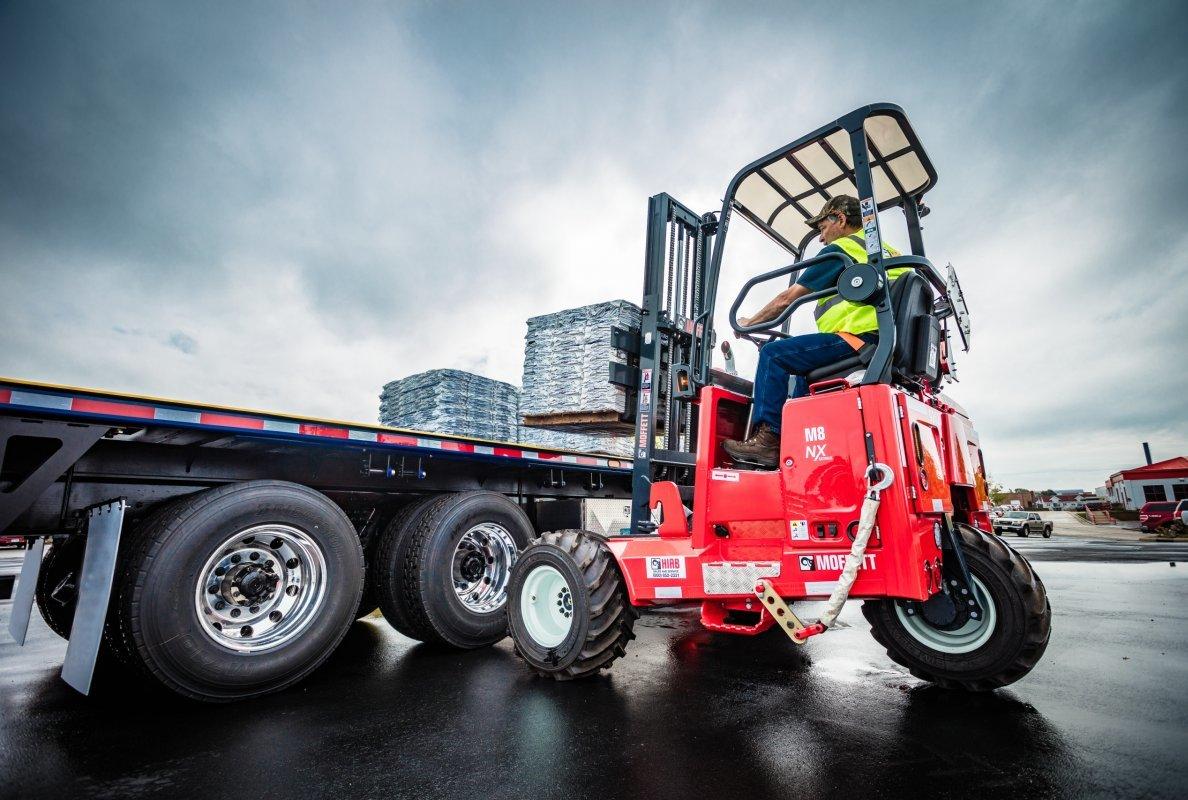 MOFFETT M8 NX IMAGE SOURCE: Cargotec Corporation; Hiab
Hiab, filiale de Cargotec, a reçu une importante commande de chariots élévateurs embarqués MOFFETT M8 55 NX d'une valeur de plus de 24,5 millions d'euros aux États-Unis. La commande a été passée par un client existant, l'une des plus grandes entreprises de matériaux de construction et d'approvisionnement du pays. La commande a été enregistrée dans la prise de commandes du premier trimestre 2022 de Cargotec et sera livrée au quatrième trimestre 2022 et au premier trimestre 2023.
« Le client utilise les chariots élévateurs embarqués MOFFETT depuis de nombreuses années. Au cours de cette période, le MOFFETT s'est avéré adapté à son objectif et a offert des performances fiables, associées à une qualité supérieure et à des caractéristiques de sécurité à la pointe de l'industrie. Nous sommes très heureux de la confiance renouvelée du client en Hiab, qui libère tout le potentiel de la manutention de charge dans son entreprise », déclare Terry Fidler, directeur, Sales Business Support, Hiab USA.
Jann Hansen, vice-présidente, Ventes et gestion des produits, MOFFETT Truck Mounted Forklifts, Hiab a ajouté : « MOFFETT est la première marque mondiale de chariots élévateurs embarqués. Nous continuons à innover dans notre portefeuille pour améliorer encore les performances, la fiabilité et la sécurité, et nous sommes extrêmement fiers que des clients tels que ce nom familier reconnaissent les avantages du MOFFETT.
Le modèle de chariot élévateur monté sur camion commandé est le M8 55 NX avec un mât mobile et une capacité de levage de 5 500 lb, certaines unités seront livrées avec une direction à 4 directions pour négocier les zones d'accès restreintes avec de longues charges. Le MOFFETT M8 55 NX peut transférer de lourdes charges rapidement et en toute sécurité, même sur des terrains difficiles. Bien qu'il soit incroyablement puissant, il est suffisamment compact pour être transporté sur une grande variété de catégories de camions et de remorques.
Tous les chariots élévateurs embarqués MOFFETT sont conformes aux normes d'émission Tier 4 en Amérique du Nord et au Canada et aux réglementations européennes Stage V. Tous les MOFFETT M8 NX sont livrés avec une connectivité activée et un accès premium à HiConnect™ pendant deux ans. HiConnect Premium fournit des informations en temps réel sur l'utilisation, le fonctionnement et l'état des équipements qui peuvent être utilisés pour optimiser les performances, la sécurité et éviter les temps d'arrêt inutiles.
NJC.© Infos HIAB US
----------------------------------------------------------------------------------------------------------------
29/04/22-English
Hiab receives a significant order for MOFFETT truck mounted forklifts in the US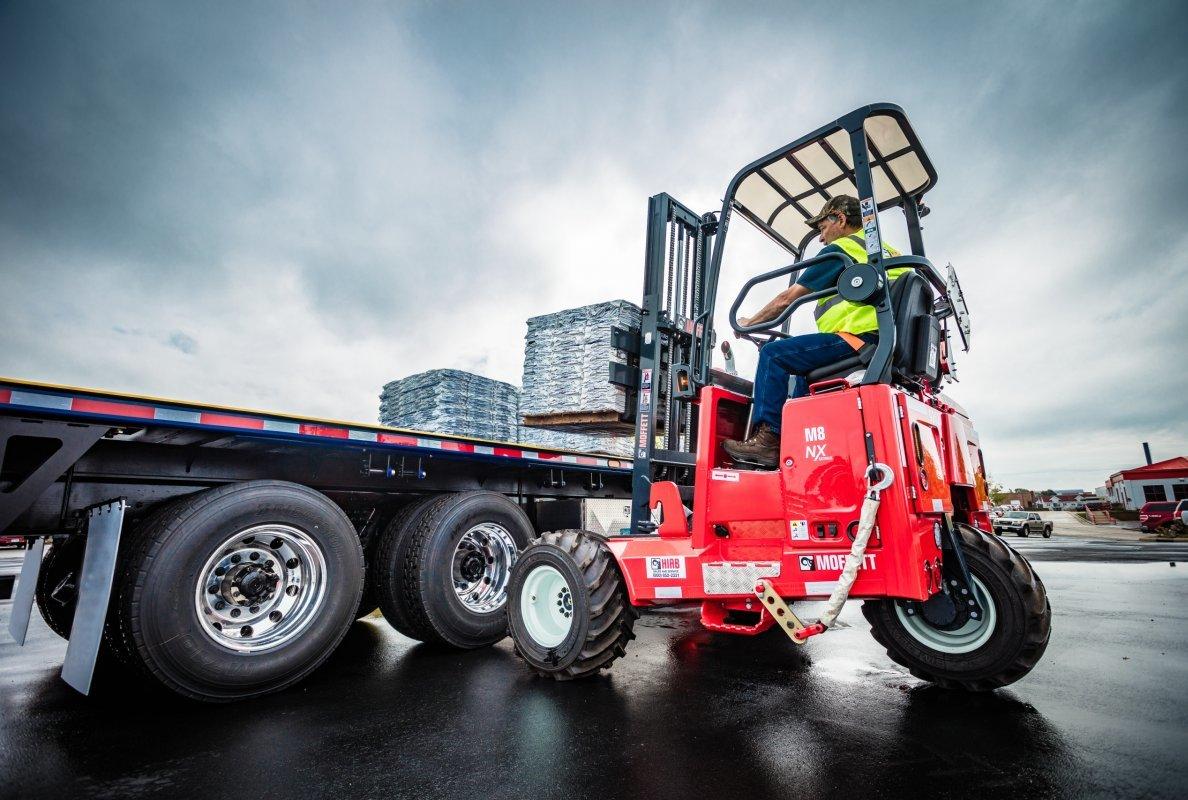 MOFFETT M8 NX IMAGE SOURCE: Cargotec Corporation; Hiab
Hiab, part of Cargotec, has received a significant order for MOFFETT M8 55 NX truck mounted forklifts worth over EUR 24.5 million in the US. The order was made by an existing customer, one of the country's largest building materials and supply companies. The order was booked in Cargotec's 2022 Q1 order intake and will be delivered in Q4 2022 and Q1 2023.
"The customer has used MOFFETT truck mounted forklifts for many years. During this period the MOFFETT has proven fit for purpose and offered reliable performance, combined with premium quality and industry-leading safety features. We are very happy for the customer's renewed confidence in Hiab that unlocks the full potential of load handling in their business," says Terry Fidler, Director, Sales Business Support, Hiab USA.
Jann Hansen, Vice President, Sales & Product Management, MOFFETT Truck Mounted Forklifts, Hiab added: "MOFFETT is the original and the global leading truck mounted forklift brand. We continue to innovate our portfolio to further improve performance, reliability and safety, and are incredibly proud that customers such as this household name recognize the benefits of the MOFFETT."
The truck mounted forklift model ordered is the M8 55 NX with a moving mast and a lifting capacity of 5,500 lbs, some units will be delivered with 4-way steering for negotiating tight access areas with long loads. The MOFFETT M8 55 NX can transfer heavy loads quickly and safely, even across challenging terrain. While it is incredibly powerful, it is still compact enough to be carried on a wide variety of truck and trailer classes.
All MOFFETT truck mounted forklifts are compliant with Tier 4 emission standards in North America & Canada and European Stage V regulations. All MOFFETT M8 NXs are delivered with connectivity enabled and premium access to HiConnect™ for two years. HiConnect Premium provides real-time insights into equipment usage, operation, and condition that can be used to optimize performance, safety and avoid unnecessary downtime.
NJC.© US HIAB Info
---------------------------------------------------------------------------------------------------------------------
29/04/22-NL
Hiab ontvangt een belangrijke order voor MOFFETT meeneemheftrucks in de VS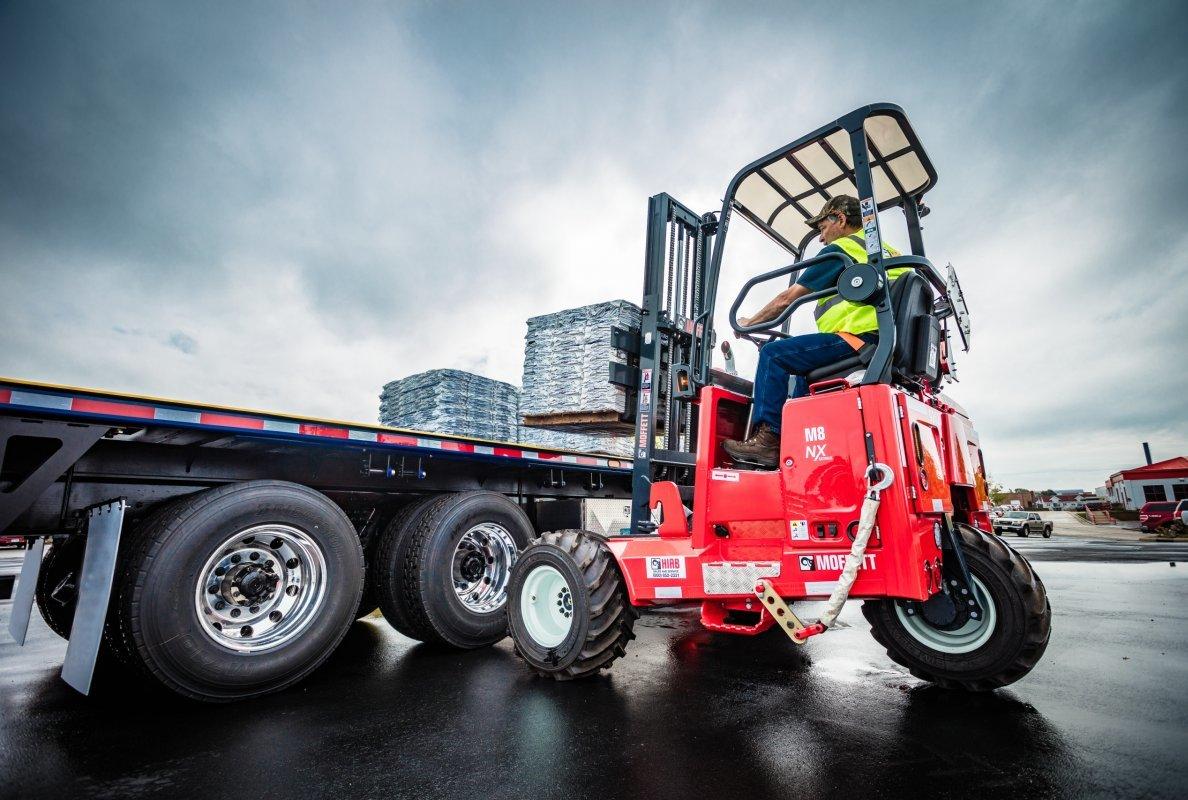 MOFFETT M8 NX IMAGE SOURCE: Cargotec Corporation; Hiab
Hiab, onderdeel van Cargotec, heeft een belangrijke order ontvangen voor MOFFETT M8 55 NX meeneemheftrucks ter waarde van meer dan EUR 24,5 miljoen in de VS. De bestelling is gedaan door een bestaande klant, een van de grootste bouwmaterialen- en toeleveringsbedrijven van het land. De bestelling is geboekt in Cargotec's 2022 Q1 order intake en zal worden geleverd in Q4 2022 en Q1 2023.
"De klant gebruikt al jaren MOFFETT meeneemheftrucks. Gedurende deze periode heeft de MOFFETT bewezen geschikt te zijn voor het beoogde doel en betrouwbare prestaties te bieden, gecombineerd met eersteklas kwaliteit en toonaangevende veiligheidsvoorzieningen. We zijn erg blij met het hernieuwde vertrouwen van de klant in Hiab, dat het volledige potentieel van ladingbehandeling in hun bedrijf ontsluit", zegt Terry Fidler, Director, Sales Business Support, Hiab USA.
Jann Hansen, Vice President, Sales & Product Management, MOFFETT Meeneemheftrucks, Hiab voegde toe: "MOFFETT is het originele en wereldwijd toonaangevende merk voor meeneemheftrucks. We blijven ons portfolio innoveren om de prestaties, betrouwbaarheid en veiligheid verder te verbeteren, en zijn ongelooflijk trots dat klanten zoals deze bekende naam de voordelen van de MOFFETT erkennen."
Het bestelde meeneemheftruckmodel is de M8 55 NX met een bewegende mast en een hefvermogen van 5.500 lbs. Sommige units worden geleverd met 4-wegbesturing voor het nemen van krappe toegangsgebieden met lange ladingen. De MOFFETT M8 55 NX kan zware lasten snel en veilig verplaatsen, zelfs over uitdagend terrein. Hoewel hij ongelooflijk krachtig is, is hij toch compact genoeg om te worden vervoerd op een breed scala aan vrachtwagen- en trailerklassen.
Alle MOFFETT meeneemheftrucks voldoen aan de Tier 4-emissienormen in Noord-Amerika en Canada en de Europese Stage V-voorschriften. Alle MOFFETT M8 NX's worden geleverd met connectiviteit ingeschakeld en premium toegang tot HiConnect™ voor twee jaar. HiConnect Premium biedt realtime inzicht in het gebruik, de werking en de toestand van de apparatuur die kan worden gebruikt om de prestaties en veiligheid te optimaliseren en onnodige uitvaltijd te voorkomen.
NJC.© Info HIAB US
----------------------------------------------------------------------------------------------------------------------