Hidromek shows H4 Series excavators
27/06/22-FR-English-NL-footer
Hidromek présente les excavatrices de la série H4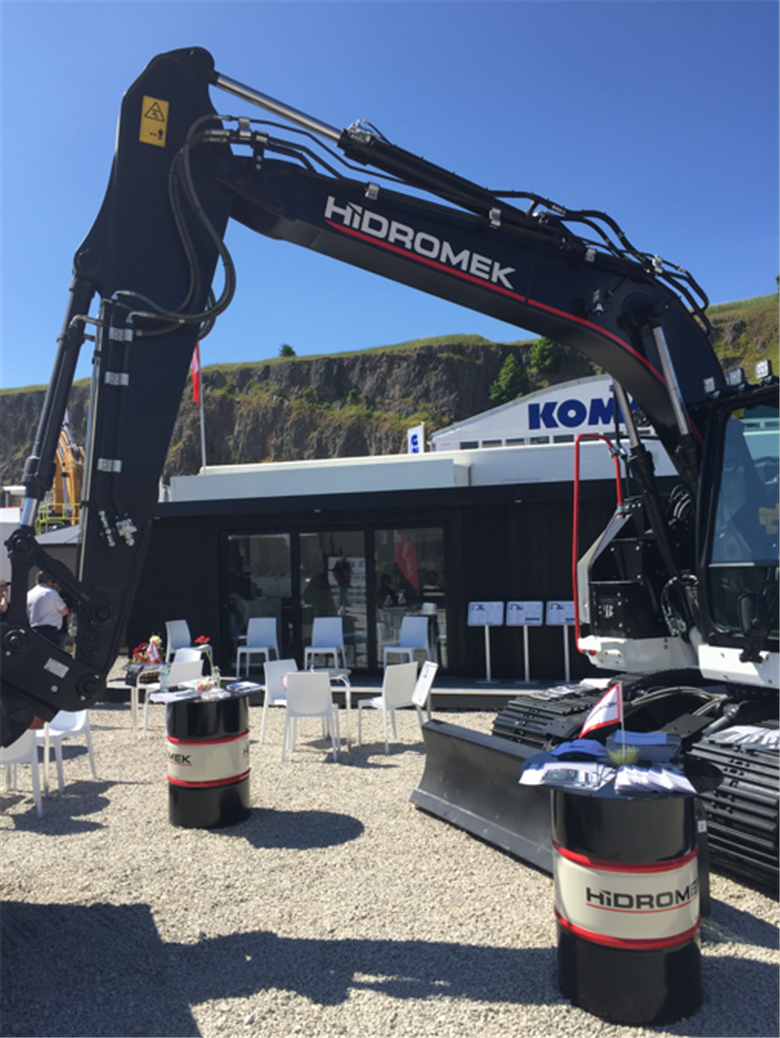 Hidromek's exhibitor stand at Hillhead 2022 in the UK. (Photo: KHL)
Hidromek présente ses dernières pelles de la série H4 au salon des équipements Hillhead de cette année, qui se déroule actuellement au Royaume-Uni et devrait attirer environ 20 000 visiteurs de l'industrie des secteurs du recyclage, de la construction et des carrières.
Les pelles sur chenilles HMK 145 LC SR, HMK 230 LC et HMK 390 LC HD sont exposées sur le stand Hidromek (X4).
Les pelles, qui sont propulsées par des moteurs diesel d'Izuzu, ont des poids opérationnels de 16, 23 et 39 t respectivement, et sont conçues pour être rapides, productives et efficaces.
Alors que le modèle de pelle HMK 145 a une conception plus compacte qui le rend adapté aux projets en zones urbaines, les plus grands HML 230 et HMK 390 conviennent aux tâches plus exigeantes, telles que celles impliquant des agrégats et des matériaux de carrière.
Les deux plus grandes machines offrent des améliorations significatives par rapport aux modèles de la précédente gamme d'équipements du constructeur.
Grâce à des temps de cycle plus courts, des capacités de godet plus grandes et des vitesses opérationnelles plus rapides, les deux pelles sont 17 % plus productives que leurs prédécesseurs respectifs.
Les améliorations apportées aux systèmes d'accessoires et hydrauliques signifient également que le HMK 230 est 21 % plus efficace, tandis que le HMK 390 est 14 % plus efficace.
Parallèlement, le constructeur turc présente également la chargeuse-pelleteuse HMK 102B SUPRA, la chargeuse sur pneus HMK 640 WL et sa chargeuse sur pneus HMK 635 WL - lancée l'année dernière et équipée d'un moteur Mercedes-Benz conforme à la phase V qui économise du carburant en fournissant couple élevé à bas régime.
Alors que les visiteurs de Hillhead peuvent voir de plus près toutes les machines, la chargeuse sur pneus HMK 640 d'Hidromek et sa pelle HMK 390 LC HD ont également été mises à disposition en tant que machines de démonstration.
NJC.© Info HIDROMEK
---------------------------------------------------------------------------------------------------------------------
27/06/22-English
Hidromek shows H4 Series excavators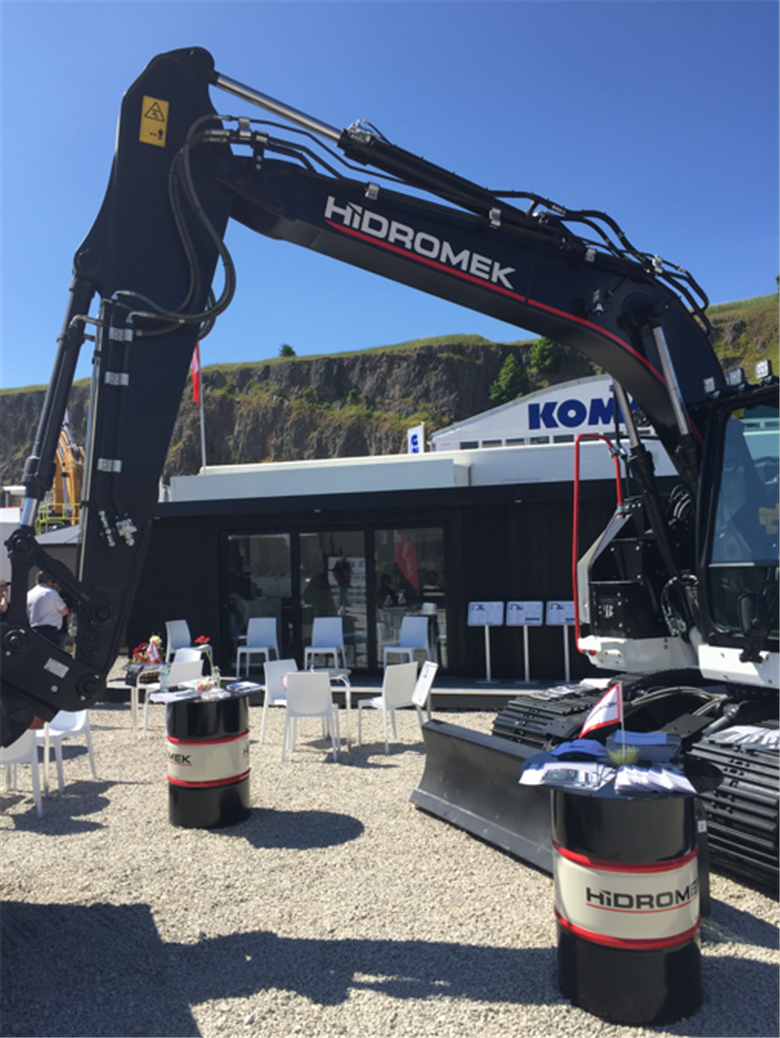 Hidromek's exhibitor stand at Hillhead 2022 in the UK. (Photo: KHL)
Hidromek is displaying its latest H4 Series excavators at this year's Hillhead equipment exhibition, which is currently taking place in the United Kindom and is expected to attract around 20,000 industry visitors from the recycling, construction and quarrying sectors.
On display at Hidromek's stand (X4) are the HMK 145 LC SR, HMK 230 LC and the HMK 390 LC HD crawler excavators.
The excavators, which are powered by diesel engines from Izuzu, have operating weights of 16, 23 and 39 t respectively, and are designed to be fast, productive and efficient.
While the HMK 145 excavator model has a more compact design that makes it suitable for projects in urban locations, the larger HML 230 and HMK 390 are suitable for more demanding tasks - such as those involving aggregates and quarrying materials.
The two larger machines offer significant improvements over the models in the manufacturer's previous equipment range.
Thanks to shorter cycle times, bigger bucket capacities and faster operational speeds, both excavators are 17% more productive than their respective predecessors.
Improvements to the attachment and hydraulic systems also mean that the HMK 230 is 21% more efficient, while the HMK 390 is 14% more efficient.
Alongside these, the Turkish manufacturer is also showing the HMK 102B SUPRA backhoe loader, the HMK 640 WL wheeled loader and its HMK 635 WL wheeled loader - which was launched last year and features a Stage V compliant Mercedes-Benz engine that saves fuel by providing high torque at low rpms.
While visitors at Hillhead can get a closer look at all of the machines, Hidromek's HMK 640 wheeled loader and its HMK 390 LC HD excavator have also been made available as demonstration machines.
NJC.© Info HIDROMEK
------------------------------------------------------------------------------------------------------------------
27/06/22-NL
Hidromek toont graafmachines uit de H4-serie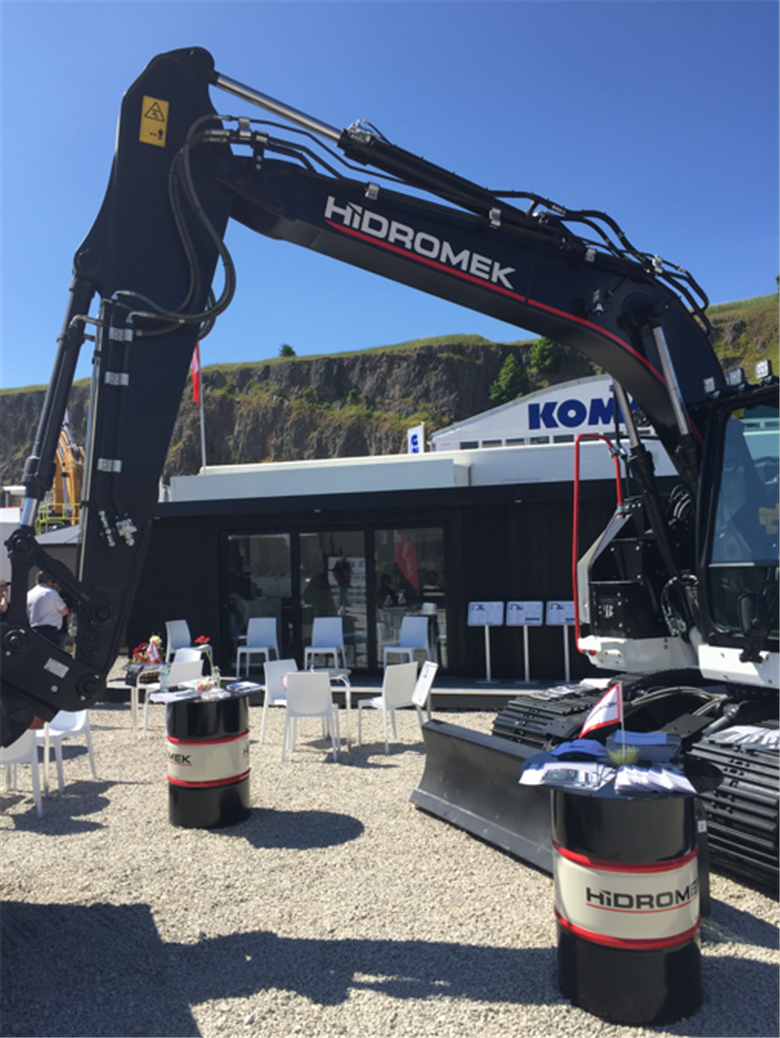 Hidromek's exhibitor stand at Hillhead 2022 in the UK. (Photo: KHL)
Hidromek toont zijn nieuwste graafmachines uit de H4-serie op de Hillhead-apparatuurbeurs van dit jaar, die momenteel plaatsvindt in het Verenigd Koninkrijk en naar verwachting ongeveer 20.000 bezoekers uit de sector zal trekken uit de recycling-, constructie- en steengroevesector.
Op de stand van Hidromek (X4) zijn de HMK 145 LC SR, HMK 230 LC en de HMK 390 LC HD rupsgraafmachines te zien.
De graafmachines, die worden aangedreven door dieselmotoren van Izuzu, hebben een bedrijfsgewicht van respectievelijk 16, 23 en 39 ton en zijn ontworpen om snel, productief en efficiënt te zijn.
Terwijl het HMK 145-graafmachinemodel een compacter ontwerp heeft waardoor het geschikt is voor projecten in stedelijke locaties, zijn de grotere HML 230 en HMK 390 geschikt voor meer veeleisende taken, zoals die met aggregaten en steengroevematerialen.
De twee grotere machines bieden aanzienlijke verbeteringen ten opzichte van de modellen in het vorige uitrustingsgamma van de fabrikant.
Dankzij kortere cyclustijden, grotere bakcapaciteiten en hogere werksnelheden zijn beide graafmachines 17% productiever dan hun respectievelijke voorgangers.
Verbeteringen aan het uitrustingsstuk en hydraulische systemen betekenen ook dat de HMK 230 21% efficiënter is, terwijl de HMK 390 14% efficiënter is.
Daarnaast toont de Turkse fabrikant ook de HMK 102B SUPRA graaflaadmachine, de HMK 640 WL wiellader en de HMK 635 WL wiellader - die vorig jaar werd gelanceerd en is voorzien van een Stage V-conforme Mercedes-Benz motor die brandstof bespaart door hoog koppel bij lage toeren.
Terwijl bezoekers op Hillhead alle machines van dichtbij kunnen bekijken, zijn Hidromek's HMK 640 wiellader en zijn HMK 390 LC HD-graafmachine ook beschikbaar gesteld als demonstratiemachines.
NJC.© Info HIDROMEK
------------------------------------------------------------------------------------------------------------------