HIMOINSA-As part of its commitment to energy efficiency in its production processes, HIMOINSA has installed photovoltaic plants in its factories

11/07/23-FR-English-NL-footer
HIMOINSA-Dans le cadre de son engagement envers l'efficacité énergétique dans ses processus de production, HIMOINSA a installé des centrales photovoltaïques dans ses usines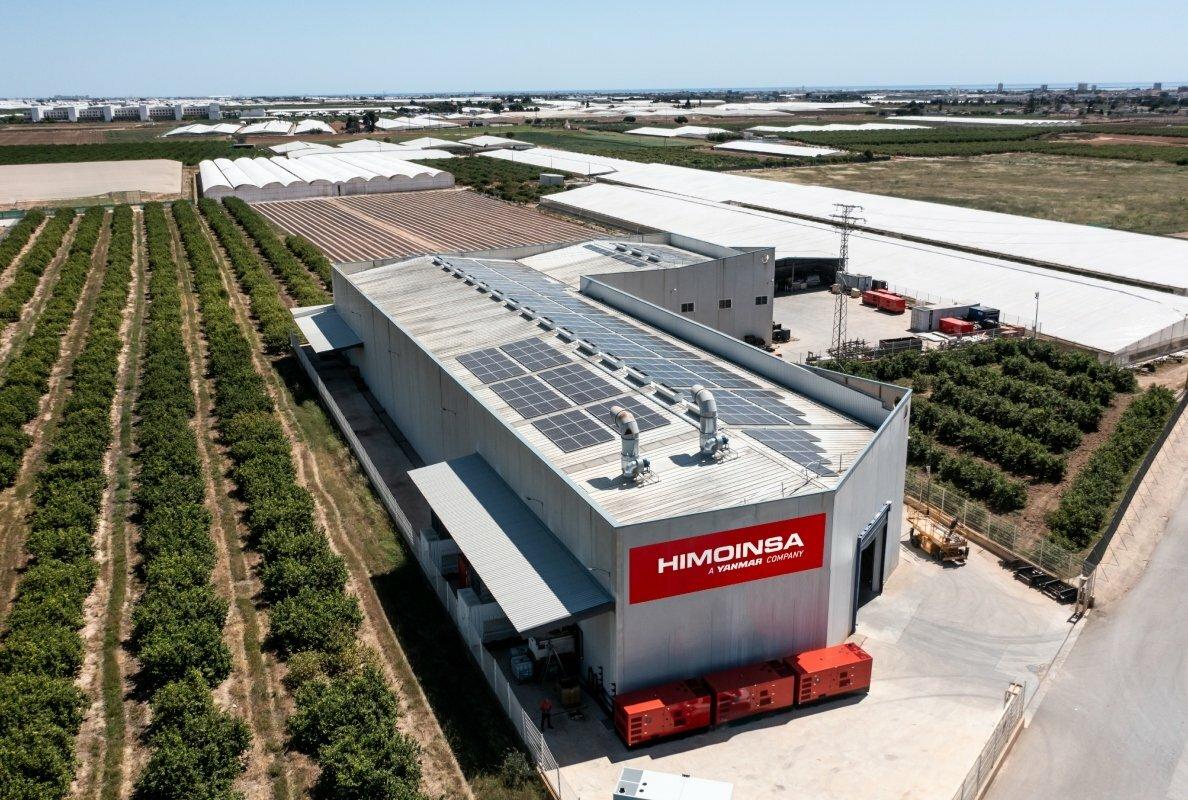 HIMOINSA - Solar Pannels
IMAGE SOURCE: HIMOINSA
L'entreprise commémore la Journée mondiale de l'environnement en soulignant la mise en œuvre de nouvelles politiques environnementales qui contribuent à réduire les émissions générées par ses processus de production. Un bon exemple de l'impact de ces politiques est la réduction de près de 250 000 kg de CO2 par an dans les usines de son siège social, ce qui représente une réduction des émissions de plus de 22 %.
HIMOINSA, une référence internationale dans la conception et la fabrication de solutions de technologie énergétique, reste fermement engagée dans sa politique environnementale et sa croissance durable avec la réalisation de nouveaux projets qui garantissent une réduction significative des émissions.
En un jour comme aujourd'hui, Journée mondiale de l'environnement, rien de moins, l'entreprise célèbre les résultats de l'installation de centrales photovoltaïques dans ses centres de production. Un bon exemple est l'installation de panneaux solaires sur le toit de son siège social espagnol d'une capacité totale de 550 kW, lui permettant de réduire les émissions de CO2 jusqu'à 250 000 kg par an. Ce geste écologique équivaut à planter 600 arbres, ou à ne pas parcourir près de 600 000 kilomètres en voiture.
Il s'agit d'un engagement important envers l'efficacité énergétique dans nos processus de production. Nous prévoyons en fait de produire 919 408 kWh d'énergie chaque année et de réduire les émissions de 22 % par rapport à l'année dernière. « Nous appréhendons la Responsabilité Sociétale des Entreprises (RSE) comme un atout stratégique qui nous incite à mettre en œuvre des projets ambitieux pour minimiser l'impact environnemental de notre activité industrielle. Cette nouvelle mesure nous permet de réduire considérablement l'empreinte carbone de nos installations en Espagne. Il s'agit d'un nouveau pas en avant dans notre politique environnementale, dont les initiatives s'étendent à tous les centres de production d'HIMOINSA dans le monde », explique Manuel Sánchez Bada, directeur général d'HIMOINSA SL.
L'entreprise, qui a élaboré une feuille de route pour réduire ses émissions, fait partie du Yanmar Business Group, qui à son tour a défini son engagement pour une croissance durable dans le cadre du Yanmar Green Challenge 2050 qui s'applique à la fois à ses processus de fabrication durables et à la conception et à la commercialisation d'équipements de production d'électricité capables de réduire son empreinte carbone.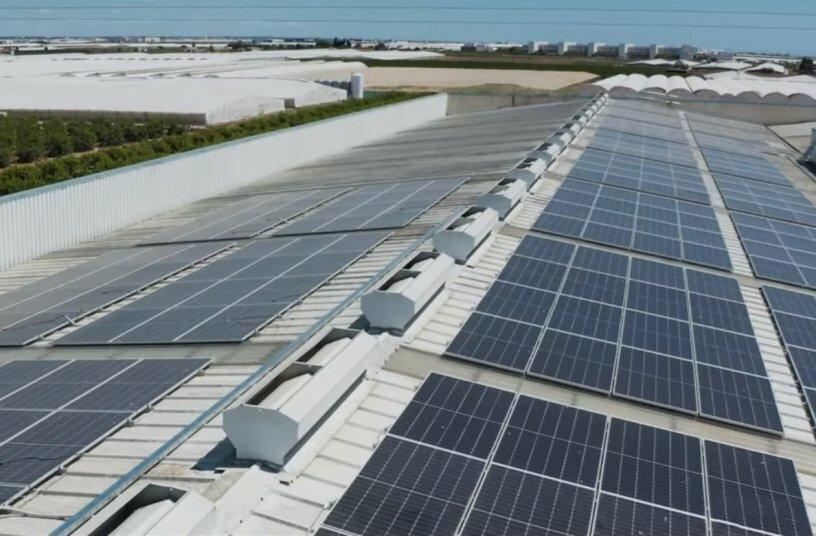 HIMOINSA - Solar Pannels
IMAGE SOURCE: HIMOINSA
HIMOINSA, qui travaille non seulement sur sa stratégie d'électrification mais également sur la production d'électricité à partir de groupes électrogènes à gaz, ainsi que sur l'utilisation de carburants alternatifs tels que le HVO et la nouvelle technologie diesel Stage V et Tier 4F dans ses équipements de production d'électricité, s'engage à créer un mix énergétique qui lui permettra d'offrir des solutions complètes au marché, tout en réduisant toujours plus son empreinte carbone.
Pour sa part, Yanmar est immergé dans plusieurs nouveaux projets énergétiques dans ses différentes unités commerciales, y compris la cogénération à hydrogène, la recherche sur les moteurs marins alimentés à l'hydrogène, la cogénération au biogaz, les solutions d'alimentation bi-carburant avec du gaz naturel, la pile à combustible technologie pour les applications marines, l'agriculture intelligente et les technologies de recyclage des ressources. Tout cela dans le cadre d'un processus de transition énergétique qui vise à atteindre la durabilité et l'efficacité énergétique.
NJC.© Infos HIMOINSA
---------------------------------------------------------------------------------------------------------------

11/07/23-English
HIMOINSA-As part of its commitment to energy efficiency in its production processes, HIMOINSA has installed photovoltaic plants in its factories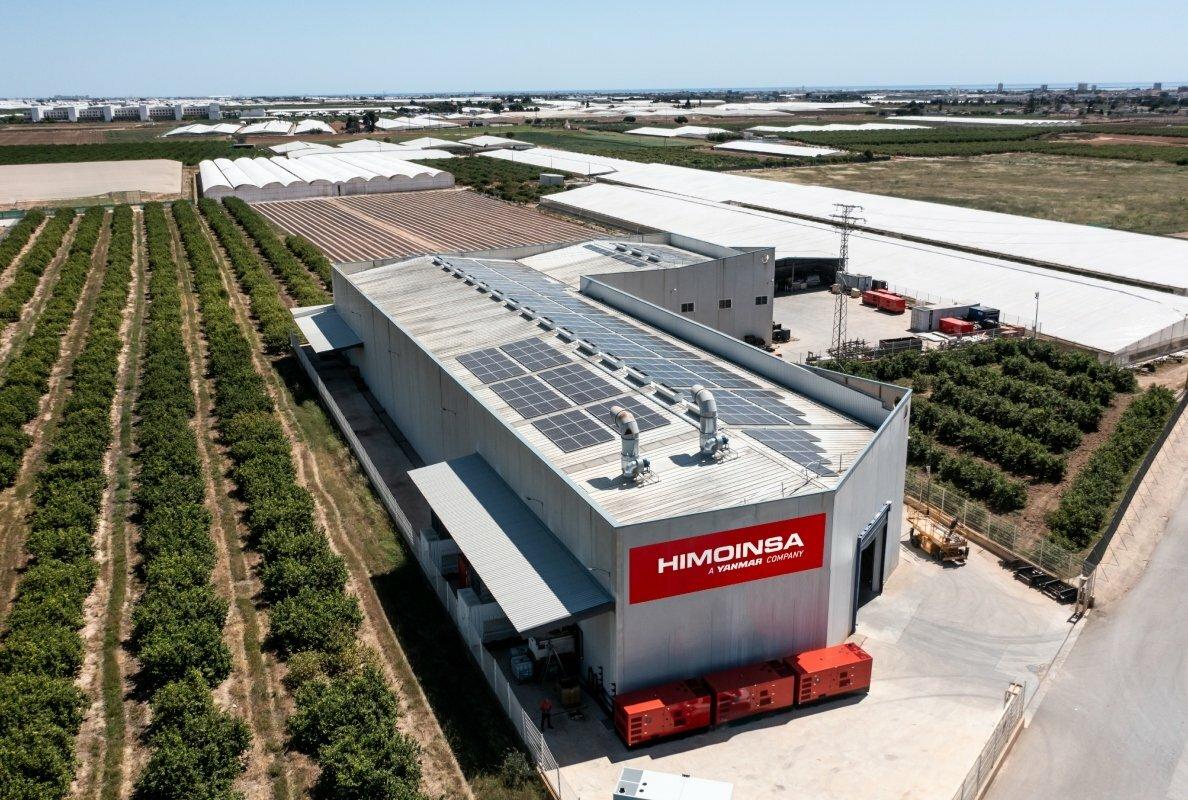 HIMOINSA - Solar Pannels
IMAGE SOURCE: HIMOINSA
The company is commemorating World Environment Day by highlighting the implementation of new environmental policies that help to reduce emissions generated by its production processes. A good example of the impact of these policies is the reduction of almost 250,000 kg of CO2 per year in the factories at its headquarters, which represents a reduction in emissions of more than 22%.
HIMOINSA, an international benchmark in the design and manufacture of power technology solutions, remains firmly committed to its environmental policy and sustainable growth with the execution of new projects that guarantee a significant reduction in emissions.
On such a day as today, World Environment Day, no less, the company is celebrating the results of the installation of photovoltaic plants at its production centres. A prime example is the installation of solar panels on the roof of its Spanish headquarters with a total capacity of 550 kW, enabling it to reduce CO2 emissions by up to 250,000 kg per year. This environmentally friendly action is the equivalent of planting 600 trees, or to not driving nearly 600,000 kilometres by car.
This is a significant commitment to energy efficiency in our production processes. We actually expect to generate 919,408 kWh of energy each year and to reduce emissions by 22% compared to last year. "We understand Corporate Social Responsibility (CSR) as a strategic asset that encourages us to implement ambitious projects to minimise the environmental impact of our industrial activity. This new measure allows us to significantly reduce the carbon footprint of our facilities in Spain. This is yet another step forward in our environmental policy, whose initiatives extend to all of HIMOINSA's production centres around the world," Manuel Sánchez Bada, General Manager of HIMOINSA SL, tells us.
The company, which has drawn up a roadmap to reduce its emissions, is part of the Yanmar Business Group, which in turn has defined its commitment to sustainable growth within the framework of the Yanmar Green Challenge 2050 which applies both to its sustainable manufacturing processes and to the design and marketing of power generation equipment capable of reducing its carbon footprint.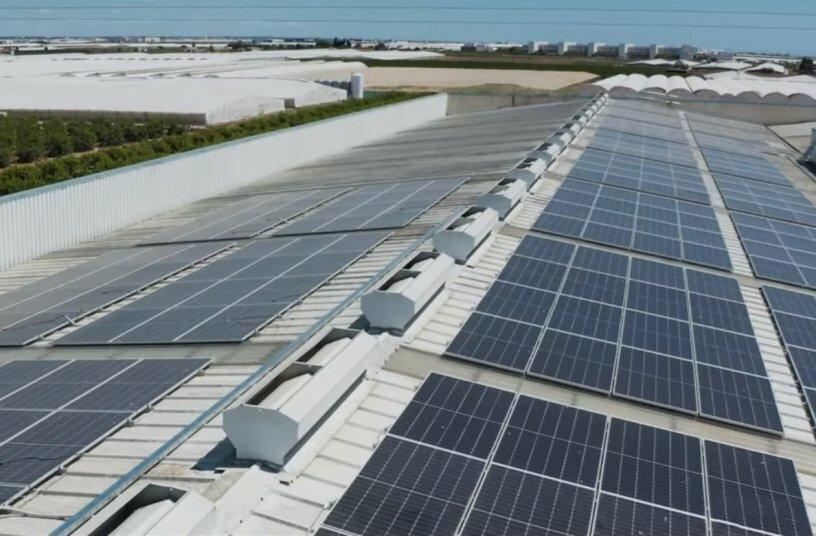 HIMOINSA - Solar Pannels
IMAGE SOURCE: HIMOINSA
HIMOINSA, which is not only working on its electrification strategy but also on the generation of power using gas generator sets, as well as the use of alternative fuels such as HVO and the new Stage V and Tier 4F diesel technology in its power generation equipment, is committed to creating a power mix that will enable it to offer complete solutions to the market, while increasingly reducing its carbon footprint.
For its part, Yanmar is immersed in several new power projects in its different business units, including hydrogen-powered co-generation, research into marine engines powered by hydrogen, biogas co-generation, dual-fuel power solutions with natural gas, fuel cell technology for marine applications, smart agriculture and resource recycling technologies. All of this as part of an energy transition process that seeks to achieve sustainability and energy efficiency.
NJC.© Info HIMOINSA
--------------------------------------------------------------------------------------------------------------------

11/07/23-NL
HIMOINSA-Als onderdeel van zijn inzet voor energie-efficiëntie in zijn productieprocessen, heeft HIMOINSA fotovoltaïsche installaties geïnstalleerd in zijn fabrieken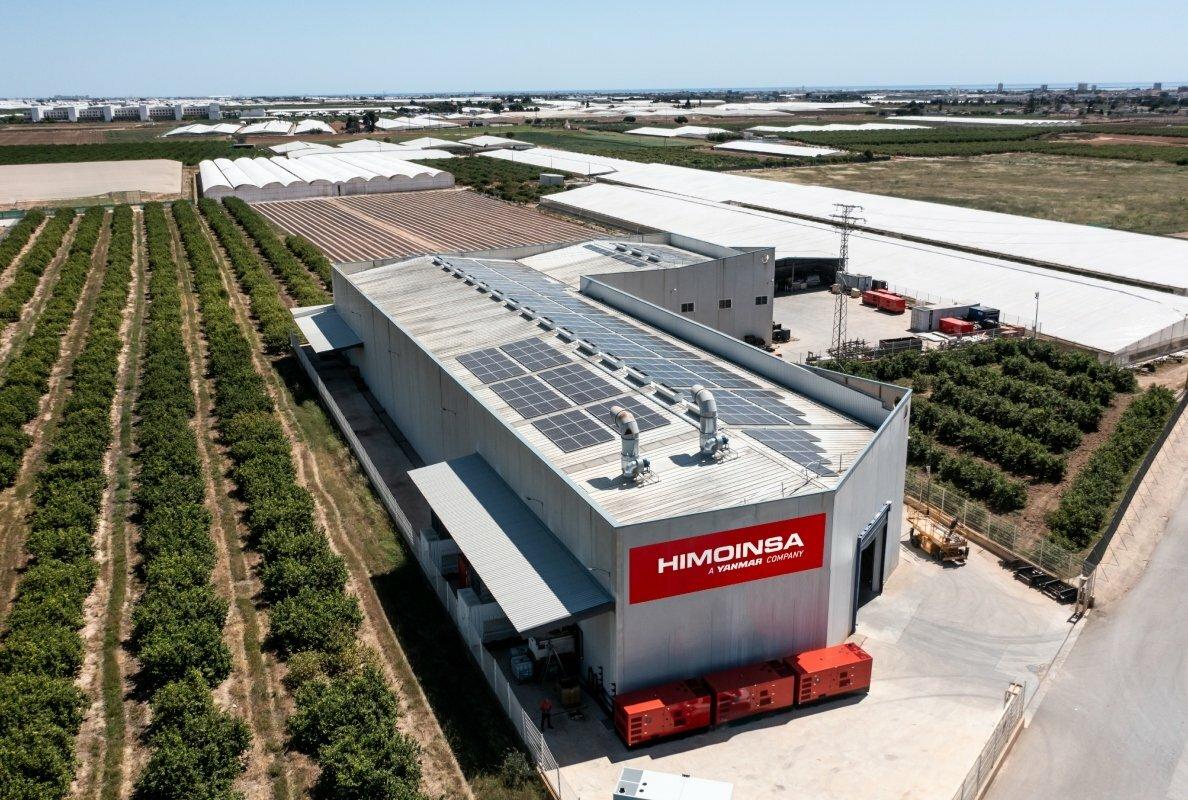 HIMOINSA - Solar Pannels
IMAGE SOURCE: HIMOINSA
Het bedrijf herdenkt Wereldmilieudag door aandacht te besteden aan de implementatie van nieuw milieubeleid dat helpt de uitstoot van de productieprocessen te verminderen. Een goed voorbeeld van de impact van dit beleid is de reductie van bijna 250.000 kg CO2 per jaar in de fabrieken op het hoofdkantoor, wat neerkomt op een reductie van de uitstoot van meer dan 22%.
HIMOINSA, een internationale referentie in het ontwerp en de productie van oplossingen voor energietechnologie, blijft resoluut inzetten op zijn milieubeleid en duurzame groei met de uitvoering van nieuwe projecten die een aanzienlijke vermindering van de uitstoot garanderen.
Op een dag als vandaag, niet minder Wereldmilieudag, viert het bedrijf de resultaten van de installatie van fotovoltaïsche installaties in zijn productiecentra. Een goed voorbeeld is de installatie van zonnepanelen op het dak van het Spaanse hoofdkantoor met een totaal vermogen van 550 kW, waarmee het de CO2-uitstoot met tot wel 250.000 kg per jaar kan verminderen. Deze milieuvriendelijke actie staat gelijk aan het planten van 600 bomen, of bijna 600.000 kilometer niet rijden met de auto.
Dit is een belangrijke inzet voor energie-efficiëntie in onze productieprocessen. We verwachten namelijk jaarlijks 919.408 kWh aan energie op te wekken en de uitstoot met 22% te verminderen ten opzichte van vorig jaar. "Wij begrijpen Maatschappelijk Verantwoord Ondernemen (MVO) als een strategische troef die ons aanmoedigt om ambitieuze projecten te implementeren om de milieu-impact van onze industriële activiteiten te minimaliseren. Met deze nieuwe maatregel kunnen we de ecologische voetafdruk van onze vestigingen in Spanje aanzienlijk verkleinen. Dit is weer een stap voorwaarts in ons milieubeleid, waarvan de initiatieven zich uitstrekken tot alle productiecentra van HIMOINSA over de hele wereld", vertelt Manuel Sánchez Bada, General Manager van HIMOINSA SL.
Het bedrijf, dat een routekaart heeft opgesteld om zijn uitstoot te verminderen, maakt deel uit van de Yanmar Business Group, die op zijn beurt zijn inzet voor duurzame groei heeft gedefinieerd in het kader van de Yanmar Green Challenge 2050, die zowel van toepassing is op zijn duurzame productieprocessen als tot het ontwerp en de marketing van apparatuur voor energieopwekking waarmee de ecologische voetafdruk kan worden verkleind.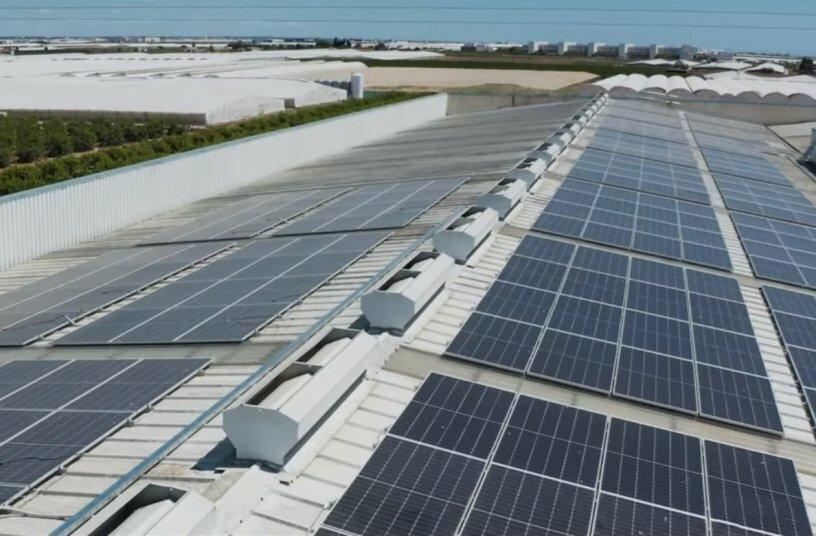 HIMOINSA - Solar Pannels
IMAGE SOURCE: HIMOINSA
HIMOINSA, dat niet alleen werkt aan zijn elektrificatiestrategie, maar ook aan het opwekken van stroom met behulp van gasgeneratorsets, evenals het gebruik van alternatieve brandstoffen zoals HVO en de nieuwe Stage V- en Tier 4F-dieseltechnologie in zijn stroomopwekkingsapparatuur, zet zich in voor het creëren van een powermix die het in staat stelt om complete oplossingen aan de markt aan te bieden, terwijl het zijn ecologische voetafdruk steeds verder verkleint.
Yanmar van zijn kant is ondergedompeld in verschillende nieuwe energieprojecten in zijn verschillende business units, waaronder warmtekrachtkoppeling op waterstof, onderzoek naar scheepsmotoren aangedreven door waterstof, warmtekrachtkoppeling op biogas, dual-fuel stroomoplossingen met aardgas, brandstofcel technologie voor mariene toepassingen, slimme landbouw en technologieën voor het recyclen van hulpbronnen. Dit alles als onderdeel van een energietransitieproces dat streeft naar duurzaamheid en energie-efficiëntie.
NJC.© Info HIMOINSA
-----------------------------------------------------------------------------------------------------------------