Hitachi Construction Machinery Americas Rolls Out ZW220-7 Wheel Loader

31/03/23-FR-English-NL-footer
Hitachi Construction Machinery Americas déploie la chargeuse sur pneus ZW220-7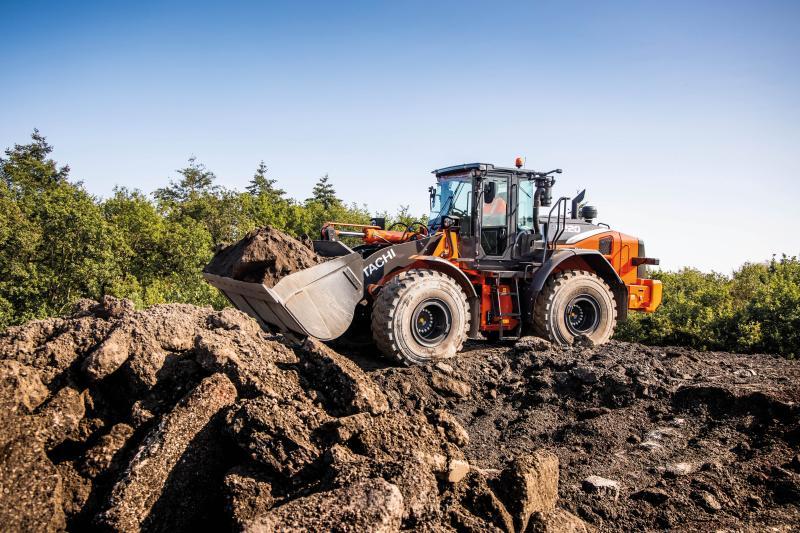 Image-New for the ZW220-7, a payload weighing system uploads information reporting productivity to the ConSite telematic system. Operators can check the weight of the load in the bucket from the inside cab monitor and log the material loaded.
Le 4 verges cubes. La chargeuse sur pneus Hitachi ZW220-7 est un outil de chargement efficace disponible dans les configurations de bras standard et à grande levée. Il dispose d'un 41 035 livres. poids en ordre de marche et est propulsé par un moteur Cummins éprouvé de 210 ch (157 kW).
La puissance est transférée au sol via une transmission à cinq vitesses et des différentiels à glissement limité pour une traction efficace sur le chantier.
"Les chargeuses sur pneus ZW-7 de nouvelle génération sont dotées d'une technologie améliorée pour une productivité avancée, un confort de l'opérateur amélioré, une facilité d'entretien améliorée et de nouvelles fonctionnalités de sécurité avec un système de détection de collision arrière", a déclaré Matt Koester, chef de produit, chargeuses sur pneus Hitachi Construction Machinery Americas Inc.
Les outils augmentent la productivité
Le contrôle de la vitesse d'approche, une fonction de mise sous tension automatique et un nouveau système de pesée de la charge utile augmentent la productivité de la ZW220-7 vers de nouveaux sommets. La commande de vitesse d'approche définit la vitesse souhaitée que la chargeuse sur pneus atteindra à l'approche d'un point de chargement.
L'opérateur maintient l'accélérateur enfoncé tout en soulevant la charge et la machine maintient la vitesse la plus lente à l'approche du point de chargement. L'opérateur appuie sur le frein pour arrêter complètement la machine lorsqu'elle atteint la zone de décharge. Avec le contrôle de la vitesse d'approche, la vitesse de déplacement peut être ajustée avec moins d'opérations de pédale pendant le chargement. Cela réduit la fatigue de l'opérateur et la consommation de carburant.
La fonction de mise sous tension automatique augmente les performances en montée. Il identifie les pentes et ajoute de la puissance pour éviter que le régime moteur ne chute en montée.
Nouveau pour la ZW220-7, un système de pesée de charge utile télécharge les informations de rapport de productivité vers le système télématique ConSite. Les opérateurs peuvent vérifier le poids de la charge dans le godet à partir du moniteur à l'intérieur de la cabine et enregistrer le matériau chargé. Il offre quatre modes : basculement sur camion, basculement sur pile, ajout automatique et ajout manuel. Ces modes permettent au système de pesage de la charge utile de gérer les charges en fonction de leur application. De plus, l'unité est équipée d'une fonction d'avertissement qui réagit lorsque le godet est surchargé, améliorant la sécurité pendant le fonctionnement.
Confort de l'opérateur
Hitachi Construction Machinery Americas Inc. a amélioré le confort général de la ZW220-7 a avec une cabine plus grande et plus silencieuse. Un accoudoir monté sur le siège avec des commandes hydrauliques électriques à faible effort, des commutateurs ergonomiques, un siège réglable et des rétroviseurs améliorent encore le confort de l'opérateur. Un 8 pouces. Le moniteur ACL antireflet avec radio Bluetooth permet une capacité de téléphone mains libres.
La conception de cabines à visibilité panoramique contribue à créer un environnement de travail sûr et confortable. La position et la conception des montants de la cabine, la disposition du moniteur et du panneau de commande ont été améliorées pour assurer un champ de vision plus large depuis la cabine.
Hitachi Construction Machinery Americas Inc. va encore plus loin dans la visibilité avec son système de caméra à vision périphérique Aerial Angle. Il offre une large vue d'ensemble à 270 degrés sur l'environnement immédiat de la machine. Aerial Angle fournit trois caméras montées à l'arrière de la machine. Les opérateurs peuvent voir les côtés gauche et droit de la machine sur le moniteur à l'intérieur de la cabine, offrant une visibilité sur les côtés et l'arrière de la machine.
Toujours axé sur la sécurité
Hitachi Construction Machinery Americas Inc. explore toujours de nouvelles façons d'augmenter la sécurité sur le chantier. La dernière innovation est un système de détection d'obstacle arrière en option sur la chargeuse sur pneus ZW220-7. Il offre des alertes de détection d'objets arrière pour améliorer la sécurité et aider à réduire les dommages potentiels sur le chantier.
Le ZW220-7 dispose également d'une direction d'urgence. La pompe électrique de secours fournit la pression d'huile nécessaire à la direction assistée même en cas d'urgence. Cela permet toujours une direction normale, même en cas de panne du moteur.
La facilité d'entretien améliore la fiabilité et la disponibilité
Les améliorations de conception aident à protéger les composants critiques de l'environnement. Un élément interne du filtre à air du moteur protège le moteur de la pénétration de poussière lors du nettoyage de l'élément externe. Même le climatiseur est protégé par un filtre interne scellé qui empêche l'intrusion de poussière dans le climatiseur.
Les débris en suspension dans l'air peuvent devenir un problème dans de nombreuses opérations de chargeuses sur pneus, entraînant souvent une diminution des performances du système de refroidissement. Hitachi Construction Machinery Americas Inc. a résolu ce problème avec un ventilateur hydraulique intelligent à inversion automatique et des radiateurs à ailettes larges qui empêchent le colmatage.
La maintenance quotidienne a été simplifiée avec des filtres faciles d'accès et un meilleur accès aux composants.
L'utilisation d'outils télématiques pour surveiller l'état de la machine contribue également à augmenter la disponibilité. ConSite, qui surveille à distance l'état de fonctionnement et alerte les propriétaires et les opérateurs des besoins de maintenance à venir, fait un bond en avant.
ConSite Air est un nouveau module complémentaire en option qui permet de diagnostiquer à distance la chargeuse sur pneus, ainsi que de mettre à jour le logiciel à distance. Peu importe où se trouve une machine, le concessionnaire réparateur peut diagnostiquer à distance les problèmes qui peuvent survenir, ce qui augmente le temps de disponibilité. Une équipe d'intervention ConSite est prête à résoudre rapidement les problèmes au fur et à mesure qu'ils surviennent.
NJC.© Info hitachicm.us.
---------------------------------------------------------------------------------------------------------------

31/03/23-English
Hitachi Construction Machinery Americas Rolls Out ZW220-7 Wheel Loader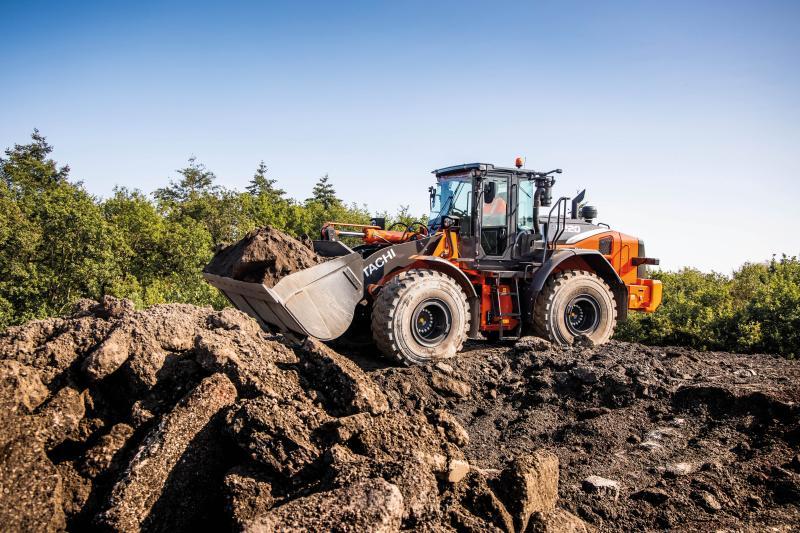 Image-New for the ZW220-7, a payload weighing system uploads information reporting productivity to the ConSite telematic system. Operators can check the weight of the load in the bucket from the inside cab monitor and log the material loaded.
The 4-cu.-yd. Hitachi ZW220-7 wheel loader is an efficient loading tool available in both standard and high-lift arm configurations. It features a 41,035-lb. operating weight and is powered by a proven 210 hp (157 kW) Cummins engine.
Power is transferred to the ground through a five- speed transmission and limited slip differentials for effective job site traction.
"The next-generation ZW-7 wheel loaders feature upgraded technology for advanced productivity, enhanced operator comfort, improved serviceability and new safety features with a rear collision detection system," said Matt Koester, product manager, wheel loaders Hitachi Construction Machinery Americas Inc.
Tools Boost Productivity
Approach speed control, an auto power up function and a new payload weighing system raise productivity of the ZW220-7 to new heights. The approach speed control sets the desired speed the wheel loader will achieve as it approaches a loading point.
The operator holds down the accelerator while lifting the load and the machine maintains the slower speed as it approaches the loading point. The operator taps the brake to bring the machine to a complete stop when it reaches the dump area. With approach speed control, the travel speed can be adjusted with fewer pedal operations during loading. This reduces operator fatigue and fuel consumption.
The auto power up function increases hill climbing performance. It identifies slopes and adds power to prevent the engine speed from dropping when travelling uphill.
New for the ZW220-7, a payload weighing system uploads information reporting productivity to the ConSite telematic system. Operators can check the weight of the load in the bucket from the inside cab monitor and log the material loaded. It offers four modes — tip-off to truck, tip-off to pile, auto-add and manual-add. These modes allow the payload weighing system to manage loads according to their application. In addition, the unit is equipped with a warning function that reacts when the bucket is overloaded, improving safety during operation.
Operator Comfort
Hitachi Construction Machinery Americas Inc. improved the overall comfort of the ZW220-7 a with larger and quieter cab. A seat-mounted armrest with low effort electric hydraulic controls, ergonomically located switches, adjustable seat and mirrors further enhance operator comfort. An 8-in. anti-glare LCD monitor with Bluetooth radio allows hands-free phone capability.
Designing cabs with panoramic visibility helps create a safe and comfortable working environment. The position and design of the cab pillars, the layout of the monitor and switch panel have been improved to ensure a wider field of view from the cab.
Hitachi Construction Machinery Americas Inc. takes visibility a step further with its Aerial Angle peripheral vision camera system. It provides a wide 270-degree bird's-eye view of the machine's immediate environment. Aerial Angle provides three cameras mounted on the rear of the machine. Operators can see both the left and right sides of the machine on the monitor inside the cab, providing visibility to the sides and rear of the machine.
Always Focused On Safety
Hitachi Construction Machinery Americas Inc. is always exploring new ways to increase safety on the job site. The latest innovation is an optional rear obstacle detection system on the ZW220-7 wheel loader. It offers rear object detection alerts to improve safety and help reduce potential damage on the job site.
The ZW220-7 also features emergency steering. The emergency electric pump delivers the necessary oil pressure for power steering even in the case of an emergency. This always allows normal steering, even if the engine fails.
Serviceability Improves Reliability, Uptime
Design enhancements help protect critical components from the environment. An inner element of the engine air filter protects the engine from dust ingress while cleaning the outer element. Even the air conditioner is protected with a sealed internal filter that prevents intrusion of dust into the air conditioner unit.
Airborne debris can become an issue in many wheel loader operations, often leading to decreased cooling system performance. Hitachi Construction Machinery Americas Inc. addressed this with an intelligent automatic reversing hydraulically driven fan and wide-fin radiators which prevent clogging.
Daily maintenance has been simplified with easy-access filters and improved access to components.
Using telematic tools to monitor machine health also helps boost uptime. ConSite, which remotely monitors operational status and alerts owners and operators to upcoming maintenance needs, is making a leap forward.
ConSite Air is a new optional add-on that allows the wheel loader to be diagnosed remotely, as well as remote updates of the software. No matter where a machine is located, the servicing dealer can remotely diagnose issues that may arise, leading to increased uptime. A ConSite response team is on standby to rapidly resolve issues as they emerge.
NJC.© Info hitachicm.us.
-----------------------------------------------------------------------------------------------------------

31/03/23-NL
Hitachi Construction Machinery Americas introduceert ZW220-7 wiellader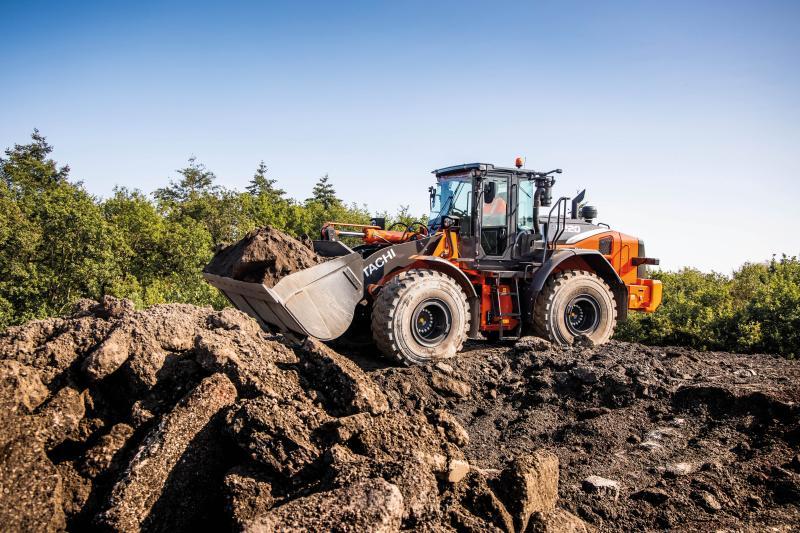 Image-New for the ZW220-7, a payload weighing system uploads information reporting productivity to the ConSite telematic system. Operators can check the weight of the load in the bucket from the inside cab monitor and log the material loaded.
De 4-cu.-yd. De Hitachi ZW220-7 wiellader is een efficiënt laadwerktuig dat verkrijgbaar is in zowel standaard als high-lift armconfiguraties. Het beschikt over een 41.035 pond. bedrijfsgewicht en wordt aangedreven door een beproefde Cummins-motor van 210 pk (157 kW).
Het vermogen wordt op de grond overgebracht via een transmissie met vijf versnellingen en sperdifferentiëlen voor effectieve tractie op het werkterrein.
"De ZW-7-wielladers van de volgende generatie beschikken over verbeterde technologie voor geavanceerde productiviteit, meer comfort voor de machinist, verbeterd onderhoudsgemak en nieuwe veiligheidsvoorzieningen met een detectiesysteem voor aanrijdingen van achteren", zegt Matt Koester, productmanager wielladers Hitachi Construction Machinery Americas Inc.
Tools verhogen de productiviteit
Approach-snelheidsregeling, een automatische opstartfunctie en een nieuw weegsysteem voor de lading brengen de productiviteit van de ZW220-7 naar nieuwe hoogten. De naderingssnelheidsregeling stelt de gewenste snelheid in die de wiellader zal bereiken bij het naderen van een laadpunt.
De machinist houdt het gaspedaal ingedrukt terwijl hij de last optilt en de machine handhaaft de lagere snelheid wanneer deze het laadpunt nadert. De machinist tikt op de rem om de machine volledig tot stilstand te brengen wanneer deze het stortgebied bereikt. Met naderingssnelheidsregeling kan de rijsnelheid worden aangepast met minder pedaalbewegingen tijdens het laden. Dit vermindert vermoeidheid van de machinist en vermindert het brandstofverbruik.
De automatische opstartfunctie verhoogt de klimprestaties. Het identificeert hellingen en voegt vermogen toe om te voorkomen dat het motortoerental daalt bij het bergopwaarts rijden.
Nieuw voor de ZW220-7, een payload-weegsysteem uploadt productiviteitsrapportagegegevens naar het ConSite-telematicasysteem. Bestuurders kunnen het gewicht van de lading in de bak controleren vanaf de monitor in de cabine en het geladen materiaal loggen. Het biedt vier modi: tippen naar vrachtwagen, tippen naar stapel, automatisch toevoegen en handmatig toevoegen. Met deze modi kan het payload-weegsysteem ladingen beheren op basis van hun toepassing. Bovendien is de unit uitgerust met een waarschuwingsfunctie die reageert wanneer de bak overbelast is, waardoor de veiligheid tijdens het gebruik wordt verbeterd.
Bestuurderscomfort
Hitachi Construction Machinery Americas Inc. verbeterde het algehele comfort van de ZW220-7a met een grotere en stillere cabine. Een op de stoel gemonteerde armleuning met eenvoudige elektrische hydraulische bedieningselementen, ergonomisch geplaatste schakelaars, verstelbare stoel en spiegels zorgen voor nog meer comfort voor de machinist. Een 8-in. ontspiegelde LCD-monitor met Bluetooth-radio maakt handsfree bellen mogelijk.
Het ontwerpen van cabines met panoramisch zicht helpt bij het creëren van een veilige en comfortabele werkomgeving. De positie en het ontwerp van de cabinestijlen, de lay-out van de monitor en het schakelpaneel zijn verbeterd om een breder gezichtsveld vanuit de cabine te garanderen.
Hitachi Construction Machinery Americas Inc. gaat nog een stap verder met zijn camerasysteem voor perifere visie vanuit de luchthoek. Het biedt een breed vogelperspectief van 270 graden van de directe omgeving van de machine. Aerial Angle biedt drie camera's die aan de achterkant van de machine zijn gemonteerd. Bestuurders kunnen zowel de linker- als de rechterkant van de machine zien op de monitor in de cabine, waardoor ze zicht hebben op de zijkanten en achterkant van de machine.
Altijd gericht op veiligheid
Hitachi Construction Machinery Americas Inc. is altijd op zoek naar nieuwe manieren om de veiligheid op het werkterrein te vergroten. De nieuwste innovatie is een optioneel obstakeldetectiesysteem aan de achterzijde van de wiellader ZW220-7. Het biedt waarschuwingen voor detectie van objecten aan de achterzijde om de veiligheid te verbeteren en mogelijke schade op het werkterrein te helpen verminderen.
De ZW220-7 beschikt ook over noodbesturing. De elektrische noodpomp levert de nodige oliedruk voor stuurbekrachtiging, zelfs in geval van nood. Hierdoor is altijd normaal sturen mogelijk, ook als de motor uitvalt.
Onderhoudsgemak verbetert betrouwbaarheid, uptime
Ontwerpverbeteringen helpen kritieke componenten te beschermen tegen de omgeving. Een binnenste element van het motorluchtfilter beschermt de motor tegen het binnendringen van stof tijdens het reinigen van het buitenste element. Zelfs de airconditioner wordt beschermd met een verzegeld intern filter dat voorkomt dat er stof in de airconditioner binnendringt.
Vuil in de lucht kan een probleem worden bij veel werkzaamheden met wielladers, wat vaak leidt tot verminderde prestaties van het koelsysteem. Hitachi Construction Machinery Americas Inc. loste dit probleem op met een intelligente, automatisch omkerende, hydraulisch aangedreven ventilator en radiateurs met brede vinnen die verstopping voorkomen.
Dagelijks onderhoud is vereenvoudigd met gemakkelijk toegankelijke filters en verbeterde toegang tot componenten.
Het gebruik van telematicatools om de machinestatus te bewaken, helpt ook om de inzetbaarheid te vergroten. ConSite, dat op afstand de operationele status bewaakt en eigenaren en operators waarschuwt voor aanstaande onderhoudsbehoeften, maakt een grote sprong voorwaarts.
ConSite Air is een nieuwe optionele add-on waarmee de wiellader op afstand kan worden gediagnosticeerd en waarmee de software op afstand kan worden bijgewerkt. Waar een machine zich ook bevindt, de onderhoudsdealer kan op afstand problemen diagnosticeren die zich kunnen voordoen, wat leidt tot meer inzetbaarheid. Een ConSite-responsteam staat stand-by om problemen snel op te lossen zodra ze zich voordoen.
NJC.© Info
----------------------------------------------------------------------------------------------------------------