Hitachi ZX400MC-7 excavator takes demolition to next level BAUMA 2022
20/07/22-FR-English-NL-footer
La pelle Hitachi ZX400MC-7 fait passer la démolition à un niveau supérieur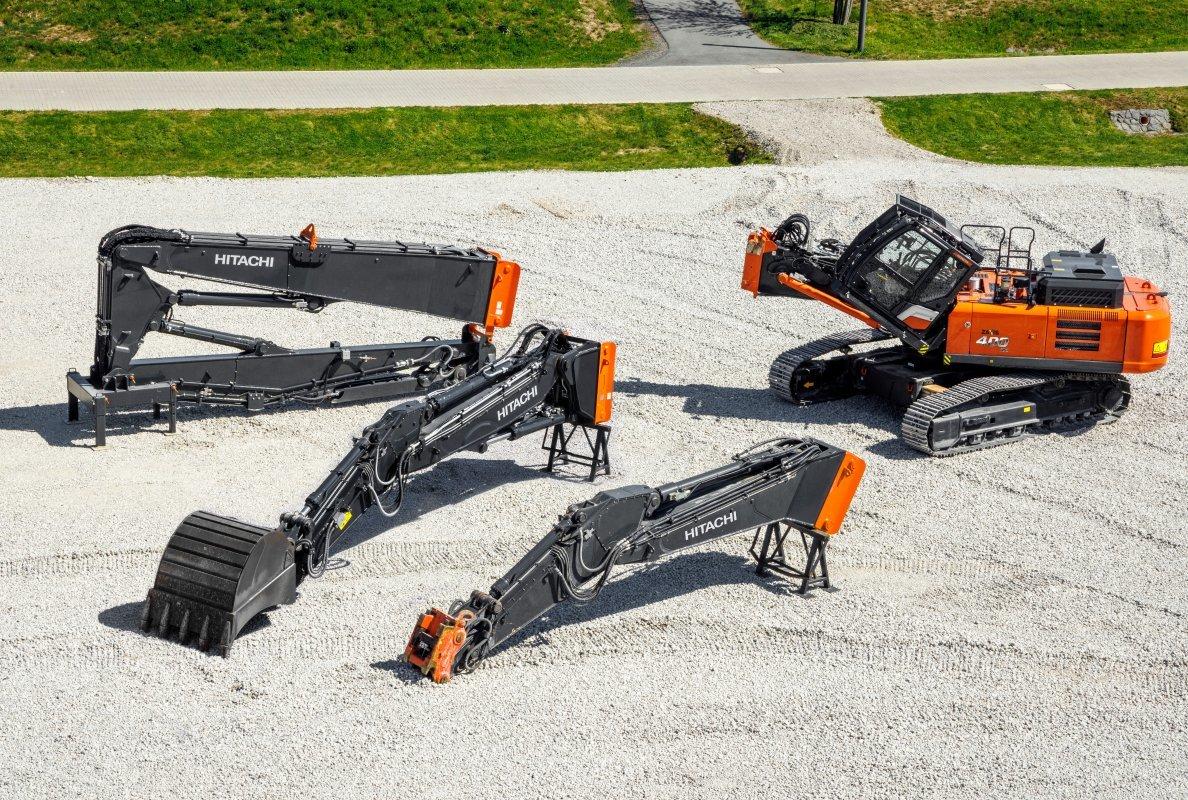 ZX400 MC-7 Group RB 1166 with logo IMAGE SOURCE: Hitachi
Pour optimiser l'efficacité, la disponibilité et la sécurité des projets de démolition, Hitachi présente la ZX400MC-7 au salon Bauma de cette année. Le modèle multiporteur est basé sur une pelle standard Hitachi ZX350LC-7, avec la technologie Zaxis-7 et un moteur conforme à la phase V. Il s'agit de l'une des trois nouvelles machines d'application spéciales développées exclusivement avec la société allemande KTEG, qui fait partie de la joint-venture EAC (European Application Center) avec Hitachi Construction Machinery, Co., Ltd au Japon.
Construite pour répondre aux exigences de tous les projets de démolition, elle est fournie avec jusqu'à quatre accessoires avant, dont une flèche monobloc, une flèche en deux parties et un avant de démolition à grande portée de 21 m ou 24 m. Cela signifie qu'il peut effectuer les tâches de plusieurs machines sur site, ce qui simplifie la planification et minimise les coûts de transport et de personnel.
Adapté à l'objectif pour augmenter les profits
La ZX400MC-7 augmentera les bénéfices des propriétaires en améliorant l'efficacité de chaque projet de démolition. Il est équipé d'un système de commande hydraulique complet, adapté à une utilisation avec tous les accessoires hydrauliques. La flèche et l'accessoire peuvent être changés rapidement et facilement depuis le siège de l'opérateur grâce aux technologies Boom Quick Connect et Tool Quick Connect. Cela lui permet d'être prêt pour le travail en quelques minutes.
La flexibilité de choisir entre les flèches permet aux opérateurs de travailler avec l'accessoire optimal pour le travail, garantissant une meilleure performance. Le vérin à triple flèche, le train de roulement extensible pour un travail à 360 degrés et un châssis de chenille plus long améliorent également la polyvalence de la ZX400MC-7.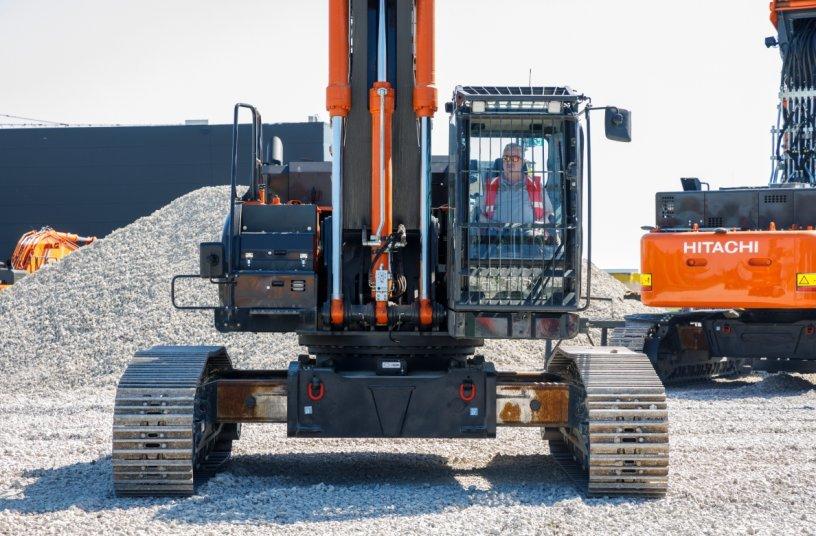 ZX400 MC-7 Entendable Undercarriage RB 1175
IMAGE SOURCE: Hitachi
Priorité à la sécurité
La cabine de démolition spécialement renforcée de la ZX400MC-7 est équipée pour assurer la sécurité des opérateurs lors des travaux de démolition dans des environnements difficiles. Le FOPS niveau 2 et la protection de la vitre avant, ainsi que le verre P5A, par exemple, protégeront l'opérateur des chutes de débris.
L'opérateur a une excellente visibilité grâce à la cabine inclinable (à un angle de 30 degrés). Les systèmes de caméras affichent plusieurs vues depuis la cabine, notamment de l'accessoire, des côtés et de l'arrière de la machine, ainsi qu'une vue à 270 degrés de l'environnement environnant. La sécurité de travail et la stabilité sont assurées par l'indicateur de moment de charge et le système d'alarme, ainsi que par le train de roulement extensible et le contrepoids supplémentaire.
Durable pour la démolition
La disponibilité est maximisée par la durabilité et la fiabilité exceptionnelles de la ZX400MC-7. La structure supérieure a une protection latérale et un dessous renforcé pour une robustesse supplémentaire. La machine est également équipée d'une protection de vérin de godet et de capots de transmission renforcés pour la protéger dans des conditions de travail difficiles.
De plus, tous les principaux composants et pièces de rechange de la ZX400MC-7 sont fournis par Hitachi, réputé pour son dévouement à la qualité et à la fiabilité. Toutes les modifications apportées au modèle Zaxis-7 standard sont approuvées par l'équipe d'assurance qualité d'Hitachi, et le nouveau modèle est couvert par les programmes de garantie et de service Hitachi.
« Il existe une forte demande de porte-outils de classe 40 tonnes en Europe, nous sommes donc ravis de présenter ce nouveau modèle sur le marché européen », déclare Burkhard Janssen, chef de produit Applications spéciales et nouvelles technologies chez Hitachi Construction Machinery (Europe) NV.
« La ZX400MC-7 fera gagner du temps et de l'argent à nos clients, en réduisant le nombre de machines qu'ils doivent envoyer sur un chantier de démolition, et elle améliorera les performances et la sécurité des opérateurs. Nous sommes impatients de le dévoiler à Bauma en octobre.
NJC.© Infos HITACHI Europe
---------------------------------------------------------------------------------------------------------------
20/07/22-English
Hitachi ZX400MC-7 excavator takes demolition to next level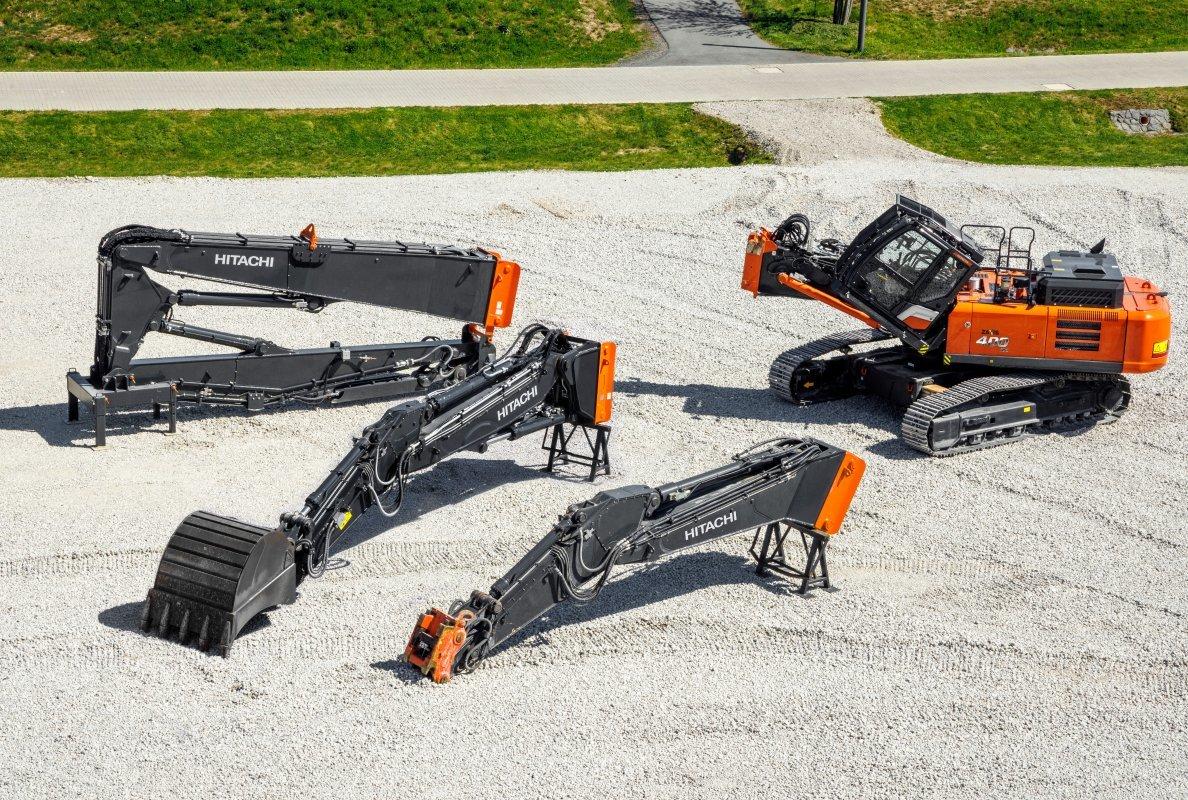 ZX400 MC-7 Group RB 1166 with logo IMAGE SOURCE: Hitachi
o maximise efficiency, uptime and safety on demolition projects, Hitachi is introducing the ZX400MC-7 at this year's Bauma exhibition. The multi-carrier model is based on a Hitachi ZX350LC-7 standard excavator, with Zaxis-7 technology and Stage V-compliant engine. This is one of three new special application machines developed exclusively with German company KTEG, part of the EAC (European Application Center) joint venture with Hitachi Construction Machinery, Co., Ltd in Japan.
Built to meet the requirements of all demolition projects, it is supplied with up to four front attachments, including a monoboom, two-piece boom, and high-reach demolition front of 21m or 24m. This means it can complete the tasks of several machines on site, which simplifies planning, and minimises costs for transport and personnel.
Fit for purpose to boost profit
The ZX400MC-7 will boost profits for owners by enhancing efficiency on every demolition project. It is equipped with a full hydraulic control system, suitable for use with all hydraulic attachments. Both the boom and attachment can be changed quickly and conveniently from the operator's seat thanks to Boom Quick Connect and Tool Quick Connect technology. This allows it to be ready for work in minutes.
Having the flexibility to choose between booms enables operators to work with the optimum attachment for the job, ensuring a better performance. The triple boom cylinder, extendable undercarriage for 360-degree working, and a longer track frame, also enhance the versatility of the ZX400MC-7.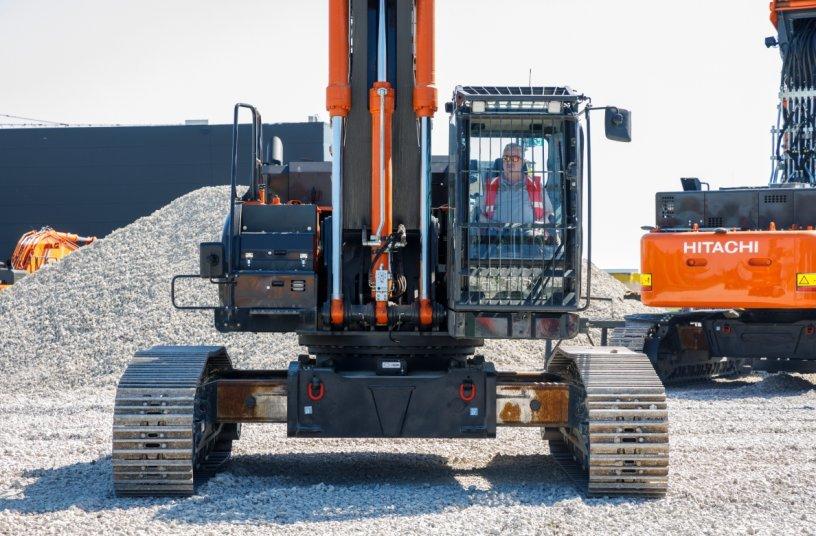 ZX400 MC-7 Entendable Undercarriage RB 1175
IMAGE SOURCE: Hitachi
Prioritising safety
The especially reinforced demolition cab of the ZX400MC-7 is equipped to keep operators safe while carrying out demolition work in challenging environments. The FOPS level 2 and front window protection, plus P5A glass, for example, will protect the operator from falling debris.
The operator has excellent visibility thanks to the tilting cab (to an angle of 30 degrees). Camera systems show multiple views from the cab, including of the attachment, side and rear of the machine, and a 270-degree view of the surrounding environment. Safe working and stability are ensured by the load moment indicator and alarm system, as well as the extendable undercarriage and additional counterweight.
Durable for demolition
Uptime is maximised by the exceptional durability and reliability of the ZX400MC-7. The upper structure has side protection and a reinforced underside for additional robustness. The machine also has bucket cylinder protection and reinforced travel drive covers to protect it in challenging working conditions.
In addition, all the ZX400MC-7's main components and spare parts are supplied by Hitachi, renowned for its dedication to quality and reliability. All modifications to the standard Zaxis-7 model are approved by Hitachi's quality assurance team, and the new model is covered by Hitachi warranty and service programmes.
"There is a large demand for 40-tonne-class tool carriers in Europe, so we are delighted to introduce this new model to the European market," says Burkhard Janssen, Product Manager Special Applications and New Technologies at Hitachi Construction Machinery (Europe) NV.
"The ZX400MC-7 will save our customers time and money, reducing the number of machines they need to send to a demolition site, and it will improve performance and safety for operators. We look forward to unveiling it at Bauma in October."
NJC.© Info HITACHI Europe
---------------------------------------------------------------------------------------------------------------------
20/07/22-NL
Hitachi ZX400MC-7 graafmachine tilt sloop naar een hoger niveau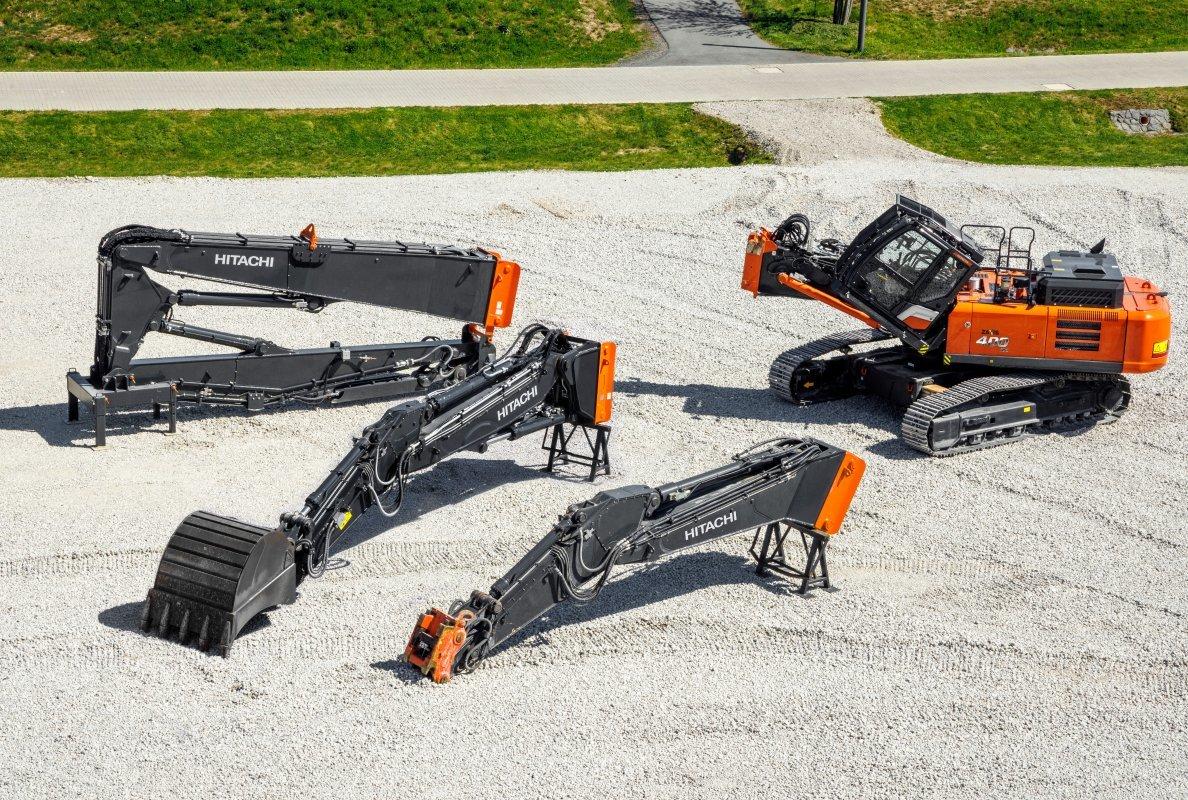 ZX400 MC-7 Group RB 1166 with logo IMAGE SOURCE: Hitachi
Om efficiëntie, uptime en veiligheid bij sloopprojecten te maximaliseren, introduceert Hitachi de ZX400MC-7 op de Bauma-beurs van dit jaar. Het model met meerdere dragers is gebaseerd op een Hitachi ZX350LC-7 standaardgraafmachine, met Zaxis-7-technologie en Stage V-conforme motor. Dit is een van de drie nieuwe machines voor speciale toepassingen die exclusief zijn ontwikkeld met het Duitse bedrijf KTEG, onderdeel van de joint venture EAC (European Application Center) met Hitachi Construction Machinery, Co., Ltd in Japan.
Gebouwd om te voldoen aan de eisen van alle sloopprojecten, wordt hij geleverd met maximaal vier frontuitrustingen, waaronder een monogiek, tweedelige giek en een sloopfront met hoog bereik van 21 of 24 m. Dit betekent dat het de taken van meerdere machines ter plaatse kan uitvoeren, wat de planning vereenvoudigt en de kosten voor transport en personeel minimaliseert.
Geschikt voor het doel om de winst te vergroten
De ZX400MC-7 verhoogt de winst voor eigenaren door de efficiëntie bij elk sloopproject te verbeteren. Hij is uitgerust met een volledig hydraulisch regelsysteem, geschikt voor gebruik met alle hydraulische aanbouwdelen. Zowel de giek als het uitrustingsstuk kunnen snel en gemakkelijk worden verwisseld vanaf de bestuurdersstoel dankzij Boom Quick Connect en Tool Quick Connect-technologie. Hierdoor is hij binnen enkele minuten klaar voor gebruik.
Dankzij de flexibiliteit om tussen gieken te kiezen, kunnen machinisten werken met het optimale uitrustingsstuk voor het werk, wat zorgt voor betere prestaties. De cilinder met drie giek, het uitschuifbare onderstel voor 360 graden werken en een langer rupsframe vergroten ook de veelzijdigheid van de ZX400MC-7.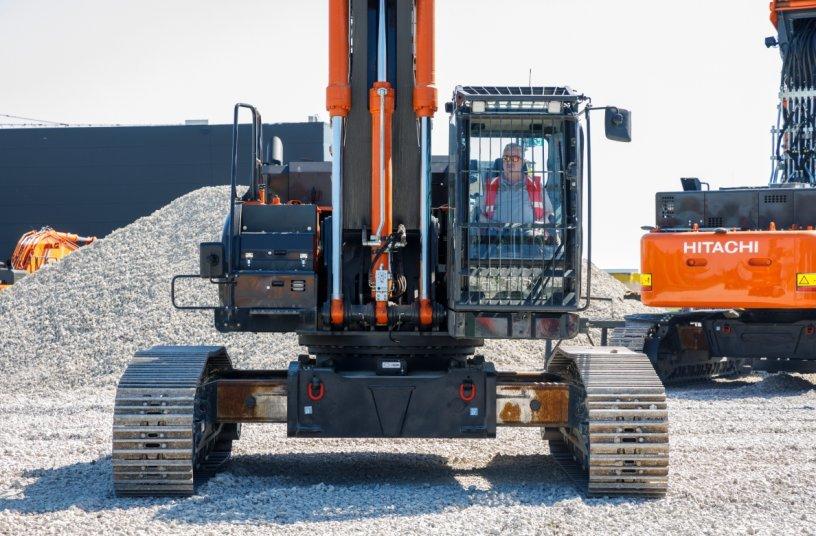 ZX400 MC-7 Entendable Undercarriage RB 1175
IMAGE SOURCE: Hitachi
Prioriteit geven aan veiligheid
De speciaal versterkte sloopcabine van de ZX400MC-7 is uitgerust om machinisten veilig te houden tijdens sloopwerkzaamheden in uitdagende omgevingen. De FOPS-niveau 2 en voorruitbescherming, plus P5A-glas, bijvoorbeeld, beschermen de machinist tegen vallend puin.
De machinist heeft uitstekend zicht dankzij de kantelbare cabine (tot een hoek van 30 graden). Camerasystemen tonen meerdere beelden vanuit de cabine, inclusief het aanbouwdeel, zij- en achterkant van de machine, en een zicht van 270 graden op de omgeving. Veilig werken en stabiliteit worden gegarandeerd door de lastmomentindicator en alarmsysteem, evenals het uitschuifbare onderstel en extra contragewicht.
Duurzaam voor sloop
De uptime wordt gemaximaliseerd door de uitzonderlijke duurzaamheid en betrouwbaarheid van de ZX400MC-7. De bovenstructuur heeft zijbescherming en een versterkte onderkant voor extra stevigheid. De machine heeft ook bakcilinderbescherming en versterkte rijaandrijvingskappen om hem te beschermen in uitdagende werkomstandigheden.
Bovendien worden alle hoofdcomponenten en reserveonderdelen van de ZX400MC-7 geleverd door Hitachi, dat bekend staat om zijn toewijding aan kwaliteit en betrouwbaarheid. Alle aanpassingen aan het standaard Zaxis-7-model zijn goedgekeurd door het kwaliteitsteam van Hitachi en het nieuwe model valt onder de garantie- en serviceprogramma's van Hitachi.
"Er is een grote vraag naar 40 ton-klasse gereedschapsdragers in Europa, dus we zijn verheugd om dit nieuwe model op de Europese markt te introduceren", zegt Burkhard Janssen, Product Manager Special Applications and New Technologies bij Hitachi Construction Machinery (Europe) NV.
"De ZX400MC-7 bespaart onze klanten tijd en geld, vermindert het aantal machines dat ze naar een slooplocatie moeten sturen en verbetert de prestaties en veiligheid voor machinisten. We kijken ernaar uit om het in oktober op de Bauma te onthullen."
NJC.© Info HITACHI Europa
------------------------------------------------------------------------------------------------------------------
Date de dernière mise à jour : 19/07/2022