How the MB-G grapple has become the 'hands' of operators in demolition work

19/12/22-FR-English-NL-f ooter
Comment le grappin MB-G est devenu les "mains" des opérateurs dans les travaux de démolition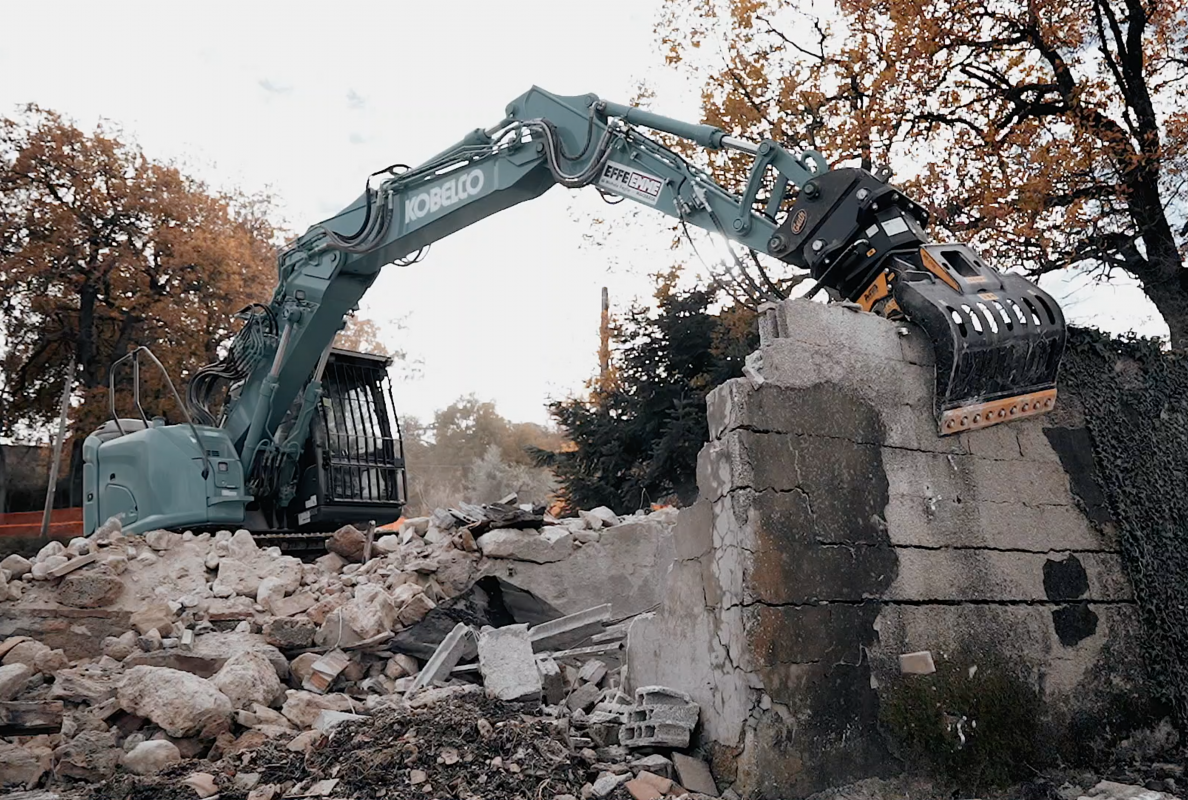 Once it's secured, it won't let go. IMAGE SOURCE: MB Crusher
Une précision manuelle, mais qui se déchire et se démonte comme une machine, ont déclaré trois de nos clients, des opérateurs d'engins de terrassement qui ont démoli des bâtiments. Tous avaient le même objectif - démolir et récupérer le maximum de matériel en toute sécurité - et avec le même type d'équipement : un grappin de tri MB Crusher.
Précision manuelle
Démolir une ferme des années 1940, impropre à l'usage et dangereuse, implique des complexités. Michele Foglia d'Effe Emme Edilizia en est bien consciente. Au lieu du grappin de démolition classique, il a choisi un grappin MB Crusher MB-G900. Il l'a monté sur un Kobelco pour démolir la structure du début à la fin. Plutôt que de l'abattre, il l'a démonté pièce par pièce et, avec le grappin MB Crusher. Il a immédiatement récupéré tous les matériaux - planchers, poutres - à éliminer. Et a tout de même réussi à récupérer le calcaire pour le réutiliser pour la construction d'un nouveau bâtiment. Le grappin MB-G a saisi les matériaux avec une extrême délicatesse et agilité, permettant de travailler en toute sécurité tant sur le chantier que côté rue. "Nous nous sommes bien amusés : c'était précis dans le démontage de la structure, et cela a fonctionné avec agilité. Nous sommes étonnés d'avoir réussi à démolir une maison entière avec un grappin !"
Une fois sécurisé, il ne lâche plus.
La force de serrage élevée des griffes permet une récupération sans destruction, préservant ainsi les matériaux réutilisables. Ce détail a incité Gianluca Venturuzzo de la société vénitienne Trevisan Carlo &C. d'utiliser le MB-G1200 de MB Crusher pour plusieurs travaux, notamment la démolition d'un bâtiment préfabriqué avec des panneaux isolés et du fer et une ferme des années 1950. "C'est un équipement très pratique, simple et rapide à utiliser. Il dispose de commandes très intuitives pour ouvrir et fermer les griffes et faire pivoter l'équipement lui-même. Par exemple, lors du démontage, je pouvais prendre plusieurs poutres en bois à la fois, rendant le travail beaucoup plus rapide.
Comme dans un film de science-fiction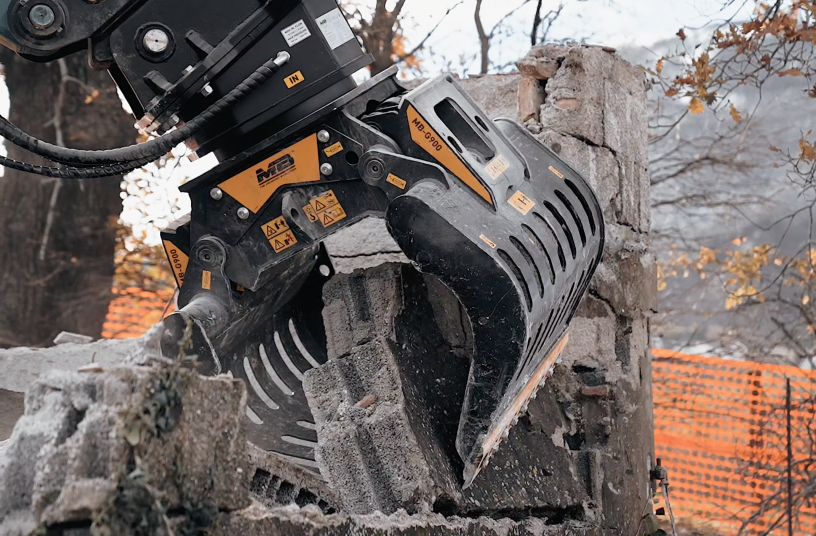 Once it's secured, it won't let go. IMAGE SOURCE: MB Crusher
Roberto Chiappelli du Frioul a également choisi le MB Crusher MB-G900 car il lui permet d'effectuer rapidement un travail précis. "Il permet de saisir les matières comme une main. C'est comme si avant j'étais réduit à n'avoir qu'un seul doigt. Maintenant j'ai la sensation d'avoir deux doigts et donc de pouvoir saisir ce que je veux. de nombreuses années, je peux témoigner qu'il y a longtemps, un tel équipement aurait été de la pure science-fiction.
Le fait est que le démantèlement des structures pièce par pièce trie et sépare déjà les matériaux recyclables, ceux qui doivent être éliminés et ceux qui peuvent être réutilisés sur le chantier. Cela permet de gagner du temps et, par conséquent, de réduire les coûts.
Si la polyvalence, la sécurité et la rapidité sont aujourd'hui la devise sur le chantier, alors avoir une « main » supplémentaire rend tout plus facile. Tous les modèles de grappin MB-G de MB Crusher sont équipés d'une soupape de sécurité (qui maintient le grappin fermé en cas de fuite dans le circuit d'huile). Certains sont également équipés du silentbloc qui permet d'utiliser le grappin même dans les zones où le bruit doit être maîtrisé, c'est-à-dire sur tous les chantiers de construction en centre-ville ou dans les zones densément peuplées.
Le grappin MB-G peut également être équipé de divers accessoires qui le rendent encore plus polyvalent et facile à utiliser. Et il y en a un pour chaque modèle et taille de machine en fonctionnement, du plus petit au plus grand.
NJC.© Info Broyeur MB
------------------------------------------------------------------------------------------------------------------

19/12/22-English
How the MB-G grapple has become the 'hands' of operators in demolition work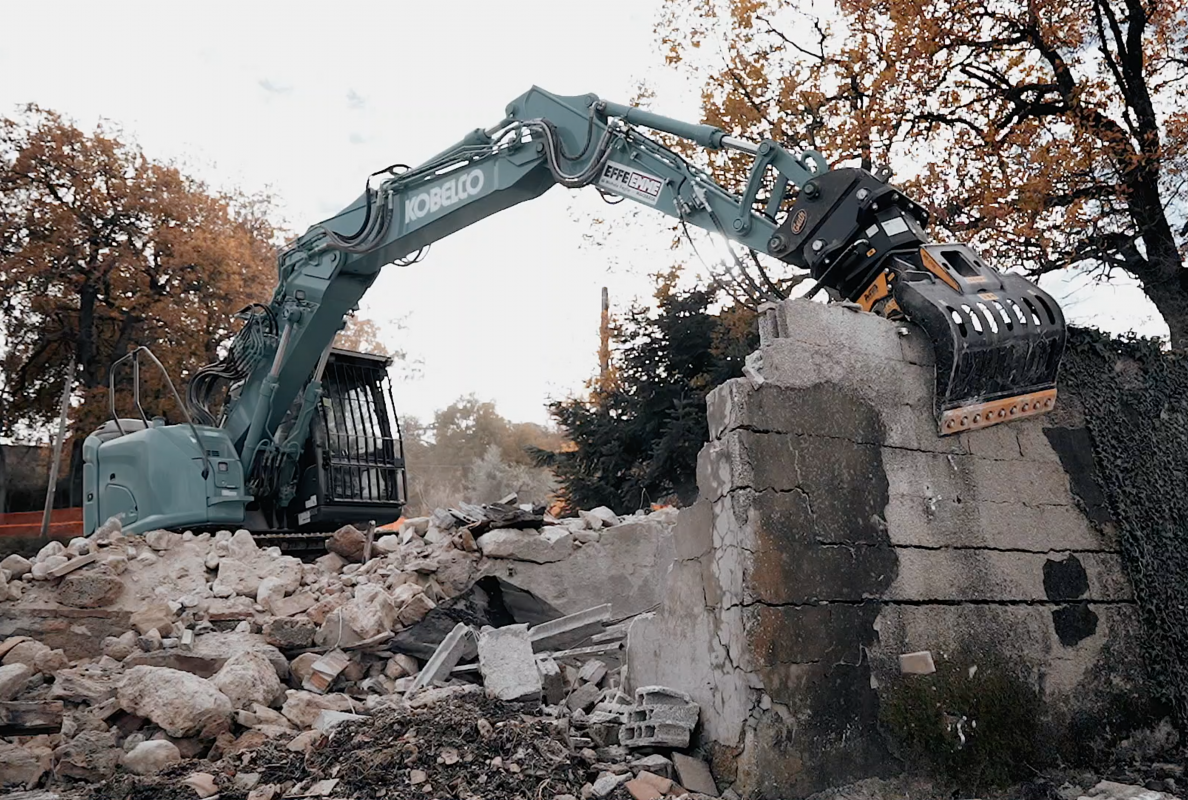 Once it's secured, it won't let go. IMAGE SOURCE: MB Crusher
Hand precision but tears and disassembles like a machine, said three of our customers—operators of earth-moving equipment who demolished buildings. All had the same objective - to demolish and recover as much material as possible in total safety - and with the same type of equipment: an MB Crusher sorting grapple.
Hand Precision
Demolishing a 1940s farmhouse, which is unfit for use and unsafe, involves complexities. Michele Foglia of Effe Emme Edilizia is well aware of this. Instead of the classic demolition grapple, he chose an MB Crusher MB-G900 grapple. He mounted it on a Kobelco to demolish the structure from start to finish. Rather than knocking it down, he dismantled it piece by piece and, with the MB Crusher grapple. He immediately recovered all the materials - floors, beams - to be disposed of. And still managed to recover the limestone to be reused for constructing a new building. The MB-G grapple grasped the materials with extreme delicacy and agility, allowing work to be safe both on the building site and on the street side. "We had a great time: it was exact in dismantling the structure, and it worked nimbly. We are amazed that we managed to demolish an entire house with a grapple!"
Once it's secured, it won't let go.
The claws' high clasping force allows recovery without destruction, thus safeguarding materials that can be reused. This detail prompted Gianluca Venturuzzo of the Venetian company Trevisan Carlo &C. to use MB Crusher's MB-G1200 for several jobs, notably the demolition of a prefabricated building with insulated panels and iron and a 1950s farmhouse. "It is a very practical piece of equipment, simple and quick to use. It has very intuitive controls for opening and closing the claws and rotating the equipment itself. For example, in the disassembly, I could take several wooden beams at a time, making the work considerably faster.
Like in a science fiction film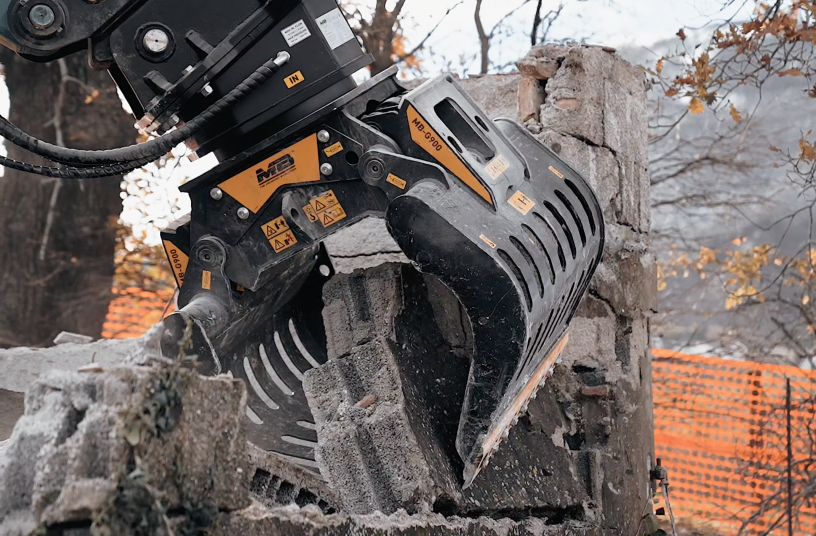 Once it's secured, it won't let go. IMAGE SOURCE: MB Crusher
Roberto Chiappelli from Friuli also chose the MB Crusher MB-G900 because it allows him to do precise work quickly. "It allows you to grab materials just like a hand. It is as if before I was reduced to having one finger. Now I have the feeling of having two fingers and therefore being able to grasp what I want.Having been in the business for many years, I can testify that a long time ago such equipment would have been pure science fiction.
The fact is that dismantling the structures piece by piece already sorts and separates the materials that can be recycled, those that must be disposed of, and those that can be reused on the construction site. This saves time and, consequently, cuts costs.
If versatility, safety, and speed are the motto on the job site today, then having an extra 'hand' makes everything easier. All MB Crusher's MB-G grapple models are equipped with a safety valve (which keeps the grapple closed in the event of a leak in the oil circuit). Some are also fitted with the silent block that allows the grapple to be used even in areas where noise needs to be under control, i.e. on all those construction sites in city centers or densely populated areas.
The MB-G grapple can also be equipped with various accessories that make it even more versatile and easy to use. And there is one for every model and size of operating machine, from the smallest to the largest.
NJC.© Info MB Crusher
--------------------------------------------------------------------------------------------------------------------

19/12/22-NL
Hoe de MB-G-grijper de 'handen' is geworden van operators bij sloopwerkzaamheden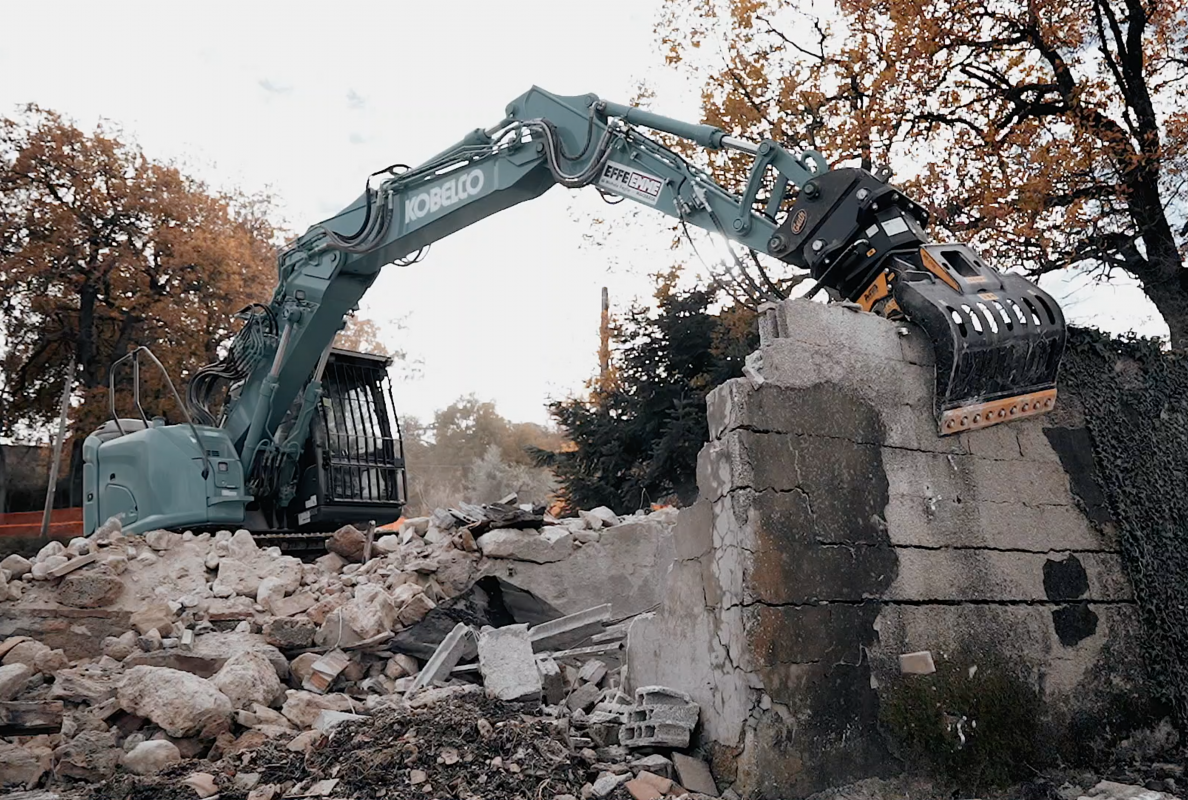 Once it's secured, it won't let go. IMAGE SOURCE: MB Crusher
Handprecisie maar scheurt en demonteert als een machine, zeiden drie van onze klanten - machinisten van grondverzetmachines die gebouwen slopen. Allen hadden hetzelfde doel - zoveel mogelijk materiaal slopen en recupereren in alle veiligheid - en met hetzelfde type uitrusting: een MB Crusher sorteergrijper.
Handprecisie
Het slopen van een onbruikbare en onveilige boerderij uit de jaren 40 brengt complexiteit met zich mee. Michele Foglia van Effe Emme Edilizia is zich hiervan terdege bewust. In plaats van de klassieke sloopgrijper koos hij voor een MB Crusher MB-G900-grijper. Hij monteerde het op een Kobelco om het bouwwerk van begin tot eind af te breken. In plaats van het neer te halen, ontmantelde hij het stuk voor stuk en met de MB Crusher-grijper. Hij herstelde onmiddellijk alle materialen - vloeren, balken - die moesten worden afgevoerd. En slaagde er toch in om de kalksteen terug te winnen om opnieuw te gebruiken voor de bouw van een nieuw gebouw. De MB-G-grijper pakte de materialen uiterst fijngevoelig en behendig vast, waardoor zowel op de bouwplaats als aan de straatkant veilig kon worden gewerkt. "We hebben een geweldige tijd gehad: het was precies in het ontmantelen van de structuur, en het werkte behendig. We zijn verbaasd dat we erin zijn geslaagd om een heel huis met een grijper te slopen!"
Als het eenmaal is vastgezet, laat het niet meer los.
De hoge klemkracht van de klauwen maakt herstel mogelijk zonder vernietiging, waardoor materialen worden beschermd die kunnen worden hergebruikt. Dit detail bracht Gianluca Venturuzzo van het Venetiaanse bedrijf Trevisan Carlo &C ertoe. om de MB-G1200 van MB Crusher voor verschillende klussen te gebruiken, met name de sloop van een geprefabriceerd gebouw met geïsoleerde panelen en ijzer en een boerderij uit de jaren 50. "Het is een heel praktisch stuk gereedschap, eenvoudig en snel in gebruik. Het heeft zeer intuïtieve bedieningselementen voor het openen en sluiten van de klauwen en het draaien van het apparaat zelf. Bij de demontage kon ik bijvoorbeeld meerdere houten balken tegelijk pakken, waardoor het werk aanzienlijk sneller gaat.
Als in een sciencefictionfilm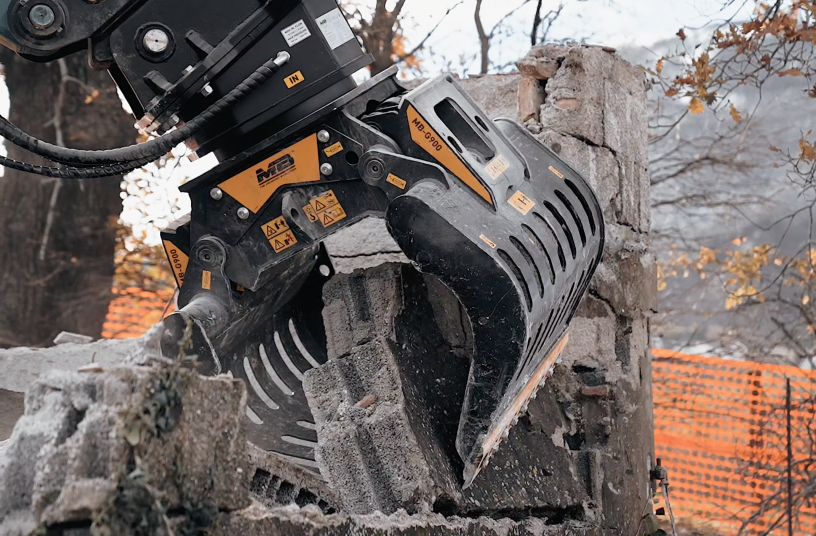 Once it's secured, it won't let go. IMAGE SOURCE: MB Crusher
Ook Roberto Chiappelli uit Friuli koos voor de MB Crusher MB-G900 omdat hij hiermee snel nauwkeurig werk kan verrichten. "Hiermee kun je materialen vastpakken net als een hand. Het is alsof ik vroeger gereduceerd was tot het hebben van één vinger. Nu heb ik het gevoel twee vingers te hebben en daardoor te kunnen pakken wat ik wil. vele jaren kan ik getuigen dat dergelijke apparatuur lang geleden pure sciencefiction zou zijn geweest.
Feit is dat door de structuren stuk voor stuk te ontmantelen, de materialen die kunnen worden gerecycled, die moeten worden weggegooid en die op de bouwplaats kunnen worden hergebruikt, al worden gesorteerd en gescheiden. Dat scheelt tijd en dus kosten.
Als veelzijdigheid, veiligheid en snelheid tegenwoordig het motto zijn op de bouwplaats, dan maakt het hebben van een extra 'handje' alles gemakkelijker. Alle modellen MB-G-grijpers van MB Crusher zijn uitgerust met een veiligheidsklep (die de grijper gesloten houdt in geval van een lek in het oliecircuit). Sommige zijn ook uitgerust met het stille blok waardoor de grijper zelfs kan worden gebruikt in gebieden waar het geluid onder controle moet worden gehouden, d.w.z. op al die bouwplaatsen in stadscentra of dichtbevolkte gebieden.
De MB-G-grijper kan ook worden uitgerust met verschillende accessoires die hem nog veelzijdiger en gebruiksvriendelijker maken. En er is er een voor elk model en elke maat werkende machine, van de kleinste tot de grootste.
NJC.© Info MB Crusher
------------------------------------------------------------------------------------------------------------------