HVO fuelled JCB X-Series Equipment helps Luddon go Green
13/06/22-FR-English-NL-footer
L'équipement JCB X-Series alimenté par le HVO aide Luddon à passer au vert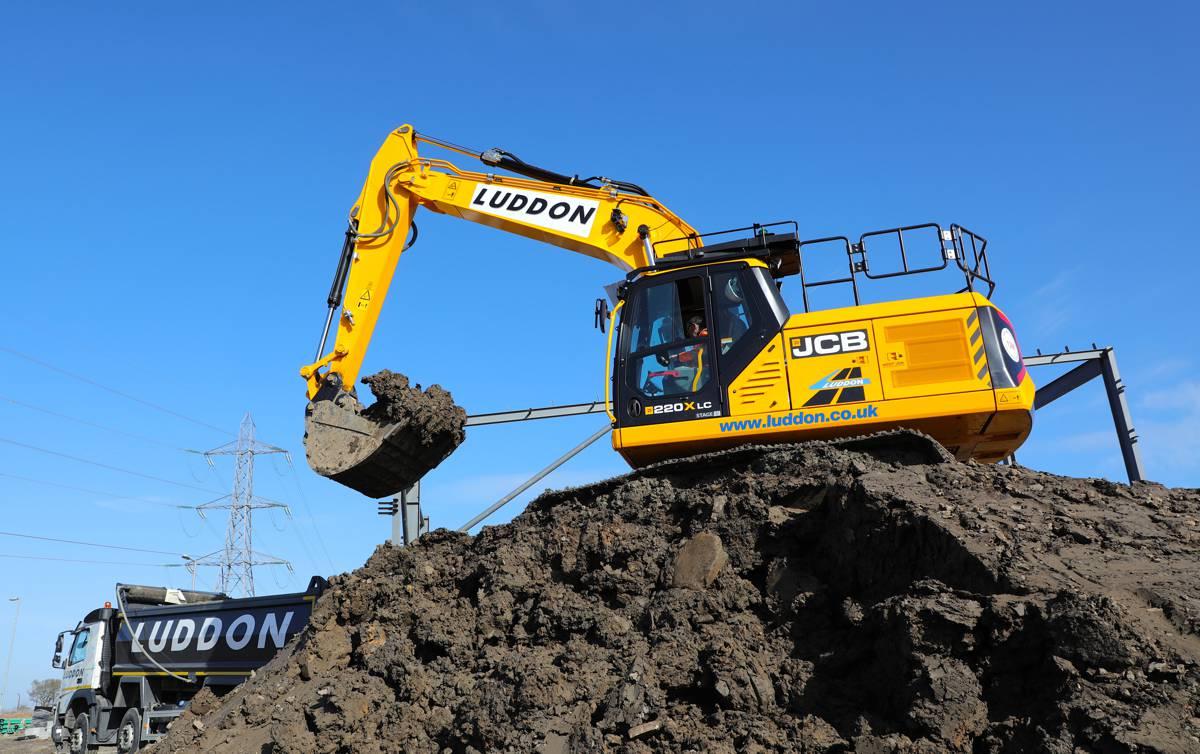 Image JCB
L'une des principales entreprises de construction du Royaume-Uni a acheté six nouvelles machines JCB, dont une toute nouvelle Stage V 220X qui fonctionne avec du carburant HVO vert innovant.
Acheté par Luddon Construction, basé à Glasgow, l'accord comprend les modèles JCB 86C-2, JCB 220X et JCB 3CX qui rejoignent une flotte de plus de 30 machines JCB, y compris Teletruk, pelle de chargement sur roues, compacteur, pelle sur roues, modèles de chargeuse-pelleteuse ainsi que JCB sur chenilles excavatrices allant de 1,5 à 22 tonnes.
Fournies par le concessionnaire Scot JCB, les nouvelles machines ont été mises au travail sur deux projets majeurs : la construction d'un nouvel entrepôt de 8 millions de livres sterling de 47 500 pi² pour Tulchan Developments et sur site pour Caledonian Water Alliance dans leur nouvelle station de pompage d'Ibrox – réalisation du béton travaux de sous-structure, y compris le drainage, les conduits et les finitions paysagères dures.
Lawrence McGarry, directeur de l'usine de construction de Luddon, a déclaré : « Nous utilisons JCB en raison de la fiabilité des produits ; ils font toujours exactement ce dont nous avons besoin. Nos opérateurs sont vraiment satisfaits des nouvelles machines. L'un d'eux nous a dit qu'il ne pensait pas que l'équipement JCB pouvait s'améliorer, mais avec ces derniers modèles, il l'a fait.
"Luddon Construction s'est engagé à réduire ses émissions de carbone, et compte tenu de l'ampleur de ce projet pour Tulchan Developments, le JCB 220X alimenté au HVO semblait la solution parfaite.
"Il a une cabine extrêmement confortable et toutes les commandes sont très conviviales - c'est un plaisir à utiliser. Le fait que le moteur soit prêt pour le HVO est excellent et les fonctions d'arrêt et de ralenti automatiques garantissent une efficacité énergétique maximale.
"Nous entretenons une excellente relation de travail avec Scot JCB depuis notre création en 1975. L'attention portée aux détails et la connaissance des produits sont sans égal."
Fondée en 1975, Luddon Construction est l'une des plus grandes entreprises de construction privées du Royaume-Uni, employant plus de 500 personnes et fournissant des capacités de génie civil, de construction, de revêtement, de drainage et de petits travaux.
NJC.© Infos JCB
-------------------------------------------------------------------------------------------------------------------
13/06/22-English
HVO fuelled JCB X-Series Equipment helps Luddon go Green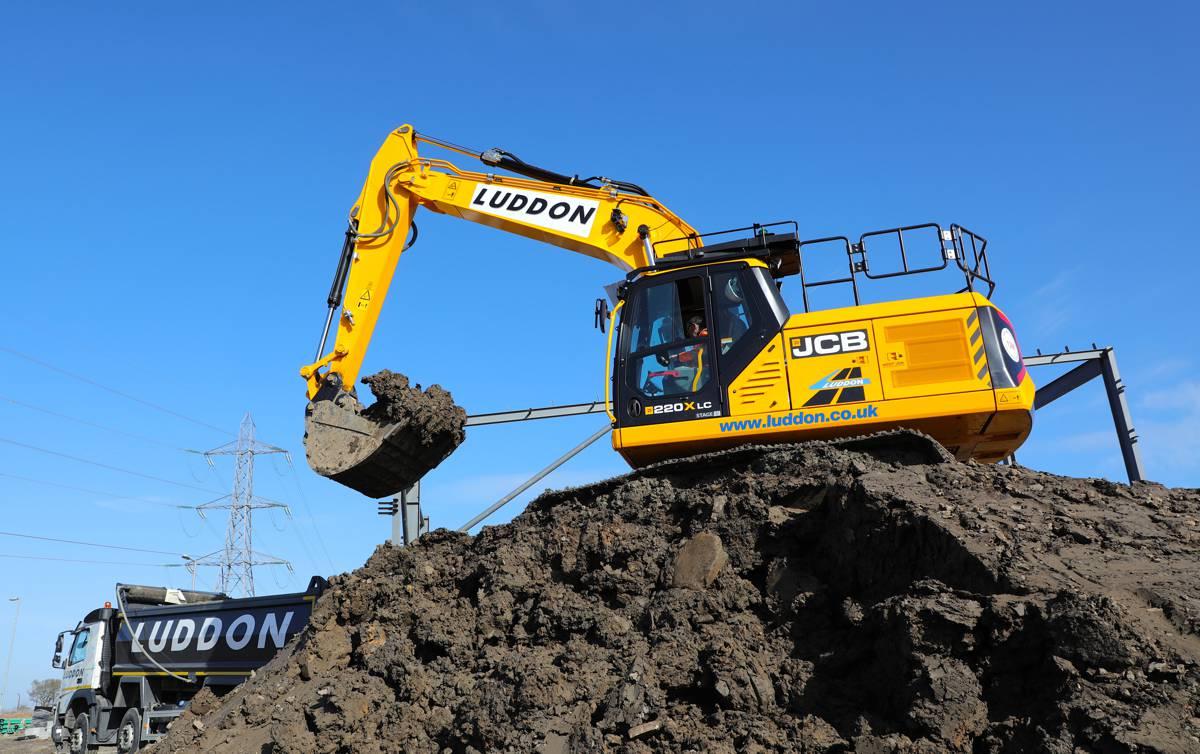 Image JCB
One of the UK's leading construction firms has bought six new JCB machines including a brand-new Stage V 220X which runs on innovative green HVO fuel.
Purchased by Glasgow-based Luddon Construction, the deal includes JCB 86C-2, JCB 220X and JCB 3CX models which join a fleet of over 30 JCB machines including Teletruk, wheeled loading shovel, compaction, wheeled excavator, backhoe loader models along with JCB tracked excavators ranging from 1.5 through to 22 tonnes.
Supplied by dealer Scot JCB, the new machines have been put to work on two major projects: constructing a new build £8 million 47,500ft² warehouse unit for Tulchan Developments and on site for Caledonian Water Alliance at their new Ibrox Pumping Station – carrying out concrete sub-structure works including drainage, ducting and hard landscape finishes.
Luddon Construction Plant Manager Lawrence McGarry said: "We use JCB because of the reliability of the products; they always do exactly what we need. Our operators are really happy with the new machines. One told us that he didn't think JCB equipment could get any better but with these latest models it has.
"Luddon Construction is committed to reducing its carbon emissions, and given the enormity of this project for Tulchan Developments, the HVO-fuelled JCB 220X seemed the perfect solution.
"It has an extremely comfortable cab and all the controls are very user friendly – it's a joy to operate. The fact that the engine is HVO ready is great and the auto-stop and auto-idle features ensure maximum fuel efficiency.
"We have enjoyed a great working relationship with Scot JCB since our formation back in 1975. The attention to detail and product knowledge is second to none."
Founded in 1975 Luddon Construction is one of the largest privately owned construction companies in the UK, employing over 500 people and providing civil engineering, building, surfacing, drainage and small works capabilities.
NJC.© Info JCB
----------------------------------------------------------------------------------------------------------------
13/06/22-NL
HVO-aangedreven JCB X-Series-apparatuur helpt Luddon groen te worden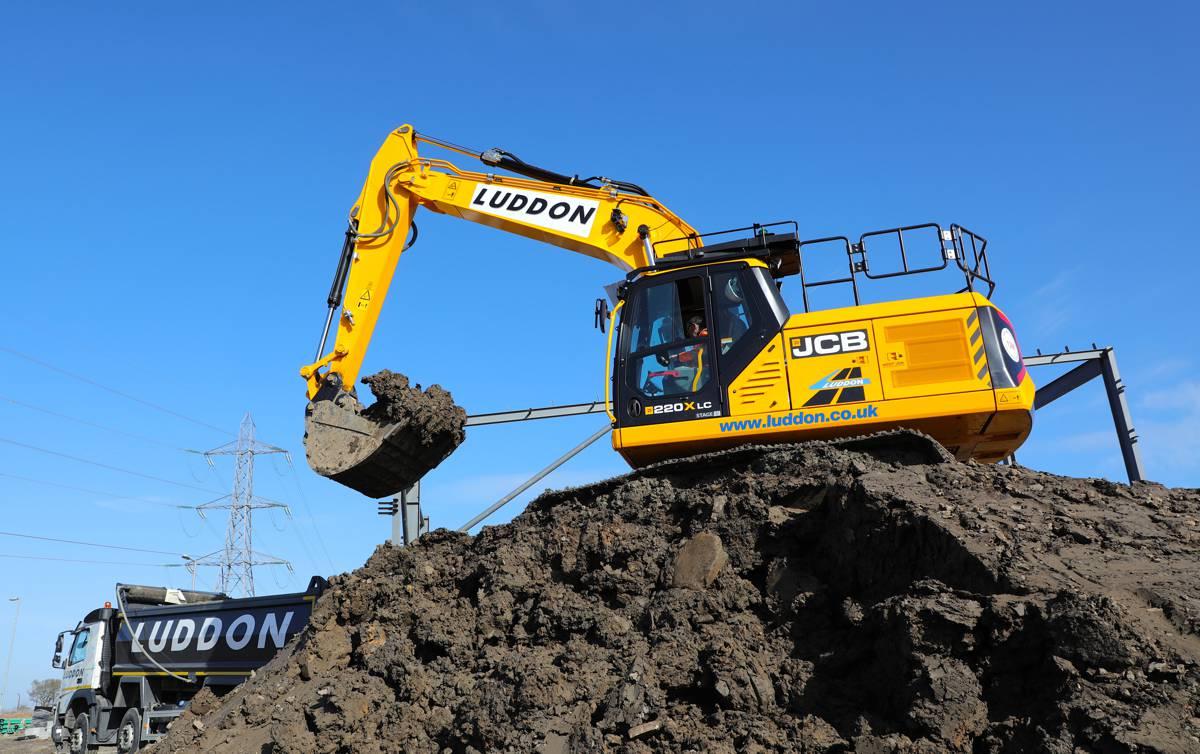 Image JCB
Een van de toonaangevende bouwbedrijven in het VK heeft zes nieuwe JCB-machines gekocht, waaronder een gloednieuwe Stage V 220X die op innovatieve groene HVO-brandstof werkt.
Gekocht door het in Glasgow gevestigde Luddon Construction, omvat de deal JCB 86C-2, JCB 220X en JCB 3CX-modellen die deel uitmaken van een vloot van meer dan 30 JCB-machines, waaronder Teletruk, wiellader, verdichting, mobiele graafmachine, graaflaadcombinaties en JCB-rupsbanden graafmachines van 1,5 tot 22 ton.
De nieuwe machines, geleverd door dealer Scot JCB, zijn aan het werk gezet voor twee grote projecten: de bouw van een nieuwbouw van £ 8 miljoen 47.500 ft² magazijneenheid voor Tulchan Developments en ter plaatse voor Caledonian Water Alliance bij hun nieuwe Ibrox-pompstation - het uitvoeren van beton onderbouwwerken inclusief drainage, leidingen en harde landschapsafwerkingen.
Luddon Construction Plant Manager Lawrence McGarry zei: "We gebruiken JCB vanwege de betrouwbaarheid van de producten; ze doen altijd precies wat we nodig hebben. Onze operators zijn erg blij met de nieuwe machines. Eentje vertelde ons dat hij niet dacht dat JCB-apparatuur nog beter zou kunnen worden, maar met deze nieuwste modellen is dat wel het geval.
"Luddon Construction zet zich in om zijn CO2-uitstoot te verminderen, en gezien de enorme omvang van dit project voor Tulchan Developments, leek de HVO-aangedreven JCB 220X de perfecte oplossing.
"Hij heeft een uiterst comfortabele cabine en alle bedieningselementen zijn zeer gebruiksvriendelijk – het is een genot om te bedienen. Het feit dat de motor HVO-gereed is, is geweldig en de auto-stop en auto-stationair functies zorgen voor een maximale brandstofefficiëntie.
"Sinds onze oprichting in 1975 hebben we een geweldige werkrelatie met Scot JCB. De aandacht voor detail en productkennis is ongeëvenaard."
Luddon Construction, opgericht in 1975, is een van de grootste particuliere bouwbedrijven in het Verenigd Koninkrijk, biedt werk aan meer dan 500 mensen en biedt mogelijkheden voor civiele techniek, bouw, verharding, drainage en kleine werken.
NJC.© Info JCB
-----------------------------------------------------------------------------------------------------------------------