Hyundai enters ADT market
23/06/22-FR-English-NL-footer
Hyundai entre sur le marché de l'ADT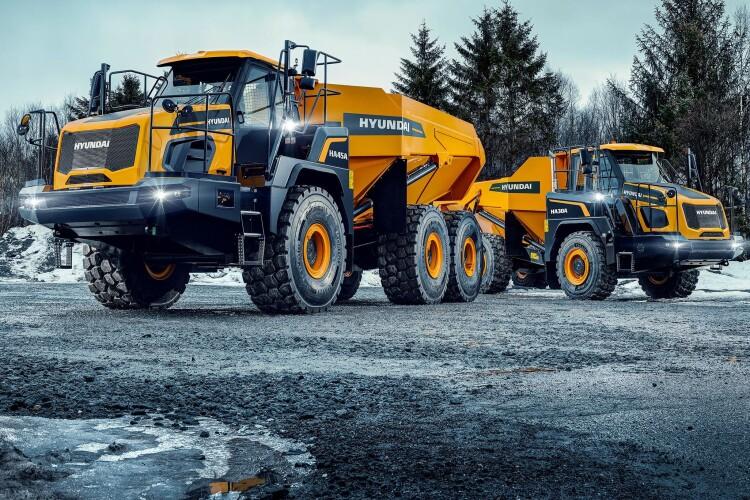 Image-The new Hyundai HA30A and HA45A
Hyundai Construction Equipment a ajouté deux modèles de tombereaux articulés à sa gamme d'équipements de construction lourde et de terrassement. Les nouveaux Hyundai HA30A et HA45A
L'entrée de Hyundai sur ce marché fait suite à son acquisition de Doosan l'an dernier.
Les HA30A et HA45A ont des charges utiles nominales de 28 tonnes et 41 tonnes respectivement.
Ils sont construits autour d'un concept de transmission à six roues motrices permanentes, avec des différentiels à glissement limité avant et arrière et un différentiel longitudinal pouvant être verrouillé manuellement, pour une conduite et une traction maximales sur les terrains difficiles.
Les camions sont conçus avec un châssis compact, un châssis arrière incliné et un différentiel monté à l'avant intégré à la transmission ZF, permettant une section de châssis avant plus courte. Cela se traduit par le plus petit rayon de braquage du secteur, affirme le constructeur coréen.
Le HA30A a une capacité de 16,8 m3 de carrosserie à dôme, qui passe à 17,8 m3 avec un hayon. Le plus grand HA45A offre une capacité en tas de 24,4 m3, passant à 26,0 m3 avec un hayon. Les deux bennes basculantes peuvent être éventuellement chauffées par les gaz d'échappement du moteur, pour empêcher le gel et le collage des matériaux lors d'un fonctionnement à des températures plus froides.
Informations connexes
Des moteurs diesel conformes à la norme Scania Stage V propulsent les deux camions. Le HA30A est équipé d'un moteur diesel turbocompressé DC9 de 9,3 litres à cinq cylindres développant 375 ch (276 kW) et 1 876 Nm de couple. Le plus grand HA45A est équipé d'un moteur diesel DC13 à six cylindres de 12,7 litres, produisant une puissance maximale de 500 ch (368 kW) et un couple de 2 476 Nm. Les deux moteurs sont entraînés par des transmissions automatiques ZF à huit rapports, avec ralentisseurs intégrés.
Les deux ADT sont le premier signe visible de la nouvelle coopération entre Hyundai Construction Equipment Europe (HCEE) et Hyundai Doosan Infracore (HDI), depuis le rachat de l'activité Doosan l'année dernière par le groupe Hyundai Heavy Industries. HCEE et HDI fonctionnent désormais comme des divisions distinctes au sein de Hyundai Genuine, conservant leurs structures de gestion et de réseau de concessionnaires indépendantes.
NJC.© Info HYUNDAI
---------------------------------------------------------------------------------------------------------------------
23/06/22-English
Hyundai enters ADT market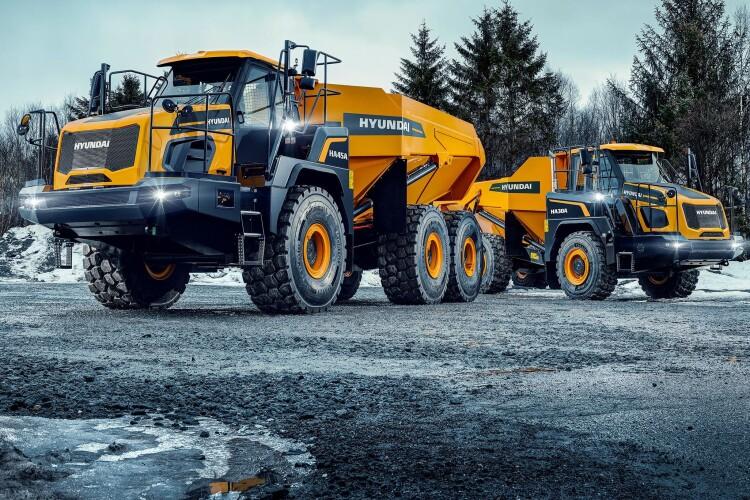 Image-The new Hyundai HA30A and HA45A
Hyundai Construction Equipment has added two articulated dump truck models to its line of heavy construction and earthmoving equipment. The new Hyundai HA30A and HA45A
Hyundai's entry into this market follows its acquisition of Doosan last year.
The HA30A and HA45A have rated payloads of 28 tonnes and 41 tonnes respectively.
They are built around a full-time six-wheel drive concept, with front and rear limited slip differentials and a longitudinal differential than can be manually locked, for maximum drive and traction on difficult terrain.
The trucks are designed with a compact chassis, sloping rear frame and a front-mounted differential integrated into the ZF transmission, allowing for a shorter front frame section. This results in the smallest turning radius in the sector, the Korean manufacturer claims.
The HA30A has a 16.8 m3 heaped body capacity, that rises to 17.8 m3 with a tailgate fitted. The larger HA45A offers a 24.4 m3 heaped capacity, rising to 26.0m3 with a tailgate. Both dump bodies can be optionally heated by the engine exhaust gases, to prevent freezing and sticking of materials when operating in colder temperatures.
Related Information
Scania Stage V-compliant diesel engines power both trucks. The HA30A has a five-cylinder, 9.3-litre, DC9 turbocharged diesel, developing 375hp (276kW) and 1,876Nm of torque. The larger HA45A has a six-cylinder, 12.7-litre DC13 diesel engine, producing a maximum 500hp (368kW) and 2,476Nm of torque. Both engines drive through eight-speed ZF automatic transmissions, with integrated retarders.
The two ADTs are the first visible sign of the new cooperation between Hyundai Construction Equipment Europe (HCEE) and Hyundai Doosan Infracore (HDI), since the purchase of the Doosan business last year by Hyundai Heavy Industries Group. HCEE and HDI now operate as separate divisions within Hyundai Genuine, maintaining their independent management and dealer network structures.
NJC.© Info HYUNDAI
-----------------------------------------------------------------------------------------------------------------------
23/06/22-NL
Hyundai betreedt ADT-markt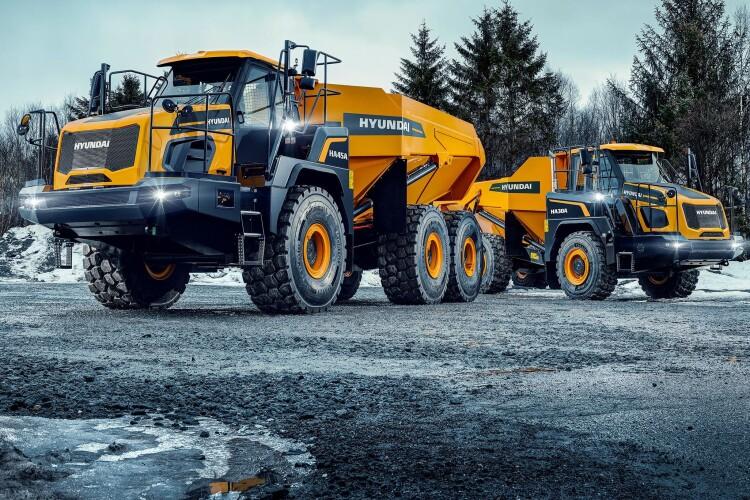 Image-The new Hyundai HA30A and HA45A
Hyundai Construction Equipment heeft twee modellen knikdumpers toegevoegd aan zijn lijn van zwaar bouw- en grondverzetmaterieel. De nieuwe Hyundai HA30A en HA45A
Hyundai's toetreding tot deze markt volgt op de overname van Doosan vorig jaar.
De HA30A en HA45A hebben een nominaal laadvermogen van respectievelijk 28 ton en 41 ton.
Ze zijn gebouwd rond een fulltime zeswielaangedreven concept, met sperdifferentiëlen voor en achter en een differentieel in de lengterichting dat handmatig kan worden vergrendeld, voor maximale aandrijving en tractie op moeilijk terrein.
De trucks zijn ontworpen met een compact chassis, een hellend achterframe en een vooraan gemonteerd differentieel geïntegreerd in de ZF-transmissie, waardoor een korter framegedeelte aan de voorkant mogelijk is. Dit resulteert in de kleinste draaicirkel in de sector, claimt de Koreaanse fabrikant.
De HA30A heeft een laadruimte van 16,8 m3, die met een achterklep oploopt tot 17,8 m3. De grotere HA45A biedt een inhoud van 24,4 m3, oplopend tot 26,0 m3 met een achterklep. Beide stortbakken kunnen optioneel worden verwarmd door de uitlaatgassen van de motor, om bevriezing en vastplakken van materialen te voorkomen bij koudere temperaturen.
Gerelateerde informatie
Scania Stage V-conforme dieselmotoren drijven beide trucks aan. De HA30A heeft een vijfcilinder, 9,3-liter DC9-turbodieselmotor met een vermogen van 375 pk (276 kW) en een koppel van 1.876 Nm. De grotere HA45A heeft een zescilinder, 12,7-liter DC13-dieselmotor, die een maximumvermogen van 500 pk (368 kW) en een koppel van 2.476 Nm levert. Beide motoren worden aangedreven door achttraps automatische ZF-transmissies met geïntegreerde retarders.
De twee ADT's zijn het eerste zichtbare teken van de nieuwe samenwerking tussen Hyundai Construction Equipment Europe (HCEE) en Hyundai Doosan Infracore (HDI), sinds de aankoop van de Doosan-activiteiten vorig jaar door Hyundai Heavy Industries Group. HCEE en HDI opereren nu als afzonderlijke divisies binnen Hyundai Genuine, met behoud van hun onafhankelijke management- en dealernetwerkstructuren.
NJC.© Info HYUNDAI
--------------------------------------------------------------------------------------------------------------