IFAT 2022: Live demo of SENNEBOGEN recycling and demolition machines at VDMA Demonstration Days and Crushing Zone
11/04/22- FR + English + NL footer
IFAT 2022 : Démonstration en direct des machines de recyclage et de démolition SENNEBOGEN lors des journées de démonstration VDMA et de la zone de concassage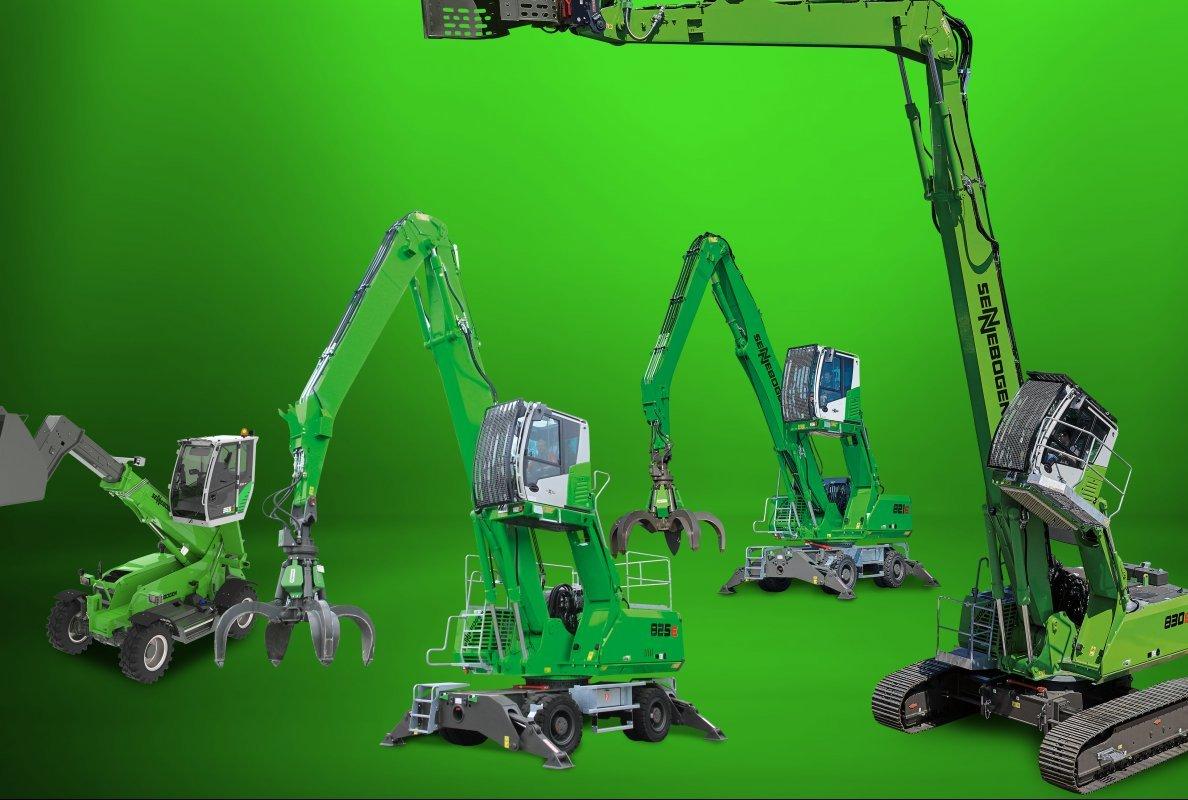 En plus des innovations dans le hall d'exposition, SENNEBOGEN présentera quatre autres machines en action lors des journées de démonstration VDMA et de la zone de concassage VDMA. Soyez curieux et découvrez toute la gamme des experts du recyclage - des engins de démolition aux chariots télescopiques.
À quelques centaines de mètres du hall d'exposition, les journées de démonstration VDMA et la zone de concassage VDMA se dérouleront parallèlement à l'IFAT du 30 mai au 3 juin 2022. Les démonstrations en direct offrent aux invités la possibilité de découvrir les solutions techniques des fabricants dans d'une manière liée à l'application tout en travaillant. Le vaste portefeuille de machines de SENNEBOGEN comprend non seulement des machines de recyclage et des chariots télescopiques pour le traitement professionnel des déchets, mais également des machines de démolition pour une déconstruction efficace, qui montreront chacune de quoi elles sont capables lors de 8 démonstrations sur 5 jours d'exposition. Des experts produits expliqueront les machines en détail lors des démonstrations.
Machine de démolition et chariot télescopique à la zone de concassageconstruction
La machine de démolition 830 R-HDD d'un poids opérationnel de 45 t et le chariot télescopique de la série 355 E prennent en charge les déchets de construction et de démolition dans la zone de concassage. La machine de démolition flexible 830 R-HDD, qui a une stabilité unique grâce à son train de roulement à voie large télescopique, démontre non seulement le démantèlement professionnel des bâtiments au moyen de cisailles de démolition, mais surtout son changeur rapide innovant, avec lequel il peut être équipé d'une pince de tri et du broyeur en très peu de temps. Le chariot télescopique de 5,5 t ramasse les déchets de chantier de plusieurs tonnes et alimente les machines de criblage.
Deux manutentionnaires mobiles en recyclage de bois
Découvrez à quel point l'alimentation d'un broyeur peut être simple et efficace. Lors des journées de démonstration de la biomasse, les deux pelles de manutention compactes 821 E et 825 E utilisent une pince de tri pour alimenter respectivement un broyeur en déchets verts et en chutes de bois. Ils impressionnent non seulement par leur portée remarquable de 9 à 14 m, mais aussi par les hauteurs de vue exceptionnelles offertes par les cabines, qui peuvent être relevées hydrauliquement de 2,70 m.
NJC.© Infos SENNEBOGEN
-------------------------------------------------------------------------------------------------------------------
11/04/22- English
IFAT 2022: Live demo of SENNEBOGEN recycling and demolition machines at VDMA Demonstration Days and Crushing Zone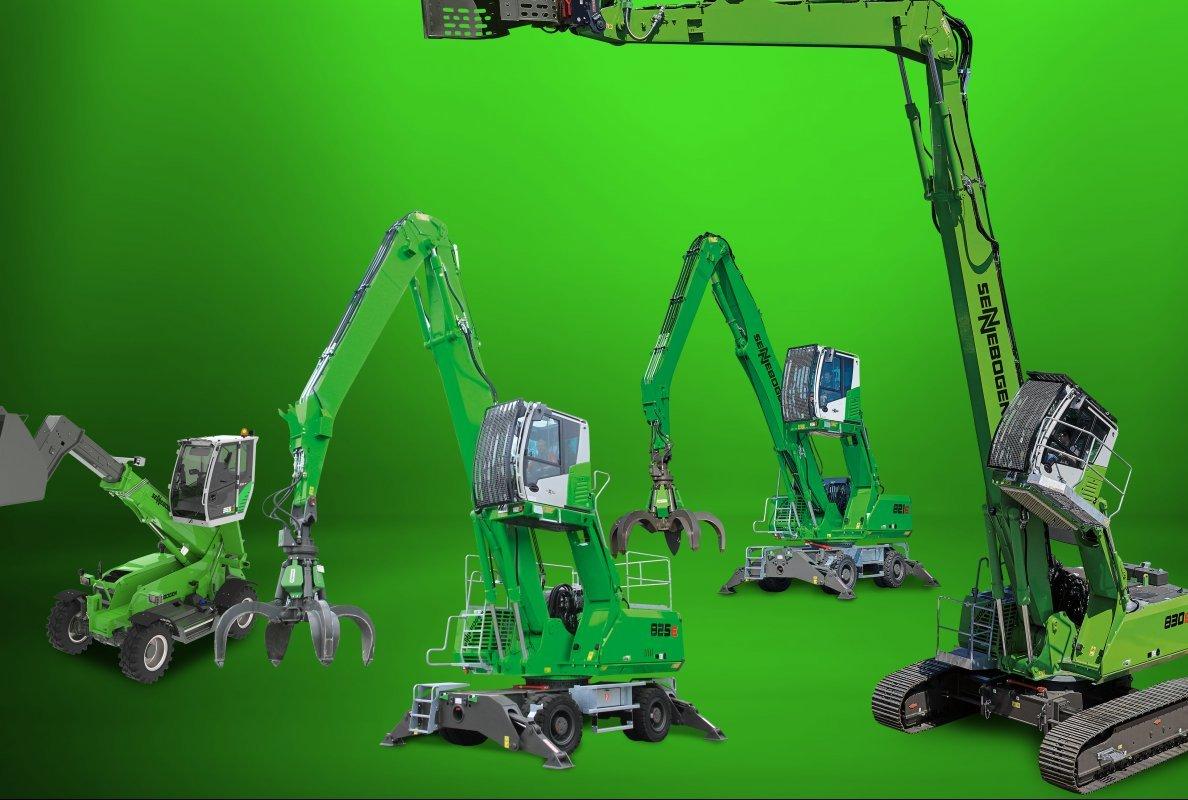 In addition to the innovations in the exhibition hall, SENNEBOGEN will present four more machines live in action at the VDMA Demonstration Days and the VDMA Crushing Zone. Be curious and experience the full range of the recycling experts - from demolition machines to telehandlers.
Just a few hundred meters from the exhibition hall, the VDMA Demonstration Days and VDMA Crushing Zone will be taking place parallel to IFAT from May 30th to June 3rd, 2022. The live demonstrations offer guests the opportunity to experience the technical solutions of the manufacturers in an application-related way while working. SENNEBOGEN's extensive machine portfolio includes not only recycling machines and telehandlers for professional waste handling, but also demolition machines for effective deconstruction, each of which will show what they are capable of in 8 demonstrations over 5 exhibition days. Product experts will explain the machines in detail during demonstration times.
Demolition machine and telehandler at the Crushing Zoneconstruction
The 830 R-HDD demolition machine with an operating weight of 45 t and the 355 E series telehandler take care of the construction and demolition waste at the Crushing Zone. The flexible demolition machine 830 R-HDD, which has a unique stability thanks to its telescopic wide track undercarriage, demonstrates not only the professional dismantlement of buildings by means of demolition shears, but above all its innovative quick-changer, with which it can be equipped with a sorting grab and the pulverizer in a very short time. The 5.5 t telehandler picks up the construction waste weighing several tons and feeds the screening machines.
Two mobile material handlers in wood recycling
Experience how simple and efficient shredder feeding can be. At the Biomass Demonstration Days, the two compact 821 E and 825 E material handlers use a sorting grab to feed a shredder with green waste and scrap wood, respectively. They impress not only with their remarkable reach of 9 to 14 m, but also with the outstanding viewing heights offered by the cabs, which can be elevated hydraulically by 2.70 m.
NJC.© Info SENNEBOGEN
---------------------------------------------------------------------------------------------------------------
11/04/22- NL
IFAT 2022: Live demo van SENNEBOGEN recycling- en sloopmachines op VDMA Demonstration Days and Crushing Zone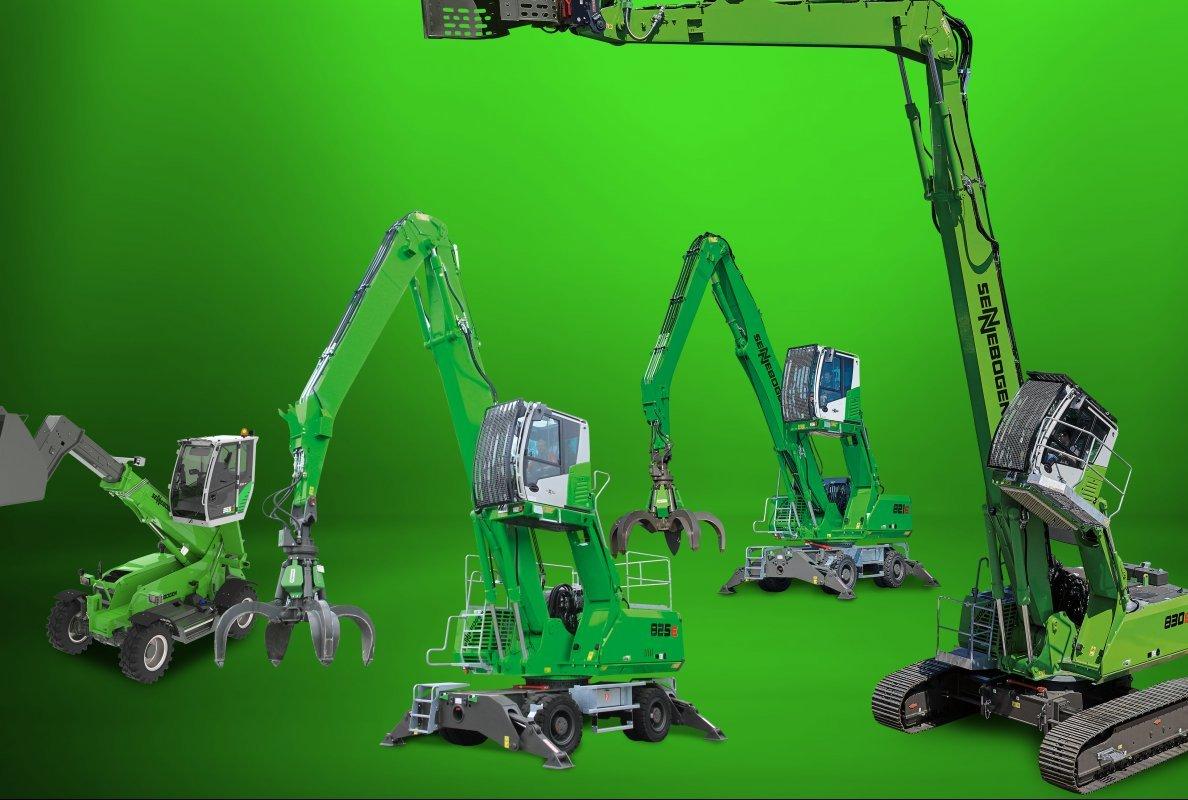 Naast de innovaties in de beurshal zal SENNEBOGEN nog vier machines live in actie presenteren op de VDMA Demonstratiedagen en de VDMA Crushing Zone. Wees nieuwsgierig en ervaar het volledige aanbod van de recyclingexperts - van sloopmachines tot verreikers.
Op slechts een paar honderd meter van de beurshal vinden van 30 mei tot 3 juni 2022 parallel aan IFAT de VDMA Demonstration Days en VDMA Crushing Zone plaats. De live demonstraties bieden gasten de mogelijkheid om de technische oplossingen van de fabrikanten in een applicatiegerelateerde manier tijdens het werken. Het uitgebreide machineportfolio van SENNEBOGEN omvat niet alleen recyclingmachines en verreikers voor professionele afvalverwerking, maar ook sloopmachines voor effectieve deconstructie, die elk zullen laten zien waartoe ze in staat zijn in 8 demonstraties gedurende 5 beursdagen. Tijdens demonstratietijden zullen productexperts de machines uitgebreid toelichten.
Sloopmachine en verreiker bij de Breekzoneconstructie
De sloopmachine 830 R-HDD met een bedrijfsgewicht van 45 ton en de verreiker van de 355 E-serie zorgen voor het bouw- en sloopafval op de Crushing Zone. De flexibele sloopmachine 830 R-HDD, die dankzij de telescopische breedspooronderwagen een unieke stabiliteit heeft, demonstreert niet alleen de professionele demontage van gebouwen door middel van een sloopschaar, maar vooral zijn innovatieve snelwisselaar, waarmee hij kan worden in zeer korte tijd uitgerust met een sorteergrijper en de vergruizer. De verreiker van 5,5 ton raapt het bouwafval van enkele tonnen op en voedt de zeefmachines.
Twee mobiele overslagkranen in houtrecycling
Ervaar hoe eenvoudig en efficiënt shredderinvoer kan zijn. Op de Biomassa Demonstratiedagen voeren de twee compacte overslagkranen 821 E en 825 E met een sorteergrijper een shredder met respectievelijk groenafval en sloophout. Ze imponeren niet alleen met hun opmerkelijke reikwijdte van 9 tot 14 m, maar ook met de uitstekende kijkhoogten die worden geboden door de cabines, die hydraulisch 2,70 m kunnen worden verhoogd.
NJC. © Info SENNEBOGEN
------------------------------------------------------------------------------------------------------------------