IVECO and Hyundai present the first fuel cell large van at IAA in Hanover as their partnership develops
26/09/22-FR-English-NL-footer
IVECO et Hyundai présentent le premier grand fourgon à pile à combustible à l'IAA de Hanovre alors que leur partenariat se développe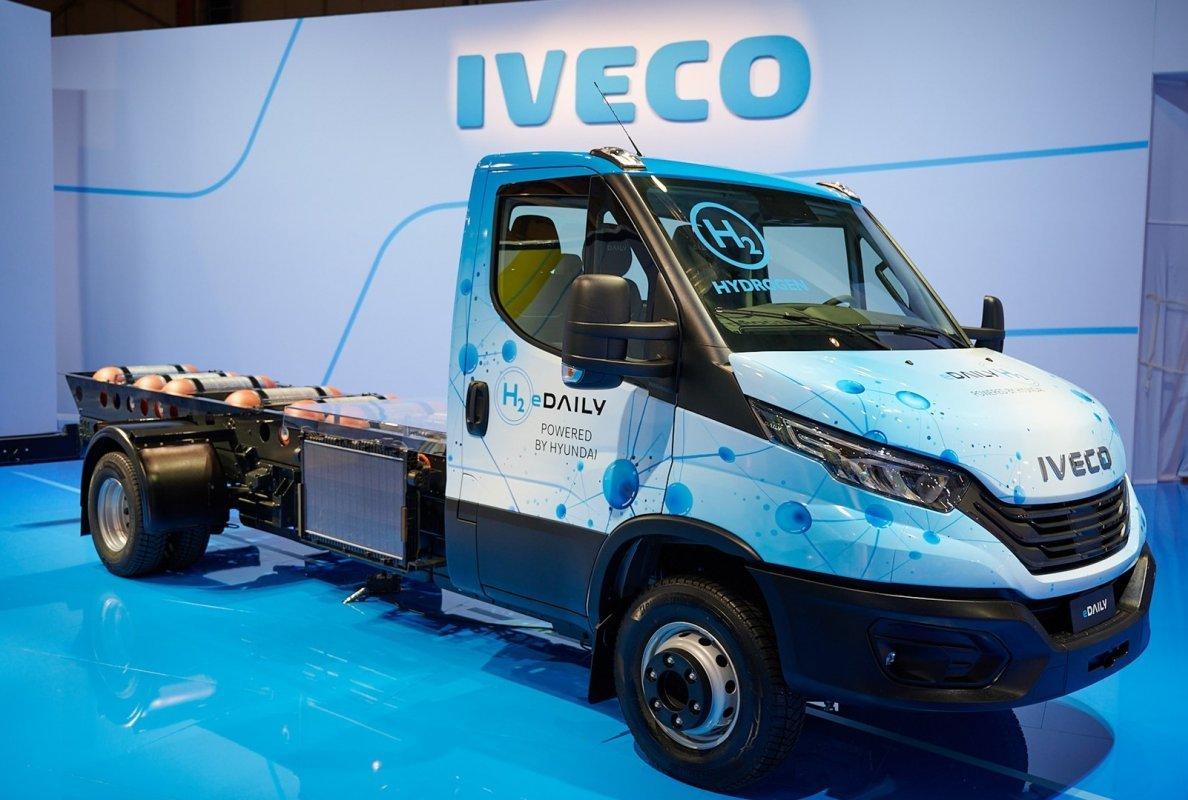 IVECO and Hyundai present the first fuel cell large van at IAA in Hanover as their partnership develops IMAGE SOURCE: Iveco Group N.V.
Le groupe Iveco et Hyundai Motor Company ont dévoilé aujourd'hui au salon IAA Transportation 2022 à Hanovre le premier véhicule électrique à pile à combustible IVECO eDAILY.
Le groupe Iveco et Hyundai ont tous deux des objectifs de développement durable ambitieux, comme en témoignent leurs engagements individuels, et tirent parti de leur collaboration pour aider à accélérer la transition vers le zéro carbone net. Depuis la signature d'un protocole d'accord (MoU) en mars 2022, ils ont formé plusieurs groupes de travail conjoints sur divers volets technologiques pour explorer les moyens de se compléter sur le développement des véhicules électriques et des propulsions alternatives.
Plus tôt en juillet, les deux sociétés ont annoncé conjointement des véhicules IVECO BUS à hydrogène équipés du système de pile à combustible de Hyundai, avec des avantages pertinents attendus en termes de performances et d'émissions. Aujourd'hui, ils dévoilent le véhicule électrique à pile à combustible eDAILY (FCEV), qui représente le potentiel futur du grand fourgon le plus vendu et le plus ancien d'IVECO, avec une gamme qui comprend actuellement des propulsions traditionnelles et au méthane/biométhane, et un nouveau véhicule électrique à batterie. (BEV).
Le prototype fonctionnel eDAILY FCEV est équipé du système de pile à combustible à hydrogène de 90 kW de Hyundai et d'un moteur électrique de 140 kW. Six réservoirs offrent une capacité de stockage combinée de 12 kg d'hydrogène. Le prototype GVW (Gross Vehicle Weight) de 7,2 tonnes a été testé en Europe, confirmant une autonomie de 350 km, une charge utile maximale de 3 tonnes et un temps de ravitaillement en 15 minutes. Alors que eDAILY BEV, également lancé aujourd'hui à l'IAA, est le mieux adapté aux trajets courts, eDAILY FCEV sera une option idéale pour les livraisons nécessitant une longue distance avec une charge utile élevée.
La batterie de FPT Industrial, la marque de groupe motopropulseur du groupe Iveco, fait partie intégrante de l'eDAILY FCEV, tandis que le système de pile à combustible fourni par Hyundai est la dernière étape du parcours de mobilité à l'hydrogène de plus de 20 ans de l'entreprise. La technologie avancée de pile à combustible de Hyundai est déjà utilisée dans diverses applications, et en particulier dans le secteur des véhicules utilitaires. Le système a parcouru plus de 4,5 millions de km en Suisse sur des poids lourds, démontrant sa puissance et sa fiabilité. Le slogan « Engineered by Iveco Group, powered by Hyundai » reflète cette coopération mutuellement bénéfique et sera également le moteur d'initiatives similaires à l'avenir.
« Suite à l'annonce récente selon laquelle IVECO BUS équipera ses futurs bus à hydrogène de nos piles à combustible, l'eDAILY à hydrogène est un autre exemple concret de ce que nous pouvons accomplir en travaillant ensemble pour accélérer la transition vers la neutralité carbone », a commenté Martin Zeilinger. , responsable de l'unité technique de développement de véhicules utilitaires de Hyundai Motor Company. "Le partenariat entre les deux sociétés s'est avéré très fructueux et nous nous attendons à de meilleurs résultats dans les années à venir."
« Le jour où nous annonçons la réalisation de notre projet eDAILY électrique à batterie, nous sommes ravis de présenter au monde le premier eDAILY à hydrogène. Sur la base de ce prototype, nous visons à déployer une petite série de fourgons FCEV à tester auprès de clients sélectionnés d'ici la fin de l'année prochaine », a déclaré Marco Liccardo, Chief Technology & Digital Officer, Iveco Group. "Cette étape passionnante dans notre parcours vers le développement durable est le résultat de la collaboration fructueuse entre le groupe Iveco et Hyundai Motor Company et montre comment nous pouvons obtenir des résultats tangibles dans un court laps de temps en combinant nos forces."
Le groupe Iveco et Hyundai étudient également d'autres options de collaboration, allant de la vente croisée de produits dans certaines régions du monde à des développements conjoints dans l'automatisation et la connectivité des véhicules. En outre, Hyundai envisage également des opportunités d'approvisionnement auprès de FPT Industrial dans le domaine des groupes motopropulseurs conventionnels de nouvelle génération pour les véhicules utilitaires. Des développements comme ceux-ci démontrent l'engagement des entreprises à saisir toutes les opportunités intéressantes et les deux parties sont convaincues que les projets en cours donneront des résultats dans un proche avenir.
L'eDAILY FCEV est exposé sur le stand IVECO situé dans le hall 24, Deutsche Messe AG, à l'IAA Transportation du 20 au 25 septembre.
NJC.© Info IVECO
-----------------------------------------------------------------------------------------------------------------
26/09/22-English
IVECO and Hyundai present the first fuel cell large van at IAA in Hanover as their partnership develops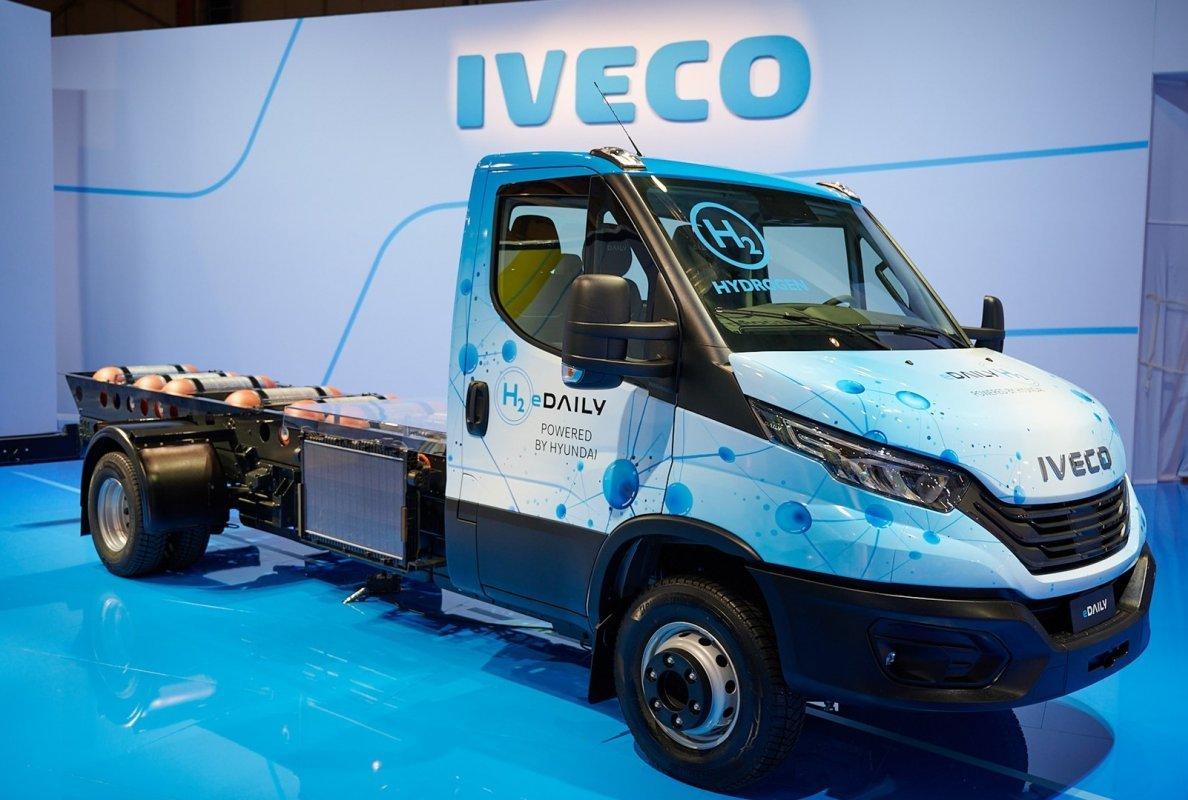 IVECO and Hyundai present the first fuel cell large van at IAA in Hanover as their partnership develops IMAGE SOURCE: Iveco Group N.V.
Iveco Group and Hyundai Motor Company today at IAA Transportation 2022 in Hanover unveiled the first IVECO eDAILY Fuel Cell Electric Vehicle.
Both Iveco Group and Hyundai have ambitious sustainability goals, as demonstrated by their individual commitments, and are leveraging their collaboration to help accelerate the transition towards net zero carbon. Since signing a Memorandum of Understanding (MoU) in March 2022, they have formed multiple joint working groups on various technological streams to explore ways that they can complement each other on the development of electric vehicles and alternative propulsions.
Earlier in July, the two companies jointly announced hydrogen-powered IVECO BUS vehicles equipped with Hyundai's fuel cell system, with expected relevant advantages in terms of performance and emissions. Today, they unveil the eDAILY Fuel Cell Electric Vehicle (FCEV), which represents the future potential of IVECO's bestselling and longest production-running large van, with a range that currently includes traditional and methane/bio-methane propulsions, and new Battery Electric Vehicle (BEV) models.
The working eDAILY FCEV prototype is equipped with Hyundai's 90 kW hydrogen fuel cell system and 140 kW e-motor. Six tanks offer a combined storage capacity of 12 kg of hydrogen. The GVW (Gross Vehicle Weight) 7.2 ton prototype has been tested in Europe, confirming a driving range of 350 km, maximum payload of 3 tons and a refueling time within 15 minutes. While eDAILY BEV, also launched today at the IAA, is best suited for short journeys, eDAILY FCEV will be an ideal option for deliveries where long range with high payload is necessary.
An integral part of the eDAILY FCEV is the battery pack by FPT Industrial, the powertrain brand of Iveco Group, while the fuel cell system provided by Hyundai is the latest step in the company's 20+ year hydrogen mobility journey. Hyundai's advanced fuel cell technology is already in use in various applications, and especially in the commercial vehicle sector. The system logged over 4.5 million km in Switzerland on heavy duty trucks showing its powerful performance and reliability. The slogan "Engineered by Iveco Group, powered by Hyundai" reflects this mutually beneficial cooperation and will also be the driver for similar future initiatives.
"Following the recent announcement that IVECO BUS will equip its future hydrogen-powered buses with our fuel cells, the hydrogen-powered eDAILY is another concrete example of what we can accomplish by working together in accelerating the transition to carbon neutrality", commented Martin Zeilinger, Head of Commercial Vehicle Development Tech Unit of Hyundai Motor Company. "The partnership between the two companies has proven to be very successful and we expect greater results in the coming years."
"On the day we are announcing that our battery-electric eDAILY project has come true, we are thrilled to present the first hydrogen-powered eDAILY to the world. Based on this prototype, we aim to roll out a small series of FCEV vans for trial with selected customers by the end of next year", said Marco Liccardo, Chief Technology & Digital Officer, Iveco Group. "This exciting milestone in our sustainability journey is an outcome of the successful collaboration between Iveco Group and Hyundai Motor Company and shows how we can achieve tangible results in a short timeframe by combining our strengths."
Iveco Group and Hyundai are also examining other collaboration options, ranging from cross-selling products in selected worldwide regions to joint developments in vehicle automation and connectivity. Additionally, Hyundai is also considering sourcing opportunities from FPT Industrial in the area of next generation conventional powertrains for commercial vehicles. Developments like these demonstrate the companies' commitments to pursuing every valuable opportunity and the two parties are confident that the ongoing projects will give results in the near future.
The eDAILY FCEV is on display at the IVECO's booth located in Hall 24, Deutsche Messe AG, at the IAA Transportation from September 20 to 25.
NJC.© Info IVECO
----------------------------------------------------------------------------------------------------------------------
26/09/22-NL
IVECO en Hyundai presenteren de eerste grote bestelwagen met brandstofcel op de IAA in Hannover naarmate hun partnerschap zich ontwikkelt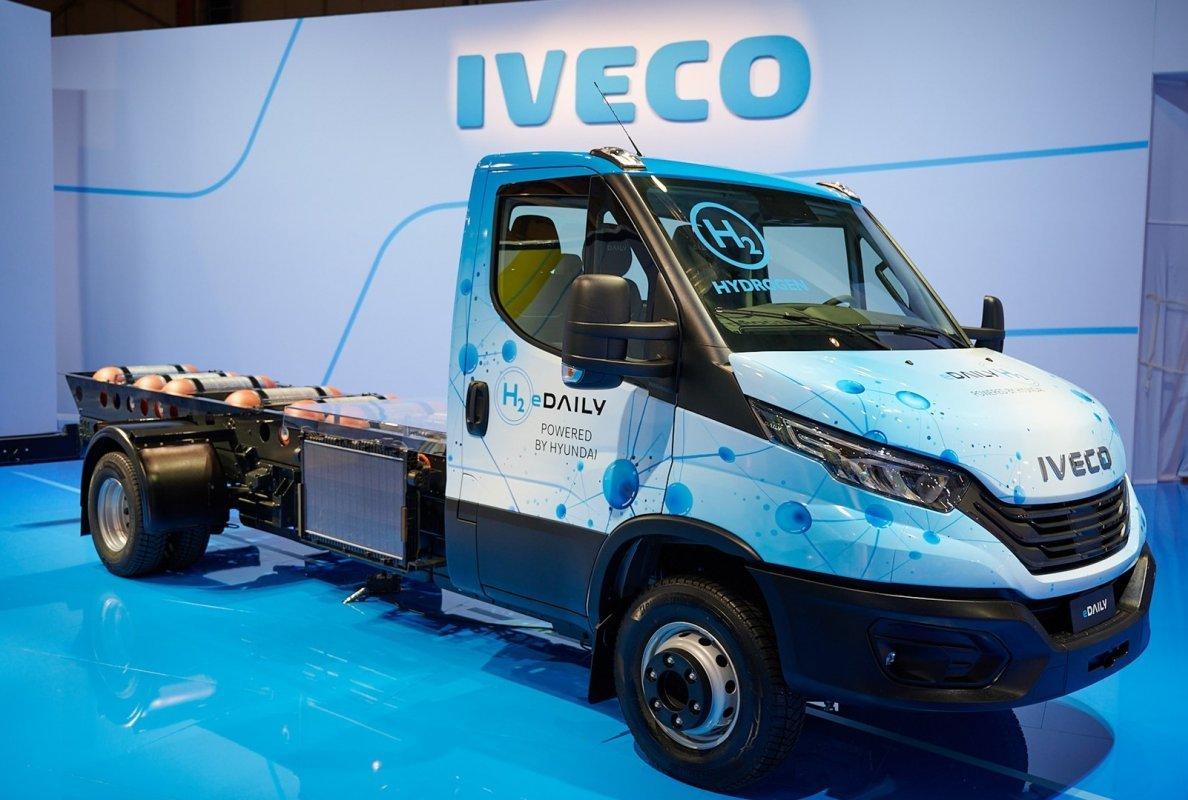 IVECO and Hyundai present the first fuel cell large van at IAA in Hanover as their partnership develops IMAGE SOURCE: Iveco Group N.V.
Iveco Group en Hyundai Motor Company hebben vandaag op IAA Transportation 2022 in Hannover het eerste IVECO eDAILY-brandstofcel-elektrische voertuig onthuld.
Zowel de Iveco Group als Hyundai hebben ambitieuze duurzaamheidsdoelstellingen, zoals blijkt uit hun individuele verbintenissen, en maken gebruik van hun samenwerking om de overgang naar netto nul-koolstof te versnellen. Sinds de ondertekening van een Memorandum of Understanding (MoU) in maart 2022, hebben ze meerdere gezamenlijke werkgroepen gevormd over verschillende technologische stromen om te onderzoeken hoe ze elkaar kunnen aanvullen bij de ontwikkeling van elektrische voertuigen en alternatieve aandrijvingen.
Eerder in juli kondigden de twee bedrijven gezamenlijk waterstofaangedreven IVECO BUS-voertuigen aan die zijn uitgerust met het brandstofcelsysteem van Hyundai, met verwachte relevante voordelen op het gebied van prestaties en emissies. Vandaag onthullen ze de eDAILY Fuel Cell Electric Vehicle (FCEV), die het toekomstige potentieel van IVECO's bestverkochte en langst in productie zijnde grote bestelwagen vertegenwoordigt, met een assortiment dat momenteel traditionele en methaan/bio-methaan aandrijvingen omvat, en nieuwe batterij elektrische voertuigen (BEV) modellen.
Het werkende eDAILY FCEV-prototype is uitgerust met Hyundai's 90 kW waterstofbrandstofcelsysteem en 140 kW e-motor. Zes tanks bieden een gecombineerde opslagcapaciteit van 12 kg waterstof. Het GVW (bruto voertuiggewicht) prototype van 7,2 ton is getest in Europa en bevestigt een rijbereik van 350 km, een maximaal laadvermogen van 3 ton en een tanktijd binnen 15 minuten. Terwijl eDAILY BEV, dat vandaag ook op de IAA is gelanceerd, het meest geschikt is voor korte ritten, zal eDAILY FCEV een ideale optie zijn voor leveringen waarbij een groot bereik met een hoog laadvermogen nodig is.
Een integraal onderdeel van de eDAILY FCEV is het batterijpakket van FPT Industrial, het aandrijflijnmerk van Iveco Group, terwijl het brandstofcelsysteem van Hyundai de nieuwste stap is in de meer dan 20 jaar durende reis van waterstofmobiliteit van het bedrijf. De geavanceerde brandstofceltechnologie van Hyundai wordt al in verschillende toepassingen gebruikt, vooral in de bedrijfswagensector. Het systeem legde meer dan 4,5 miljoen km af in Zwitserland op zware vrachtwagens en toonde zijn krachtige prestaties en betrouwbaarheid. De slogan "Engineered by Iveco Group, powered by Hyundai" weerspiegelt deze wederzijds voordelige samenwerking en zal ook de motor zijn voor soortgelijke toekomstige initiatieven.
"Na de recente aankondiging dat IVECO BUS zijn toekomstige door waterstof aangedreven bussen zal uitrusten met onze brandstofcellen, is de waterstofaangedreven eDAILY een ander concreet voorbeeld van wat we kunnen bereiken door samen te werken bij het versnellen van de overgang naar koolstofneutraliteit", aldus Martin Zeilinger. , hoofd van de technische eenheid voor de ontwikkeling van commerciële voertuigen van Hyundai Motor Company. "De samenwerking tussen de twee bedrijven is zeer succesvol gebleken en we verwachten de komende jaren meer resultaten."
"Op de dag dat we aankondigen dat ons batterij-elektrische eDAILY-project is uitgekomen, zijn we verheugd om de eerste waterstofaangedreven eDAILY aan de wereld te presenteren. Op basis van dit prototype streven we ernaar om tegen eind volgend jaar een kleine serie FCEV-bestelwagens uit te rollen voor proef met geselecteerde klanten", aldus Marco Liccardo, Chief Technology & Digital Officer, Iveco Group. "Deze spannende mijlpaal in onze duurzaamheidsreis is het resultaat van de succesvolle samenwerking tussen Iveco Group en Hyundai Motor Company en laat zien hoe we in korte tijd tastbare resultaten kunnen behalen door onze krachten te bundelen."
Iveco Group en Hyundai onderzoeken ook andere samenwerkingsopties, variërend van cross-selling van producten in geselecteerde wereldwijde regio's tot gezamenlijke ontwikkelingen op het gebied van voertuigautomatisering en connectiviteit. Daarnaast overweegt Hyundai ook mogelijkheden van FPT Industrial in te kopen op het gebied van de volgende generatie conventionele aandrijflijnen voor bedrijfsvoertuigen. Dergelijke ontwikkelingen tonen de toewijding van de bedrijven aan om elke waardevolle kans te benutten en de twee partijen hebben er vertrouwen in dat de lopende projecten in de nabije toekomst resultaten zullen opleveren.
De eDAILY FCEV is te zien op de stand van IVECO in hal 24, Deutsche Messe AG, op de IAA Transportation van 20 tot 25 september.
NJC.© Info IVECO
------------------------------------------------------------------------------------------------------------------