JCB celebrates electric mini milestone

03/01/23-FR-English-NL-footer
JCB célèbre un jalon mini électrique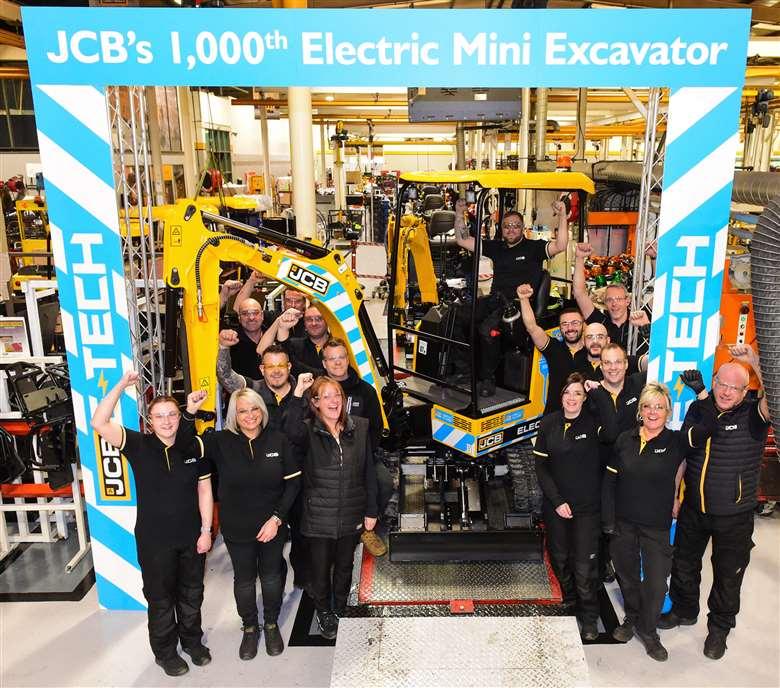 Image-JCB
JCB a produit sa 1000e mini-pelle électrique, une étape importante célébrée à l'usine de Cheadle, dans le Staffoldshire, au Royaume-Uni, où les produits compacts de JCB sont fabriqués.
Le fabricant a déclaré que la 19C-1E, dont la production a commencé en 2019, était la première mini-pelle entièrement électrique produite en volume au monde.
JCB célèbre la production de sa 1000e mini-pelle électrique.
Lord Bamford, président de JCB, a déclaré : « Nous sommes ravis du succès de la mini-pelle électrique de JCB, qui s'avère très populaire dans le monde entier, en particulier en Amérique du Nord, en France et au Royaume-Uni, où il existe une demande croissante d'équipements zéro émission fonctionnant en milieu urbain. environnements."
Le 19C-1E est cinq fois plus silencieux que son homologue diesel et peut être complètement chargé en moins de deux heures. JCB a déclaré que la machine effectuera un quart de travail complet typique sur une seule charge.
Le modèle est destiné aux travaux à l'intérieur des bâtiments et dans les zones urbaines sensibles aux émissions et au bruit.
JCB ajouté ; "Il est parfait pour travailler à l'intérieur ou à l'extérieur, dans des usines, des tunnels ou des sous-sols, pour creuser des fondations ou sur des projets de services publics."
NJC.© Info JCB
------------------------------------------------------------------------------------------------------------------

03/01/2023-English
JCB celebrates electric mini milestone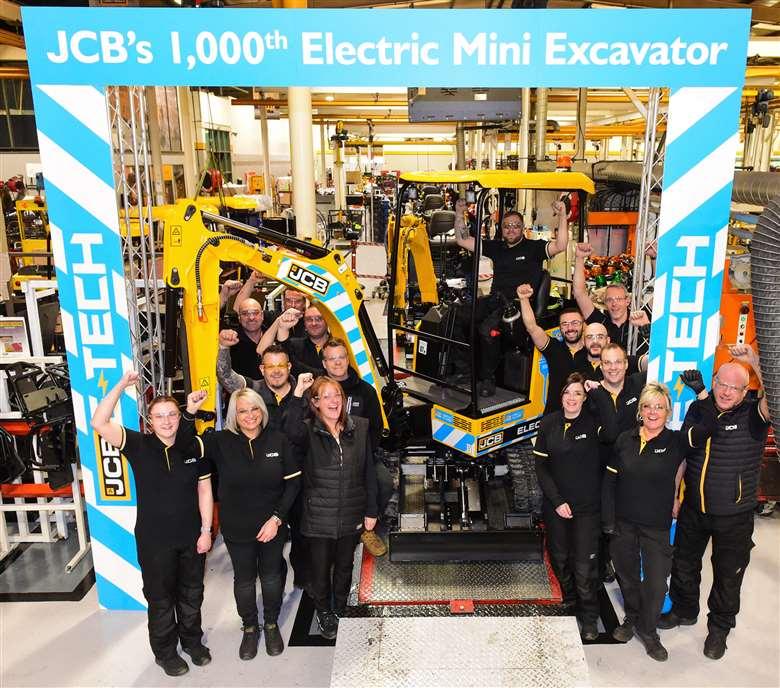 Image-JCB
JCB has produced its 1000th electric mini excavator, a milestone celebrated at the plant in Cheadle, Staffoldshire, UK where JCB's compact products are produced.
The manufacturer said the 19C-1E, which began production in 2019, was the world's first volume-produced all-electric mini excavator.
JCB celebrates the production of its 1000th electric mini excavator.
JCB Chairman Lord Bamford said: "We are delighted with the success of JCB's electric mini excavator, which is proving very popular around the world, particularly in North America, France and the UK where there is a growing demand for zero emissions equipment operating in urban environments."
The 19C-1E is five times quieter than its diesel counterpart and can be fully charged in under two hours. JCB said the machine will complete a typical full shift on a single charge.
The model is targeted at work inside buildings and in emissions and noise-sensitive inner-city areas.
JCB added; "It is perfect for working indoors or outdoors, in factories, tunnels or basements, for digging foundations, or on utility projects."
NJC.© Info JCB
--------------------------------------------------------------------------------------------------------------

03/01/23-NL
JCB viert mijlpaal elektrische mini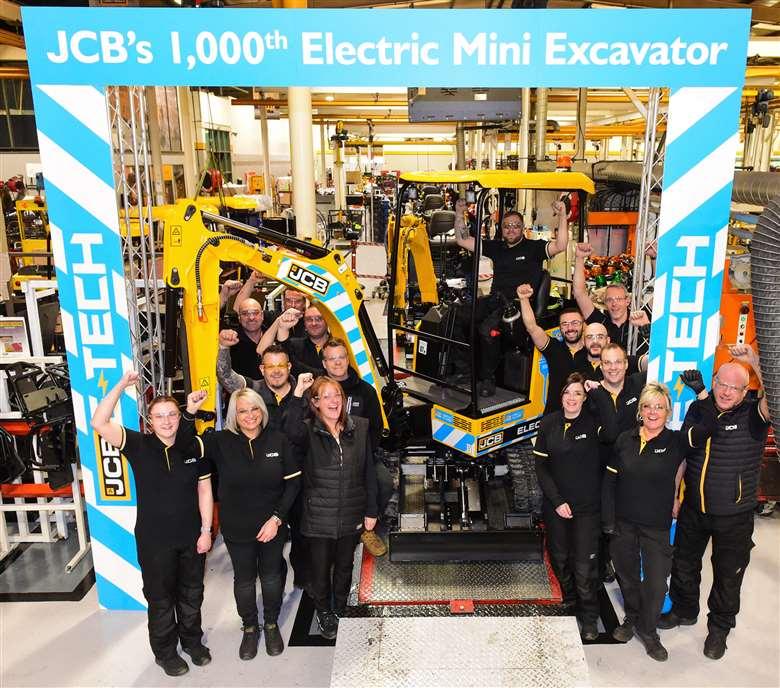 Image-JCB
JCB heeft zijn 1000e elektrische minigraafmachine geproduceerd, een mijlpaal die gevierd wordt in de fabriek in Cheadle, Staffoldshire, VK, waar de compacte producten van JCB worden geproduceerd.
De fabrikant zei dat de 19C-1E, die in 2019 in productie ging, 's werelds eerste in volume geproduceerde volledig elektrische minigraafmachine was.
JCB viert de productie van zijn 1000e elektrische minigraafmachine.
JCB-voorzitter Lord Bamford zei: "We zijn verheugd met het succes van de elektrische minigraafmachine van JCB, die over de hele wereld erg populair blijkt te zijn, met name in Noord-Amerika, Frankrijk en het VK, waar er een groeiende vraag is naar emissievrije apparatuur die in stedelijke gebieden wordt gebruikt. omgevingen."
De 19C-1E is vijf keer stiller dan zijn tegenhanger op diesel en kan in minder dan twee uur volledig worden opgeladen. JCB zei dat de machine een typische volledige dienst op een enkele lading zal voltooien.
Het model is gericht op werkzaamheden in gebouwen en in emissie- en geluidsgevoelige binnenstedelijke gebieden.
JCB toegevoegd; "Het is perfect voor werk binnen of buiten, in fabrieken, tunnels of kelders, voor het graven van funderingen of bij utiliteitsprojecten."
NJC.© Info JCB
----------------------------------------------------------------------------------------------------------------