JCB-Electric and hydrogen 'milestones' for JCB

13/06/23-FR-English-NL-footer
JCB-Électricité et hydrogène "jalons" pour JCB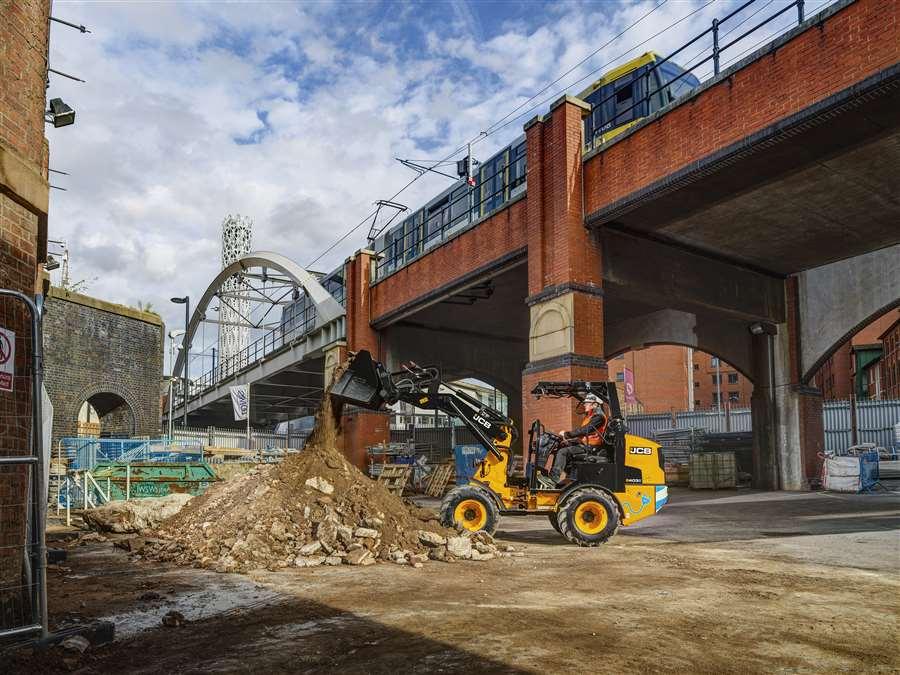 The 403E is JCB's first fully electric wheeled loader. Photo: JCB
JCB présente sa première chargeuse sur pneus entièrement électrique, dotée du plus grand bloc-batterie standard de sa catégorie, avec une capacité de 20 kWh et une productivité comparable à celle de son homologue diesel.
Lancé au siège allemand de la société à Frechen, près de Cologne, et le dernier d'une série de produits électriques de JCB, le 403E est décrit comme un moyen "d'aider les clients à relever le défi de la réduction des émissions de carbone sur site".
On dit qu'il est capable de terminer une journée de travail complète, ou entre quatre et cinq heures d'utilisation continue dans un cycle d'utilisation mixte.
En commun avec la gamme JCB E-Tech, le 403E dispose d'un chargeur intégré qui permet la connexion à une gamme de sources d'alimentation sur site, avec le chargeur rapide hors bord de l'entreprise capable de fournir une charge complète à partir d'un triphasé approvisionnement en deux heures.
Une autre caractéristique de la machine est ses trois vitesses de conduite - modèle lièvre (maximum 20 km/h), mode tortue (8 km/h) et mode escargot (5 km/h). Les bras de levage standard offrent une hauteur de goupille de 2,9 m, tandis que le modèle à grande levée atteint 3,1 m.
Également annoncé cette semaine, JCB a franchi une étape importante dans la production de son 50e moteur à combustion à hydrogène après qu'une équipe de 150 ingénieurs a travaillé sur son développement pendant près de deux ans.
La société a déclaré que ses moteurs à hydrogène alimentent déjà des prototypes de chargeuses-pelleteuses et de chariots télescopiques Loadall et qu'elle a également récemment dévoilé sa propre tonne de ravitaillement mobile conçue et construite pour la machine.
NJC.© JCB
-------------------------------------------------------------------------------------------------------------

13/06/23-English
CB-Electric and hydrogen 'milestones' for JCB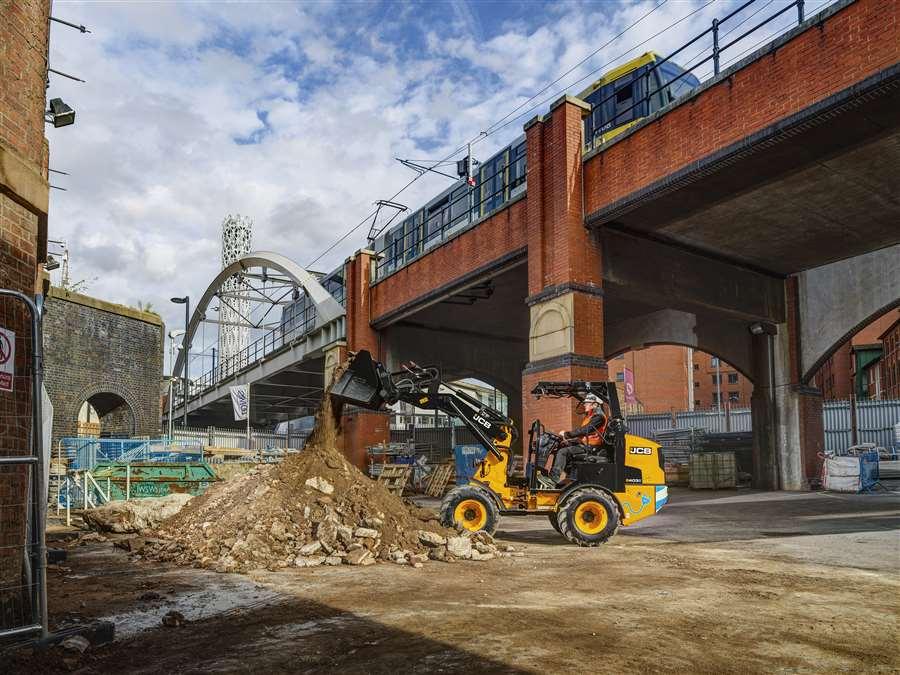 The 403E is JCB's first fully electric wheeled loader. Photo: JCB
JCB is introducing its first fully electric wheeled loader, which boasts the largest standard battery pack in its class, with a 20kWh capacity and productivity matching its diesel counterpart.
Launched at the company's German headquarters at Frechen, near Cologne, and the latest in a series of electric products from JCB, the 403E is described as a a way of "helping customers to meet the challenge of carbon reduction on site".
It is said to be capable of completing a full working day, or between four to five hours of continuous use in a mixed duty cycle.
In common with the JCB E-Tech range, the 403E has a built-in charger that allows connection to a range of on-site power sources, with the company's off-board rapid charger capable of delivering a full charge from a three-phase supply in two hours.
A further feature of the machine is its three driving speeds - Hare Model (maximum 20km/hr), Tortoise Mode (8km/hr) and Snail Mode (5km/hr). Standard lift arms deliver a pin height of 2.9m, while the high-lift model achives 3.1m.
Also announced this week, JCB has reached a major production milestone with its 50th hydrogen combustion engine after a team of 150 engineers worked on its development for nearly two years.
The company said that its hydrogen engines are already powering prototype backhoe loaders and Loadall telescopic handlers and its has also recently unveiled its own designed and built mobile refuelling bowser for the machine.
NJC.© JCB
-------------------------------------------------------------------------------------------------------------------

13/06/23-NL
JCB-Elektrische en waterstof 'mijlpalen' voor JCB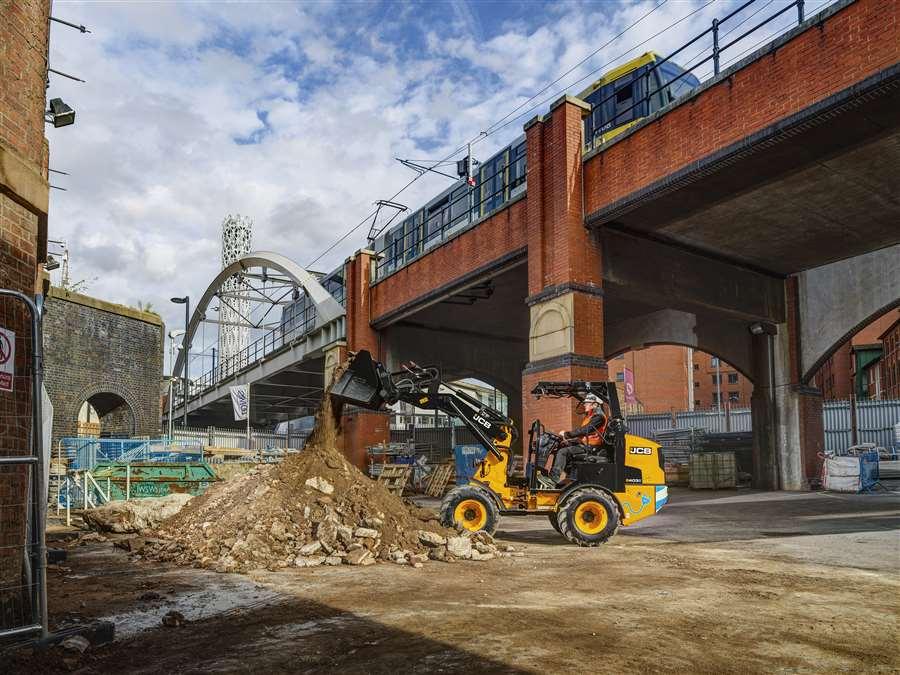 The 403E is JCB's first fully electric wheeled loader. Photo: JCB
JCB introduceert zijn eerste volledig elektrische wiellader, die beschikt over het grootste standaard accupakket in zijn klasse, met een capaciteit van 20 kWh en een productiviteit die vergelijkbaar is met die van zijn tegenhanger op diesel.
Gelanceerd op het Duitse hoofdkantoor van het bedrijf in Frechen, nabij Keulen, en de nieuwste in een reeks elektrische producten van JCB, wordt de 403E beschreven als een manier om "klanten te helpen de uitdaging van CO2-reductie ter plaatse aan te gaan".
Er wordt gezegd dat het een volledige werkdag kan volbrengen, of tussen de vier en vijf uur continu gebruik in een gemengde werkcyclus.
Net als het JCB E-Tech-assortiment heeft de 403E een ingebouwde lader die aansluiting op een reeks on-site stroombronnen mogelijk maakt, waarbij de externe snellader van het bedrijf een volledige lading kan leveren van een driefasige leveren in twee uur.
Een ander kenmerk van de machine zijn de drie rijsnelheden: haasmodel (maximaal 20 km/u), schildpadmodus (8 km/u) en slakmodus (5 km/u). Standaard hefarmen leveren een penhoogte van 2,9 m, terwijl het high-lift model 3,1 m bereikt.
Deze week werd ook aangekondigd dat JCB een belangrijke productiemijlpaal heeft bereikt met zijn 50e waterstofverbrandingsmotor nadat een team van 150 ingenieurs bijna twee jaar aan de ontwikkeling ervan heeft gewerkt.
Het bedrijf zei dat zijn waterstofmotoren al prototypen van graaflaadcombinaties en verreikers aandrijven en dat het onlangs ook zijn eigen ontworpen en gebouwde mobiele tankwagen voor de machine heeft onthuld.
NJC.© JCB
---------------------------------------------------------------------------------------------------------------