JCB introduces smallest Loadall
30/11/22-FR-English-NL-footer
JCB présente le plus petit TELESCOPIC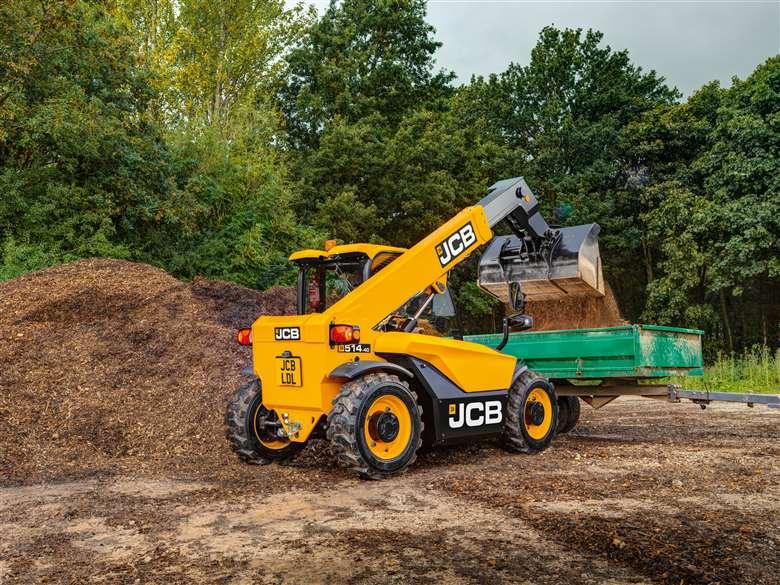 Image- JCB 514-40 Loadall
JCB présente le 514-40, son plus petit chargeur télescopique Loadall à ce jour, avec une hauteur de cabine de 1,8 m et une largeur de 1,56 m.
La machine compacte bénéficie de la plus grande cabine de conduite de sa catégorie, explique l'entreprise. L'unité est suffisamment petite pour passer à travers une porte de 2 m de haut et offre une direction intégrale, ce qui en fait un outil idéal pour les fournisseurs de matériaux, les paysagistes, les organisateurs d'événements et les entreprises de location de construction.
Propulsé par un moteur diesel de 18,4 kW, le modèle est conforme à la norme d'émissions EU Stage V sans avoir besoin d'un filtre à particules diesel (DPF) ou de tout fluide d'échappement diesel. Ce moteur trois cylindres de 1,1 litre, qui affiche un couple de 66,9 Nm, est entraîné via une transmission hydrostatique Bosch vers un moteur Linde à deux vitesses, offrant une vitesse de déplacement maximale de 15 km/h.
Avec quatre roues motrices permanentes et quatre roues directrices, le 514-40 est également conçu pour offrir les capacités tout-terrain que l'on retrouve sur toute la gamme Loadall.
La capacité de levage maximale est de 1 400 kg, tandis que la hauteur de levage maximale est fixée à 4,0 m, ce qui en fait une machine idéale pour de nombreux secteurs industriels. La capacité de levage à pleine portée est fixée à 525 kg. Avec un poids à vide de 2 695 kg, la machine affiche un rapport puissance/poids supérieur de 17 % à celui du précédent TELESCOPIC 516-40. Cependant, le 514-40 peut être transporté sur une remorque légère de 3,5 tonnes derrière un 4x4 ou un véhicule utilitaire léger, ce qui rend la livraison sur site plus facile, plus rapide et moins coûteuse pour une société de location, un entrepreneur ou un bricoleur du week-end.
La cabine de l'opérateur pleine largeur est 20 % plus grande que celle du 516-40 précédent et 200 mm plus large que les modèles concurrents. Cela offre à l'opérateur un environnement de travail confortable et le vaste vitrage offre une visibilité aux quatre coins.
Les caractéristiques standard incluent une boule de remorquage de 50 mm avec un système électrique à 7 broches, une alarme de recul, des feux de route, le système de contrôle de charge JCB breveté et le système télématique LiveLink Lite de JCB. Les options incluent un ensemble de phares de travail à LED, des balises orange et vertes avec une ceinture de sécurité orange, qui peuvent tous être protégés par le clavier antidémarrage de JCB.
Le 514-40 dispose également d'un nouveau porte-outils léger et est capable de travailler avec des fourches flottantes ou un godet de 0,41 m3. L'hydraulique auxiliaire à double effet permet de travailler avec une gamme d'accessoires JCB, et les clients peuvent également choisir entre une gamme de pneus industriels et compatibles avec le gazon.
NJC.© Info JCB
---------------------------------------------------------------------------------------------------------------------
30/11/22-English
JCB introduces smallest Loadall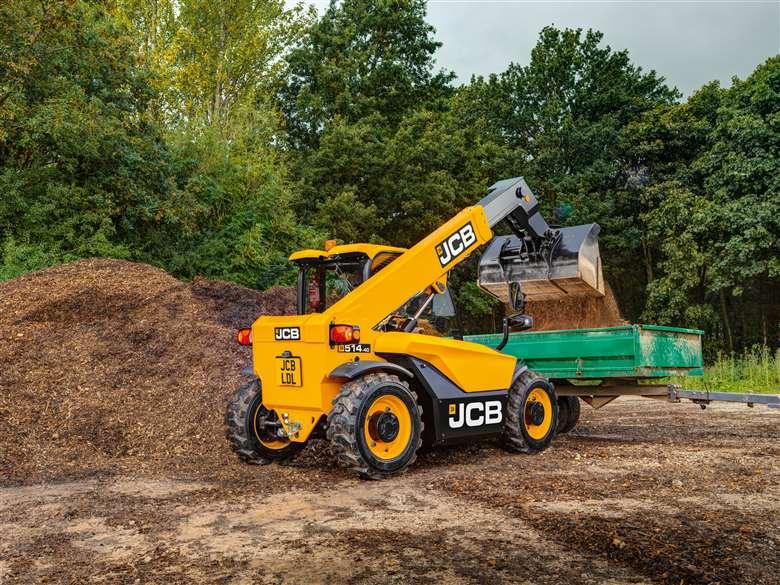 Image- JCB 514-40 Loadall
JCB is introducing the 514-40, its smallest Loadall telehandler to date, with a cab height of 1.8m and a width of 1.56m.
The compact machine benefits from the largest operator's cab in the class, says the company. The unit is small enough to fit through a 2m high doorway and delivers all-wheel steering, making it an ideal for materials suppliers, landscapers, event organisers and construction rental businesses.
Powered by a 18.4 kW diesel engine, the model meets the EU Stage V emissions standard without the need for a Diesel Particulate Filter (DPF) or any diesel exhaust fluid. This three-cylinder, 1.1-litre engine, which boasts 66.9Nm of torque, drives through a Bosch hydrostatic transmission to a two-speed Linde motor, delivering a maximum travel speed of 15km/h.
With permanent four-wheel drive and four-wheel steering, the 514-40 is also designed to offer the all-terrain capabilities found across the Loadall range.
The maximum lift capacity is 1,400kg, while maximum lift height is set at 4.0m, making this an ideal machine for numerous industry sectors. Lift capacity at full reach is set at 525kg. With an unladen weight of 2,695kg, the machine boasts a 17% higher power-to-weight ratio than the previous 516-40 Loadall. However, the 514-40 can be transported on a lightweight 3.5-tonne trailer behind a 4x4 or a light commercial vehicle, making it easier, quicker and less expensive to deliver to site for a rental company, a contractor or a weekend DIYer.
The full width operator's cab is 20% larger than the previous 516-40 and a full 200mm wider than competitive models. This provides the operator with a comfortable working environment and the extensive glazing delivers visibility to all four corners.
Standard features include a 50mm tow ball with 7-pin electrics, reversing alarm, road lights, the patented JCB load control system and JCB's LiveLink Lite telematic system. Options include an LED work light package, amber and green beacons with an orange seat belt, which can all be protected by JCB's immobiliser Key Pad.
The 514-40 also features a new lightweight tool carrier and is capable of working with floating forks or a 0.41m3 bucket. Double-acting auxiliary hydraulics make it possible to operate with a range of JCB attachments, and customers can also choose between a range of industrial and turf-compatible tyres.
NJC.© Info JCB
---------------------------------------------------------------------------------------------------------------------
30/11/22-NL
JCB introduceert de kleinste verreiker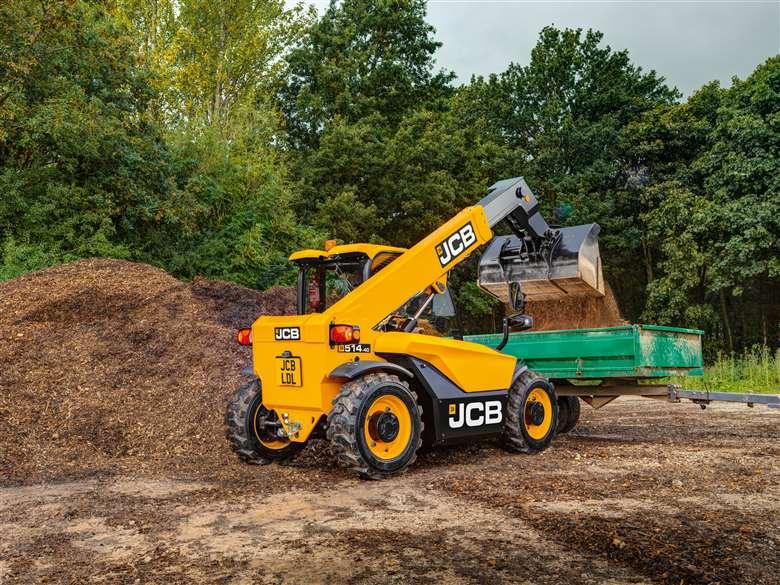 Image- JCB 514-40 Loadall
JCB introduceert de 514-40, zijn kleinste verreiker met verreikers tot nu toe, met een cabinehoogte van 1,8 m en een breedte van 1,56 m.
De compacte machine profiteert van de grootste bestuurderscabine in zijn klasse, zegt het bedrijf. De unit is klein genoeg om door een deuropening van 2 meter hoog te passen en beschikt over vierwielbesturing, waardoor het ideaal is voor materiaalleveranciers, landschapsarchitecten, organisatoren van evenementen en bouwverhuurbedrijven.
Aangedreven door een 18,4 kW dieselmotor, voldoet het model aan de EU Stage V-emissienorm zonder dat een roetfilter (DPF) of een dieseluitlaatvloeistof nodig is. Deze 1,1-liter driecilindermotor met een koppel van 66,9 Nm wordt via een hydrostatische transmissie van Bosch aangedreven door een Linde-motor met twee snelheden en levert een maximale rijsnelheid van 15 km/u.
Met permanente vierwielaandrijving en vierwielbesturing is de 514-40 ook ontworpen om de all-terrain capaciteiten te bieden die in de hele serie verreikers te vinden zijn.
Het maximale hefvermogen is 1.400 kg, terwijl de maximale hefhoogte is ingesteld op 4,0 m, waardoor dit een ideale machine is voor tal van industriële sectoren. Het hefvermogen bij volledig bereik is vastgesteld op 525 kg. Met een leeggewicht van 2.695 kg heeft de machine een 17% hogere vermogen-gewichtsverhouding dan de vorige 516-40 verreiker. De 514-40 kan echter worden vervoerd op een lichtgewicht aanhanger van 3,5 ton achter een 4x4 of een licht bedrijfsvoertuig, waardoor het voor een verhuurbedrijf, een aannemer of een doe-het-zelver in het weekend gemakkelijker, sneller en goedkoper kan worden afgeleverd.
De bestuurderscabine over de volle breedte is 20% groter dan de vorige 516-40 en maar liefst 200 mm breder dan concurrerende modellen. Dit biedt de machinist een comfortabele werkomgeving en de uitgebreide beglazing biedt zicht op alle vier de hoeken.
Standaardfuncties zijn onder meer een trekhaakkogel van 50 mm met 7-polige elektrische aansluiting, achteruitrijalarm, wegverlichting, het gepatenteerde JCB-lastcontrolesysteem en JCB's LiveLink Lite-telematicasysteem. Opties zijn onder meer een LED-werkverlichtingspakket, amberkleurige en groene zwaailichten met een oranje veiligheidsgordel, die allemaal kunnen worden beschermd door JCB's startonderbreker Key Pad.
De 514-40 heeft ook een nieuwe lichtgewicht werktuigdrager en kan werken met zwevende vorken of een bak van 0,41 m3. Dubbelwerkende hulphydrauliek maakt het mogelijk om met een reeks JCB-aanbouwdelen te werken, en klanten kunnen ook kiezen tussen een reeks industriële en grascompatibele banden.
NJC.© Info JCB
--------------------------------------------------------------------------------------------------------------------