JCB to showcase its "most extensive" Wastemaster equipment lineup

07/09/23-FR-English-NL-footer
JCB présentera sa gamme d'équipements Wastemaster « la plus complète »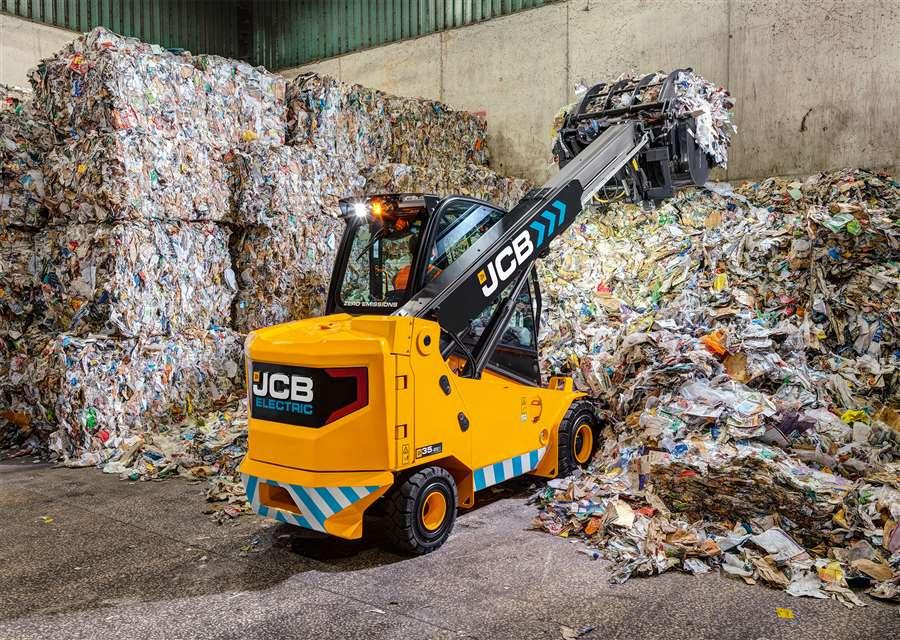 JCB's Wastemaster Electric Teletruk will be among key equipment models on display at RWM Expo 2023 (PHOTO: JCB)
Le fabricant de matériel de construction JCB présentera ses derniers modèles d'équipement Wastemaster lors du prochain salon RWM (Resource and Waste Management), qui se tiendra à Birmingham, au Royaume-Uni, du 13 au 14 septembre.
Décrites comme « la gamme la plus complète d'équipements dédiés à la manutention des déchets et des matériaux de recyclage de l'industrie », les machines exposées comprendront le Wastemaster Electric Teletruk, la chargeuse télescopique sur pneus TM420, la pelle de chargement sur roues 437 et la conformité Stage V. Chariot télescopique Loadall 560-80.
Probablement un point fort pour de nombreux visiteurs du stand de JCB, le chariot télescopique Wastemaster Loadall 560-80 est spécialement conçu pour répondre aux « exigences uniques de l'industrie des déchets et du recyclage ».
Le modèle est propulsé par un moteur JCB DieselMax de 97 kW (130 ch) et est équipé d'une cabine CommandPlus 12 % plus grande que les machines similaires précédentes de sa catégorie.
JCB affirme que la cabine mise à jour réduit également le bruit de la cabine de 50 % jusqu'à un maximum de 69 dBA et, grâce à un nouveau vitrage incurvé d'une seule pièce, offre une augmentation de 14 % de la visibilité vers le haut pour l'opérateur de la machine.
Pour soutenir ses plus grandes machines de construction, le nouveau Powerpack triphasé et le générateur G60RS, conçu pour le marché de la location d'équipement.
Pendant ce temps, les modèles JCB Wastemaster TM420 et Teletruk se produiront également dans la zone de démonstration en direct de l'Expo tout au long du salon.
Grâce à sa combinaison de machines spécialement conçues, la gamme JCB Wastemaster fait confiance aux spécialistes de l'industrie dans les domaines des déchets municipaux et commerciaux, du compostage, de l'incinération et du recyclage du plastique, du papier, du verre, du bois et de la ferraille.
Chaque machine peut être équipée d'un ensemble de fonctions de protection pour fonctionner dans un environnement de traitement des déchets exigeant, aidant ainsi les clients à améliorer leur efficacité et à réduire leurs coûts.
NJC.© Info JCB
---------------------------------------------------------------------------------------------------------------

07/09/23-English
JCB to showcase its "most extensive" Wastemaster equipment lineup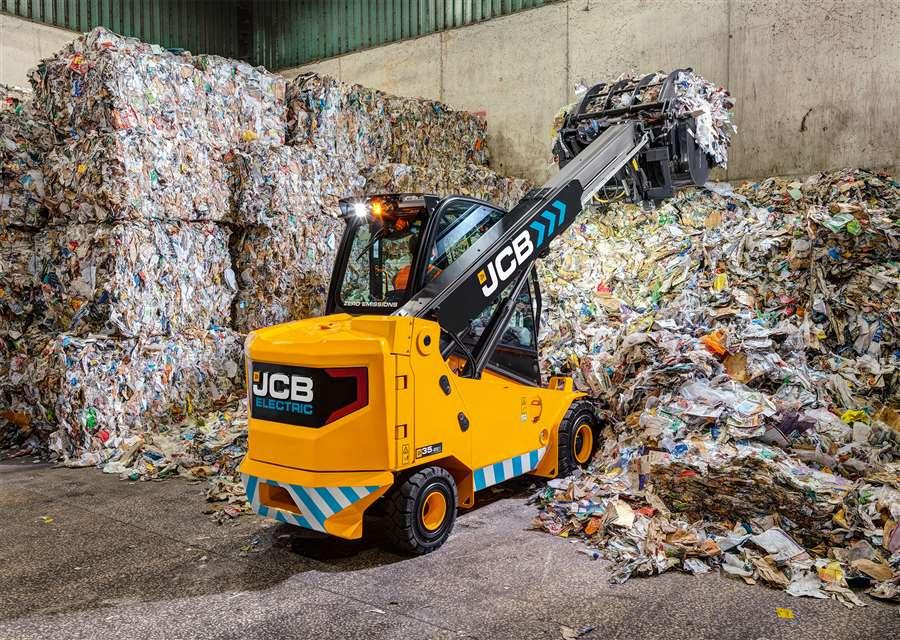 JCB's Wastemaster Electric Teletruk will be among key equipment models on display at RWM Expo 2023 (PHOTO: JCB)
Construction equipment manufacturer JCB is to showcase its latest Wastemaster equipment models at the upcoming RWM (Resource and Waste Management) Expo, which is scheduled to take place in Birmingham, United Kingdom, from 13 to 14 September.
Described as "the most extensive line-up of dedicated waste and recycling materials handling equipment in the industry," machines on display will include the Wastemaster Electric Teletruk, the TM420 telescopic wheeled loader, the 437 wheeled loading shovel, and the Stage V-compliant 560-80 Loadall telescopic handler.
Likely to prove a highlight for many visitors to JCB's stand, the 560-80 Wastemaster Loadall telescopic handler is specifically designed to meet the "unique requirements of the waste and recycling industry".
The model is powered by a 97k W (130 hp) JCB DieselMax engine and is fitted with a CommandPlus cab that is 12% larger than previous similar machines in its class.
JCB says the updated cab also reduces cab noise by 50% to a maximum of 69 dBA and, thanks to a new seamless one-piece of curved glazing, provides a 14% increase in upward visibility for the machine operator.
Supporting its larger construction machines will the new three-phase Powerpack and the G60RS generator, which is designed for the equipment rental market.
Meanwhile, JCB Wastemaster TM420 and Teletruk models will also be performing in the Expo's live demonstration area throughout the show.
Its combination of purpose-built machines sees the JCB Wastemaster range trusted by industry specialists across municipal and commercial waste, composting, incineration and plastic, paper, glass, wood and scrap-metal recycling.
Each machine can be fitted with a package of protective features for operation within the arduous waste environment - helping customers improve efficiency and reduce costs.
NJC.© Info JCB
------------------------------------------------------------------------------------------------------------------

07/09/23-NL
JCB presenteert zijn "meest uitgebreide" assortiment Wastemaster-apparatuur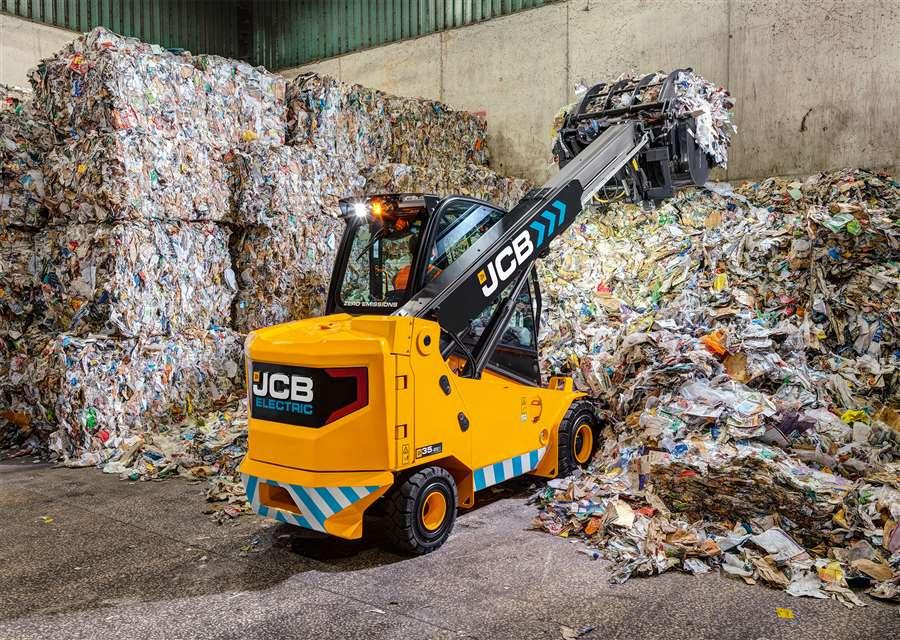 JCB's Wastemaster Electric Teletruk will be among key equipment models on display at RWM Expo 2023 (PHOTO: JCB)
Fabrikant van bouwmachines JCB zal zijn nieuwste Wastemaster-materieelmodellen presenteren op de komende RWM (Resource and Waste Management) Expo, die van 13 tot 14 september in Birmingham, Verenigd Koninkrijk, zal plaatsvinden.
Beschreven als "het meest uitgebreide assortiment speciale apparatuur voor de verwerking van afval- en recyclingmateriaal in de sector", zullen de tentoongestelde machines onder meer de Wastemaster Electric Teletruk, de TM420 telescopische wiellader, de 437 laadschop op wielen en de Stage V-conforme machine zijn. 560-80 verreiker voor verreikers.
De 560-80 Wastemaster Loadall verreiker zal waarschijnlijk een hoogtepunt worden voor veel bezoekers aan de stand van JCB en is speciaal ontworpen om te voldoen aan de "unieke eisen van de afval- en recyclingindustrie".
Het model wordt aangedreven door een JCB DieselMax-motor van 97 kW (130 pk) en is uitgerust met een CommandPlus-cabine die 12% groter is dan eerdere vergelijkbare machines in zijn klasse.
JCB zegt dat de vernieuwde cabine ook het cabinegeluid met 50% vermindert tot een maximum van 69 dBA en, dankzij een nieuwe naadloze gebogen beglazing uit één stuk, het zicht naar boven voor de machinebestuurder met 14% vergroot.
De grotere bouwmachines zullen worden ondersteund door de nieuwe driefasige Powerpack en de G60RS-generator, die is ontworpen voor de verhuurmarkt voor materieel.
Ondertussen zullen de JCB Wastemaster TM420- en Teletruk-modellen tijdens de show ook optreden in de live demonstratieruimte van de Expo.
Door de combinatie van speciaal gebouwde machines wordt het JCB Wastemaster-assortiment vertrouwd door specialisten uit de sector op het gebied van stedelijk en commercieel afval, compostering, verbranding en recycling van plastic, papier, glas, hout en schroot.
Elke machine kan worden uitgerust met een pakket beschermende voorzieningen voor gebruik in de omgeving van zwaar afval, waardoor klanten de efficiëntie kunnen verbeteren en de kosten kunnen verlagen.
NJC.© Info JCB
---------------------------------------------------------------------------------------------------------------------
Date de dernière mise à jour : 04/09/2023