John Deere debuts Next Phase of Performance Tiering Excavators
16/12/22-FR-English-NL-footer
John Deere lance la prochaine phase des excavatrices hiérarchisées de performance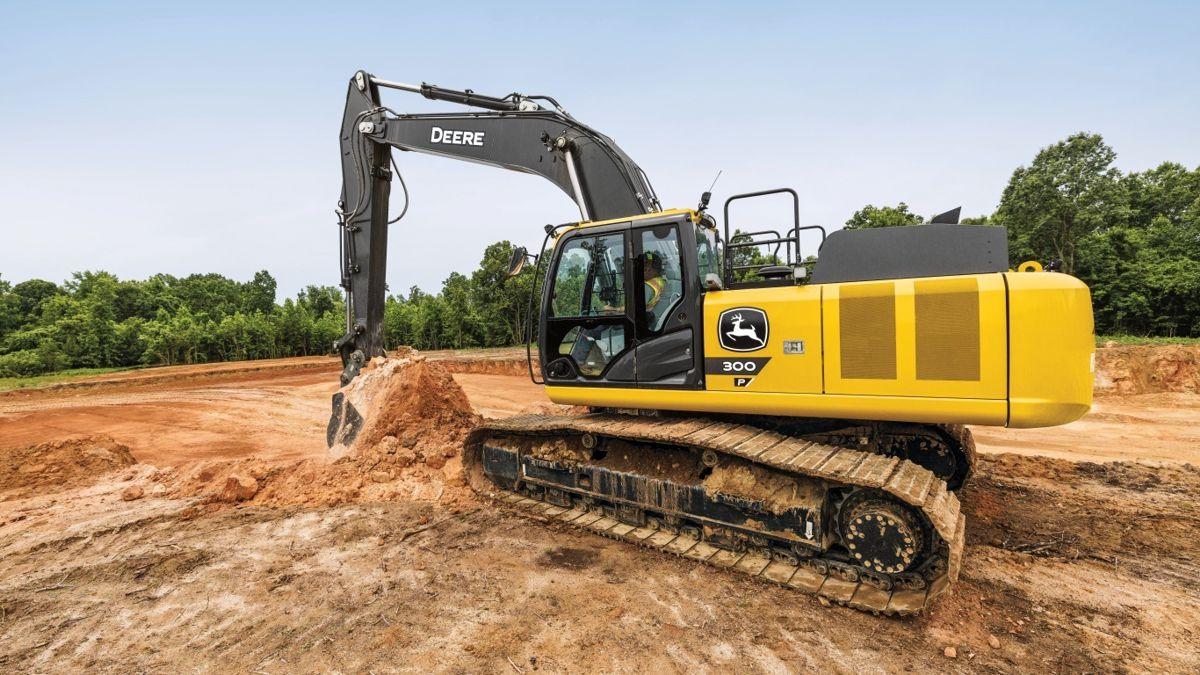 Image- John Deere
Visant à fournir une gamme de produits à différents niveaux de capacité et d'expérience utilisateur, John Deere lance ses derniers modèles d'excavatrices P-Tier et G-Tier dans son portefeuille de machines de taille moyenne.
Dans le cadre de sa stratégie de hiérarchisation des performances, John Deere a ajouté les modèles 135, 210, 245, 250, 300 et 345 à sa gamme de pelles P-Tier. De plus, John Deere introduit un tout nouveau modèle dans sa famille de pelles G-Tier : la 200 G-Tier.
"Chaque chantier est différent, et nos clients veulent des options d'excavatrices qui peuvent être personnalisées en fonction des performances, du prix et de l'expérience de l'opérateur", a déclaré Justin Steger, responsable du marketing des solutions, John Deere Construction & Forestry. "Notre gamme récemment élargie d'excavatrices P et G-Tier, y compris la toute nouvelle 200 G-Tier, fournit des solutions de machines conçues pour diverses applications et travaux afin d'améliorer la rentabilité et l'efficacité."
Pour les clients qui cherchent à améliorer la productivité de leur chantier, les modèles d'excavatrices P-Tier peuvent compter sur eux pour produire à des niveaux élevés, jour après jour. Ces modèles sont dotés de fonctionnalités avancées et offrent des performances, une efficacité et un confort exceptionnels. Offrant une meilleure durabilité des joints avant, les modèles intermédiaires P-Tier, y compris les 135, 210, 245, 250, 300 et 345, favorisent de meilleures performances et une meilleure stabilité de l'opérateur.
Avec des points de graissage à l'extrémité du bras pour un graissage facile, une disponibilité prolongée et une meilleure rétention du couple au niveau de la pince, ce qui réduit la probabilité de déplacement des tuyaux hydrauliques avant, les nouveaux modèles P-Tier ont été conçus pour offrir des performances optimales et une facilité d'entretien. De plus, les bagues de pied de flèche redessinées offrent une durabilité accrue pour une durée de vie prolongée de la machine.
Le tout dernier ajout à la gamme d'excavatrices de taille moyenne John Deere est le tout nouveau 200 G-Tier. Contribuant à améliorer l'efficacité et la fiabilité sans sacrifier la puissance ou le couple, le moteur PowerTech de 4,5 litres du 200 G-Tier offre des performances optimales aux opérateurs de tous niveaux. De plus, les filtres d'échappement faciles à entretenir et à temps de disponibilité élevé contribuent à réduire les temps d'arrêt pour l'entretien, tandis que le débit et la pression hydrauliques auxiliaires réglables dans le moniteur peuvent être facilement contrôlés à l'aide du levier de fonction auxiliaire.
Le système de gestion hydraulique Powerwise Plus du 200 G-Tier combine une capacité supplémentaire avec un contrôle en douceur et une finesse extrême. Grâce à une technologie intuitive, le système fournit une alimentation à la demande. Offrant un débit de pompe précis, les commandes pilotes sont mesurées, ce qui contribue à fournir des performances de machine fiables et économes en carburant. D'une simple pression sur un bouton du joystick, les opérateurs peuvent augmenter la puissance et activer les fonctions de montée et de levage automatiques de la flèche. De plus, le système de propulsion hydraulique à pédale unique en option déplace la machine quand et où vous en avez besoin sans avoir à articuler les deux leviers manuels et les deux pédales, ce qui facilite l'utilisation.
Les clients qui cherchent à tirer le meilleur parti de leurs machines peuvent bénéficier de deux ensembles auxiliaires haute pression et haut débit installés en usine, qui offrent une capacité hydraulique supplémentaire pour alimenter les accessoires. Conçus pour faciliter l'utilisation de l'opérateur, les joysticks de pilotage ergonomiquement corrects et à courte course du 200 G-Tier offrent un contrôle fluide et précis du bout des doigts avec moins de mouvement ou d'effort. Conçue pour s'adapter à différents opérateurs d'un simple basculement d'un levier, la vanne de changement de schéma de commande est livrée en standard sur le 200 G-Tier, ce qui contribue à assurer la cohérence du travail. Également de série sur le 200 G-Tier, le commutateur de contrôle de modèle est facilement accessible au niveau du sol.
La gamme d'excavatrices John Deere G-Tier et P-Tier peut être équipée d'une gamme complète de godets, qui sont proposés pour répondre aux besoins d'une grande variété d'applications. La nouvelle option prête pour le coupleur hydraulique comprend une plomberie hydraulique installée en usine à l'extrémité du bras, des commandes de coupleur supplémentaires intégrées dans un interrupteur dans la cabine et une capacité d'installation de coupleur rapide et efficace. Populaires dans le segment souterrain, les coupleurs permettent aux excavatrices de changer efficacement d'accessoires et d'obtenir des heures de travail plus productives chaque jour.
NJC.© Infos John Deere
---------------------------------------------------------------------------------------------------------------------
16/12/22-English
John Deere debuts Next Phase of Performance Tiering Excavators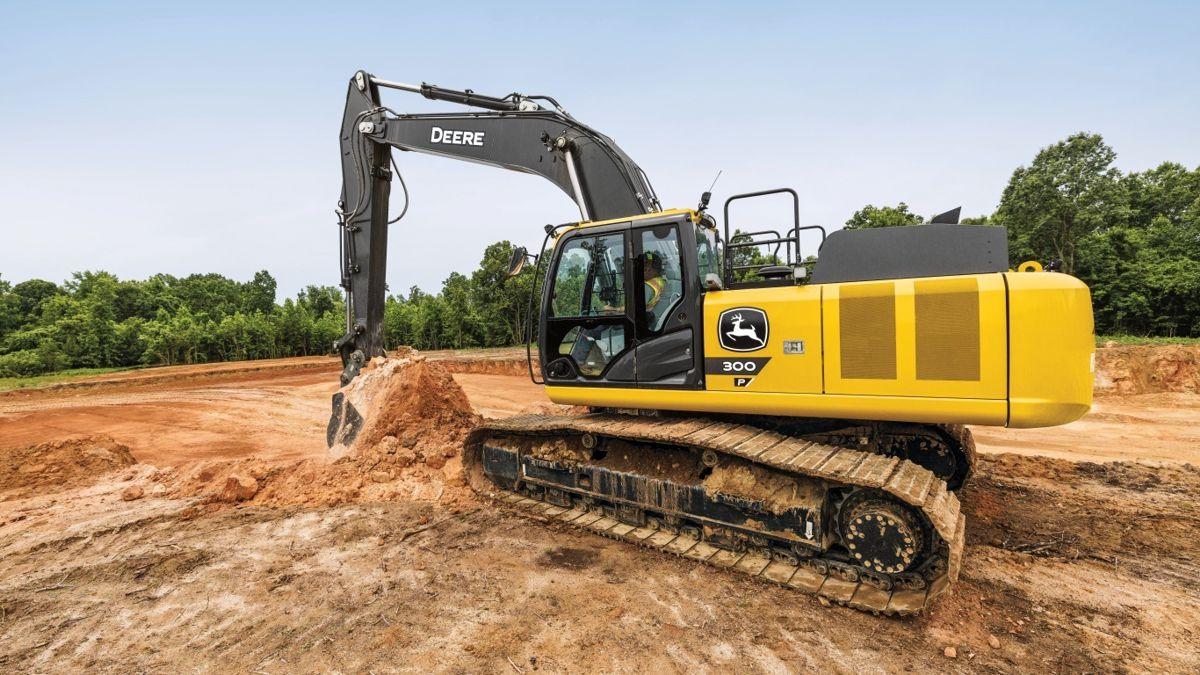 Image- John Deere
Aimed to deliver a range of products at different levels of capability and user experience, John Deere debuts its latest P-Tier and G-Tier excavator models to its portfolio of mid-size machines.
As part of its Performance Tiering Strategy, John Deere has added the 135, 210, 245, 250, 300 and 345 models to its lineup of P-Tier excavators. In addition, John Deere is introducing a brand-new model to its family of G-Tier excavators: the 200 G-Tier.
"Every job site is different, and our customers want excavator options that can be personalized by performance, price and operator experience," said Justin Steger, solutions marketing manager, John Deere Construction & Forestry. "Our newly expanded lineup of P- and G-Tier excavators, including the brand-new 200 G-Tier, provides machine solutions built for various applications and jobs to enhance profitability and efficiency."
For customers looking to enhance their job site productivity, the P-Tier excavator models can be counted on to produce at high levels, day in and day out. These models boast advanced features and deliver exceptional performance, efficiency and comfort. Offering improved front-joint durability, the P-Tier mid-size models, including the 135, 210, 245, 250, 300 and 345, promote better performance and operator stability.
With grease points at the arm-tip for easy greasing, extended uptime and better torque retention at the clamp, which reduces the likelihood of the front hydraulic pipes moving, the new P-Tier models were designed to provide optimal performance and easier serviceability. In addition, the redesigned boom-foot bushings offer enhanced durability for an extended machine life span.
The latest addition to the John Deere lineup of mid-size excavators is the brand-new 200 G-Tier. Helping to enhance efficiency and reliability without sacrificing power or torque, the PowerTech 4.5-liter engine on the 200 G-Tier delivers optimal performance for operators of all skill levels. In addition, the easy-to-maintain, high-uptime exhaust filters help decrease downtime for service while the in-monitor adjustable flow and pressure auxiliary hydraulics can be easily controlled using the auxiliary function lever.
The Powerwise Plus hydraulic-management system in 200 G-Tier combines extra ability with smooth control and pinpoint finesse. Through intuitive technology, the system delivers on-demand power. Offering precise pump flow, the pilot controls are metered, helping to provide reliable, fuel-efficient machine performance. With the push of a button on the joystick, operators can boost power and toggle on automatic boom-up and lifting functions. In addition, the optional hydraulic single pedal propel system moves the machine when and where you need it to without having to articulate both hand levers and both foot pedals, making for easier operation.
Customers looking to make the most of their machines can benefit from two factory-installed high-pressure, high-flow auxiliary packages, which deliver additional hydraulic capability to power attachments. Aimed to support operator ease of use, the ergonomically correct, short-throw pilot joysticks on the 200 G-Tier provide smooth, precise fingertip control with less movement or effort. Designed to accommodate different operators with the simple flip of a lever, the control pattern-change valve comes standard on the 200 G-Tier, helping to provide consistency on the job. Also standard on the 200 G-Tier is the pattern-control switch, which is conveniently accessible at ground level.
The lineup of John Deere G- and P-Tier excavators can be equipped with a full line of buckets, which are offered to meet the needs of a wide variety of applications. The new hydraulic coupler-ready option includes factory-installed hydraulic plumbing to the end of the arm, additional coupler controls integrated into a switch in the cab and a quick and efficient coupler installation capability. Popular in the underground segment, couplers allow excavators to efficiently switch attachments and get more productive working hours each day.
NJC.© Info John Deere
------------------------------------------------------------------------------------------------------------------
16/12/22-NL
John Deere introduceert Next Phase of Performance Tiering Excavators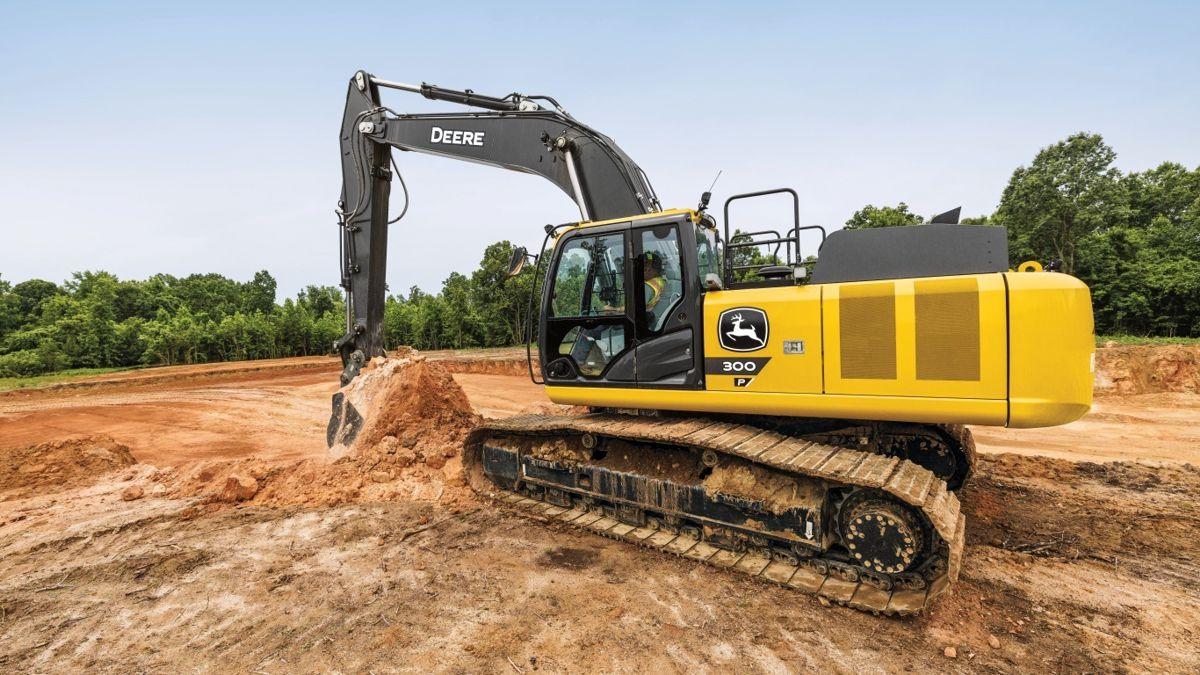 Image- John Deere
Gericht op het leveren van een reeks producten op verschillende niveaus van mogelijkheden en gebruikerservaring, introduceert John Deere zijn nieuwste P-Tier en G-Tier graafmachinemodellen in zijn portfolio van middelgrote machines.
Als onderdeel van zijn Performance Tiering Strategy heeft John Deere de 135, 210, 245, 250, 300 en 345 modellen toegevoegd aan zijn serie P-Tier graafmachines. Daarnaast introduceert John Deere een gloednieuw model in zijn familie van G-Tier graafmachines: de 200 G-Tier.
"Elk werkterrein is anders en onze klanten willen graafmachineopties die kunnen worden gepersonaliseerd op basis van prestaties, prijs en machinistenervaring", aldus Justin Steger, Solutions Marketing Manager, John Deere Construction & Forestry. "Ons onlangs uitgebreide assortiment P- en G-Tier graafmachines, waaronder de gloednieuwe 200 G-Tier, biedt machineoplossingen die zijn gebouwd voor verschillende toepassingen en taken om de winstgevendheid en efficiëntie te verbeteren."
Voor klanten die hun productiviteit op het werkterrein willen verbeteren, kunnen de P-Tier graafmachinemodellen dag in dag uit op hoge niveaus produceren. Deze modellen beschikken over geavanceerde functies en leveren uitzonderlijke prestaties, efficiëntie en comfort. De middelgrote P-Tier-modellen, waaronder de 135, 210, 245, 250, 300 en 345, bieden verbeterde duurzaamheid van de voorste verbinding en bevorderen betere prestaties en stabiliteit voor de machinist.
Met smeerpunten aan de armtip voor eenvoudig smeren, langere inzetbaarheid en beter koppelbehoud bij de klem, waardoor de kans kleiner wordt dat de voorste hydraulische leidingen bewegen, zijn de nieuwe P-Tier-modellen ontworpen om optimale prestaties en eenvoudiger onderhoud te bieden. Bovendien bieden de opnieuw ontworpen giek-voetbussen verbeterde duurzaamheid voor een langere levensduur van de machine.
De nieuwste toevoeging aan het John Deere-assortiment van middelgrote graafmachines is de gloednieuwe 200 G-Tier. De PowerTech 4,5-liter motor op de 200 G-Tier helpt de efficiëntie en betrouwbaarheid te verbeteren zonder aan vermogen of koppel in te boeten, en levert optimale prestaties voor machinisten van alle vaardigheidsniveaus. Bovendien helpen de gemakkelijk te onderhouden uitlaatfilters met hoge inzetbaarheid de uitvaltijd voor onderhoud te verminderen, terwijl de in-monitor instelbare hulphydrauliek voor debiet en druk eenvoudig kan worden bediend met behulp van de hulpfunctiehendel.
Het Powerwise Plus hydraulisch managementsysteem in 200 G-Tier combineert extra vermogen met soepele bediening en uiterste finesse. Door middel van intuïtieve technologie levert het systeem stroom op aanvraag. De servobesturingen bieden een nauwkeurig pompdebiet en zijn gedoseerd, wat bijdraagt aan betrouwbare, brandstofzuinige machineprestaties. Met een druk op de knop op de joystick kunnen machinisten het vermogen verhogen en de functies automatisch omhoog en heffen inschakelen. Bovendien verplaatst het optionele hydraulische aandrijfsysteem met één pedaal de machine waar en wanneer u maar wilt zonder dat u beide hendels en beide voetpedalen hoeft te bedienen, wat de bediening vergemakkelijkt.
Klanten die het maximale uit hun machines willen halen, kunnen profiteren van twee in de fabriek geïnstalleerde hulppakketten met hoge druk en hoog debiet, die extra hydraulische capaciteiten leveren om aanbouwdelen aan te drijven. De ergonomisch correcte, short-throw pilot-joysticks op de 200 G-Tier zijn bedoeld om het gebruiksgemak van de machinist te ondersteunen en bieden een soepele, nauwkeurige vingertopbediening met minder beweging of inspanning. De ventiel voor het wijzigen van het regelpatroon is standaard op de 200 G-Tier, ontworpen om met een simpele omdraaiing van een hendel tegemoet te komen aan verschillende machinisten, wat zorgt voor consistentie tijdens het werk. Ook standaard op de 200 G-Tier is de patroonbesturingsschakelaar, die gemakkelijk toegankelijk is op grondniveau.
Het assortiment John Deere G- en P-Tier graafmachines kan worden uitgerust met een volledige serie bakken, die worden aangeboden om te voldoen aan de behoeften van een grote verscheidenheid aan toepassingen. De nieuwe optie die klaar is voor hydraulische koppelingen omvat in de fabriek geïnstalleerde hydraulische leidingen tot aan het uiteinde van de arm, extra bedieningselementen voor de koppeling die zijn geïntegreerd in een schakelaar in de cabine en een snelle en efficiënte installatie van de koppeling. Populair in het ondergrondse segment, stellen graafmachines graafmachines in staat om efficiënt van uitrustingsstuk te wisselen en elke dag meer productieve werkuren te maken.
NJC.© Info John Deere
------------------------------------------------------------------------------------------------------------------------