John Deere expands compact loader range
29/08/22-FR-English-NL-footer
John Deere élargit sa gamme de chargeuses compactes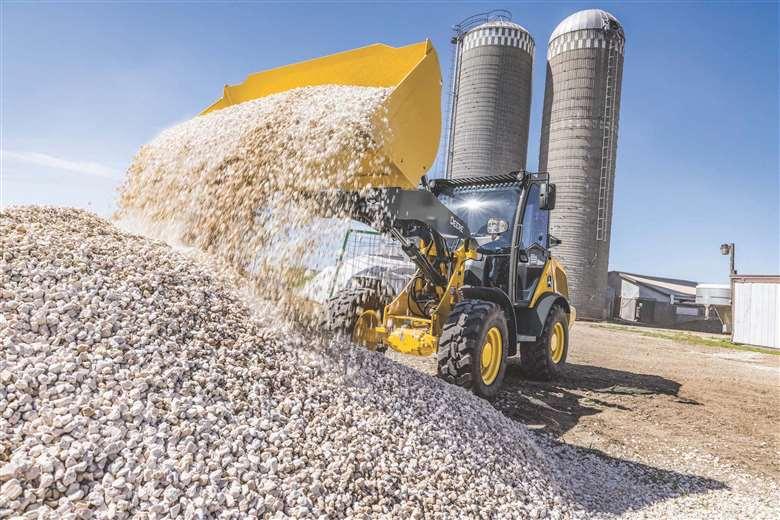 The G-tier range is said to reduce machine downtime and improve the safety and comfort of the operator. (Photo: John Deere)
Le géant de la fabrication John Deere a élargi sa stratégie de hiérarchisation des performances pour inclure des équipements compacts avec le lancement de trois nouvelles chargeuses compactes.
Chargeur compact John Deere On dit que la gamme G-tier réduit les temps d'arrêt de la machine et améliore la sécurité et le confort de l'opérateur.
La société affirme que le 184 G-tier, un modèle nouvellement lancé, et le 204 G-tier et le plus grand modèle 304 G-tier ont été conçus pour offrir à ses clients des machines capables de «réaliser les tâches quotidiennes».
Les trois modèles sont livrés avec l'option d'une cabine fermée ou d'un auvent, qui offrirait plus de flexibilité à l'opérateur dans un plus large éventail de tâches ainsi qu'un champ de vision plus large grâce à sa porte entièrement vitrée, du sol au -pare-brise avant plafonnier et affichage de la machine remonté.
On dit que la conception de la canopée permet aux utilisateurs de travailler sur des sites qui nécessitent des machines plus petites en raison de sa hauteur (8 pieds) et de sa largeur (5 pieds 10 pouces) plus petites tout en permettant un contrôle total de la machine dans les espaces restreints.
Les trois chargeuses sur pneus compactes de niveau G sont désormais disponibles à l'achat en Amérique du Nord.
Les godets des niveaux 185 G et 204 G peuvent être fixés à un coupleur Quik-Tatch ou à crochet et une commande de conduite en option est censée minimiser le risque de déversement du godet lors de travaux sur des sites accidentés. terrain.
Pour améliorer la sécurité de l'opérateur, un différentiel à glissement s'enclenche automatiquement si une roue perd de la traction, et une colonne de direction réglable, des marches antidérapantes et un ensemble d'éclairage à LED en option rendent la machine plus confortable à utiliser.
John Deere affirme que l'entretien des machines est amélioré grâce à l'entretien au niveau du sol, et que les réservoirs de carburant à plus grande capacité signifient moins de temps d'arrêt.
Luke Gribble, directeur du marketing des solutions, John Deere Construction and Forestry Division, a déclaré : « Ces machines ne sont pas seulement robustes, mais elles sont dotées de commandes de machine simples et intuitives qui conviennent parfaitement aux opérateurs de tous niveaux d'expérience, tout en offrant des options qui favorisent le confort et la productivité de l'opérateur.
NJC.© Infos JOHN DEERE
--------------------------------------------------------------------------------------------------------------------
29/08/22-English
John Deere expands compact loader range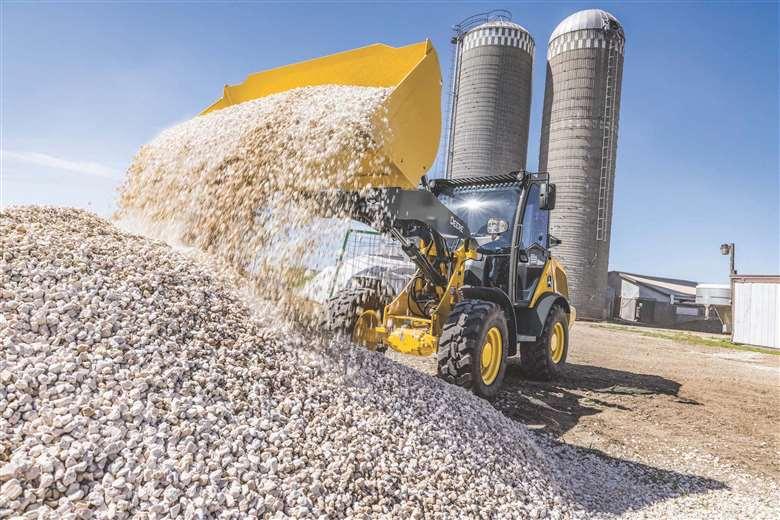 The G-tier range is said to reduce machine downtime and improve the safety and comfort of the operator. (Photo: John Deere)
Manufacturing giant John Deere has expanded its performance tiering strategy to include compact equipment with the launch of three new compact loaders.
John Deere compact loader The G-tier range is said to reduce machine downtime and improve the safety and comfort of the operator.
The company say that the 184 G-tier, a newly released model, and the 204 G-tier and larger 304 G-tier model have been designed to give its customers machines that can "complete everyday tasks."
All three models come with the option of an enclosed cab or canopy design, which is said to offer more flexibility to the operator in a wider range of tasks as well as provide a wider range of view due to its fully glass door, floor-to-ceiling front windshield and remounted machine display.
The canopy design is said to enable users to work on sites that require smaller machines due to its smaller height (8 feet) and width (5 feet 10 inches) while still allowing full control over the machine in tight areas.
All three G-tier Compact Wheel Loaders are now available for purchase in North America.
The buckets of the 185 G-tier and 204 G-tier can be attached to either a Quik-Tatch or hook-style coupler and an optional ride-control is said to minimise the risk of spillage from the bucket when working over sites with rough terrain.
To improve operator safety, a slip differential automatically engages if one wheel loses traction, and an adjustable steering column, slip-resistant steps, and optional LED lighting package makes the machine more comfortable to use.
John Deere say that maintenance of the machines is improved thanks to ground-level service, and increased capacity fuel tanks means less downtime.
Luke Gribble, Solutions Marketing Manager, John Deere Construction and Forestry Division, said,"These machines are not only rugged, but they boast simple and intuitive machine controls that are a great fit for operators of all experience levels, while also offering options that promote operator comfort and productivity."
NJC.© Info JOHN DEERE
------------------------------------------------------------------------------------------------------------------
29/08/22-NL
John Deere breidt assortiment compacte laders uit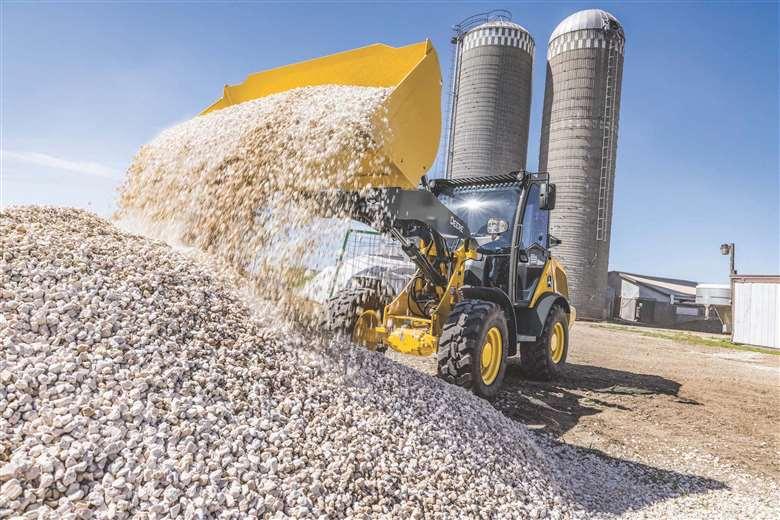 The G-tier range is said to reduce machine downtime and improve the safety and comfort of the operator. (Photo: John Deere)
Productiegigant John Deere heeft met de lancering van drie nieuwe compacte laders zijn strategie voor prestatieniveaus uitgebreid met compacte apparatuur.
John Deere compacte lader Er wordt gezegd dat de G-tier-reeks de stilstandtijd van de machine vermindert en de veiligheid en het comfort van de machinist verbetert.
Het bedrijf zegt dat de 184 G-tier, een nieuw uitgebracht model, en de 204 G-tier en het grotere 304 G-tier-model zijn ontworpen om zijn klanten machines te geven die "dagelijkse taken kunnen voltooien".
Alle drie de modellen worden geleverd met de optie van een gesloten cabine of overkapping, die naar verluidt de machinist meer flexibiliteit biedt bij een breder scala aan taken en een breder zicht biedt dankzij de volledig glazen deur, van vloer tot vloer. -plafond voorruit en opnieuw gemonteerd machinedisplay.
Het ontwerp van de overkapping stelt gebruikers in staat om te werken op locaties die kleinere machines nodig hebben vanwege de kleinere hoogte (8 voet) en breedte (5 voet 10 inch), terwijl ze toch volledige controle over de machine bieden in krappe ruimtes.
Alle drie de G-tier compacte wielladers zijn nu te koop in Noord-Amerika.
De bakken van de 185 G-tier en 204 G-tier kunnen worden bevestigd aan een Quik-Tatch of hook-style koppeling en een optionele ride-control zou het risico van morsen uit de bak minimaliseren bij het werken op locaties met ruw terrein. terrein.
Om de veiligheid van de machinist te verbeteren, wordt automatisch een slipdifferentieel ingeschakeld als een wiel grip verliest, en een verstelbare stuurkolom, slipvaste treden en een optioneel led-verlichtingspakket maken de machine comfortabeler in het gebruik.
John Deere zegt dat het onderhoud van de machines is verbeterd dankzij service op maaiveldhoogte, en brandstoftanks met een grotere capaciteit zorgen voor minder stilstand.
Luke Gribble, Solutions Marketing Manager, John Deere Construction and Forestry Division, zei: "Deze machines zijn niet alleen robuust, maar ze beschikken over eenvoudige en intuïtieve machinebedieningen die uitstekend geschikt zijn voor bestuurders van alle ervaringsniveaus, terwijl ze ook opties bieden die de comfort en productiviteit voor de machinist."
NJC.© Info JOHN DEERE
-------------------------------------------------------------------------------------------------------------------------