John Deere Introduces New P-Tier Articulated Dump Trucks

01/02/23-FR-English-NL-footer
John Deere présente de nouveaux tombereaux articulés P-Tier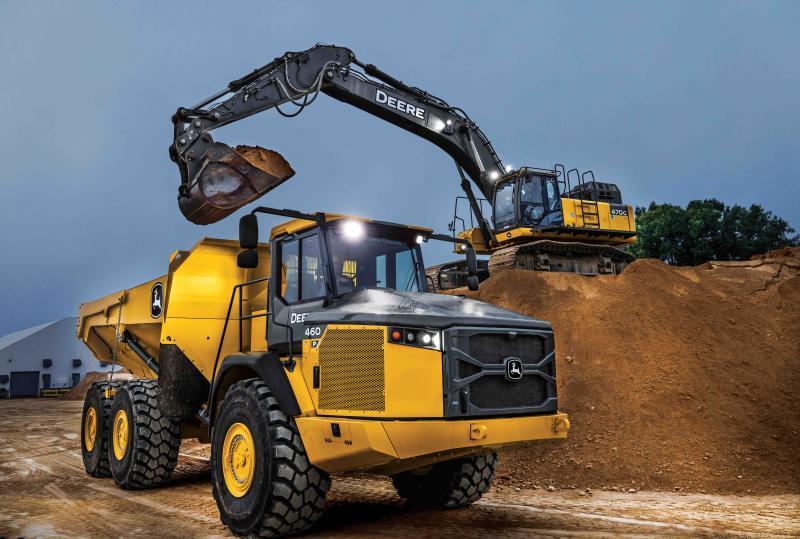 Image-New to the P-Tier portfolio, the 410 and 460 ADTs retain the same fuel efficiency, dump body, and drive modes as the previous E-II models.
John Deere étend sa stratégie de hiérarchisation des performances à sa gamme de tombereaux articulés.
Nouveaux dans le portefeuille P-Tier, les ADT 410 et 460 conservent le même rendement énergétique, la même benne basculante et les mêmes modes de conduite que les modèles E-II précédents. Pour tous les modèles P-Tier, des mises à jour supplémentaires du style extérieur et de l'aménagement intérieur de la cabine modernisent la flotte tout en maintenant la productivité pour laquelle ces camions sont devenus connus.
Ces machines disposent également d'une gamme de paramètres intégrés standard pour faciliter le fonctionnement et augmenter l'efficacité lors de n'importe quelle application.
"Les modèles P-Tier ont été construits en pensant à l'opérateur pour favoriser la facilité d'utilisation et le confort de l'opérateur", a déclaré Justin Steger, responsable du marketing des solutions, John Deere Construction & Forestry.
"La refonte de la disposition des composants dans la cabine, le regroupement des fonctionnalités et leur conditionnement de manière significative en fonction de l'application sont quelques exemples de la manière dont nous intégrons les commentaires des clients et apportons d'autres améliorations."
Afin de fournir plus de personnalisation, les clients peuvent choisir entre deux niveaux de finition différents, ainsi qu'ajouter une variété d'ensembles en option, y compris des ensembles pour un confort accru de l'opérateur, des conditions de temps froid, la gestion des débris et des capacités de maintenance et de service.
La première option d'ensemble de garnitures offre des caractéristiques familières telles qu'une cheminée d'échappement noire, des rétroviseurs et des commandes de température à réglage manuel, un siège et une radio standard, un convertisseur de 15 ampères et des phares halogènes pour véhicules. Offrant un confort et des commandes élevés, le deuxième ensemble de garnitures offre une cheminée d'échappement chromée, des rétroviseurs à réglage électrique, un siège et une radio haut de gamme, un convertisseur de 25 ampères, un contrôle automatique de la température dans le poste de conduite et des feux de véhicule à DEL.
De série sur les ADT P-Tier, une variété de paramètres du propriétaire et de l'opérateur facilitent l'utilisation et augmentent la sécurité sur le chantier. Ces fonctionnalités embarquées, telles que la protection contre le retournement, la protection contre le basculement en descente, la protection du châssis, le maintien en côte, l'inverseur de marche et le contrôle de la descente, aident à éliminer certaines des interventions de l'opérateur, permettant un fonctionnement simplifié.
La machine bénéficie également des limites de la benne basculante de la machine, du cycle de préchauffage de la transmission standard et des limites de vitesse maximales, ce qui aide à garder l'opérateur et la machine plus sûrs et opérationnels plus longtemps.
CNM.© Info www.JohnDeere.com.
----------------------------------------------------------------------------------------------------------------

01/02/23-English
John Deere Introduces New P-Tier Articulated Dump Trucks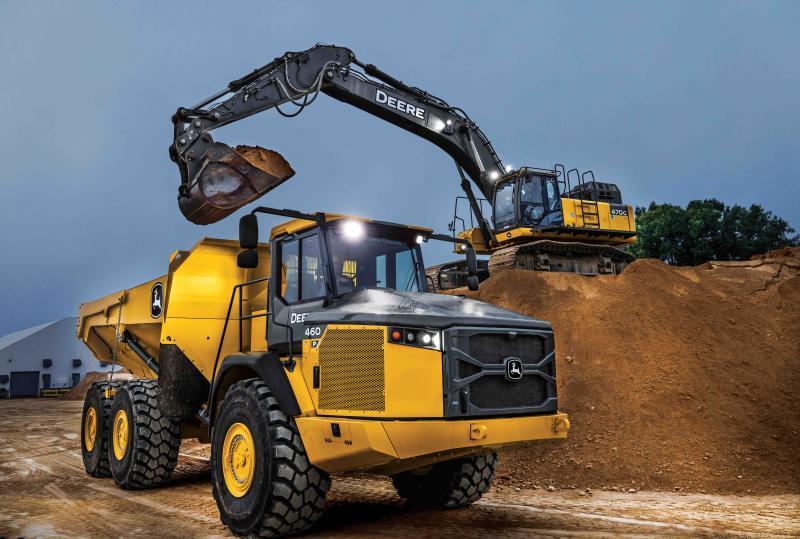 Image-New to the P-Tier portfolio, the 410 and 460 ADTs retain the same fuel efficiency, dump body, and drive modes as the previous E-II models.
John Deere expands its Performance Tiering Strategy to its line-up of articulated dump trucks.
New to the P-Tier portfolio, the 410 and 460 ADTs retain the same fuel efficiency, dump body, and drive modes as the previous E-II models. For all P-Tier models, additional updates to the external styling and interior cab layout modernize the fleet while maintaining the productivity these trucks have become known for.
These machines also feature a range of standard onboard settings to help ease operation and increase efficiency during any application.
"The P-Tier models were built with the operator in mind to support ease of use and operator comfort," said Justin Steger, solutions marketing manager, John Deere Construction & Forestry.
"Redesigning the layout of the components in the cab and grouping features together and packaging them in a meaningful way based on the application are a couple of examples of how we're incorporating customer feedback and delivering further improvements."
Helping to provide more customization, customers can choose from two different trim levels, as well as add a variety of optional packages including packages for enhanced operator comfort, cold weather conditions, debris management and maintenance and service capabilities.
The first trim package option offers familiar features such as a black exhaust stack, manually adjusted rear view mirrors and temperature controls, a standard seat and radio, a 15-amp converter and halogen vehicle lights. Providing elevated creature comforts and controls, the second trim package offers a chrome exhaust stack, power adjusted rear view mirrors, a premium seat and radio, a 25-amp converter, automatic temperature control in the operator's station and LED vehicle lights.
Standard on the P-Tier ADTs, a variety of owner and operator settings help ease operation and increase jobsite safety. These onboard features, such as rollover protection, downhill dump protection, frame protection, hill hold, shuttle shifting and descent control help eliminate some of the operator inputs, enabling simplified operation.
Additional machine benefits from the machine's dump body limits, standard transmission warm-up cycle and max speed limits, help to keep the operator and machine safer and up and running for longer.
NJC.© Info www.JohnDeere.com.
--------------------------------------------------------------------------------------------------------------------

01/02/23-NL
John Deere introduceert nieuwe P-Tier dumptrucks met knikbesturing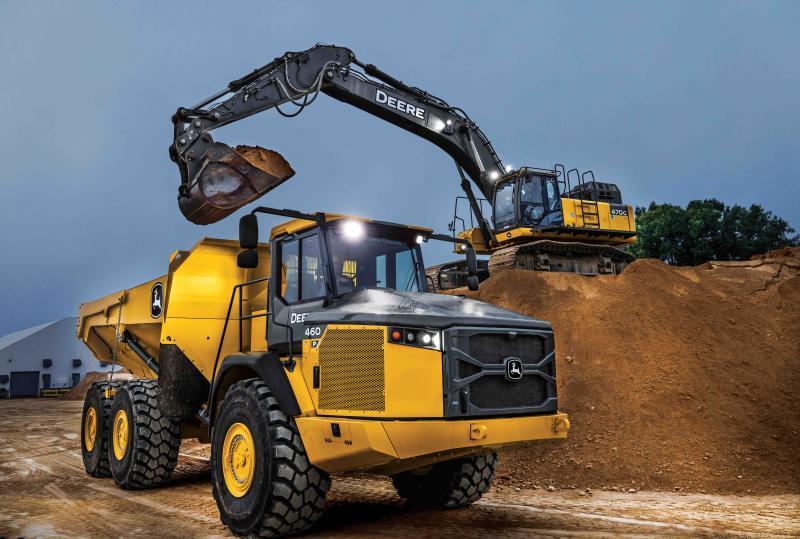 Image-New to the P-Tier portfolio, the 410 and 460 ADTs retain the same fuel efficiency, dump body, and drive modes as the previous E-II models.
John Deere breidt zijn Performance Tiering Strategy uit naar zijn serie knikdumpers.
Nieuw in het P-Tier-portfolio, de 410 en 460 ADT's behouden dezelfde brandstofefficiëntie, laadbak en rijmodi als de vorige E-II-modellen. Voor alle P-Tier-modellen moderniseren aanvullende updates van de externe styling en de interieurindeling van de cabine het wagenpark met behoud van de productiviteit waar deze trucks om bekend staan.
Deze machines beschikken ook over een reeks standaard ingebouwde instellingen om de bediening te vergemakkelijken en de efficiëntie tijdens elke toepassing te verhogen.
"De P-Tier-modellen zijn gebouwd met de machinist in gedachten om het gebruiksgemak en het comfort van de machinist te ondersteunen", aldus Justin Steger, Solutions Marketing Manager, John Deere Construction & Forestry.
"Het herontwerpen van de lay-out van de componenten in de cabine en het groeperen van kenmerken en ze op een zinvolle manier verpakken op basis van de toepassing zijn enkele voorbeelden van hoe we feedback van klanten verwerken en verdere verbeteringen doorvoeren."
Om meer maatwerk te bieden, kunnen klanten kiezen uit twee verschillende uitrustingsniveaus en een verscheidenheid aan optionele pakketten toevoegen, waaronder pakketten voor meer comfort voor de machinist, koude weersomstandigheden, afvalbeheer en onderhouds- en servicemogelijkheden.
De eerste uitrustingspakketoptie biedt bekende kenmerken zoals een zwarte uitlaatpijp, handmatig verstelbare achteruitkijkspiegels en temperatuurregelaars, een standaard stoel en radio, een 15-amp-converter en halogeenverlichting. Het tweede uitrustingspakket biedt meer comfort en bedieningselementen en biedt een chromen uitlaatpijp, elektrisch verstelbare achteruitkijkspiegels, een eersteklas stoel en radio, een 25-amp-omvormer, automatische temperatuurregeling in de bestuurdersplaats en led-voertuigverlichting.
Standaard op de P-Tier ADT's, een verscheidenheid aan eigenaars- en machinistinstellingen helpen de bediening te vergemakkelijken en de veiligheid op het werkterrein te vergroten. Deze ingebouwde functies, zoals bescherming tegen kantelen, bescherming tegen neerstorten, framebescherming, hill hold, shuttle-schakeling en afdaalcontrole, helpen een deel van de invoer van de machinist te elimineren, waardoor een vereenvoudigde bediening mogelijk wordt.
Extra voordelen van de machine door de limieten van de laadbak van de machine, de standaard opwarmcyclus van de transmissie en maximale snelheidslimieten helpen de machinist en de machine veiliger te houden en langer aan de gang te houden.
NJC.© Info www.JohnDeere.com.
------------------------------------------------------------------------------------------------------------------