Jungheinrich delivers the 100,000th lithium-ion forklift: Efficiency and sustainability for Amazon in Leipzig
09/08/22-FR-English-NL-footer
Jungheinrich livre le 100 000e chariot élévateur lithium-ion : Efficacité et durabilité pour Amazon à Leipzig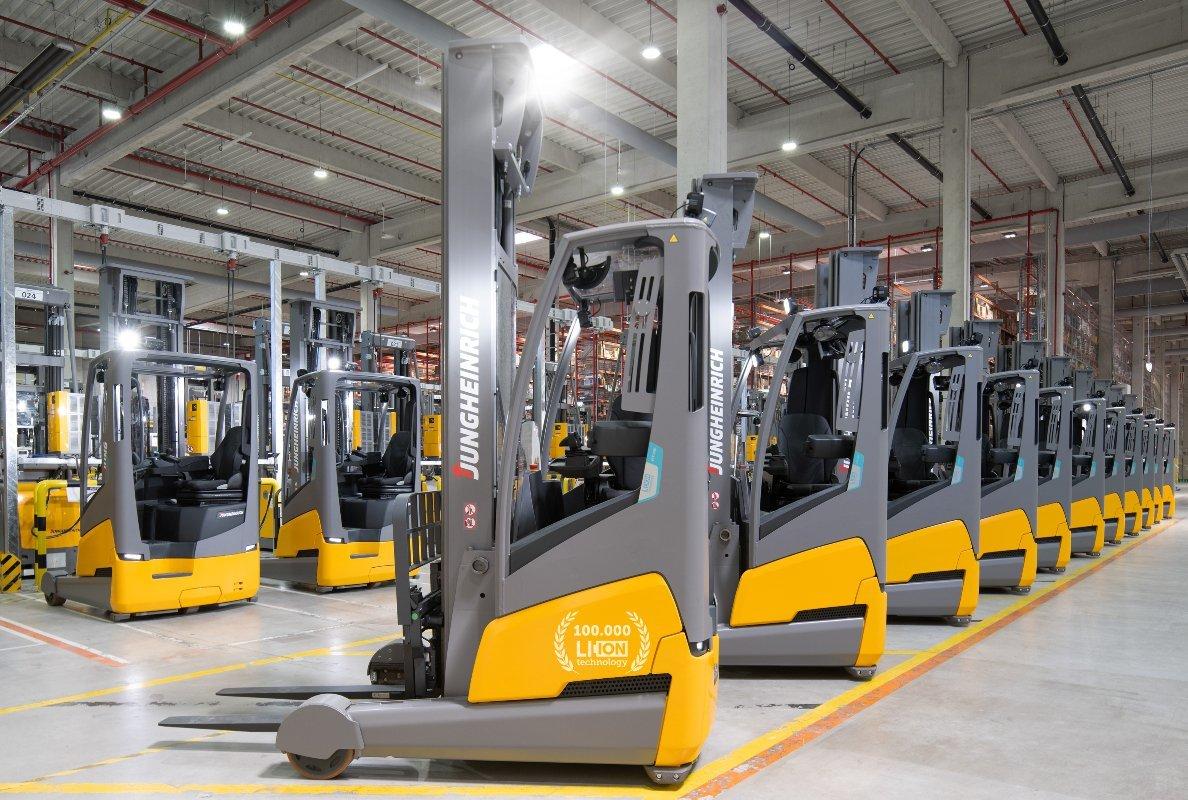 Jungheinrich's 100,000th lithium-ion forklift truck was delivered to Amazon in Leipzig as part of a fleet of 16 identical ETV 216i trucks. IMAGE SOURCE: Jungheinrich AG
La proportion de camions lithium-ion augmente de manière disproportionnée
La technologie lithium-ion de Jungheinrich se distingue par sa qualité et sa rentabilité
POWERLiNE établit de nouvelles normes pour une intralogistique efficace et durable
Jungheinrich livre son 100 000e camion équipé d'une batterie lithium-ion. Le chariot à mât rétractable ETV 216i a été livré avec 15 chariots identiques à l'entrepôt Amazon de Leipzig, où quelque 140 autres chariots électriques Jungheinrich sont déjà en service. « La livraison du 100 000e camion lithium-ion est une étape importante pour nous chez Jungheinrich, et dont nous sommes très fiers. En tant que pionnier de l'électromobilité dans l'entrepôt, nous avons été le premier fabricant à miser sur une batterie lithium-ion efficace. technologie et a ainsi changé notre industrie pour de bon », explique Christian Erlach, membre du conseil d'administration de Jungheinrich pour les ventes.
Aujourd'hui, les batteries lithium-ion sont un équipement standard pour l'électromobilité sans émissions dans l'entrepôt. Ils se caractérisent notamment par leur efficacité énergétique. Comparé à un camion diesel de même classe de performance, un camion électrique avec une batterie lithium-ion émet moins de la moitié de CO2 pendant toute sa durée de vie, y compris sa fabrication. En utilisant de l'électricité provenant de sources d'énergie renouvelables, les émissions de CO₂ des véhicules en fonctionnement peuvent être réduites jusqu'à 90 %. La technologie lithium-ion contribue ainsi de manière décisive à rendre l'intralogistique plus durable.
En 2011, Jungheinrich a été le premier constructeur de chariots de manutention au monde à lancer un chariot de série avec une batterie lithium-ion. Depuis lors, la technologie lithium-ion est devenue la technologie de batterie à la croissance la plus rapide pour les chariots de manutention. Il impressionne par ses performances élevées et fiables, sa consommation d'énergie réduite, ses temps de charge rapides, son absence d'entretien et sa longue durée de vie. Jungheinrich prévoit d'atteindre une part de 70 % de camions lithium-ion dans la flotte vendue d'ici 2025.
L'ETV 216i livré à l'entrepôt d'Amazon à Leipzig est un camion Jungheinrich POWERLiNE. Avec le concept de batteries lithium-ion intégrées, Jungheinrich a une fois de plus établi un nouveau standard industriel avec POWERLine. Dans la conception et la construction, les chariots POWERLine exploitent systématiquement tous les avantages de la batterie lithium-ion. Ils sont plus courts, plus sûrs et plus confortables que tous les autres chariots industriels avant eux. Cela signifie qu'ils libèrent également ce qui est le plus précieux dans l'entrepôt : l'espace. Une autre particularité de POWERLine est que les véhicules sont totalement neutres en CO2 jusqu'à leur livraison au client. Ceci est assuré par une production particulièrement durable et économe en énergie ainsi que par des mesures certifiées par lesquelles les émissions qui sont actuellement encore inévitables lors de la production sont compensées. À cette fin, Jungheinrich investit dans des projets solaires, éoliens et biomasse.
NJC.© Info Jungheinrich AG
--------------------------------------------------------------------------------------------------------------------
09/08/22-English
Jungheinrich delivers the 100,000th lithium-ion forklift: Efficiency and sustainability for Amazon in Leipzig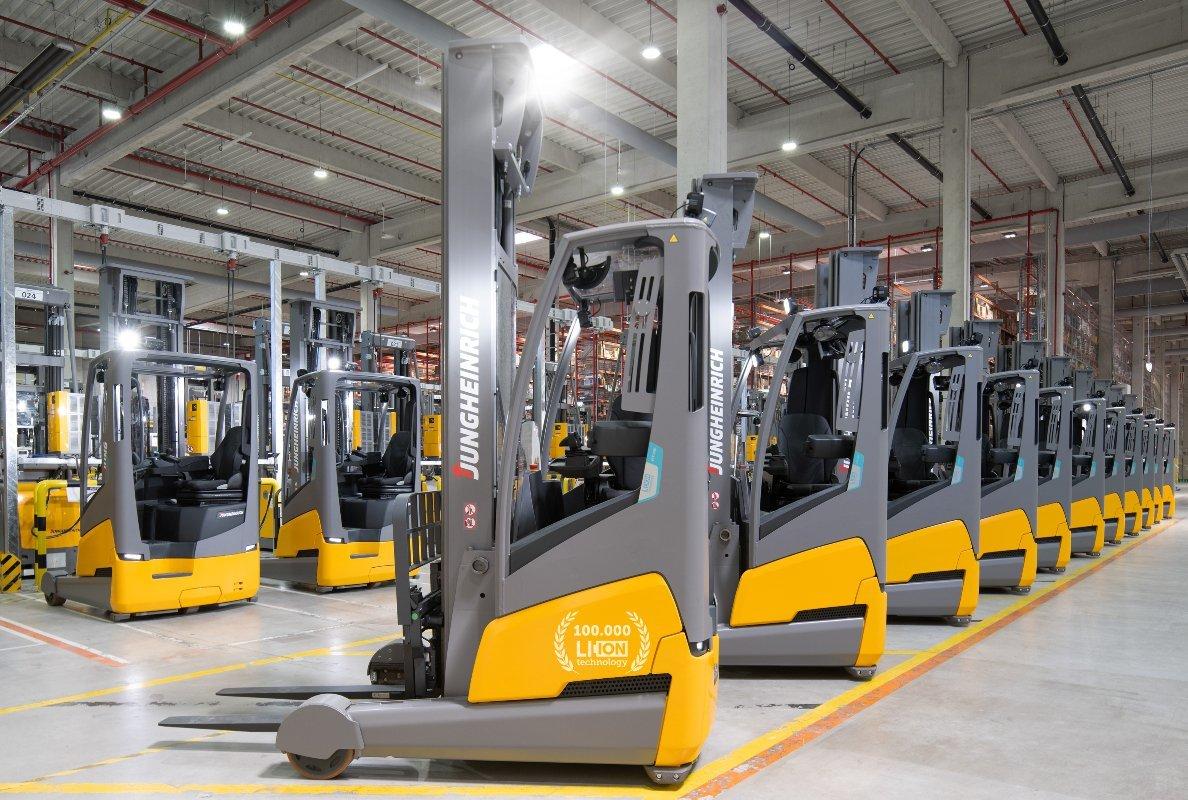 Jungheinrich's 100,000th lithium-ion forklift truck was delivered to Amazon in Leipzig as part of a fleet of 16 identical ETV 216i trucks. IMAGE SOURCE: Jungheinrich AG
Proportion of lithium-ion trucks grows disproportionately fast
Lithium-ion technology from Jungheinrich stands out for its quality and cost-effectiveness
POWERLiNE sets new standards for efficient and sustainable intralogistics
Jungheinrich delivers its 100,000th truck with a lithium-ion battery. The ETV 216i reach truck was delivered along with 15 identical trucks to the Amazon warehouse in Leipzig, where some 140 other Jungheinrich electric trucks are already in use. "The delivery of the 100,000th lithium-ion truck is a special milestone for us at Jungheinrich, and one that we are very proud of. As a pioneer of electromobility in the warehouse, we were the first manufacturer to rely on efficient lithium-ion technology and thus changed our industry for good," explains Jungheinrich Board Member for Sales Christian Erlach.
Today, lithium-ion batteries are standard equipment for emission-free electromobility in the warehouse. They are characterised in particular by their energy efficiency. Compared to a diesel truck of the same performance class, an electric truck with a lithium-ion battery emits less than half the CO2 during its entire lifetime, including its manufacture. By using electricity from renewable energy sources, the CO₂ emissions of the vehicles in operation can be reduced by up to 90 percent. Lithium-ion technology thus makes a decisive contribution to making intralogistics more sustainable.
In 2011, Jungheinrich was the world's first industrial truck manufacturer to launch a series-produced truck with a lithium-ion battery. Since then, lithium-ion technology has become the fastest-growing battery technology for industrial trucks. It impresses with reliably high performance, reduced energy consumption, fast charging times, freedom from maintenance and a long service life. Jungheinrich plans to achieve a 70 per cent share of lithium-ion trucks in the fleet sold by 2025.
The ETV 216i delivered to the Amazon warehouse in Leipzig is a Jungheinrich POWERLiNE truck. With the concept of integrated lithium-ion batteries, Jungheinrich has once again set a new industry standard with POWERLiNE. In design and construction, POWERLiNE trucks consistently exploit all the advantages of the lithium-ion battery. They are shorter, safer and more comfortable than all other industrial trucks before them. This means they also free up what is most precious in the warehouse: space. Another special feature of POWERLiNE is that the vehicles are completely CO2-neutral until they are delivered to the customer. This is ensured by the particularly sustainable and energy-efficient production as well as certified measures by which the emissions that are currently still unavoidable during production are compensated. To this end, Jungheinrich invests in solar, wind power and biomass projects.
NJC.© Info Jungheinrich AG
-------------------------------------------------------------------------------------------------------------------
09/08/22-NL
Jungheinrich levert 100.000ste lithium-ion-vorkheftruck af: efficiëntie en duurzaamheid voor Amazon in Leipzig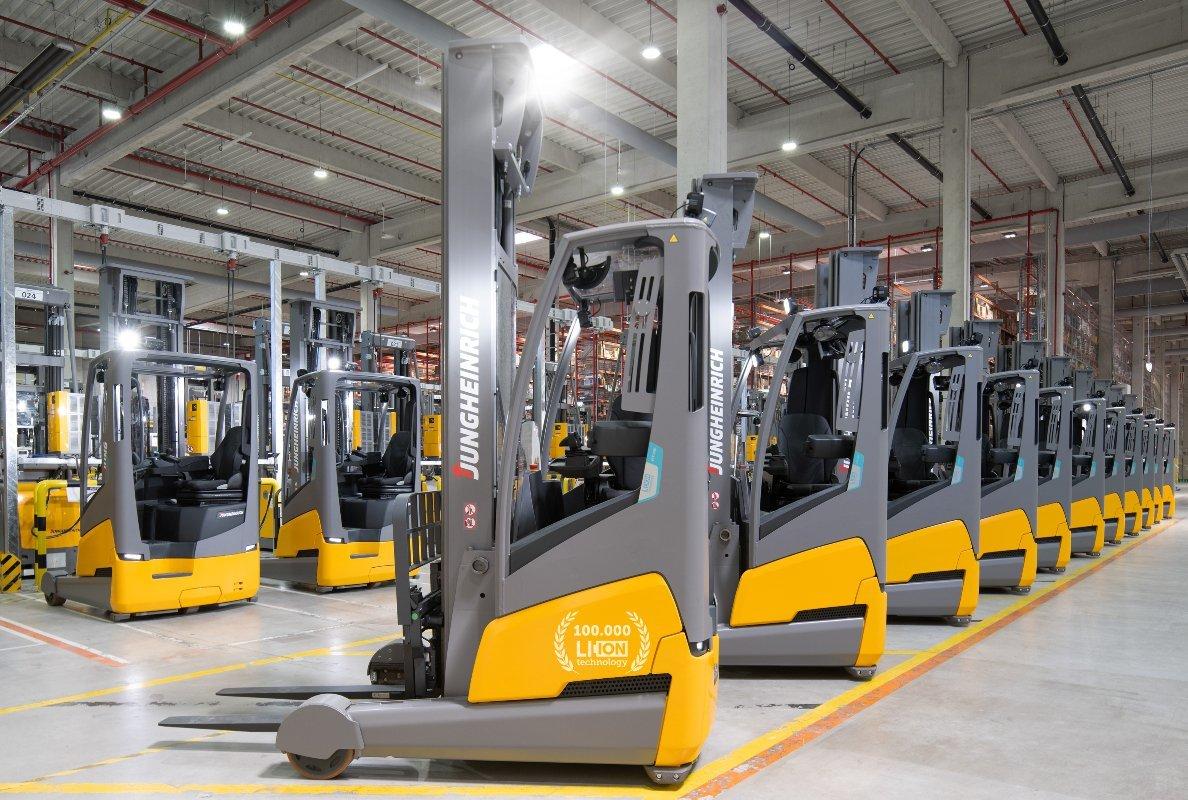 Jungheinrich's 100,000th lithium-ion forklift truck was delivered to Amazon in Leipzig as part of a fleet of 16 identical ETV 216i trucks. IMAGE SOURCE: Jungheinrich AG
Aandeel lithium-ion-trucks groeit onevenredig snel
Lithium-ion-technologie van Jungheinrich onderscheidt zich door kwaliteit en rendabiliteit
POWERLiNE stelt nieuwe normen voor efficiënte en duurzame intralogistiek
Jungheinrich levert zijn 100.000ste vrachtwagen af ​​met een lithium-ionbatterij. De reachtruck ETV 216i werd samen met 15 identieke trucks geleverd aan het Amazon-magazijn in Leipzig, waar al zo'n 140 andere elektrische Jungheinrich-trucks in gebruik zijn. "De levering van de 100.000ste lithium-ion-truck is een bijzondere mijlpaal voor ons bij Jungheinrich, waar we erg trots op zijn. Als pionier op het gebied van elektromobiliteit in het magazijn waren we de eerste fabrikant die vertrouwde op efficiënte lithium-ionen technologie en hebben zo onze branche voorgoed veranderd", legt Jungheinrich-bestuurslid voor Sales Christian Erlach uit.
Tegenwoordig zijn lithium-ionbatterijen standaarduitrusting voor emissievrije elektromobiliteit in het magazijn. Ze worden vooral gekenmerkt door hun energie-efficiëntie. Vergeleken met een dieseltruck van dezelfde prestatieklasse stoot een elektrische truck met lithium-ionbatterij tijdens zijn hele levensduur, inclusief de fabricage, minder dan de helft van de CO2 uit. Door gebruik te maken van elektriciteit uit hernieuwbare energiebronnen, kan de CO₂-uitstoot van de rijdende voertuigen tot 90 procent worden verminderd. Lithium-iontechnologie levert daarmee een beslissende bijdrage aan de verduurzaming van de intralogistiek.
In 2011 was Jungheinrich de eerste fabrikant van industriële vrachtwagens die een in serie geproduceerde vrachtwagen met een lithium-ionbatterij op de markt bracht. Sindsdien is lithium-iontechnologie de snelst groeiende batterijtechnologie voor industriële vrachtwagens geworden. Hij overtuigt met betrouwbaar hoge prestaties, lager energieverbruik, snelle oplaadtijden, onderhoudsvrijheid en een lange levensduur. Jungheinrich is van plan om tegen 2025 een aandeel van 70 procent van de lithium-ion-vrachtwagens in de vloot te hebben.
De ETV 216i die in het Amazon-magazijn in Leipzig is afgeleverd, is een Jungheinrich POWERLiNE-truck. Met het concept van geïntegreerde lithium-ion-accu's heeft Jungheinrich met POWERLiNE opnieuw een nieuwe industriestandaard neergezet. In ontwerp en constructie maken POWERLiNE-trucks consequent gebruik van alle voordelen van de lithium-ionbatterij. Ze zijn korter, veiliger en comfortabeler dan alle andere industriële trucks voor hen. Zo maken ze ook het kostbaarste in het magazijn vrij: ruimte. Een ander bijzonder kenmerk van POWERLiNE is dat de voertuigen volledig CO2-neutraal zijn totdat ze bij de klant worden afgeleverd. Dit wordt gewaarborgd door de bijzonder duurzame en energiezuinige productie en gecertificeerde maatregelen waarmee de emissies die nu nog onvermijdelijk zijn tijdens de productie worden gecompenseerd. Daartoe investeert Jungheinrich in zonne-, wind- en biomassaprojecten.
NJC.© Info Jungheinrich AG
-------------------------------------------------------------------------------------------------------------------