Kalmar and Yilport strengthen long-term collaboration with a significant new order for mobile equipment solutions
09/08/22-FR-English-NL-footer
Kalmar et Yilport renforcent leur collaboration à long terme avec une nouvelle commande importante de solutions d'équipements mobiles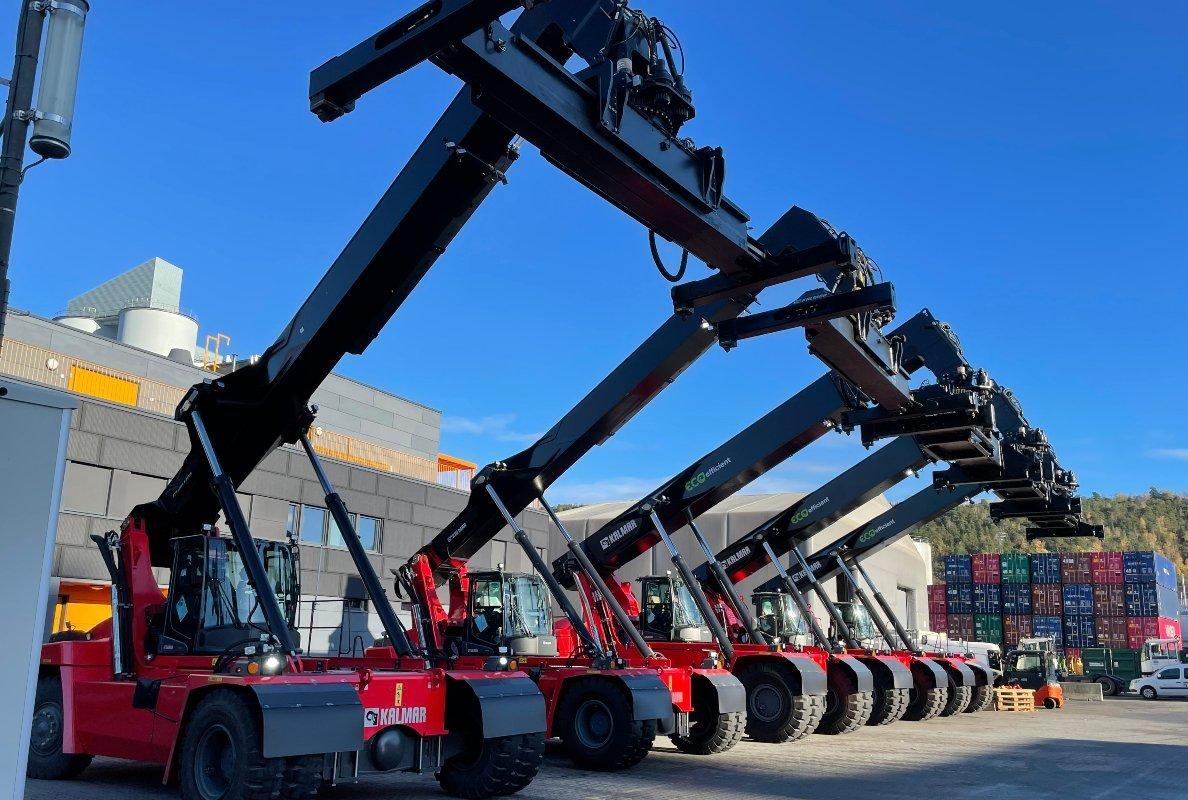 Kalmar Eco Reachstackers IMAGE SOURCE: Kalmar
Kalmar, qui fait partie de Cargotec, a conclu une commande importante de YILPORT Holding Inc. pour un total de 27 nouveaux équipements mobiles Kalmar : 20 reach stackers Eco, quatre chariots porte-conteneurs vides et trois chariots élévateurs. La commande a été enregistrée lors de la prise de commandes de Cargotec au troisième trimestre 2022, la livraison étant prévue pour le troisième trimestre 2022 et les livraisons finales devraient avoir lieu au cours du premier trimestre 2023. L'accord comprend également des contrats de garantie prolongée et de service pour tous les équipements à livrer.
YILPORT Holding Inc. a été créée en août 2011 en tant que filiale pour consolider les opérations portuaires et de terminaux à conteneurs du groupe YILDIRIM. Aujourd'hui, YILPORT Holding exploite 22 ports et terminaux maritimes dans le monde : cinq en Turquie, sept au Portugal, deux en Espagne, deux en Suède et un en Norvège, à Malte, en Italie, au Pérou, en Équateur et au Guatemala. En outre, YILPORT exploite cinq terminaux secs en Turquie et un en Suède.
Yilport Gebze et Gemport en Turquie recevront au total quatre gerbeurs Kalmar Eco, un chariot porte-conteneurs vides et un chariot élévateur. Le terminal de Gävle en Suède recevra six gerbeurs Kalmar Eco, un chariot de manutention de conteneurs vides et deux chariots élévateurs. Le terminal de Taranto en Italie recevra deux gerbeurs Kalmar Eco. Les opérations de Yilport au Portugal recevront cinq gerbeurs Eco pour le terminal de Setúbal ; un gerbeur Eco et un chariot porte-conteneurs vides pour le terminal Liscont ; et deux gerbeurs Eco et un manipulateur de conteneurs vides pour le terminal Sotagus.
Raymond Höhle, CTO, Yilport : « Notre collaboration continue avec Kalmar a été extrêmement bénéfique pour nos opérations commerciales dans tous nos terminaux. Le service après-vente local de haute qualité sur tous nos sites contribue au bon fonctionnement de notre flotte à tout moment. Nous avons été très satisfaits de l'excellent support pour nous aider à identifier les bonnes solutions pour nos besoins, avec des performances bonnes et fiables. Il est également très important que Kalmar puisse soutenir nos objectifs de développement durable grâce à la faible consommation de carburant des Eco Reachstackers. »
Jürgen Wurzer, directeur, Key Account Industry, Kalmar : « Nous sommes ravis que Yilport fasse à nouveau confiance à Kalmar pour renouveler son parc d'équipements avec une variété de solutions Kalmar fiables, éprouvées et respectueuses de l'environnement. Grâce à notre offre holistique et flexible, nous pouvons répondre à toutes les exigences de Yilport et réagir rapidement pour répondre à leurs besoins changeants.
NJC.© Info KALMAR
------------------------------------------------------------------------------------------------------------------
08/08/22-English
Kalmar and Yilport strengthen long-term collaboration with a significant new order for mobile equipment solutions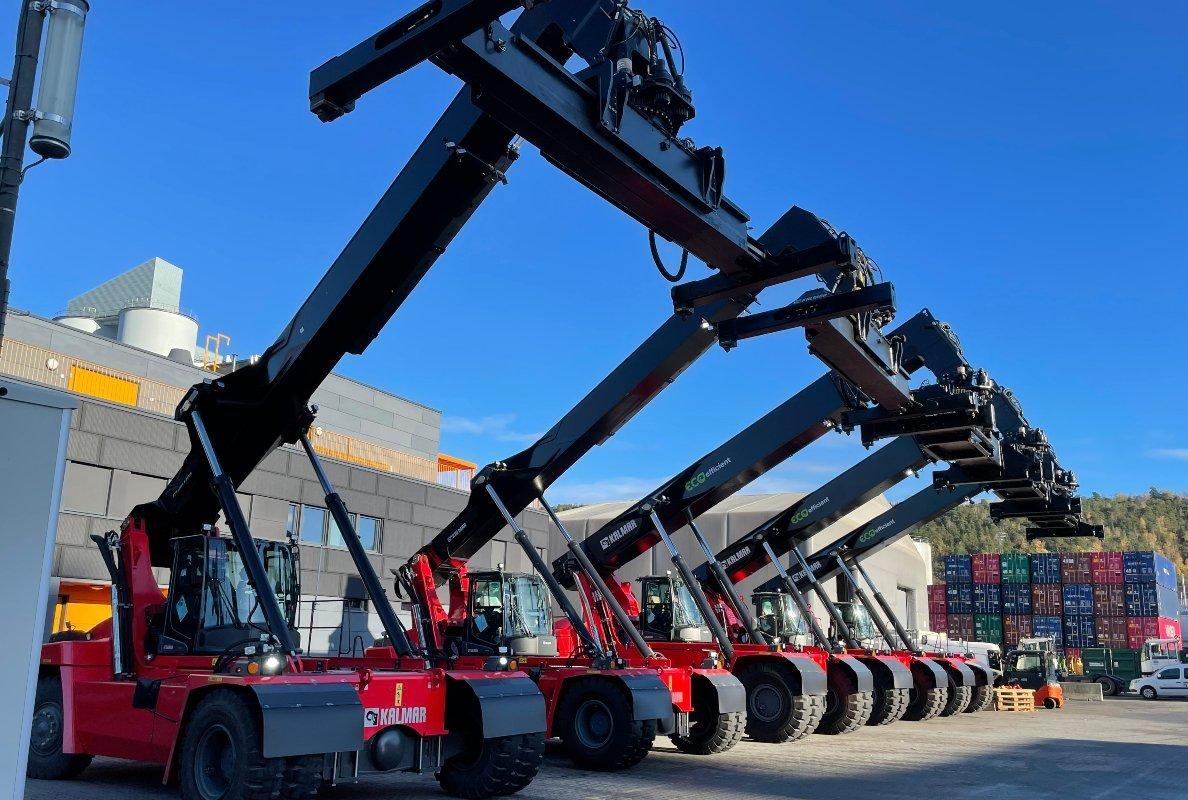 Kalmar Eco Reachstackers IMAGE SOURCE: Kalmar
Kalmar, part of Cargotec, has concluded a significant order from YILPORT Holding Inc. for a total of 27 new Kalmar mobile equipment: 20 Eco reachstackers, four empty container handlers and three forklift trucks. The order was booked in Cargotec's Q3 2022 order intake with delivery scheduled to start Q3 2022, and final deliveries estimated to take place during Q1 2023. The agreement also includes extended warranty and service contracts for all equipment to be delivered.
YILPORT Holding Inc. was established in August 2011 as a subsidiary to consolidate the port and container terminal operations of the YILDIRIM Group. Today, YILPORT Holding operates 22 marine ports and terminals globally: five in Turkey, seven in Portugal, two in Spain, two in Sweden and one each in Norway, Malta, Italy, Peru, Ecuador and Guatemala. In addition, YILPORT operates five dry terminals in Turkey and one in Sweden.
The Yilport Gebze and Gemport in Turkey will receive altogether four Kalmar Eco reachstackers, one empty container handler and one forklift truck. Gävle Terminal in Sweden will receive six Kalmar Eco reachstackers, one empty container handler and two forklift trucks. The Taranto Terminal in Italy will receive two Kalmar Eco reachstackers. Yilport's operations in Portugal will receive five Eco reachstackers for the Setúbal terminal; one Eco reachstacker and one empty container handler for Liscont terminal; and two Eco reachstackers and one Empty container handler for Sotagus terminal.
Raymond Höhle, CTO, Yilport: "Our continued collaboration with Kalmar has been extremely beneficial for our business operations at all our terminals. The high-quality local after sales support at all our locations is helping to keep our fleet running smoothly at all times. We have been very satisfied with the excellent support to help identify the right solutions for our needs, with good and reliable performance. It is also very important that Kalmar can support our sustainability targets with the low fuel consumption on the Eco Reachstackers."
Jürgen Wurzer, Director, Key Account Industry, Kalmar: "We are delighted that Yilport is once again trusting in Kalmar to renew their equipment fleet with a variety of reliable, proven and eco-friendly Kalmar solutions. With our holistic and flexible offering we can address all of Yilport's requirements and respond quickly to meet their changing needs."
NJC.© Info KALMAR
---------------------------------------------------------------------------------------------------------------
09/08/22-NL
Kalmar en Yilport versterken langdurige samenwerking met een belangrijke nieuwe order voor oplossingen voor mobiele apparatuur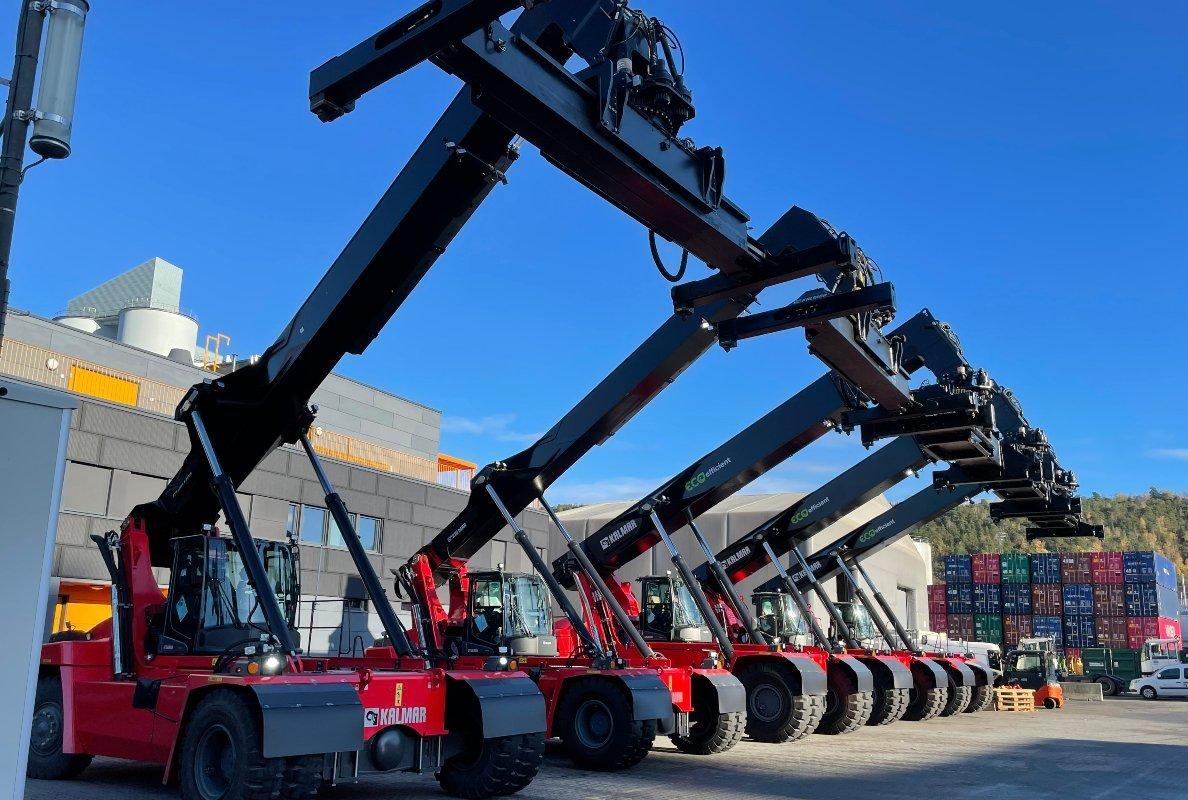 Kalmar Eco Reachstackers IMAGE SOURCE: Kalmar
Kalmar, onderdeel van Cargotec, heeft een belangrijke order van YILPORT Holding Inc. gesloten voor in totaal 27 nieuwe Kalmar mobiele apparatuur: 20 Eco reachstackers, vier lege container handlers en drie vorkheftrucks. De bestelling is geboekt in Cargotecs orderontvangst in het derde kwartaal van 2022, met levering gepland voor het derde kwartaal van 2022, en de uiteindelijke leveringen zullen naar verwachting plaatsvinden in het eerste kwartaal van 2023. De overeenkomst omvat ook uitgebreide garantie- en servicecontracten voor alle te leveren apparatuur.
YILPORT Holding Inc. werd in augustus 2011 opgericht als een dochteronderneming om de haven- en containerterminalactiviteiten van de YILDIRIM Group te consolideren. Vandaag exploiteert YILPORT Holding 22 zeehavens en terminals wereldwijd: vijf in Turkije, zeven in Portugal, twee in Spanje, twee in Zweden en één in Noorwegen, Malta, Italië, Peru, Ecuador en Guatemala. Daarnaast exploiteert YILPORT vijf droge terminals in Turkije en één in Zweden.
De Yilport Gebze en Gemport in Turkije krijgen in totaal vier Kalmar Eco reachstackers, een lege container handler en een vorkheftruck. Gävle Terminal in Zweden ontvangt zes Kalmar Eco reachstackers, één lege container handler en twee vorkheftrucks. De Taranto Terminal in Italië krijgt twee Kalmar Eco reachstackers. De activiteiten van Yilport in Portugal krijgen vijf Eco-reachstackers voor de Setúbal-terminal; een Eco reachstacker en een lege container handler voor Liscont terminal; en twee Eco reachstackers en een Empty container handler voor Sotagus terminal.
Raymond Höhle, CTO, Yilport: "Onze voortdurende samenwerking met Kalmar is zeer gunstig geweest voor onze bedrijfsvoering op al onze terminals. De hoogwaardige lokale aftersales-ondersteuning op al onze locaties helpt ons wagenpark te allen tijde soepel te laten draaien. We zijn zeer tevreden met de uitstekende ondersteuning om de juiste oplossingen voor onze behoeften te vinden, met goede en betrouwbare prestaties. Het is ook erg belangrijk dat Kalmar onze duurzaamheidsdoelstellingen kan ondersteunen met het lage brandstofverbruik op de Eco Reachstackers."
Jürgen Wurzer, directeur Key Account Industry, Kalmar: "We zijn verheugd dat Yilport opnieuw op Kalmar vertrouwt om hun machinepark te vernieuwen met een verscheidenheid aan betrouwbare, bewezen en milieuvriendelijke Kalmar-oplossingen. Met ons holistische en flexibele aanbod kunnen we inspelen op alle vereisten van Yilport en snel reageren om aan hun veranderende behoeften te voldoen."
NJC.© Info KALMAR
----------------------------------------------------------------------------------------------------------------------