Kiloutou says electric-diesel cost gap closing

22/02/23-FR-English-NL-footer
Selon Kiloutou, l'écart de coût entre l'électricité et le diesel se résorbe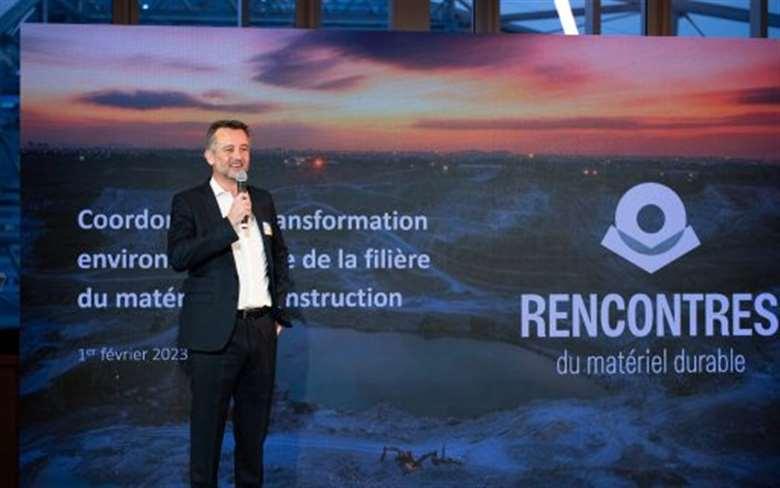 Olivier Colleau, CEO of Kiloutou, speaking at the company's fourth Sustainable Equipment Meeting. (Photo: Kiloutou)
Kiloutou a déclaré que le différentiel de coût entre les machines électriques et les machines à moteur se rétrécissait, bien que le prix initial de l'électrique reste "considérablement plus élevé".
Lors de la quatrième de ses rencontres sur l'équipement durable ("Rencontres du matériel durable"), qui s'est tenue le 1er février, l'entreprise a déclaré qu'une mini-pelle typique de 2,5 tonnes aura désormais un coût total de possession (TCO) à vie de seulement 5 à 10 % supérieur à son équivalent diesel.
La société de location a engagé le consultant Carbone 4 pour mettre à jour ses calculs sur le TCO de la machine à la lumière des coûts énergétiques plus élevés et des économies d'échelle dans la fabrication.
L'organisme a constaté que l'écart entre les engins électriques et conventionnels se rétrécissait, notamment en raison d'une augmentation de 65 % du coût du diesel non routier depuis 2020.
Kiloutou a déclaré que l'écart de 5 à 10% pourrait toutefois être inversé lorsque l'allégement fiscal du carburant GNR («Gazole Non-Routier» - carburant pour engins non routiers) sera supprimé le 1er janvier de l'année prochaine.
L'étude a également révélé que le prix d'achat initial des pelles électriques de 2,5 tonnes reste au moins 40 % supérieur à celui des machines traditionnelles, bien que les coûts de fonctionnement soient deux à trois fois moins chers sur la durée de vie de la machine.
Olivier Colleau, PDG de Kiloutou, a déclaré que la réunion a clairement indiqué que le maintien de son cap sur la transition énergétique était crucial face aux crises auxquelles nous sommes confrontés ; « Cependant, nous évoluons dans un environnement qui devient de plus en plus complexe dans le besoin à la fois d'accélération et de diligence.
« Une synchronisation et une intensification de nos efforts s'imposent sur le long terme. Je suis convaincu que notre communauté est prête à évoluer et à se structurer en un groupe capable d'expérimenter plus avant les solutions qui émergent des études que nous avons menées jusqu'à présent.
NJC.© Info Kiloutou
--------------------------------------------------------------------------------------------------------------------

22/02/23-English
Kiloutou says electric-diesel cost gap closing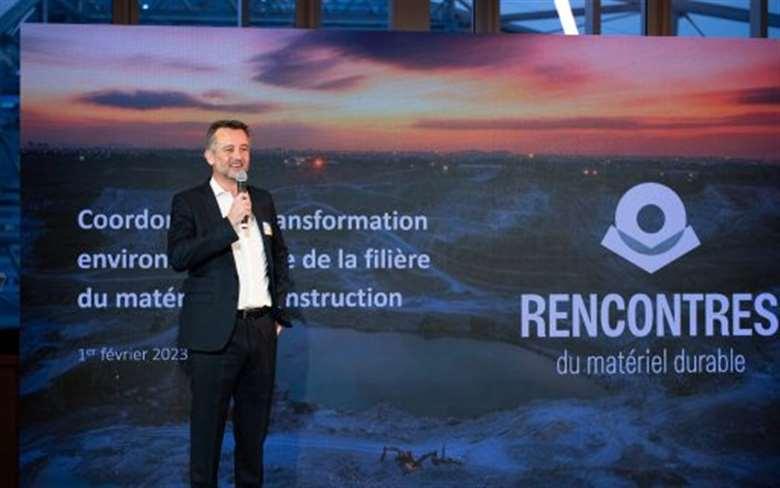 Olivier Colleau, CEO of Kiloutou, speaking at the company's fourth Sustainable Equipment Meeting. (Photo: Kiloutou)
Kiloutou said the cost differential between electric and engine-driven machines is closing, although the initial price of electric remains "considerably higher".
At the fourth of its Sustainable Equipment Meetings ('Rencontres du matériel durable'), held on 1 February, the company said a typical 2.5 tonne mini excavator will now have a lifetime total cost of ownership (TCO) only 5 to 10% higher than its diesel powered equivalent.
The rental company engaged consultant Carbone 4 to update its calculations on machine TCO in the light of higher energy costs and economies of scale in manufacturing.
The organisation found that the gap between electrically powered and conventions machines was narrowing, in particular because of a 65% increase in the cost of non-road diesel since 2020.
Kiloutou said the 5-10% gap could, however, be reversed when tax relief of GNR fuel ('Gazole Non-Routier' - fuel for non-road machinery) is removed on 1 January next year.
The study also revealed that the initial purchase price of electrically powered 2.5 tonne excavators remain at least 40% higher than traditional machines, although running costs are two to three times cheaper over the life of the machine.
Olivier Colleau, CEO of Kiloutou, said the meeting made it clear that maintaining its course on the energy transition was crucial in the face of the crises being faced; "However, we are evolving in an environment that is becoming more complex in the need for both acceleration and due care.
"A synchronisation and intensification of our efforts is needed over the long term. I am convinced that our community is ready to evolve and structure itself as a group capable of further trials with the solutions that emerge from the studies we have carried out so far."
NJC.© Info Kiloutou
----------------------------------------------------------------------------------------------------------------

22/02/23-NL
Kiloutou zegt dat de kostenkloof voor elektrische diesel wordt gedicht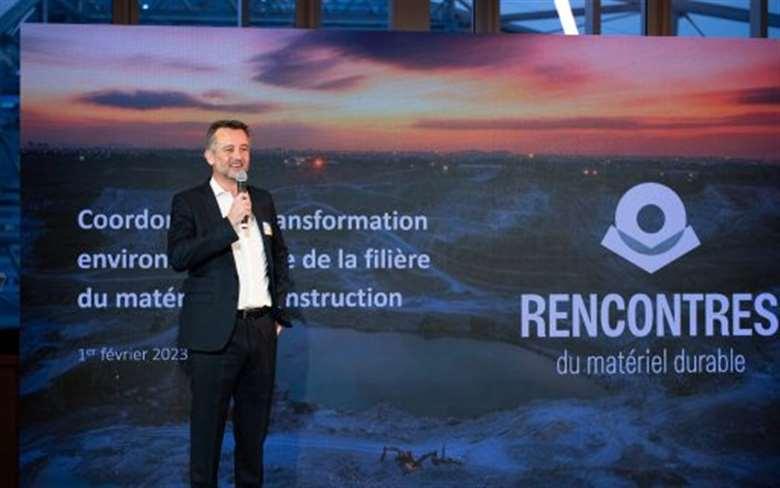 Olivier Colleau, CEO of Kiloutou, speaking at the company's fourth Sustainable Equipment Meeting. (Photo: Kiloutou)
Kiloutou zei dat het kostenverschil tussen elektrische en door een motor aangedreven machines kleiner wordt, hoewel de initiële prijs van elektriciteit "aanzienlijk hoger" blijft.
Tijdens de vierde van zijn Sustainable Equipment Meetings ('Rencontres du matériel sustainable'), gehouden op 1 februari, zei het bedrijf dat een gemiddelde minigraafmachine van 2,5 ton nu een totale eigendomskosten (TCO) heeft die slechts 5 tot 10% hoger ligt dan zijn dieselaangedreven equivalent.
Het verhuurbedrijf schakelde consultant Carbone 4 in om zijn berekeningen van de TCO van machines bij te werken in het licht van hogere energiekosten en schaalvoordelen bij de productie.
De organisatie constateerde dat de kloof tussen elektrisch aangedreven en conventionele machines kleiner werd, met name vanwege een stijging van 65% in de kosten van niet voor de weg bestemde diesel sinds 2020.
Kiloutou zei dat het verschil van 5-10% echter kan worden teruggedraaid als de belastingvermindering op GNR-brandstof ('Gazole Non-Routier' - brandstof voor niet voor de weg bestemde machines) op 1 januari volgend jaar wordt afgeschaft.
Uit het onderzoek bleek ook dat de initiële aankoopprijs van elektrisch aangedreven graafmachines van 2,5 ton minstens 40% hoger blijft dan die van traditionele machines, hoewel de bedrijfskosten gedurende de levensduur van de machine twee tot drie keer zo laag zijn.
Olivier Colleau, CEO van Kiloutou, zei dat de bijeenkomst duidelijk maakte dat het vasthouden van de koers van de energietransitie cruciaal was in het licht van de crises waarmee we worden geconfronteerd; "We evolueren echter in een omgeving die steeds complexer wordt in de behoefte aan zowel versnelling als zorgvuldigheid.
"Op de lange termijn is een synchronisatie en intensivering van onze inspanningen nodig. Ik ben ervan overtuigd dat onze gemeenschap klaar is om te evolueren en zichzelf te structureren als een groep die in staat is om verdere proeven te doen met de oplossingen die voortkomen uit de onderzoeken die we tot nu toe hebben uitgevoerd."
NJC.© Info Kiloutou
---------------------------------------------------------------------------------------------------------------------