Kohler presents new KDH hydrogen IC engine

16/11/23-FR-English-NL-footer
Kohler présente le nouveau moteur IC à hydrogène KDH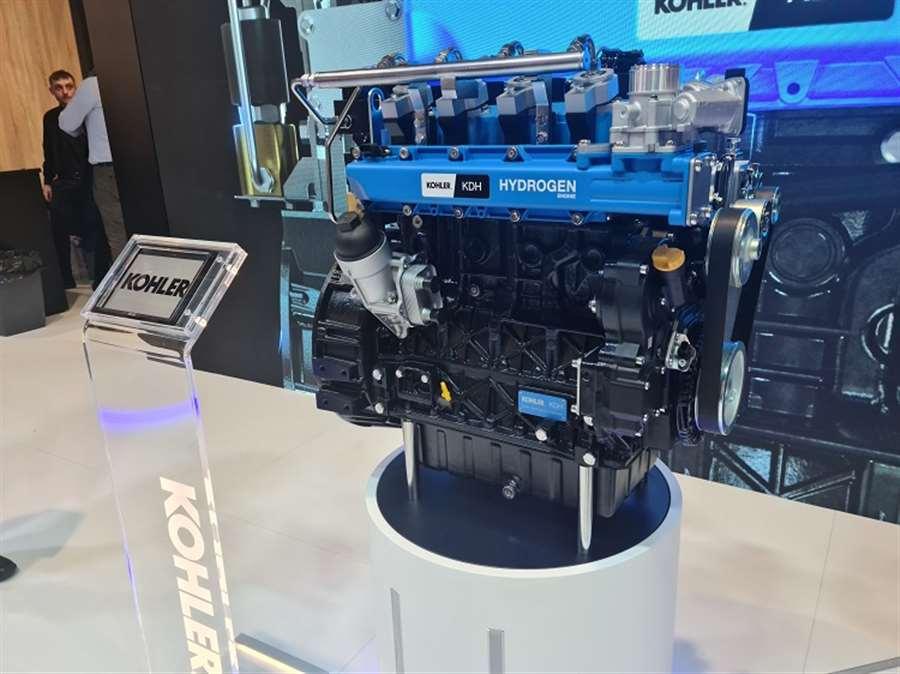 The Kohler KDH H2 IC engine will help reduce carbon emissions (Photo: DPI)
Suite à l'annonce récente de la scission de son groupe Energy en Platinum Equity, la société a présenté son nouveau moteur à combustion interne à hydrogène à injection directe KDH au salon Agritechnica (hall 15, stand G18).
Le moteur est destiné à souligner l'engagement de Kohler à développer des technologies capables de réduire l'impact environnemental grâce à la décarbonation.
Le nouveau moteur KDH est basé sur le quatre cylindres KDI 2504 TCR existant de 2,5 litres, le système d'injection diesel étant remplacé par une configuration adaptée à l'hydrogène. Parlant du nouveau modèle, Vincenzo Perrone, président de Kohler Engines, a déclaré à Diesel Progress que le nouveau moteur est un remplacement instantané de la variante diesel.
"À part la conduite de carburant, qui doit être changée en raison du type de carburant, pratiquement rien dans le compartiment moteur n'a besoin d'être changé pour prendre en charge le moteur KDH", a déclaré Perrone.
Le moteur KDH partage une série de composants avec le modèle KDI, notamment le circuit de refroidissement, la prise de mouvement et les points de montage du volant et du moteur.
Le choix de l'injection directe plutôt que par orifice a permis au moteur d'offrir des niveaux de performances diesel, y compris une réponse transitoire, tout en évitant les problèmes de retour de flamme. L'objectif est de faire correspondre tous les critères de performance du moteur H2 avec le diesel, y compris la puissance maximale, ainsi que le couple de pointe et à bas régime.
Le moteur à hydrogène KDH devrait être disponible à la commande d'ici 2026.
NJC.©Info KDH engine
--------------------------------------------------------------------------------------------------------------------

16/11/23-English
Kohler presents new KDH hydrogen IC engine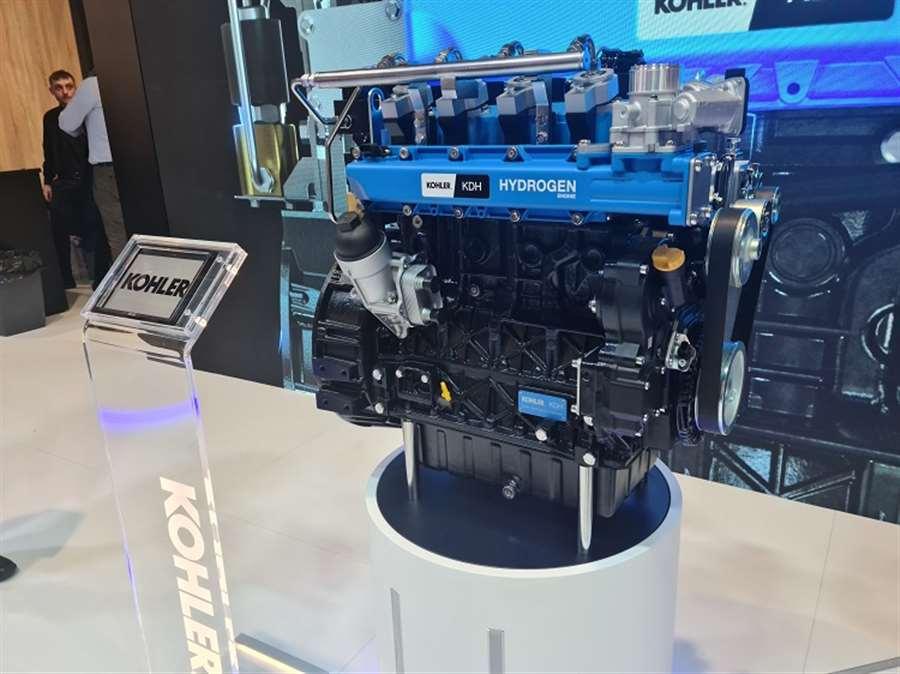 The Kohler KDH H2 IC engine will help reduce carbon emissions (Photo: DPI)
Following on from the recent announcement that Kohler is to spin off its Energy Group to Platinum Equity, the company has presented its new KDH direct injection hydrogen internal combustion engine at the Agritechnica trade fair (Hall 15, Stand G18).
The engine is intended to underline Kohler's commitment to developing technologies which can reduce environmental impact through decarbonisation.
The new KDH engine is based on the existing 2.5-litre four-cylinder KDI 2504 TCR, with the diesel injection system replaced by a setup suited to hydrogen fuel. Speaking about the new model, Vincenzo Perrone, president of Kohler Engines, told Diesel Progress that the new engine is a drop-in replacement for the diesel variant.
"Apart from the fuel line, which has to be changed due to the fuel type, virtually nothing in the engine bay needs to be changed to support the KDH engine," said Perrone.
The KDH engine shares a series of components with the KDI model, including the cooling circuit, power take-off and flywheel and engine mounting points.
The choice of direct rather than port injection has allowed the engine to deliver diesel levels of performance, including transient response, while avoiding issues with backfiring. The goal is to match all performance criteria of the H2 engine with diesel, including maximum power output, plus peak and low-end torque.
The KDH hydrogen fuel engine is expected to be available to order by 2026.
NJC.©Info KDH engine
-----------------------------------------------------------------------------------------------------------------

16/11/23-NL
Kohler presenteert nieuwe KDH-waterstof-IC-motor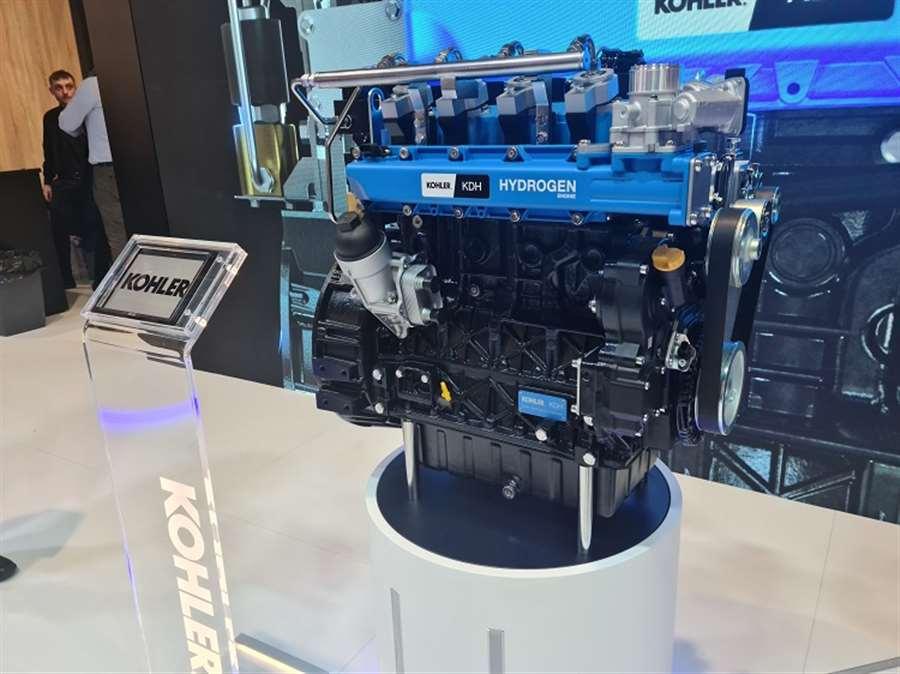 The Kohler KDH H2 IC engine will help reduce carbon emissions (Photo: DPI)
In navolging van de recente aankondiging dat Kohler zijn Energy Group gaat afsplitsen in Platinum Equity, heeft het bedrijf zijn nieuwe KDH waterstofverbrandingsmotor met directe injectie gepresenteerd op de Agritechnica-beurs (hal 15, stand G18).
De motor is bedoeld om de inzet van Kohler te onderstrepen bij het ontwikkelen van technologieën die de impact op het milieu kunnen verminderen door het koolstofvrij maken.
De nieuwe KDH-motor is gebaseerd op de bestaande 2,5-liter viercilinder KDI 2504 TCR, waarbij het dieselinjectiesysteem is vervangen door een opstelling die geschikt is voor waterstofbrandstof. Sprekend over het nieuwe model vertelde Vincenzo Perrone, president van Kohler Engines, aan Diesel Progress dat de nieuwe motor een drop-in vervanging is voor de dieselvariant.
"Afgezien van de brandstofleiding, die vanwege het brandstoftype moet worden vervangen, hoeft er vrijwel niets in de motorruimte te worden gewijzigd om de KDH-motor te ondersteunen", aldus Perrone.
De KDH-motor deelt een reeks componenten met het KDI-model, waaronder het koelcircuit, de PTO, het vliegwiel en de motorbevestigingspunten.
Door de keuze voor directe injectie in plaats van poortinjectie kon de motor dieselprestaties leveren, inclusief transiënte respons, terwijl problemen met terugslag werden vermeden. Het doel is om aan alle prestatiecriteria van de H2-motor met diesel te voldoen, inclusief maximaal vermogen, plus piek- en laagkoppel.
De KDH-waterstofmotor zal naar verwachting in 2026 op bestelling verkrijgbaar zijn.
NJC.©Info KDH engine
------------------------------------------------------------------------------------------------------------------
Date de dernière mise à jour : 15/11/2023