Komatsu 845-1 Forwarder Offers High Crane Capacity, Maneuverability in Rough Terrain
19/04/22-FR-English-NL-footer
Le porteur Komatsu 845-1 offre une capacité de grue élevée et une maniabilité en terrain accidenté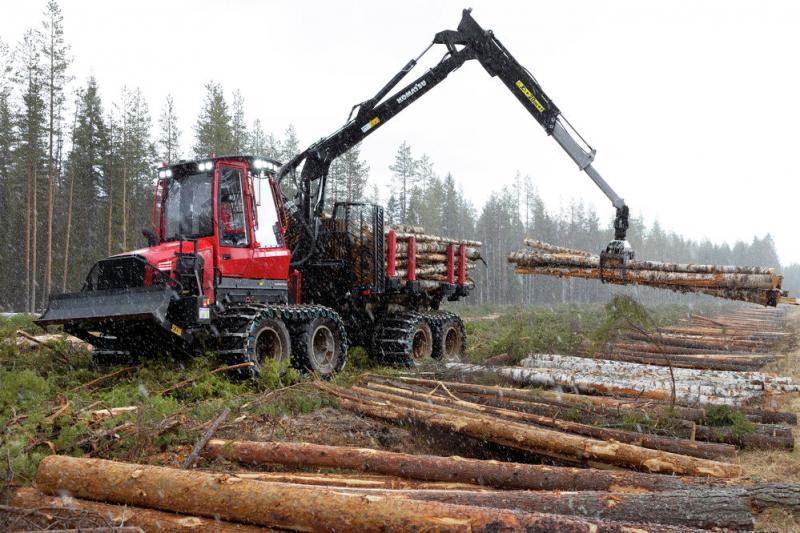 Komatsu's 845-1 forwarder offers a combination of high crane capacity, maneuverability and rough terrain capability to help maximize productivity.
Votre exploitation forestière a-t-elle besoin d'un transporteur de grumes fiable qui peut fonctionner dans des conditions de terrain difficiles ? Le porteur 845-1 de Komatsu offre une combinaison de capacité de grue élevée, de maniabilité et de capacité de terrain accidenté pour aider à maximiser la productivité, selon le fabricant.
Avec une productivité élevée pour l'éclaircissage et la coupe à blanc légère, le porteur de classe 12 tonnes métriques offre plusieurs options de longueur de châssis. Conçu pour un fonctionnement fluide et précis, le 845-1 a une longue portée avec une puissance de levage et un couple de rotation améliorés.
Spécifications rapides Komatsu 845-1
Charge brute : 26 455 lb. (12 000 kilogrammes)
Puissance : 188 ch à 1 900 tr/min (140 kW à 1 900 tr/min)
Force de traction : 38 218 lb. (170kN)
Même à pleine charge, les opérateurs peuvent manœuvrer en toute confiance dans les forêts les plus accidentées. Le châssis et les suspensions des porteurs Komatsu sont conçus pour des performances dans des conditions exigeantes.
Selon le fabricant, les essieux Komatsu Comfort Bogie avec un déport de portique élevé et des châssis en V offrent l'une des gardes au sol les plus élevées de l'industrie.
Conçu pour maximiser les performances avec une puissance et un couple élevés avec un moteur économe en carburant Tier IV Final, le système de commande sophistiqué du 845-1 s'adapte automatiquement aux changements de charge du moteur. Le système HST informatisé prend en compte la charge de la machine, les conditions du terrain, la puissance et le couple de sortie pour augmenter la force de traction. La protection contre la survitesse du ralentisseur hydraulique garantit que la transmission ne tourne pas trop vite.
Avantages pour l'opérateur
Le confort de l'opérateur est essentiel à la productivité et la cabine spacieuse et ouverte du 845-1 offre une excellente visibilité, des commandes ergonomiques et un siège qui offre un confort tout au long de la journée. La suspension Comfort Ride en option offre un confort accru et le contrôle de la hauteur de caisse maintient la cabine parallèle au châssis.
Les opérateurs bénéficient des commandes de la machine qu'ils peuvent régler avec précision pour la sensibilité et la vitesse ou la douceur et la précision, quelles que soient les exigences du travail. Le système MaxiXT surveille et contrôle tout, du moteur et de la grue à la transmission et aux échelles de service.
Options pour améliorer la productivité
Plusieurs options sont disponibles pour améliorer la productivité et le confort, notamment des élargisseurs de couchette, des caméras vidéo à vue arrière et avant, un écran tactile d'ordinateur et une pompe de remplissage de carburant électrique. Pour le nivellement du sol ou des souches sur des terrains difficiles, une lame d'empilage robuste en option est disponible. Monté avec un angle de départ élevé pour l'escalade d'obstacles, il n'y a aucune interférence entre la lame, les boîtiers de batterie ou le protège-capot.
Maintenez votre porteur opérationnel
Lorsque les températures chutent, inutile de perdre un temps précieux. Un système de chauffage diesel standard chauffe le liquide de refroidissement du moteur, l'huile hydraulique et les batteries pour faciliter le démarrage par temps froid sur le 845-1.
L'entretien est rapide et facile grâce à une conception conviviale qui comprend un capot basculant à commande électronique. Tous les filtres sont regroupés pour un accès facile sous le capot.
NJC.© Info www.komatsu.com.
---------------------------------------------------------------------------------------------------------------------------
19/04/22-English
Komatsu 845-1 Forwarder Offers High Crane Capacity, Maneuverability in Rough Terrain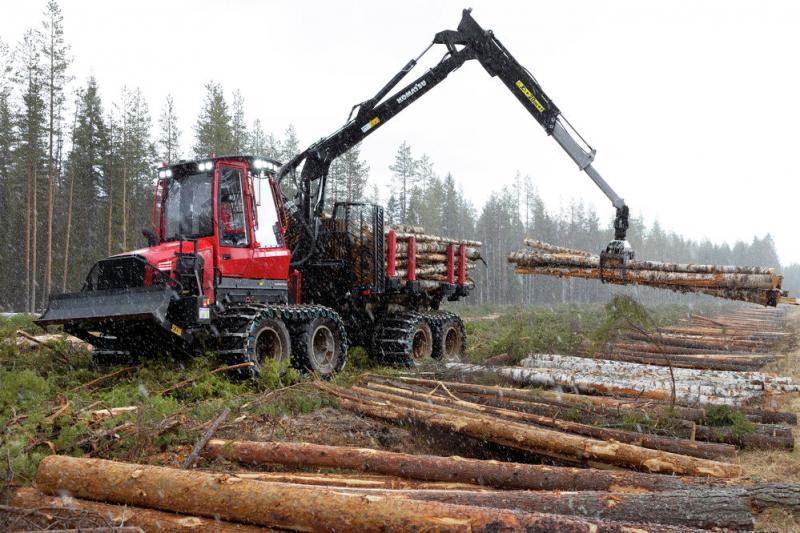 Komatsu's 845-1 forwarder offers a combination of high crane capacity, maneuverability and rough terrain capability to help maximize productivity.
Does your forestry operation need a dependable log forwarder that can operate in tough terrain conditions? Komatsu's 845-1 forwarder offers a combination of high crane capacity, maneuverability and rough terrain capability to help maximize productivity, according to the manufacturer.
With high productivity for thinning and light clear-cutting, the 12-metric-ton class forwarder offers several frame-length options. Designed for smooth and precise operation, the 845-1 has a long reach with enhanced lifting power and sliding torque.
Komatsu 845-1 Quick Specs
Gross load: 26,455 lbs. (12,000kg)
Power: 188 hp @ 1,900 rpm (140 kW @ 1,900 rpm)
Tractive force: 38,218 lbs. (170kN)
Even when fully loaded, operators can maneuver with confidence in the most rugged forests. The chassis and suspensions on Komatsu forwarders are designed for performance under demanding conditions.
Komatsu Comfort Bogie axles with a high portal offset and V-shaped frames provide some of the highest ground clearance in the industry, according to the manufacturer.
Designed to maximize performance with high power and torque with a Tier IV Final fuel-efficient engine, the sophisticated control system on the 845-1 automatically adapts to changes in engine load. Computerized HST system considers machine load, terrain conditions, power and torque output to give enhanced tractive force. Hydraulic retard overspeed protection ensures the driveline won't run too fast.
Operator Benefits
Operator comfort is key to productivity and the spacious and open cab on the 845-1 provides excellent visibility, ergonomic controls and a seat that delivers all-day comfort. Optional Comfort Ride suspension provides added comfort, and the ride height control keeps the cab parallel to the frame.
Operators have the benefit of machine controls they can fine-tune for sensitivity and speed or smoothness and accuracy—whatever the job demands. The MaxiXT system monitors and controls everything from engine and crane to the transmission and service ladders.
Options to Enhance Productivity
Multiple options are available to enhance productivity and comfort, including bunk wideners, rear- and front-view video cameras, computer touchscreen and electric fuel fill pump. For ground or stump leveling on tough terrain, an optional heavy-duty stacking blade is available. Mounted with a high angle of departure for climbing obstacles, there's no interference between blade, battery boxes or hood guard.
Keep Your Forwarder Up and Running
When the temperatures drop, there's no need to lose valuable time. A standard diesel heater system heats the engine coolant, hydraulic oil and the batteries to facilitate cold-weather starting on the 845-1.
Maintenance is quickly and easily completed with a service-friendly design that features an electronically powered tilting hood. All filters are located together for easy access under the hood.
NJC.© info www.komatsu.com.
-------------------------------------------------------------------------------------------------------------
19/04/22-NL
Komatsu 845-1 Forwarder biedt hoge kraancapaciteit, wendbaarheid op ruw terrein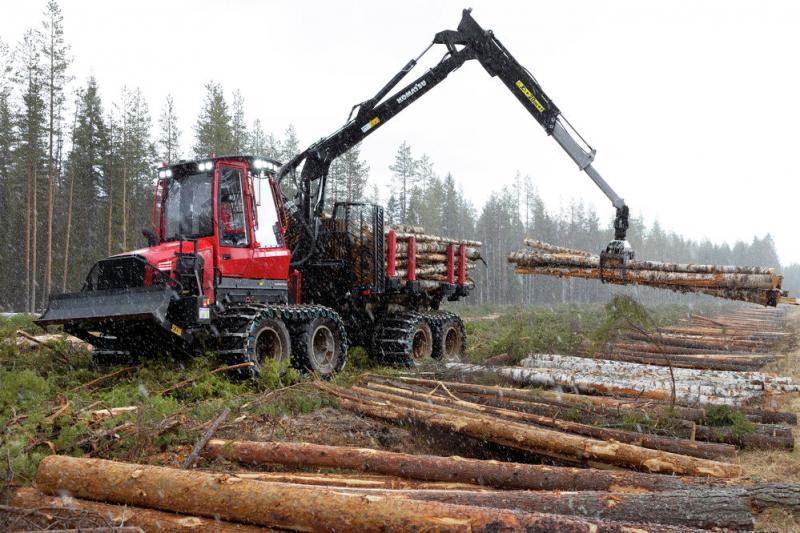 Komatsu's 845-1 forwarder offers a combination of high crane capacity, maneuverability and rough terrain capability to help maximize productivity.
Heeft uw bosbouwbedrijf een betrouwbare houttransporteur nodig die in moeilijke terreinomstandigheden kan werken? Volgens de fabrikant biedt de 845-1 forwarder van Komatsu een combinatie van hoge kraancapaciteit, wendbaarheid en ruw terrein om de productiviteit te maximaliseren.
Met een hoge productiviteit voor uitdunnen en licht kaal snijden, biedt de 12-tons klasse forwarder verschillende framelengte-opties. De 845-1 is ontworpen voor soepele en nauwkeurige bediening en heeft een groot bereik met verbeterd hefvermogen en zwenkkoppel.
Komatsu 845-1 Snelle specificaties
Bruto belasting: 26.455 lbs. (12.000 kg)
Vermogen: 188 pk bij 1.900 tpm (140 kW bij 1.900 tpm)
Trekkracht: 38.218 lbs. (170 kN)
Zelfs wanneer ze volledig zijn geladen, kunnen machinisten met vertrouwen manoeuvreren in de meest ruige bossen. Het chassis en de ophanging van Komatsu forwarders zijn ontworpen voor prestaties onder veeleisende omstandigheden.
Komatsu Comfort Bogie-assen met een hoge portal-offset en V-vormige frames bieden volgens de fabrikant een van de hoogste bodemvrijheid in de branche.
Het geavanceerde besturingssysteem van de 845-1 is ontworpen om de prestaties te maximaliseren met een hoog vermogen en koppel met een Tier IV Final brandstofzuinige motor en past zich automatisch aan veranderingen in de motorbelasting aan. Geautomatiseerd HST-systeem houdt rekening met machinebelasting, terreinomstandigheden, vermogen en koppel om een ​​verbeterde trekkracht te geven. Hydraulische retarder-overtoerenbeveiliging zorgt ervoor dat de aandrijflijn niet te snel loopt.
Voordelen voor de operator
Het comfort van de machinist is de sleutel tot productiviteit en de ruime en open cabine van de 845-1 biedt uitstekend zicht, ergonomische bedieningselementen en een stoel die de hele dag comfort biedt. Optionele Comfort Ride-vering zorgt voor extra comfort en de rijhoogteregeling houdt de cabine parallel aan het frame.
Machinisten hebben het voordeel van machinebedieningen die ze kunnen afstemmen op gevoeligheid en snelheid of soepelheid en nauwkeurigheid - wat de taak ook vereist. Het MaxiXT-systeem bewaakt en bestuurt alles, van motor en kraan tot de transmissie en serviceladders.
Opties om de productiviteit te verbeteren
Er zijn meerdere opties beschikbaar om de productiviteit en het comfort te verbeteren, waaronder kooiverbreders, videocamera's voor en achter, computertouchscreen en elektrische brandstofvulpomp. Voor het egaliseren van grond of boomstronken op ruw terrein is een optioneel stapelblad voor zwaar gebruik verkrijgbaar. Gemonteerd met een hoge vertrekhoek voor het beklimmen van obstakels, is er geen interferentie tussen mes, accubakken of motorkapbescherming.
Houd uw expediteur in de lucht
Als de temperaturen dalen, hoeft u geen kostbare tijd te verliezen. Een standaard dieselverwarmingssysteem verwarmt de motorkoelvloeistof, hydraulische olie en de accu's om het starten bij koud weer op de 845-1 te vergemakkelijken.
Onderhoud wordt snel en eenvoudig uitgevoerd met een servicevriendelijk ontwerp dat is voorzien van een elektronisch aangedreven kantelbare kap. Alle filters zijn bij elkaar geplaatst voor gemakkelijke toegang onder de motorkap.
NJC.© Info www.komatsu.com.
---------------------------------------------------------------------------------------------------------------------