Kramer: Highlights at Bauma 2022
29/06/22-FR-English-NL-footer
Kramer : les temps forts de la Bauma 2022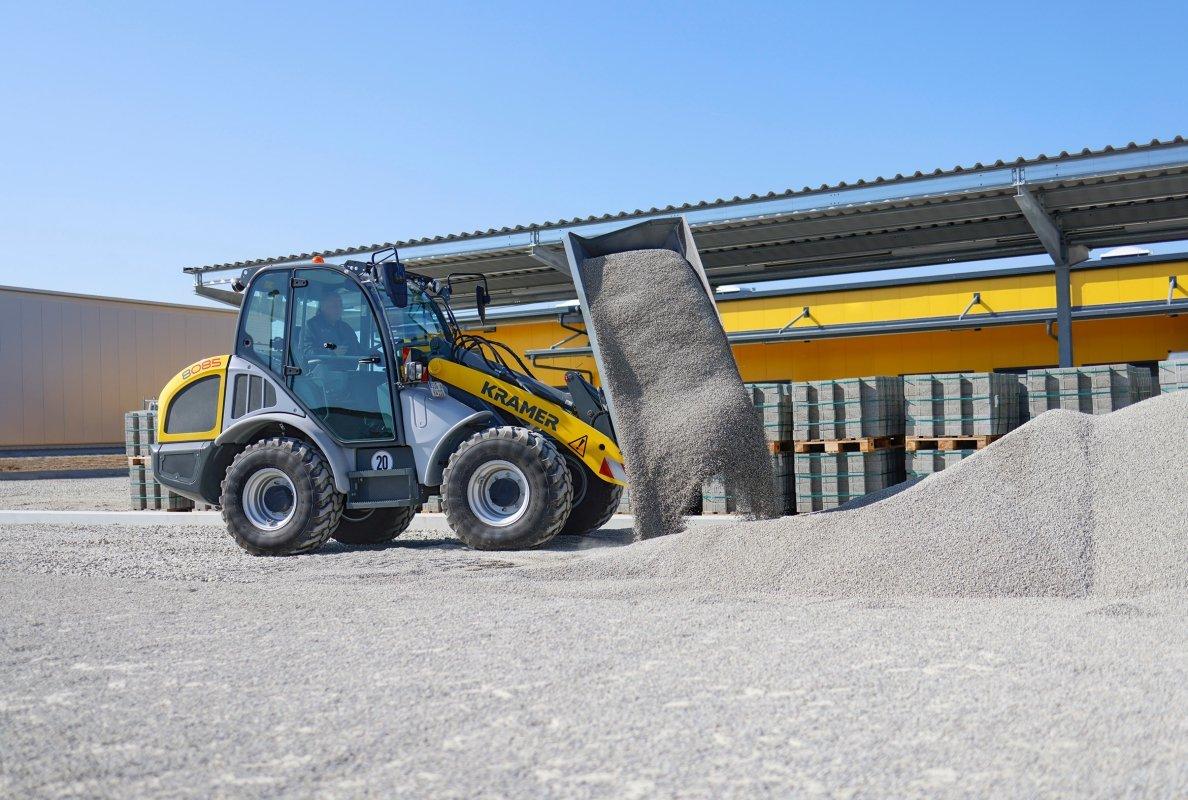 Kramer 8085 SmartAttach IMAGE SOURCE: Kramer-Werke GmbH
Sous la devise "Meet the Future", Kramer se présente à Bauma 2022 sur le stand FN.915 avec sa marque sœur Wacker Neuson sur une surface de près de 5 000 mètres carrés. La devise reflète l'orientation de la présentation du salon : l'échange personnel avec les visiteurs est clairement au centre de l'attention. Cependant, "Meet the Future" souligne également que des sujets futurs tels que l'électrification et la numérisation joueront un rôle majeur sur le stand.
Cette année, Kramer présentera une fois de plus un large éventail de son portefeuille de produits d'une manière orientée vers l'application et présentera un certain nombre de nouveaux produits.
Attachement intelligent
Pour plus de productivité, d'efficacité et de sécurité, Kramer présente le développement innovant de la plaque de changement rapide bien connue au système de changement rapide entièrement hydraulique breveté "Smart Attach". Ici, l'accent a été mis encore plus fortement sur les besoins des clients et ainsi des avantages élémentaires et pérennes ont été créés. La célèbre plaque de changement rapide Kramer fait partie de l'équipement standard des chargeuses sur pneus depuis 1963 et est toujours un système absolument efficace aujourd'hui. Le montage éprouvé continue de constituer la base du développement ultérieur du système d'attache rapide désormais entièrement hydraulique "Smart Attach". Les dimensions des deux systèmes d'attache rapide sont identiques, de sorte que les accessoires existants peuvent continuer à être utilisés. Sécurité accrue pour le conducteur, absence de fuite d'huile et, surtout, gain de temps lors du changement d'accessoires ne sont que quelques-uns des avantages que le système offre aux utilisateurs.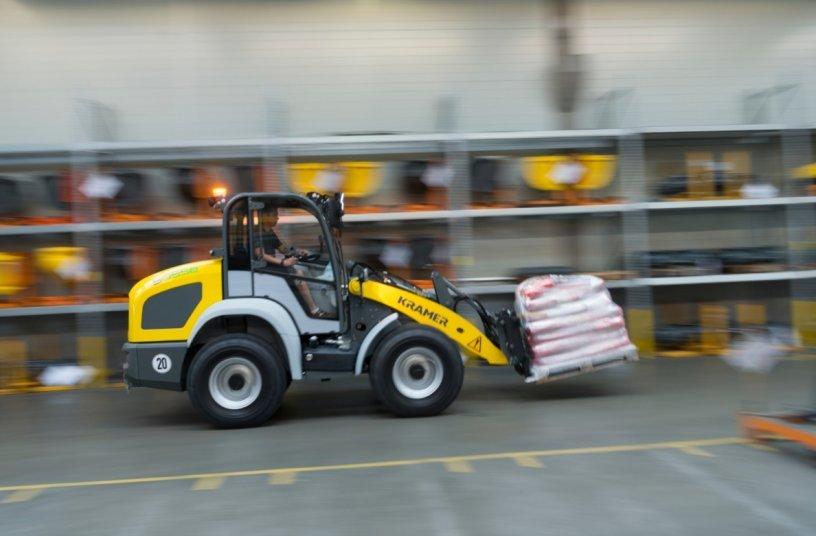 Kramer 5055e IndoorTransport
IMAGE SOURCE: Kramer-Werke Gmb
La série de chariots télescopiques de Kramer de 3 à 5,5 tonnes de charge utile fait peau neuve et sera présentée pour la première fois à Bauma. La visibilité de la zone de travail est un élément crucial dans les chariots télescopiques. Combiné à l'accent mis sur la sécurité, Kramer peut marquer des points avec une nouvelle conception de capot moteur qui est utilisée sur les machines 3007, 3507, 3610, 4007 et 4507. Le résultat est la meilleure vue possible vers la droite. De plus, des fonctionnalités telles que le blocage de différentiel, le stabilisateur de charge et le contrôle de surcharge ont été mises à jour pour permettre de libérer tout le potentiel de la machine, rendant le travail encore plus efficace pour les applications de recyclage ou de gravières, par exemple.
Zéro émission
Kramer présente des innovations passionnantes dans son portefeuille zéro émission à Bauma. Kramer a été le premier fabricant à présenter la première chargeuse sur pneus électrique à quatre roues motrices à Bauma 2016. Cette année, Kramer présente le futur successeur du modèle 5055e à succès d'aujourd'hui. En plus d'une chargeuse sur pneus électrique, Kramer présentera également pour la première fois un chariot télescopique électrique. Ainsi, les visiteurs peuvent s'attendre à de nombreuses innovations sous la devise « Meet Green ».
« Nous nous réjouissons de Bauma 2022 et de pouvoir à nouveau présenter nos solutions innovantes à nos clients lors d'entretiens personnels. Les visiteurs du stand peuvent également s'attendre à des zones de test interactives et pleines d'action », déclare Christian Stryffeler, directeur général de Kamer-Werke GmbH, résumant une fois de plus l'apparence du salon.
NJC.© Info KAMER
-------------------------------------------------------------------------------------------------------------------
29/06/22-English
Kramer: Highlights at Bauma 2022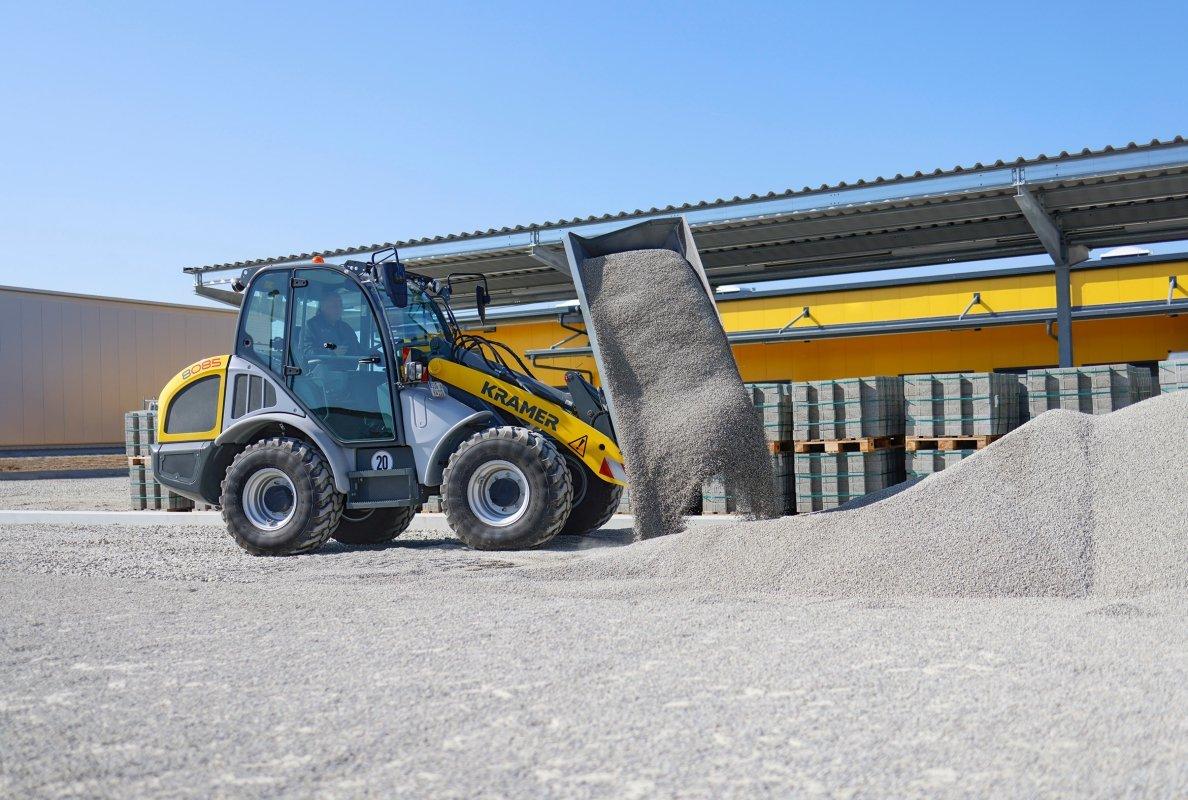 Kramer 8085 SmartAttach IMAGE SOURCE: Kramer-Werke GmbH
Under the motto "Meet the Future", Kramer is presenting itself at Bauma 2022 on stand FN.915 together with its sister brand Wacker Neuson on an area of almost 5,000 square metres. The motto reflects the focus of the trade fair presentation: the personal exchange with the visitors is clearly in the focus. However, "Meet the Future" also underlines that future topics such as electrification and digitalisation will play a major role at the stand.
This year, Kramer will once again be showcasing a broad cross-section of its product portfolio in an application-oriented manner and presenting a number of new products.
Smart Attach
For more productivity, efficiency and safety, Kramer presents the innovative further development of the well-known quick-change plate to the patented fully hydraulic quick- change system "Smart Attach". Here, the focus has been placed even more strongly on customer needs and thus elementary and future-proof advantages have been created. The well-known Kramer quick-change plate has been part of the standard equipment of wheel loaders since 1963 and is still an absolutely effective system today. The proven mounting continues to form the basis for the further development to the now fully hydraulic quick hitch system "Smart Attach". The dimensions of both quick-hitch systems are identical, so that existing attachments can continue to be used. Increased safety for the driver, no leakage of oil and, above all, time savings when changing attachments are just some of the advantages that the system offers users.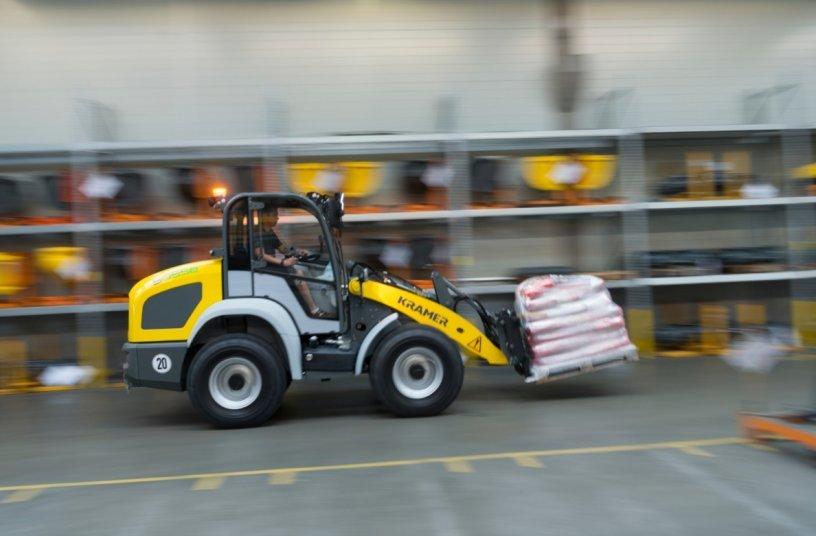 Kramer 5055e IndoorTransport
IMAGE SOURCE: Kramer-Werke Gmb
Kramer's telehandler series from 3 - 5.5 tonnes payload is getting a facelift, which will be presented for the first time at Bauma. Visibility of the working area is a crucial element in telescopic handlers. Combined with a focus on safety, Kramer can score with a new engine bonnet design that is used on the 3007, 3507, 3610, 4007 and 4507 machines. The result is the best possible view to the right. In addition, features such as differential lock, load stabiliser and overload control have been updated to allow the full potential of the machine to be unleashed, making work even more efficient for applications in recycling or gravel pits, for example.
Zero emission
Kramer is presenting exciting innovations in its zero emission portfolio at Bauma. Kramer was the first manufacturer to present the first all-wheel steered electric wheel loader at Bauma 2016. This year, Kramer is showing the future successor to today's successful 5055e model. In addition to an electric wheel loader, Kramer will also be presenting an electric telehandler for the first time. So visitors can look forward to many innovations under the motto "Meet Green".
"We are looking forward to Bauma 2022 and to being able to present our innovative solutions to our customers again in personal discussions. Visitors to the stand can also look forward to interactive and action-packed test areas," says Christian Stryffeler, Managing Director of Kamer-Werke GmbH, summing up the trade fair appearance once again.
NJC.© Info KAMER
-----------------------------------------------------------------------------------------------------------------
29/06/22-NL
Kramer: Hoogtepunten op Bauma 2022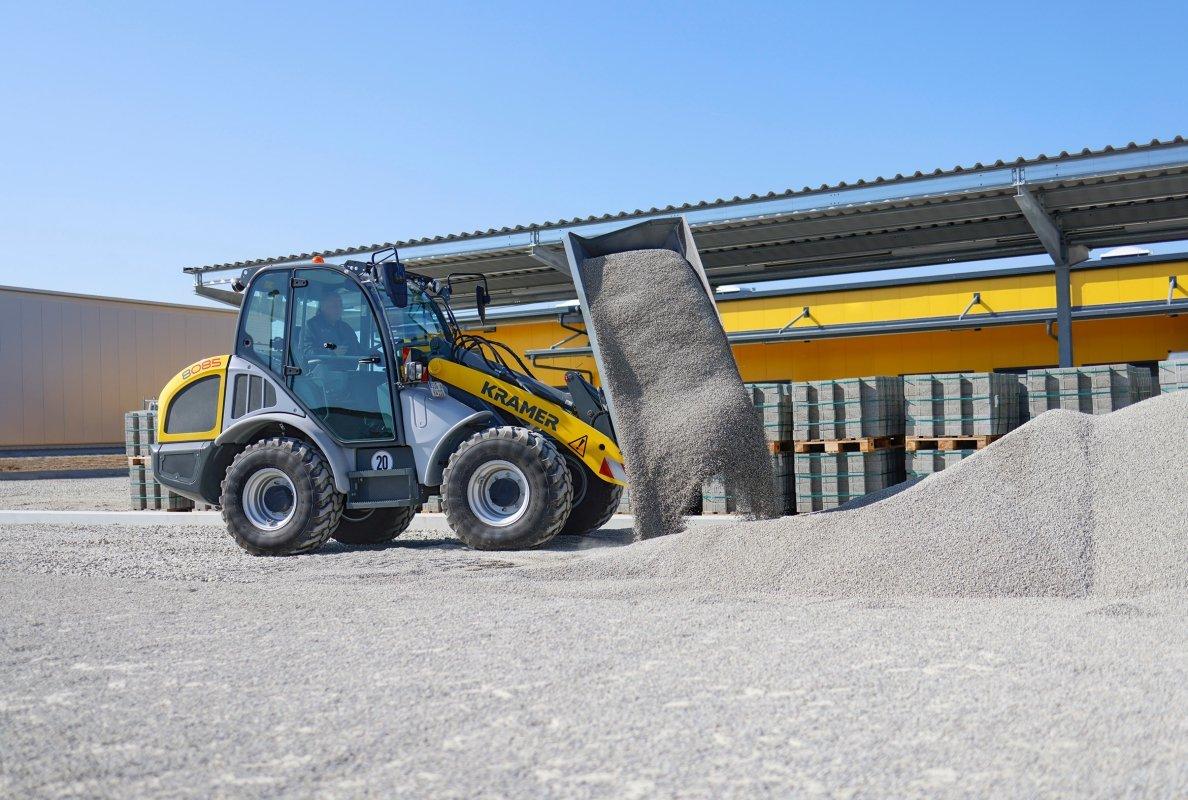 Kramer 8085 SmartAttach IMAGE SOURCE: Kramer-Werke GmbH
Onder het motto "Meet the Future" presenteert Kramer zich op Bauma 2022 op stand FN.915 samen met zustermerk Wacker Neuson op een oppervlakte van bijna 5.000 vierkante meter. Het motto weerspiegelt de focus van de beurspresentatie: de persoonlijke uitwisseling met de bezoekers staat duidelijk centraal. "Meet the Future" onderstreept echter ook dat toekomstige thema's als elektrificatie en digitalisering een grote rol zullen spelen op de stand.
Ook dit jaar zal Kramer op toepassingsgerichte wijze een brede dwarsdoorsnede van haar productportfolio presenteren en een aantal nieuwe producten presenteren.
Slimme bijlage
Voor meer productiviteit, efficiëntie en veiligheid presenteert Kramer de innovatieve doorontwikkeling van de bekende snelwisselplaat tot het gepatenteerde volledig hydraulische snelwisselsysteem "Smart Attach". Hier is de focus nog sterker op de behoeften van de klant gelegd en zijn zo elementaire en toekomstbestendige voordelen gecreëerd. De bekende Kramer-snelwisselplaat behoort sinds 1963 tot de standaarduitrusting van wielladers en is ook nu nog een absoluut effectief systeem. De beproefde montage blijft de basis vormen voor de verdere ontwikkeling tot het nu volledig hydraulische snelwisselsysteem "Smart Attach". De afmetingen van beide snelwisselsystemen zijn identiek, zodat bestaande aanbouwdelen kunnen blijven worden gebruikt. Verhoogde veiligheid voor de chauffeur, geen olielekkage en vooral tijdwinst bij het wisselen van aanbouwdelen zijn slechts enkele van de voordelen die het systeem gebruikers biedt.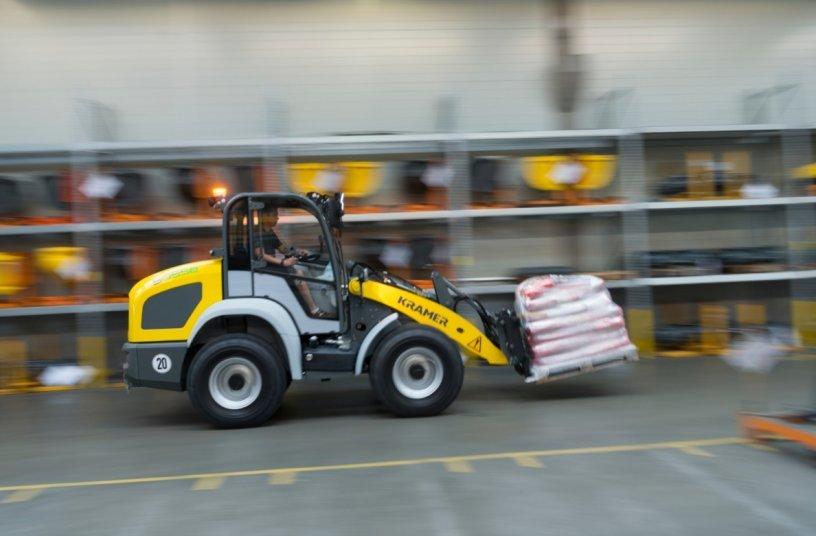 Kramer 5055e IndoorTransport
IMAGE SOURCE: Kramer-Werke Gmb
Kramer's verreikerserie van 3 - 5,5 ton laadvermogen krijgt een facelift, die voor het eerst op de Bauma zal worden gepresenteerd. Zichtbaarheid van het werkgebied is een cruciaal element bij verreikers. Gecombineerd met een focus op veiligheid kan Kramer scoren met een nieuw motorkapontwerp dat wordt gebruikt op de 3007, 3507, 3610, 4007 en 4507 machines. Het resultaat is het best mogelijke zicht naar rechts. Daarnaast zijn functies zoals differentieelslot, laststabilisator en overbelastingsregeling vernieuwd om het volledige potentieel van de machine te ontketenen, waardoor het werk nog efficiënter wordt voor toepassingen in bijvoorbeeld recycling of grindgroeven.
Geen uitstoot
Kramer presenteert op de Bauma opwindende innovaties in zijn emissievrije portfolio. Kramer was de eerste fabrikant die op de Bauma 2016 de eerste elektrische wiellader met vierwielaandrijving presenteerde. Dit jaar toont Kramer de toekomstige opvolger van het huidige succesvolle 5055e-model. Naast een elektrische wiellader presenteert Kramer voor het eerst ook een elektrische verreiker. Onder het motto "Meet Green" kunnen bezoekers zich dan ook verheugen op vele innovaties.
"We kijken uit naar Bauma 2022 en om onze innovatieve oplossingen weer in persoonlijke gesprekken aan onze klanten te kunnen presenteren. Bezoekers van de stand kunnen zich ook verheugen op interactieve en actievolle testruimtes", vat Christian Stryffeler, directeur van Kamer-Werke GmbH, het beursoptreden nogmaals samen.
NJC.© Info KAMER
-----------------------------------------------------------------------------------------------------------------