Large-scale machine highlight at bauma 2022: SENNEBOGEN presents 300 t material handler
12/08/22-FR-English-NL-footer
BAUMA 2022-Point fort sur les machines à grande échelle au salon bauma 2022 : SENNEBOGEN présente une pelle de manutention de 300 t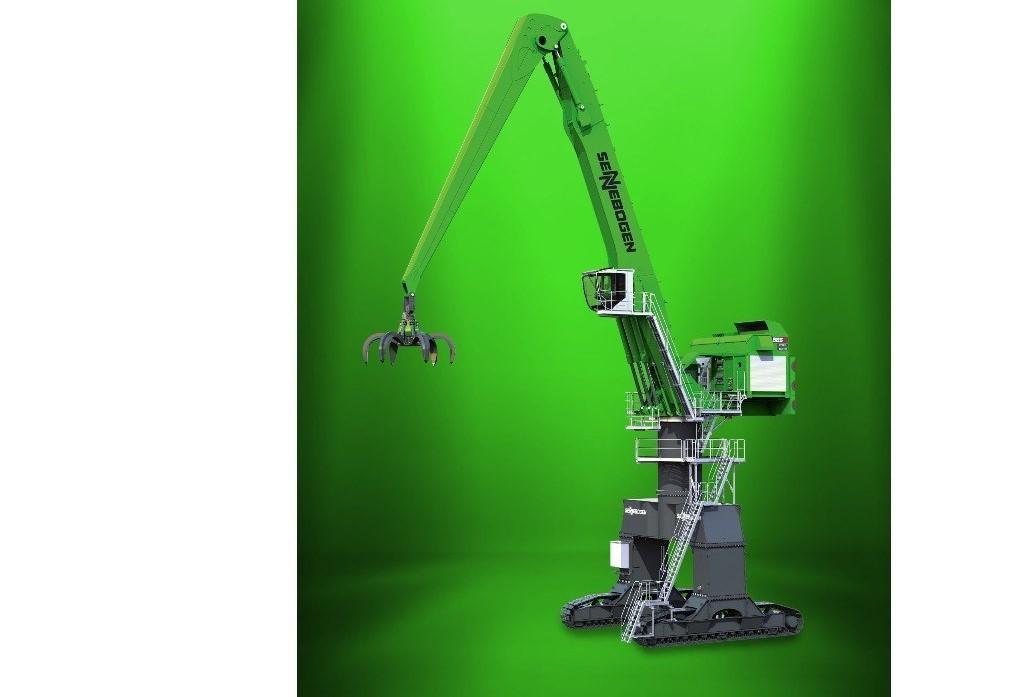 SENNEBOGEN will present a gigantic 300-ton port handling machine directly at its booth at bauma 2022: on display from Oct. 24-30, 2022, at open-air site FM.712. IMAGE SOURCE: SENNEBOGEN
Au bauma 2022, SENNEBOGEN présentera sur son stand la plus grande pelle de manutention jamais exposée lors d'un bauma : la série 885 G. Le géant de la manutention pour le port impressionne avec un poids opérationnel de plus de 300 t et une portée allant jusqu'à 38 m. Une exposition aux dimensions impressionnantes qui ne passera pas inaperçue au bauma.
Tout cela peut déjà être révélé : avec la nouvelle pelle de manutention portuaire, qui sera présentée au public à bauma, SENNEBOGEN ajoute une autre pelle de manutention à grande échelle à son portefeuille, qui, avec son poids opérationnel de plus de 300 t, peut être utilisé principalement dans le segment portuaire exigeant.
Plus de portée avec une charge utile plus élevée
Le 885G s'intègre parfaitement dans l'espace entre le 875E existant et le plus grand 895E de manutention de matériaux au monde et prend ainsi également en compte la taille croissante des navires - en particulier dans les ports intérieurs. Grâce à la variété d'équipements typiques de SENNEBOGEN, la machine peut également gérer des levages de conteneurs lourds ainsi que des levages par grue jusqu'à 50 t.
Avantages de la série G
Comme autre développement de la dernière génération de machines, la série G, une attention particulière a été accordée aux thèmes de l'efficacité énergétique et du confort du conducteur dans le 885G. La nouvelle pelle de manutention est donc également équipée du système de récupération hybride vert SENNEBOGEN, qui s'est déjà imposé avec succès dans les pelles de manutention à partir d'un poids opérationnel de 47 t. De plus, plusieurs variantes d'entraînement sont disponibles. Le Portcab entièrement repensé et une variété d'élévations de cabine offrent à l'opérateur une vue d'ensemble et un confort au plus haut niveau.
D'autres produits phares seront communiqués lors du lancement officiel du produit pour bauma 2022 en octobre.
Le plus grand manutentionnaire du monde exposé à Straubing
Il y aura un autre temps fort à Straubing. La plus grande pelle de manutention au monde, la SENNEBOGEN 895E, sera exposée en version portique sur chenilles en même temps que le salon sur le site de l'usine voisine de SENNEBOGEN à Straubing. Des transferts en bus seront proposés aux clients intéressés.
NJC.© Info SENNEBOGEN
-----------------------------------------------------------------------------------------------------------------
12/08/22-English
BAUMA 2022-Large-scale machine highlight at bauma 2022: SENNEBOGEN presents 300 t material handler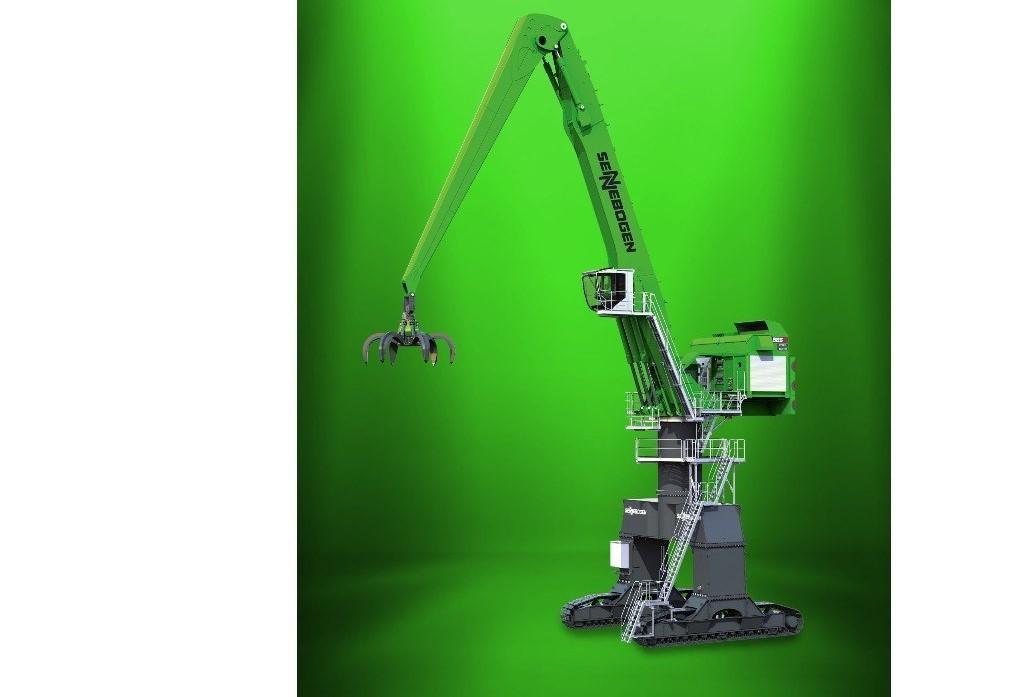 SENNEBOGEN will present a gigantic 300-ton port handling machine directly at its booth at bauma 2022: on display from Oct. 24-30, 2022, at open-air site FM.712. IMAGE SOURCE: SENNEBOGEN
At bauma 2022, SENNEBOGEN will bring the largest material handler ever exhibited at a bauma to its booth: the 885 G-Series. The handling giant for the port impresses with an operating weight of more than 300 t and a reach of up to 38 m. An exhibit with impressive dimensions that will not be overlooked at bauma.
This much can already be revealed: With the new port material handler, which will be presented to the public at bauma, SENNEBOGEN is adding another large-scale material handler to its portfolio, which, with its more than 300 t operating weight, can be used primarily in the demanding port segment.
More reach with higher payload
The 885G fits perfectly into the gap between the existing 875E and the world's largest material handler 895E and thus also takes into account the growing ship sizes - especially in inland ports. Thanks to the variety of equipment typical of SENNEBOGEN, the machine can also handle heavy container lifts as well as crane lifts up to 50 t.
Advantages of the G series
As another development of the latest machine generation, the G series, special attention was paid to the topics of energy efficiency and driver comfort in the 885G. The new material handler is therefore also equipped with the SENNEBOGEN Green Hybrid Recuperation System, which has already successfully established itself in material handlers from 47 t operating weight. In addition, several drive variants are available. The completely redesigned Portcab and a variety of cab elevations offer the operator an overview and comfort at the highest level.
Further product highlights will be communicated at the official product launch for bauma 2022 in October.
World's largest material handler exhibited in Straubing
There will be another highlight in Straubing. The world's largest material handler, the SENNEBOGEN 895E, will be on display in the crawler gantry version at the same time as the trade show at the nearby SENNEBOGEN factory site in Straubing. Bus transfers will be offered for interested customers.
NJC.© Info SENNEBOGEN
----------------------------------------------------------------------------------------------------------------------
12/08/22-NL
BAUMA 2022 - Grootschalige machine-highlight op bauma 2022: SENNEBOGEN presenteert 300 t overslagmachine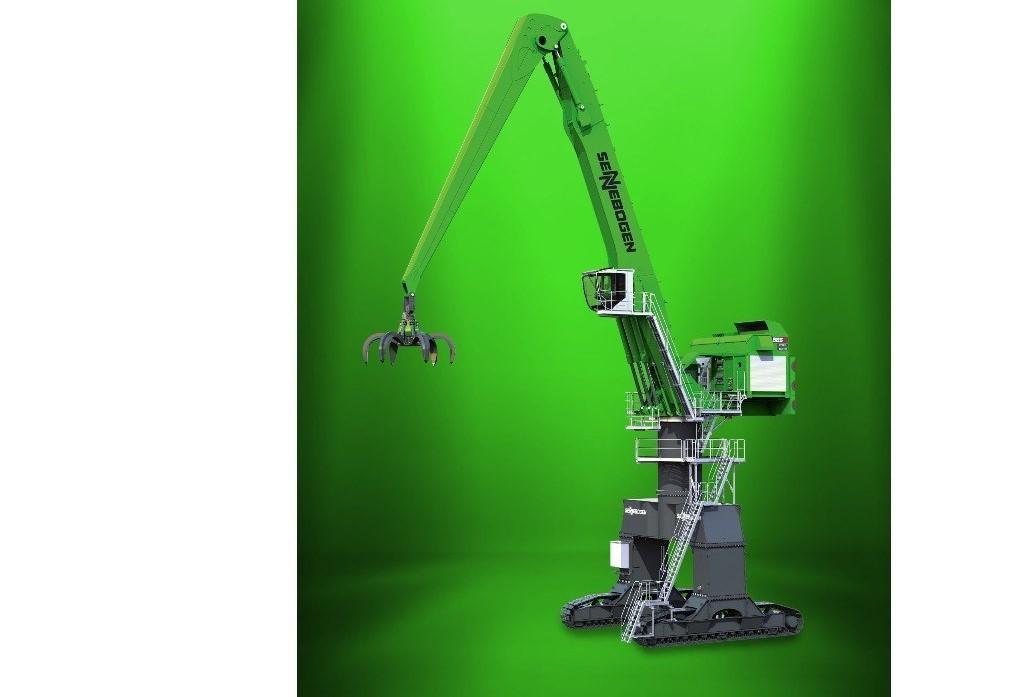 SENNEBOGEN will present a gigantic 300-ton port handling machine directly at its booth at bauma 2022: on display from Oct. 24-30, 2022, at open-air site FM.712. IMAGE SOURCE: SENNEBOGEN
Op bauma 2022 zal SENNEBOGEN de grootste material handler ooit op een bauma naar zijn stand brengen: de 885 G-Series. De handlinggigant voor de haven maakt indruk met een bedrijfsgewicht van meer dan 300 ton en een reikwijdte tot 38 m. Een tentoonstelling met indrukwekkende afmetingen die bij bauma niet over het hoofd zal worden gezien.
Zoveel kan nu al onthuld worden: met de nieuwe portoverslag, die op de bauma aan het publiek zal worden voorgesteld, voegt SENNEBOGEN nog een grootschalige overslagkraan toe aan zijn portfolio, die met zijn meer dan 300 ton bedrijfsgewicht kan worden voornamelijk gebruikt in het veeleisende havensegment.
Meer bereik met hoger laadvermogen
De 885G past perfect in het gat tussen de bestaande 875E en 's werelds grootste material handler 895E en houdt dus ook rekening met de groeiende scheepsmaten - vooral in binnenhavens. Dankzij de verscheidenheid aan uitrustingen die typisch zijn voor SENNEBOGEN, kan de machine zowel zware containerliften als kraanliften tot 50 ton aan.
Voordelen van de G-serie
Als een andere ontwikkeling van de nieuwste machinegeneratie, de G-serie, werd in de 885G speciale aandacht besteed aan de onderwerpen energie-efficiëntie en chauffeurscomfort. De nieuwe overslagmachine is daarom ook uitgerust met het SENNEBOGEN Green Hybrid Recuperation System, dat zich al met succes heeft bewezen in overslagmachines vanaf 47 t bedrijfsgewicht. Daarnaast zijn er meerdere aandrijfvarianten leverbaar. De volledig opnieuw ontworpen Portcab en verschillende cabineverhogingen bieden de machinist overzicht en comfort op het hoogste niveau.
Verdere producthoogtepunten zullen tijdens de officiële productlancering voor bauma 2022 in oktober worden bekendgemaakt.
'S Werelds grootste materiaalverwerker tentoongesteld in Straubing
Er komt nog een hoogtepunt in Straubing. 's Werelds grootste overslagmachine, de SENNEBOGEN 895E, zal tegelijk met de beurs op de nabijgelegen SENNEBOGEN-fabriekslocatie in Straubing te zien zijn in de versie met rupsband. Bustransfers worden aangeboden voor geïnteresseerde klanten.
NJC.© Info SENNEBOGEN
----------------------------------------------------------------------------------------------------------------