Liebherr announces 2,500 tonne crawler crane
11/04/22-FR-English-NL-footer
Liebherr annonce une grue sur chenilles de 2 500 tonnes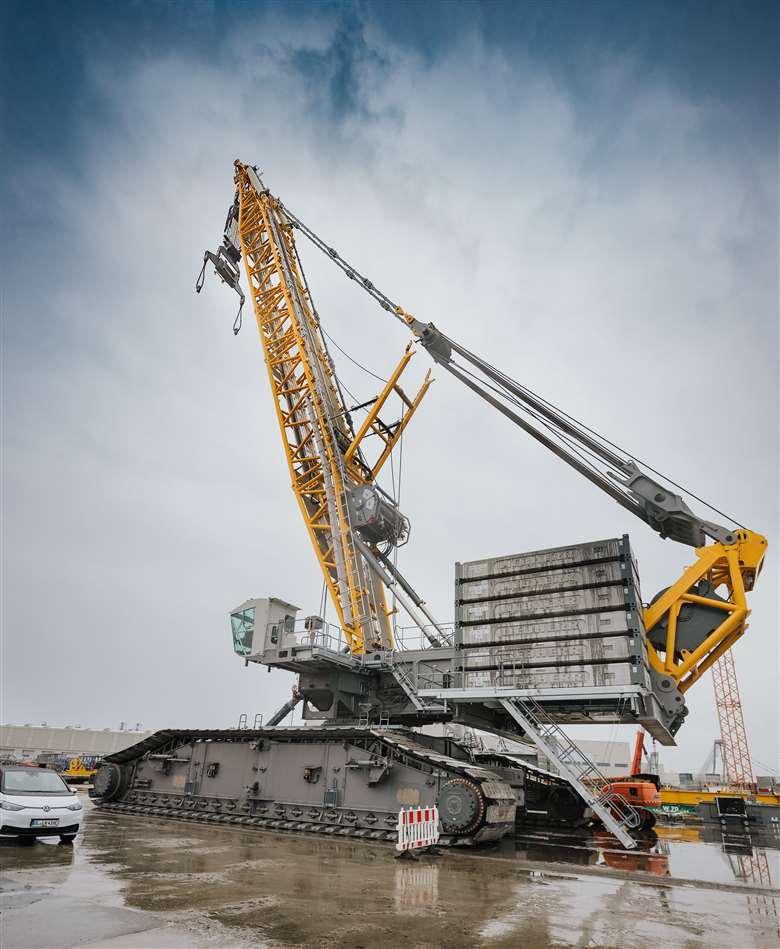 Liebherr LR 12500-1.0 on the test pad in Ehingen with just the back mast and no main boom. Photo: Liebherr
Une grue sur chenilles à flèche en treillis d'une capacité de 2 500 tonnes est une nouveauté de Liebherr-werk Ehingen en Allemagne.
Le LR 12500-1.0 se situe dans la partie supérieure de la gamme de produits entre le LR 11350 d'une capacité de 1 350 tonnes et le LR 13000 d'une capacité de 3 000 tonnes. Il présente plusieurs différences de conception distinctes par rapport aux autres modèles Liebherr.
La flèche est plus large et donne la même stabilité que l'utilisation du PowerBoom à double treillis ou de la flèche SX, a déclaré le fabricant. Il s'appelle HighPerformanceBoom. Sa longueur maximale est de 100 mètres mais il peut être rallongé à l'aide de tronçons de flèche relevable. Une version courte de la flèche relevable constitue une flèche de type WV pour le levage de navires, généralement des colonnes hautes dans les applications de l'industrie pétrochimique.
L'érection d'éoliennes plus grandes sera une autre application courante pour ce nouveau géant.
La hauteur de pointe maximale de la grue d'environ 200 mètres est atteinte avec une flèche principale de 100 mètres et une flèche relevable de 108 mètres.
Différences de conception
La superstructure de la grue est beaucoup plus étroite que les modèles existants et les deux principaux treuils de levage sont placés au-dessus d'elle au lieu d'être entre les deux. Le mât arrière est monté à l'avant de la superstructure immédiatement derrière le pied de flèche.
La facilité de transport est un élément clé du nouveau design. La plus grande est la partie avant de la superstructure de 4 mètres de large qui peut être transportée sur une remorque surbaissée. D'autres composants arrivent à 3,5 mètres de large ou moins.
Les unités sur chenilles peuvent avoir les chenilles retirées pour réduire le poids total de 150 tonnes de chacune. Sans chenilles, les châssis de chenilles pèsent chacun 97 tonnes et peuvent être divisés en deux parties.
Les dalles de contrepoids sont les mêmes dalles en béton de 25 tonnes que celles utilisées sur le LR 13000. Elles ont des verrous tournants à chaque coin et peuvent être transportées comme un conteneur de 20 pieds.
Deux moteurs
La section arrière étroite de la superstructure abrite une paire de moteurs. Les moteurs diesel six cylindres en ligne Liebherr offrent une puissance combinée de 800 kW. La redondance dans la conception signifie qu'en cas de panne d'un moteur, la grue peut être actionnée, à vitesse réduite, pour l'amener dans une position sûre.
La première unité est sur le banc d'essai de l'usine d'Ehingen en Allemagne et le premier client est le spécialiste international du transport et du levage lourd Sarens basé en Belgique. La livraison de cette première unité est prévue pour le premier trimestre 2023.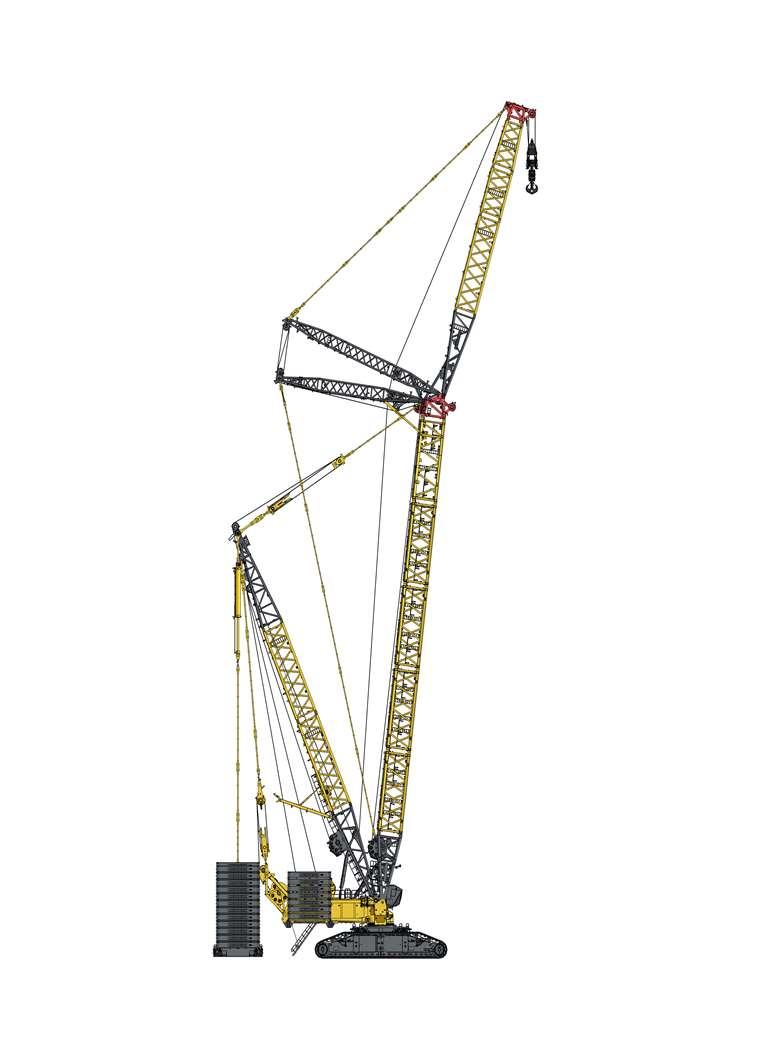 Drawing of the 2,500 tonne capacity Liebherr LR 12500-1.0 lattice boom crawler crane. Image: Liebherr
Carl Sarens, directeur général, a déclaré : « La capacité de levage élevée du LR 12500-1.0 est pour nous la caractéristique la plus remarquable. La nouvelle grue nous permettra de combler l'écart entre nos grues sur chenilles et ringer. Nous nous concentrons particulièrement sur les emplois dans les énergies renouvelables pour la nouvelle grue de 2 500 tonnes. La manutention des éoliennes offshore dans les ports devient également un segment d'activité beaucoup plus important et le poids des composants continue d'augmenter.
NJC.© Infos LIEBHERR
------------------------------------------------------------------------------------------------------------------
11/04/22-English
Liebherr announces 2,500 ton crawler crane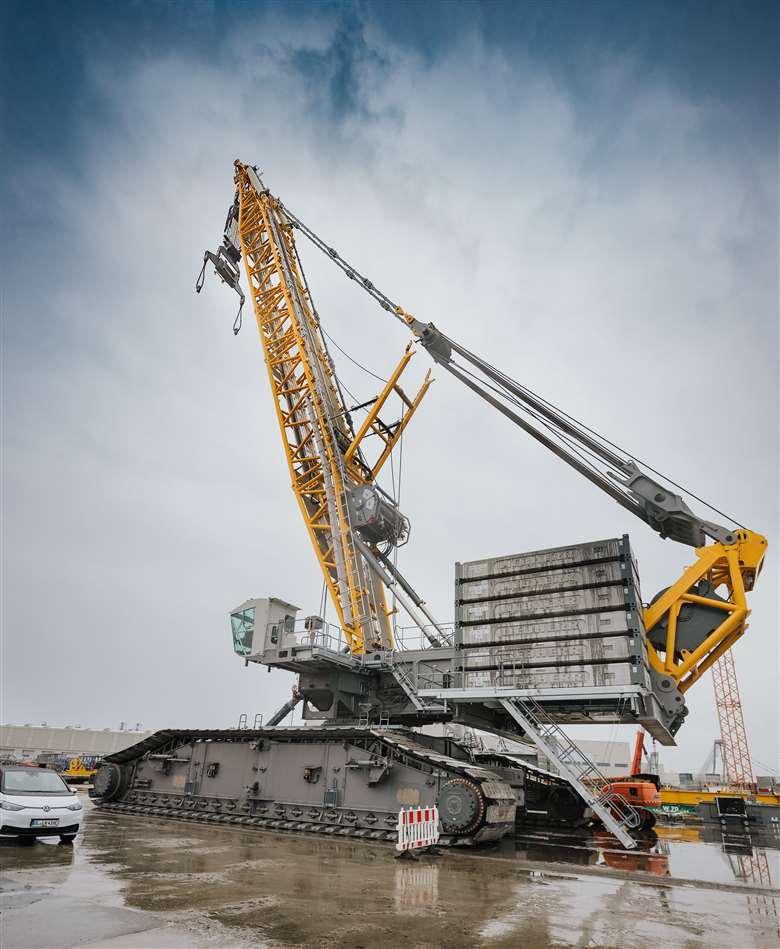 Liebherr LR 12500-1.0 on the test pad in Ehingen with just the back mast and no main boom. Photo: Liebherr
A 2,500 ton capacity lattice boom crawler crane is new from Liebherr-werk Ehingen in Germany.
The LR 12500-1.0 fits in the upper end of the product range between the 1,350 tonne capacity LR 11350 and the 3,000 tonne capacity LR 13000. It has several distinctive design differences from other Liebherr models.
The boom is wider and gives the same stability as using the double lattice PowerBoom or the SX boom, the manufacturer said. It is called HighPerformanceBoom. Its maximum length is 100 meters but it can be extended using sections from the luffing jib. A short version of the luffing jib makes a WV type jib for vessel lifting, typically tall columns in petrochemical industry applications.
Erection of larger wind turbines will be another common application for this new giant.
The crane's maximum tip height of around 200 meters is achieved with 100 meter main boom and 108 meter luffing jib.
design differences
The crane's superstructure is much narrower than existing models and the two main hoist winches sit on top of it instead of in between. The back mast is mounted at the front of the superstructure immediately behind the boom foot.
Easy transport is a key element of the new design. Largest is the 4 meter wide superstructure front section which can be transported on a low bed trailer. Other components come in at 3.5 meters wide or less.
Crawler units can have the tracks removed to reduce the 150 tonne overall weight of each one. Without tracks the crawler frames each weigh 97 tons and they can be split further, into two pieces.
Counterweight slabs are the same 25 tonne concrete ones as used on the LR 13000. They have twistlocks on each corner and can be transported like a 20 foot container.
two engines
The narrow rear section of the superstructure houses a pair of engines. The Liebherr straight six diesels offer a combined output of 800 kW. Redundancy in the design means should one engine fail the crane can be operated, at reduced speed, to bring it to a safe position.
The first unit is on the test pad at the Ehingen factory in Germany and the first customer is international heavy lift and transport specialist Sarens based in Belgium. Delivery of that first unit is scheduled for the first quarter of 2023.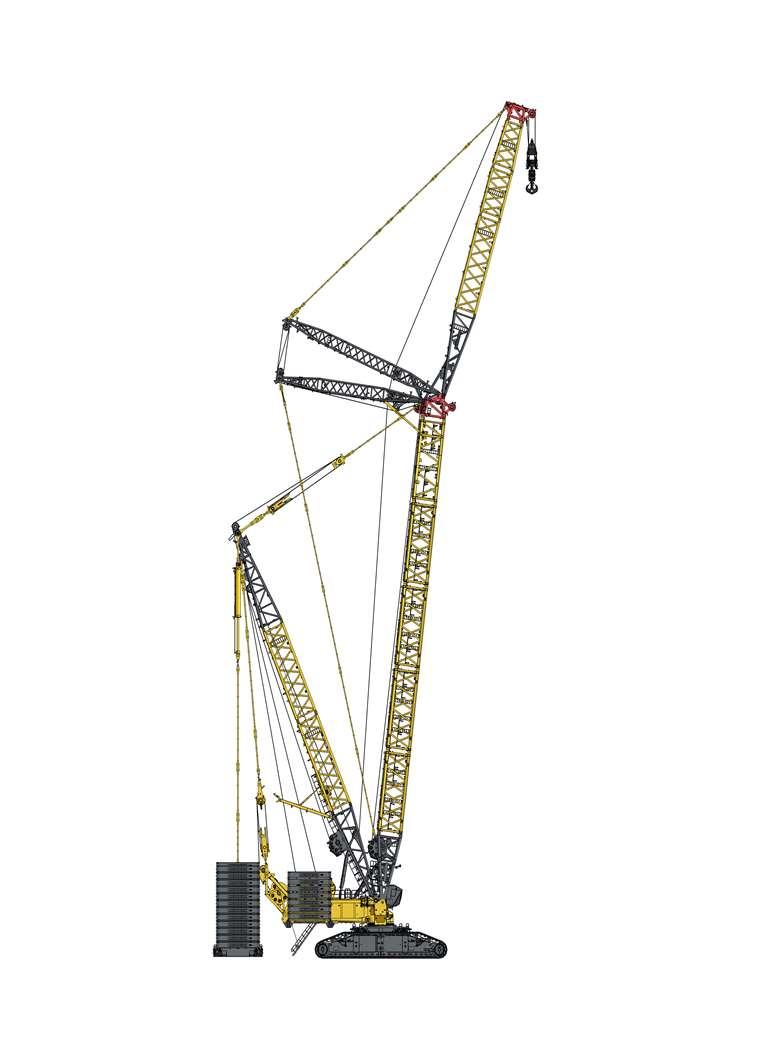 Drawing of the 2,500 tonne capacity Liebherr LR 12500-1.0 lattice boom crawler crane. Image: Liebherr
Carl Sarens, managing director, said, "The high lifting capacity of the LR 12500-1.0 is the outstanding feature for us. The new crane will enable us to close the gap between our crawler and ringer cranes. We are particularly focusing on jobs in renewables for the new 2,500 tonne crane. Handling offshore wind turbines at ports is also becoming a much more important business segment and the weights of components continues to rise."
NJC.© Info LIEBHERR
-----------------------------------------------------------------------------------------------------------------------
11/04/22-NL
Liebherr kondigt 2.500 tons rupskraan aan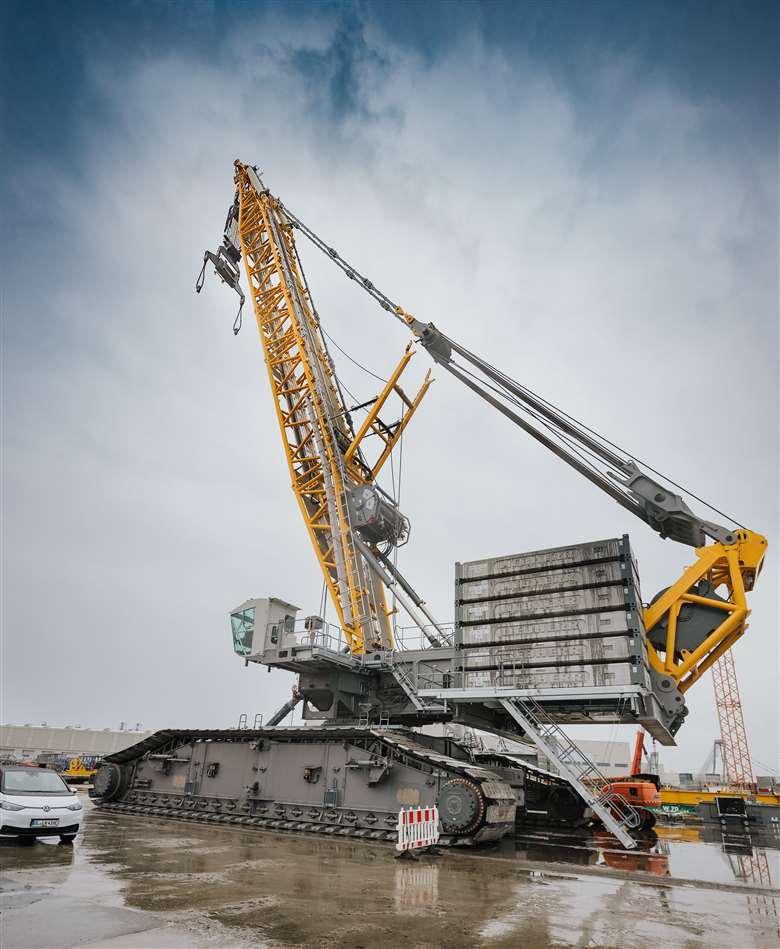 Liebherr LR 12500-1.0 on the test pad in Ehingen with just the back mast and no main boom. Photo: Liebherr
Nieuw van Liebherr-werk Ehingen in Duitsland is een traliegiekrupskraan met een capaciteit van 2500 ton.
De LR 12500-1.0 past in het hogere segment van het productgamma tussen de LR 11350 met een capaciteit van 1.350 ton en de LR 13000 met een capaciteit van 3.000 ton. Hij heeft verschillende onderscheidende ontwerpverschillen met andere Liebherr-modellen.
De giek is breder en geeft dezelfde stabiliteit als het gebruik van de PowerBoom met dubbel rooster of de SX-giek, aldus de fabrikant. Het heet HighPerformanceBoom. De maximale lengte is 100 meter, maar kan worden verlengd met delen van de beweegbare jib. Een korte versie van de beweegbare jib maakt een jib van het WV-type voor het heffen van schepen, meestal hoge kolommen in toepassingen in de petrochemische industrie.
De bouw van grotere windturbines zal een andere veel voorkomende toepassing zijn voor deze nieuwe reus.
De maximale tiphoogte van de kraan van ongeveer 200 meter wordt bereikt met een hoofdmast van 100 meter en een beweegbare jib van 108 meter.
Ontwerp verschillen
De bovenbouw van de kraan is veel smaller dan bij bestaande modellen en de twee hoofdlieren zitten er bovenop in plaats van ertussen. De achterste mast is gemonteerd aan de voorkant van de bovenbouw direct achter de giekvoet.
Gemakkelijk transport is een belangrijk element van het nieuwe ontwerp. De grootste is het 4 meter brede voorstuk van de bovenbouw dat op een dieplader kan worden vervoerd. Andere componenten komen binnen met een breedte van 3,5 meter of minder.
Bij rupsbanden kunnen de rupsbanden worden verwijderd om het totale gewicht van 150 ton te verminderen. Zonder rupsen wegen de rupsframes elk 97 ton en kunnen ze verder in tweeën worden gesplitst.
De contragewichtplaten zijn dezelfde 25 ton zware betonplaten als gebruikt op de LR 13000. Ze hebben twistlocks op elke hoek en kunnen worden vervoerd als een 20 voet container.
Twee motoren
Het smalle achterste deel van de bovenbouw herbergt een paar motoren. De Liebherr zescilinder diesels bieden een gecombineerd vermogen van 800 kW. Redundantie in het ontwerp betekent dat als één motor uitvalt, de kraan met verminderde snelheid kan worden bediend om deze in een veilige positie te brengen.
De eerste unit staat op het testplatform in de Ehingen-fabriek in Duitsland en de eerste klant is de internationale heavy lift- en transportspecialist Sarens, gevestigd in België. De oplevering van die eerste unit staat gepland voor het eerste kwartaal van 2023.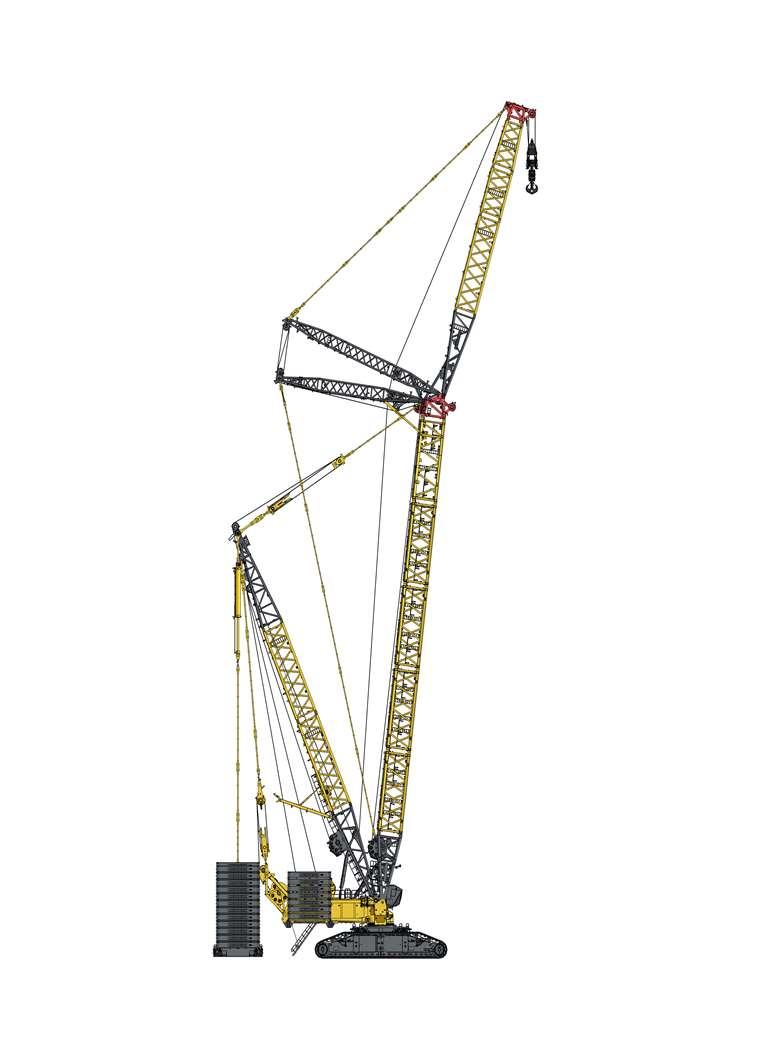 Drawing of the 2,500 tonne capacity Liebherr LR 12500-1.0 lattice boom crawler crane. Image: Liebherr
Carl Sarens, algemeen directeur, zei: "Het hoge hefvermogen van de LR 12500-1.0 is voor ons het meest opvallende kenmerk. Met de nieuwe kraan kunnen we het gat tussen onze rups- en ringerkranen dichten. We richten ons met name op banen in hernieuwbare energiebronnen voor de nieuwe 2.500 ton kraan. Het behandelen van offshore windturbines in havens wordt ook een veel belangrijker bedrijfssegment en de gewichten van componenten blijven stijgen."
NJC.© Info LIEBHERR
-------------------------------------------------------------------------------------------------------------------