LIEBHERR BAUMA- Prototype on show at Bauma the LRT 1130-2.1
28/10/22-FR-English-NL-footer
LIEBHERR BAUMA- Prototype exposé à Bauma le LRT 1130-2.1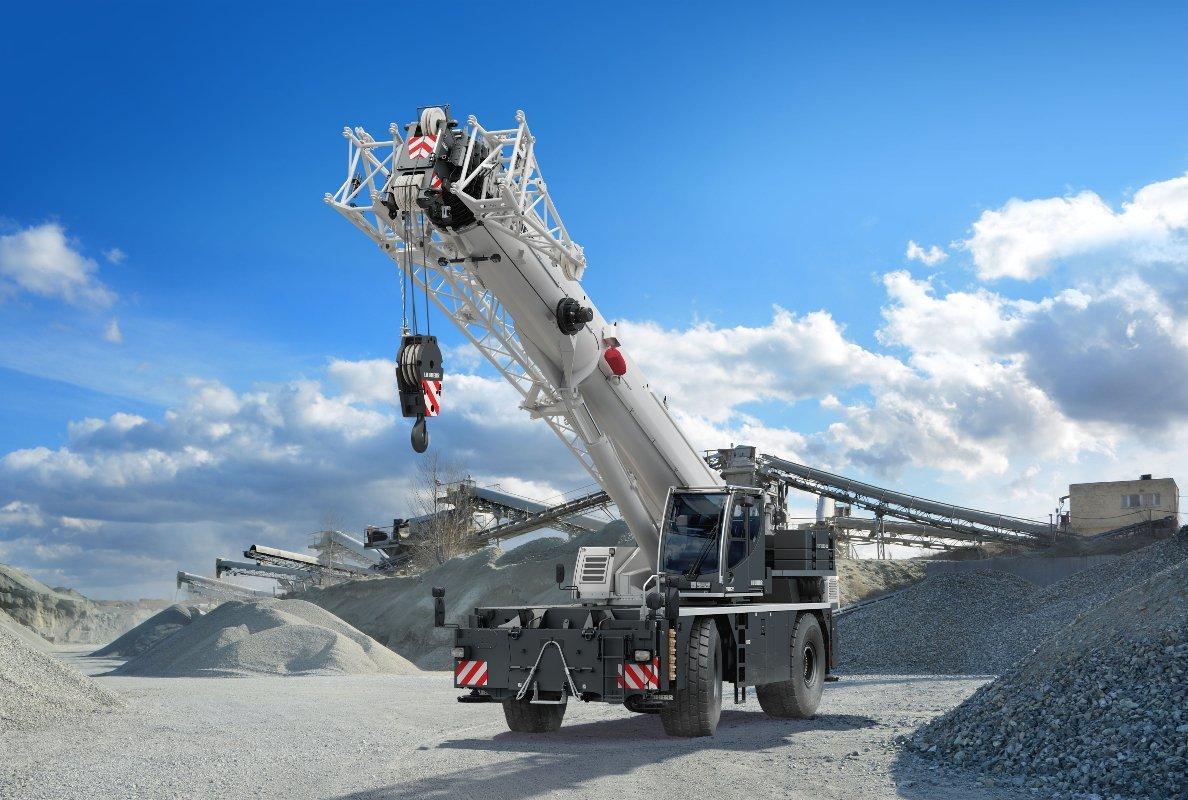 The new Liebherr LRT 1130-2.1 is now the world's most powerful all-terrain crane on two axles. IMAGE SOURCE: Liebherr-Werk Ehingen GmbH
Marché principal : États-Unis
La grue tout-terrain à 2 essieux la plus puissante avec la flèche télescopique la plus longue du marché
Transport mondial économique
Normes de sécurité élevées
À Bauma 2022, Liebherr présentera la grue tout-terrain à deux essieux la plus puissante du marché. La LRT 1130-2.1 a une capacité de levage maximale de 130 tonnes et étend la gamme de grues tout-terrain de Liebherr à l'extrémité supérieure de ce segment. Outre ses hautes performances, les concepteurs se sont particulièrement concentrés sur le transport économique et la sécurité d'utilisation de la grue lorsqu'ils ont développé ce nouveau modèle.
Liebherr dévoilera une grue tout-terrain de 130 tonnes à la Bauma 2022 sous le slogan « The hardest in the roughest ». La nouvelle LRT 1130-2.1 offre des capacités de levage très élevées et la plus longue flèche télescopique de toutes les grues tout-terrain à 2 essieux dans le monde. Il possède également les dimensions de transport les plus économiques de sa classe de puissance.
Haute performance avec longue flèche télescopique
Le concept du LRT 1130-2.1 est une performance maximale avec une mobilité économique, dans le monde entier. La nouvelle grue tout-terrain Liebherr est actuellement la seule grue de 130 tonnes sur un châssis à 2 essieux. En même temps, sa flèche télescopique est la plus longue de sa catégorie à 60 mètres. Il se compose de la section pivotante et de six sections télescopiques et est étendu et verrouillé de manière entièrement automatique avec le système télescopique à grande vitesse Liebherr TELEMATIK.
Une flèche repliable simple de 10,8 mètres ou une flèche repliable double de 10,8 à 19 mètres est disponible pour le LRT 1130-2.1. Il est monté à des angles de 0°, 20° ou 40°, ou peut éventuellement être incliné hydrauliquement de 0° à 40°. Avec une section de treillis supplémentaire de sept mètres en tant qu'extension télescopique, la nouvelle grue atteint des hauteurs sous crochet allant jusqu'à 85 mètres. La flèche repliable est portée sur le côté droit de la flèche. En même temps, une flèche de montage de 2,9 mètres peut être fixée sur le côté gauche de la flèche. Une poulie de coq rabattable latéralement, qui peut être utilisée en mode 2 lignes, complète les options de flèche.
Transport économique
Liebherr a conçu les dimensions du nouveau LRT 1130-2.1 de sorte qu'il puisse être transporté économiquement sur des remorques surbaissées dans le monde entier. Sa largeur est de 3,4 mètres, sa hauteur de 3,85 mètres et sa longueur de châssis est de 9,4 mètres. Le poids de transport est de 48 tonnes sans lest, mais avec la flèche repliable et la moufle à crochet. Cela peut être réduit à 44,8 tonnes. Ces valeurs sont uniques dans la catégorie des puissantes grues tout-terrain à 2 essieux. Un véhicule de transport standard sans permis suffit pour le lest de 20 tonnes et l'équipement supplémentaire. Le contrepoids se compose de trois dalles de lestage et est fixé à la plate-forme d'orientation par auto-assemblage avec des vérins de lestage.
« La sécurité d'abord » – les équipements de sécurité établissent de nouvelles normes
Des niveaux de sécurité élevés à tous égards ont été la principale priorité pour la conception du nouveau LRT 1130-2.1, qui dispose d'un système de surveillance des stabilisateurs en standard. L'état des stabilisateurs, sur pneus ou supports, est détecté automatiquement et enregistré dans le contrôleur de la grue. La fixation du lest à la plate-forme d'orientation et l'installation de la double flèche repliable en option, y compris son système de réglage d'angle, sont également enregistrées et surveillées.
La base de support variable VarioBase®, qui a été développée par Liebherr et est un équipement standard sur toutes les grues Liebherr LRT, apporte une contribution importante à l'augmentation de la sécurité. VarioBase® permet à chaque stabilisateur de grue d'être étendu à n'importe quelle longueur. Le travail de la grue est contrôlé par le limiteur de moment de charge dans le contrôleur LICCON, qui calcule précisément les capacités de charge maximales pour la situation actuelle. Cela évite les accidents causés par une erreur humaine lors du processus d'assemblage et lors du levage de charges. VarioBase® offre également une plus grande flexibilité sur le chantier, des capacités de levage plus élevées et une plage de travail plus large. Les plus grands avantages sont obtenus dans les zones directement au-dessus des stabilisateurs.
La sécurité est également renforcée par un plus grand confort pour le personnel d'exploitation. La nouvelle grue de 130 tonnes est également dotée d'une cabine de grue large qui a déjà fait ses preuves sur les autres modèles Liebherr LRT. Il peut être incliné vers l'arrière pour offrir un plus grand confort lors du levage de charges à de grandes hauteurs. Des commandes claires et explicites rendent la grue facile à manipuler. Ils permettent aux grutiers de se concentrer sur l'essentiel de leur travail, travailler avec la grue et la charge. Liebherr appelle ce concept KISS : "keep it simple and safe".
Il y a des échelles, un grand nombre de poignées et une plate-forme à extension électrique sur la cabine pour assurer un accès sûr à la grue. La nouvelle grue LRT comprend une large gamme de boîtes de rangement pour de nombreux accessoires, appareils de levage et bois de support en standard. Il y a aussi un espace de rangement pour le crochet de charge.
Comme les grues LRT 1090-2.1 et LRT 1100-2.1, la LRT 1130-2.1 est également conforme à une norme de sécurité mondiale uniforme et donc aux réglementations en vigueur dans le monde telles que la norme américaine ASME B30.5, la norme européenne EN 13000, la Normes australiennes (AS) et la norme russe GOST. Les machines comprennent également des systèmes pour empêcher le contournement des équipements de sécurité. Liebherr est un pionnier dans l'industrie à cet égard.
Capacité hors route élevée
Le nouveau LRT 1130-2.1 est conçu pour la robustesse, la mobilité hors route et la maniabilité. Il est propulsé par un moteur à combustion 6 cylindres CUMMINS conforme à toutes les réglementations applicables en matière d'émissions d'échappement. Il peut être utilisé sans restriction avec de l'huile végétale hydrogénée (HVO). Le moteur développe 188 kW (252 ch) et délivre un couple maximal de 1 186 Nm. Une transmission Powershift à 6 rapports de DANA et de gros pneus 29,5 R 25 garantissent la capacité tout-terrain requise. La direction toutes roues motrices et en crabe assure une maniabilité aisée et une grande maniabilité dans des conditions restreintes.
NJC.© Info Liebherr-Werk Ehingen GmbH
-----------------------------------------------------------------------------------------------------------------
28/10/22-English
LIEBHERR BAUMA- Prototype on show at Bauma the LRT 1130-2.1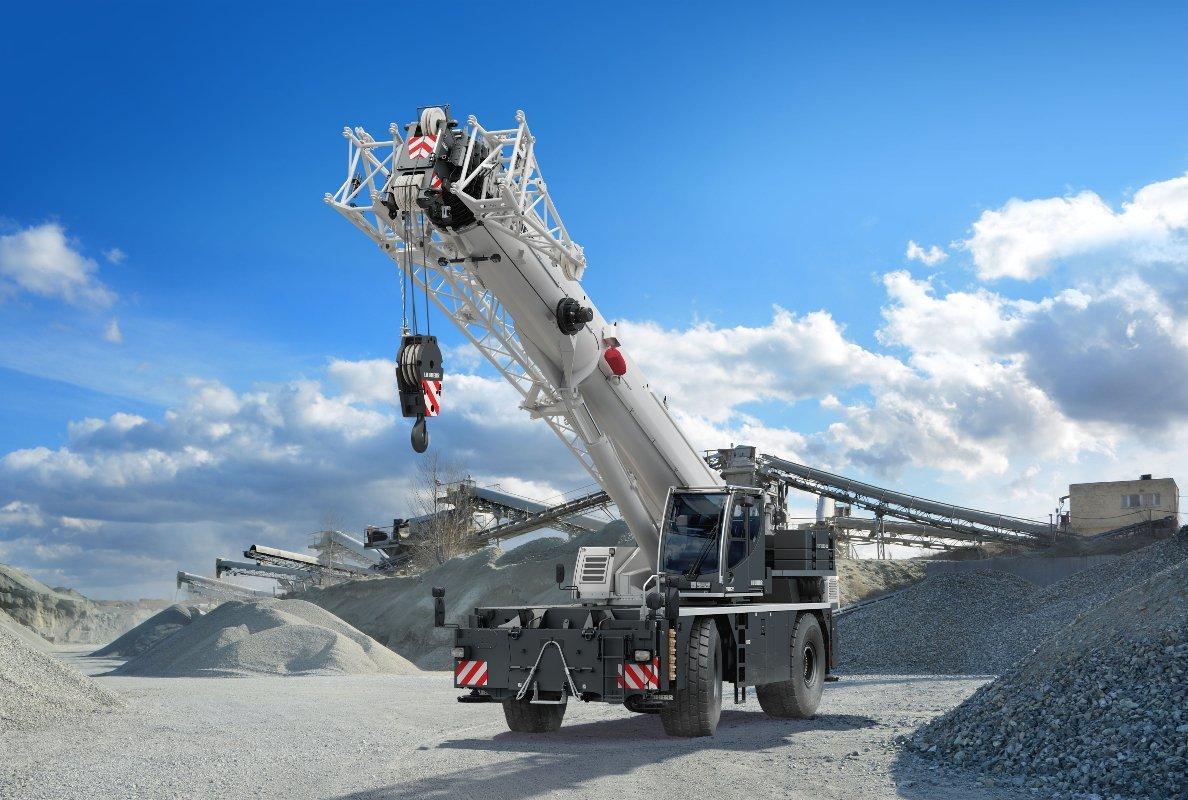 The new Liebherr LRT 1130-2.1 is now the world's most powerful all-terrain crane on two axles. IMAGE SOURCE: Liebherr-Werk Ehingen GmbH
Primary market: USA
Most powerful 2-axle rough-terrain crane with longest telescopic boom on the market
Economical worldwide transport
High safety standards
At Bauma 2022, Liebherr will showcase the most powerful rough-terrain crane on two axles on the market. The LRT 1130-2.1 has a maximum lifting capacity of 130 tonnes and extends Liebherr's range of rough-terrain cranes at the top end of this segment. Apart from its high performance, the designers particularly focussed on economical transport and safe crane operation when they developed this new model.
Liebherr will unveil a 130-tonne rough-terrain crane at Bauma 2022 under the slogan "The toughest in the roughest". The new LRT 1130-2.1 offers very high lifting capacities and the longest telescopic boom of any 2-axle rough-terrain crane anywhere in the world. It also has the most economical transport dimensions in its performance class.
High performance with long telescopic boom
The concept of the LRT 1130-2.1 is maximum performance with economical mobility, worldwide. The new Liebherr rough-terrain crane is currently the only 130-tonne crane on a 2-axle chassis. At the same time, its telescopic boom is the longest in its class at 60 metres. It consists of the pivot section and six telescopic sections and is extended and bolted fully automatically with the Liebherr TELEMATIK high-speed telescopic system.
A 10.8 metre single folding jib or a 10.8 –19 metre double folding jib is available for the LRT 1130-2.1. It is mounted at angles of 0°, 20° or 40°, or can optionally be hydraulically tilted from 0° to 40°. With an additional seven-metre lattice section as a telescopic extension, the new crane reaches hook heights of up to 85 metres. The folding jib is carried on the right-hand side of the boom. At the same time, a 2.9-metre assembly jib can be attached to the left-hand side of the boom. A side-folding rooster sheave, which can be operated in 2-line mode, rounds off the boom options.
Economical transport
Liebherr has designed the dimensions of the new LRT 1130-2.1 so that it can be transported economically on low-loaders worldwide. Its width is 3.4 metres, its height 3.85 metres and its chassis length is 9.4 metres. The transport weight is 48 tonnes without ballast, but with the folding jib and hook block. This can be reduced to 44.8 tonnes. These values are unique in the class of powerful 2-axle all-terrain cranes. A permit-free standard transport vehicle is sufficient for the 20-tonne ballast and additional equipment. The counterweight consists of three ballast slabs and is attached to the slewing platform via self-assembly with ballasting rams.
"Safety first" – safety equipment sets new standards
High safety levels in every respect were the main priority for the design of the new LRT 1130-2.1, which features an outrigger monitoring system as standard. The outrigger status, on tyres or supports, is detected automatically and saved to the crane controller. The attachment of the ballast to the slewing platform and the installation of the optional double folding jib, including its angle adjustment system, are also recorded and monitored.
The VarioBase® variable support base, which was developed by Liebherr and is standard equipment on all Liebherr LRT cranes, makes an important contribution to increasing safety. VarioBase® allows each individual crane outrigger to be extended to any length. The crane work is controlled by the load moment limiter within the LICCON controller, which calculates the maximum load capacities precisely for the current situation. This prevents accidents caused by human error during the assembly process and when hoisting loads. VarioBase® also offers greater flexibility on the construction site, higher lifting capacities and a larger working range. The greatest advantages are achieved in the areas directly above the outriggers.
Safety is also enhanced by providing greater comfort for the operating personnel. The new 130-tonne crane also features the wide crane cab that has already proven its worth on the other Liebherr LRT models. It can be tilted backwards to provide greater comfort when hoisting loads to great heights. Clear, self-explanatory controls make the crane easy to handle. They allow crane drivers to concentrate on the main focus of their job, working with the crane and the load. Liebherr calls this concept KISS: "keep it simple and safe".
There are ladders, a large number of handles and an electrically extending platform on the cabin to ensure safe access to the crane. The new LRT crane features a wide range of storage boxes for extensive accessories, lifting tackle and support timbers as standard. There is also storage for the load hook.
Like the LRT 1090-2.1 and LRT 1100-2.1 cranes, the LRT 1130-2.1 also complies with a global, uniform safety standard and thus with globally valid regulations such as the US ASME B30.5 standard, the European EN 13000 standard, the Australian Standards (AS) and the Russian GOST standard. The machines also include systems to prevent safety equipment being bypassed. Liebherr is a pioneer in the industry in this respect.
High off-road capability
The new LRT 1130-2.1 is designed for robustness, off-road mobility and manoeuvrability. It is powered by a 6-cylinder CUMMINS combustion engine that complies with all applicable exhaust emission regulations. It can be operated without restrictions with hydrogenated vegetable oil (HVO). The engine develops 188 kW (252 bhp) and supplies a maximum torque of 1,186 Nm. A 6-speed powershift transmission from DANA and large 29.5 R 25 tyres guarantee the required off-road capability. All-wheel and crab steering ensure easy handling and high manoeuvrability in constricted conditions.
NJC.© Info Liebherr-Werk Ehingen GmbH
-------------------------------------------------------------------------------------------------------------------
28/10/22-NL
LIEBHERR BAUMA- Prototype te zien op Bauma de LRT 1130-2.1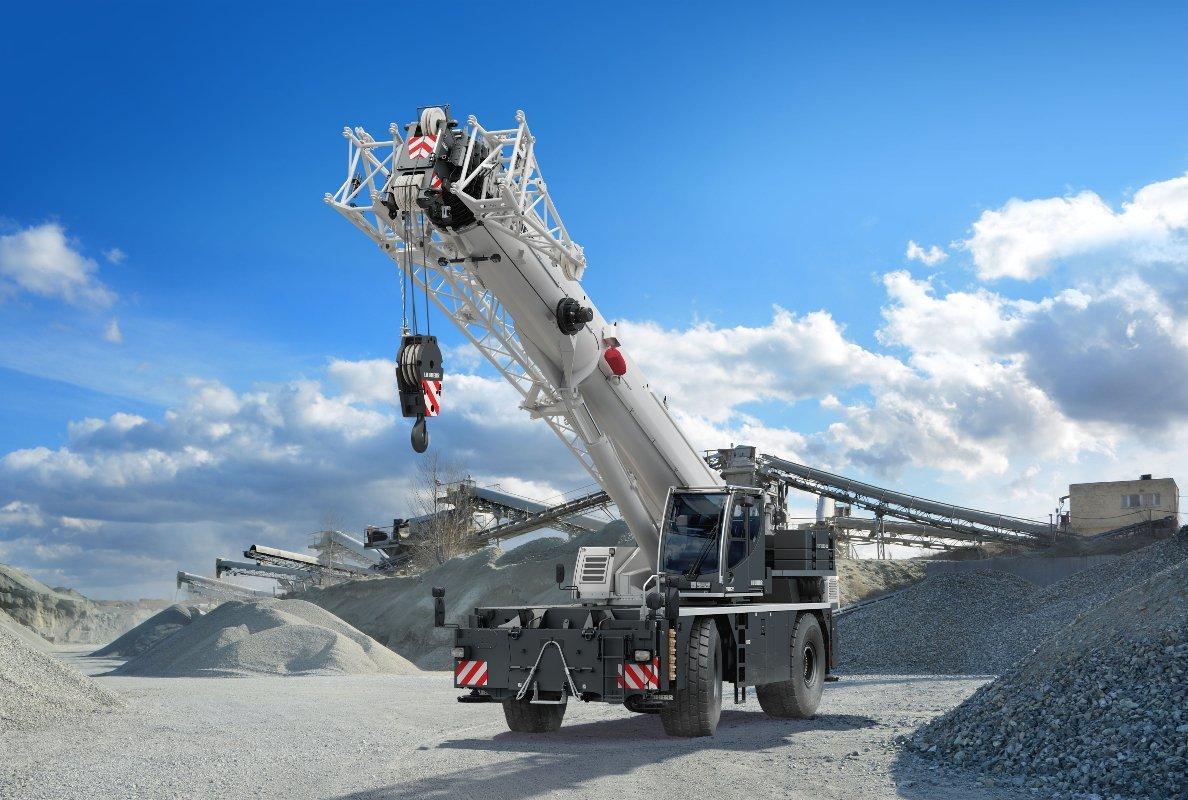 The new Liebherr LRT 1130-2.1 is now the world's most powerful all-terrain crane on two axles. IMAGE SOURCE: Liebherr-Werk Ehingen GmbH
Primaire markt: VS
Krachtigste 2-assige ruwterreinkraan met langste telescopische arm op de markt
Voordelig wereldwijd transport
Hoge veiligheidsnormen
Op Bauma 2022 zal Liebherr de krachtigste ruwterreinkraan op twee assen op de markt presenteren. De LRT 1130-2.1 heeft een maximaal hefvermogen van 130 ton en vormt een uitbreiding van Liebherr's assortiment ruwterreinkranen aan de bovenkant van dit segment. Naast de hoge prestaties hebben de ontwerpers zich bij de ontwikkeling van dit nieuwe model vooral gericht op economisch transport en veilige kraanbediening.
Liebherr onthult op Bauma 2022 een ruwterreinkraan van 130 ton onder het motto "The toughest in the roughest". De nieuwe LRT 1130-2.1 biedt zeer hoge hefcapaciteiten en de langste telescopische arm van alle 2-assige ruwterreinkranen waar ook ter wereld. Het heeft ook de meest economische transportafmetingen in zijn prestatieklasse.
Hoge prestaties met lange telescopische giek
Het concept van de LRT 1130-2.1 is maximale prestaties met zuinige mobiliteit, wereldwijd. De nieuwe Liebherr ruwterreinkraan is momenteel de enige 130 tons kraan op een 2-assig chassis. Tegelijkertijd is de telescopische giek met 60 meter de langste in zijn klasse. Het bestaat uit het zwenkgedeelte en zes telescopische gedeelten en wordt volautomatisch uitgeschoven en vastgeschroefd met het Liebherr TELEMATIK high-speed telescopisch systeem.
Voor de LRT 1130-2.1 is een enkele klapjib van 10,8 meter of een dubbele klapjib van 10,8 –19 meter verkrijgbaar. Hij wordt onder een hoek van 0°, 20° of 40° gemonteerd, of kan optioneel hydraulisch worden gekanteld van 0° tot 40°. Met een extra traliewerk van zeven meter als telescopisch verlengstuk bereikt de nieuwe kraan een haakhoogte tot 85 meter. De klapjib wordt aan de rechterkant van de giek gedragen. Tegelijkertijd kan aan de linkerzijde van de giek een montagejib van 2,9 meter worden bevestigd. Een zijdelings opklapbare haanschijf, die in 2-lijns modus kan worden bediend, rondt de giekopties af.
Zuinig transport
Liebherr heeft de afmetingen van de nieuwe LRT 1130-2.1 zo ontworpen dat deze wereldwijd economisch op diepladers vervoerd kan worden. De breedte is 3,4 meter, de hoogte 3,85 meter en de chassislengte is 9,4 meter. Het transportgewicht is 48 ton zonder ballast, maar met klapjib en haakblok. Dit kan worden teruggebracht tot 44,8 ton. Deze waarden zijn uniek in de klasse van krachtige 2-assige all-terrain kranen. Voor de 20-tons ballast en aanvullende uitrusting is een vergunningvrij standaard transportvoertuig voldoende. Het contragewicht bestaat uit drie ballastplaten en is via zelfmontage met ballastrammen aan het zwenkplateau bevestigd.
"Safety first" – veiligheidsuitrusting zet nieuwe maatstaven
Hoge veiligheidsniveaus in elk opzicht waren de belangrijkste prioriteit bij het ontwerp van de nieuwe LRT 1130-2.1, die standaard is uitgerust met een stempelbewakingssysteem. De stempelstatus, op banden of steunen, wordt automatisch gedetecteerd en opgeslagen in de kraancontroller. Ook de bevestiging van de ballast aan het zwenkplateau en de montage van de optionele dubbele klapjib inclusief hoekverstelsysteem worden vastgelegd en bewaakt.
De VarioBase® variabele steunbasis, die door Liebherr is ontwikkeld en standaard is op alle Liebherr LRT-kranen, levert een belangrijke bijdrage aan het verhogen van de veiligheid. Met VarioBase® kan elke afzonderlijke kraanstempel naar elke gewenste lengte worden uitgeschoven. Het kraanwerk wordt aangestuurd door de lastmomentbegrenzer binnen de LICCON-controller, die precies voor de actuele situatie het maximale draagvermogen berekent. Dit voorkomt ongelukken door menselijke fouten tijdens het montageproces en bij het hijsen van lasten. VarioBase® biedt ook meer flexibiliteit op de bouwplaats, hogere hefcapaciteiten en een groter werkbereik. De grootste voordelen worden bereikt in de gebieden direct boven de stempels.
De veiligheid wordt ook vergroot door meer comfort te bieden aan het bedienend personeel. De nieuwe 130-tons kraan beschikt ook over de brede kraancabine die zijn waarde al heeft bewezen op de andere Liebherr LRT-modellen. Hij kan naar achteren worden gekanteld voor meer comfort bij het hijsen van lasten tot grote hoogte. Duidelijke, zelfverklarende bedieningselementen maken de kraan gemakkelijk te hanteren. Ze stellen kraanmachinisten in staat zich te concentreren op de belangrijkste focus van hun werk, het werken met de kraan en de lading. Liebherr noemt dit concept KISS: "keep it simple and safe".
Er zijn ladders, een groot aantal handgrepen en een elektrisch uitschuifbaar platform op de cabine om een ​​veilige toegang tot de kraan te garanderen. De nieuwe LRT-kraan is standaard uitgerust met een breed scala aan opbergkisten voor uitgebreide accessoires, hijswerktuigen en steunbalken. Ook is er opbergruimte voor de lasthaak.
Net als de LRT 1090-2.1 en LRT 1100-2.1 kranen voldoet ook de LRT 1130-2.1 aan een wereldwijde, uniforme veiligheidsnorm en daarmee aan wereldwijd geldende regelgeving zoals de Amerikaanse ASME B30.5 norm, de Europese EN 13000 norm, de Australian Standards (AS) en de Russische GOST-standaard. De machines bevatten ook systemen om te voorkomen dat veiligheidsapparatuur wordt omzeild. Liebherr is op dit gebied een pionier in de branche.
Hoge offroad-capaciteiten
De nieuwe LRT 1130-2.1 is ontworpen voor robuustheid, offroad-mobiliteit en wendbaarheid. Hij wordt aangedreven door een 6-cilinder CUMMINS-verbrandingsmotor die voldoet aan alle toepasselijke emissienormen. Het kan zonder beperkingen worden gebruikt met gehydrogeneerde plantaardige olie (HVO). De motor ontwikkelt 188 kW (252 pk) en levert een maximumkoppel van 1.186 Nm. Een 6-traps powershift-transmissie van DANA en grote 29.5 R 25-banden garanderen de vereiste offroad-capaciteiten. Vierwiel- en krabbesturing zorgen voor eenvoudige bediening en hoge wendbaarheid in krappe omstandigheden.
NJC.© Info Liebherr-Werk Ehingen GmbH
--------------------------------------------------------------------------------------------------------------------