Liebherr BAUMA- unveils fleet data management for mobile and crawler cranes
26/10/22-FR-English-NL-footer
Liebherr BAUMA- dévoile la gestion des données de flotte pour les grues mobiles et sur chenilles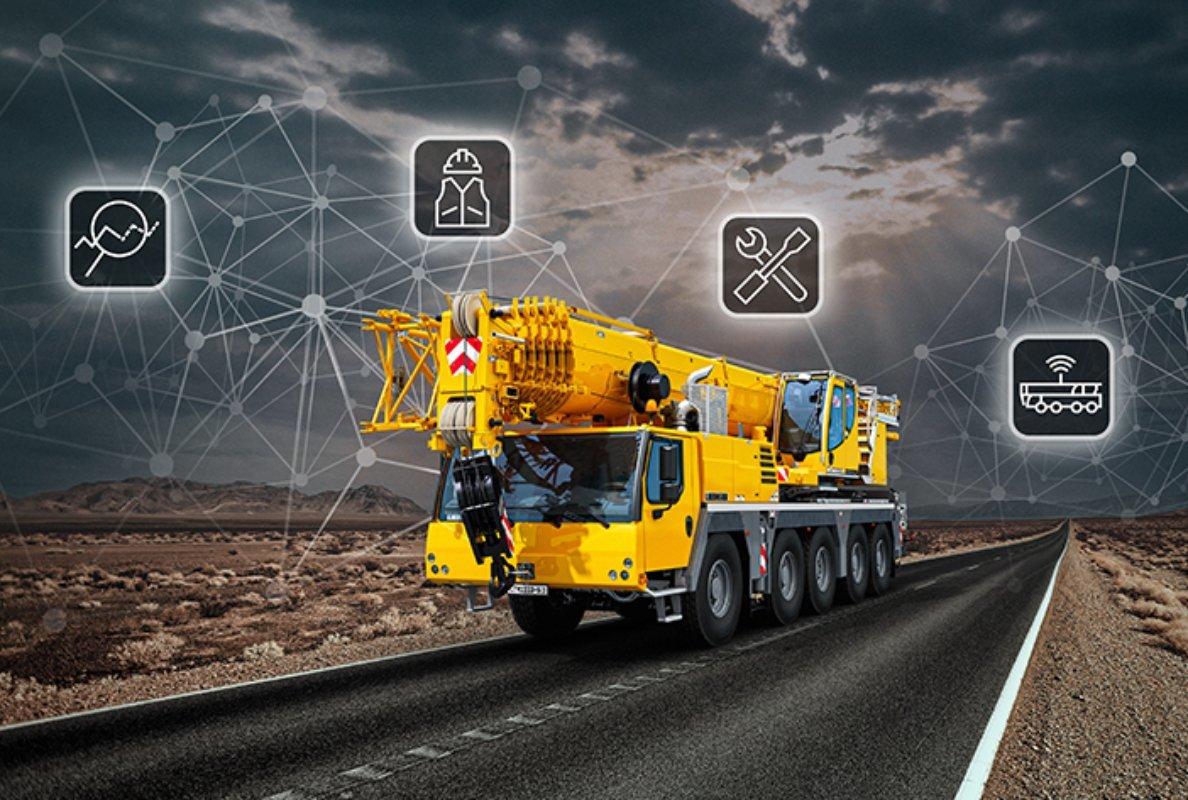 LWE telemetry key visual IMAGE SOURCE: Liebherr-Werk Ehingen GmbH
Liebherr lance une solution de gestion des données de flotte pour ses grues mobiles et sur chenilles
Le modem devient un équipement standard dans différents types de grues en 2023
Des solutions de modernisation sont disponibles pour les anciennes grues
Liebherr prend en charge les frais de télécommunication pour la transmission des données via le modem
À Bauma 2022, Liebherr dévoilera une solution de gestion des données de flotte pour ses grues mobiles et sur chenilles. En plus de l'emplacement de la machine, le système affiche une gamme de données supplémentaires en temps réel, telles que la consommation de carburant, la vitesse du vent actuelle, le poids de la charge sur le crochet et même la date du prochain entretien de la grue. Les clients peuvent également utiliser le système pour générer des rapports personnalisés pour des chantiers de construction spécialement définis, tels que la consommation de carburant ou les émissions de CO2. De nombreuses nouvelles grues sont désormais équipées de série du modem sans fil nécessaire. Les grues sur le terrain peuvent être facilement modernisées à l'avenir. Dans chaque cas, Liebherr prendra en charge les frais de télécommunication.
La nouvelle solution Liebherr est une introduction facile au monde de la télémétrie, une technologie déjà largement répandue dans les voitures modernes, les lave-vaisselle et même les robots tondeuses. Il permet à l'utilisateur de l'appareil correspondant de surveiller ses paramètres de fonctionnement de n'importe où dans le monde. Bien qu'il s'agisse davantage d'un gadget pour les appareils électroménagers, la télémétrie à distance génère des avantages significatifs pour les clients disposant de grues mobiles et sur chenilles. La solution de gestion des données de flotte de Liebherr permet également aux clients de surveiller en temps réel - depuis le bureau ou sur la route - l'emplacement actuel de machines spécifiques, de déterminer si la force du vent dominant actuel permet de travailler en toute sécurité, et même de voir le poids de la charge actuellement suspendue au crochet. La quantité restante et la consommation de carburant et d'AdBlue sont également affichées - si le niveau descend en dessous de certaines limites, le système informe l'utilisateur.
Rapports de chantier rapides - grâce au geofencing et à MyLiebherr
L'utilisateur peut définir une zone sur une carte, comme un chantier de construction. Chaque fois que la grue se déplace dans cette zone, toutes les données lui sont attribuées (geofencing). En sélectionnant un chantier de construction et une période de temps, l'utilisateur peut alors analyser (par exemple) le nombre d'heures de fonctionnement d'une grue particulière sur le site sélectionné dans la période définie, la quantité de carburant qu'elle a consommée, et peut même voir la quantité des émissions de CO2 générées par la grue. Ces données constituent la base du processus de facturation et de la création de certains rapports, que les grutiers sont de plus en plus amenés à envoyer à leurs clients. Wolfgang Boos, chef de produit chez Liebherr, explique : « Il est important pour nous de ne pas afficher de données arbitraires simplement parce qu'un capteur correspondant est installé. Nous voulons fournir au client des données qui l'aident à gérer son parc de machines et ainsi l'exploiter de la manière la plus économique possible. "
La bonne solution pour presque toutes les grues
À partir de 2023, un modem évolutif sera progressivement installé de série dans les différents nouveaux types de grues. Pour Liebherr, le système de gestion des données de flotte lancé à la Bauma n'est que le début d'une série de nouveaux services numériques prévus. Si la grue d'un client
est déjà sur le terrain, Liebherr propose des solutions de rétrofit, même pour les modèles fabriqués il y a jusqu'à dix ans. Les grues modernes génèrent plus de données que les modèles plus anciens, qui ont généralement moins de capteurs installés. L'équipe du service client de Liebherr est à disposition pour informer le client exactement du type de données qu'il peut attendre de la grue en question.
Qu'il s'agisse d'un modem série ou d'une solution de rétrofit, un modem nécessite une carte SIM de téléphone portable avec un forfait de données pour envoyer les données à l'application client. Afin que les clients puissent entrer sans aucun obstacle dans ce nouveau monde axé sur les données, tous les modems Liebherr pour les grues Liebherr sont équipés d'une carte SIM de données dont Liebherr prend en charge les coûts, quel que soit le pays dans lequel la grue est exploitée. Par conséquent, les clients Liebherr n'ont pas à s'inquiéter des frais d'itinérance élevés.
Votre flotte – vos données
L'ensemble du système est basé sur le portail client éprouvé "MyLiebherr". Après avoir enregistré leurs grues sur le portail, les clients peuvent ensuite (par exemple) télécharger des instructions d'utilisation ou commander des pièces de rechange. Le portail ouvre également le monde des données de grue. "MyLiebherr" a été complètement modernisé - sur la page d'accueil, les clients peuvent déjà voir clairement les machines de leur parc et naviguer directement vers le modèle souhaité. Le nouveau système est actuellement testé auprès de clients sélectionnés et sera déployé successivement auprès de tous les opérateurs à partir de début 2023.
En choisissant l'application "Performance", comme le service est appelé, le client reçoit un système de gestion des données de flotte sous la forme d'un package complet sans souci. C'est l'occasion pour le client d'utiliser ses machines encore plus efficacement et donc de les exploiter de manière plus économique. Le nouveau package est également une preuve supplémentaire que les clients de Liebherr obtiennent non seulement des grues exceptionnelles, mais ont également accès à un portefeuille de services et d'offres en constante augmentation pour garantir une utilisation optimale de leur flotte de grues.
NJC.© Info Liebherr-Werk Ehingen GmbH
-----------------------------------------------------------------------------------------------------------------
26/10/22-English
Liebherr BAUMA- unveils fleet data management for mobile and crawler cranes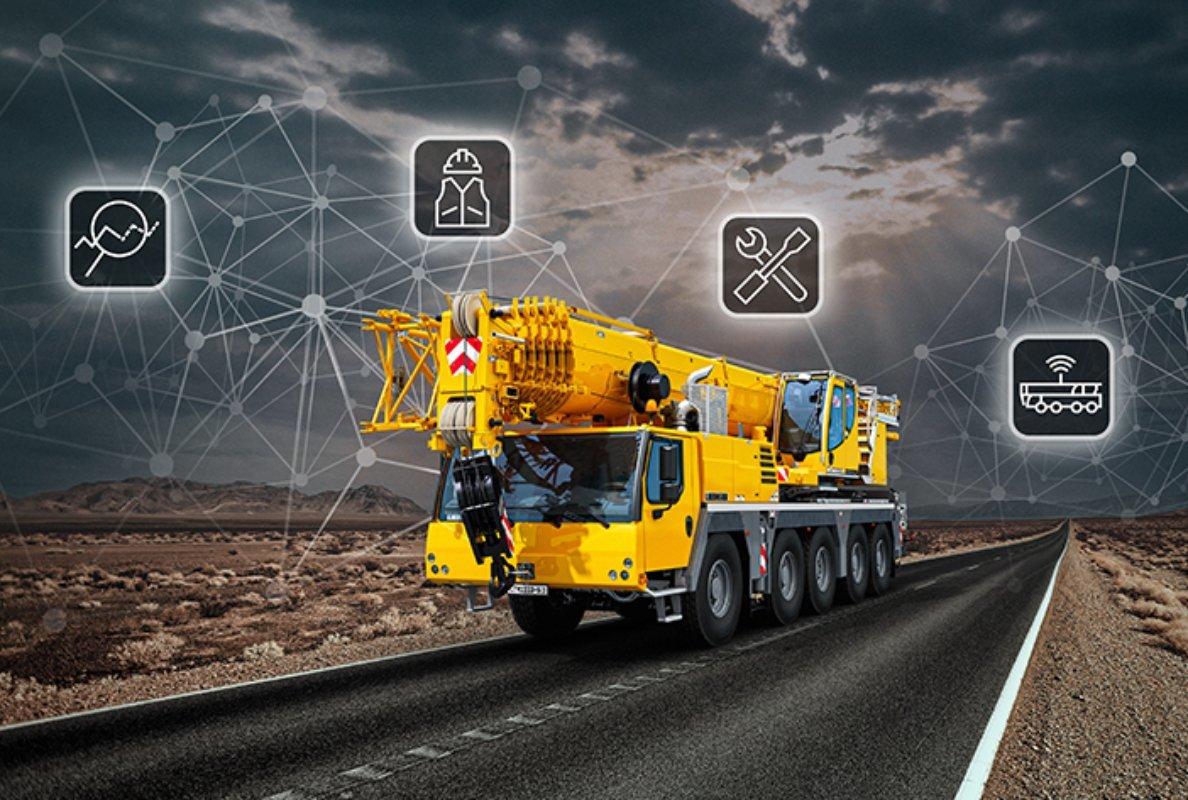 LWE telemetry key visual IMAGE SOURCE: Liebherr-Werk Ehingen GmbH
Liebherr launches a fleet data management solution for its mobile and crawler cranes
Modem becomes standard equipment in various crane types in 2023
Retrofit solutions are available for older cranes
Liebherr will cover the telecommunication costs for the data transmission via the modem
At Bauma 2022, Liebherr will unveil a fleet data management solution for its mobile and crawler cranes. In addition to the machine's location, the system displays a range of additional real-time data, such as the fuel consumption, the current wind speed, the weight of the load on the hook and even when the crane's next service is due. Customers can also use the system to generate custom reports for specially defined construction sites, such as the fuel consumption or CO2 emissions. Many new cranes now have the necessary wireless modem on board as standard. Cranes in the field can be easily retrofitted in the future. In each case, Liebherr will cover the telecommunication costs.
The new Liebherr solution is an easy introduction to the world of telemetry, a technology that is already widespread in modern cars, dishwashers and even robotic lawnmowers. It allows the user of the corresponding device to monitor its operating parameters from anywhere in the world. While this is more of a gimmick for domestic appliances, remote telemetry generates significant benefits for customers with mobile and crawler cranes. The Liebherr fleet data management solution enables customers to also monitor in real time – from the office or while on the road – the current location of specific machines, to determine whether the current prevailing wind force allows safe working, and even to see the weight of the load currently hanging from the hook. The remaining quantity and consumption of fuel and AdBlue are also displayed – if the level falls below certain limits, the system informs the user.
Fast job site reports - thanks to geofencing and MyLiebherr
The user can define an area on a map, such as a construction site. Whenever the crane moves within this area, all data is assigned to it (geofencing). By selecting a construction site and a time period, the user can then analyse (for example) the number of operating hours for a particular crane at the selected site within the defined period, how much fuel it has consumed, and can even see the quantity of CO2 emissions generated by the crane. This data forms the basis for the billing process and the creation of certain reports, which crane operators are increasingly required to send to their customers. Liebherr Product Manager Wolfgang Boos explains: "It is important to us not to display arbitrary data just because a corresponding sensor is installed. We want to provide the customer with data that helps them manage their machine fleet and thus operate it as economically as possible."
The right solution for almost every crane
Starting in 2023, a future-proof modem will be gradually installed in the various new crane types as standard. For Liebherr, the fleet data management system launched at Bauma is just the beginning of a whole series of further planned digital services. If a customer's crane
is already in the field, Liebherr offers retrofit solutions – even for models produced up to ten years ago. Modern cranes generate more data than older models, which generally have fewer sensors installed – Liebherr's customer service team is on hand to inform the customer exactly what kind of data can be expected from the crane in question.
Regardless of whether a series modem or a retrofit solution is installed, a modem requires a mobile phone SIM card with a data plan to send the data to the client application. To ensure that customers can enter this new data-driven world without any hurdles, all Liebherr modems for Liebherr cranes are equipped with a data SIM card for which Liebherr covers the costs – regardless of the country in which the crane is operated. Therefore, Liebherr customers need not worry about expensive roaming charges.
Your fleet – your data
The entire system is based on the proven "MyLiebherr" customer portal. Having registered their cranes in the portal, customers can then (for example) download operating instructions or order spare parts. The portal also opens up the world of crane data. "MyLiebherr" has been thoroughly modernised – on the start page, customers can already clearly see the machines in their fleet and navigate directly to the desired model. The new system is currently being tested with selected customers and will be rolled out successively to all operators from the beginning of 2023.
By choosing the "Performance" application, as the service is called, the customer receives a fleet data management system in the form of an all-round carefree package. This is the customer's opportunity to use their machines even more efficiently and thus to operate them more economically. The new package is also further proof that Liebherr's customers not only get outstanding cranes, but also have access to a constantly growing portfolio of services and offers to help ensure optimised use of their crane fleet.
NJC.© Info Liebherr-Werk Ehingen GmbH
--------------------------------------------------------------------------------------------------------------------
26/10/22-NL
Liebherr BAUMA- onthult fleet data management voor mobiele en rupskranen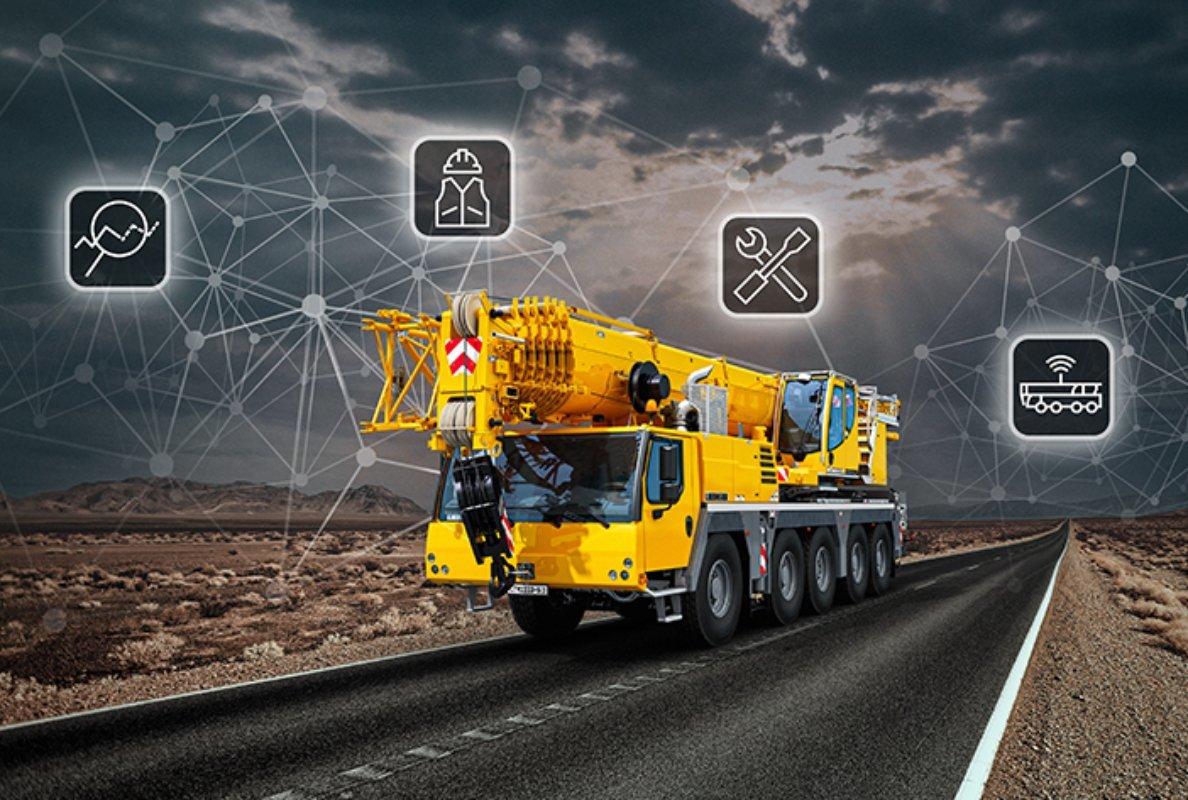 LWE telemetry key visual IMAGE SOURCE: Liebherr-Werk Ehingen GmbH
Liebherr lanceert een oplossing voor het beheer van wagenparkgegevens voor zijn mobiele kranen en rupskranen
Modem wordt standaard uitrusting in verschillende kraantypes in 2023
Retrofit-oplossingen zijn beschikbaar voor oudere kranen
Liebherr dekt de telecommunicatiekosten voor de datatransmissie via de modem
Op Bauma 2022 onthult Liebherr een oplossing voor vlootgegevensbeheer voor zijn mobiele kranen en rupskranen. Naast de locatie van de machine geeft het systeem een ​​reeks aanvullende realtime gegevens weer, zoals het brandstofverbruik, de huidige windsnelheid, het gewicht van de last aan de haak en zelfs wanneer de volgende onderhoudsbeurt van de kraan moet plaatsvinden. Klanten kunnen het systeem ook gebruiken om op maat gemaakte rapporten te genereren voor speciaal gedefinieerde bouwplaatsen, zoals het brandstofverbruik of de CO2-uitstoot. Veel nieuwe kranen hebben inmiddels standaard het benodigde draadloze modem aan boord. Kranen in het veld kunnen in de toekomst eenvoudig achteraf worden ingebouwd. In elk geval zal Liebherr de telecommunicatiekosten dekken.
De nieuwe Liebherr-oplossing is een gemakkelijke introductie in de wereld van telemetrie, een technologie die al wijdverbreid is in moderne auto's, vaatwassers en zelfs robotmaaiers. Hiermee kan de gebruiker van het bijbehorende apparaat de bedrijfsparameters van overal ter wereld bewaken. Hoewel dit meer een gimmick is voor huishoudelijke apparaten, levert telemetrie op afstand aanzienlijke voordelen op voor klanten met mobiele kranen en rupskranen. De Liebherr fleet data management-oplossing stelt klanten in staat om ook in realtime – vanaf kantoor of onderweg – de huidige locatie van specifieke machines te bewaken, om te bepalen of de huidige heersende windkracht veilig werken mogelijk maakt, en zelfs om het gewicht van de last die momenteel aan de haak hangt. De resterende hoeveelheid en het verbruik van brandstof en AdBlue worden ook weergegeven - als het niveau onder bepaalde limieten komt, informeert het systeem de gebruiker.
Snelle rapporten over de bouwplaats - dankzij geofencing en MyLiebherr
De gebruiker kan een gebied op een kaart definiëren, zoals een bouwplaats. Wanneer de kraan zich binnen dit gebied beweegt, worden alle gegevens eraan toegewezen (geofencing). Door een bouwplaats en een tijdsperiode te selecteren, kan de gebruiker vervolgens (bijvoorbeeld) het aantal draaiuren van een bepaalde kraan op de geselecteerde locatie binnen de gedefinieerde periode analyseren, hoeveel brandstof deze heeft verbruikt en zelfs de hoeveelheid zien van de door de kraan gegenereerde CO2-uitstoot. Deze gegevens vormen de basis voor het facturatieproces en het maken van bepaalde rapporten, die kraanmachinisten steeds vaker naar hun klanten moeten sturen. Liebherr Product Manager Wolfgang Boos legt uit: "Het is belangrijk voor ons om geen willekeurige gegevens weer te geven alleen omdat er een bijbehorende sensor is geïnstalleerd. We willen de klant gegevens bieden die hem helpen zijn machinepark te beheren en zo economisch mogelijk te gebruiken. "
Voor bijna elke kraan de juiste oplossing
Vanaf 2023 wordt in de verschillende nieuwe kraantypes standaard een toekomstvast modem geïnstalleerd. Voor Liebherr is het op de Bauma gelanceerde fleetdatamanagementsysteem nog maar het begin van een hele reeks verdere geplande digitale diensten. Als de kraan van een klant
al in het veld is, biedt Liebherr retrofit-oplossingen – zelfs voor modellen die tot tien jaar geleden zijn geproduceerd. Moderne kranen genereren meer gegevens dan oudere modellen, die over het algemeen minder sensoren hebben geïnstalleerd – het klantenserviceteam van Liebherr staat klaar om de klant precies te informeren wat voor soort gegevens van de kraan in kwestie kunnen worden verwacht.
Ongeacht of er een seriemodem of een retrofit-oplossing is geïnstalleerd, een modem heeft een simkaart voor een mobiele telefoon met een data-abonnement nodig om de gegevens naar de clienttoepassing te verzenden. Om ervoor te zorgen dat klanten probleemloos deze nieuwe datagestuurde wereld kunnen betreden, zijn alle Liebherr-modems voor Liebherr-kranen uitgerust met een data-simkaart waarvan Liebherr de kosten dekt – ongeacht het land waarin de kraan wordt gebruikt. Daarom hoeven Liebherr-klanten zich geen zorgen te maken over dure roamingkosten.
Uw wagenpark – uw gegevens
Het hele systeem is gebaseerd op het beproefde klantenportaal "MyLiebherr". Nadat hun kranen in het portaal zijn geregistreerd, kunnen klanten vervolgens (bijvoorbeeld) gebruiksaanwijzingen downloaden of reserveonderdelen bestellen. Het portaal opent ook de wereld van kraandata. "MyLiebherr" is grondig gemoderniseerd - op de startpagina kunnen klanten de machines in hun vloot al duidelijk zien en direct naar het gewenste model navigeren. Het nieuwe systeem wordt momenteel getest bij geselecteerde klanten en wordt vanaf begin 2023
Door te kiezen voor de applicatie "Performance", zoals de dienst heet, krijgt de klant een fleet data management systeem in de vorm van een allround zorgeloos pakket. Dit is de kans voor de klant om zijn machines nog efficiënter te gebruiken en dus zuiniger te gebruiken. Het nieuwe pakket is ook een verder bewijs dat de klanten van Liebherr niet alleen uitstekende kranen krijgen, maar ook toegang hebben tot een voortdurend groeiend portfolio van diensten en aanbiedingen om een optimaal gebruik van hun kraanvloot te helpen garanderen.
NJC.© Info Liebherr-Werk Ehingen GmbH
-----------------------------------------------------------------------------------------------------------------------