LIEBHERR-Crawler tractors at steinexpo 2023: potential solutions for boosting efficiency

05/09/23-FR-English-NL-footer
Tracteurs à chenilles LIEBHERR au salon Steinexpo 2023 : des solutions potentielles pour augmenter l'efficacité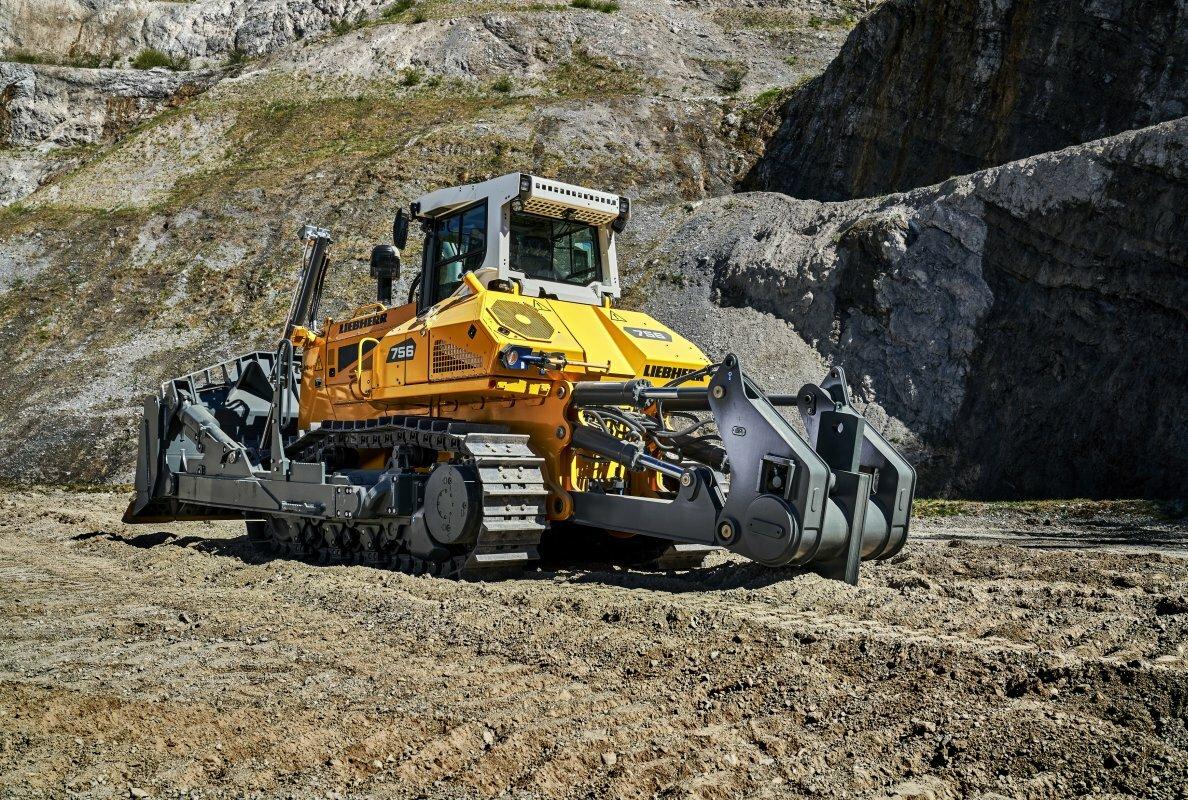 PR 756 crawler tractors really excel in their ability to meet the needs of the extractive industry. IMAGE SOURCE: Liebherr
Liebherr travaille sans relâche à la recherche de solutions pour le secteur des tracteurs à chenilles, même à une époque de pression croissante sur les coûts, d'exigences plus strictes en matière de respect de l'environnement et de coûts de carburant en hausse. Au salon Steinexpo 2023, l'entreprise révèle comment son tracteur à chenilles PR 756 répond aux exigences en matière de travail et d'environnement.
Aujourd'hui, de nombreuses solutions sont disponibles pour contribuer à accroître l'efficacité des chantiers de construction. La gamme comprend des systèmes d'assistance modernes, des entraînements alternatifs et même le concept de chantier numérique. Les solutions directement réalisables jouent un rôle à cet égard, tout comme les évolutions à moyen et long terme. Le tracteur à chenilles PR 756 exposé n'est qu'un des moyens utilisés par Liebherr pour illustrer ce point.
Un fonctionnement efficace, silencieux et avec de faibles émissions : le tracteur à chenilles PR 756
En plus de montrer à quel point le Liebherr Silent Design peut fonctionner de manière remarquablement silencieuse, steinexpo offre également à Liebherr une plate-forme pour démontrer comment son tracteur à chenilles PR 756 est capable d'atteindre un rendement énergétique encore plus élevé grâce à EcoMode, un entraînement hydrostatique amélioré à commande électronique. À titre d'exemple, ce véhicule peut déjà fonctionner au HVO (huile végétale hydrotraitée), ne nécessitant aucune modification ou conversion de la transmission. Par rapport à son homologue diesel, il peut alors fonctionner immédiatement avec une réduction des émissions de CO2 allant jusqu'à 90 %.
Les systèmes d'assistance modernes constituent un autre point fort de l'équipement. Ces systèmes étendent la capacité de développement de site de ce véhicule de transport de matériaux hautement productif et facilitent également sa maintenance. Des systèmes de contrôle sophistiqués basés sur GPS permettent à ces véhicules d'effectuer des travaux de terrassement et de construction de routes avec une direction précise et une capacité de pente transversale.
Des résultats de travail de haute qualité obtenus grâce à des systèmes d'assistance intelligents
Ces systèmes d'assistance offrent également plusieurs niveaux d'assistance au conducteur : Free Grade pour la stabilisation active du bouclier lors du nivellement fin et Definition Grade pour le positionnement automatique de la lame lors de la création de surfaces 2D. Cette combinaison d'un contrôle précis de l'entraînement et d'un centre de gravité optimisé permet d'obtenir des vitesses de nivellement exceptionnellement élevées ainsi que des résultats de nivellement extrêmement précis.
En comparaison directe avec les concepts d'entraînement modernes tels que le système diesel-électrique, de nombreuses années d'expérience démontrent l'amélioration substantielle de l'efficacité de cette génération d'entraînement hydrostatique, en combinaison avec une technologie numérique avancée. Les commentaires des clients indiquent que des économies annuelles allant jusqu'à 35 000 € peuvent être réalisées.
Ces valeurs empiriques sont basées sur la collecte de données via le portail de gestion de flotte Liebherr LiDat, également accessible à tout moment sur une base mobile. Ce portail fournit des rapports sur toutes les données opérationnelles pertinentes, mis à jour quotidiennement.
Le calculateur d'économie de carburant Liebherr fournit également un aperçu complet comprenant une série de données représentatives. Cela facilite une comparaison directe avec la propre flotte de l'entreprise.
Une économie de carburant améliorée et des données de consommation transparentes contribuent toutes deux à réduire les coûts et les niveaux d'émissions. Le tout complété par des systèmes d'assistance modernes qui permettent aux utilisateurs d'accomplir des tâches difficiles avec un niveau de qualité élevé, encore plus rapidement et plus efficacement.
En retour, cela réduit considérablement le niveau de stress et la fatigue associée des opérateurs de machines, améliorant ainsi la commodité et l'efficacité des opérations sur le lieu de travail. Il s'agit d'un avantage crucial qui prend tout son sens dans les opérations difficiles impliquées dans l'industrie extractive.
NJC.© Info Liebherr-Werk Telfs GmbH
------------------------------------------------------------------------------------------------------------------

05/09/23-English
LIEBHERR-Crawler tractors at steinexpo 2023: potential solutions for boosting efficiency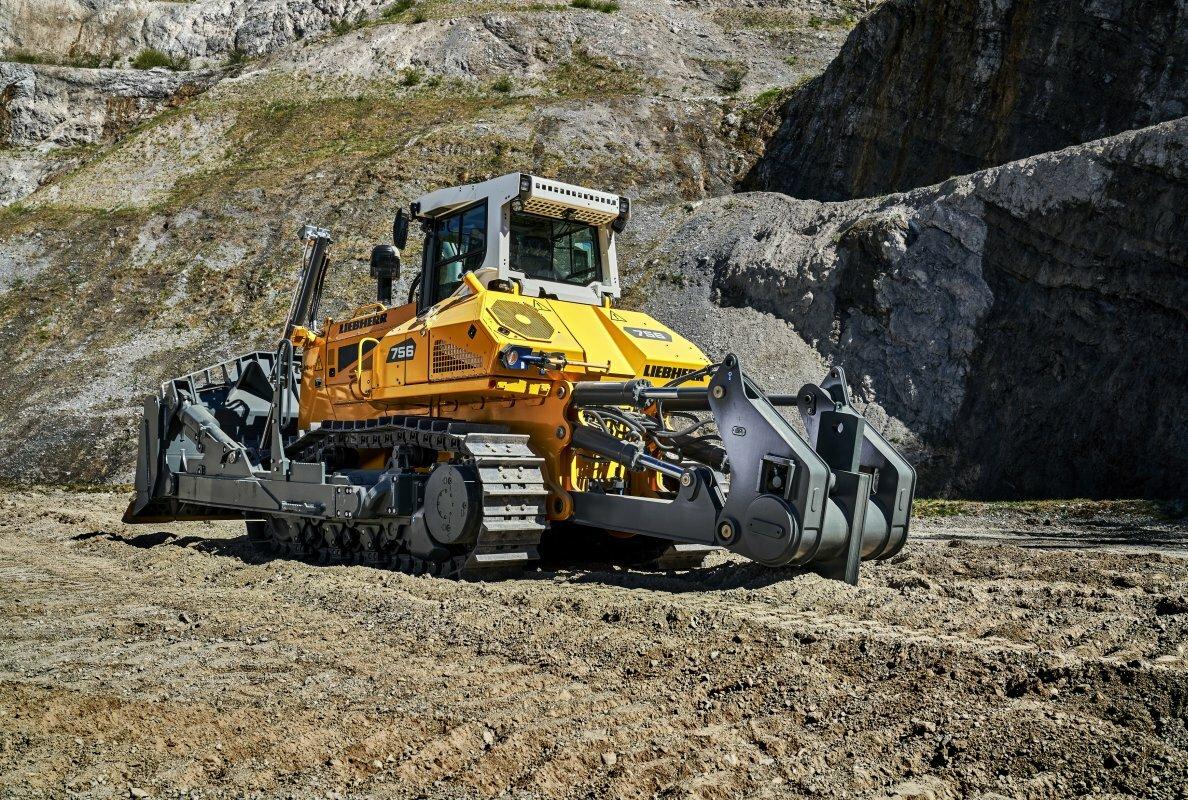 PR 756 crawler tractors really excel in their ability to meet the needs of the extractive industry. IMAGE SOURCE: Liebherr
Liebherr works ceaselessly on solutions for the crawler tractor sector, also at times of rising pressure on costs, of more stringent requirements on environmental compatibility and of spiralling fuel costs. At the steinexpo 2023 trade fair, the company reveals how its crawler tractor PR 756 achieves compliance with workplace as well as environmental requirements
Today, many solutions are available to help boost efficiency on construction sites. The range includes modern assistance systems, alternative drives and even the digital construction site concept. Solutions that can be implemented directly play a role in this, as do medium-term and long-term developments. The PR 756 crawler tractor being exhibited is just one of the ways Liebherr employs to illustrate this point.
Operates efficiently, quietly and with low emissions: the PR 756 crawler tractor
As well as showcasing how remarkably quietly the Liebherr Silent Design can operate, steinexpo also gives Liebherr a platform for demonstrating how its PR 756 crawler tractor is able to achieve even higher fuel efficiency with EcoMode, an upgraded electronically controlled hydrostatic drive. As just one example, this vehicle can already run on HVO (Hydrotreated Vegetable Oil), requiring no modification or conversion to the drive train. Compared to its diesel-powered counterpart, it can then operate straightaway with as much as a 90 % reduction in CO2 emissions.
Modern assistance systems constitute yet another equipment highlight. These systems extend the site development capability of this highly productive material-moving vehicle and also make it easier to maintain. Sophisticated GPS-based control systems enable these vehicles to perform earthworks and roadbuilding with precise steering and cross slope capability.
High-quality work outcomes achieved with smart assistance systems
These assistance systems also deliver several levels of support to the driver: Free Grade for active shield stabilisation during fine grading and Definition Grade for automatic blade positioning when creating 2D surfaces. This combination of precise drive control and optimised centre of gravity delivers exceptionally high grading speeds as well as extremely precise grading results.
In a direct comparison to modern drive concepts such as the diesel-electric system, many years of experience demonstrate the substantial improvement in efficiency of this generation of hydrostatic drive, in combination with advanced digital technology. Customer feedback indicates that annual cost savings of up to €35,000 can be achieved.
These empirical values are based on data collection using the Liebherr LiDat fleet management portal which can also be accessed on a mobile basis at any time. This portal provides reports of all relevant operational data, updated on a daily basis.
A comprehensive overview featuring a representative range of data is also provided by the Liebherr fuel saving calculator. This facilitates direct comparison with the company's own fleet.
Enhanced fuel economy and transparent consumption data both help to reduce costs and emission levels. All neatly rounded off by modern assistance systems that enable users to complete challenging tasks to a high standard of quality even faster and more efficiently.
In turn, this significantly reduces the level of stress and associated fatigue of machine operators, enhancing the convenience and efficiency of workplace operations. This is a crucial advantage that really comes into its own with the challenging operations involved in the extractive industry.
NJC.© Info Liebherr-Werk Telfs GmbH
-------------------------------------------------------------------------------------------------------------------

05/09/23-NL
LIEBHERR-rupstrekkers op steinexpo 2023: mogelijke oplossingen om de efficiëntie te verhogen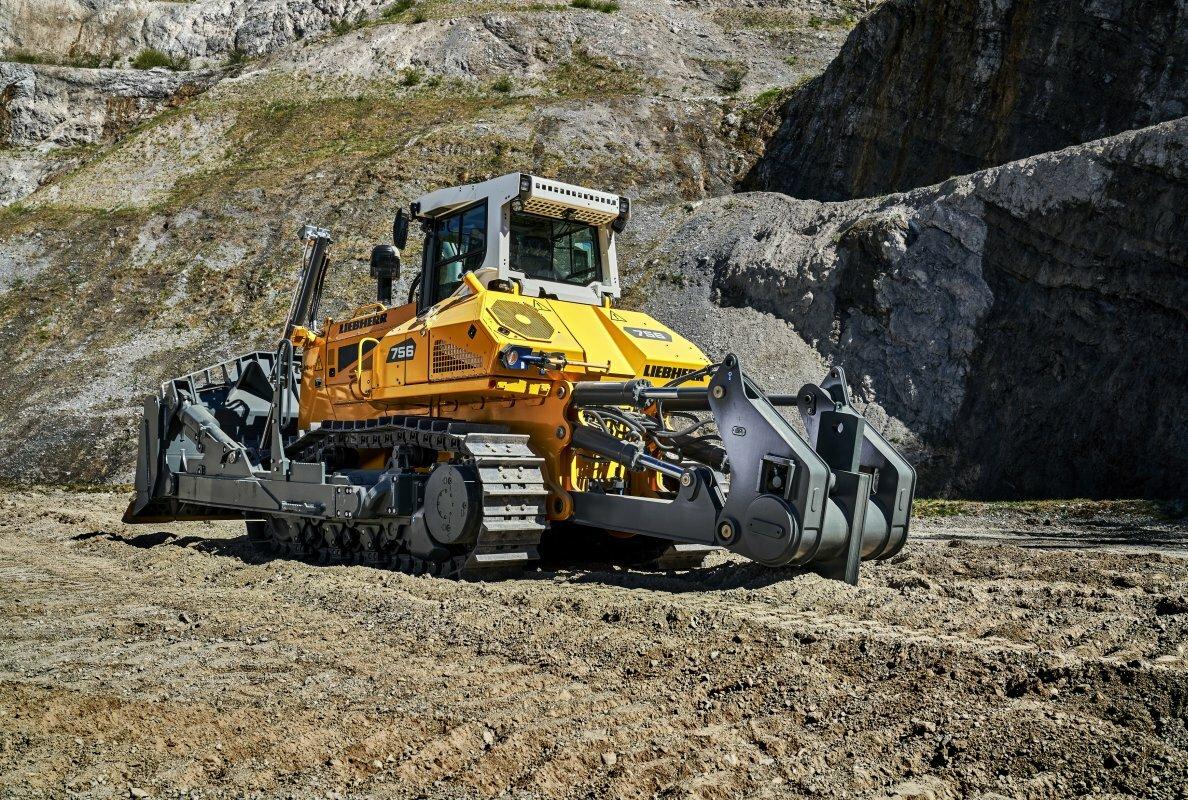 PR 756 crawler tractors really excel in their ability to meet the needs of the extractive industry. IMAGE SOURCE: Liebherr
Liebherr werkt onophoudelijk aan oplossingen voor de rupstrekkersector, ook in tijden van toenemende druk op de kosten, van strengere eisen op het gebied van milieuvriendelijkheid en van stijgende brandstofkosten. Op de vakbeurs steinexpo 2023 onthult het bedrijf hoe de rupstrekker PR 756 voldoet aan zowel de werkplek- als de milieueisen
Tegenwoordig zijn er veel oplossingen beschikbaar om de efficiëntie op bouwplaatsen te vergroten. Het assortiment omvat moderne assistentiesystemen, alternatieve aandrijvingen en zelfs het digitale bouwplaatsconcept. Direct implementeerbare oplossingen spelen daarbij een rol, evenals ontwikkelingen op de middellange en lange termijn. De tentoongestelde rupstrekker PR 756 is slechts één van de manieren waarop Liebherr dit punt illustreert.
Werkt efficiënt, stil en met een lage uitstoot: de PR 756 rupstrekker
Steinexpo laat niet alleen zien hoe opmerkelijk stil de Liebherr Silent Design kan werken, maar geeft Liebherr ook een platform om te demonstreren hoe zijn PR 756-rupstrekker een nog hogere brandstofefficiëntie kan bereiken met EcoMode, een verbeterde elektronisch geregelde hydrostatische aandrijving. Dit voertuig kan bijvoorbeeld al op HVO (Hydrotreated Plantaardige Olie) rijden, waardoor er geen aanpassing of ombouw aan de aandrijflijn nodig is. Vergeleken met zijn dieselaangedreven tegenhanger kan hij dan meteen aan de slag met maar liefst 90% minder CO2-uitstoot.
Moderne assistentiesystemen vormen nog een ander uitrustingshoogtepunt. Deze systemen breiden de ontwikkelingsmogelijkheden van dit zeer productieve voertuig voor materiaalverplaatsing uit en maken het ook eenvoudiger in onderhoud. Geavanceerde, op GPS gebaseerde besturingssystemen stellen deze voertuigen in staat grond- en wegenbouwwerkzaamheden uit te voeren met nauwkeurige besturing en dwarshellingsmogelijkheden.
Hoogwaardige werkresultaten behaald met slimme assistentiesystemen
Deze assistentiesystemen bieden de bestuurder ook verschillende niveaus van ondersteuning: Free Grade voor actieve schildstabilisatie tijdens fijn nivelleren en Definition Grade voor automatische bladpositionering bij het creëren van 2D-oppervlakken. Deze combinatie van nauwkeurige rijbediening en geoptimaliseerd zwaartepunt levert uitzonderlijk hoge nivelleersnelheden en extreem nauwkeurige nivelleerresultaten op.
In een directe vergelijking met moderne aandrijfconcepten zoals het dieselelektrische systeem blijkt uit jarenlange ervaring dat de efficiëntie van deze generatie hydrostatische aandrijvingen aanzienlijk is verbeterd, in combinatie met geavanceerde digitale technologie. Uit feedback van klanten blijkt dat een jaarlijkse kostenbesparing tot wel € 35.000 kan worden gerealiseerd.
Deze empirische waarden zijn gebaseerd op gegevensverzameling met behulp van het Liebherr LiDat wagenparkbeheerportaal, dat ook op elk moment mobiel toegankelijk is. Dit portaal biedt rapporten van alle relevante operationele gegevens, die dagelijks worden bijgewerkt.
Een uitgebreid overzicht met een representatief scala aan gegevens wordt ook geboden door de brandstofbesparingscalculator van Liebherr. Dit maakt een directe vergelijking met de eigen vloot van het bedrijf mogelijk.
Een verbeterd brandstofverbruik en transparante verbruiksgegevens helpen beide de kosten en emissieniveaus te verlagen. Alles netjes afgerond met moderne assistentiesystemen waarmee gebruikers uitdagende taken nog sneller en efficiënter op een hoog kwaliteitsniveau kunnen uitvoeren.
Dit vermindert op zijn beurt het stressniveau en de daarmee gepaard gaande vermoeidheid van machinebedieners aanzienlijk, waardoor het gemak en de efficiëntie van de werkzaamheden op de werkplek worden vergroot. Dit is een cruciaal voordeel dat goed tot zijn recht komt bij de uitdagende werkzaamheden in de winningsindustrie.
NJC.© Info Liebherr-Werk Telfs GmbH
----------------------------------------------------------------------------------------------------------------
Date de dernière mise à jour : 04/09/2023