Liebherr enhances MyLiebherr online portal
12/05/22-FR-English-NL-footer
Liebherr enrichit le portail en ligne MyLiebherr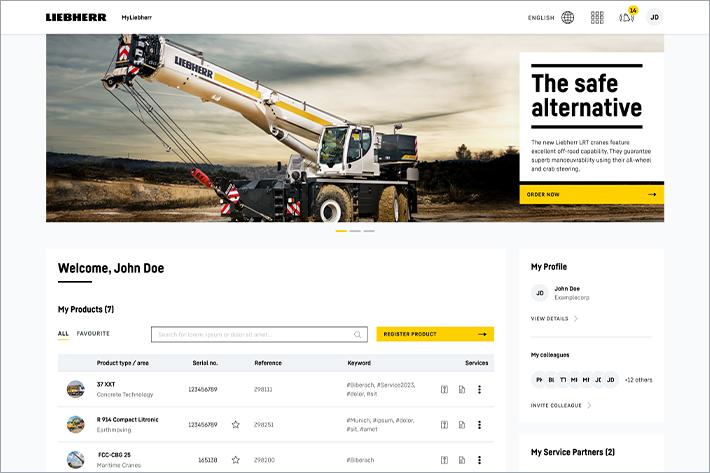 La page d'accueil du portail en ligne MyLiebherr fait peau neuve. Grâce à la conception moderne, les utilisateurs bénéficient d'une interface utilisateur intuitive et clairement structurée et d'une page d'accueil clairement organisée. Des fonctionnalités optimisées et supplémentaires complètent la mise à jour du design.
Trouver une pièce de rechange d'un simple clic de souris ou accéder rapidement à la documentation d'une machine : avec le portail en ligne MyLiebherr, les clients de Liebherr ont accès aux informations et aux services à tout moment de la journée. Il est disponible pour des produits allant des machines de construction, des équipements miniers, des grues mobiles et sur chenilles, de la technologie de manutention, des composants aux grues maritimes.
La refonte de la page d'accueil MyLiebherr marque le début d'une nouvelle phase de développement du portail. De plus, la majeure partie de dispose désormais d'une version mobile.
Lors du développement du nouveau design, une attention particulière a été accordée à la convivialité de la page d'accueil MyLiebherr. Les domaines clés sont maintenant combinés et clairement structurés. Cela signifie que les utilisateurs voient tous leurs produits en un coup d'œil et peuvent passer directement aux zones « Données personnelles » et « Relations commerciales ».
De plus, tous les gestionnaires de licences et administrateurs d'une entreprise sont désormais affichés à l'utilisateur avec leurs coordonnées respectives. La navigation précédente a été remplacée par la zone "Apps" et offre un accès facile et rapide aux principales applications du portail.
Qu'ils aient besoin de la boutique, du catalogue de pièces détachées ou de la documentation des produits, les utilisateurs peuvent désormais accéder aux applications en cliquant sur les nouvelles grandes vignettes. Avec les nouvelles fenêtres contextuelles, les utilisateurs reçoivent également des commentaires sur les messages d'erreur ou des informations sur l'état des demandes.
Nouvelles fonctionnalités dans la gestion des profils
La gestion des profils a été optimisée et encore mieux adaptée aux besoins des utilisateurs. Dans la section "Carnet d'adresses", les administrateurs de l'entreprise peuvent désormais créer et gérer des adresses qui sont disponibles soit pour eux-mêmes, soit pour tous les utilisateurs de leur entreprise.
Pour les commandes, l'adresse de livraison appropriée peut être sélectionnée directement sans avoir à la saisir à nouveau à chaque fois. Dans la section "Produits", les administrateurs de l'entreprise ou les chefs de produit ont la possibilité de stocker des mots-clés pour chaque machine.
Les produits peuvent ainsi être affectés aux groupes thématiques correspondants, ce qui permet de les trouver plus rapidement. Ces mots clés sont alors visibles par tous les utilisateurs d'une entreprise.
Plus de nouvelles fonctionnalités prévues
Le passage à la nouvelle interface utilisateur est automatique. Lors de la visite du site Web, le portail MyLiebherr apparaît automatiquement dans le nouveau design sans que les utilisateurs aient à effectuer de réglages supplémentaires. Les données de connexion ont également une validité illimitée.
Dans les mois à venir, de nombreuses nouveautés pour MyLiebherr seront progressivement déployées.
NJC.© Infos
---------------------------------------------------------------------------------------------------------------
12/05/22-English
Liebherr enhances MyLiebherr online portal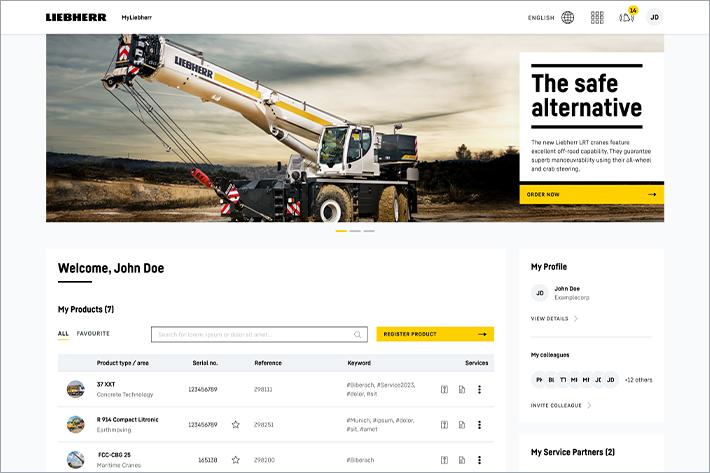 The homepage of the MyLiebherr online portal has a new look. Thanks to the modern design users benefit from a clearly structured, intuitive user interface and a clearly arranged homepage. Optimized and additional features round off the design update.
Finding a spare part with a click of the mouse or quickly accessing documentation for a machine: with the MyLiebherr online portal Liebherr customers have access to information and services at any time of the day. It is available for products ranging from construction machines, mining equipment, mobile and crawler cranes, material handling technology, components to maritime cranes.
The redesign of the MyLiebherr homepage marks the start of a new phase in the further development of the portal. In addition, major parts of now have a mobile version.
In the course of the development of the new design special attention was paid to the user-friendliness of the MyLiebherr homepage. The key areas are now combined and clearly structured. This means that users see all their products at a glance and can skip directly to the areas "Personal data" and "Business relationships".
In addition, all license managers and administrators of a company are now displayed to the user with their respective contact details. The previous navigation was replaced with the "Apps" area and offers easy and quick access to the key portal applications.
Whether they need the shop, the spare parts catalog or product documents – users can now enter applications by clicking on the new large tiles. With the new pop-up windows users also receive feedback on error messages or information about the status of requests.
New features in profile management
The profile management was optimized and even better tailored to the needs of users. In the "Address Book" section company administrators can now create and manage addresses that are available either to themselves or all users of their company.
For orders, the appropriate delivery address can be selected directly without having to enter it again each time. In the "Products" section company administrators or product managers have the option to store keywords for each machine.
Products can thus be assigned to corresponding topic clusters, enabling them to be found more quickly. These keywords are then visible to all users of a company.
More new features planned
The changeover to the new user interface is automatic. When visiting the website the MyLiebherr portal automatically appears in the new design without users having to make any additional settings. The login data also have unlimited validity.
In the coming months, numerous new features for MyLiebherr will be gradually rolled out.
NJC.© Info
-----------------------------------------------------------------------------------------------------------------
12/05/22-NL
Liebherr verbetert de online portal van MyLiebherr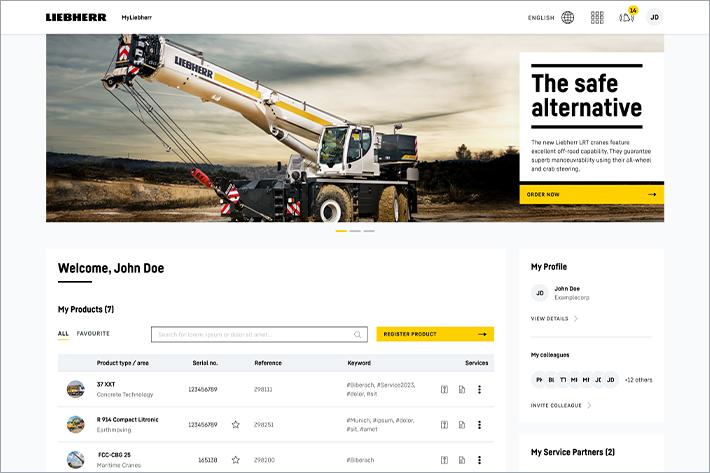 De homepage van het MyLiebherr online portaal heeft een nieuwe look. Dankzij het moderne design profiteren gebruikers van een duidelijk gestructureerde, intuïtieve gebruikersinterface en een overzichtelijke homepage. Geoptimaliseerde en extra functies ronden de ontwerpupdate af.
Met een muisklik een reserveonderdeel zoeken of snel toegang krijgen tot documentatie voor een machine: met het MyLiebherr online portaal hebben Liebherr klanten op elk moment van de dag toegang tot informatie en diensten. Het is beschikbaar voor producten variërend van bouwmachines, mijnbouwapparatuur, mobiele en rupskranen, materiaalbehandelingstechnologie, componenten tot maritieme kranen.
Het herontwerp van de MyLiebherr-homepage markeert het begin van een nieuwe fase in de verdere ontwikkeling van het portaal. Daarnaast hebben grote delen van nu een mobiele versie.
Bij de ontwikkeling van het nieuwe design werd bijzondere aandacht besteed aan de gebruiksvriendelijkheid van de MyLiebherr-homepage. De belangrijkste gebieden zijn nu gecombineerd en duidelijk gestructureerd. Dit betekent dat gebruikers al hun producten in één oogopslag kunnen zien en direct naar de gebieden "Persoonlijke gegevens" en "Zakelijke relaties" kunnen gaan.
Bovendien worden nu alle licentiebeheerders en beheerders van een bedrijf aan de gebruiker getoond met hun respectievelijke contactgegevens. De vorige navigatie werd vervangen door het gebied "Apps" en biedt gemakkelijke en snelle toegang tot de belangrijkste portaaltoepassingen.
Of ze nu de winkel, de onderdelencatalogus of productdocumenten nodig hebben – gebruikers kunnen nu applicaties invoeren door op de nieuwe grote tegels te klikken. Met de nieuwe pop-upvensters krijgen gebruikers ook feedback over foutmeldingen of informatie over de status van aanvragen.
Nieuwe functies in profielbeheer
Het profielbeheer werd geoptimaliseerd en nog beter afgestemd op de behoeften van gebruikers. In het gedeelte "Adresboek" kunnen bedrijfsbeheerders nu adressen maken en beheren die beschikbaar zijn voor henzelf of voor alle gebruikers van hun bedrijf.
Voor bestellingen kan het juiste afleveradres direct worden geselecteerd zonder dat dit elke keer opnieuw moet worden ingevoerd. In de sectie "Producten" hebben bedrijfsbeheerders of productmanagers de mogelijkheid om trefwoorden op te slaan voor elke machine.
Zo kunnen producten worden toegewezen aan bijbehorende themaclusters, waardoor ze sneller gevonden kunnen worden. Deze trefwoorden zijn dan zichtbaar voor alle gebruikers van een bedrijf.
Meer nieuwe functies gepland
De omschakeling naar de nieuwe gebruikersinterface gaat automatisch. Bij een bezoek aan de website verschijnt automatisch het MyLiebherr-portaal in het nieuwe design, zonder dat gebruikers aanvullende instellingen hoeven te maken. Ook zijn de inloggegevens onbeperkt geldig.
De komende maanden zullen tal van nieuwe functies voor MyLiebherr geleidelijk worden uitgerold.
NJC.© Info
-------------------------------------------------------------------------------------------------------------------
------------------------------------------------------------------------------------------------------------------