LIEBHERR-Forest of cranes towers over timber development
06/12/22-FR-English-NL-footer
LIEBHERR-Forêt de grues domine le développement du bois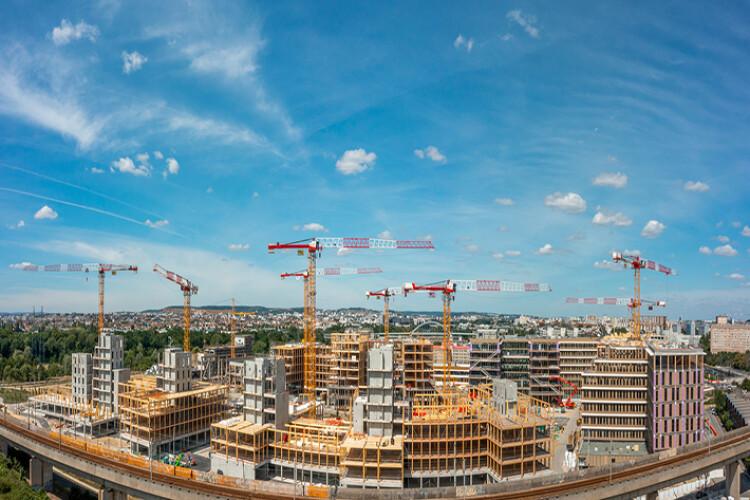 Image- Liebherr An anti-collision system allows the closely-spaced cranes to operate safely
Dix grues à tour Liebherr participent à la construction de ce que l'on prétend être le plus grand développement commercial à ossature bois d'Europe.
Un système anti-collision permet aux grues rapprochées de fonctionner en toute sécurité.
Le projet Arboretum, en bord de Seine à Nanterre, près de Paris, proposera 125 000 mètres carrés de bureaux et de services et sera presque entièrement en ossature bois. Le client est Icawood, un fonds d'investissement immobilier lancé par le promoteur français Icamap et la société canadienne Ivanhoé Cambridge.
Les composants en bois lamellé-croisé sont fournis par le spécialiste finlandais Stora Enso.
Le développement de 650 millions d'euros (557 millions de livres sterling) comprend cinq bâtiments, dont chacun portera le nom d'un arbre : amande, pin, cèdre, sapin et épicéa. Un parc, un jardin fruitier et potager à l'usage des restaurants du campus et deux bâtiments industriels rénovés complèteront l'aménagement.
Le campus est censé maximiser l'exposition à l'environnement naturel, permettant aux employés qui y travaillent de se détendre et de mieux se concentrer.
Les mesures visant à réduire l'empreinte carbone du site comprennent la réutilisation des matériaux, une architecture « bioclimatique » et un système géothermique qui satisfera jusqu'à 80 % des besoins de chauffage et de refroidissement.
Liebherr fait tout le gros du travail pour le maître d'œuvre, GCC. « Nous avons opté pour les grues Liebherr en raison de notre relation commerciale de longue date », a déclaré Antonio Silva de Almeida, responsable du site pour GCC.
Les dix grues de la série EC-B à rotation par le haut sont étroitement espacées et doivent être soigneusement coordonnées les unes avec les autres pour éviter les collisions.
Pour ce faire, toutes les grues sont équipées d'un système anti-collision fourni par le fabricant français AMCS Technologies. Les grues sont également équipées de lève-personnes LiUP de Liebherr.
Le système LiUP est conçu pour transporter deux personnes ou une charge maximale de 200 kilogrammes. Il permet aux grutiers d'accéder rapidement à leur lieu de travail et évite aux techniciens de service une montée pénible pendant les travaux de maintenance.
Informations connexes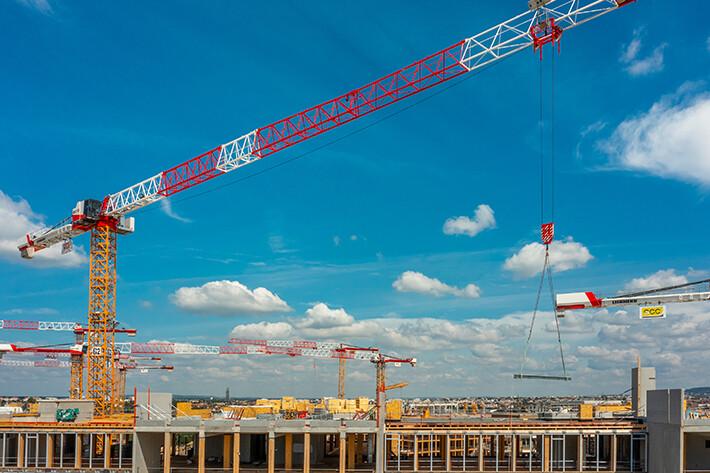 Image- The Liebherr cranes are supplied to GCC under a leasing arrangement
« Les grues sont fiables et puissantes, et l'élévateur LiUP assure un haut niveau de sécurité », commente Silva de Almeida.
GCC exploite deux grues 220 EC-B 10, deux 250 EC-B 10, une 250 EC-B 12, deux 285 EC-B 12, deux 340 EC-B 12 et une 370 EC-B 12. les grues peuvent soulever une charge maximale de 12 tonnes.
Les longueurs de flèche varient entre 47,5 mètres et 60 mètres et les hauteurs sous crochet varient de 41 mètres à 59 mètres. Grâce à ces configurations et à leur conception à toit plat, les grues peuvent pivoter les unes au-dessus des autres sans crainte de collision. Le système AMCS surveille les positions des crochets et empêche les flèches d'interférer avec les charges suspendues.
Les grues Liebherr sont utilisées pour positionner des éléments en bois et en béton tels que des poteaux, des poutres, des colonnes, des escaliers et des ascenseurs. Le projet de l'Arboretum comprend l'érection de 20 000 mètres cubes d'éléments en bois d'ingénierie et la mise en place de 55 000 mètres cubes de béton.
Les opérations de levage sont contrôlées par le système de positionnement fin Micromove de Liebherr qui positionne les composants avec précision pour assurer un placement précis de la charge et évite tout risque d'endommager les composants délicats ou les éléments environnants de la construction.
La plupart des grues sont des machines neuves que GCC a louées dans le cadre d'un contrat de location avec Liebherr-Grues à Tour, la filiale française du constructeur. « La location signifie que les clients bénéficient toujours des grues les plus récentes », explique Sébastien Chalvet, responsable grands comptes Liebherr pour la région Île-de-France.
Les grues sont également gérées et entretenues par Liebherr-Grues à Tour. « Travailler de cette manière garantit que les grues sont parfaitement entretenues pour une disponibilité maximale et que nous pouvons garantir à nos clients les normes de sécurité les plus élevées possibles », déclare Chalvet.
Les pièces de rechange sont facilement disponibles grâce à l'entrepôt de pièces de rechange de Liebherr à Fontenay-Trésigny, au sud-est de Paris.
NJC.© Info Liebherr GCC
-----------------------------------------------------------------------------------------------------------------
06/12/22-English
LIEBHERR-Forest of cranes towers over timber development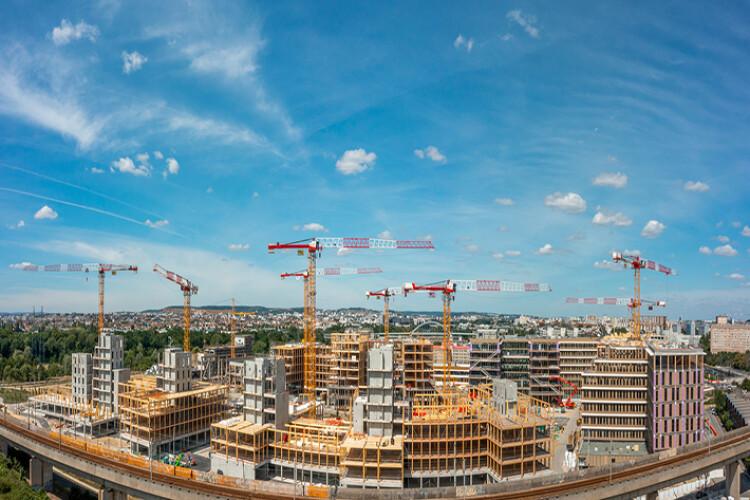 Image- Liebherr An anti-collision system allows the closely-spaced cranes to operate safely
Ten Liebherr tower cranes are helping to build what is claimed to be Europe's largest timber-framed commercial development.
An anti-collision system allows the closely-spaced cranes to operate safely.

The Arboretum project, on the banks of the River Seine at Nanterre, near Paris, will provide 125,000 square metres of office and service space and is almost entirely timber-framed. The client is Icawood, a real estate investment fund launched by French developer Icamap and Canadian firm Ivanhoé Cambridge.
The cross-laminated timber components are supplied by Finnish specialist Stora Enso.
The €650m (£557m) development comprises five buildings, each of which will be named after a tree: Almond, Pine, Cedar, Fir and Spruce. A park, a fruit and vegetable garden for the use of campus restaurants, and two renovated industrial buildings will complete the development.
The campus is supposed to maximise exposure to the natural environment, allowing employees working there to relax and concentrate better.
Measures designed to reduce the site's carbon footprint include the reuse of materials, 'bioclimatic' architecture and a geothermal system that will satisfy up to 80% of heating and cooling requirements.
Liebherr is doing all the heavy lifting for the main contractor, GCC. "We opted for Liebherr cranes because of our longstanding business relationship," said Antonio Silva de Almeida, site manager for GCC.
The ten top-slewing EC-B series cranes are closely spaced and have to be carefully coordinated with each other to avoid clashing.
To ensure this, all cranes are equipped with an anti-collision system supplied by French manufacturer AMCS Technologies. The cranes are also equipped with Liebherr's LiUP operator lifts.
The LiUP system is designed to carry two people or a maximum load of 200 kilogrammes. It gives crane operators quick access to their workplace and spares service engineers a strenuous climb during maintenance work.
Related Information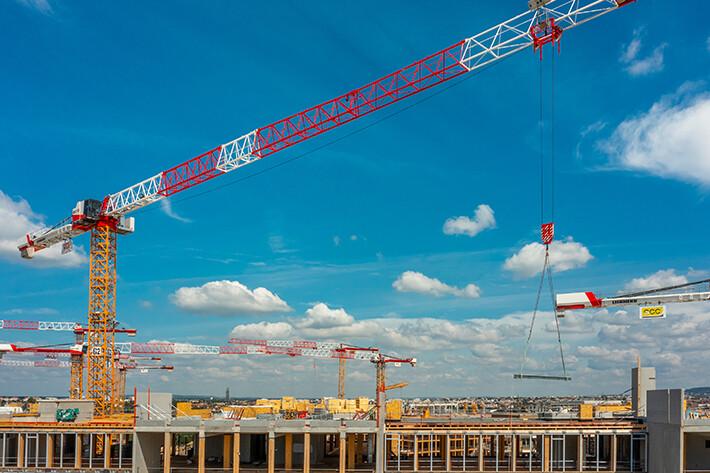 Image- The Liebherr cranes are supplied to GCC under a leasing arrangement
"The cranes are reliable and powerful, and the LiUP lift ensures a high level of safety," comments Silva de Almeida.
GCC is operating two 220 EC-B 10 cranes, two 250 EC-B 10s, one 250 EC-B 12, two 285 EC‑B 12s, two 340 EC-B 12s and one 370 EC-B 12. The largest of the cranes can lift a maximum load of 12 tonnes.
Jib lengths vary between 47.5 metres and 60 metres and hook heights range from 41 metres to 59 metres. As a result of these configurations and their flat-top design, the cranes can slew above each other without fear of any collision. The AMCS system monitors hook positions and prevents jibs from interfering with suspended loads.
The Liebherr cranes are being used for positioning timber and concrete elements such as posts, beams, columns, staircases and lifts. The Arboretum project involves the erection of 20,000 cubic metres of engineered wood components and the placing of 55,000 cubic metres of concrete.
The lifting operations are controlled by Liebherr's Micromove fine positioning system which positions components with precision to ensure accurate load placement and avoids any risk of damaging delicate components or surrounding elements of the construction.
Most of the cranes are new machines that GCC has hired in under a leasing agreement with Liebherr-Grues à Tour, the manufacturer's French subsidiary. "Leasing means that customers always benefit from the latest cranes," says Sébastien Chalvet, Liebherr's key account manager for the Île-de-France region.
The cranes are also managed and maintained by Liebherr-Grues à Tour. "Working this way ensures that cranes are perfectly maintained for maximum availability, and that we can guarantee our customers the highest possible safety standards," says Chalvet.
Spare parts are readily available thanks from Liebherr's spare parts warehouse in Fontenay-Trésigny, south-east of Paris.
NJC.© Info Liebherr GCC
----------------------------------------------------------------------------------------------------------------------
06/12/22-NL
LIEBHERR-Bos van kraanvogels torent hoog boven houtbouw uit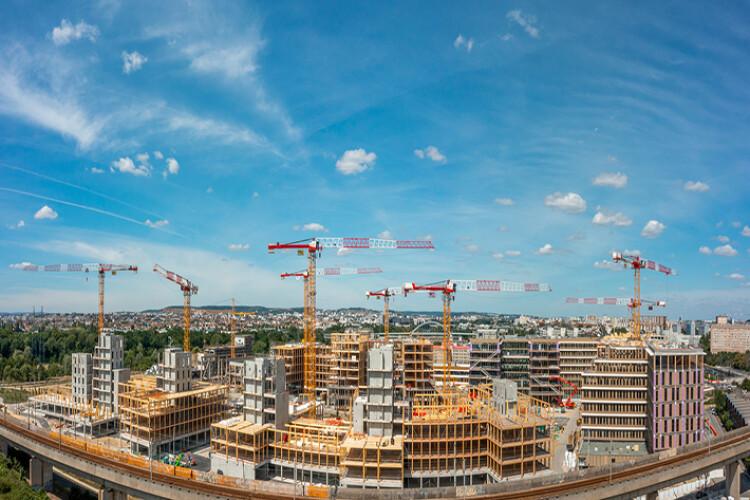 Image- Liebherr An anti-collision system allows the closely-spaced cranes to operate safely
Tien Liebherr-torenkranen helpen bij de bouw van wat wordt beweerd Europa's grootste commerciële project met houten kozijnen te zijn.
Een antibotsingssysteem zorgt ervoor dat de dicht bij elkaar geplaatste kranen veilig kunnen werken.
Het Arboretum-project, aan de oevers van de rivier de Seine in Nanterre, nabij Parijs, zal 125.000 vierkante meter kantoor- en serviceruimte bieden en is bijna volledig vakwerk. De klant is Icawood, een vastgoedbeleggingsfonds gelanceerd door de Franse ontwikkelaar Icamap en het Canadese bedrijf Ivanhoé Cambridge.
De kruislings gelamineerde houten onderdelen worden geleverd door de Finse specialist Stora Enso.
De ontwikkeling van € 650 miljoen (£ 557 miljoen) bestaat uit vijf gebouwen, die elk naar een boom zullen worden vernoemd: amandel, den, ceder, spar en spar. Een park, een groente- en fruittuin ten behoeve van campusrestaurants en twee gerenoveerde bedrijfsgebouwen maken de ontwikkeling compleet.
De campus moet de blootstelling aan de natuurlijke omgeving maximaliseren, zodat werknemers die er werken zich beter kunnen ontspannen en concentreren.
Maatregelen om de CO2-voetafdruk van de site te verminderen, zijn onder meer het hergebruik van materialen, een 'bioklimatische' architectuur en een geothermisch systeem dat tot 80% van de verwarmings- en koelingsbehoeften zal dekken.
Liebherr doet al het zware werk voor de hoofdaannemer, GCC. "We hebben voor Liebherr-kranen gekozen vanwege onze langdurige zakelijke relatie", zegt Antonio Silva de Almeida, sitemanager voor GCC.
De tien bovendraaiende kranen uit de EC-B-serie staan dicht bij elkaar en moeten zorgvuldig op elkaar worden afgestemd om botsingen te voorkomen.
Om dit te waarborgen zijn alle kranen uitgerust met een antibotsingssysteem van de Franse fabrikant AMCS Technologies. De kranen zijn ook uitgerust met Liebherr's LiUP machinistenliften.
Het LiUP-systeem is ontworpen om twee personen of een maximale lading van 200 kilogram te vervoeren. Het geeft kraanmachinisten snel toegang tot hun werkplek en bespaart servicemonteurs een zware klim tijdens onderhoudswerkzaamheden.
Gerelateerde informatie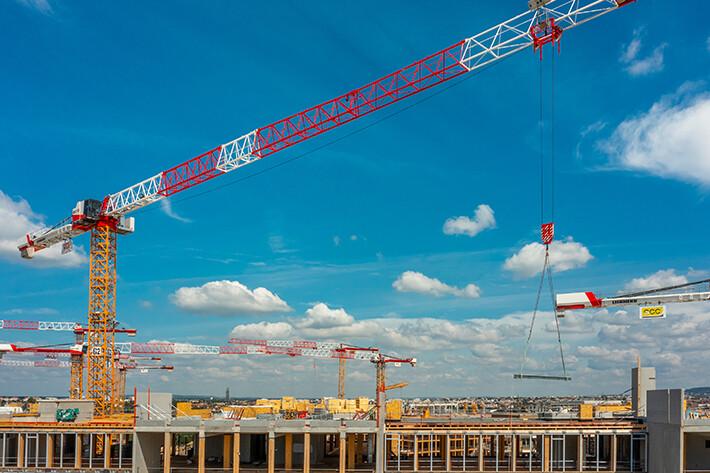 Image- The Liebherr cranes are supplied to GCC under a leasing arrangement
"De kranen zijn betrouwbaar en krachtig, en de LiUP-lift zorgt voor een hoog veiligheidsniveau", zegt Silva de Almeida.
GCC exploiteert twee 220 EC-B 10 kranen, twee 250 EC-B 10's, een 250 EC-B 12, twee 285 EC-B 12's, twee 340 EC-B 12's en een 370 EC-B 12. De grootste van de kranen kunnen een maximale last van 12 ton hijsen.
Gieklengtes variëren van 47,5 meter tot 60 meter en haakhoogtes van 41 meter tot 59 meter. Door deze configuraties en hun platte ontwerp kunnen de kranen boven elkaar zwenken zonder bang te hoeven zijn voor botsingen. Het AMCS-systeem bewaakt de haakposities en voorkomt dat jibs hangende lasten hinderen.
De Liebherr kranen worden ingezet voor het positioneren van houten en betonnen elementen zoals palen, balken, kolommen, trappen en liften. Het Arboretum-project omvat de bouw van 20.000 kubieke meter samengestelde houten onderdelen en het plaatsen van 55.000 kubieke meter beton.
De hijsoperaties worden gecontroleerd door Liebherr's Micromove fijn positioneringssysteem dat componenten met precisie positioneert om een nauwkeurige plaatsing van de last te garanderen en elk risico op beschadiging van kwetsbare componenten of omliggende elementen van de constructie vermijdt.
De meeste kranen zijn nieuwe machines die GCC heeft gehuurd in het kader van een leaseovereenkomst met Liebherr-Grues à Tour, de Franse dochteronderneming van de fabrikant. "Leasing betekent dat klanten altijd profiteren van de nieuwste kranen", zegt Sébastien Chalvet, Liebherr's key account manager voor de regio Île-de-France.
De kranen worden ook beheerd en onderhouden door Liebherr-Grues à Tour. "Op deze manier zorgen we ervoor dat kranen perfect worden onderhouden voor maximale beschikbaarheid en dat we onze klanten de hoogst mogelijke veiligheidsnormen kunnen garanderen", zegt Chalvet.
Reserveonderdelen zijn direct beschikbaar dankzij het reserveonderdelenmagazijn van Liebherr in Fontenay-Trésigny, ten zuidoosten van Parijs.
NJC.© Info Liebherr GCC
----------------------------------------------------------------------------------------------------------------------