Liebherr launches new R 930 Tunnel crawler excavator

08/11/23-FR-English-NL-footer
Liebherr lance la nouvelle pelle sur chenilles R 930 Tunnel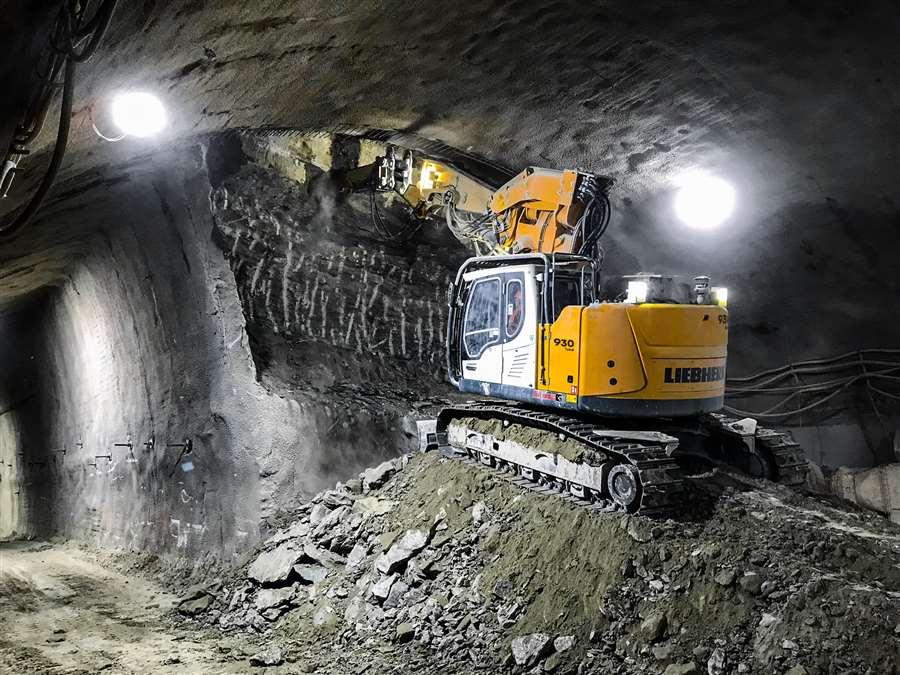 Liebherr's R 930 Tunnel crawler excavator
Liebherr a lancé sa nouvelle pelle sur chenilles R 930 Tunnel sur les marchés du monde entier.
Le modèle – qui remplace le tunnel compact R 924 – a été développé chez Liebherr-France SAS à Colmar, en France. Liebherr affirme qu'il a été conçu pour répondre aux exigences des chantiers de construction souterrains, qui présentent souvent des espaces restreints et difficiles d'accès.
L'accessoire Tunnel R 930, disponible en deux longueurs, est doté d'un roulement pivotant sur deux angles de 45°, permettant de suivre le profil de l'excavation. Le court rayon de braquage de la machine et les phares à LED réduisent les risques de collision avec le personnel du chantier et les murs.
La R 930 Tunnel est dotée d'une carrosserie en acier et peut être équipée du système d'attache rapide Liebherr, qui permet de changer facilement d'outils. il peut également être équipé d'un cutter ou d'un marteau pour couvrir un large domaine d'applications.
Liebherr affirme que la lame niveleuse de la machine permet de créer une surface de sol plane et de stabiliser la machine sur un sol irrégulier, tout en protégeant le train de roulement et les chenilles contre les impacts des gravats.
La cabine de conduite du Tunnel R 930 serait équipée pour résister aux environnements poussiéreux des chantiers souterrains.
NJC.© Info LIEBHERR
-----------------------------------------------------------------------------------------------------------------

08/11/23-English
Liebherr launches new R 930 Tunnel crawler excavator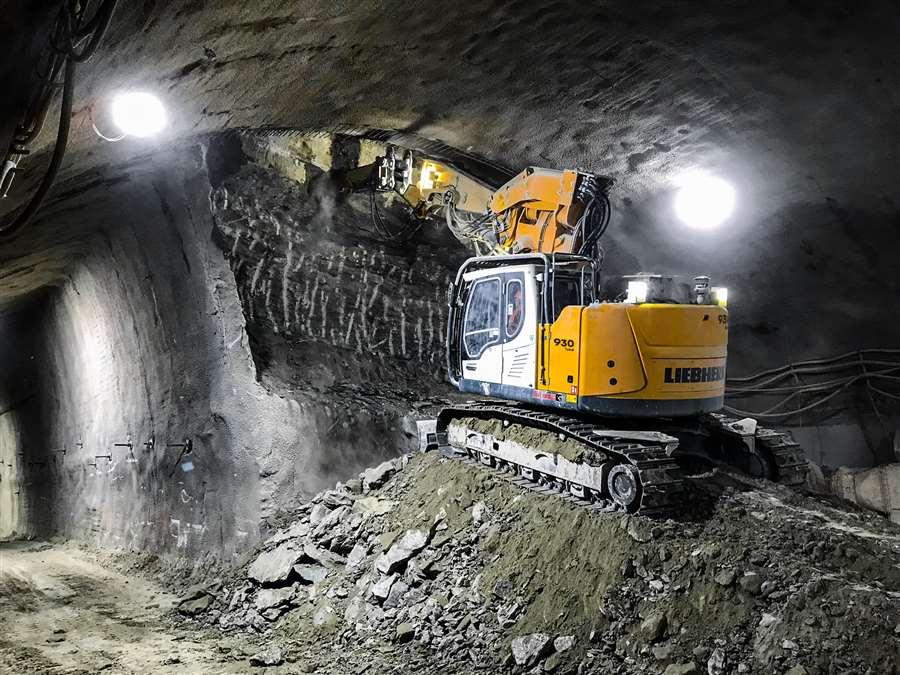 Liebherr's R 930 Tunnel crawler excavator
Liebherr has launched its new R 930 Tunnel crawler excavator to markets across the world.
The model – which replaces the R 924 Compact Tunnel – was developed at Liebherr-France SAS in Colmar, France. Liebherr says it has been designed to meet the demands of underground construction sites, which often present tight spaces with difficult access.
The R 930 Tunnel's attachment, available in two lengths, features a bearing that can swivel to two 45° angles, allowing the excavation profile to be followed. The machine's short slewing radius and LED headlights reduce the risks of collision with construction site personnel and walls.
The R 930 Tunnel has steel bodywork and can be equipped with the Liebherr quick coupling system, which allows tools to be changed easily. it can also be equipped with a cutter or hammer to cover a broad area of applications.
Liebherr says that the machine's grading blade allows the creation of a flat ground surface and stabilises the machine on uneven ground, as well as protecting the undercarriage and crawler drives against impacts from rubble.
The R 930 Tunnel's operator's cab is said to be equipped to withstand dusty environments on underground sites.
NJC.© Info LIEBHERR
----------------------------------------------------------------------------------------------------------------

08/11/23-NL
Liebherr lanceert nieuwe R 930 Tunnel-rupsgraafmachine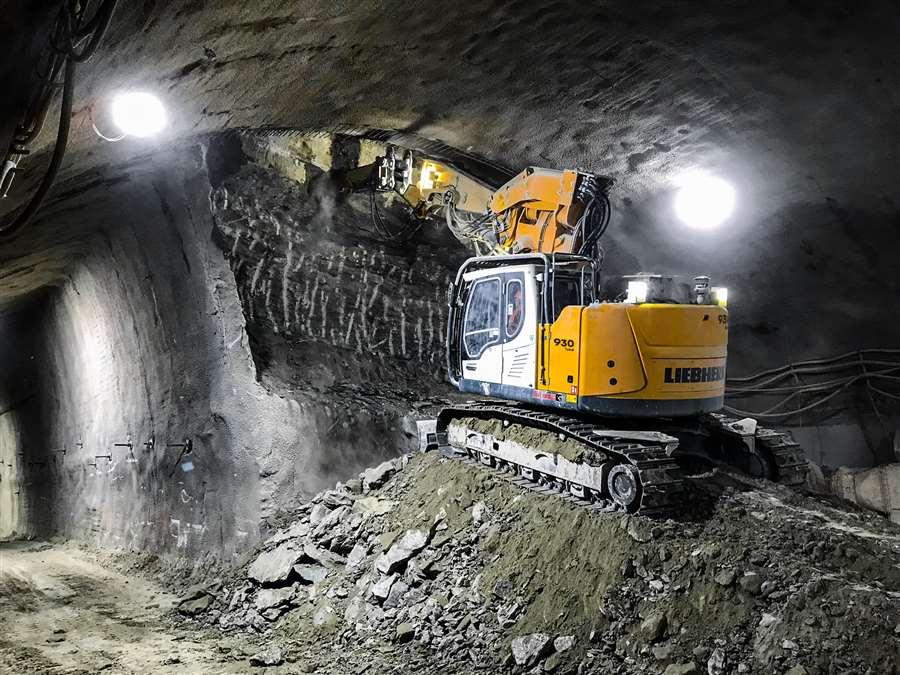 Liebherr's R 930 Tunnel crawler excavator
Liebherr heeft zijn nieuwe R 930 Tunnel-rupsgraafmachine op markten over de hele wereld gelanceerd.
Het model – dat de R 924 Compact Tunnel vervangt – werd ontwikkeld bij Liebherr-France SAS in Colmar, Frankrijk. Liebherr zegt dat het is ontworpen om te voldoen aan de eisen van ondergrondse bouwplaatsen, die vaak krappe ruimtes bieden die moeilijk toegankelijk zijn.
Het aanbouwdeel van de R 930 Tunnel, verkrijgbaar in twee lengtes, is voorzien van een lager dat in twee hoeken van 45° kan draaien, waardoor het graafprofiel kan worden gevolgd. De korte zwenkradius en LED-koplampen van de machine verminderen het risico op botsingen met bouwplaatspersoneel en muren.
De R 930 Tunnel heeft een stalen carrosserie en kan worden uitgerust met het Liebherr snelwisselsysteem, waardoor gereedschap eenvoudig kan worden gewisseld. Hij kan ook worden uitgerust met een frees of hamer, zodat een breed toepassingsgebied wordt bestreken.
Liebherr zegt dat het nivelleermes van de machine het mogelijk maakt een vlak grondoppervlak te creëren en de machine op oneffen terrein te stabiliseren, en de onderwagen en rupsaandrijvingen te beschermen tegen schokken door puin.
De bestuurderscabine van de R 930-tunnel zou zijn uitgerust om bestand te zijn tegen stoffige omgevingen op ondergrondse locaties.
NJC.© Info LIEBHERR
---------------------------------------------------------------------------------------------------------------
Date de dernière mise à jour : 07/11/2023