LIEBHERR-Leica Geosystems semi-automatic machine control system is now available for Generation 8 crawler excavator models

14/07/23-FR-English-NL-footer
Le système de commande de machine semi-automatique LIEBHERR-Leica Geosystems est désormais disponible pour les modèles de pelles sur chenilles de génération 8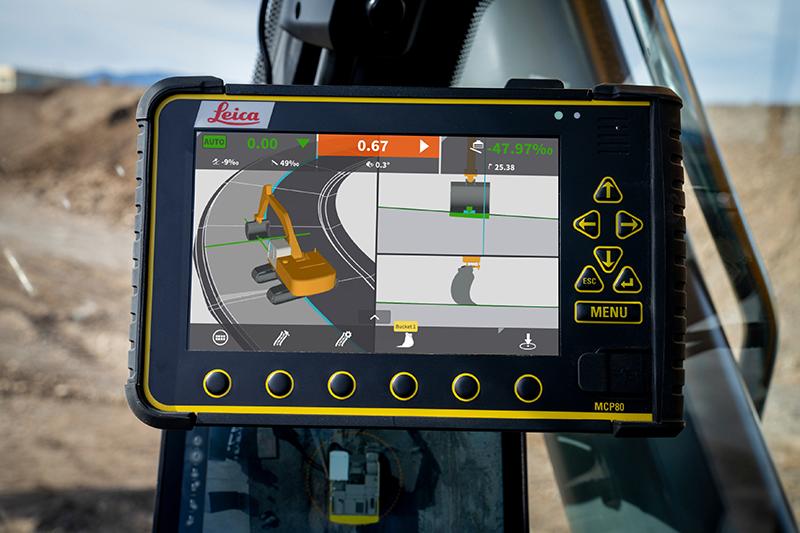 IMAGE SOURCE: Leica Geosystems AG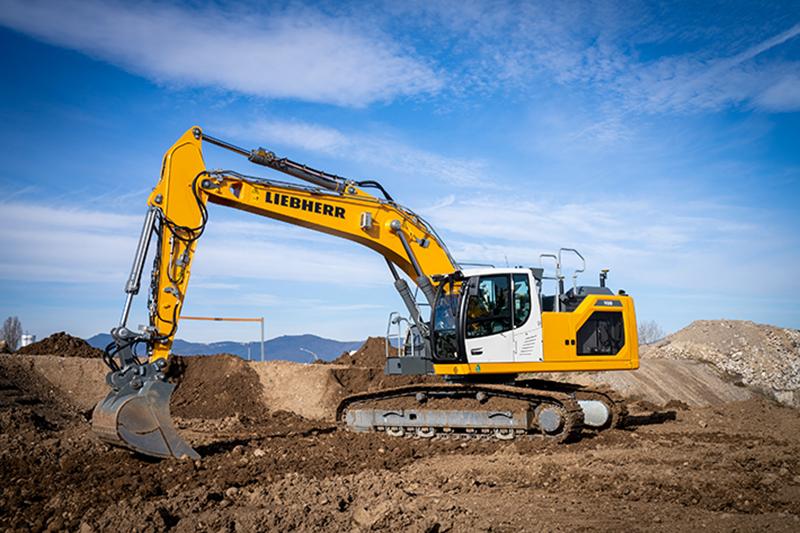 Liebherr, en coopération avec Leica Geosystems, filiale d'Hexagon, propose différents systèmes de commande de machine pour pelles hydrauliques départ usine. Les systèmes de commande de machines sont des systèmes d'assistance à la conduite qui rendent les projets et les processus de construction plus efficaces, productifs et plus sûrs. Liebherr étend désormais sa gamme de systèmes de commande de machine pour ses modèles de pelles sur chenilles de génération 8.
La transformation numérique dans le secteur de la construction se poursuit à un rythme soutenu, les chantiers de construction devenant de plus en plus numériques et interconnectés. Les systèmes d'assistance à la conduite tels que les systèmes de commande de machines de Leica Geosystems gagnent ainsi en importance. Ils assistent les opérateurs de machines dans l'exercice de leurs activités grâce aux dernières technologies et aux informations en temps réel. La qualité des résultats de travail, l'efficacité des processus de travail ainsi que la sécurité peuvent être considérablement augmentés - et les temps de mise en œuvre dans la planification et la construction réduits en même temps.
Système de commande de machine semi-automatique départ usine : pour les pelles sur chenilles Liebherr G8
Les systèmes de commande de machine de Leica Geosystems sont déjà disponibles en différentes versions pour les pelles mobiles et sur chenilles Liebherr. Ils comprennent le système de contrôle machine passif 2D et 3D passif pour les générations 6 et 8, ainsi que le semi-automatique 2D "3D-ready" et le semi-automatique 3D pour la génération 6.
La disponibilité des systèmes de commande de machine semi-automatiques, à la fois 2D "3D-ready" et 3D, a été étendue aux pelles sur chenilles de génération 8 ; ils sont désormais disponibles pour les modèles R 922, R 924, R 926, R 928, R 930, R 934, R 938 et R 945. Le système de contrôle de machine passif 2D "3D-ready" est également proposé pour ces modèles.
Les variantes d'équipement respectives sont disponibles départ usine de Liebherr. Tous les composants de commande de la machine de Leica Geosystems sont installés de manière optimale pendant le processus de production et le client reçoit une machine pré-calibrée. Les temps d'arrêt dus à une installation ultérieure peuvent ainsi être évités.
Fonctionnement passif ou semi-automatique : assistance ciblée pour l'opérateur de la machine
En fonction de la situation et des exigences du chantier, Liebherr propose le bon système de commande de machine pour chaque application. Alors qu'avec un système passif, les opérateurs de la machine doivent suivre les indications sur l'écran dans la cabine et utiliser la machine eux-mêmes pour terminer le travail, le système de commande semi-automatique de la machine fournit une assistance active avec un mode de retrait semi-automatisé. L'opérateur de la machine doit uniquement contrôler les mouvements du manche et la vitesse de la machine via le joystick. Le système ajuste automatiquement le mouvement correct de tous les équipements pour créer le profil cible.
La productivité peut être considérablement augmentée en utilisant un système de commande semi-automatique de la machine. Le travail peut également être effectué de manière beaucoup plus précise sur une plus longue période, ce qui réduit les retouches longues et coûteuses. Les machines de génération 8 avec un système de contrôle passif de la machine peuvent être équipées d'un système semi-automatique au moyen d'un progiciel correspondant à la demande du client, à condition qu'elles soient équipées d'un Master 5 Premium.
Différentes variantes de systèmes de contrôle de machine : 2D, 3D ou 2D "3D-ready"
Les systèmes de commande de machine 2D ou 3D de Leica Geosystems fournissent à l'opérateur de la machine des informations sur la hauteur et l'inclinaison de la machine ainsi que la position correspondante via l'écran dans la cabine de l'opérateur.
Alors qu'un système de commande de machine 2D est conçu pour travailler à partir de surfaces planes et inclinées, un système de commande de machine 3D utilise des modèles de référence et le GNSS pour guider l'opérateur de la machine. Grâce au positionnement GNSS 3D en conjonction avec les données du modèle 3D, toutes les informations sur l'excavation et l'enlèvement ainsi que la position de la machine sur le chantier sont visibles en temps réel.
Avec la variante 2D "3D-ready", le travail peut être effectué immédiatement en 2D, de manière passive ou semi-automatique selon l'option achetée. Une commande 2D peut à tout moment être mise à niveau vers un système de commande de machine 3D à part entière.
Importance des systèmes de contrôle de machines sur le marché
Les systèmes de commande de machines deviennent de plus en plus importants pour une grande variété de projets de construction. Ils offrent une valeur ajoutée significative aux opérateurs de machines, aux entreprises et à l'environnement et permettent aux opérateurs d'utiliser leurs machines de manière encore plus productive et précise. L'utilisation cohérente de capteurs et de logiciels fournit à l'opérateur des informations en temps réel, ce qui permet d'optimiser les processus de travail en termes de temps et de coûts grâce à diverses fonctions d'automatisation. Les temps d'attente pour les géomètres sont raccourcis et le besoin de mesures de contrôle sur le chantier est réduit. De plus, cela augmente la sécurité sur le chantier, car moins de personnes sont nécessaires à proximité immédiate de la machine. De plus, la charge de travail de l'opérateur est réduite, ce qui évite la fatigue du conducteur et sa susceptibilité associée aux erreurs.
NJC.© Info Leica Geosystems AG
-------------------------------------------------------------------------------------------------------------------

14/07/23-English
LIEBHERR-Leica Geosystems semi-automatic machine control system is now available for Generation 8 crawler excavator models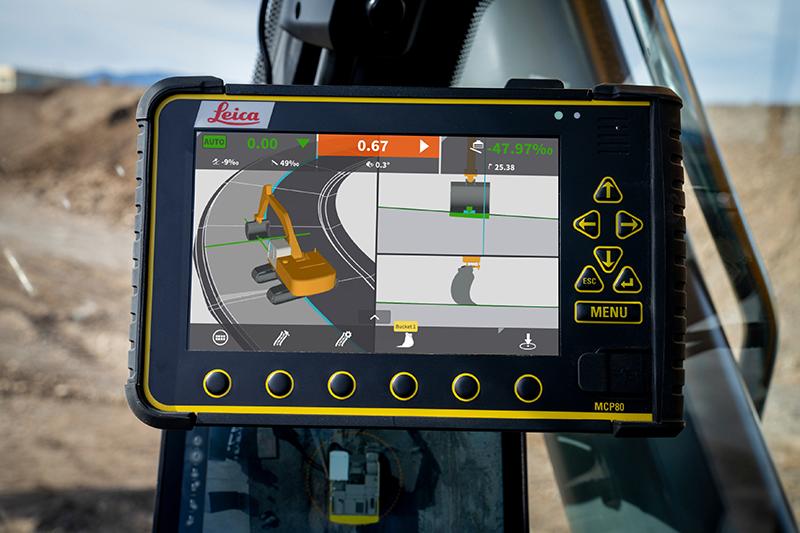 IMAGE SOURCE: Leica Geosystems AG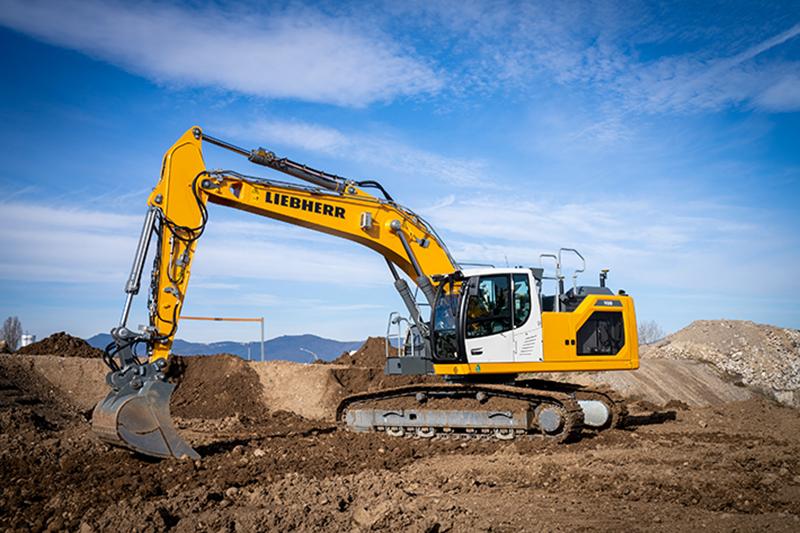 Liebherr, in cooperation with Leica Geosystems, part of Hexagon, offers various machine control systems for hydraulic excavators ex works. Machine control systems are driver assistance systems that make construction projects and processes more efficient, productive and safer. Liebherr is now extending its range of machine control systems for its Generation 8 crawler excavator models.
The digital transformation in the construction industry continues apace with construction sites becoming increasingly digital and networked. Driver assistance systems such as machine control systems from Leica Geosystems are thus gaining in importance. They support the machine operators in carrying out their activities by means of the latest technologies and real-time information. The quality of the work results, the efficiency of the work processes as well as safety can be significantly increased – and the implementation times in planning and construction reduced at the same time.
Semi-automatic machine control system ex works: For Liebherr G8 crawler excavators
Leica Geosystems' machine control systems are already available in different versions for Liebherr mobile and crawler excavators. They include the 2D passive and 3D passive machine control system for Generation 6 and 8, as well as the 2D "3D-ready" semi-automatic and the 3D semi-automatic for Generation 6.
The availability of semi-automatic machine control systems, both 2D "3D-ready" and 3D, has been extended to Generation 8 crawler excavators; they are now available for the R 922, R 924, R 926, R 928, R 930, R 934, R 938 and R 945 models. The 2D "3D-ready" passive machine control system is also offered for these models.
The respective equipment variants are available from Liebherr ex works. All machine control components from Leica Geosystems are optimally installed during the production process and the customer receives a pre-calibrated machine. Downtimes due to subsequent installation can thus be avoided.
Passive or semi-automatic operation: Targeted support for the machine operator
Depending on the situation and requirements on the construction site, Liebherr offers the right machine control system for every application. Whereas with a passive system, machine operators have to follow the indications on the display in the cab and operate the machine themselves to complete the job, the semi-automatic machine control system provides active support with a semi-automated removal mode. The machine operator must only control the machine's stick movements and speed via the joystick. The system automatically adjusts the correct movement of all the equipment to create the target profile.
Productivity can be significantly increased by using a semi-automatic machine control system. Work can also be carried out much more precisely over a longer period, reducing time-consuming and cost-intensive reworking. Generation 8 machines with a passive machine control system can be retrofitted with a semi-automatic system by means of a corresponding software package at the customer's request, provided that they are equipped with a Master 5 Premium.
Different variants of machine control systems: 2D, 3D or 2D "3D-ready"
2D or 3D machine control systems from Leica Geosystems provide the machine operator with information about the height and inclination of the machine as well as the corresponding position via the display in the operator's cab.
While a 2D machine control system is designed for working from flat and sloping surfaces, a 3D machine control system uses reference models and GNSS to guide the machine operator. Through 3D GNSS positioning in conjunction with 3D model data, all information on excavation and removal as well as the machine's position on the construction site is visible in real time.
With the 2D "3D-ready" variant, work can be done immediately in 2D, either passively or semi-automatically depending on the purchased option. A 2D control can be subsequently upgraded to a fully-fledged 3D machine control system at any time.
Significance of machine control systems on the market
Machine control systems are becoming increasingly important for a wide variety of construction projects. They offer significant added value to machine operators, companies and the environment and enable the operators to use their machines even more productively and precisely. The consistent use of sensors and software provides the operator with real-time information, which in turn enables work processes to be optimised in terms of time and costs thanks to various automation functions. Waiting times for surveyors are shortened and the need for control measurements on the construction site is reduced. In addition, this increases safety on the construction site, as fewer people are needed in the direct vicinity of the machine. In addition, the operator's workload is reduced, which prevents driver fatigue and his or her associated susceptibility to errors.
NJC.© Info Leica Geosystems AG
---------------------------------------------------------------------------------------------------------------

14/07/23-NL
Het halfautomatische machinebesturingssysteem van LIEBHERR-Leica Geosystems is nu beschikbaar voor generatie 8-rupsgraafmachines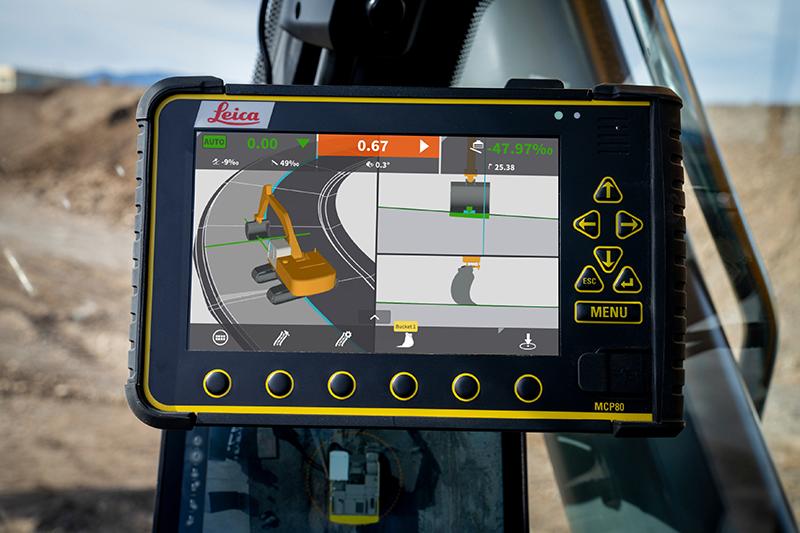 IMAGE SOURCE: Leica Geosystems AG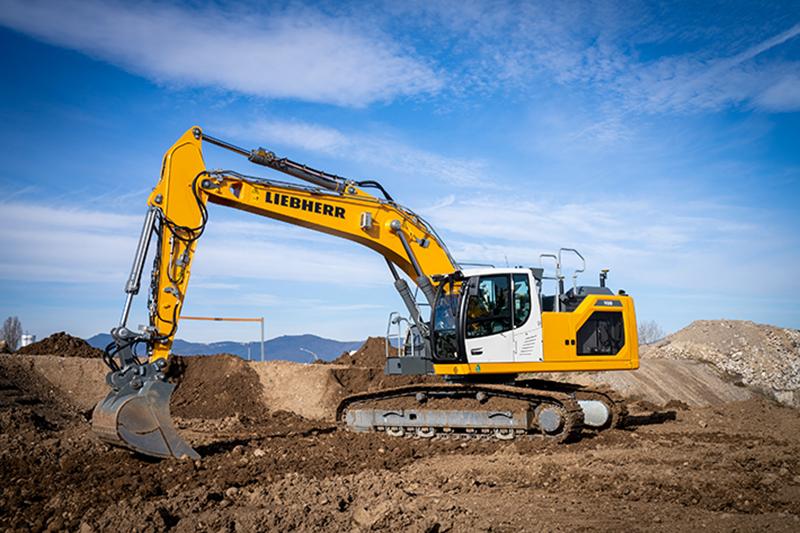 Liebherr biedt in samenwerking met Leica Geosystems, onderdeel van Hexagon, diverse machinebesturingen voor hydraulische graafmachines af fabriek aan. Machinebesturingssystemen zijn rijhulpsystemen die bouwprojecten en -processen efficiënter, productiever en veiliger maken. Liebherr breidt nu zijn assortiment machinebesturingssystemen uit voor zijn Generation 8 rupsgraafmachinemodellen.
De digitale transformatie in de bouwsector gaat snel door, waarbij bouwplaatsen steeds meer digitaal en genetwerkt worden. Rijhulpsystemen zoals machinebesturingssystemen van Leica Geosystems winnen daarmee aan belang. Zij ondersteunen de machinisten bij het uitvoeren van hun werkzaamheden door middel van de nieuwste technologieën en real-time informatie. De kwaliteit van de werkresultaten, de efficiëntie van de werkprocessen en de veiligheid kunnen aanzienlijk worden verhoogd - en tegelijkertijd worden de implementatietijden bij planning en constructie verkort.
Halfautomatisch machinebesturingssysteem af fabriek: Voor Liebherr G8 rupsgraafmachines
De machinebesturingssystemen van Leica Geosystems zijn al beschikbaar in verschillende uitvoeringen voor Liebherr mobiele en rupsgraafmachines. Ze omvatten het 2D passieve en 3D passieve machinebesturingssysteem voor Generatie 6 en 8, evenals de 2D "3D-ready" halfautomatische en de 3D halfautomatische voor Generatie 6.
De beschikbaarheid van semi-automatische machinebesturingssystemen, zowel 2D "3D-ready" als 3D, is uitgebreid naar generatie 8 rupsgraafmachines; ze zijn nu beschikbaar voor de modellen R 922, R 924, R 926, R 928, R 930, R 934, R 938 en R 945. Voor deze modellen wordt ook de 2D "3D-ready" passieve machinebesturing aangeboden.
De betreffende uitrustingsvarianten zijn af fabriek bij Liebherr verkrijgbaar. Alle machinebesturingscomponenten van Leica Geosystems worden tijdens het productieproces optimaal geïnstalleerd en de klant ontvangt een voorgekalibreerde machine. Stilstand door latere montage kan zo worden vermeden.
Passieve of halfautomatische bediening: gerichte ondersteuning van de machinist
Afhankelijk van de situatie en eisen op de bouwplaats biedt Liebherr voor elke toepassing de juiste machinebesturing. Waar bij een passief systeem de machinebedieners de aanwijzingen op het display in de cabine moeten volgen en de machine zelf moeten bedienen om de klus te klaren, biedt het semi-automatische machinebesturingssysteem actieve ondersteuning met een semi-automatische verwijderingsmodus. De machinist mag alleen de stickbewegingen en snelheid van de machine via de joystick regelen. Het systeem past automatisch de juiste beweging van alle apparatuur aan om het doelprofiel te creëren.
De productiviteit kan aanzienlijk worden verhoogd door gebruik te maken van een semi-automatisch machinebesturingssysteem. Ook kan over een langere periode veel nauwkeuriger worden gewerkt, waardoor tijdrovende en kostenintensieve nabewerkingen worden verminderd. Machines van de 8e generatie met een passief machinebesturingssysteem kunnen op verzoek van de klant worden uitgerust met een halfautomatisch systeem door middel van een bijbehorend softwarepakket, op voorwaarde dat ze zijn uitgerust met een Master 5 Premium.
Verschillende varianten machinebesturingen: 2D, 3D of 2D "3D-ready"
2D- of 3D-machinebesturingssystemen van Leica Geosystems geven de machinist informatie over de hoogte en helling van de machine en de bijbehorende positie via het display in de machinistencabine.
Terwijl een 2D-machinebesturingssysteem is ontworpen voor het werken vanaf vlakke en hellende oppervlakken, gebruikt een 3D-machinebesturingssysteem referentiemodellen en GNSS om de machinist te begeleiden. Door 3D GNSS-positionering in combinatie met 3D-modelgegevens is alle informatie over uitgraven en verwijderen, evenals de positie van de machine op de bouwplaats, in realtime zichtbaar.
Met de 2D "3D-ready" variant kan er direct in 2D gewerkt worden, afhankelijk van de aangeschafte optie passief of halfautomatisch. Een 2D-besturing kan vervolgens op elk moment worden geüpgraded naar een volwaardige 3D-machinebesturing.
Betekenis van machinebesturingssystemen op de markt
Machinebesturingen worden steeds belangrijker voor de meest uiteenlopende bouwprojecten. Ze bieden een grote meerwaarde voor machinisten, bedrijven en het milieu en stellen de machinisten in staat hun machines nog productiever en preciezer te gebruiken. Het consistente gebruik van sensoren en software geeft de operator real-time informatie, waardoor werkprocessen dankzij verschillende automatiseringsfuncties qua tijd en kosten kunnen worden geoptimaliseerd. Wachttijden voor landmeters worden verkort en de noodzaak voor controlemetingen op de bouwplaats wordt verminderd. Daarnaast verhoogt dit de veiligheid op de bouwplaats, omdat er minder mensen nodig zijn in de directe omgeving van de machine. Bovendien wordt de werkdruk van de bestuurder verminderd, waardoor vermoeidheid van de bestuurder en de daarmee gepaard gaande gevoeligheid voor fouten worden voorkomen.
NJC.© Info Leica Geosystems AG
----------------------------------------------------------------------------------------------------------------
Date de dernière mise à jour : 13/07/2023