Liebherr partners in online used marketplace

17/01/23-FR-English-NL-footer
Liebherr partenaire du marché d'occasion en ligne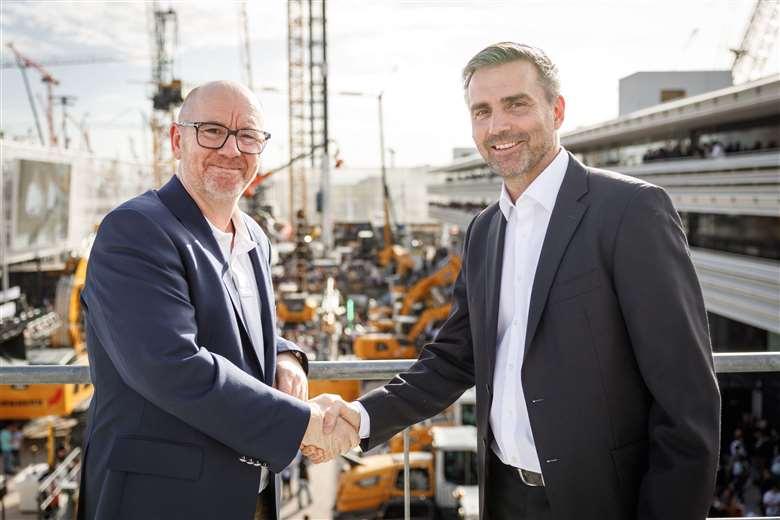 Image- Krank founder Mark Turner (left) with Liebherr's Alexander Sattler
Liebherr et ses concessionnaires vendront des machines d'occasion, des accessoires et des pièces de rechange pour certains produits via une nouvelle plateforme de commerce en ligne développée en partenariat avec le fournisseur de logiciels en tant que service Krank.
Le fondateur de Krank, Mark Turner (à gauche) avec Alexander Sattler de Liebherr
La plate-forme - qui sera lancée au premier trimestre de cette année - couvrira la vente de machines d'occasion pour l'exploitation minière, le terrassement et la manutention, de grues mobiles et sur chenilles, de grues à tour, de grues maritimes, de la technologie du béton et des accessoires et pièces de rechange d'occasion correspondants.
La place de marché sera une plate-forme développée par Krank qui permettra aux partenaires commerciaux de Liebherr dans le monde entier de gérer leurs processus de vente d'équipements d'occasion et de les commercialiser en ligne.
"Nous recherchions un expert dans la création de places de marché pour les équipements de construction d'occasion - et Krank est le partenaire qui se démarque", a déclaré Daniel Hecker, des ventes de développement commercial, Liebherr-EMtec GmbH.
«Avec la relance du marché, nous aurons une plate-forme centrale pour notre activité mondiale d'équipements d'occasion. Les clients pourront rechercher indépendamment sur notre place de marché virtuelle le matériel d'occasion dont ils ont besoin, tandis que nos partenaires commerciaux enregistreront et géreront leur matériel d'occasion via la plateforme et ses applications associées.
Basée au Royaume-Uni, Krank permet aux clients de gérer le processus de vente et de garder le contrôle direct de leur réseau d'entreprise et de leurs données.
"Le marché rassemblera sur une plate-forme unique l'ensemble de l'offre et de la demande de notre activité d'équipement d'occasion", a poursuivi Hecker.
"Il aura la capacité de combiner les atouts de Liebherr en matière de conseils personnalisés et de relations clients avec la visibilité beaucoup plus grande qu'offre une place de marché numérique mondiale."
NJC.© Info LIEBHERR
----------------------------------------------------------------------------------------------------------------

17/01/23-English
Liebherr partners in online used marketplace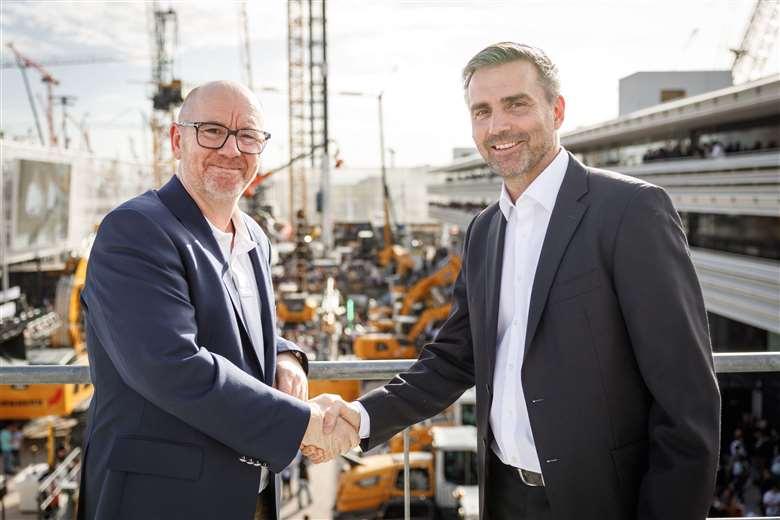 Image- Krank founder Mark Turner (left) with Liebherr's Alexander Sattler
Liebherr and its dealers will sell used machines, attachments and spare parts for certain products via a new online trading platform being developed in partnership with software-as-a-service provider Krank.
Krank founder Mark Turner (left) with Liebherr's Alexander Sattler
The platform - to be launched in the first quarter of this year - will cover the sale of used mining, earthmoving and material handling machines, mobile and crawler cranes, tower cranes, maritime cranes, concrete technology and corresponding used attachments and spare parts.
The marketplace will be a Krank-developed platform that allows Liebherr sales partners worldwide to manage their used equipment sales processes – and market them online.
"We were looking for an expert in creating marketplaces for used construction equipment – and Krank is the stand-out partner," said Daniel Hecker, business development sales, Liebherr-EMtec GmbH.
"With the relaunch of the marketplace, we will have a central platform for our global used equipment business. Customers will be able to independently search our virtual marketplace for the used equipment they need, while our sales partners will register and manage their used equipment via the platform and its associated apps."
UK headquartered, Krank enables customers to manage the sale process and keep direct control of their business network and data.
"The marketplace will bring together on a single platform the entire supply and demand sides of our used equipment business," Hecker continued.
"It will have the ability to combine Liebherr's strengths of personal advice and customer relationships with the much greater visibility a global digital marketplace offers."
NJC.© Info LIEBHERR
----------------------------------------------------------------------------------------------------------------------

17/01/23-NL
Liebherr-partners in online gebruikte marktplaats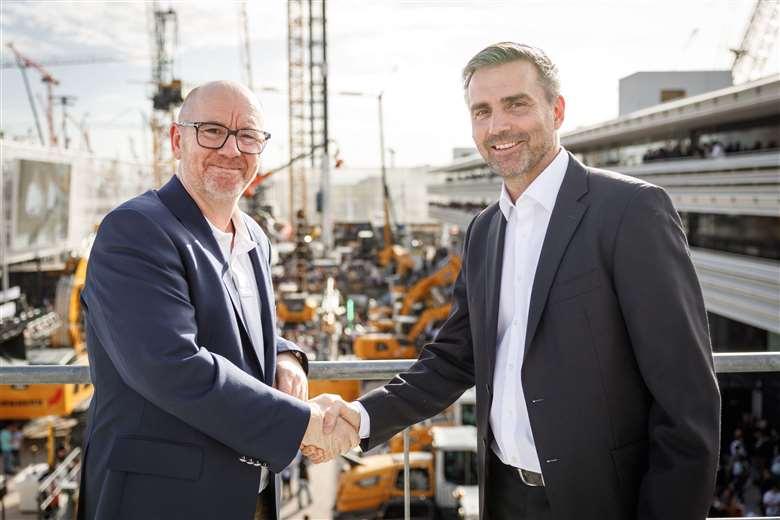 Image- Krank founder Mark Turner (left) with Liebherr's Alexander Sattler
Liebherr en zijn dealers zullen gebruikte machines, hulpstukken en reserveonderdelen voor bepaalde producten verkopen via een nieuw online handelsplatform dat wordt ontwikkeld in samenwerking met software-as-a-service provider Krank.
Krank-oprichter Mark Turner (links) met Alexander Sattler van Liebherr
Het platform - dat in het eerste kwartaal van dit jaar wordt gelanceerd - zal betrekking hebben op de verkoop van gebruikte mijnbouw-, grondverzet- en overslagmachines, mobiele en rupskranen, torenkranen, maritieme kranen, betontechniek en bijbehorende gebruikte aanbouwdelen en reserveonderdelen.
De marktplaats wordt een door Krank ontwikkeld platform waarmee Liebherr-verkooppartners over de hele wereld hun verkoopprocessen voor gebruikte apparatuur kunnen beheren - en deze online op de markt kunnen brengen.
"We waren op zoek naar een expert in het creëren van marktplaatsen voor gebruikte bouwmachines - en Krank is de opvallende partner", zegt Daniel Hecker, business development sales, Liebherr-EMtec GmbH.
"Met de herlancering van de marktplaats hebben we een centraal platform voor onze wereldwijde activiteiten op het gebied van gebruikte apparatuur. Klanten kunnen zelfstandig op onze virtuele marktplaats zoeken naar gebruikte apparatuur die ze nodig hebben, terwijl onze verkooppartners hun gebruikte apparatuur registreren en beheren via het platform en de bijbehorende apps."
Krank, met hoofdkantoor in het VK, stelt klanten in staat het verkoopproces te beheren en directe controle te houden over hun bedrijfsnetwerk en gegevens.
"De marktplaats zal de volledige vraag- en aanbodzijde van onze activiteiten op het gebied van gebruikte apparatuur op één platform samenbrengen", vervolgde Hecker.
"Het zal de mogelijkheid hebben om de sterke punten van Liebherr op het gebied van persoonlijk advies en klantrelaties te combineren met de veel grotere zichtbaarheid die een wereldwijde digitale marktplaats biedt."
NJC.© Info LIEBHERR
------------------------------------------------------------------------------------------------------------------
Date de dernière mise à jour : 17/01/2023