Manitou introduces hydrogen telehandler
12/12/22-FR-English-NL-footer
Manitou présente le chariot télescopique à hydrogène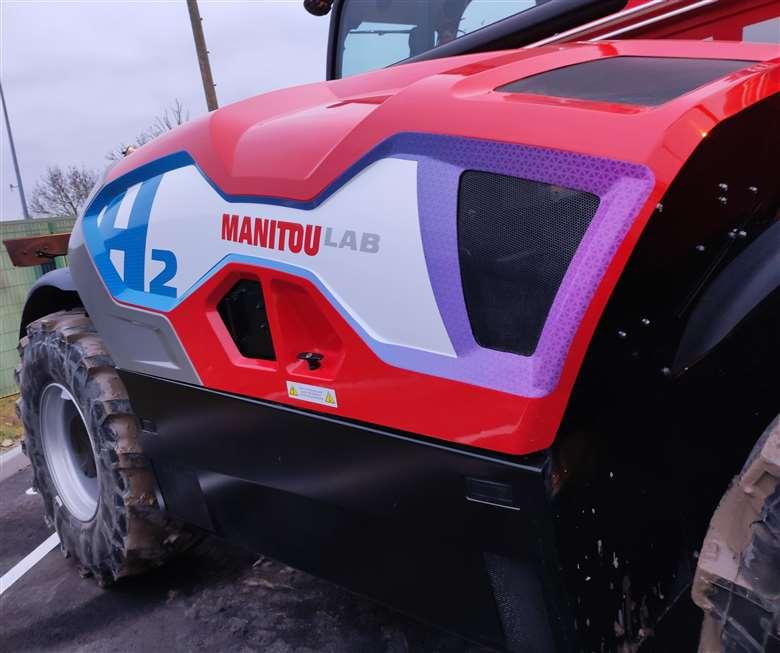 Image- The new green hydrogen-powered telehandler prototype from Manitou.
Le groupe Manitou a présenté un prototype de chariot télescopique alimenté à l'hydrogène vert. Avec pour objectif de réduire les émissions de gaz à effet de serre de ses équipements de 34 % par heure d'ici 2030, le nouveau chariot télescopique à hydrogène fait suite à l'électrification des gammes de nacelles tout-terrain et de chariots télescopiques de l'entreprise.
Le groupe se tourne désormais vers l'hydrogène comme alternative à moyen terme pour ses clients et affirme souhaiter voir ses gammes électrique et hydrogène proposées côte à côte, avec un objectif de 43% de ses produits en machines à faibles émissions d'ici 2030.
Dans le cadre du développement de l'hydrogène, Manitou a équipé son centre d'essais d'une station hydrogène verte, permettant de tester en conditions réelles l'autonomie et la fiabilité du nouveau prototype de chariot télescopique, tout en vérifiant la durabilité des composants.
Le fabricant basé en France a basé ce premier prototype sur un modèle existant de sa gamme de 14 m de hauteur. Il est maintenant prévu que l'unité soit entièrement testée et envoyée sur les chantiers de construction d'ici la fin de 2023, en vue de recueillir les commentaires des utilisateurs pour améliorer les performances. L'espoir est de proposer d'ici 2026 un chariot télescopique 100 % hydrogène prêt à la production.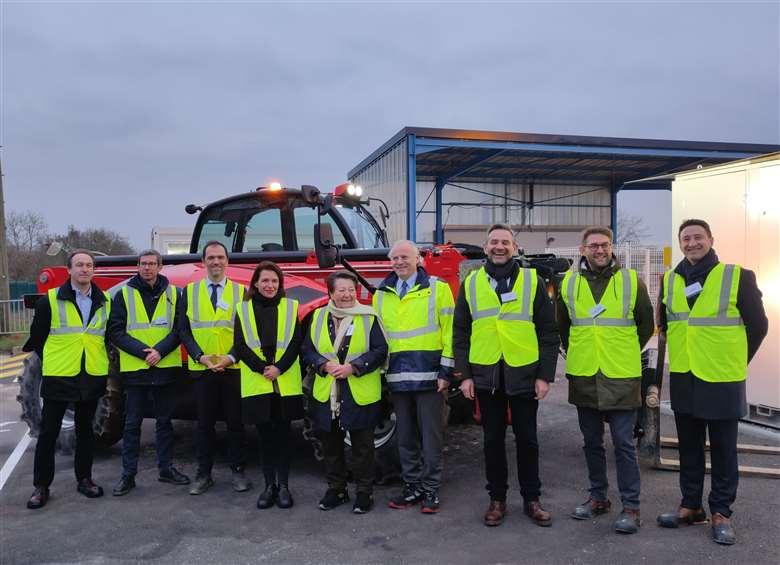 Image- The Manitou hydrogen project team.
Meilleure solution
Comme l'explique Manitou, deux types de technologie hydrogène sont actuellement évalués par le marché, à savoir le moteur thermique et la pile à combustible. Le premier prototype du groupe est construit autour d'une pile à combustible, mais il choisira finalement la solution qui répondra le mieux aux besoins des clients. Michel Denis, directeur général de Manitou, explique : « Nous étudions toutes les technologies liées à l'hydrogène en fonction des besoins des utilisateurs.
« Ce prototype n'est qu'une première étape. Un deuxième prototype de chariot télescopique rotatif sera développé dans les prochains mois.
« L'hydrogène vert présente de nombreux avantages avec une production possible à l'aide d'énergie éolienne qui n'émet aucune émission de gaz à effet de serre. Cela s'inscrit parfaitement dans notre trajectoire bas carbone ».
Près de 50 ingénieurs et techniciens sont dédiés au projet, qui a été lancé en 2021, avec la première phase premier prototype, le groupe dit démontrer sa capacité à innover et mesurer l'autonomie de cette nouvelle source, sans compromis sur les performances.
Manitou compte également sur le soutien des pouvoirs publics pour développer un écosystème hydrogène. Julien Waechter, vice-président R&D du groupe Manitou, ajoute : « La filière hydrogène vert s'affirme progressivement avec l'entrée sur ce marché de nombreux acteurs.
"L'ensemble des mécanismes d'aides proposés par les différents gouvernements favoriseront la transition vers l'hydrogène, et accéléreront le développement du réseau de distribution et in fine la réduction des coûts d'usage de nos machines utilisant cette énergie".
NJC.© Info MANITOU
------------------------------------------------------------------------------------------------------------------
12/12/22-English
Manitou introduces hydrogen telehandler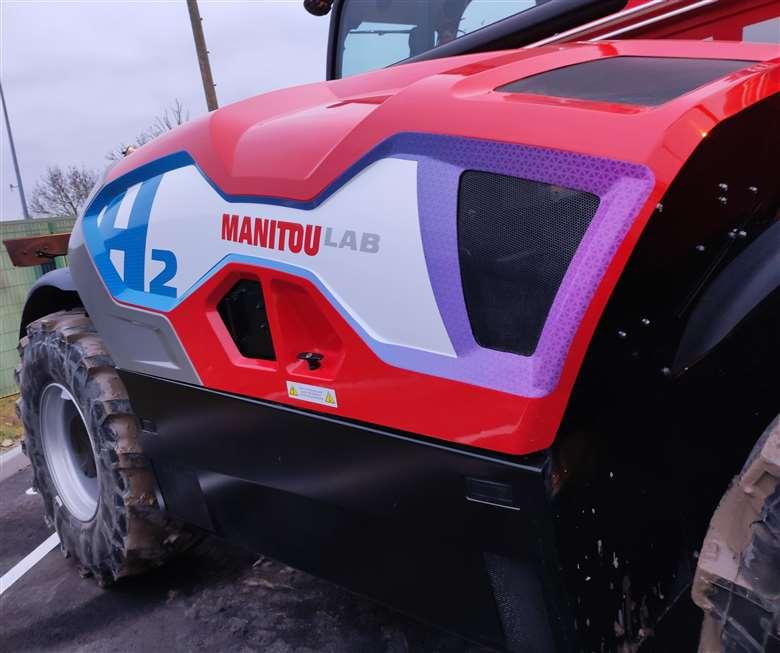 Image- The new green hydrogen-powered telehandler prototype from Manitou.
Manitou Group has presented a prototype telehandler powered by green hydrogen. With its target of reducing the greenhouse gas emissions of its equipment by 34% per hour by 2030, the new hydrogen-powered telehandler follows the electrification of the company's all-terrain aerial platform and telehandler ranges.
The group is now looking to hydrogen as a medium-term alternative for its customers and says it would like to see its electric and hydrogen ranges offered side-by-side, with a target of 43% of its products being low-emission machines by 2030.
As part of the hydrogen developent process, Manitou has kitted out its test centre with a green hydrogen station, allowing the new prototype telehandler to be tested for range and reliability in real-life conditions, while checking the durability of components.
The France-based manufacturer has based this first prototype on an existing model from its 14m height range. The plan now is for the unit to be fully tested and sent out to construction sites by the end of 2023, with a view to collecting feedback from users to improve performance. The hope is to offer a production ready, 100% hydrogen-powered telehandler by 2026.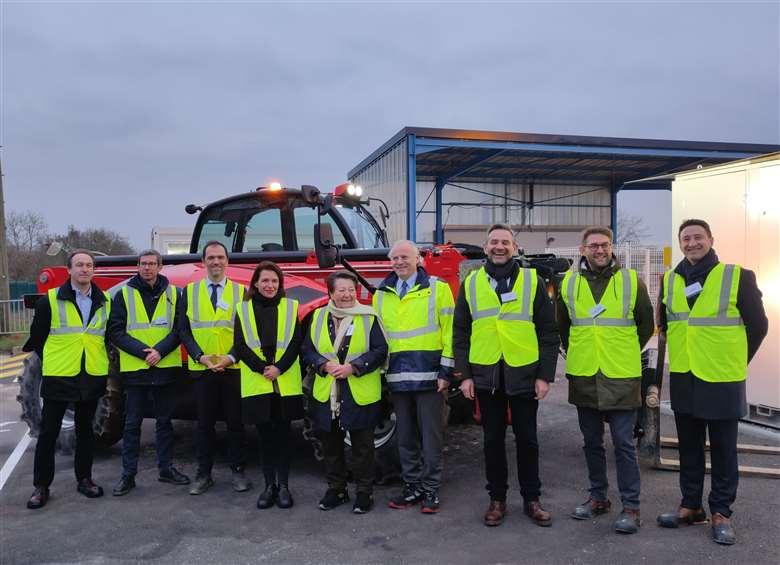 Image- The Manitou hydrogen project team.
Best solution
As Manitou explains, two types of hydrogen technology are currently being evaluated by the market, namely the combustion engine and the fuel cell. The group's first prototype is built around a fuel cell, but it will ultimately choose the solution that best meets the needs of customers. Michel Denis, managing director of Manitou, explained, "We are studying all the hydrogen-related technologies based on what users need.
"This prototype is only the first step. A second rotating telehandler prototype will be developed in the coming months.
"There are many benefits of green hydrogen with production possible using wind power that has no greenhouse gas emissions at all. This fits in perfectly with our low-carbon trajectory".
Almost 50 engineers and technicians are dedicated to the project, which was launched in 2021, with the first phase first prototype, the group said it is demonstrating its ability to innovate and measure the autonomy of this new source, without compromising on performance.
Manitou is also relying on the support of the public authorities to develop a hydrogen ecosystem. Julien Waechter, vice president R&D at Manitou Group, added, "The green hydrogen sector is gradually becoming more established with the entry into this market of a number of players.
"All of the aid mechanisms proposed by the different governments will encourage the transition to hydrogen, and will speed up the development of the distribution network and ultimately the reduction in the usage costs of our machines using this energy".
NJC.© Info MANITOU
---------------------------------------------------------------------------------------------------------------------
12/12/22-NL
Manitou introduceert verreiker op waterstof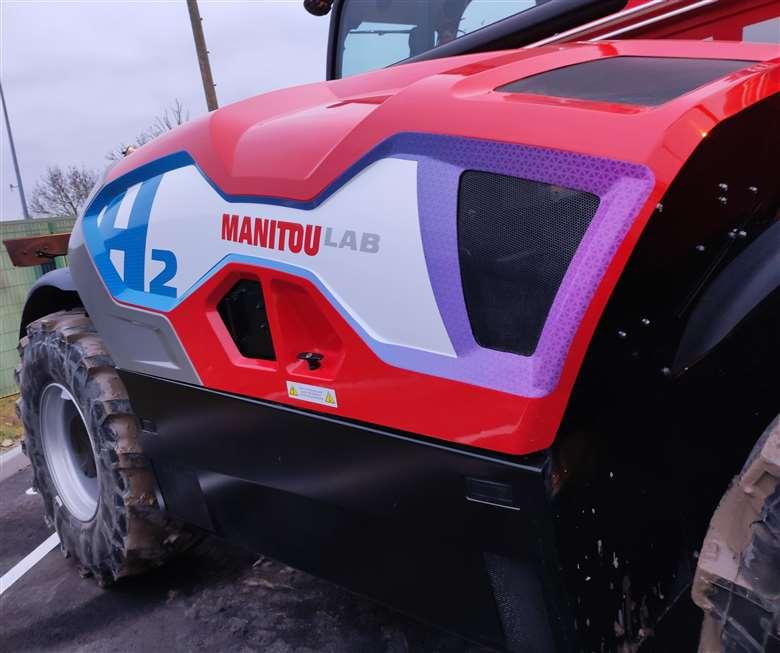 Image- The new green hydrogen-powered telehandler prototype from Manitou.
Manitou Group heeft een prototype van een verreiker gepresenteerd die wordt aangedreven door groene waterstof. Met zijn doelstelling om de uitstoot van broeikasgassen van zijn apparatuur tegen 2030 met 34% per uur te verminderen, volgt de nieuwe verreiker op waterstof de elektrificatie van de all-terrain hoogwerkers en verreikers van het bedrijf.
De groep kijkt nu naar waterstof als alternatief voor de middellange termijn voor zijn klanten en zegt dat het zijn elektrische en waterstofgamma's naast elkaar wil zien, waarbij het doel is dat 43% van zijn producten machines met een lage uitstoot zijn. 2030.
Als onderdeel van het waterstofontwikkelingsproces heeft Manitou zijn testcentrum uitgerust met een groen waterstofstation, waardoor het nieuwe prototype van de verreiker kan worden getest op bereik en betrouwbaarheid in praktijkomstandigheden, terwijl de duurzaamheid van de componenten wordt gecontroleerd.
De in Frankrijk gevestigde fabrikant heeft dit eerste prototype gebaseerd op een bestaand model uit zijn hoogtebereik van 14 meter. Het plan is nu om het apparaat tegen eind 2023 volledig te testen en naar bouwplaatsen te sturen, met het oog op het verzamelen van feedback van gebruikers om de prestaties te verbeteren. De hoop is om tegen 2026 een productieklare, 100% waterstofaangedreven verreiker aan te bieden.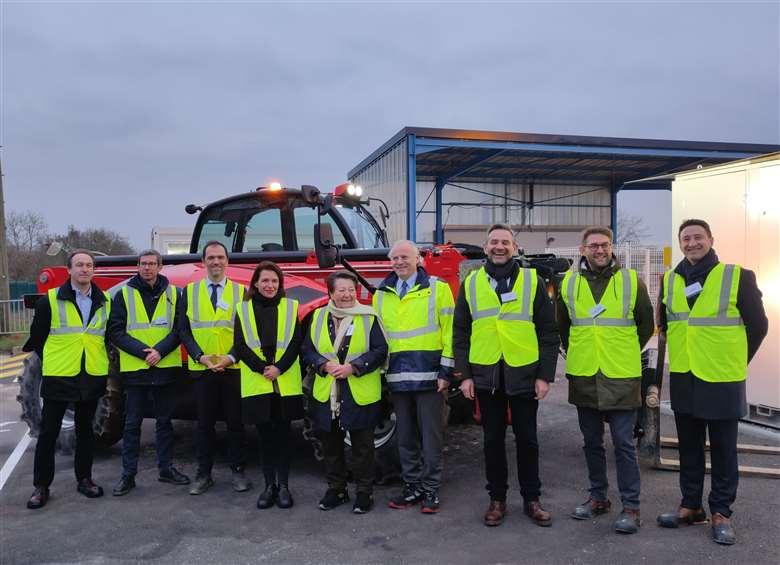 Image- The Manitou hydrogen project team.
Beste oplossing
Zoals Manitou uitlegt, worden momenteel twee soorten waterstoftechnologie geëvalueerd door de markt, namelijk de verbrandingsmotor en de brandstofcel. Het eerste prototype van de groep is gebouwd rond een brandstofcel, maar uiteindelijk zal de groep de oplossing kiezen die het beste beantwoordt aan de behoeften van de klanten. Michel Denis, algemeen directeur van Manitou, legt uit: "We bestuderen alle waterstofgerelateerde technologieën op basis van wat gebruikers nodig hebben.
"Dit prototype is slechts de eerste stap. De komende maanden wordt een tweede prototype van een roterende verreiker ontwikkeld.
"Er zijn veel voordelen van groene waterstof als de productie mogelijk is met behulp van windenergie die helemaal geen broeikasgassen uitstoot. Dit past perfect in ons koolstofarme traject."
Bijna 50 ingenieurs en technici zijn toegewijd aan het project, dat in 2021 werd gelanceerd, met de eerste fase van het eerste prototype. De groep zei dat het zijn vermogen aantoont om te innoveren en de autonomie van deze nieuwe bron te meten, zonder concessies te doen aan de prestaties.
Manitou rekent ook op de steun van de overheid om een waterstofecosysteem te ontwikkelen. Julien Waechter, vice-president R&D bij Manitou Group, voegt hieraan toe: "De groene waterstofsector wordt geleidelijk meer ingeburgerd door de toetreding van een aantal spelers tot deze markt.
"Alle steunmechanismen die door de verschillende regeringen worden voorgesteld, zullen de overgang naar waterstof stimuleren en de ontwikkeling van het distributienetwerk en uiteindelijk de verlaging van de gebruikskosten van onze machines die deze energie gebruiken versnellen."
NJC.© Info MANITOU
---------------------------------------------------------------------------------------------------------------
Date de dernière mise à jour : 12/12/2022