MB Crusher What a Waste
29-11-22-FR-English-NL-footer
MB Crusher Quel gaspillage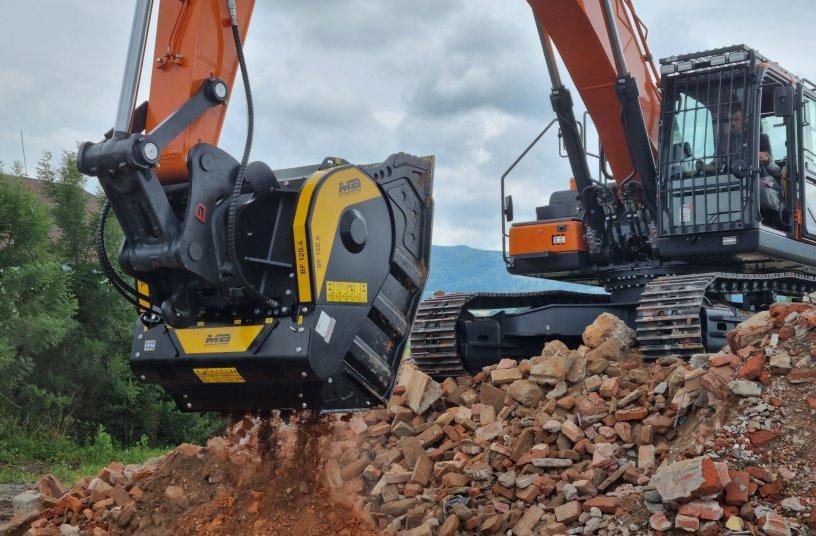 MB Crusher BF120.4 & Doosan DX 350 LC - Czech Republic - Demolition - Bricks
IMAGE SOURCE: MB Crusher
Les déchets de C&D contribuent à plus de 600 millions de tonnes de déchets chaque année. Si tous ces déchets étaient mis dans des camions, ils feraient trois fois le tour du monde ! Comme vous pouvez le constater, les déchets de C&D sont énormes. Alors, comment pouvez-vous faire votre part pour réduire le tonnage ?
La réponse est simple, recyclez. Comme nous le savons tous, c'est beaucoup plus facile à dire qu'à faire. Recycler même les matériaux les plus recyclables peut être coûteux et laborieux. Parfois, cela peut nécessiter un équipement spécialisé ou coûter plus cher qu'une simple élimination.
MB Crusher est bien conscient de ces obstacles et a pour objectif de faire la différence dans le recyclage/upcycling des matériaux réutilisables. Ainsi, nous avons dédié notre approche à la construction d'accessoires qui peuvent aider à surmonter ces obstacles avec des unités qui peuvent créer de nouveaux matériaux à partir de matériaux réutilisables existants.
Par exemple, l'un de nos clients aux États-Unis, un grand fabricant de béton, avait besoin d'une solution pour gérer son stock de déchets de béton sans cesse croissant. Il savait qu'il y avait de l'argent à gagner dans le recyclage des déchets de béton, mais voulait seulement investir une somme d'argent gérable dans de nouvelles machines. Il s'est tourné vers MB Crusher pour la solution. Il a acheté un godet concasseur BF135.8 et a rapidement commencé à ronger son stock en le concassant directement sur place. Nos clients ont non seulement gardé des tonnes et des tonnes de déchets de béton hors des décharges, mais ont également transformé le matériau désormais recyclé en une nouvelle source de revenus.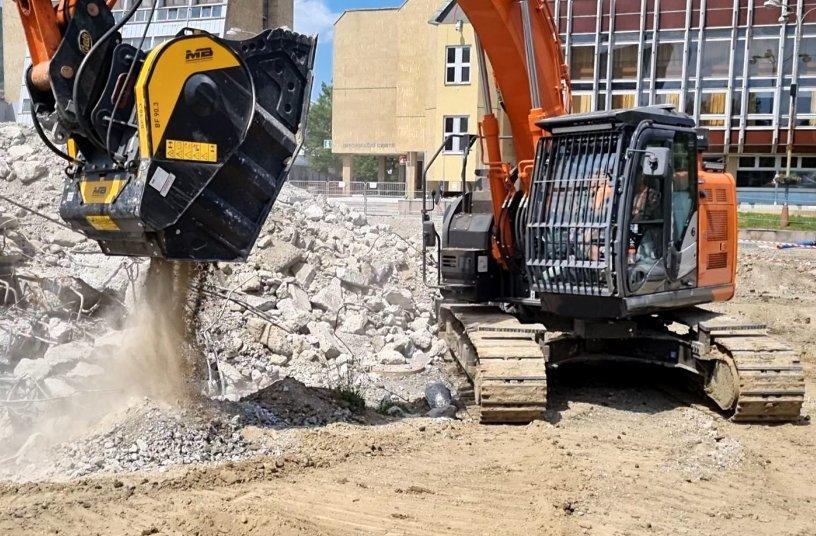 MB Crusher BF90.3 & Doosan 225 US LC - Czech Republic - Demolition - Reinforced concrete
IMAGE SOURCE: MB Crusher
Bien sûr, le béton en soi n'est peut-être pas le matériau le plus difficile à recycler, mais que se passe-t-il lorsqu'il s'agit de béton armé ? Vous avez maintenant doublé les matériaux qui peuvent être réutilisés. Mais l'obstacle de le faire a également doublé, car le béton armé peut créer un cauchemar d'une situation à recycler, et encore moins à séparer à moins que vous n'ayez les bons outils.
Jetez un œil à notre client qui a acheté un godet concasseur BF90.4. Il a traité le béton armé en écrasant le béton des barres d'armature, puis en les séparant. Simplement et rapidement et uniquement à l'aide de la pelle, il possédait déjà.
Mais qu'en est-il des autres matériaux de construction difficiles ? Comme des briques. Nous savons qu'ils sont recyclables mais nécessitent un traitement intensif, n'est-ce pas ? En fait non. Semblable à notre exemple ci-dessus, vous pouvez accomplir facilement des tâches apparemment difficiles avec le bon outil. Comme notre client qui a acheté notre godet concasseur BF120.4 et transformé sa pelle en centre de recyclage, et broyé son stock de briques directement sur place.
MB concasseur propose une variété d'accessoires qui peuvent aider notre clientèle à surmonter les obstacles liés à la réutilisation de leurs déchets C&D. Nous nous concentrons sur la création de solutions viables, rentables et, surtout, simples. Comment? En s'assurant que les accessoires fonctionnent sur les chantiers de nos clients avec les machines lourdes qu'ils possèdent déjà.
NJC.© Info MB crusher
-------------------------------------------------------------------------------------------------------------------
29/11/22-English
MB Crusher What a Waste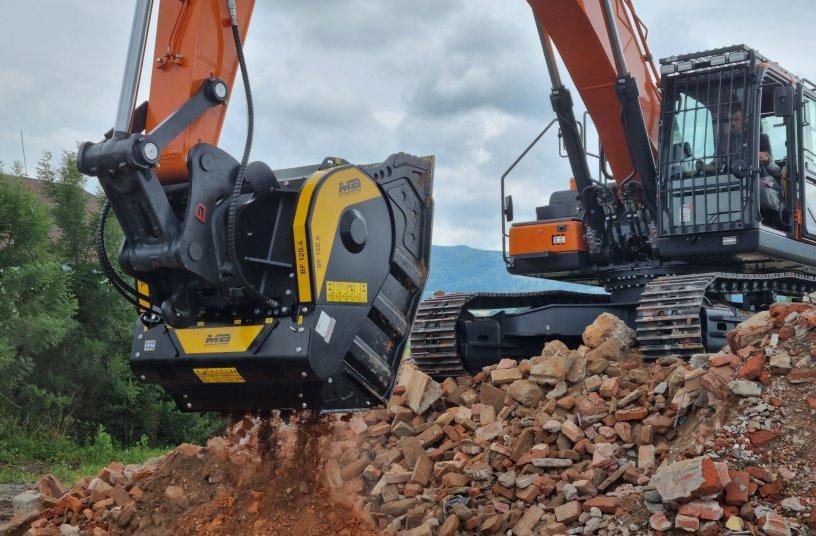 MB Crusher BF120.4 & Doosan DX 350 LC - Czech Republic - Demolition - Bricks
IMAGE SOURCE: MB Crusher
C&D waste contributes to over 600 million tons of waste each year. If all this waste were put into trucks, it would circle the world three times! As you can see, C&D waste is enormous. So how can you do your part in reducing the tonnage?
The answer is simple, recycle. As we all know, this is much easier said than done. Recycling even the most recyclable material can be costly and laborious. At times it may require specialized equipment or cost more than simply disposing of it.
MB Crusher is well aware of these obstacles and has aimed to make a difference in recycling/upcycling reusable material. As so, we have dedicated our approach to building attachments that can help tackle these obstacles with units that can create new materials out of existing reusable materials.
For example, one of our customers in the US, a large concrete manufacturer, needed a solution to handle his ever-growing waste concrete stockpile. He knew there was money to be made in recycling the waste concrete but only wanted to invest a manageable amount of money in new machinery. He turned to MB Crusher for the solution. He purchased a BF135.8 crusher bucket and rapidly began to eat away at his stockpile by crushing it directly on-site. Our customers not only kept tons and tons of concrete waste out of landfills but also turned the now-recycled material into a new revenue stream.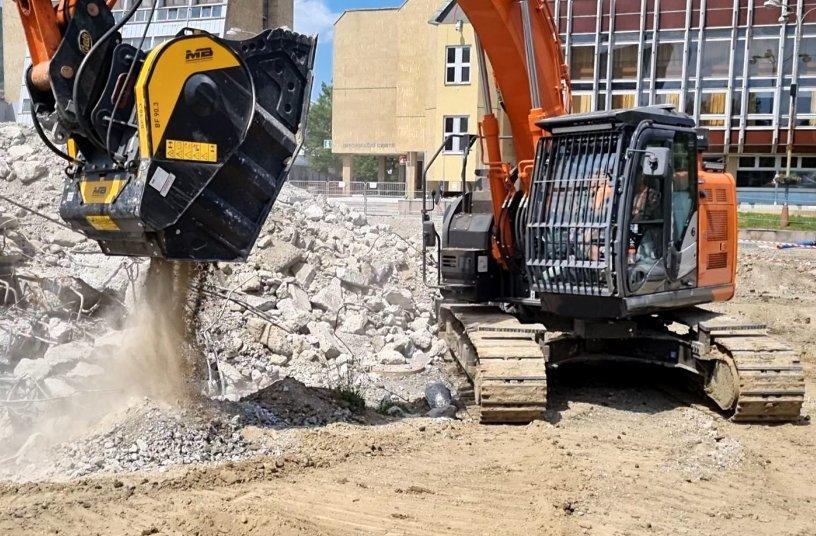 MB Crusher BF90.3 & Doosan 225 US LC - Czech Republic - Demolition - Reinforced concrete
IMAGE SOURCE: MB Crusher
Sure, concrete in itself may not be the most challenging material to recycle, but what happens when it is reinforced concrete you are dealing with? Now you have doubled the materials that can be reused. But the obstacle of doing so also doubled, as reinforced concrete can create a nightmare of a situation to recycle, let alone separate unless you have the right tools.
Take a look at our customer who purchased a BF90.4 crusher bucket. He processed the reinforced concrete by crushing the concrete off of the rebar and then separating them. Simply and quickly and only using the excavator, he already owned.
But what about other challenging building materials? Like bricks. We know they are recyclable but require extensive processing, right? Actually, no. Similar to our example above, you can accomplish seemingly difficult tasks easily with the right tool. Like our customer who purchased our BF120.4 crusher bucket and turned his excavator into a recycling centre, and crushed his stockpile of bricks directly on-site.
MB crusher offers a variety of attachments that can help our customer base overcome the obstacles of repurposing their C&D waste. We focus on creating viable, cost-effective, and, most importantly, simple solutions. How? By making sure the attachments work on our customers' job sites with the heavy machines they already own.
NJC.© Info MB crusher
-------------------------------------------------------------------------------------------------------------------
29/11/22-NL
MB Crusher Wat een verspilling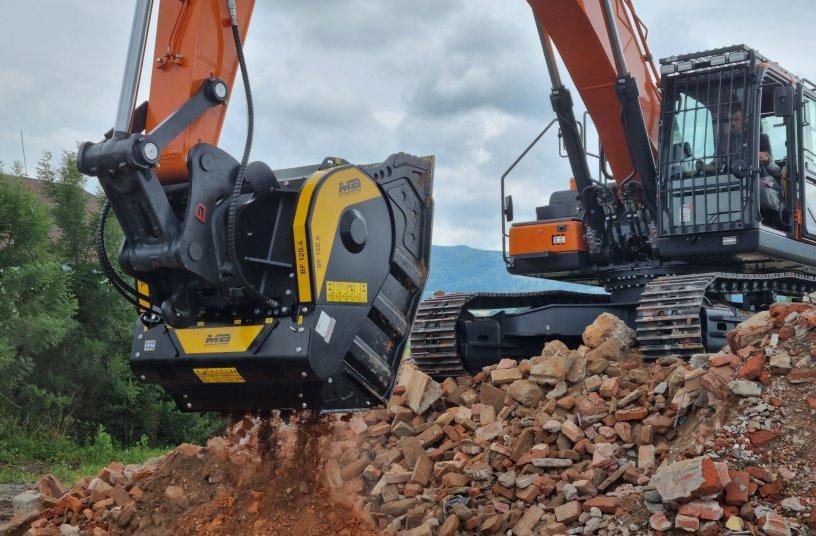 MB Crusher BF120.4 & Doosan DX 350 LC - Czech Republic - Demolition - Bricks
IMAGE SOURCE: MB Crusher
B&S-afval draagt ​​jaarlijks bij tot meer dan 600 miljoen ton afval. Als al dit afval in vrachtwagens zou worden geladen, zou het drie keer de wereld rondreizen! Zoals u kunt zien, is bouw- en sloopafval enorm. Dus hoe kunt u uw steentje bijdragen aan het verminderen van het tonnage?
Het antwoord is simpel, recyclen. Zoals we allemaal weten, is dit veel gemakkelijker gezegd dan gedaan. Het recyclen van zelfs het meest recyclebare materiaal kan kostbaar en arbeidsintensief zijn. Soms is er speciale apparatuur voor nodig of kost het meer dan alleen het weggooien ervan.
MB Crusher is zich terdege bewust van deze obstakels en heeft ernaar gestreefd een verschil te maken in het recyclen/upcyclen van herbruikbaar materiaal. Daarom hebben we onze aanpak gericht op het bouwen van hulpstukken die deze obstakels kunnen helpen overwinnen met eenheden die nieuwe materialen kunnen maken van bestaande herbruikbare materialen.
Een van onze klanten in de VS, een grote betonfabrikant, had bijvoorbeeld een oplossing nodig voor zijn steeds groter wordende voorraad betonafval. Hij wist dat er geld te verdienen was met het recyclen van het afvalbeton, maar wilde alleen een beheersbaar bedrag investeren in nieuwe machines. Hij wendde zich tot MB Crusher voor de oplossing. Hij kocht een BF135.8 brekerbak en begon al snel zijn voorraad weg te vreten door deze ter plekke te vermalen. Onze klanten hielden niet alleen tonnen en tonnen betonafval van stortplaatsen, maar zetten het nu gerecyclede materiaal ook om in een nieuwe inkomstenstroom.
Natuurlijk is beton op zichzelf misschien niet het meest uitdagende materiaal om te recyclen, maar wat gebeurt er als je te maken hebt met gewapend beton? Nu heb je het aantal materialen dat hergebruikt kan worden verdubbeld. Maar het obstakel om dit te doen verdubbelde ook, aangezien gewapend beton een nachtmerrie kan creëren van een situatie om te recyclen, laat staan ​​te scheiden, tenzij je over het juiste gereedschap beschikt.
Kijk eens naar onze klant die een BF90.4 breekbak heeft gekocht. Hij verwerkte het gewapend beton door het beton van de wapening te breken en ze vervolgens te scheiden. Simpel en snel en alleen met behulp van de graafmachine die hij al had.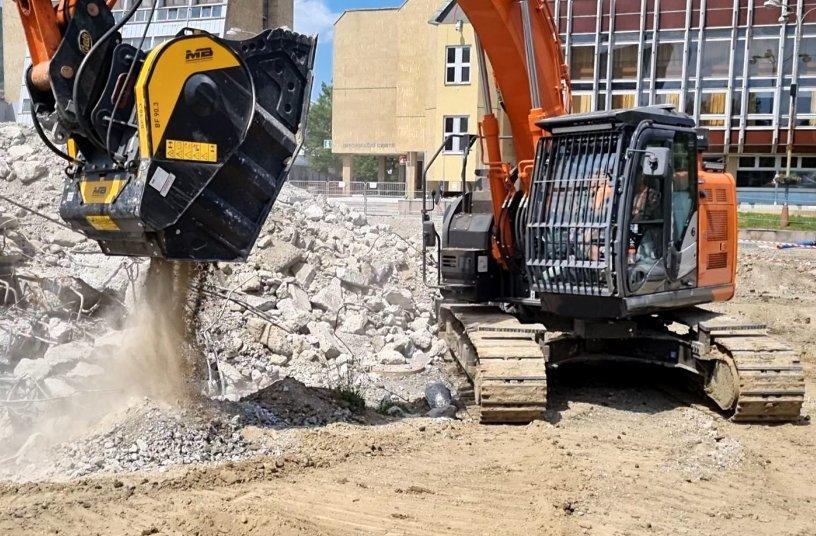 MB Crusher BF90.3 & Doosan 225 US LC - Czech Republic - Demolition - Reinforced concrete
IMAGE SOURCE: MB Crusher
Maar hoe zit het met andere uitdagende bouwmaterialen? Zoals bakstenen. We weten dat ze recyclebaar zijn, maar uitgebreide verwerking vereisen, toch? Eigenlijk niet. Vergelijkbaar met ons voorbeeld hierboven, kunt u ogenschijnlijk moeilijke taken eenvoudig uitvoeren met de juiste tool. Zoals onze klant die onze BF120.4 breekbak kocht en zijn graafmachine ombouwde tot een recyclingcentrum, en zijn voorraad bakstenen ter plekke verbrijzelde.
MB crusher biedt een verscheidenheid aan hulpstukken die ons klantenbestand kunnen helpen bij het overwinnen van de obstakels bij het herbestemmen van hun bouw- en sloopafval. We richten ons op het creëren van levensvatbare, kosteneffectieve en vooral eenvoudige oplossingen. Hoe? Door ervoor te zorgen dat de aanbouwdelen werken op de werkterreinen van onze klanten met de zware machines die ze al bezitten.
NJC.© Info MB crusher
---------------------------------------------------------------------------------------------------------------------