MB Trucks - Stuttgart/Cologne
09/05/22-FR-English-NL-footer
MB Trucks - Stuttgart/Cologne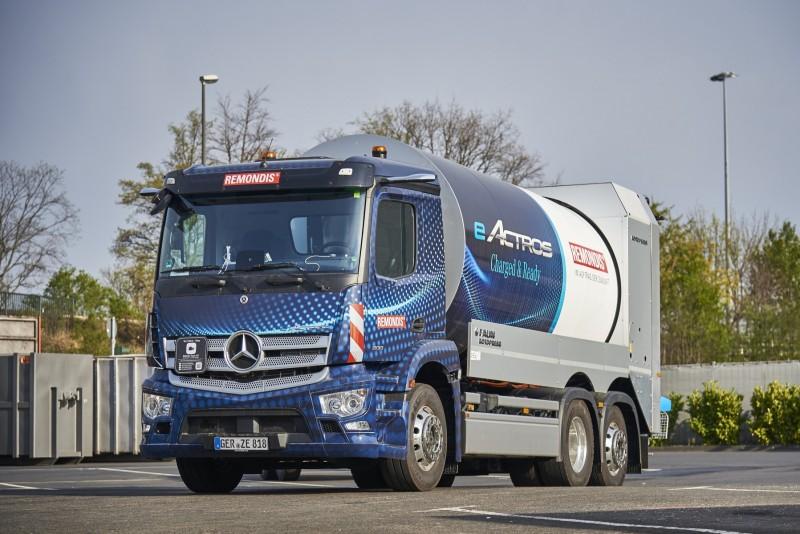 Depuis le début de la production en série de l'eActros en octobre 2021, Mercedes-Benz Trucks a progressivement élargi la gamme d'applications de son camion électrique pour la distribution lourde. Un eActros à batterie électrique configuré comme un véhicule de collecte des déchets a été déployé en avril de cette année chez REMONDIS, un prestataire de services d'élimination des déchets. À cette fin, le camion électrique est équipé d'un système de tambour rotatif à commande purement électrique de la société FAUN. Ledit FAUN ROTOPRESS a une capacité de 21 mètres cubes et nécessite très peu d'entretien. REMONDIS utilise l'eActros dans le centre-ville de Cologne pour l'élimination des déchets des clients commerciaux. L'entreprise prévoit également de l'utiliser pour la collecte des déchets municipaux en Rhénanie.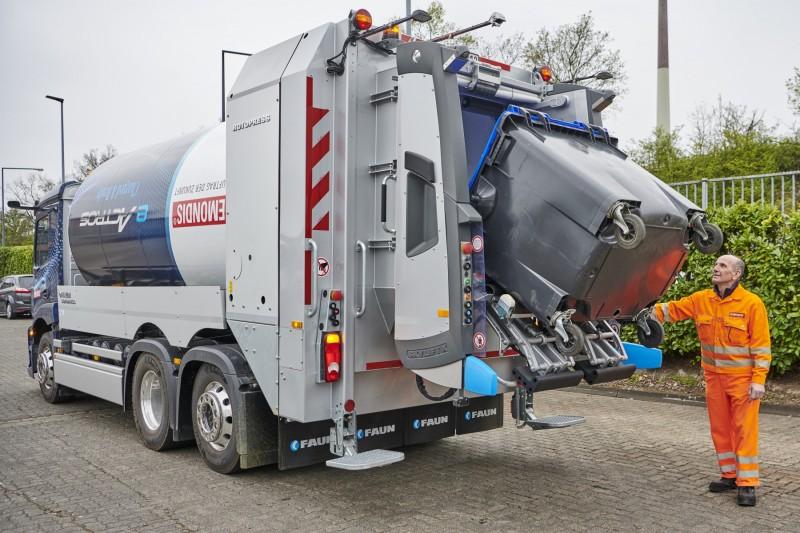 L'élément technologique central de l'eActros est son groupe motopropulseur, un essieu rigide électrique avec deux moteurs électriques intégrés et une transmission à deux vitesses. Le couple immédiat fourni par les moteurs électriques couplés à la transmission à deux vitesses assure une accélération puissante, un confort de conduite impressionnant et une dynamique de conduite qui offrent une expérience plus détendue et moins stressante qu'avec un camion diesel conventionnel.
NJC.© Info MB Trucks
---------------------------------------------------------------------------------------------------------------------
09/05/22-English
MB Trucks - Stuttgart/Cologne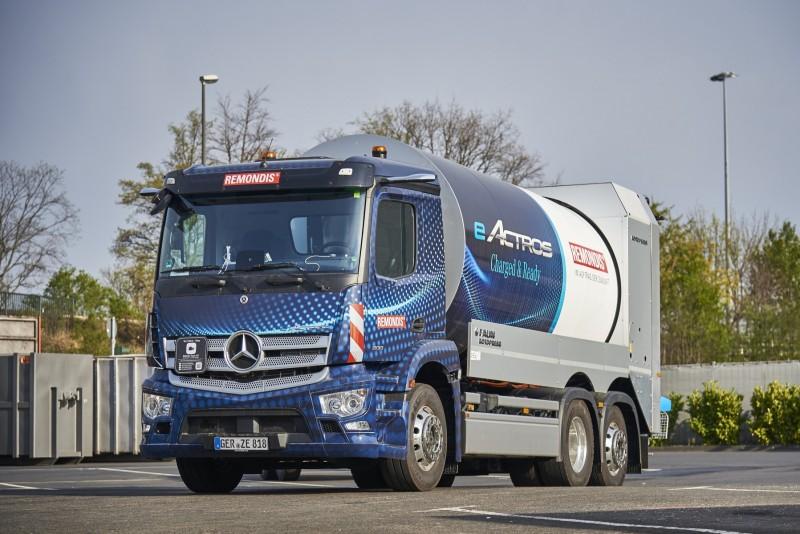 Since the start of series production of the eActros in October 2021, Mercedes-Benz Trucks has gradually expanded the range of applications of its electric truck for heavy-duty distribution. A battery-electric eActros configured as a waste collection vehicle was deployed in April this year at REMONDIS, a waste disposal service provider. For this purpose, the electric truck is equipped with a purely electrically driven rotary drum system from the company FAUN. Said FAUN ROTOPRESS has a capacity of 21 cubic meters and requires very little maintenance. REMONDIS uses the eActros in the city center of Cologne for the disposal of commercial customers. The company also plans to use it for municipal waste collection in the Rhineland.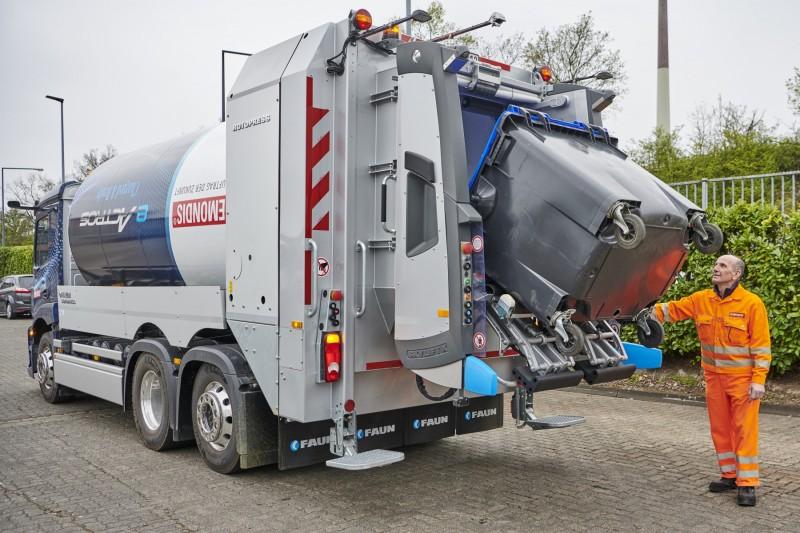 The central technological element of the eActros is its powertrain, an electric rigid axle with two integrated electric motors and a two-speed transmission. The immediate torque provided by the electric motors coupled to the two-speed transmission ensures powerful acceleration, impressive ride comfort and driving dynamics that provide a more relaxed and less stressful experience than with a conventional diesel truck.
NJC.© Info MB Trucks
----------------------------------------------------------------------------------------------------------------
09/05/22-NL
MB Trucks - Stuttgart/Keulen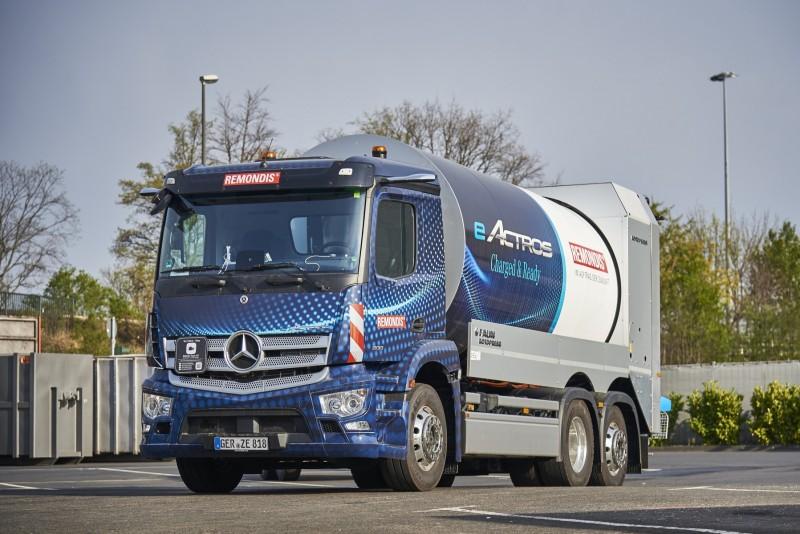 Sinds de start van de serieproductie van de eActros in oktober 2021 heeft Mercedes-Benz Trucks het toepassingsgebied van zijn elektrische vrachtwagen voor de zware distributie geleidelijk uitgebreid. Bij REMONDIS, een afvalverwerkingsbedrijf, werd in april van dit jaar een batterij-elektrische eActros, geconfigureerd als afvalinzamelwagen, ingezet. Hiervoor is de elektrische vrachtwagen uitgerust met een puur elektrisch aangedreven trommelsysteem van de firma FAUN. De genoemde FAUN ROTOPRESS heeft een inhoud van 21 kubieke meter en vereist zeer weinig onderhoud. REMONDIS gebruikt de eActros in het centrum van Keulen voor de verwijdering van zakelijke klanten. Het bedrijf is van plan het ook te gebruiken voor de gemeentelijke afvalinzameling in het Rijnland.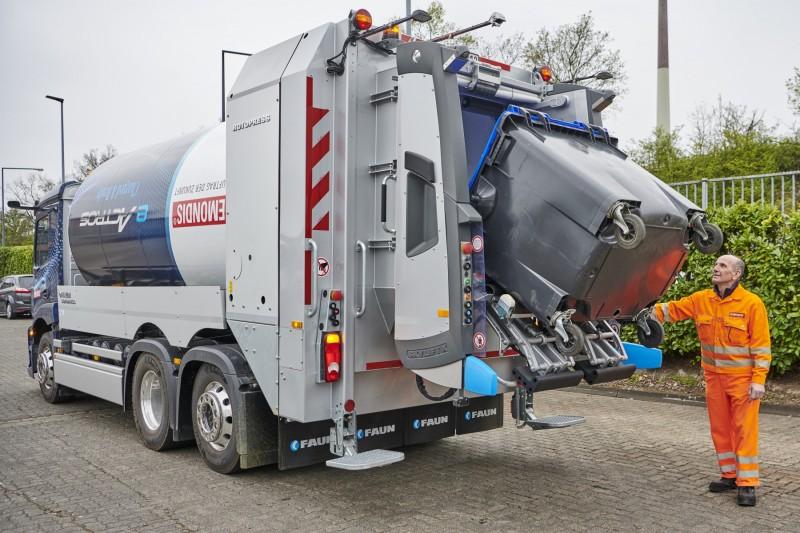 Het centrale technologische element van de eActros is de aandrijflijn, een elektrische starre as met twee geïntegreerde elektromotoren en een transmissie met twee versnellingen. Het directe koppel dat wordt geleverd door de elektromotoren die zijn gekoppeld aan de transmissie met twee snelheden, zorgt voor een krachtige acceleratie, een indrukwekkend rijcomfort en een rijdynamiek die een meer ontspannen en minder stressvolle ervaring bieden dan bij een conventionele dieseltruck.
NJC.© Info MB Trucks
--------------------------------------------------------------------------------------------------------------------