Mecalac introduces a brand new range of compact loaders, expanding its current portfolio of loaders
29/08/22-FR-English-NL-footer
Mecalac présente une toute nouvelle gamme de chargeuses compactes, élargissant son portefeuille actuel de chargeuses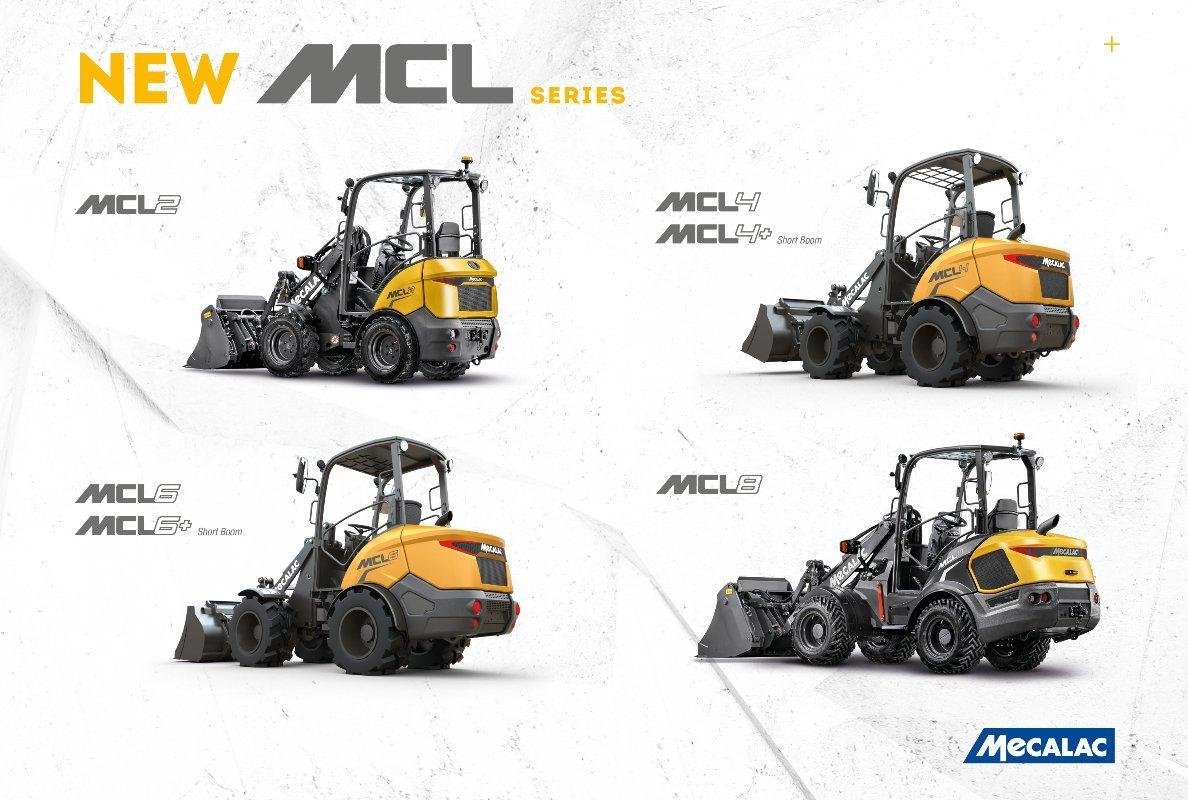 Mecalac MCL Serie IMAGE SOURCE: Mecalac S.A.S.
La décision de se faire une place sur ce marché est née de la demande croissante de petites chargeuses articulées polyvalentes dans les secteurs de l'agriculture, de la location et de la construction. Entre autres, ces machines remplacent progressivement d'autres types de machines (tracteurs avec chargeuses, skid-steers...) pour plus de polyvalence, d'agilité et de sécurité pour ces différentes applications.
Une gamme de 6 machines pour répondre à tous les besoins
La nouvelle gamme Mecalac MCL comprend 6 modèles, de 1,74 t à 2,85 t :
4 modèles à flèche longue (Standard), adaptés aux besoins du segment agricole
2 modèles à flèche courte, adaptés aux besoins du segment de la construction
MCL2
Sa petite taille et sa transmission par moteur à roue lui permettent de se déplacer avec agilité. La plus petite machine de la gamme MCL mais avec des performances maximales, elle a toutes les caractéristiques des grandes. Son poste de conduite moderne et ergonomique protégé par un auvent est également disponible en version cabine
MCL4
Offre un excellent compromis entre compacité et performances de levage. Avec son moteur de 18,4 kW, c'est aussi la machine idéale pour les flottes de location qui souhaitent une machine durable et performante. Son faible poids de transport permet également de transporter la machine sur une remorque routière.
MCL6
Le meilleur du MCL4 mais avec encore plus de puissance, son moteur de 36kW lui permet d'atteindre et de maintenir des vitesses élevées sur route. Son débit hydraulique élevé et sa rapidité d'exécution lui permettent d'augmenter considérablement la productivité sur les chantiers.
MCL8
Puissance, hauteur de déversement élevée et capacité de levage sont les maîtres mots qui ont guidé la conception de cette machine. Il est à l'aise en toutes circonstances que ce soit pour le chargement, la manutention ou l'entraînement d'accessoires hydrauliques.
Les versions à bras court pour répondre aux besoins spécifiques des différentes applications, notamment dans le secteur de la construction, offrent une charge de basculement accrue.
Toutes les machines seront disponibles en 3 versions : capote, capote avec toit rabattable ou version cabine, et toutes avec un large choix d'accessoires.
Les dernières technologies Mecalac
Les nouvelles chargeuses MCL peuvent être équipées des dernières technologies de confort et d'aide à la conduite de Mecalac, notamment :
M-Drive
Transforme votre machine en porte-outils, vous pouvez contrôler la vitesse de la machine avec la pédale à un régime moteur sélectionné (accélérateur à main).
Contrôle de vitesse
Redéfinir la plage de vitesse utilisable via la pédale selon les besoins. Par exemple, choisir une vitesse inférieure vous permettra de faire un travail plus précis.
Services connectés MyMecalac
Maximisez l'utilisation de vos machines grâce à des données machine optimisées et accessibles, des temps d'arrêt réduits et une meilleure gestion de la flotte.
Digicode de démarrage
Un clavier qui permet de mieux contrôler l'utilisation de la machine.
NJC.© Info Mecalac S.A.S.
--------------------------------------------------------------------------------------------------------------------
29/08/22-English
Mecalac introduces a brand new range of compact loaders, expanding its current portfolio of loaders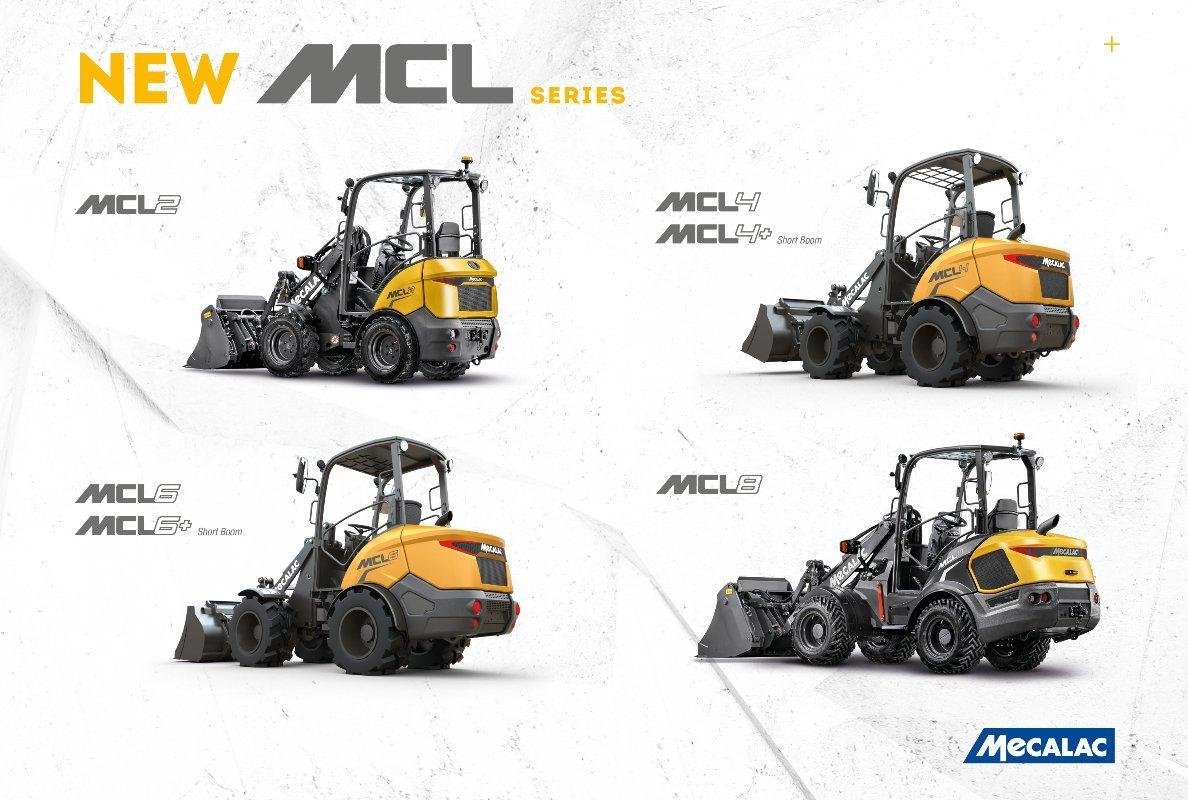 Mecalac MCL Serie IMAGE SOURCE: Mecalac S.A.S.
The decision to take a place in this market is born from the growing demand for small multipurpose articulated loaders in the agricultural, rental and construction sectors. Among other things, these machines are gradually replacing other types of machines (tractors with loaders, skid-steers...) for greater versatility, agility and safety for these various applications.
A range of 6 machines to meet all needs
The new Mecalac MCL range includes 6 models, from 1.74 t to 2.85 t:
4 models with long boom (Standard), fit the needs of the agricultural segment
2 models with short boom, fit the needs of the construction segment
MCL2
Its small size and wheel motor transmission allow it to move with agility. The smallest machine in the MCL range but with maximum performance, it has all the features of the big ones. Its modern and ergonomic operator's station protected by a canopy is also available in a cabbed version
MCL4
Offers an excellent compromise between compactness and lifting performance. With its 18.4 kW engine, it is also the ideal machine for rental fleets that want a durable and high-performance machine. Its low transport weight also allows the machine to be transported on a road trailer.
MCL6
The best of the MCL4 but with even more power, its 36kW motor allows it to reach and maintain high speeds on the road. Its high hydraulic flow and its speed of execution allow it to considerably increase the productivity on worksites.
MCL8
Power, high dumping height and lifting capacity are the key words that guided the design of this machine. It is at ease in all circumstances whether it is for loading, handling or driving hydraulic attachments.
Short arm versions to meet the specific needs of different applications, especially in the construction sector, offer an increased tipping load.
All the machines will be available in 3 versions: canopy, canopy with foldable top or cab version, and all with a wide selection of attachments.
The latest Mecalac technologies
The new MCL loaders can be equipped with Mecalac's latest comfort and driver assistance technologies, including:
M-Drive
Turns your machine into a tool carrier, you can control the speed of the machine with the foot pedal at a selected engine rpm (Hand throttle).
Speed-control
Redefine the speed range that can be used via the foot pedal as required. For example, choosing a lower speed will allow you to do more precise work.
MyMecalac Connected Services
Maximise the use of your machines thanks to optimized and accessible machine data, reduced downtimes, and better fleet management.
Start-up digicode
A keypad that enables you to better control the use of the machine.
NJC.© Info Mecalac S.A.S.
----------------------------------------------------------------------------------------------------------------------
29/08/22-NL
Mecalac introduceert een gloednieuwe reeks compacte laders, waarmee het huidige portfolio van laders wordt uitgebreid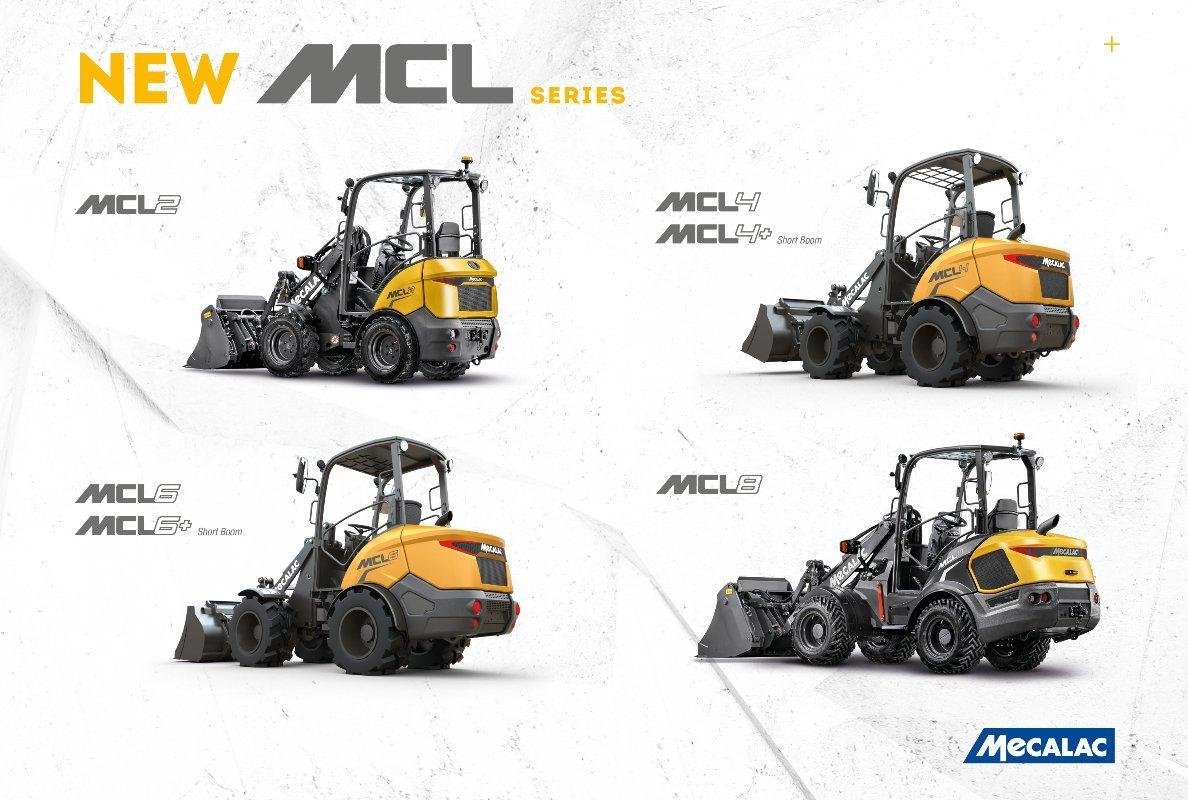 Mecalac MCL Serie IMAGE SOURCE: Mecalac S.A.S.
De beslissing om een ​​plaats in deze markt in te nemen is geboren uit de groeiende vraag naar kleine multifunctionele knikladers in de agrarische, verhuur- en bouwsector. Deze machines vervangen onder andere geleidelijk andere soorten machines (tractoren met laders, schranken...) voor een grotere veelzijdigheid, wendbaarheid en veiligheid voor deze verschillende toepassingen.
Een reeks van 6 machines om aan alle behoeften te voldoen
De nieuwe Mecalac MCL-reeks omvat 6 modellen, van 1,74 t tot 2,85 t:
4 modellen met lange giek (standaard), voldoen aan de behoeften van het landbouwsegment
2 modellen met korte giek, voldoen aan de behoeften van het bouwsegment
MCL2
Door zijn kleine formaat en wielmotoroverbrenging kan hij wendbaar bewegen. De kleinste machine in het MCL-assortiment, maar met maximale prestaties, heeft hij alle kenmerken van de grote. Zijn moderne en ergonomische bestuurdersplaats beschermd door een luifel is ook verkrijgbaar in een versie met cabine
MCL4
Biedt een uitstekend compromis tussen compactheid en hefprestaties. Met zijn 18,4 kW-motor is het ook de ideale machine voor verhuurvloten die een duurzame en krachtige machine willen. Door het lage transportgewicht kan de machine ook op een wegtrailer worden vervoerd.
MCL6
Het beste van de MCL4, maar met nog meer vermogen, zorgt de 36 kW-motor ervoor dat hij hoge snelheden op de weg kan bereiken en behouden. Dankzij het hoge hydraulisch debiet en de uitvoeringssnelheid kan de productiviteit op de bouwplaats aanzienlijk worden verhoogd.
MCL8
Kracht, hoge storthoogte en hefvermogen zijn de sleutelwoorden die het ontwerp van deze machine hebben geleid. Hij is in alle omstandigheden op zijn gemak, of het nu gaat om het laden, hanteren of aandrijven van hydraulische aanbouwdelen.
Versies met korte arm om te voldoen aan de specifieke behoeften van verschillende toepassingen, vooral in de bouwsector, bieden een verhoogde kipbelasting.
Alle machines zullen beschikbaar zijn in 3 versies: kap, kap met opklapbare top of cabineversie, en allemaal met een brede selectie aan uitrustingsstukken.
De nieuwste Mecalac-technologieën
De nieuwe MCL-laders kunnen worden uitgerust met de nieuwste comfort- en rijhulptechnologieën van Mecalac, waaronder:
M-Drive
Verandert uw machine in een gereedschapsdrager, u kunt de snelheid van de machine regelen met het voetpedaal bij een geselecteerd motortoerental (handgas).
Snelheidscontrole
Herdefinieer indien nodig het snelheidsbereik dat via het voetpedaal kan worden gebruikt. Door bijvoorbeeld een lagere snelheid te kiezen, kun je nauwkeuriger werken.
MyMecalac Verbonden Diensten
Maximaliseer het gebruik van uw machines dankzij geoptimaliseerde en toegankelijke machinegegevens, kortere uitvaltijden en beter machineparkbeheer.
Opstart-digicode
Een toetsenbord waarmee u het gebruik van de machine beter kunt controleren.
NJC.© Info Mecalac S.A.S.
----------------------------------------------------------------------------------------------------------------