Mecalac's 106MRail Offers Compact Versatility to North American Rail Market
19/07/22-FR-English-NL-footer
Le 106MRail de Mecalac offre une polyvalence compacte au marché ferroviaire nord-américain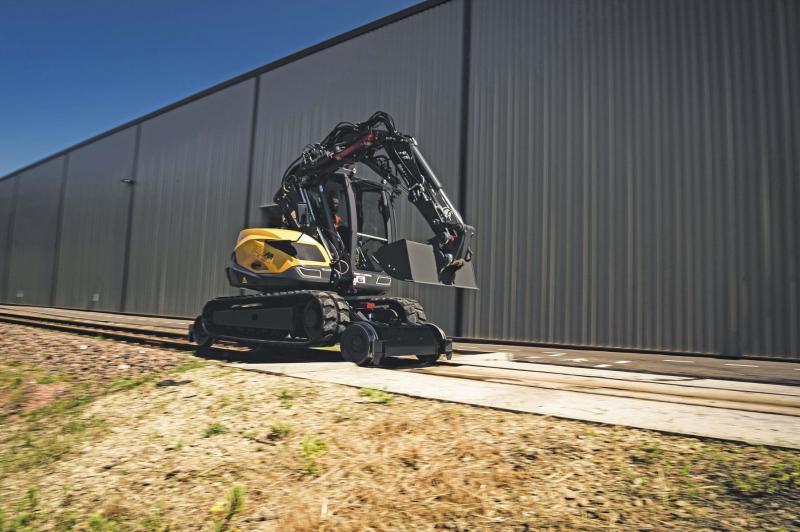 Image-As one of two tracked models in the MRail series, the 106MRail is designed to give users more versatility on railway sites to improve their day-to-day efficiency.
Mecalac, leader mondial dans la conception, la fabrication et la distribution d'équipements de construction compacts pour les environnements urbains, propose le 106MRail au marché nord-américain.
Compact et polyvalent, le 106MRail à chenilles est très agile, se déplaçant avec agilité sur et hors des rails en abaissant ou en levant l'engrenage de rail intégré. Il excelle dans les applications légères à moyennes ainsi que dans les tunnels et les espaces confinés pour les chemins de fer urbains, les métros et les tramways, selon le fabricant.
En gérant facilement des tâches plus légères et en prenant en charge des équipements plus volumineux, le 106MRail augmente la productivité et réduit les coûts d'exploitation en permettant de réserver l'équipement le plus lourd aux applications les plus lourdes.
"En incorporant un 106MRail, les chemins de fer peuvent transformer leur façon de travailler", a déclaré Peter Bigwood, directeur général de Mecalac North America.
"Ils n'ont plus à manœuvrer une grosse machine encombrante pour des tâches plus légères, comme le déchargement et l'épandage de ballast. Les clients ferroviaires d'autres marchés adorent ces machines parce qu'elles sont faciles à utiliser et rationalisent vraiment le travail. Nous nous attendons à ce que le marché nord-américain être très réceptif aux gains d'efficacité que cette machine offre."
La 106MRail de 10 tonnes est un modèle à chenilles basé sur le concept de pelle sur chenilles MCR de Mecalac et est conçue pour être la machine utilitaire ultime pour une variété de tâches d'entretien et de maintenance, telles que le nivellement fin, le travail avec du ballast et le nettoyage de fossés.
Avec un moteur de 75 ch, il peut parcourir jusqu'à 10 km/h au sol et 23 km/h sur rails.
La flèche articulée en 2 éléments avec déport de la machine offre une polyvalence accrue, offrant à la fois une portée et une compacité maximales. Les opérateurs qui travaillent dans des zones confinées comme des tunnels, par exemple, peuvent positionner les outils dans la position exacte dont ils ont besoin. Dans le même temps, les opérateurs peuvent travailler sur des tâches le long des voies, telles que le défrichement de la végétation et le nettoyage des fossés, tout en étant positionnés sur les voies.
À l'aide d'un large godet à patins de grande capacité, la machine peut ramasser du ballast et tourner pour le charger dans un wagon situé sur une voie parallèle. Ou il peut décharger le ballast d'un wagon parallèle et tourner pour le déposer et le répandre sur la voie. Lorsqu'une compacité maximale est requise, la flèche peut être repliée contre la machine.
Le modèle peut également supporter de plus gros équipements en raison de sa capacité de levage. Lorsque la machine est sur les rails, par exemple, elle peut atteindre 7 pieds du centre de la machine et soulever jusqu'à 6 000 lb. avec le bras à 90 degrés.
Plutôt que d'utiliser deux grandes machines, le 106MRail peut aider une plus grande machine à soulever de petits panneaux de rail, à transporter des traverses ou à déplacer des équipements ou des matériaux là où ils sont nécessaires, selon le fabricant.
Pour économiser du carburant, le 106MRail est équipé d'un moteur avec ralenti automatique. Après une durée prédéfinie, le moteur passe au ralenti lorsqu'il n'est pas utilisé. Pour reprendre le régime du moteur, l'opérateur déplace simplement n'importe quelle commande de la machine. Cette caractéristique réduit considérablement la consommation de carburant et l'usure du moteur.
"L'objectif de cette machine est de donner aux chemins de fer la performance de qualité et la polyvalence qu'ils recherchent dans une machine plus petite", a déclaré Bigwood. "Le 106MRail élimine le besoin de faire fonctionner une grande machine à un coût élevé pour les applications légères, permettant aux chemins de fer d'optimiser leurs flottes."
La 106MRail est la plus petite pelle sur rail de la série de quatre modèles MRail. La gamme comprend un autre modèle à chenilles, le 136MRail de 13 tonnes, et des modèles à deux roues, les 156MRail et 216MRail, qui sont basés sur la pelle sur pneus MWR. La série est conçue pour répondre à tous les besoins ferroviaires, de l'entretien de la voie ferrée à la construction de nouvelles voies.
NJC.© Infos www.mecalac.com.
---------------------------------------------------------------------------------------------------------------------
19/07/22-English
Mecalac's 106MRail Offers Compact Versatility to North American Rail Market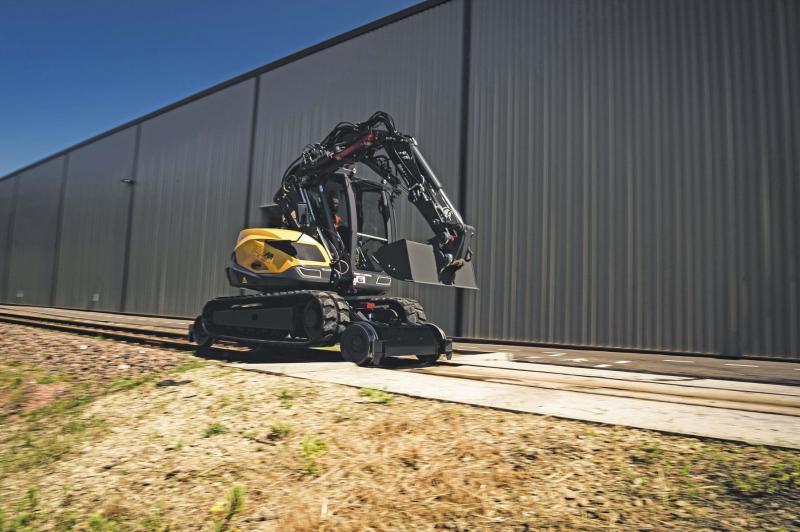 Image-As one of two tracked models in the MRail series, the 106MRail is designed to give users more versatility on railway sites to improve their day-to-day efficiency.
Mecalac, a global leader in the design, manufacturing and distribution of compact construction equipment for urban environments, offers the 106MRail to the North American market.
Compact and versatile, the tracked 106MRail is highly agile, nimbly driving on and off the rails by lowering or raising the integrated rail gear. It excels at working in light to medium applications as well as tunnels and confined spaces for urban railways, subways and tramways, according to the manufacturer.
By easily handling lighter tasks and supporting larger equipment, the 106MRail increases productivity and reduces operating costs by allowing the heaviest equipment to be reserved for the heaviest applications.
"By incorporating a 106MRail, railways can transform how they work," said Peter Bigwood, general manager of Mecalac North America.
"They no longer have to maneuver a large, cumbersome machine for lighter tasks, such as unloading and spreading ballast. Rail customers in other markets love these machines because they are easy to operate and really streamline the work. We expect the North American market to be very receptive to the efficiency gains this machine offers."
The 10-ton 106MRail is a tracked model based on Mecalac's MCR crawler skid excavator concept and is designed to be the ultimate utility machine for a variety of service and maintenance tasks, such as fine grading, working with ballast and ditch cleaning.
With a 75 hp engine, it can travel up to 6.2 mph on the ground and 14.3 mph on rails.
The machine's articulated 2-piece boom with offset provides enhanced versatility, offering both maximum reach and compactness. Operators who are working in confined areas like tunnels, for example, can position tools in the exact position they need. At the same time, operators can work on tasks alongside the tracks, such as clearing vegetation and cleaning ditches, while positioned on the tracks.
Using a wide, high-capacity skid bucket, the machine can scoop up ballast and rotate to load it into a railcar located on a parallel track. Or it can unload ballast from a parallel railcar and rotate to deposit and spread it on the track. When maximum compactness is required, the boom can be tucked in against the machine.
The model also can support larger equipment due to its lifting capacity. When the machine is on the rails, for example, it can reach 7 ft. from the center of the machine and lift up to 6,000 lbs. with the arm at 90 degrees.
Rather than using two large machines, the 106MRail can help a larger machine lift small rail panels, carry sleepers, or move equipment or materials to where they are needed, according to the manufacturer.
To save on fuel, the 106MRail has an engine with automatic low idle. After a pre-set amount of time, the engine will switch to low idle when not in use. To resume engine rpm, the operator simply moves any machine control. This feature significantly reduces fuel consumption and wear on the engine.
"The goal of this machine is to give railways the quality performance and versatility they are searching for in a smaller machine," said Bigwood. "The 106MRail eliminates the need to run a large machine at a high cost for light applications, allowing railways to optimize their fleets."
The 106MRail is the smallest rail excavator in the four-model MRail series. The range includes another tracked model, the 13-ton 136MRail, and two-wheeled models, the 156MRail and 216MRail, which are based on the MWR wheeled excavator. The series is designed to meet all railway needs, from maintenance of the railway to new track construction.
NJC.© Info www.mecalac.com.
-----------------------------------------------------------------------------------------------------------------
19/07/22-NL
Mecalac's 106MRail biedt compacte veelzijdigheid aan de Noord-Amerikaanse spoorwegmarkt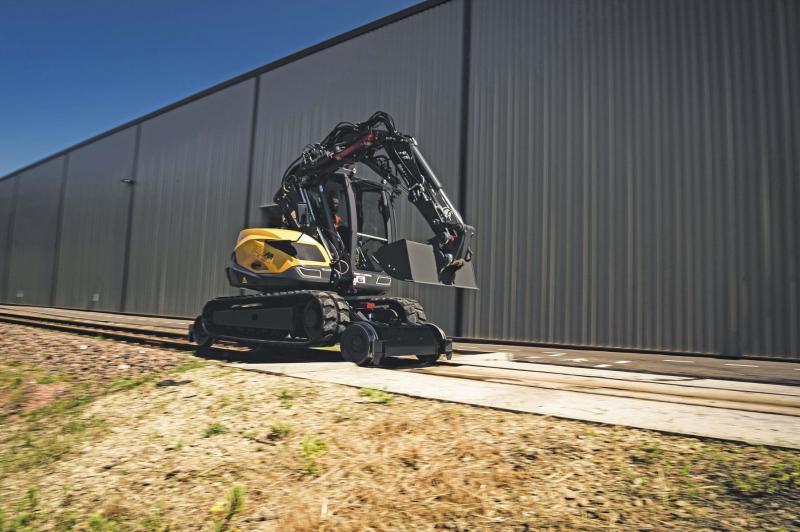 Image-As one of two tracked models in the MRail series, the 106MRail is designed to give users more versatility on railway sites to improve their day-to-day efficiency.
Mecalac, een wereldleider in het ontwerpen, produceren en distribueren van compacte bouwmachines voor stedelijke omgevingen, biedt de 106MRail aan op de Noord-Amerikaanse markt.
Compact en veelzijdig, de 106MRail met rupsbanden is zeer wendbaar en rijdt behendig op en van de rails door de geïntegreerde railversnelling te verlagen of te verhogen. Het blinkt uit in het werken in lichte tot middelgrote toepassingen, evenals in tunnels en besloten ruimtes voor stadsspoorwegen, metro's en trams, aldus de fabrikant.
Door gemakkelijk lichtere taken uit te voeren en grotere apparatuur te ondersteunen, verhoogt de 106MRail de productiviteit en verlaagt hij de bedrijfskosten doordat de zwaarste apparatuur kan worden gereserveerd voor de zwaarste toepassingen.
"Door een 106MRail op te nemen, kunnen spoorwegen hun manier van werken transformeren", zegt Peter Bigwood, algemeen directeur van Mecalac Noord-Amerika.
"Ze hoeven niet langer een grote, logge machine te manoeuvreren voor lichtere taken, zoals het lossen en verspreiden van ballast. Railklanten in andere markten zijn dol op deze machines omdat ze eenvoudig te bedienen zijn en het werk echt stroomlijnen. We verwachten dat de Noord-Amerikaanse markt wees zeer ontvankelijk voor de efficiëntiewinst die deze machine biedt."
De 10 ton 106MRail is een rupsmodel gebaseerd op Mecalac's MCR rupsgraafmachineconcept en is ontworpen als de ultieme utiliteitsmachine voor een verscheidenheid aan service- en onderhoudstaken, zoals fijn nivelleren, werken met ballast en slootreiniging.
Met een motor van 75 pk kan hij tot 6,2 mph op de grond en tot 14,3 mph op rails rijden.
De gelede tweedelige giek van de machine met offset zorgt voor meer veelzijdigheid en biedt zowel maximale reikwijdte als compactheid. Operators die in krappe ruimtes zoals tunnels werken, kunnen gereedschappen in de exacte positie plaatsen die ze nodig hebben. Tegelijkertijd kunnen machinisten op de rupsen werken aan taken langs de rupsen, zoals het ruimen van begroeiing en het schoonmaken van sloten.
Met behulp van een brede laadbak met hoge capaciteit kan de machine ballast opscheppen en roteren om deze in een treinwagon op een parallel spoor te laden. Of het kan ballast van een parallelle treinwagon lossen en roteren om het op het spoor te deponeren en te verspreiden. Wanneer maximale compactheid vereist is, kan de giek tegen de machine worden geschoven.
Het model kan ook grotere apparatuur dragen vanwege het hefvermogen. Wanneer de machine bijvoorbeeld op de rails staat, kan deze 7 ft. van het midden van de machine reiken en tot 6000 lbs tillen. met de arm op 90 graden.
In plaats van twee grote machines te gebruiken, kan de 106MRail een grotere machine helpen om kleine railpanelen op te tillen, dwarsliggers te dragen of apparatuur of materialen te verplaatsen naar waar ze nodig zijn, aldus de fabrikant.
Om brandstof te besparen heeft de 106MRail een motor met automatisch laag stationair toerental. Na een vooraf ingestelde tijd zal de motor overschakelen naar laag stationair wanneer deze niet wordt gebruikt. Om het motortoerental te hervatten, verplaatst de machinist eenvoudig een machinebediening. Deze functie vermindert het brandstofverbruik en de slijtage van de motor aanzienlijk.
"Het doel van deze machine is om spoorwegen de kwaliteitsprestaties en veelzijdigheid te geven waarnaar ze op zoek zijn in een kleinere machine", aldus Bigwood. "De 106MRail elimineert de noodzaak om een ​​grote machine te laten draaien tegen hoge kosten voor lichte toepassingen, waardoor spoorwegen hun wagenpark kunnen optimaliseren."
De 106MRail is de kleinste spoorgraafmachine in de MRail-serie met vier modellen. Het assortiment omvat een ander rupsmodel, de 13-tons 136MRail, en tweewielige modellen, de 156MRail en 216MRail, die zijn gebaseerd op de MWR-graafmachine op wielen. De serie is ontworpen om aan alle spoorwegbehoeften te voldoen, van onderhoud van de spoorweg tot de aanleg van nieuwe sporen.
NJC.© Info www.mecalac.com.
-----------------------------------------------------------------------------------------------------------------
Date de dernière mise à jour : 18/07/2022