Mercedes-Benz Trucks improves some key elements
11/05/22-FR-English-NL-footer
MirrorCam deuxième génération : Mercedes-Benz Trucks améliore certains éléments clés de son système de caméras-rétroviseurs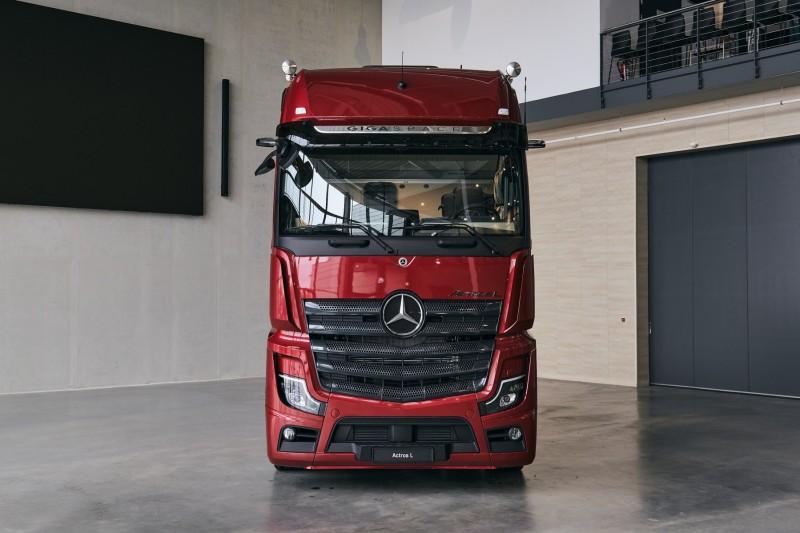 Mercedes-Benz Trucks lance déjà la deuxième génération du MirrorCam
Les bras de la caméra ont été raccourcis de dix centimètres de chaque côté et les nouveaux paramètres d'image offrent une meilleure assistance aux conducteurs dans de nombreuses conditions de circulation
Le bord d'égouttement sur le boîtier protège l'objectif de l'eau de pluie
Une illustration encore plus réaliste de l'environnement et encore plus d'informations sur l'image
Prof. Uwe Baake, Head of Product Development chez Mercedes-Benz Trucks : « Nous avons beaucoup évoqué avec nos clients de leur expérience au quotidien pour apporter d'autres ajustements aux paramètres techniques individuels et ainsi générer une plus grande valeur ajoutée, notamment en termes d'affichage et de sécurité. »
Stuttgart – En 2014, Mercedes-Benz Trucks a présenté un camion équipé de caméras à la place des rétroviseurs extérieurs dans son étude intitulée « Mercedes-Benz Future Truck 2025 ». En 2018, nous avons été les premiers du secteur à lancer la production en série du MirrorCam, le premier système de caméras-rétroviseurs pour camions. Un camion de série équipé du MirrorCam voit ainsi ses rétroviseurs principaux et grand angle traditionnels remplacés par un système composé de deux caméras fixées à gauche et à droite du toit de la cabine, ainsi que de deux moniteurs au format portrait configurés aux montants A de la cabine avec les commandes correspondantes dans le poste de conduite. Nous avons délibérément choisi d'utiliser deux moniteurs identiques de 15 pouces côté conducteur et côté passager avant. En effet, plus l'image d'un objet en mouvement est grande, plus il est facile d'évaluer sa vitesse. Pour que le conducteur puisse identifier le plus rapidement possible les informations de l'image qui s'appliquent à la situation, la vue complexe à plusieurs quadrants a également été restaurée par une image unique.
Aujourd'hui, Mercedes-Benz Trucks propose une nouvelle version du MirrorCam : avec la deuxième génération, disponible pour les séries Actros, Arocs et eActros depuis avril 2022, Mercedes-Benz Trucks améliore certains éléments clés du système, ce qui lui a valu plusieurs prix d'innovation. « Nous avons beaucoup discuté avec nos clients de leur expérience au quotidien pour apporter d'autres ajustements aux paramètres techniques individuels, et ainsi produire une plus grande valeur ajoutée, notamment en termes d'affichage et de sécurité », explique le Prof. Dr Uwe Baake, responsable du développement de produits chez Mercedes-Benz Trucks.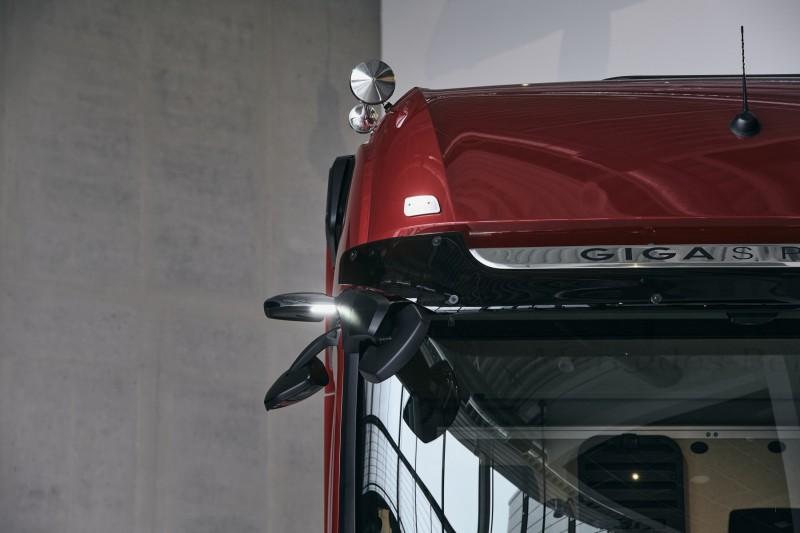 Outre l'aérodynamisme – et de fait la consommation de carburant et les besoins en énergie –, le MirrorCam contribue à renforcer la sécurité routière, car là où les rétroviseurs classiques dissimulaient de grandes zones à droite et à gauche du montant A, le MirrorCam n 'obstrue pas le champ de vision. Ceci est particulièrement avantageux aux intersections, lors des manœuvres, et dans les virages serrés. De plus, le système électronique utilise des fonctions telles que le suivi de semi-remorque ou des vues spéciales pour les manœuvres difficiles afin de faciliter les opérations quotidiennes des chauffeurs professionnels.
Faire mieux avec moins : des bras de caméra raccourcis
L'aspect extérieur de la deuxième génération du MirrorCam se distingue par le fait que les bras de la caméra ont été raccourcis de dix centimètres des deux côtés. Cela vaut pour toutes les tailles de cabines, des plus étroites aux plus larges ; une amélioration qui permet aux conducteurs de reculer en ligne droite plus facilement qu'avec la première génération du MirrorCam, la perspective du nouveau MirrorCam s'apparentant désormais davantage à celle des rétroviseurs conventionnels. Ces nouvelles dimensions offrent un autre avantage pour les cabines de 2,50 mètres de large, en cela que le bras de la caméra ne dépasse plus du rétroviseur extérieur qui est à la vue du conducteur. Il est ainsi quasiment impossible pour le conducteur d'entrer en collision avec des objets au bord de la route. Et la largeur du châssis étant identique, cela s'applique également aux cabines de 2,30 mètres de large.
Paramètres d'image optimisés et bord d'égouttement sur le MirrorCam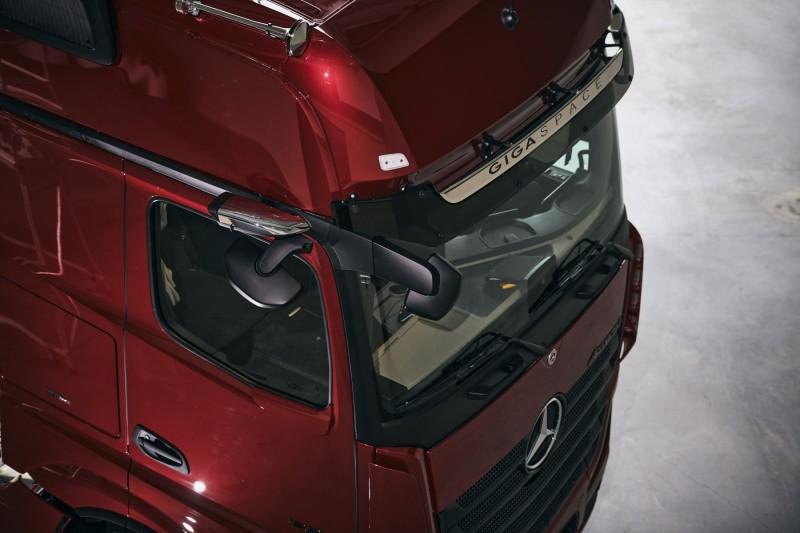 Dans le cadre de la révision du système de caméras, Mercedes-Benz Trucks a également amélioré d'autres éléments. Par exemple, un bord d'égouttement a été ajouté en bas du MirrorCam pour empêcher l'eau de pluie de s'écouler sur l'objectif et de provoquer des effets visuels indésirables. De plus, les ingénieurs de Mercedes-Benz Trucks ont optimisé la cartographie des tonalités (à savoir le processus dans lequel une image est adaptée de sorte qu'une large gamme de tonalités s'affiche correctement sur un support), ce qui se traduit principalement par un affichage accru des contrastes. Grâce à cette optimisation du système de caméras en termes d'adaptation des couleurs et de la luminosité, les écrans affichent avec encore plus de précision la zone pertinente pour la situation de conduite lors d'une marche arrière dans un lieu sombre ou mal éclairé, par exemple.
Engagés pour la sécurité et le confort du conducteur
Globalement, les révisions mises en œuvre confèrent une plus grande valeur ajoutée au MirrorCam. Grâce à son effet de soutien, le système ainsi amélioré permet de gérer des situations telles que les dépassements, les manœuvres, la conduite par mauvaise visibilité et dans l'obscurité, les virages et les passages étroits de manière encore plus sûre, sans stress. Les fonctionnalités existantes du système, comme le mode grand angle lors des manœuvres en marche arrière, les lignes de distance sur l'écran pour mieux évaluer la distance par rapport aux objets derrière le véhicule, les mouvements panoramiques de la caméra dans les virages ou la surveillance du périmètre du véhicule pendant les périodes de repos, sont bien évidemment toujours disponibles.
L'interaction entre le MirrorCam et l'aide aux virages de Mercedes‑Benz Trucks s'est déjà avérée utile, en particulier dans des conditions de circulation difficiles ou à des carrefours complexes. Si, contrairement aux attentes, il existe un risque qu'un chauffeur de camion ne repère pas un cycliste ou un piéton lorsqu'il tourne à droite, le système peut intervenir dans les limites de ses fonctionnalités, avertir le chauffeur dans le cadre d'un processus en plusieurs étapes et, dans le cas de la fonction Active Sideguard Assist disponible en option, déclencher un freinage automatique jusqu'à une vitesse en virage de 20 km/h. L'aide aux virages continue à utiliser l'écran du MirrorCam pour les avertissements visuels.
NJC.© Info MB Trucks
----------------------------------------------------------------------------------------------------------------------
11/05/22-English
Second generation MirrorCam: Mercedes-Benz Trucks improves some key elements of its mirror camera system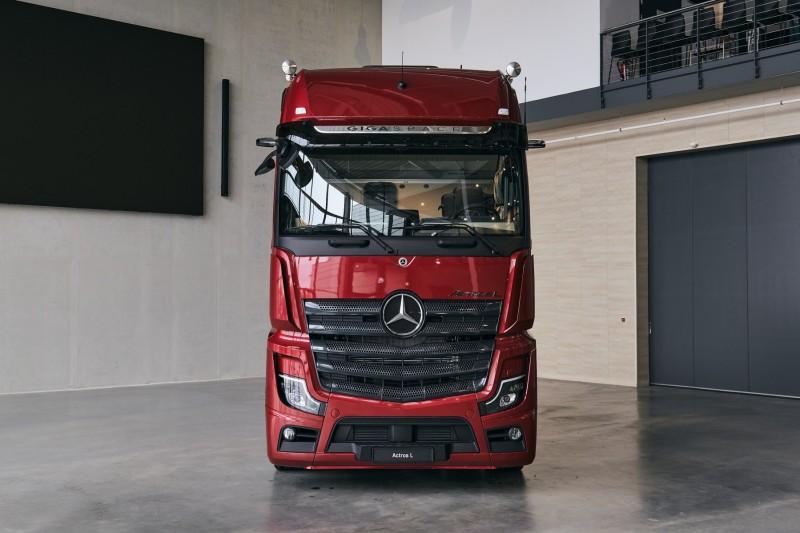 Mercedes-Benz Trucks is already launching the second generation of the MirrorCam
The camera arms have been shortened by ten centimeters on each side and the new image parameters offer better assistance to drivers in many traffic conditions
Drip edge on the housing protects the lens from rainwater
An even more realistic illustration of the environment and even more information about the image
Teacher. Uwe Baake, Head of Product Development at Mercedes-Benz Trucks: "We discussed a lot with our customers about their day-to-day experience to make further adjustments to the individual technical parameters and thus generate greater added value, especially in terms of display and security. »
Stuttgart – In 2014, Mercedes-Benz Trucks presented a truck equipped with cameras instead of exterior mirrors in its study entitled "Mercedes-Benz Future Truck 2025". In 2018, we were the first in the industry to start mass production of the MirrorCam, the first rear-view camera system for trucks. A production truck equipped with MirrorCam thus saw its traditional main and wide-angle mirrors replaced by a system consisting of two cameras fixed to the left and right of the cab roof, as well as two portrait format monitors fixed to the A-pillars of the cabin with the corresponding controls in the driving position. We deliberately chose to use two identical 15-inch monitors on the driver side and front passenger side. Indeed, the larger the image of a moving object, the easier it is to assess its speed. To enable the driver to identify as quickly as possible which information in the image applies to the situation, the complex multi-quadrant view has also been replaced with a single image.
Today, Mercedes-Benz Trucks offers a new version of the MirrorCam: with the second generation, available for the Actros, Arocs and eActros series since April 2022, Mercedes-Benz Trucks improves certain key elements of the system, which has earned it several innovation award. "We discussed a lot with our customers about their daily experience to make further adjustments to the individual technical parameters, and thus generate greater added value, especially in terms of display and security", explains Prof. Dr. Uwe Baake, Head of Product Development at Mercedes-Benz Trucks.
In addition to aerodynamics – and therefore fuel consumption and energy requirements – the MirrorCam contributes to increased road safety, because where conventional mirrors concealed large areas to the right and left of the A-pillar, the MirrorCam n does not obstruct the field of vision. This is particularly advantageous at intersections, when maneuvering, and in tight turns. In addition, the electronic system uses functions such as semi-trailer tracking or special views for difficult maneuvers to facilitate the daily operations of professional drivers.
Doing more with less: shortened camera arms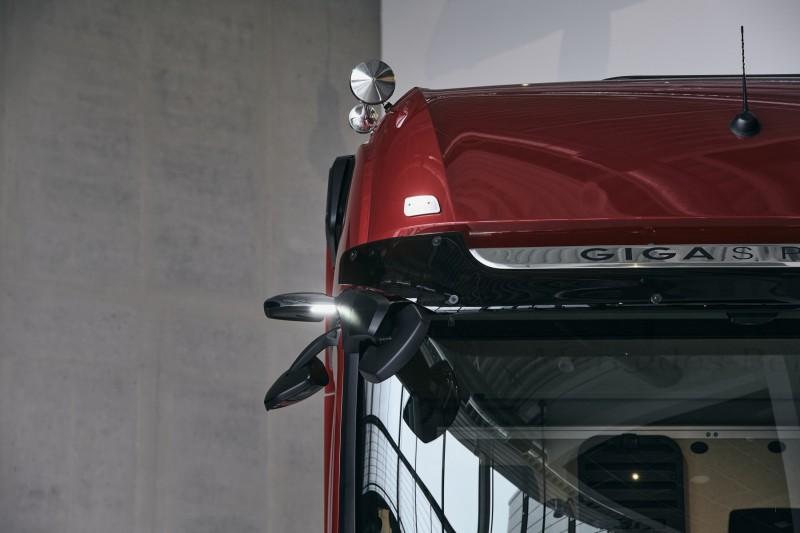 The external appearance of the second generation of the MirrorCam is distinguished by the fact that the arms of the camera have been shortened by ten centimeters on both sides. This applies to all cabin sizes, from the narrowest to the widest; an improvement that allows drivers to reverse in a straight line more easily than with the first generation of the MirrorCam, with the perspective of the new MirrorCam now more akin to that of conventional rear-view mirrors. These new dimensions offer another advantage for the 2.50 meter wide cabins, in that the arm of the camera no longer protrudes from the exterior mirror which is in the view of the driver. This makes it almost impossible for the driver to collide with objects on the side of the road. And since the chassis width is the same, this also applies to the 2.30 meter wide cabins.
Optimized image settings and drip edge on the MirrorCam
As part of the overhaul of the camera system, Mercedes-Benz Trucks has also improved other elements. For example, a drip edge has been added to the bottom of the MirrorCam to prevent rainwater from dripping onto the lens and causing unwanted visual effects. Additionally, Mercedes-Benz Trucks engineers have optimized tone mapping (i.e. the process in which an image is matched so that a wide range of tones display correctly on a medium), which primarily results in by an increased display of contrasts. Thanks to this optimization of the camera system in terms of color and brightness adaptation, the screens display the area relevant to the driving situation even more precisely when reversing in a dark or poorly lit place, for example.
Committed to driver safety and comfort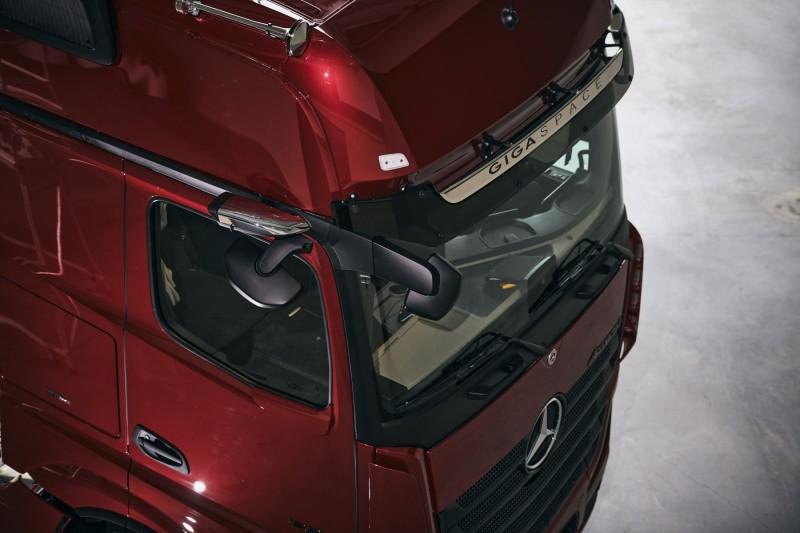 Overall, the implemented revisions add more value to the MirrorCam. Thanks to its supporting effect, the improved system makes it possible to handle situations such as overtaking, manoeuvring, driving in poor visibility and in the dark, bends and narrow passages even more safely, without stress. Existing features of the system, such as wide-angle mode when reversing, distance lines on the screen to better judge the distance to objects behind the vehicle, camera panning movements when cornering or perimeter monitoring of the vehicle during rest periods, are of course always available.
The interaction between the MirrorCam and the cornering aid from Mercedes-Benz Trucks has already proven useful, especially in difficult traffic conditions or at complex junctions. If, contrary to expectations, there is a risk that a truck driver will not spot a cyclist or pedestrian when turning right, the system can intervene within the limits of its functionality, warn the driver as part of a multi-step process and, in the case of the optional Active Sideguard Assist, trigger automatic braking up to a cornering speed of 20 km/h. Turn Assist continues to use the MirrorCam screen for visual warnings.
NJC.© Info MB Trucks
------------------------------------------------------------------------------------------------------------------
11/05/22-NL
Tweede generatie MirrorCam: Mercedes-Benz Trucks verbetert enkele belangrijke elementen van zijn spiegelcamerasysteem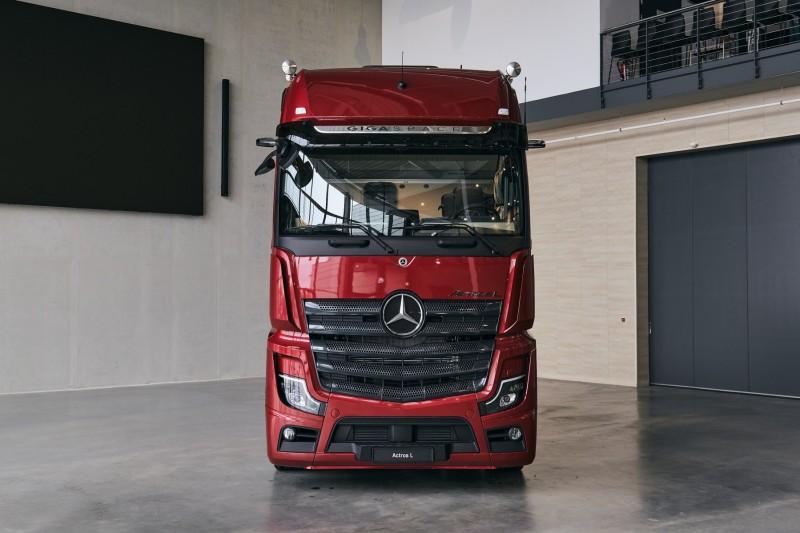 Mercedes-Benz Trucks lanceert al de tweede generatie van de MirrorCam
De camera-armen zijn aan elke kant met tien centimeter ingekort en de nieuwe beeldparameters bieden bestuurders betere assistentie in veel verkeersomstandigheden
Druppelrand op de behuizing beschermt de lens tegen regenwater
Een nog realistischere weergave van de omgeving en nog meer informatie over het beeld
Docent. Uwe Baake, Head of Product Development bij Mercedes-Benz Trucks: "We hebben veel met onze klanten besproken over hun dagelijkse ervaring om de individuele technische parameters verder aan te passen en zo een grotere toegevoegde waarde te genereren, vooral op het gebied van display en veiligheid. »
Stuttgart – In 2014 presenteerde Mercedes-Benz Trucks een vrachtwagen uitgerust met camera's in plaats van buitenspiegels in zijn studie getiteld "Mercedes-Benz Future Truck 2025". In 2018 begonnen we als eersten in de branche met de massaproductie van de MirrorCam, het eerste achteruitkijkcamerasysteem voor vrachtwagens. Een productietruck uitgerust met MirrorCam zag zijn traditionele hoofd- en groothoekspiegels dus vervangen door een systeem bestaande uit twee camera's die links en rechts op het cabinedak waren bevestigd, evenals twee monitoren in staand formaat die op de A-stijlen van de cabine met de bijbehorende bedieningselementen in de rijpositie. We hebben bewust gekozen voor het gebruik van twee identieke 15-inch monitoren aan de bestuurders- en passagierszijde. Inderdaad, hoe groter het beeld van een bewegend object, hoe gemakkelijker het is om de snelheid ervan te beoordelen. Om de bestuurder in staat te stellen zo snel mogelijk te identificeren welke informatie in het beeld op de situatie van toepassing is, is ook de complexe meerkwadrantenweergave vervangen door één enkel beeld.
Vandaag biedt Mercedes-Benz Trucks een nieuwe versie van de MirrorCam aan: met de tweede generatie, beschikbaar voor de Actros-, Arocs- en eActros-series sinds april 2022, verbetert Mercedes-Benz Trucks bepaalde belangrijke elementen van het systeem, wat het verschillende innovaties opleverde. prijs. "We hebben veel met onze klanten besproken over hun dagelijkse ervaring om de individuele technische parameters verder aan te passen en zo een grotere toegevoegde waarde te genereren, vooral op het gebied van weergave en veiligheid", legt prof. Dr. Uwe Baake, hoofd productontwikkeling bij Mercedes-Benz Trucks.
Naast aerodynamica – en dus brandstofverbruik en energiebehoefte – draagt ​​de MirrorCam bij aan een grotere verkeersveiligheid, want waar conventionele spiegels grote delen rechts en links van de A-stijl verbergen, belemmert de MirrorCam n het gezichtsveld niet. Dit is vooral voordelig op kruispunten, bij het manoeuvreren en in krappe bochten. Bovendien maakt het elektronische systeem gebruik van functies zoals het volgen van opleggers of speciale weergaven voor moeilijke manoeuvres om de dagelijkse werkzaamheden van professionele chauffeurs te vergemakkelijken.
Meer doen met minder: kortere cameraarmen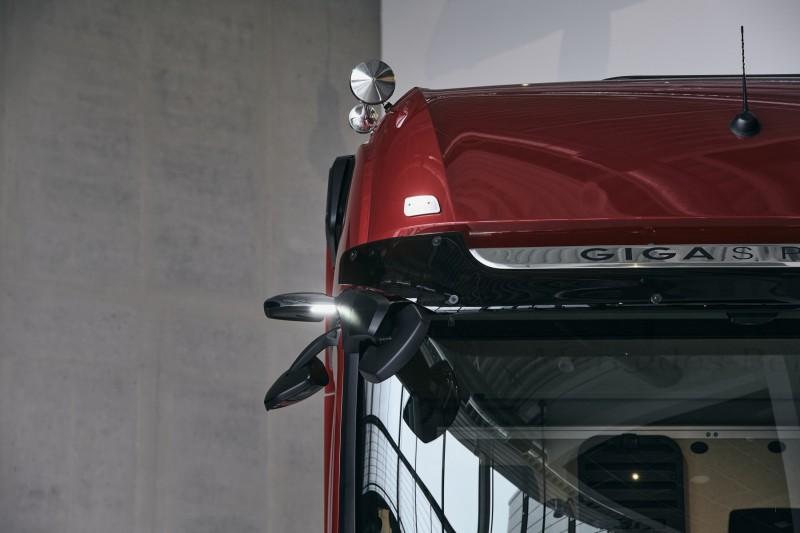 Het uiterlijk van de tweede generatie MirrorCam onderscheidt zich doordat de armen van de camera aan beide zijden met tien centimeter zijn ingekort. Dit geldt voor alle cabinematen, van de smalste tot de breedste; een verbetering waarmee bestuurders gemakkelijker in een rechte lijn achteruit kunnen rijden dan bij de eerste generatie van de MirrorCam, waarbij het perspectief van de nieuwe MirrorCam nu meer lijkt op dat van conventionele achteruitkijkspiegels. Deze nieuwe afmetingen bieden nog een voordeel voor de 2,50 meter brede cabines, namelijk dat de arm van de camera niet meer uitsteekt uit de buitenspiegel die in het zicht van de bestuurder is. Hierdoor is het voor de bestuurder bijna onmogelijk om tegen voorwerpen aan de kant van de weg te botsen. En aangezien de chassisbreedte gelijk is, geldt dit ook voor de 2,30 meter brede hutten.
Geoptimaliseerde beeldinstellingen en druipende rand op de MirrorCam
Als onderdeel van de revisie van het camerasysteem heeft Mercedes-Benz Trucks ook andere elementen verbeterd. Zo is er aan de onderkant van de MirrorCam een ​​druiprand toegevoegd om te voorkomen dat regenwater op de lens druppelt en ongewenste visuele effecten veroorzaakt. Bovendien hebben de ingenieurs van Mercedes-Benz Trucks een geoptimaliseerde tonemapping (d.w.z. het proces waarbij een afbeelding wordt gematcht zodat een breed scala aan tonen correct op een medium wordt weergegeven), wat voornamelijk resulteert in een verhoogde weergave van contrasten. Dankzij deze optimalisatie van het camerasysteem op het gebied van kleur- en helderheidsaanpassing, geven de schermen het voor de rijsituatie relevante gebied nog nauwkeuriger weer, bijvoorbeeld bij het achteruitrijden op een donkere of slecht verlichte plaats.
Toegewijd aan de veiligheid en het comfort van de bestuurder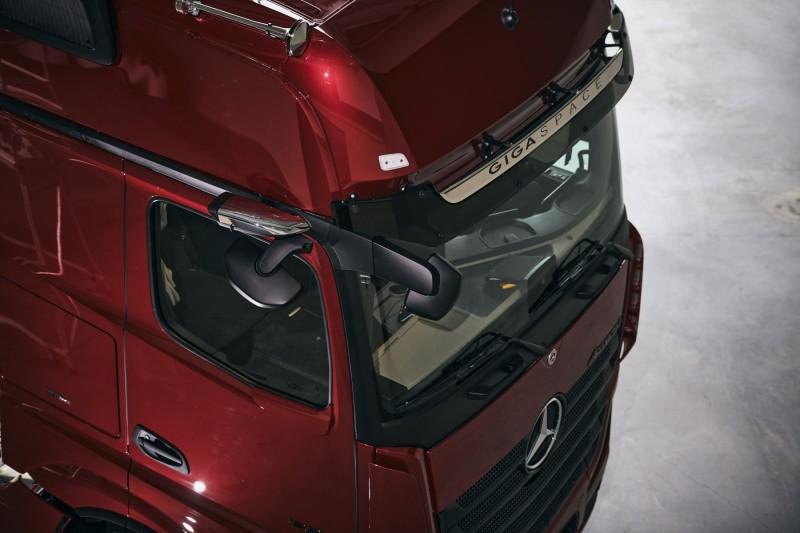 Over het algemeen voegen de geïmplementeerde revisies meer waarde toe aan de MirrorCam. Dankzij de ondersteunende werking maakt het verbeterde systeem het mogelijk om situaties als inhalen, manoeuvreren, rijden bij slecht zicht en in het donker, bochten en nauwe doorgangen nog veiliger en stressvrij aan te pakken. Bestaande functies van het systeem, zoals groothoekmodus bij het achteruitrijden, afstandslijnen op het scherm om de afstand tot objecten achter het voertuig beter in te schatten, camerabewegingen in bochten of bewaking van de omtrek van het voertuig tijdens rusttijden, zijn van belang cursus altijd beschikbaar.
De interactie tussen de MirrorCam en de bochthulp van Mercedes-Benz Trucks is al nuttig gebleken, vooral in moeilijke verkeersomstandigheden of op complexe kruispunten. Als er, tegen de verwachting in, het risico bestaat dat een vrachtwagenchauffeur een fietser of voetganger niet ziet bij het afslaan naar rechts, kan het systeem binnen de grenzen van zijn functionaliteit ingrijpen, de bestuurder waarschuwen als onderdeel van een meerstappenproces en, in in het geval van de optionele Active Sideguard Assist, wordt automatisch geremd tot een bochtsnelheid van 20 km/u. Turn Assist blijft het MirrorCam-scherm gebruiken voor visuele waarschuwingen.
NJC.© Info MB Trucks
----------------------------------------------------------------------------------------------------------------------