Merchants warn of further materials price hikes

05/01/23-FR-English-NL-footer
Les commerçants mettent en garde contre de nouvelles hausses des prix des matériaux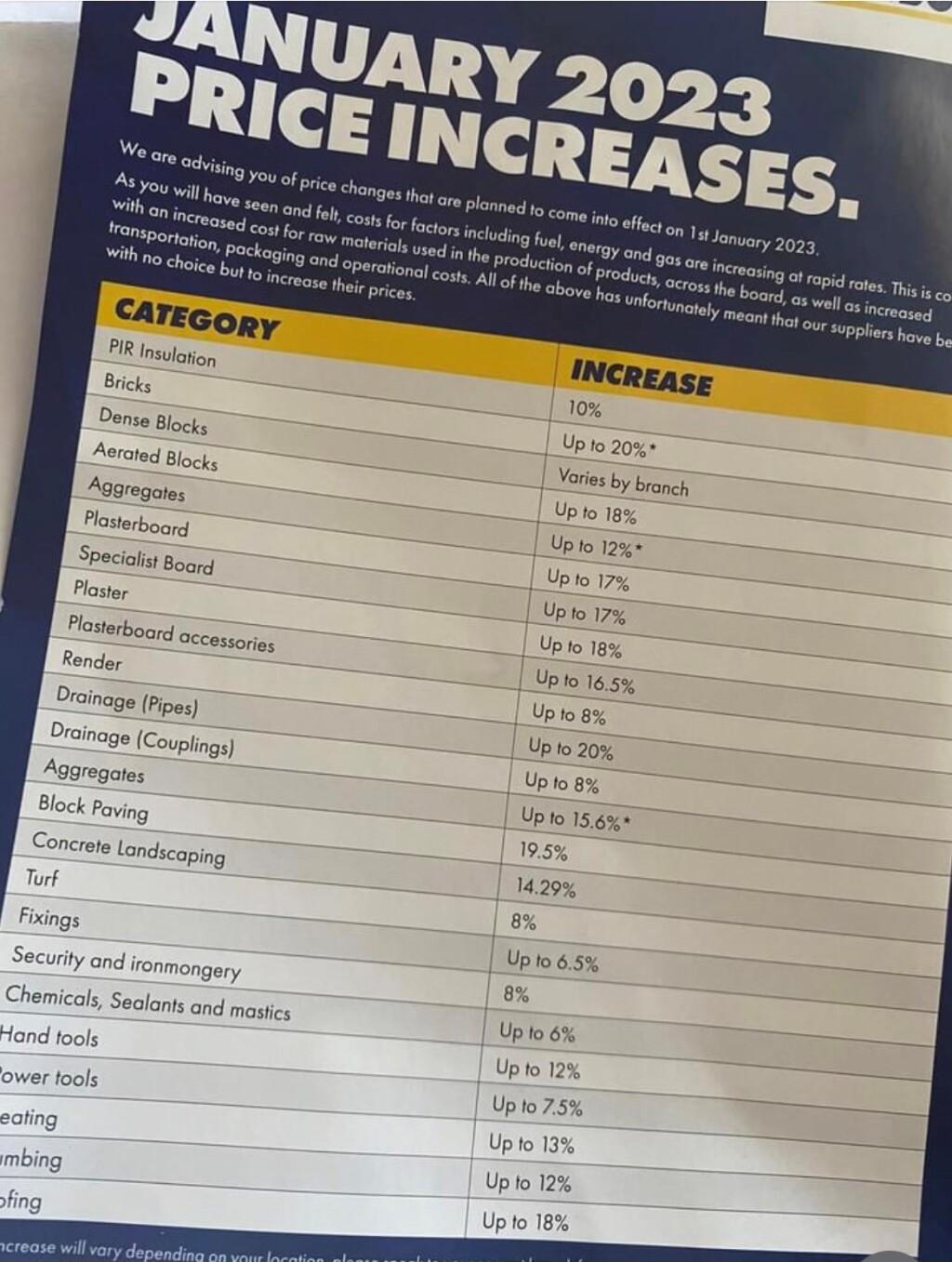 Image- copie Jewson
La chaîne de marchands de constructeurs Jewson a averti que les prix des principaux matériaux de construction augmenteraient de 20 % ce mois-ci.
Dans sa mise à jour des fournisseurs de janvier 2023 aux clients, Jewson indique que les prix des produits de construction augmentent encore en raison de la hausse continue des coûts du carburant, du gaz et de l'énergie qui a un impact à la fois sur les matières premières et les fabricants.
Les briques augmentent de "jusqu'à" 20 %, tout comme les tuyaux de drainage. Le pavage de blocs augmente jusqu'à 19,5 %.
Les blocs aérés, le plâtre et les matériaux de couverture augmentent jusqu'à 18 % ; les plaques de plâtre et les plaques spécialisées jusqu'à 17 %.
Il existe également des prix à deux chiffres pour les granulats, l'isolation PIR et les matériaux de chauffage et de plomberie.
Toutes les hausses de prix sont sujettes aux variations locales.
NJC.© Infos Jewson
---------------------------------------------------------------------------------------------------------------------

05/01/23-English
Merchants warn of further materials price hikes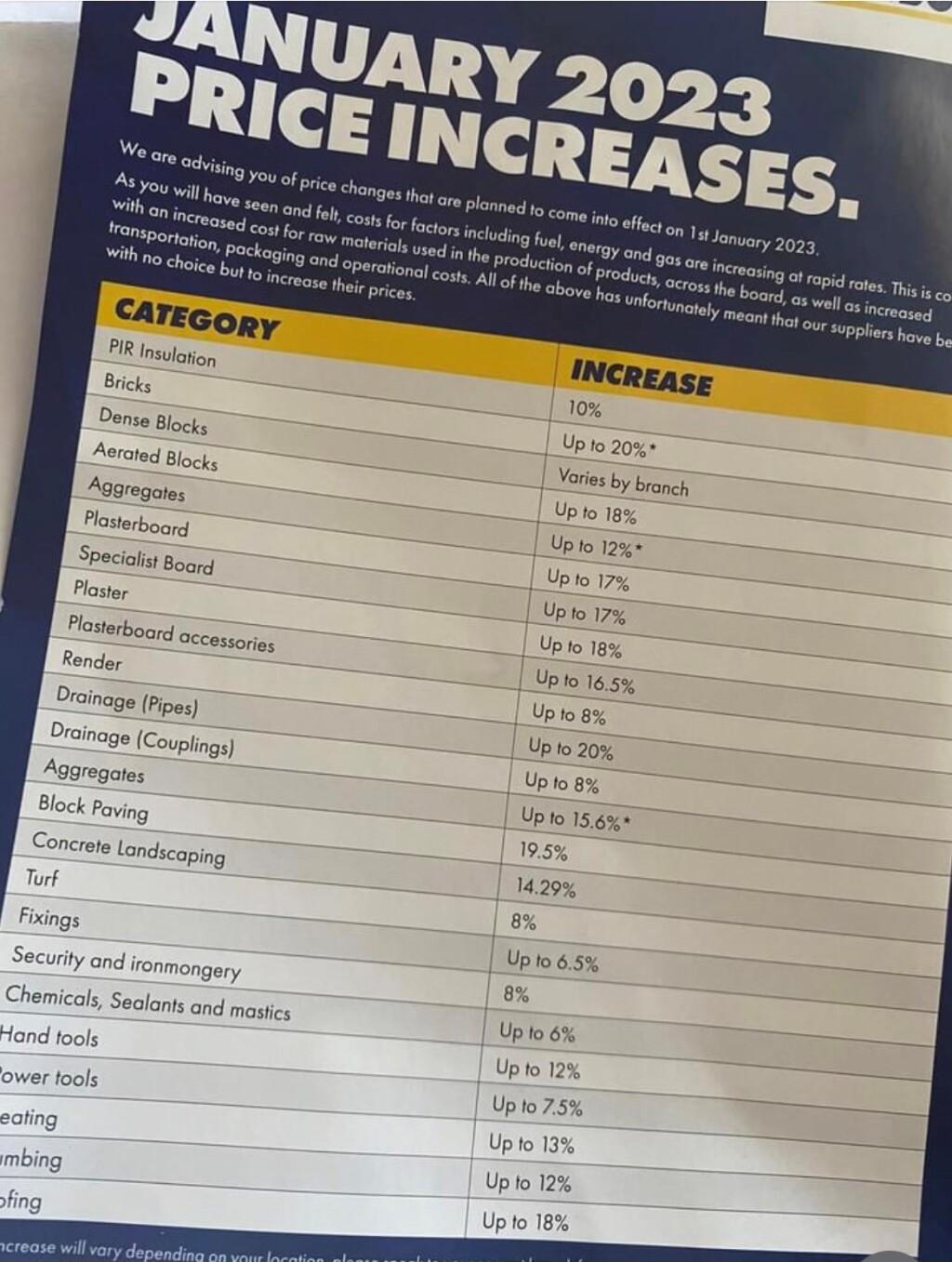 Image- copie Jewson
Builders merchant chain Jewson has warned that prices of key building materials are rising by as much as 20% this month.
In its January 2023 supplier update to customers, Jewson says that prices of building products are going up yet again due to the continuing rising costs of fuel, gas and energy impacting on both raw materials and manufacturers.
Bricks are going up by 'up to' 20%, as are drainage pipes. Block paving is going up by up to 19.5%.
Aerated blocks, plaster and roofing materials are increasing by up to 18%; plasterboard and specialist board by up to 17%.
There are also double-digit price prices for aggregates, PIR insulation and for heating and plumbing materials.
All price rises are subject to local variations.
NJC.© Info Jewson
---------------------------------------------------------------------------------------------------------------------

05/01/23-NL
Handelaren waarschuwen voor verdere prijsstijgingen van materialen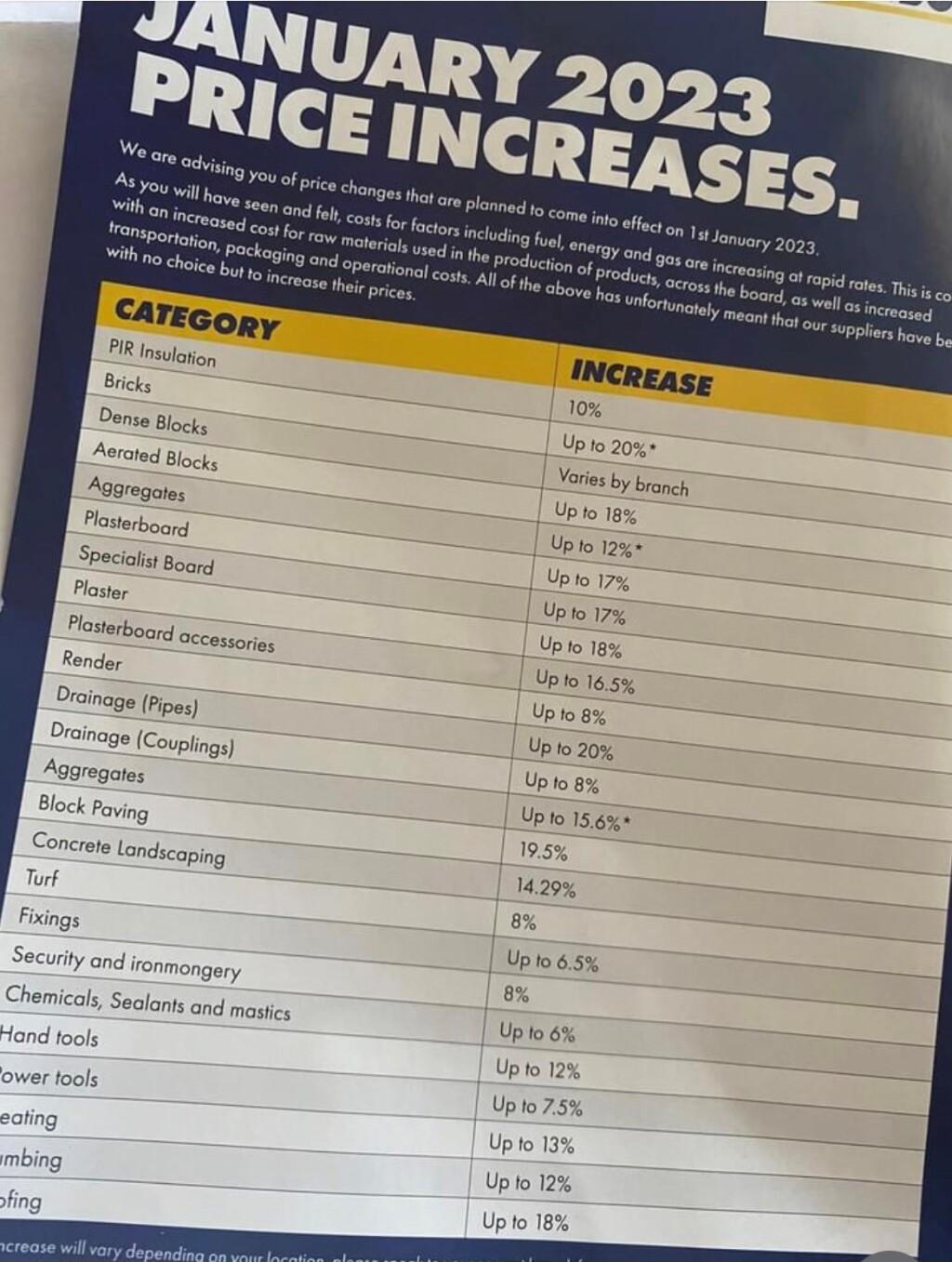 Image- copie Jewson
Koopmansketen voor bouwers, Jewishon, heeft gewaarschuwd dat de prijzen van belangrijke bouwmaterialen deze maand met maar liefst 20% stijgen.
In zijn leveranciersupdate voor klanten van januari 2023 zegt Jodenon dat de prijzen van bouwproducten opnieuw stijgen als gevolg van de aanhoudend stijgende brandstof-, gas- en energiekosten die van invloed zijn op zowel grondstoffen als fabrikanten.
Bakstenen stijgen met 'tot' 20%, net als afvoerleidingen. Blokbestrating stijgt met maar liefst 19,5%.
Cellenblokken, pleisterwerk en dakbedekking nemen toe met wel 18%; gipsplaat en specialistische plaat tot 17%.
Ook zijn er prijzen met dubbele cijfers voor aggregaten, PIR-isolatie en voor verwarmings- en sanitairmaterialen.
Alle prijsstijgingen zijn onderhevig aan lokale variaties.
NJC.© Info Jodenon
----------------------------------------------------------------------------------------------------------