Metso Outotec introduces renewed Crusher Wear offering
02/05/22-FR-English-NL-footer
Metso Outotec présente une offre renouvelée pour l'usure des broyeurs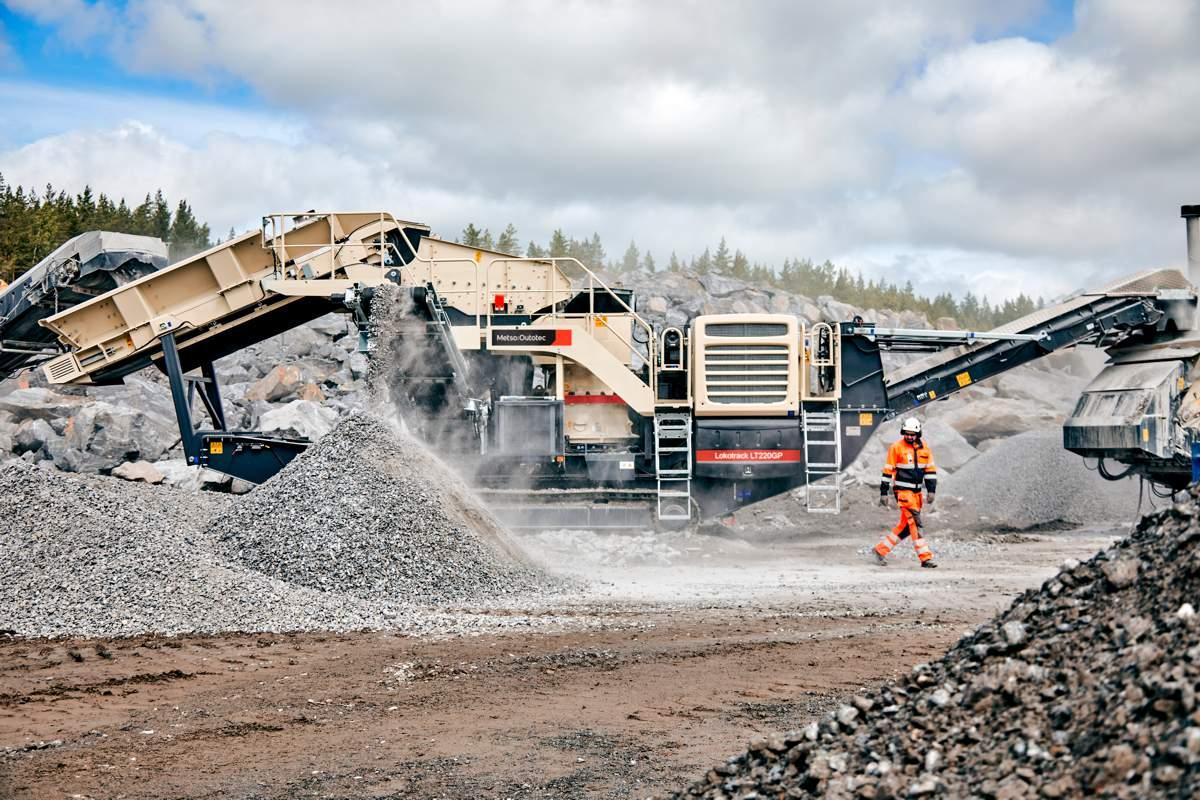 Metso Outotec présente sa nouvelle solution d'usure des concasseurs offrant la plus grande variété de pièces d'usure et de services de l'industrie permettant aux clients un concassage durable, prévisible et rentable.
Le portefeuille est classé en trois gammes de produits différentes - Metso Outotec O-Series, Expert Series et Max Series. L'offre renouvelée d'usures et de services de broyage, du broyage saisonnier aux opérations à volume élevé et à haute valeur ajoutée, a été développée en réponse à la demande des clients pour des améliorations continues des performances du processus de broyage.
Grâce à l'offre renouvelée, les clients des agrégats et des mines peuvent, avec les experts de Metso Outotec, comparer facilement les avantages et sélectionner le bon niveau de pièces et de services pour atteindre la meilleure économie de concassage.
« Faire fonctionner les concasseurs de nos clients est notre cœur de métier. Quelle que soit l'ampleur du concassage, les clients ont besoin de pièces d'usure de concasseur adaptées spécifiquement à leur demande, ils ont besoin de services pour assurer le bon fonctionnement de leur exploitation et ils ont besoin d'une expertise qui les aide à développer l'efficacité, la rentabilité et la durabilité du concassage. Nous sommes maintenant très heureux de présenter notre offre renouvelée d'usures pour concasseurs, qui répondra aux besoins uniques de nos clients et peut améliorer l'économie de leur concasseur de manière durable », a déclaré Mika Saariaho, vice-président principal, secteur d'activité Crusher Wears, Metso Outotec.​
Le circuit de concassage est l'un des plus gros générateurs de coûts dans les opérations minières et d'agrégats. C'est aussi l'un des plus critiques. Le choix de la chambre de broyage a un impact sur l'ensemble du processus de broyage et sur son efficacité. Pour pouvoir sélectionner la chambre optimale, il faut avoir une idée du processus et des KPI du client. Par conséquent, une partie intégrante de l'offre comprend des outils numériques qui permettent la collecte et l'utilisation de données de processus, tels que Metso Outotec Metrics, et des outils de simulation.
« Nous pensons que la sélection optimale de la chambre est la clé d'une meilleure économie de concasseur », poursuit Mika Saariaho. "Cela ne peut être réalisé qu'avec une compréhension et une expertise approfondies du processus, ainsi que de ses exigences en matière de matériau et de technologie d'usure du concasseur."
Solutions d'usure des concasseurs Metso Outotec
Metso Outotec O-Series​ – Excellent rapport qualité-prix pour les pièces d'usure standard de broyeur​ : La série O fournit des pièces standard abordables de notre stock - rapidement et de manière flexible. Avec les bonnes pièces fiables sélectionnées par Chamber Selection Service, les journées de travail des clients sont plus productives et les coûts d'exploitation sont inférieurs.​
Metso Outotec Expert Series​ – Des concasseurs résistants à l'usure avec un service à valeur ajoutée​ : la série Expert fournit la plus large gamme de pièces d'usure du marché avec une large sélection de matériaux et de conceptions faciles à commander avec le Chamber Expert Service permettant des processus plus efficaces et optimisés, aidant les clients à tirer le meilleur parti de leur concasseur.​
Metso Outotec Max Series​ – Lorsque la disponibilité et l'efficacité du concasseur sont essentielles​ : Avec l'approche holistique de la série Max, Metso Outotec peut optimiser avec le service d'optimisation de la chambre chaque étape du processus du client avec des pièces personnalisées pour maximiser les performances, l'économie et la durabilité . Metso Outotec a l'expérience de plus de 700 cas d'optimisation. Chamber Optimization fait partie du portefeuille Planet Positive de Metso Outotec.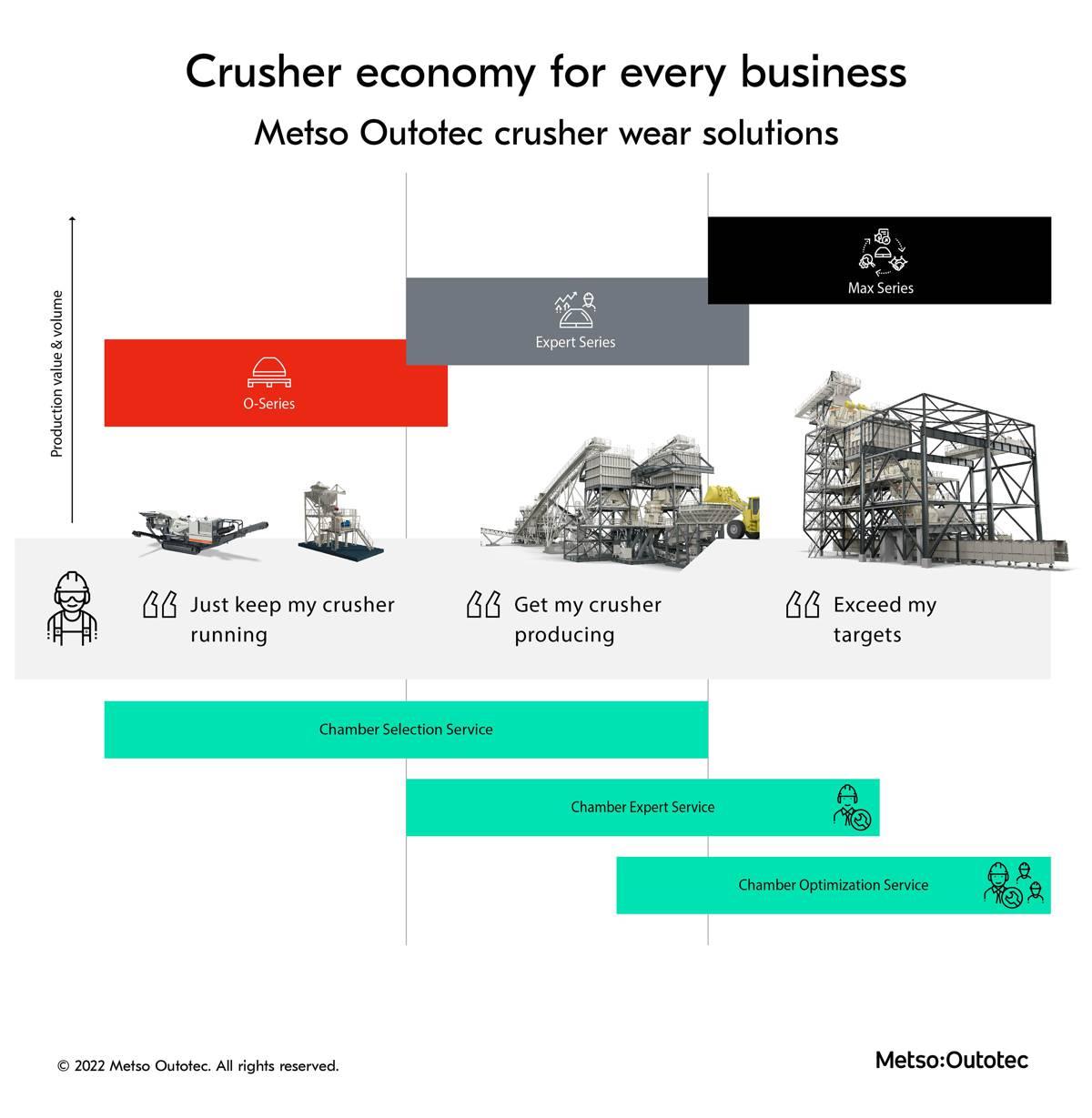 Les usures de concasseur Metso Outotec sont disponibles pour les concasseurs stationnaires et mobiles de Metso Outotec dans les industries minières et des agrégats. Metso Outotec propose également des pièces d'usure de concasseur pour les concasseurs non Metso Outotec.
NJC.© Info Metso Outotec
---------------------------------------------------------------------------------------------------------------------
02/05/22-English
Metso Outotec introduces renewed Crusher Wear offering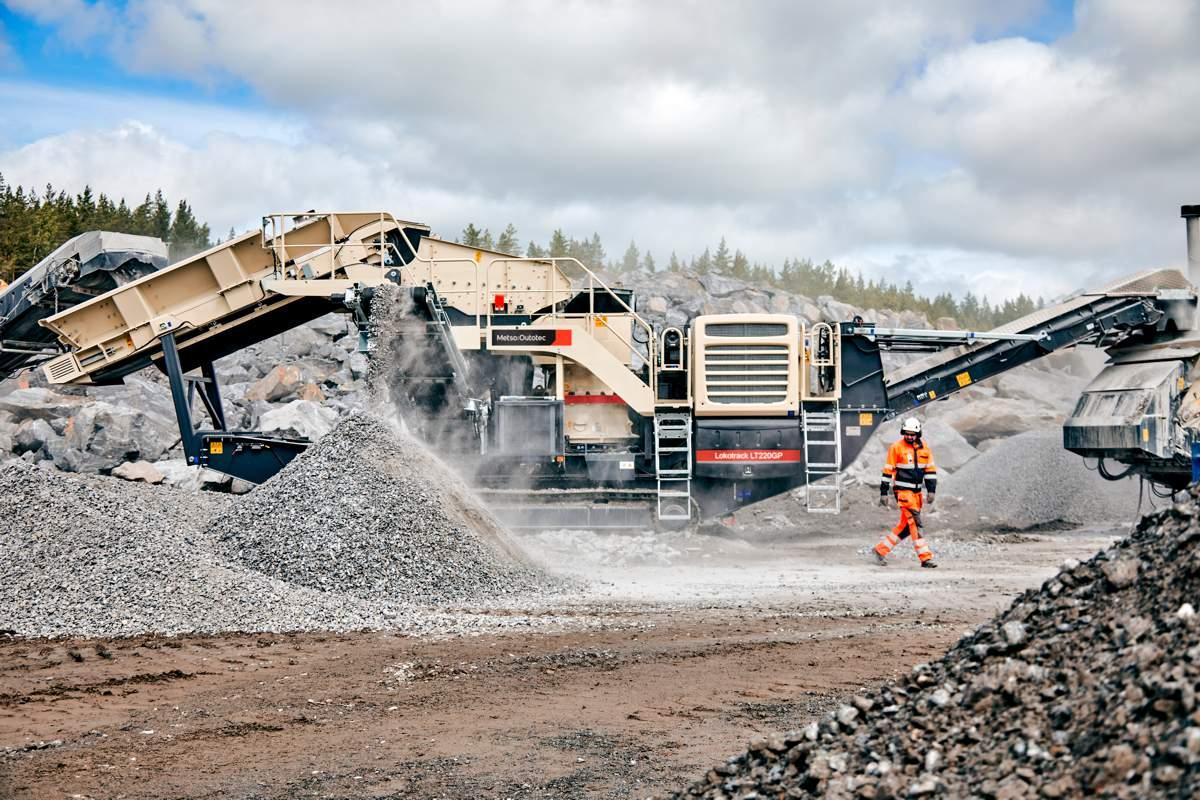 Metso Outotec is introducing its renewed crusher wears solution offering catering the industry's widest variety of wear parts and services enabling customers' sustainable, predictable, and profitable crushing.
The portfolio is categorized into three different product ranges – Metso Outotec O-Series, Expert Series and Max Series. The renewed crusher wears and services offering, from seasonal crushing to high-volume, and high-value operations has been developed in response to customers' demand for continuous improvements in crushing process performance.
Through the renewed offering, aggregates and mining customers can together with Metso Outotec experts easily compare the advantages and select just the right level of parts and services to reach the best crushing economy.
"Keeping our customers' crushers running is our core expertise. Whatever is the scale of crushing, customers need crusher wear parts that suit specifically for their demand, they need services to keep their operation running, and they need expertise that helps them to develop the efficiency, profitability, and sustainability in crushing. We are now very excited to introduce our renewed crusher wears offering, which will answer to our customers' unique needs and can improve their crusher economy in a sustainable way," says Mika Saariaho, Senior Vice President, Crusher Wears business line, Metso Outotec.​
Crushing circuit is one of the biggest cost generators in mining and aggregate operations. It is also one of the most critical ones. The selection of the crusher chamber impacts the whole crushing process and its efficiency. Being able to select the optimal chamber requires insight into the process and the customer KPIs. Therefore, an integral part of the offering is digital tools that enable the gathering and utilization of process data, such as the Metso Outotec Metrics, and simulation tools.
"We think that the optimal selection of the chamber is the key to a better crusher economy", Mika Saariaho continues. "It can only be achieved with a deep understanding and expertise of the process, and its requirements to the crusher wear material and technology."
Metso Outotec crusher wear solutions
Metso Outotec O-Series​ – Excellent value in standard crusher wear parts​: The O-Series provide affordable standard parts from our stock – quickly and flexibly. With the right, reliable parts selected through Chamber Selection Service, customers working days are more productive and the operating costs are lower.​
Metso Outotec Expert Series​ – Hard-wearing crusher wears with value-adding service​: The Expert Series provides the broadest range of wear parts in the market with a wide, easy-to-order selection of materials and designs with the Chamber Expert Service enabling more efficient, optimized processes, helping customers get the most value out of their crusher.​
Metso Outotec Max Series​ – When crusher uptime and efficiency are critical​: With the holistic approach of the Max Series, Metso Outotec can optimize with the Chamber Optimization Service each step of the customer's process with custom parts to maximize performance, economy, and sustainability . Metso Outotec has experience from 700+ optimization cases. Chamber Optimization is part of Metso Outotec's Planet Positive portfolio.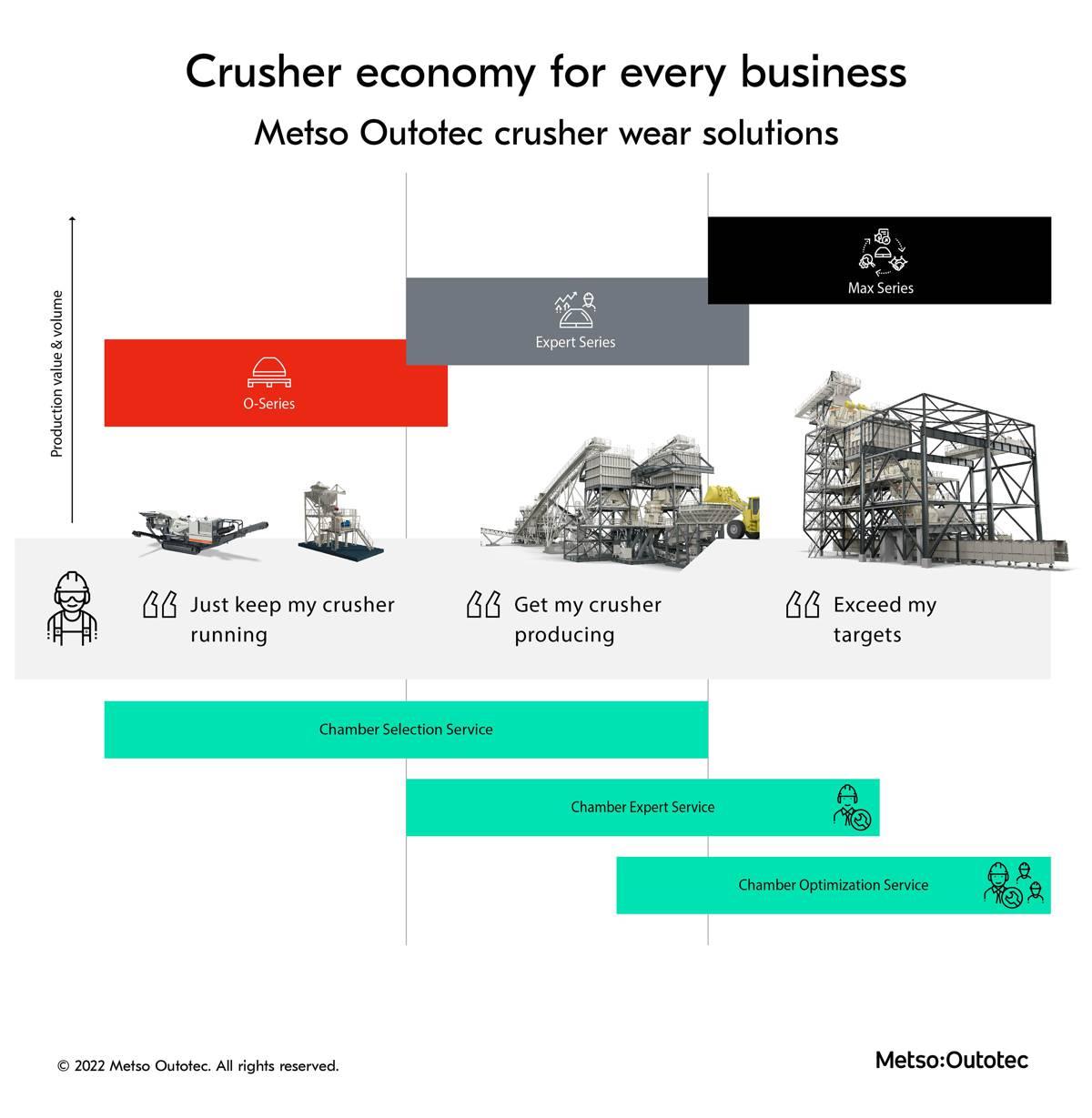 Metso Outotec crusher wears are available for Metso Outotec's stationary and mobile crushers in mining and aggregates industries. Metso Outotec also offers crusher wear parts for non-Metso Outotec crushers.
NJC.© info Metso Outotec
--------------------------------------------------------------------------------------------------------------------
02/05/22
Metso Outotec introduceert vernieuwd Crusher Wear-aanbod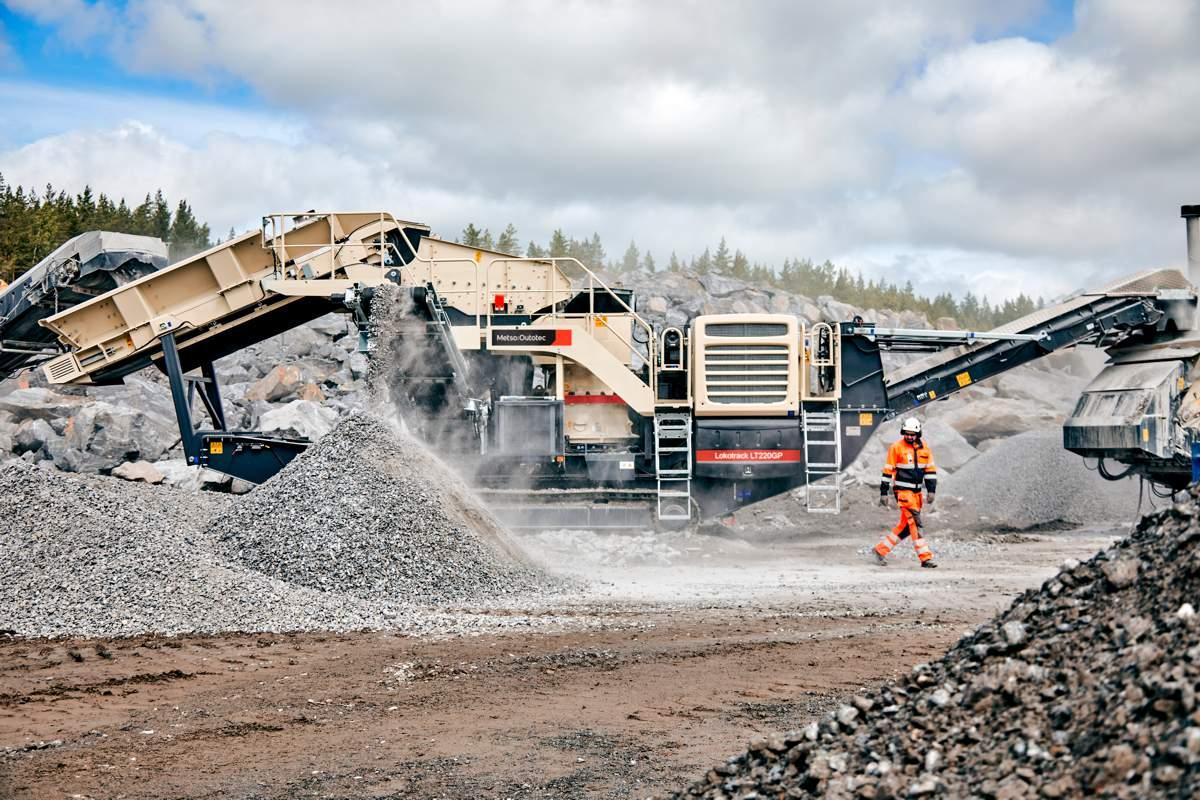 Metso Outotec introduceert zijn vernieuwde brekerslijtageoplossing die de grootste verscheidenheid aan slijtageonderdelen en diensten in de sector biedt, waardoor klanten duurzaam, voorspelbaar en winstgevend kunnen breken.
Het portfolio is onderverdeeld in drie verschillende productreeksen: Metso Outotec O-Series, Expert Series en Max Series. Het vernieuwde aanbod aan slijtage en diensten voor brekers, van seizoensgebonden breken tot grootschalige en hoogwaardige bewerkingen, is ontwikkeld als antwoord op de vraag van klanten naar continue verbeteringen in de prestaties van het breekproces.
Door het vernieuwde aanbod kunnen aggregaten en mijnbouwklanten samen met Metso Outotec-experts gemakkelijk de voordelen vergelijken en precies het juiste niveau van onderdelen en diensten selecteren om de beste breekeconomie te bereiken.
"Het draaiende houden van de brekers van onze klanten is onze kernexpertise. Wat de omvang van het breken ook is, klanten hebben slijtageonderdelen voor brekers nodig die specifiek zijn afgestemd op hun vraag, ze hebben diensten nodig om hun bedrijf draaiende te houden en ze hebben expertise nodig die hen helpt om de efficiëntie, winstgevendheid en duurzaamheid bij het breken te ontwikkelen. We zijn nu erg verheugd om ons vernieuwde aanbod van brekerslijtage te introduceren, dat zal beantwoorden aan de unieke behoeften van onze klanten en hun brekereconomie op een duurzame manier kan verbeteren", zegt Mika Saariaho, Senior Vice President, Crusher Wears business line, Metso Outotec.​
Het verpletterende circuit is een van de grootste kostengeneratoren in mijnbouw- en aggregaatactiviteiten. Het is ook een van de meest kritische. De keuze van de brekerkamer heeft invloed op het hele breekproces en de efficiëntie ervan. Om de optimale kamer te kunnen selecteren, is inzicht nodig in het proces en de KPI's van de klant. Een integraal onderdeel van het aanbod zijn daarom digitale tools die het verzamelen en gebruiken van procesgegevens mogelijk maken, zoals de Metso Outotec Metrics, en simulatietools.
"Wij denken dat de optimale keuze van de kamer de sleutel is tot een betere economie van de breker", vervolgt Mika Saariaho. "Dit kan alleen worden bereikt met een diep begrip en expertise van het proces en de vereisten voor het slijtagemateriaal en de technologie van de breker."
Metso Outotec brekerslijtageoplossingen
Metso Outotec O-Series​ – Uitstekende waarde in standaard onderdelen voor brekerslijtage​: De O-Series leveren betaalbare standaard onderdelen uit onze voorraad – snel en flexibel. Met de juiste, betrouwbare onderdelen geselecteerd via Chamber Selection Service, zijn de werkdagen van klanten productiever en zijn de bedrijfskosten lager.​
Metso Outotec Expert Series​ – Slijtvaste brekerslijtage met waardetoevoegende service​: De Expert Series biedt het breedste assortiment slijtdelen op de markt met een brede, gemakkelijk te bestellen selectie van materialen en ontwerpen met de Chamber Expert Service waardoor efficiëntere, geoptimaliseerde processen mogelijk worden, waardoor klanten de meeste waarde uit hun breker halen.​
Metso Outotec Max Series​ – Wanneer de uptime en efficiëntie van de breker cruciaal zijn: Met de holistische benadering van de Max Series kan Metso Outotec met de Chamber Optimization Service elke stap van het klantproces optimaliseren met aangepaste onderdelen om de prestaties, zuinigheid en duurzaamheid te maximaliseren . Metso Outotec heeft ervaring met 700+ optimalisatiegevallen. Chamber Optimization maakt deel uit van Metso Outotec's Planet Positive-portfolio.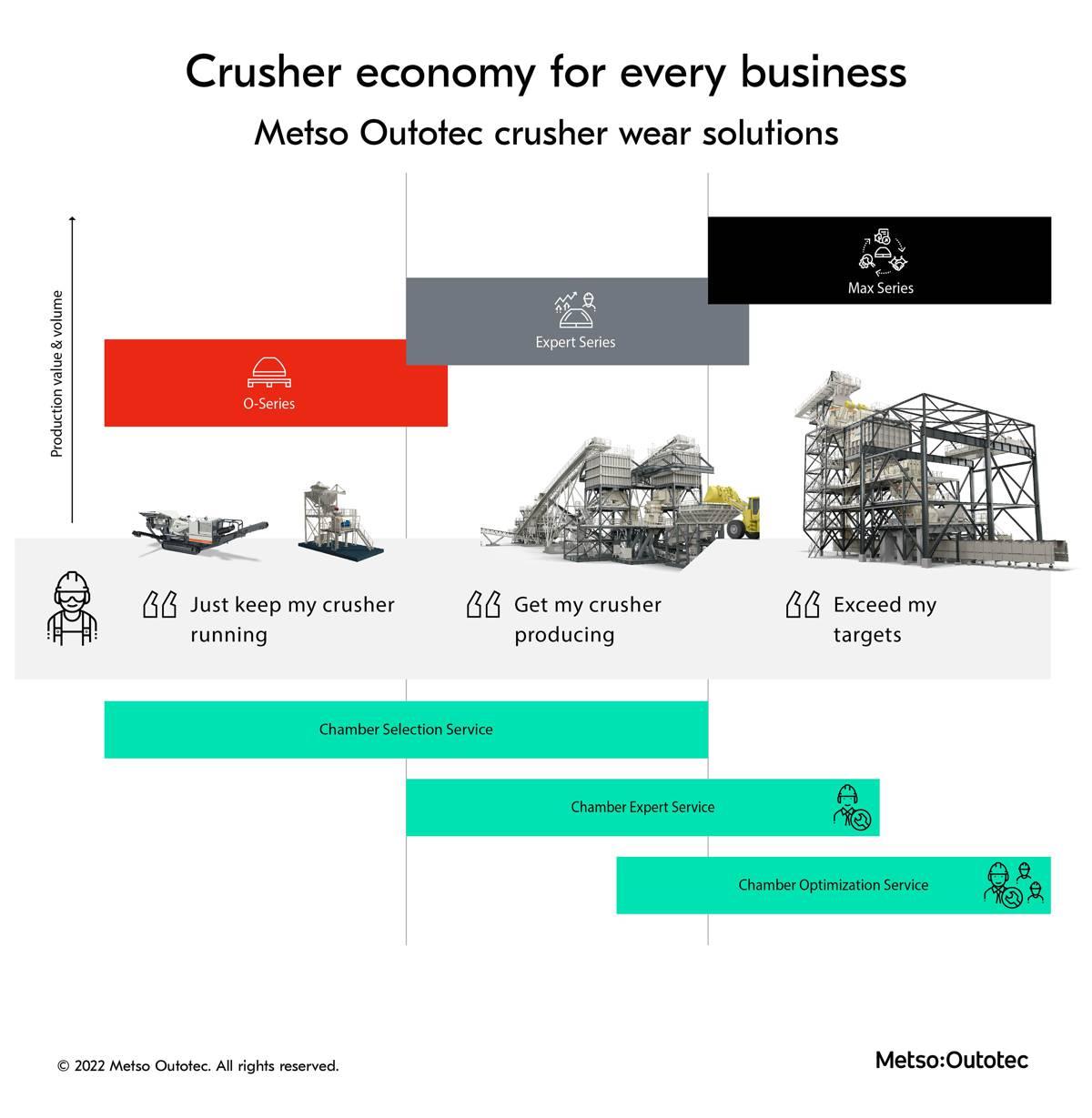 Metso Outotec-brekerslijtage is beschikbaar voor de stationaire en mobiele brekers van Metso Outotec in de mijnbouw- en aggregaatindustrie. Metso Outotec biedt ook brekerslijtageonderdelen voor niet-Metso Outotec-brekers.
NJC.© Info Metso Outotec
----------------------------------------------------------------------------------------------------------------------