Metso Outotec launches Metrics solution for improved Quarry Plant
10/05/22-FR-English-NL-footer
Metso Outotec lance la solution Metrics pour améliorer l'usine de carrière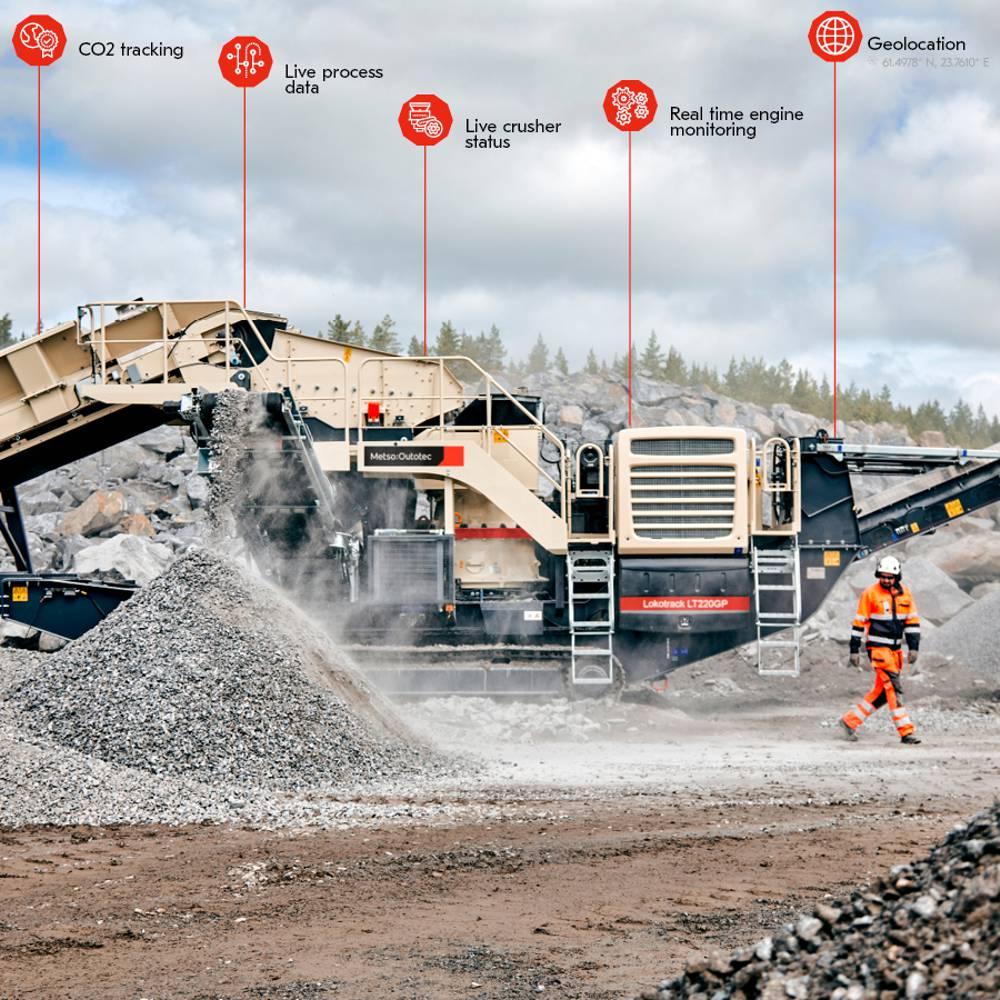 Metso Outotec lance une version améliorée de Metrics, un outil innovant basé sur le cloud pour la surveillance en temps réel des concasseurs et cribles mobiles Lokotrack des clients de granulats.
La nouvelle solution de surveillance à distance apportera des avantages de connectivité et d'optimisation nettement meilleurs aux processus de concassage des clients. La solution a été développée en collaboration avec des distributeurs et des clients et offre plusieurs fonctionnalités de pointe aidant les clients à atteindre leurs objectifs de durabilité et opérationnels.
Les nouvelles fonctionnalités de Metrics incluent le suivi du C02 pour les avantages en matière de durabilité, un accès 24h/24 et 7j/7 aux données en temps réel, un module de maintenance, des tableaux de bord critiques pour l'utilisation et la géolocalisation. De plus, les nouvelles métriques permettent un dépannage à distance, l'interface utilisateur peut être adaptée pour répondre aux différents besoins des clients. De nouvelles fonctionnalités et fonctions peuvent également être mises à jour à distance.
Offrir plus d'heures et de tonnes de production
En combinant les nouvelles mesures avec notre empreinte de service mondiale, Metso Outotec et ses partenaires distributeurs peuvent aider les clients à prendre des décisions basées sur les données qui ont un impact sur leurs opérations de concassage et de criblage.
« Nous voulions développer une solution de nouvelle génération qui apportera une valeur quantifiable et fournira plus d'heures et de tonnes de production à nos clients. La clé d'une efficacité opérationnelle durable consiste à disposer des informations correctes pour prendre des décisions et sélectionner la bonne combinaison de services pour relever la barre. Metso Outotec Metrics pour les agrégats connecte les concasseurs mobiles et les cribles, offrant une visibilité et des analyses de données en temps réel accrues pour améliorer la disponibilité, les performances, la fiabilité et la rentabilité », déclare Merja Tyyni, vice-présidente, Standard Crushers, Metso Outotec.
La solution Metrics fait partie du portefeuille Planet Positive de Metso Outotec.
En plus de l'amélioration de la vitesse de transmission des données, de nouvelles fonctionnalités seront continuellement développées. Une nouvelle fonctionnalité actuellement en développement est la mesure intégrée du débit massique pour le suivi de la production et des déchets afin d'aider les clients à quantifier leurs performances de production.
Metso Outotec Metrics pour les agrégats génère un lien fort entre les opérations du client, la gestion des produits et le développement des produits.
« Les nouvelles métriques nous permettront d'amener les fonctionnalités des équipements et l'expérience client à un niveau supérieur en améliorant les performances des équipements de nos clients et en augmentant à la fois la disponibilité et le cycle de vie global des machines », déclare Kimmo Anttila, vice-président, solutions Lokotrack, activité Granulats. région, Metso Outotec.
Métriques intégrées aux nouveaux équipements et aux kits de mise à niveau pour les anciennes machines
Alors que les nouvelles machines Lokotrack sont équipées de Metso Outotec Metrics, l'équipement existant peut dans la plupart des cas être modernisé et intégrer la connectivité numérique de l'équipement avec un kit de mise à niveau.
Dans la première phase, le kit de mise à niveau est disponible pour certains concasseurs et cribles Lokotrack.
NJC.© Infos METSO OUTOLEC Metso Outotec
-------------------------------------------------------------------------------------------------------------------
10/05/22-English
Metso Outotec launches Metrics solution for improved Quarry Plant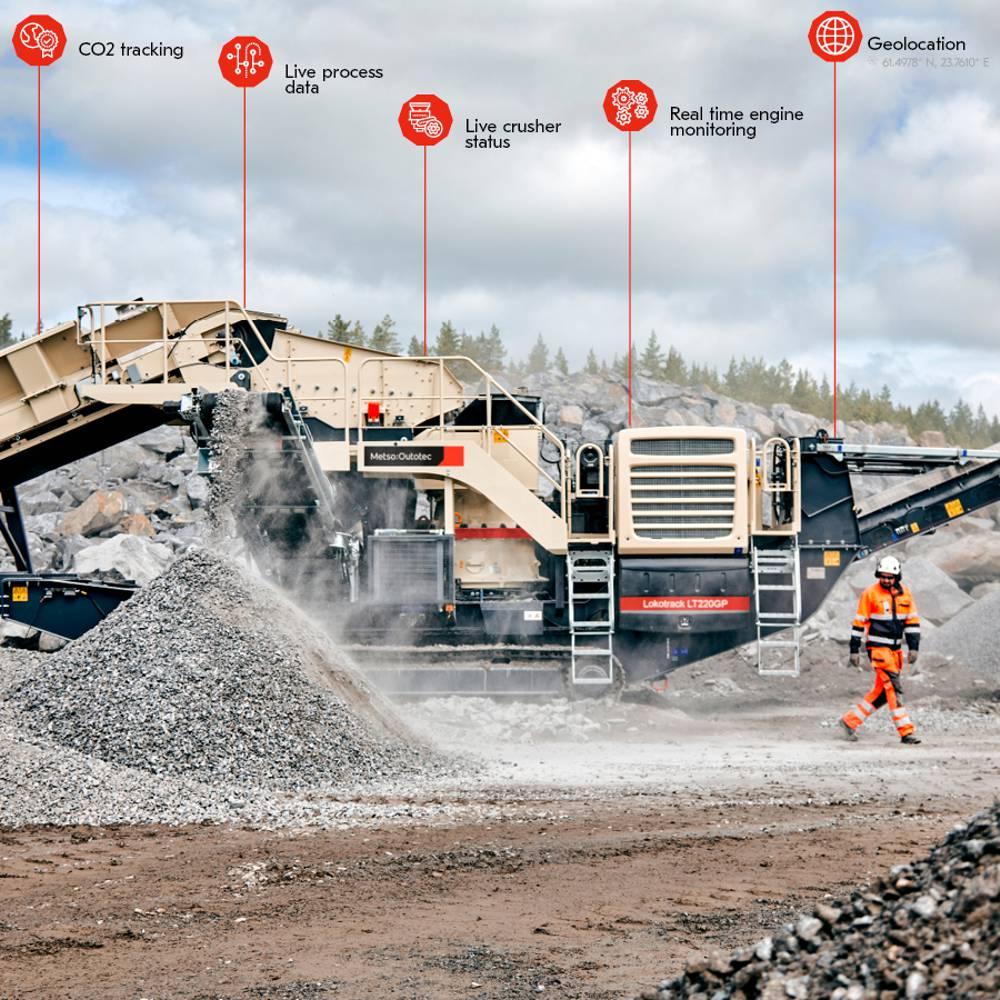 Metso Outotec is launching an upgraded version of Metrics, an innovative cloud-based tool for real-time monitoring for aggregates customers' Lokotrack mobile crushers and screens.
The new remote monitoring solution will bring significantly better connectivity and optimization benefits to aggregate customers' crushing processes. The solution has been developed together with distributors and customers and offers several state-of-the-art features supporting customers to achieve their sustainability and operational targets.
The new Metrics features include C02 tracking for sustainability benefits, 24/7 access to real-time data, a maintenance module, critical dashboards for utilization, and geolocation. Furthermore, the new Metrics allows remote troubleshooting, the user interface can be tailored to address different customer needs. New features and functions can also be updated remotely.
Delivering more production hours and tones
By combining the new Metrics with our global service footprint, Metso Outotec and its distributor partners can support customers in making data-driven decisions that impact their crushing and screening operations.
"We wanted to develop a next-generation solution that will bring quantifiable value and deliver more production hours and tones to our customers. The key to building sustainable operational efficiency is having the correct information to make decisions and select the right combination of services to lift the bar. Metso Outotec Metrics for aggregates connects mobile crushers and screens, providing increased real-time data visibility and analytics to improve availability, performance, reliability, and profitability," says Merja Tyyni, Vice President, Standard Crushers, Metso Outotec.
The Metrics solution is part of Metso Outotec's Planet Positive portfolio.
In addition to the improved speed of data transmission, new features will continually be developed. One new feature currently in development is integrated mass flow measurement for tracking production and waste to help customers quantify their production performance.
Metso Outotec Metrics for aggregates generates a strong link between the customer operations, product management, and product development.
"The new Metrics will enable us to take equipment features and customer experience to a new level by improving our customers' equipment's performance and increasing both uptime and the overall machine life-cycle," says Kimmo Anttila, Vice President, Lokotrack solutions, Aggregates business area, Metso Outotec.
Metrics built-in to new equipment and Retrofit Kits for legacy machines
While newer Lokotrack machines come equipped with Metso Outotec Metrics, legacy equipment can in most cases be modernized and integrate equipment digital connectivity with a Retrofit Kit.
In the first phase, the Retrofit Kit is available for certain Lokotrack crushers and screens.
NJC.© Info METSO OUTOLEC Metso Outotec
-----------------------------------------------------------------------------------------------------------------
10/05/22-NL
Metso Outotec lanceert Metrics-oplossing voor verbeterde steengroevefabriek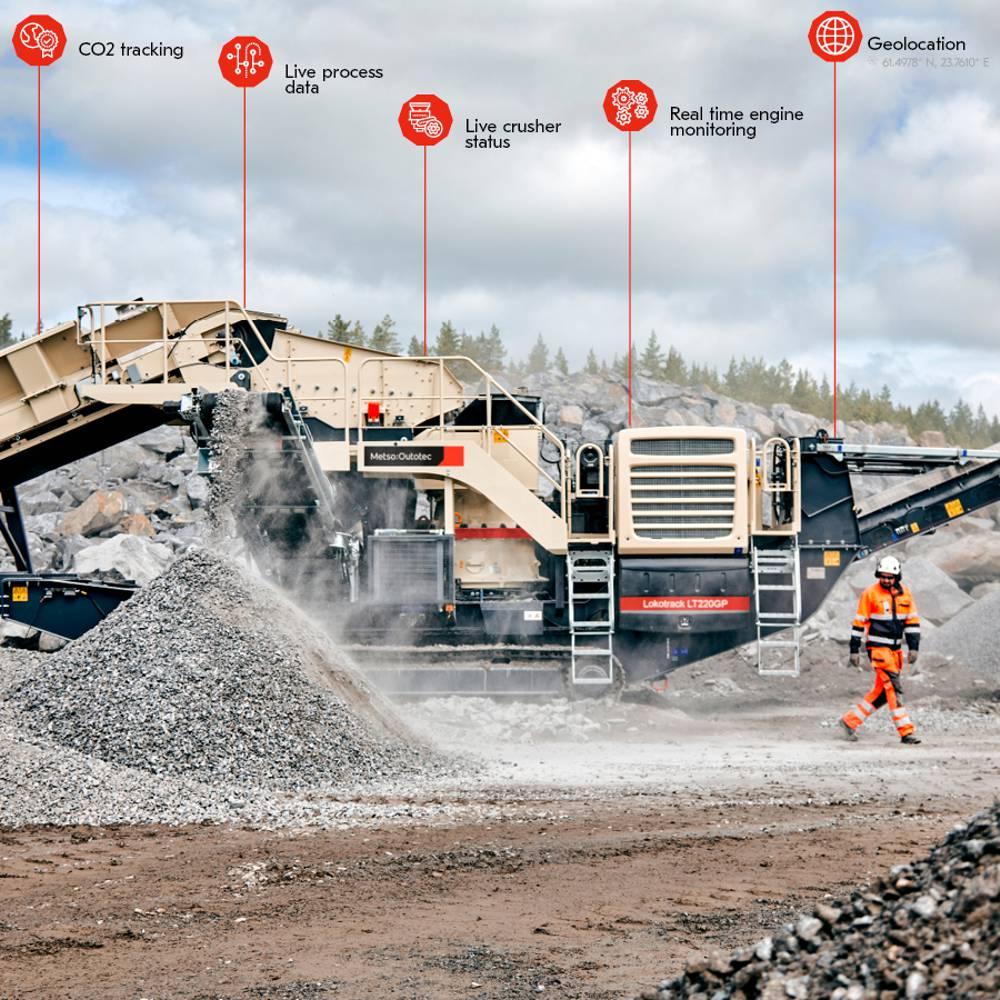 Metso Outotec lanceert een verbeterde versie van Metrics, een innovatieve cloudgebaseerde tool voor realtime monitoring van de Lokotrack mobiele brekers en schermen van aggregaten van klanten.
De nieuwe oplossing voor bewaking op afstand zal aanzienlijk betere connectiviteits- en optimalisatievoordelen opleveren voor de verpletterende processen van klanten. De oplossing is ontwikkeld in samenwerking met distributeurs en klanten en biedt verschillende state-of-the-art functies die klanten ondersteunen bij het behalen van hun duurzaamheids- en operationele doelstellingen.
De nieuwe Metrics-functies omvatten C02-tracking voor duurzaamheidsvoordelen, 24/7 toegang tot realtime gegevens, een onderhoudsmodule, kritieke dashboards voor gebruik en geolocatie. Bovendien maakt de nieuwe Metrics probleemoplossing op afstand mogelijk, en de gebruikersinterface kan worden aangepast aan de verschillende behoeften van de klant. Nieuwe functies en functies kunnen ook op afstand worden bijgewerkt.
Meer productie-uren en tonnen leveren
Door de nieuwe Metrics te combineren met onze wereldwijde servicevoetafdruk, kunnen Metso Outotec en zijn distributiepartners klanten ondersteunen bij het nemen van datagestuurde beslissingen die van invloed zijn op hun breek- en zeefactiviteiten.
"We wilden een oplossing van de volgende generatie ontwikkelen die meetbare waarde oplevert en onze klanten meer productie-uren en tonnen oplevert. De sleutel tot het opbouwen van duurzame operationele efficiëntie is het hebben van de juiste informatie om beslissingen te nemen en de juiste combinatie van diensten te selecteren om de lat hoger te leggen. Metso Outotec Metrics voor aggregaten verbindt mobiele brekers en schermen, waardoor realtime datazichtbaarheid en analyses worden verbeterd om de beschikbaarheid, prestaties, betrouwbaarheid en winstgevendheid te verbeteren", zegt Merja Tyyni, Vice President, Standard Crushers, Metso Outotec.
De Metrics-oplossing maakt deel uit van het Planet Positive-portfolio van Metso Outotec.
Naast de verbeterde snelheid van gegevensoverdracht, zullen er voortdurend nieuwe functies worden ontwikkeld. Een nieuwe functie die momenteel in ontwikkeling is, is geïntegreerde massastroommeting voor het volgen van productie en afval om klanten te helpen hun productieprestaties te kwantificeren.
Metso Outotec Metrics voor aggregaten genereert een sterke link tussen de activiteiten van de klant, productbeheer en productontwikkeling.
"De nieuwe Metrics stellen ons in staat om apparatuurfuncties en klantervaring naar een nieuw niveau te tillen door de prestaties van de apparatuur van onze klanten te verbeteren en zowel de uptime als de algehele levenscyclus van de machine te vergroten", zegt Kimmo Anttila, Vice President, Lokotrack solutions, Aggregates business gebied, Metso Outotec.
Statistieken ingebouwd in nieuwe apparatuur en retrofitkits voor oudere machines
Terwijl nieuwere Lokotrack-machines zijn uitgerust met Metso Outotec Metrics, kan oudere apparatuur in de meeste gevallen worden gemoderniseerd en digitale connectiviteit van apparatuur integreren met een Retrofit Kit.
In de eerste fase is de Retrofit Kit beschikbaar voor bepaalde Lokotrack-brekers en zeven.
NJC.© Info METSO OUTOLEC Metso Outotec
--------------------------------------------------------------------------------------------------------------------