Metso Outotec OKTOP® CIL Reactor – intelligent solution engineered for gold
23/09/22-FR-English-NL-footer
Metso Outotec OKTOP® CIL Reactor - solution intelligente conçue pour l'or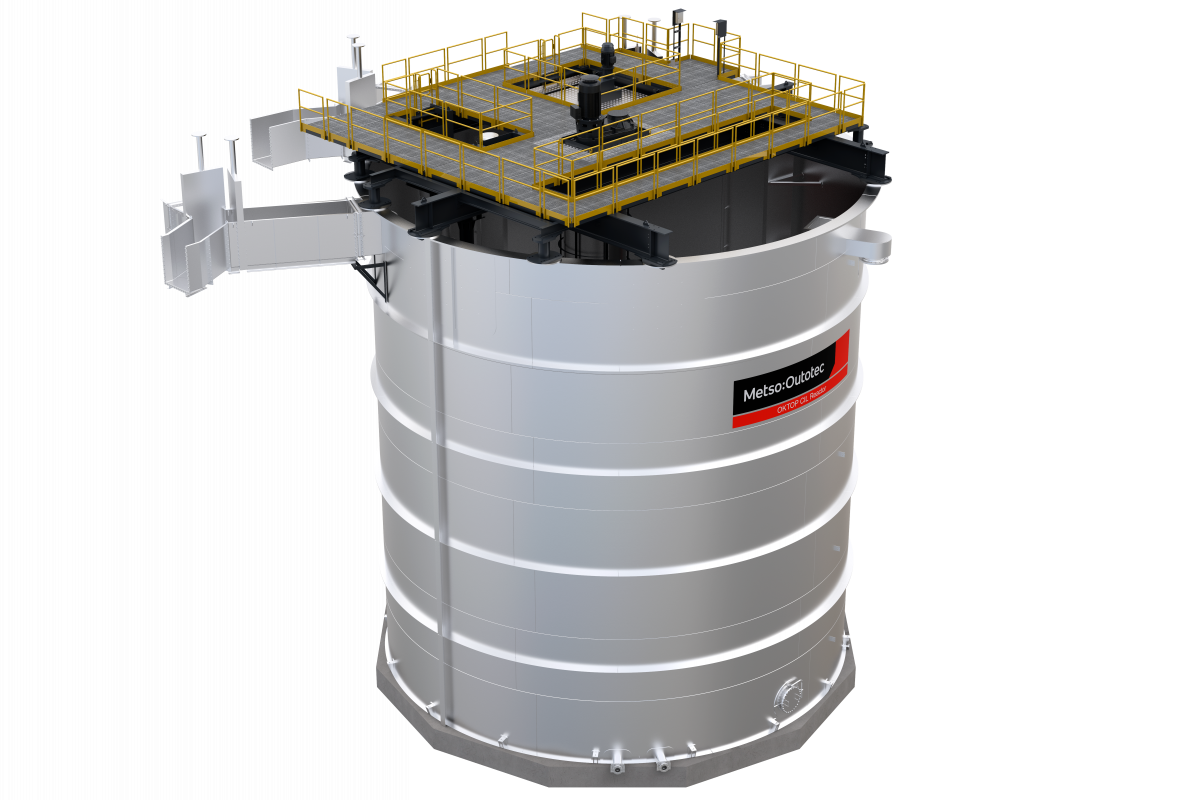 Metso Outotec OKTOP CIL Reaktor 2323e IMAGE SOURCE: Metso Outotec
Metso Outotec présente la prochaine génération de son réacteur agité OKTOP® CIL pour la lixiviation et la récupération du cyanure d'or. Le réacteur Planet Positive convient aux applications de procédé de lixiviation au carbone (CIL) et au carbone en pulpe (CIP) et avec des pertes d'or et une consommation d'énergie liées aux fines de charbon actif minimisées, il représente la technologie de lixiviation au cyanure la plus durable du marché. . Par rapport aux références de l'industrie, les pertes d'or causées par la rupture du charbon actif et la consommation d'énergie électrique peuvent être réduites jusqu'à 50 % avec le réacteur OKTOP® CIL.
« Les offres de réacteurs CIL ont généralement été des livraisons fractionnées de plusieurs fournisseurs. Nous pouvons désormais proposer une solution complète optimisée pour la lixiviation et la récupération du cyanure d'or sous la forme d'une conception de réacteur hautement productivisée basée sur notre vaste expertise de plus d'un millier de réacteurs livrés, de nouvelles innovations et de fonctionnalités numériques de pointe », déclare Jan Van Niekerk, directeur des solutions de traitement de l'or chez Metso Outotec.
Plusieurs innovations pour un résultat de lixiviation et de récupération de l'or optimisé
La nouvelle conception du réacteur comprend plusieurs technologies uniques pour optimiser les résultats de lixiviation de l'or et l'efficacité énergétique. La technologie brevetée OKTOP® FlowBottom réduit l'intensité de l'agitation, apportant plusieurs avantages tels qu'une suspension homogène des solides avec une puissance de mélange réduite et une diminution de l'attrition du carbone et des pertes d'or associées.
Le réacteur OKTOP® CIL est livré avec un contrôle de processus avancé basé sur des mesures intelligentes :
OKTOP® SandSenseTM a été spécialement conçu pour contrôler et optimiser la vitesse de rotation de l'agitateur afin de réduire l'usure, d'améliorer la consommation d'énergie et de détecter les problèmes en amont.
Le système de mesure in situ CarbonSenseTM aide à minimiser les pertes de solution d'or. Combiné avec l'optimiseur CIL, il surveille et contrôle automatiquement la concentration de carbone et le dosage de cyanure à l'aide d'une mesure continue des données.
Outre les principales offres de réacteurs CIL propriétaires, le vaste portefeuille de minerai d'argent doré de Metso Outotec couvre la solution globale de l'usine de lixiviation au cyanure, y compris le package d'ingénierie de base de l'îlot de traitement et, par exemple, les pompes de transfert de carbone, les offres d'élution et de salle d'or et les fonctionnalités numériques pour le contrôle des processus. et optimisation.
Metso Outotec a lancé ses premiers réacteurs OKTOP® en 2006. Depuis lors, il a vendu plus de 1 000 unités.
NJC.© Info Metso Outotec
--------------------------------------------------------------------------------------------------------------------
23/09/22-English
Metso Outotec OKTOP® CIL Reactor – intelligent solution engineered for gold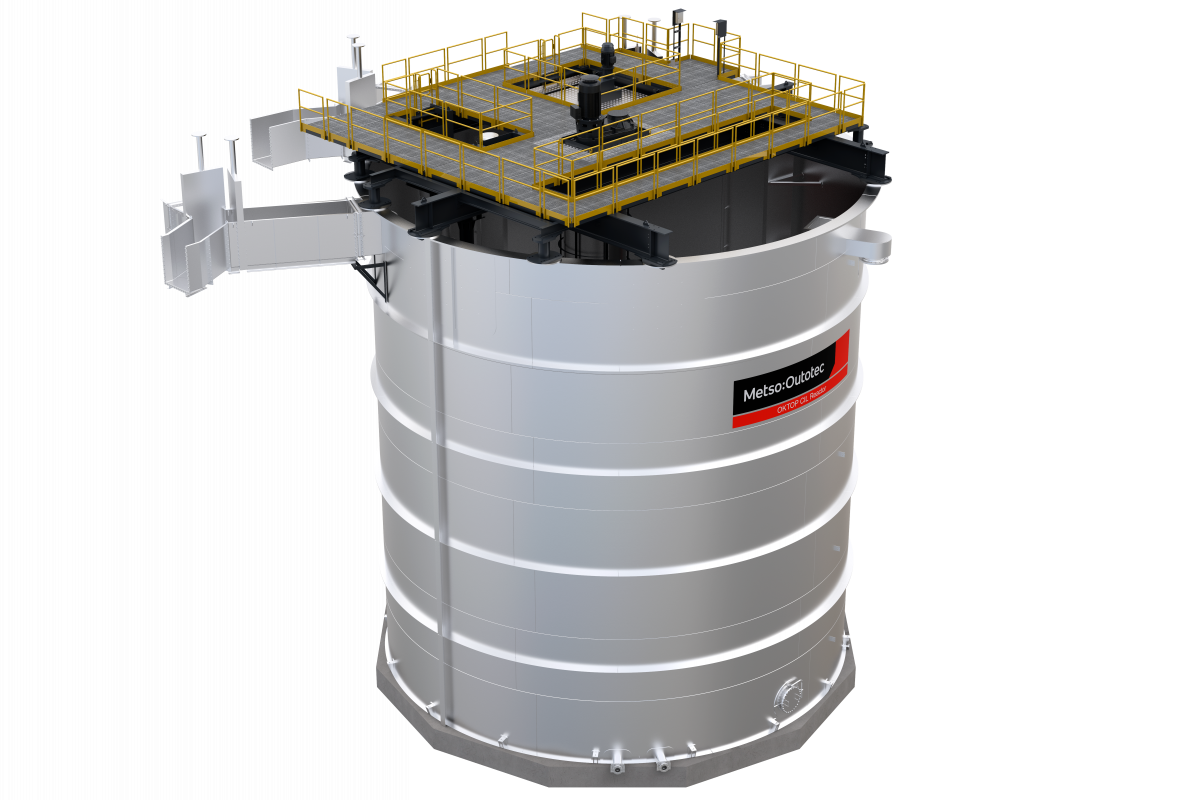 Metso Outotec OKTOP CIL Reaktor 2323e IMAGE SOURCE: Metso Outotec
Metso Outotec is introducing the next generation of its agitated OKTOP® CIL Reactor for gold cyanide leaching and recovery. The Planet Positive reactor is suitable for carbon-in-leach (CIL) and carbon-in-pulp (CIP) process applications and with minimized activated carbon fines related gold losses and energy consumption, it represents the most sustainable cyanide leaching technology on the market. Compared to industry benchmarks, gold losses caused by activated carbon breakage and electric energy consumption can be reduced by up to 50% with the OKTOP® CIL Reactor.
"CIL reactor offerings have typically been split scope deliveries from several suppliers. We can now offer a comprehensive solution optimized for gold cyanide leaching and recovery in the form of a highly productized reactor design based on our extensive expertise of over one thousand delivered reactors, novel innovations, and state-of-the-art digital features," says Jan Van Niekerk, director for Gold Processing Solutions at Metso Outotec.
Several innovations for optimized gold leaching and recovery result
The new reactor design features several unique technologies to optimize gold leaching results and energy efficiency. The patented OKTOP® FlowBottom technology reduces agitation intensity, bringing several benefits such as homogeneous suspension of solids with reduced mixing power and decreased carbon attrition and related gold losses.
The OKTOP® CIL Reactor comes with advanced process control based on intelligent measurements:
OKTOP® SandSenseTM has been specifically designed to control and optimize agitator rotation speed to reduce wear, improve energy consumption, and detect upstream problems.
The CarbonSenseTM in-situ measurement system helps minimize gold solution losses. Combined with the CIL optimizer, it automatically monitors and controls carbon concentration and cyanide dosing using continuous data measurement.
In addition to core proprietary CIL reactor offerings, Metso Outotec's extensive ore to gold doré portfolio covers the overall cyanide leaching plant solution including process island core engineering package and, for example, carbon transfer pumps, elution and gold room offerings and digital features for process control and optimization.
Metso Outotec introduced its first OKTOP® Reactors in 2006. Since then, it has sold over 1,000 units.
NJC.© Info Metso Outotec
-------------------------------------------------------------------------------------------------------------------
23/09/22-NL
Metso Outotec OKTOP® CIL Reactor – intelligente oplossing ontwikkeld voor goud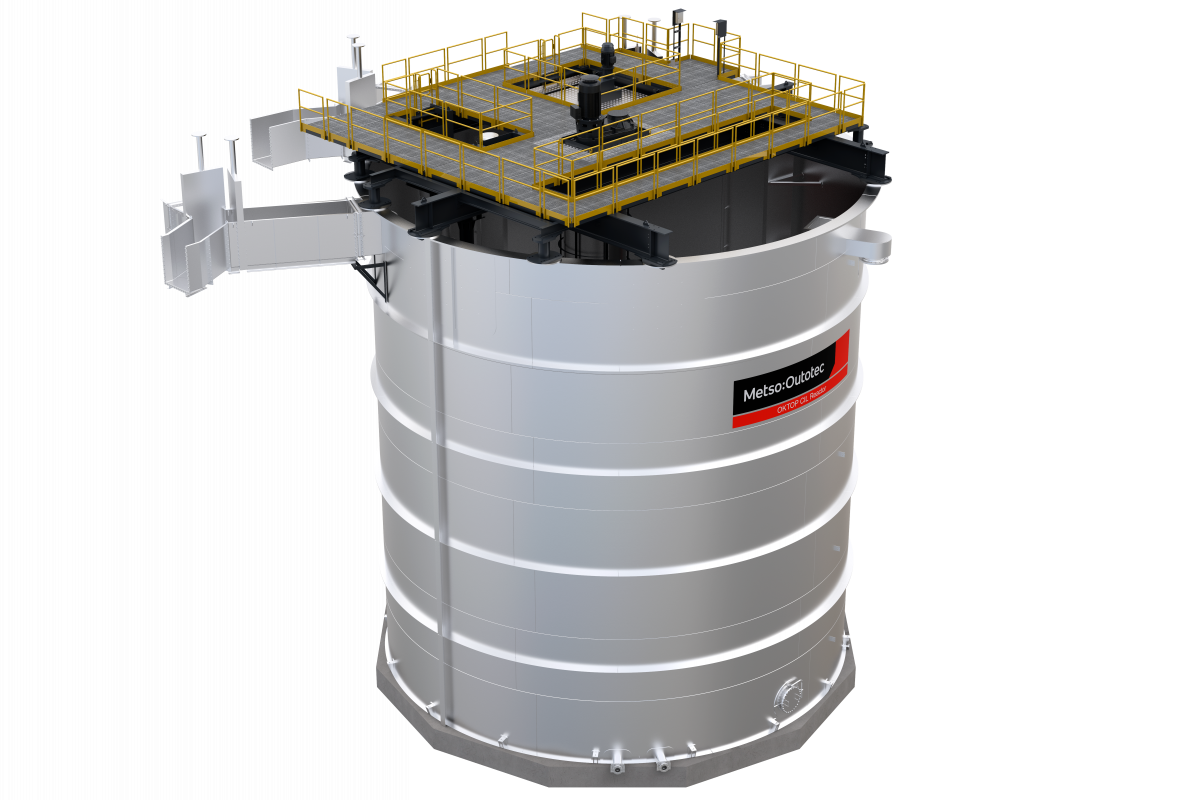 Metso Outotec OKTOP CIL Reaktor 2323e IMAGE SOURCE: Metso Outotec
Metso Outotec introduceert de volgende generatie van zijn geagiteerde OKTOP® CIL Reactor voor uitloging en terugwinning van goudcyanide. De Planet Positive-reactor is geschikt voor koolstof-in-leach (CIL) en koolstof-in-pulp (CIP) procestoepassingen en met geminimaliseerde actieve kool-fines-gerelateerde goudverliezen en energieverbruik, vertegenwoordigt het de meest duurzame cyanide-uitloogtechnologie op de markt . Vergeleken met industriële benchmarks kunnen goudverliezen veroorzaakt door breuk van actieve kool en elektrisch energieverbruik tot 50% worden verminderd met de OKTOP® CIL Reactor.
"Het aanbod van CIL-reactoren bestaat meestal uit leveringen met een gesplitste scope van verschillende leveranciers. We kunnen nu een uitgebreide oplossing bieden die is geoptimaliseerd voor uitloging en terugwinning van goudcyanide in de vorm van een zeer productief reactorontwerp op basis van onze uitgebreide expertise van meer dan duizend geleverde reactoren, nieuwe innovaties en ultramoderne digitale functies." zegt Jan Van Niekerk, directeur Gold Processing Solutions bij Metso Outotec.
Verschillende innovaties voor geoptimaliseerd gouduitloog- en herstelresultaat
Het nieuwe reactorontwerp bevat verschillende unieke technologieën om de gouduitloogresultaten en energie-efficiëntie te optimaliseren. De gepatenteerde OKTOP® FlowBottom-technologie vermindert de agitatie-intensiteit, wat verschillende voordelen met zich meebrengt, zoals een homogene suspensie van vaste stoffen met verminderde mengkracht en verminderde koolstofafslijting en gerelateerde goudverliezen.
De OKTOP® CIL Reactor wordt geleverd met geavanceerde procesbesturing op basis van intelligente metingen:
OKTOP® SandSenseTM is speciaal ontworpen om de rotatiesnelheid van de roerder te regelen en te optimaliseren om slijtage te verminderen, het energieverbruik te verbeteren en stroomopwaartse problemen te detecteren.
Het CarbonSenseTM in-situ meetsysteem helpt verliezen van goudoplossing te minimaliseren. In combinatie met de CIL-optimizer bewaakt en regelt het automatisch de koolstofconcentratie en de cyanidedosering met behulp van continue gegevensmeting.
Naast het kernaanbod van CIL-reactoren, omvat het uitgebreide erts-naar-goud doré-portfolio van Metso Outotec de algehele oplossing voor cyanide-uitlooginstallaties, inclusief engineeringpakket voor proceseilandkernen en, bijvoorbeeld, koolstofoverdrachtspompen, elutie- en goudkameraanbiedingen en digitale functies voor procesregeling en optimalisatie.
Metso Outotec introduceerde zijn eerste OKTOP®-reactoren in 2006. Sindsdien heeft het meer dan 1.000 eenheden verkocht.
NJC.© Info Metso Outotec
--------------------------------------------------------------------------------------------------------------------