Mexican miners go green with Atlas Copco Electric Air Compressors
27/07/22-FR-English-NL-footer
Les mineurs mexicains passent au vert avec les compresseurs d'air électriques d'Atlas Copco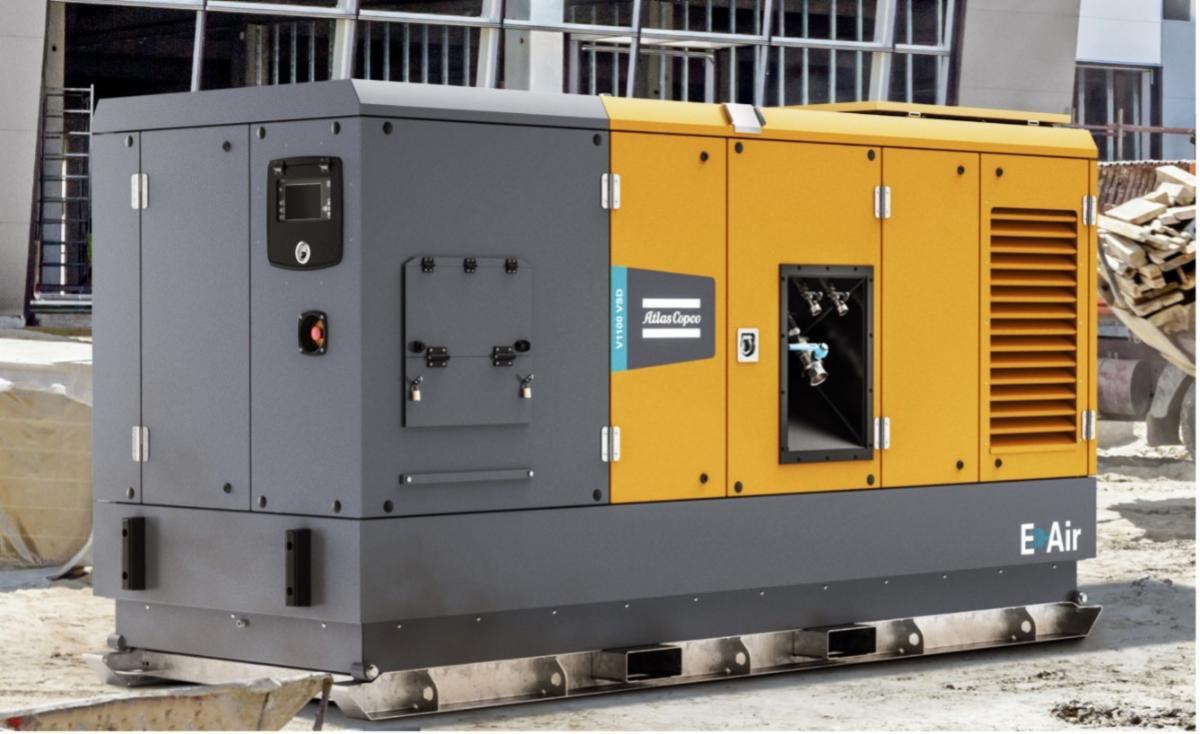 Autlán, l'un des plus grands producteurs de manganèse au monde, a besoin d'air comprimé pour sa production. La solution? Compresseurs électriques à entraînement à vitesse variable (VSD) E-Air V1100 d'Atlas Copco.
Le manganèse est un élément chimique sous le radar, mais il est très utile. Nommé d'après le mot latin "aimant", c'est un ingrédient essentiel dans la fabrication d'alliages métalliques et d'acier inoxydable. Il trouve également sa place dans tout, des canettes de boissons aux piles, en passant par les peintures et même l'essence.
L'un des plus grands producteurs mondiaux de manganèse est la société mexicaine Autlán, qui produit divers types de minéraux de manganèse et de ferroalliages. L'air comprimé est un composant essentiel dans la production de nodules de manganèse. L'un de ces domaines est la machine de tri des minéraux de l'entreprise, qui aide à classer le minerai de manganèse. Il souffle de l'air sur les pierres qui ne contiennent pas une teneur élevée en minerai, les séparant des pierres à haute teneur en manganèse. Pour ce faire, il a besoin d'air comprimé propre et sec dont la température ne dépasse pas 20 °C au-dessus de la température ambiante. La quantité d'air libre (FAD) nécessaire pour effectuer cette tâche est de 45 Nm3/min. à 150 psi.
Atlas Copco Power Technique Mexico a travaillé en étroite collaboration avec Autlán pour comprendre et définir le flux d'air optimal pour le processus. Atlas Copco a informé Autlán qu'un flux d'air constant n'était pas nécessaire car les injections d'air n'étaient pas continues (uniquement lorsque des pierres à faible teneur en manganèse doivent être séparées). En raison de cette exigence non constante, Autlán pouvait spécifier un compresseur qui répondait à ses exigences FAD mais économisait de l'énergie et réduisait les coûts.
Les mineurs mexicains passent au vert avec les compresseurs d'air électriques d'Atlas Copco
Technologie d'entraînement à vitesse variable
La solution suggérée était d'installer trois compresseurs mobiles E-Air V1100 VSD : deux compresseurs pour la production et un pour les besoins de secours. Ces compresseurs d'air mobiles électriques dotés de la technologie d'entraînement à vitesse variable (VSD) sont conçus pour fonctionner dans des conditions difficiles et à l'extérieur. En raison de leur robustesse, Autlán n'a pas eu besoin d'installation spéciale ou de salle de compresseurs, ce qui a permis d'économiser de l'argent sur les travaux de génie civil.
Le VSD E-Air d'Atlas Copco est livré avec le cadre anti-déversement standard qui offre un confinement des fluides à 110 %, offrant une assurance contre tout déversement éventuel sur le site. C'était une caractéristique clé pour Autlán, car cela évite la possibilité de polluer le sol de la mine, qui est fortement réglementé. De plus, les compresseurs sont équipés d'enroulements de moteur en pot pour empêcher la pénétration de poussière et d'eau, d'un contrôleur classé IP65, d'un entraînement refroidi par eau classé IP67, d'une tôle d'acier simple, d'un train de roulement non soudé et d'un système anticorrosion à trois couches. système de peinture.
Comme la qualité de l'air comprimé est vitale pour ce projet, Atlas Copco a recommandé d'ajouter son filtre UD+ après le refroidisseur pour s'assurer que les pistolets à air ne se bouchent pas. Le filtre UD+ est un filtre coalescent deux en un de conception brevetée qui élimine les aérosols d'huile, la poussière et l'eau, prouvant ainsi un air comprimé propre avec pratiquement aucune chute de pression ou perte d'efficacité. De plus, ce système est une option peu encombrante par rapport aux ensembles de filtres traditionnels.
Julio Ponce, ingénieur commercial et maître de l'air pour Atlas Copco au Mexique et en Amérique centrale, déclare : « Le VSD E-Air fournit à Autlán un flux fiable d'air comprimé sans aucune émission de CO2.
Dynamique de puissance et de flux
Le moteur électrique à aimant permanent à entraînement VSD intégré de l'E-Air ne nécessite qu'une faible puissance pour le démarrage, il n'est donc pas nécessaire de surdimensionner l'alimentation. Le variateur de vitesse et le moteur à aimant permanent apportent également une contribution importante à l'efficacité.
Combinés, ils offrent le meilleur rendement de leur catégorie à charge partielle et garantissent que la consommation d'énergie suit de près la tendance de la demande d'air.
Ces compresseurs d'air mobiles électriques avec plage d'entraînement à vitesse variable incluent le système PACE d'Atlas Copco (Pressure Adjusted through Cognitive Electronics). Cela permet aux utilisateurs de contrôler la pression entre 5 et 12 bars, par incréments précis de 0,1 bar, et ainsi d'ajuster le débit au niveau optimal pour leur application. Pour cette raison, un compresseur peut gérer divers travaux qui auraient auparavant nécessité plusieurs unités. Le VSD E-Air est doté du contrôleur Smart Air Xc4004 facile à utiliser.
Ce contrôleur innovant et puissant augmente l'efficacité des opérations en fournissant des informations et dispose d'une interface facile à utiliser qui donne le contrôle aux utilisateurs. L'écran de sept pouces permet une visualisation simultanée de plusieurs paramètres, dont la pression et le débit. Par conséquent, il n'est pas nécessaire de basculer pour vérifier le débit à une certaine pression. De plus, les paramètres d'alarme structurés supérieurs permettent de surveiller le fonctionnement.
La gamme E-Air VSD est également équipée en standard d'un refroidisseur final, fournissant un air de haute qualité pour des applications telles que le sablage.
NJC..© Infos Atlas Copco
------------------------------------------------------------------------------------------------------------------------
27/07/22-English
Mexican miners go green with Atlas Copco Electric Air Compressors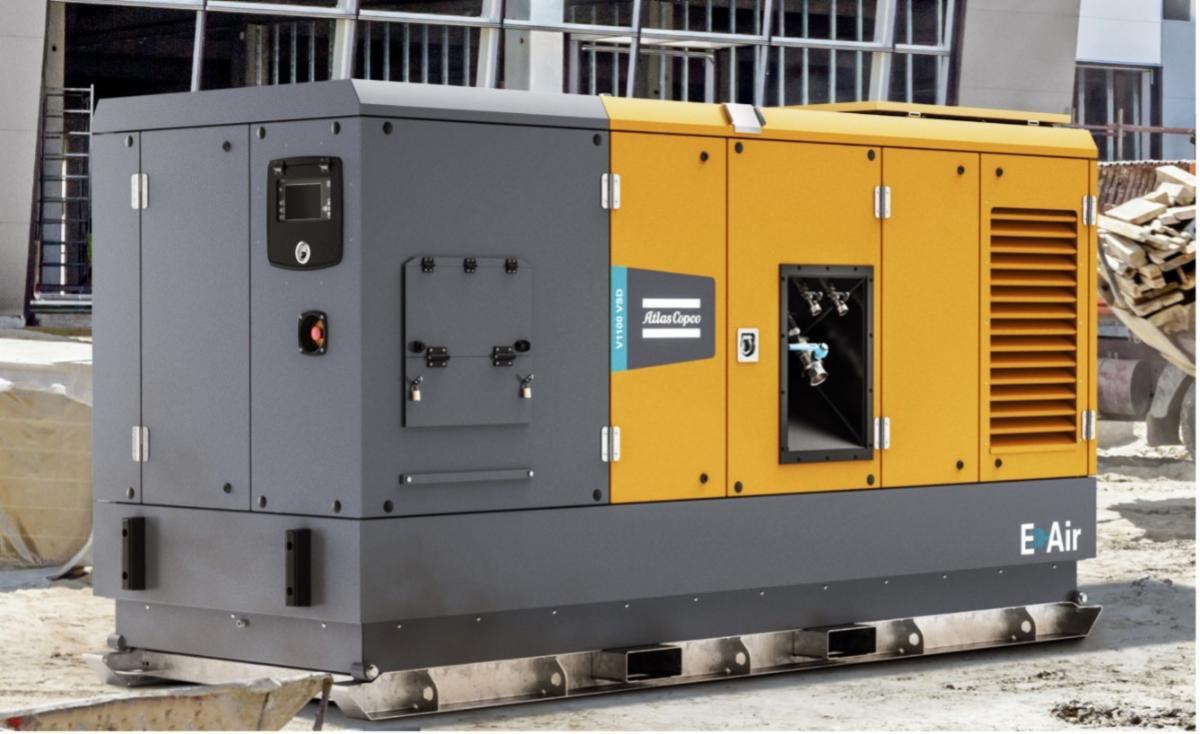 One of the world's largest manganese producers Mexico's Autlán needs compressed air for its production. The solution? Atlas Copco's E-Air V1100 Variable Speed Drive (VSD) electric compressors.
Manganese is an under-the-radar chemical element, but it's a very useful one. Named after the Latin for 'magnet' it is a vital ingredient in making metal alloys and stainless steel. It also finds its way into everything from drinks cans to batteries, paints and even gasoline.
One of the world's largest producers of manganese is Mexican firm Autlán, who produces various types of manganese minerals and ferroalloys. Compressed air is an essential component in the production of manganese nodules. One such area is the company's Mineral Sorting Machine, which helps to classify the manganese ore. It blasts air at stones that do not contain a high ore grade, separating them from stones with high manganese content. To do this it needs clean, dry compressed air whose temperature doesn't exceed 20°C above ambient. The amount of free air (FAD) needed to do this task is 45Nm3/min. at 150psi.
Atlas Copco Power Technique Mexico worked closely with Autlán to understand and define the optimum airflow for the process. Atlas Copco advised Autlán that a constant flow of air was not required because the air shots were not continuous (only when stones with low manganese grade need to be separated). Because of this non-constant requirement Autlán could specify a compressor that met its FAD requirements but saved energy and lowered costs.
Mexican miners go green with Atlas Copco Electric Air Compressors
Variable speed drive tech
The suggested solution was to install three E-Air V1100 VSD mobile compressors: two compressors for production and one for stand-by purposes. These electric mobile air compressors with variable speed drive (VSD) technology are built to operate in harsh and outdoor conditions. Because of their robustness, Autlán did not need any special installation or compressor room, saving money on civil works.
Atlas Copco's E-Air VSD comes with the standard spillage-free frame that offers 110% fluid containment, providing reassurance against any possible spillages on site. This was a key feature for Autlán, as it avoids the possibility of polluting the soil of the mine, which is strongly regulated. Moreover, the compressors come equipped with potted motor windings to prevent dust and water ingression, an IP65-rated controller, an IP67-rated water-cooled drive, single-sheet steel, non-welded undercarriage, and a three-layer anti-corrosion paint system.
As the compressed air quality is vital for this project, Atlas Copco recommended adding its UD+ filter after the cooler to ensure the air guns didn't clog. The UD+ filter is a patented design two-in-one coalescing filter that takes out oil aerosols, dust, and water, proving clean compressed air with hardly any pressure drop or efficiency loss. Moreover, this system is a space-saving option compared to traditional filter packages.
Julio Ponce, Sales Engineer & Air Master for Atlas Copco in Mexico and Central America, says: "The E-Air VSD provides Autlán with a reliable flow of compressed air without any CO2 emissions."
Power and flow dynamics
The E-Air's integrated VSD-driven permanent magnet electric motor only requires low power for start-up, so there is no need to oversize the power supply. The variable speed drive and permanent magnet motor also make an important contribution to efficiency.
Combined, they offer the best-in-class efficiency at partial load and ensure that power consumption closely follows the air demand trend.
These electric mobile air compressors with variable speed drive range include the Atlas Copco's PACE system (Pressure Adjusted through Cognitive Electronics). This enables users to control the pressure between 5 and 12 bar, in precise 0.1 bar increments, and thereby adjust the flow to the optimal level for their application. Because of this, one compressor can handle various jobs that previously would have required multiple units. The E-Air VSD features the easy-to-use Smart Air Xc4004 controller.
This innovative and powerful controller increases the efficiency of operations by providing insights and features an easy-to-use interface that puts users in control. The seven-inch display allows a simultaneous view of several parameters, including pressure and flow. Consequently, there is no need to toggle around to check the flow at a certain pressure. Additionally, top structured alarm settings allow for operation monitoring.
The E-Air VSD range is also equipped as standard with an after-cooler, providing high-quality air for applications like sandblasting.
NJC.© Info Atlas Copco
-------------------------------------------------------------------------------------------------------------------
27/07/22-NL
Mexicaanse mijnwerkers gaan groen met Atlas Copco Electric Air Compressors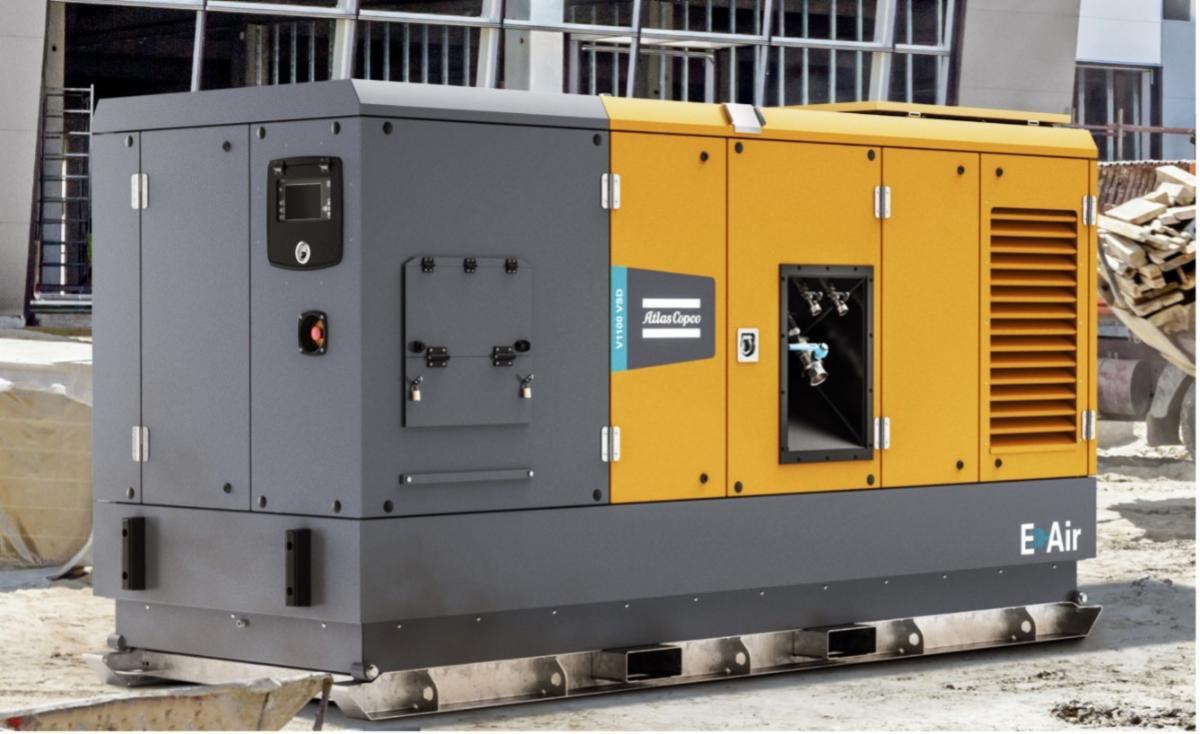 Een van 's werelds grootste mangaanproducenten, het Mexicaanse Autlán, heeft perslucht nodig voor zijn productie. De oplossing? Atlas Copco's E-Air V1100 elektrische compressoren met variabele snelheidsaandrijving (VSD).
Mangaan is een chemisch element onder de radar, maar het is een zeer nuttig element. Vernoemd naar het Latijn voor 'magneet', is het een essentieel ingrediënt bij het maken van metaallegeringen en roestvrij staal. Het vindt ook zijn weg naar alles, van drankblikjes tot batterijen, verf en zelfs benzine.
Een van 's werelds grootste producenten van mangaan is de Mexicaanse firma Autlán, die verschillende soorten mangaanmineralen en ijzerlegeringen produceert. Perslucht is een essentieel onderdeel bij de productie van mangaanknobbeltjes. Een voorbeeld van zo'n gebied is de Mineral Sorting Machine van het bedrijf, die helpt bij het classificeren van het mangaanerts. Het blaast lucht naar stenen die geen hoog ertsgehalte bevatten en scheidt ze van stenen met een hoog mangaangehalte. Hiervoor is schone, droge perslucht nodig waarvan de temperatuur niet hoger is dan 20°C boven de omgevingstemperatuur. De hoeveelheid vrije lucht (FAD) die nodig is om deze taak uit te voeren is 45 Nm3/min. bij 150psi.
Atlas Copco Power Technique Mexico werkte nauw samen met Autlán om de optimale luchtstroom voor het proces te begrijpen en te definiëren. Atlas Copco adviseerde Autlán dat een constante luchtstroom niet nodig was omdat de luchtschoten niet continu waren (alleen wanneer stenen met een laag mangaangehalte moeten worden gescheiden). Vanwege deze niet-constante behoefte kon Autlán een compressor specificeren die voldeed aan de FAD-vereisten, maar die energie bespaarde en de kosten verlaagde.
Mexicaanse mijnwerkers gaan groen met Atlas Copco Electric Air Compressors
Aandrijftechniek met variabele snelheid
De voorgestelde oplossing was om drie E-Air V1100 VSD mobiele compressoren te installeren: twee compressoren voor productie en één voor stand-by doeleinden. Deze elektrische mobiele luchtcompressoren met variabele snelheidsaandrijving (VSD)-technologie zijn gebouwd om onder zware omstandigheden en buiten te werken. Vanwege hun robuustheid had Autlán geen speciale installatie of compressorruimte nodig, waardoor geld werd bespaard op civiele werken.
De E-Air VSD van Atlas Copco wordt geleverd met het standaard morsvrije frame dat 110% vloeistofinsluiting biedt, wat geruststelling biedt tegen mogelijke morsen op locatie. Dit was een belangrijk kenmerk voor Autlán, omdat het de mogelijkheid van vervuiling van de bodem van de mijn, die sterk gereguleerd is, vermijdt. Bovendien zijn de compressoren uitgerust met ingegoten motorwikkelingen om het binnendringen van stof en water te voorkomen, een IP65-geclassificeerde controller, een IP67-geclassificeerde watergekoelde aandrijving, enkelvoudig plaatstaal, niet-gelast onderstel en een drielaags anti-corrosie verf systeem.
Omdat de persluchtkwaliteit van vitaal belang is voor dit project, raadde Atlas Copco aan om zijn UD+-filter na de koeler toe te voegen om ervoor te zorgen dat de luchtpistolen niet verstopt raken. Het UD+-filter is een gepatenteerd twee-in-een-coalescentiefilter dat olie-aerosolen, stof en water verwijdert en schone perslucht levert met nauwelijks drukverlies of efficiëntieverlies. Bovendien is dit systeem een ​​ruimtebesparende optie in vergelijking met traditionele filterpakketten.
Julio Ponce, Sales Engineer & Air Master voor Atlas Copco in Mexico en Midden-Amerika, zegt: "De E-Air VSD biedt Autlán een betrouwbare stroom perslucht zonder enige CO2-uitstoot."
Kracht- en stroomdynamiek
De geïntegreerde VSD-aangedreven permanente magneet elektromotor van de E-Air vereist slechts een laag vermogen voor het opstarten, dus het is niet nodig om de voeding te groot te maken. Ook de aandrijving met variabel toerental en de permanentmagneetmotor leveren een belangrijke bijdrage aan de efficiëntie.
Gecombineerd bieden ze de beste efficiëntie in hun klasse bij deellast en zorgen ze ervoor dat het stroomverbruik de trend van de luchtvraag nauw volgt.
Deze elektrische mobiele luchtcompressoren met aandrijfbereik met variabel toerental zijn voorzien van het PACE-systeem van Atlas Copco (Pressure Adjusted through Cognitive Electronics). Hierdoor kunnen gebruikers de druk tussen 5 en 12 bar regelen, in nauwkeurige stappen van 0,1 bar, en zo het debiet aanpassen aan het optimale niveau voor hun toepassing. Hierdoor kan één compressor verschillende taken aan waarvoor voorheen meerdere units nodig waren. De E-Air VSD is uitgerust met de gebruiksvriendelijke Smart Air Xc4004-controller.
Deze innovatieve en krachtige controller verhoogt de efficiëntie van operaties door inzichten te bieden en beschikt over een gebruiksvriendelijke interface die gebruikers de controle geeft. Het 7-inch display biedt gelijktijdige weergave van verschillende parameters, waaronder druk en debiet. Het is dus niet nodig om te schakelen om de stroom bij een bepaalde druk te controleren. Bovendien zorgen de beste gestructureerde alarminstellingen voor bewaking van de werking.
De E-Air VSD-reeks is ook standaard uitgerust met een nakoeler, die hoogwaardige lucht levert voor toepassingen zoals zandstralen.
NJC.© Info Atlas Copco
-------------------------------------------------------------------------------------------------------------