Motive and Navistar equipping Fleet Operators with robust Telematics insights
04/07/22-FR-English-NL-footer
Motive et Navistar équipent les opérateurs de flotte avec des informations télématiques solides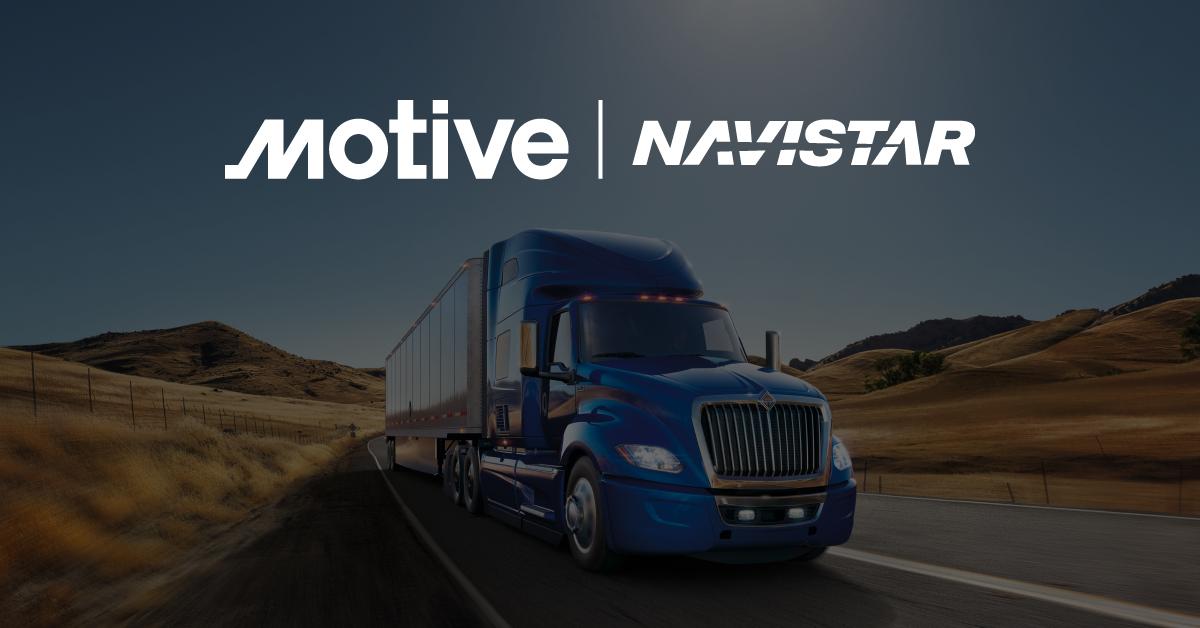 Image-Motive et Navistar
Motive, le leader des opérations automatisées, et Navistar, un fabricant et fournisseur de solutions pour l'industrie des camions de service moyens, lourds et sévères, ont annoncé aujourd'hui un partenariat stratégique et une future intégration de produits qui connecteront la plate-forme d'opérations automatisées de Motive à la télématique OnCommand® Connection de Navistar et Solutions avancées de diagnostic à distance.
Alors que la hausse des coûts du carburant et de la maintenance accroît la pression sur des marges déjà minces dans l'économie physique actuelle, les entreprises de l'économie physique ont besoin d'une télématique robuste et basée sur les données pour gérer efficacement leurs opérations. Le partenariat entre Motive et Navistar combine des milliers de points de données de véhicules pour aider les flottes à exécuter des opérations plus sûres et plus rentables.
Le partenariat stratégique offrira deux types d'intégrations. Tout d'abord, les utilisateurs de Motive pourront rationaliser les opérations de leur flotte en accédant à des données importantes sur leur flotte, y compris des descriptions de code d'erreur faciles à lire, des cotes de gravité et des pièces et services recommandés à partir de la plate-forme OnCommand Connection (OCC) de Navistar. La visibilité accrue des opérations permettra aux utilisateurs, tels que les gestionnaires de sécurité, de conformité et de flotte, de diagnostiquer et de résoudre rapidement les problèmes de maintenance potentiellement coûteux qui font généralement dérailler les délais et augmentent les coûts.
Deuxièmement, les clients de Motive peuvent s'attendre à une meilleure gestion de leur flotte en accédant aux données des appareils Navistar installés en usine sur les camions internationaux. Ces appareils offrent une télématique native riche, telle que la localisation du véhicule, les heures de fonctionnement du moteur, la pression des pneus, la température des freins et de l'habitacle et l'état des feux, directement du constructeur du véhicule.
"Motive s'engage à créer des solutions évolutives qui créent une valeur durable pour nos clients", a déclaré Jai Ranganathan, directeur des produits chez Motive : "Grâce à ce partenariat, nos clients pourront accéder à encore plus de données sur leurs flottes, permettant à notre Des applications alimentées par l'IA pour améliorer encore la sécurité, la productivité et la rentabilité de leurs opérations. »
Le vice-président de Navistar, directeur général des services connectés et de l'analyse, Scott Renier, a déclaré à propos du partenariat : « Nous sommes ravis de faire équipe avec Motive. Grâce à cette intégration, les clients d'International Truck obtiendront le contexte complet de la télémétrie du véhicule et les informations pertinentes liées à l'utilisation du véhicule. Le fait de disposer de toutes ces informations au même endroit augmentera leur efficacité et leur productivité. »
NJC..© Info Motive
-----------------------------------------------------------------------------------------------------------------------
04/07/22-English
Motive and Navistar equipping Fleet Operators with robust Telematics insights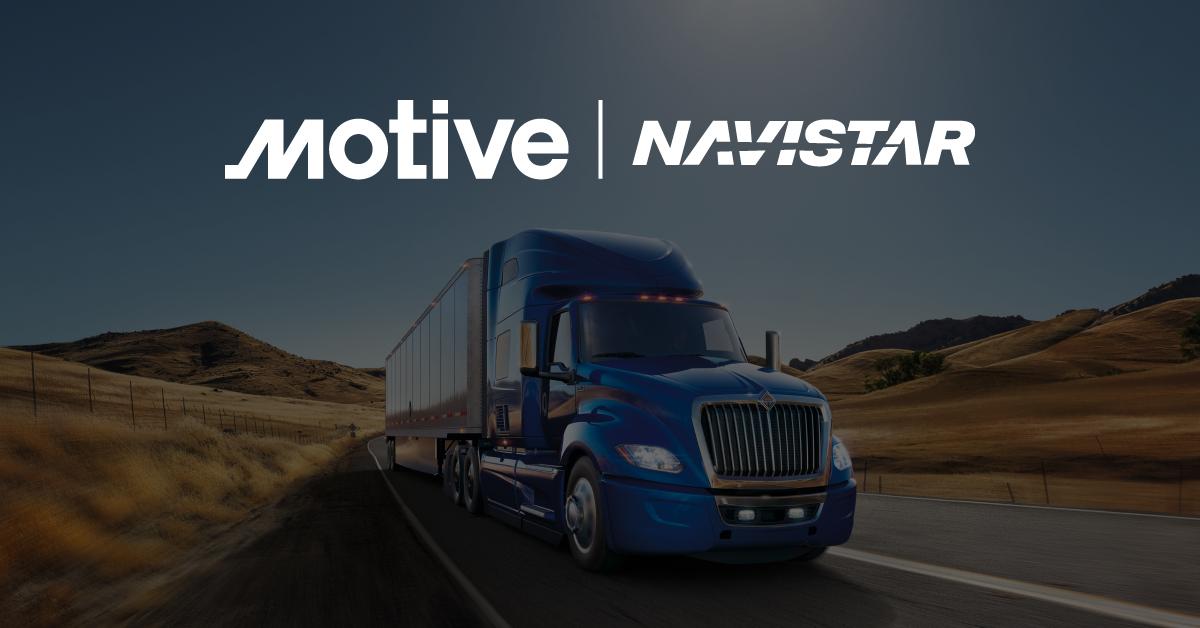 Image-Motive et Navistar
Motive, the leader in Automated Operations, and Navistar, a manufacturer and solutions provider to the medium, heavy and severe service trucks industry, announced today a strategic partnership and future product integration that will connect Motive's Automated Operations Platform with Navistar's OnCommand® Connection telematics and Advanced Remote Diagnostics solutions.
As rising fuel and maintenance costs add pressure to already slim margins in today's physical economy, businesses across the physical economy need robust, data-driven telematics to manage their operations effectively. The partnership between Motive and Navistar combines thousands of vehicle data points to help fleets run safer and more cost-effective operations.
The strategic partnership will offer two types of integrations. First, Motive users will be able to streamline their fleet operations by accessing important data about their fleet, including easy-to-read fault code descriptions, severity ratings, and recommended parts and services from Navistar's OnCommand Connection (OCC) platform. The added operations visibility will allow users, such as safety, compliance, and fleet managers, to quickly diagnose and address potentially costly, maintenance-related issues that typically derail timelines and drive up costs.
Second, Motive customers can expect improved fleet management by accessing data from Navistar's factory-installed devices on International Trucks. These devices offer rich native telematics, such as vehicle location, engine hours, tire pressure, brake and cabin temperatures, and lights status, directly from the vehicle manufacturer.
"Motive is committed to building scalable solutions that create long-lasting value for our customers," said Jai Ranganathan, Chief Product Officer at Motive: "Through this partnership, our customers will be able to access even more data about their fleets, enabling our AI-powered applications to further improve the safety, productivity, and profitability of their operations."
Navistar Vice President, General Manager of Connected Services and Analytics, Scott Renier, said of the partnership: "We are excited to team up with Motive. Through this integration, International Truck customers will gain the full context of vehicle telemetry and the relevant insights related to vehicle usage. Having all this information in one place will increase their efficiency and productivity."
NJC.© Info Motive
-----------------------------------------------------------------------------------------------------------------
04/07/22-NL
Motive en Navistar voorzien wagenparkbeheerders van robuuste telematica-inzichten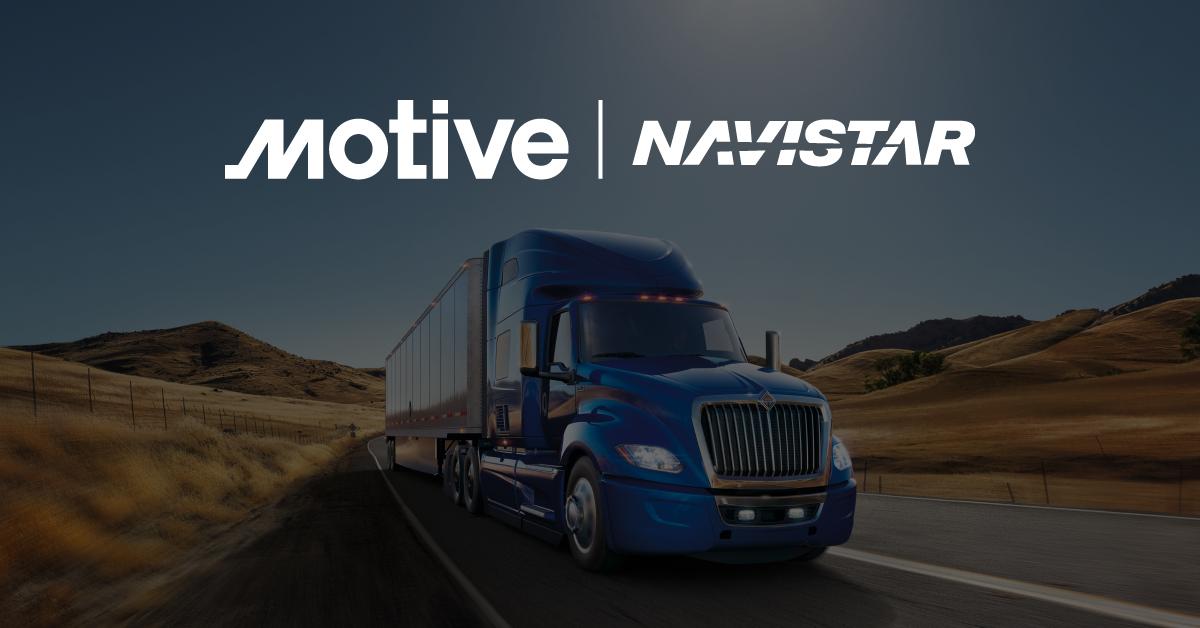 Image-Motive et Navistar
Motive, de leider in Automated Operations, en Navistar, een fabrikant en leverancier van oplossingen voor de middelzware, zware en zware servicetrucks, hebben vandaag een strategisch partnerschap en toekomstige productintegratie aangekondigd die het Automated Operations Platform van Motive zullen verbinden met Navistar's OnCommand® Connection-telematica en Geavanceerde oplossingen voor diagnose op afstand.
Omdat stijgende brandstof- en onderhoudskosten de toch al kleine marges in de huidige fysieke economie onder druk zetten, hebben bedrijven in de fysieke economie robuuste, datagestuurde telematica nodig om hun activiteiten effectief te beheren. De samenwerking tussen Motive en Navistar combineert duizenden voertuigdatapunten om vloten te helpen veiliger en kosteneffectiever te werken.
Het strategische partnerschap biedt twee soorten integraties. Ten eerste kunnen Motive-gebruikers hun vlootactiviteiten stroomlijnen door toegang te krijgen tot belangrijke gegevens over hun vloot, waaronder gemakkelijk leesbare foutcodebeschrijvingen, ernstclassificaties en aanbevolen onderdelen en services van Navistar's OnCommand Connection (OCC)-platform. De toegevoegde zichtbaarheid van de activiteiten stelt gebruikers, zoals veiligheids-, compliance- en wagenparkbeheerders, in staat om snel potentieel dure, onderhoudsgerelateerde problemen te diagnosticeren en aan te pakken die doorgaans de tijdlijnen doen ontsporen en de kosten opdrijven.
Ten tweede kunnen Motive-klanten een verbeterd vlootbeheer verwachten door toegang te krijgen tot gegevens van de in de fabriek geïnstalleerde apparaten van Navistar op International Trucks. Deze apparaten bieden uitgebreide native telematica, zoals voertuiglocatie, motoruren, bandenspanning, rem- en cabinetemperaturen en verlichtingsstatus, rechtstreeks van de voertuigfabrikant.
"Motive zet zich in voor het bouwen van schaalbare oplossingen die langdurige waarde creëren voor onze klanten", zegt Jai Ranganathan, Chief Product Officer bij Motive: "Door deze samenwerking zullen onze klanten toegang hebben tot nog meer gegevens over hun wagenparken, waardoor onze AI-aangedreven applicaties om de veiligheid, productiviteit en winstgevendheid van hun activiteiten verder te verbeteren."
Navistar Vice President, General Manager van Connected Services and Analytics, Scott Renier, zei over de samenwerking: "We zijn verheugd om samen te werken met Motive. Door deze integratie krijgen International Truck-klanten de volledige context van voertuigtelemetrie en de relevante inzichten met betrekking tot voertuiggebruik. Door al deze informatie op één plek te hebben, zullen hun efficiëntie en productiviteit toenemen."
NJC.© Info Motive
-------------------------------------------------------------------------------------------------------------------