New Boom Inserts Expand Manitowoc MLC300 Reach for Wind Turbine Work
11/08/22-FR-English-NL-footer
De nouveaux inserts de flèche élargissent la portée de Manitowoc MLC300 pour les travaux sur les éoliennes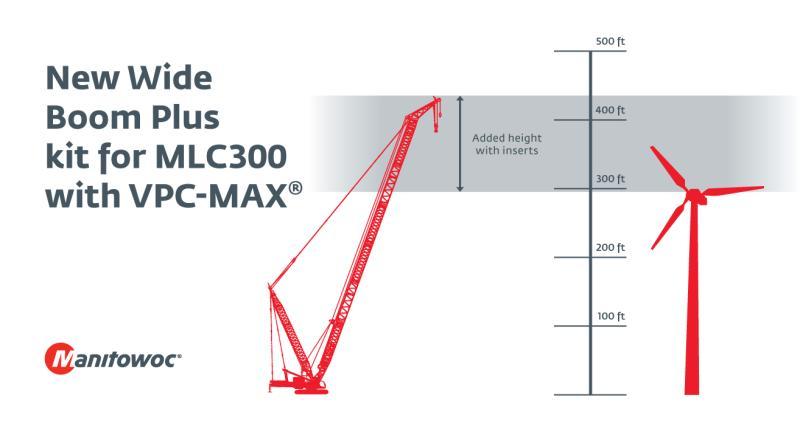 Manitowoc élargit son offre d'inserts de flèche avec le nouveau kit de flèche large plus pour sa grue sur chenilles à flèche treillis MLC300.
Les nouveaux inserts donneront aux grutiers une portée supplémentaire en allongeant leurs flèches jusqu'à 429,8 pieds (131 m) lorsqu'ils sont utilisés en combinaison avec le VPC-MAX et les points de flèche supérieurs étendus. Ils seront particulièrement utiles pour l'assemblage d'éoliennes, selon le constructeur.
La hauteur des éoliennes terrestres à grande échelle a augmenté de près de 60 % au cours des deux dernières décennies, atteignant une moyenne de 295 pieds (90 m) en 2020 aux États-Unis.
On s'attend à ce que la taille des éoliennes continue de croître dans les années à venir, car la construction des éoliennes à des altitudes plus élevées permet aux tours éoliennes d'exploiter des vents plus forts. Les nouveaux inserts de flèche Manitowoc permettront au MLC300 de 386 tonnes (350 t) de construire ces éoliennes de plus en plus hautes.
Brennan Seelinger, chef de produit des grues sur chenilles chez Manitowoc, a déclaré que les travaux d'éoliennes au-dessus de 295 pieds (90 m) nécessitent actuellement une grue de 450 tonnes (400 t) ou plus, ce qui peut entraîner des coûts d'exploitation et de transport plus élevés.
"Nos nouveaux inserts de flèche créeront plus d'emplois pour nos propriétaires de grues sur chenilles", a-t-il déclaré. "Ils augmenteront l'utilisation de notre grue MLC300 avec une flexibilité accrue. Alors qu'auparavant, les grutiers devaient faire appel à une grue plus grande pour atteindre des hauteurs supérieures à 295 pieds [90 m], ils peuvent désormais utiliser leur MLC300 avec des inserts de flèche et tirer parti d'une portée accrue grâce à sa plus petite empreinte."
Le nouveau kit de flèche large et d'inserts pour la grue sur chenilles Manitowoc MLC300 est désormais disponible à l'achat partout où des grues Manitowoc sont vendues.
NJC.© Infos www.manitowoc.com/manitowoc/lattice-boom-crawler-cranes/mlc300.
--------------------------------------------------------------------------------------------------------------
11/08/22-English
New Boom Inserts Expand Manitowoc MLC300 Reach for Wind Turbine Work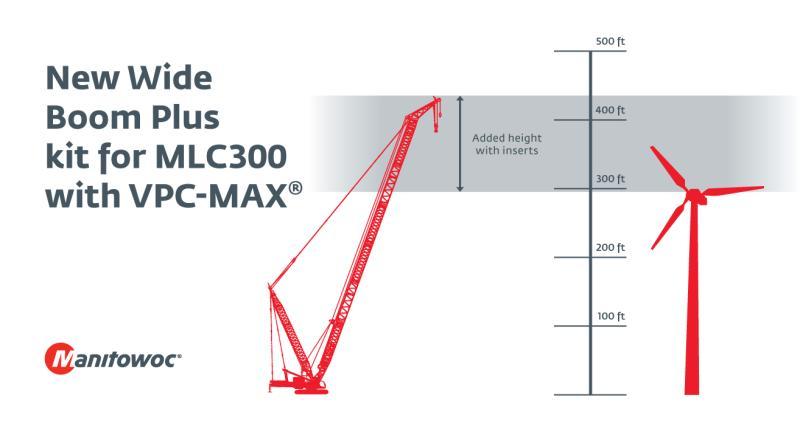 Manitowoc is expanding its boom insert offering with the new wide boom plus kit for its MLC300 lattice-boom crawler crane.
The new inserts will give crane operators extra reach by lengthening their booms up to 429.8 ft. (131 m) when used in combination with the VPC-MAX and extended upper boom points. They will be particularly useful for assembling wind turbines, according to the manufacturer.
The height of utility-scale, land-based wind turbines has increased nearly 60 percent in the last two decades, reaching an average of 295 ft. (90 m) in 2020 in the United States.
Wind turbines are expected to keep growing in size in the coming years, as building the turbines to higher elevations enable the wind towers to harness stronger winds. The new Manitowoc boom inserts will enable the 386 ton (350 t) MLC300 to construct these increasingly tall wind towers.
Brennan Seelinger, Manitowoc's product manager of crawler cranes, said wind turbine work above 295 ft. (90 m) currently requires a 450 ton (400 t) or larger crane, which can result in higher costs for operation and transportation.
"Our new boom inserts will open up more jobs for our crawler crane owners," he said. "They will increase utilization of our MLC300 crane with added flexibility. Where before crane operators would need to bring in a larger crane to reach heights above 295 ft. [90 m], now they're able to employ their MLC300 with boom inserts and take advantage of increased reach from its smaller footprint."
The new wide boom plus inserts kit for the Manitowoc MLC300 crawler crane is now available for purchase everywhere Manitowoc cranes are sold.
NJC.© Info www.manitowoc.com/manitowoc/lattice-boom-crawler-cranes/mlc300.
------------------------------------------------------------------------------------------------------------------
11/08/22-NL
Nieuwe giekinzetstukken vergroten het bereik van Manitowoc MLC300 voor windturbinewerk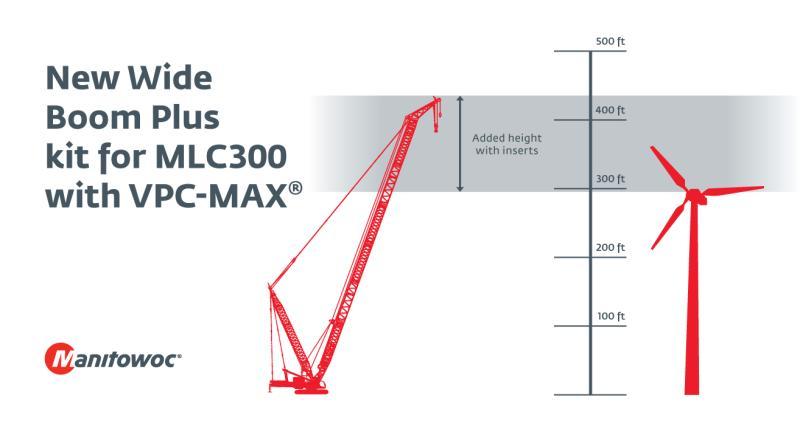 Manitowoc breidt zijn aanbod van giekinzetstukken uit met de nieuwe brede giek plus kit voor zijn MLC300 rupskraan met vakwerkboom.
De nieuwe inzetstukken geven kraanmachinisten extra bereik door hun gieken tot 131 m te verlengen bij gebruik in combinatie met de VPC-MAX en verlengde bovenste giekpunten. Ze zullen volgens de fabrikant vooral handig zijn voor het monteren van windturbines.
De hoogte van op het land gebaseerde windturbines op utiliteitsschaal is in de afgelopen twee decennia met bijna 60 procent toegenomen, tot een gemiddelde van 295 ft. (90 m) in 2020 in de Verenigde Staten.
Verwacht wordt dat windturbines de komende jaren in omvang zullen blijven groeien, omdat de windturbines door de windturbines op grotere hoogte te bouwen, sterkere winden kunnen opvangen. De nieuwe Manitowoc giekinzetstukken zullen de 386 ton (350 t) MLC300 in staat stellen deze steeds hogere windtorens te bouwen.
Brennan Seelinger, Manitowoc's productmanager van rupskranen, zei dat voor windturbines boven 90 m (90 m) momenteel een kraan van 450 ton (400 ton) of groter nodig is, wat kan leiden tot hogere exploitatie- en transportkosten.
"Onze nieuwe giekinzetstukken zullen meer banen opleveren voor onze eigenaars van rupskranen", zei hij. "Ze zullen het gebruik van onze MLC300-kraan vergroten met extra flexibiliteit. Waar voorheen kraanmachinisten een grotere kraan moesten inzetten om hoogtes boven de 90 m te bereiken, kunnen ze nu hun MLC300 gebruiken met giekinzetstukken en profiteren van een groter bereik door zijn kleinere voetafdruk."
De nieuwe kit met brede giek plus inzetstukken voor de Manitowoc MLC300 rupskraan is nu overal verkrijgbaar waar Manitowoc-kranen worden verkocht.
NJC.© Info www.manitowoc.com/manitowoc/lattice-boom-crawler-cranes/mlc300.
---------------------------------------------------------------------------------------------------------------
Date de dernière mise à jour : 10/08/2022